Christmas Gift Set Deliveries
As Christmas draws near, we seek unique ways to spread the cheer while keeping in mind the ever-changing Covid limitations. Not knowing when you're going to be able to meet up and celebrate with friends and family does dim the festivities a little – but here's a way to keep the spirits high.
Send some Christmas magic to your loved ones in the form of specially curated gift boxes, which you can deliver straight to their doorstep. From artisanal candles to alcohol sets, these practical surprises will keep the year-end feeling extra joyous. 
1. ECProof.com – alcohol gifts & stocking stuffers
Honestly, what's Christmas without a little booze? While we can't plan our usual festive get-togethers, you can still brighten up a buddy's day by sending them a gift from EC Proof. This online alcohol store provides a wide variety of craft luxury spirits and cocktails delivered within 2-3 days. 
You can also opt for one of their seasonal alcohol sets which includes this bauble whiskey dram (left) from Bulleit to give your tree decorations more spirit. There's also a range of advent calendars and alcohol sets to choose from, which you can order pre-wrapped. 
Price: From $15 for a whiskey bauble
Shipping fee: Calculated in cart. Free for orders above $100
Website | Instagram 
2. AT 23 – artisanal candles
AT 23 is a shop worth checking out if you want to get a gift that literally lights up the room. They specialise in artisanal candles made of soy wax and calming essential oils, all of which are handmade.
Their specially packaged Christmas sets can be ordered now to be delivered closer to 25 December 2021. The set includes candles, room sprays, a scented wax tablet and a shower steamer set – with the option of customising the items based on your preferences.
Price: From $35 for smaller Christmas set
Shipping fee: $5. Free for orders above $50
Website | Instagram 
3. Thirsty – craft beer advent calendar
Source 
Good craft beer always hits different, and if you know someone who'd agree, then Thirsty has a few gift options for them. This advent calendar for example, is loaded with 24 unique beers including ales, IPAs and even a nutty porter. 
All the beers are packed into a bright yellow box with labelled compartments and a special glass cup hidden behind one of the windows.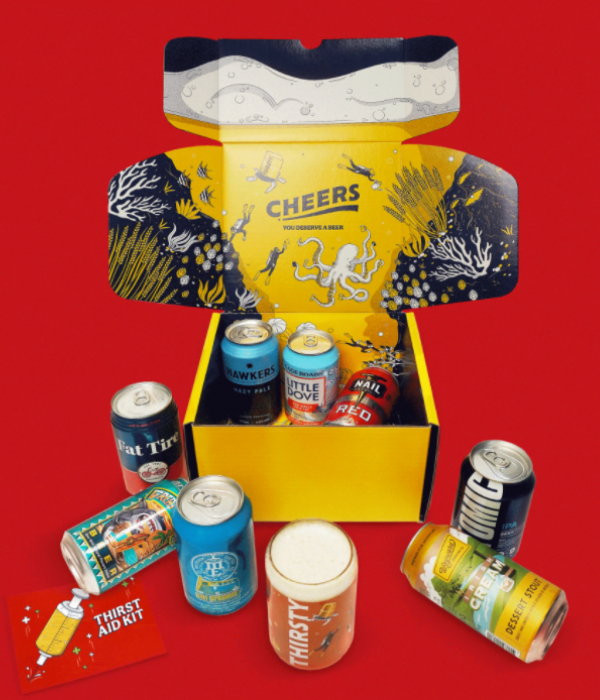 Source 
You can also consider one of their 9-beer boxes which are curated based on the occasion. While the types of beers are stated, the exact damage they're capable of is kept a surprise. 
Deliveries are via a selected time slot, so you can pick whenever is convenient for your compadre to receive the gift. 
Price: From $55 for 9-beer boxes
Shipping fee: Free same-day delivery for orders above $49
Website | Instagram 
4. Calypsoul.Life – essential oils
We all have that one friend who's in dire need of a chill pill – so why not get them a set of essential oils to calm down and revitalise before the new year. Calypsoul.Life has a special Christmas blend and sets of diffuser oils that'll fill the room with festive scents.
Their Christmas Bliss set includes 2 rollers, one of which is scented like holiday spices and eucalyptus to help relieve tension and headaches. Each set is packed into a festive gift box, with the option of adding a personalised message. 
Price: From $33 for Christmas Bliss set
Shipping fee: $2.90. Free for orders above $80
Website | Instagram 
5. Mira – handmade soap
Some prefer receiving items that are practical, so why not get them artisanal soap from Mira – it's both fancy and useful. All their soaps are handcrafted and made from natural ingredients, with scents like French lavender and rosemary mint.
Apart from soaps, you can find candles and lip balms on their site too, some of which are included alongside the soaps in their gift boxes. While they have curated sets, you can also personalise a gift box for your friend. 
Price: From $35.90 for a small festive gift box
Shipping fee: $3. Free for orders above $74
Website | Instagram 
6. Sage & Gifts – personalised snack boxes 
Food is the way to the heart, so of course, a set for munchies is included on this list. Sage & Gifts offers packages specially gift wrapped to suit the season. Sets include items ranging from wine to chocolate, to even candles and lip balms.
If you can't find a set fit for your giftee, you can customise a box and pick which items you want to include. Items are also delivered via a time slot so you can make an order early and even opt to have multiple sets sent out. 
Price: From $40 for Peace gift box
Shipping fee: Free with 1-5 gift boxes ordered
Website | Instagram 
7. Lush – bath bomb sets
With an already pre-packed Secret Santa set, Lush is where you can get gifts to pamper your loved ones. They have a wide variety of sets which include scented bath bombs, scrubs, sprays and more to spoil your friends. 
The sets all come in vibrantly decorated gift boxes which you can have delivered by the next day – fitting for when you're scrambling around, trying to get a last-minute present. 
Price: From $30 for Secret Santa set
Shipping fee: $15 for next day delivery
Website | Instagram 
Also read:
These Disney Christmas Ornaments Feature Mickey, Winnie & Princesses To Add Magic To The Holidays
8. Hush – scented candles & essential oils
Hush, a boutique fragrance studio, now has a series of Christmas scented candles and sprays with a simple, elegant appearance. Their scents include gingerbread and fruit tree to fill the air at home with holiday vibes.
While they have gift sets available, you can also mix and match the items to create a unique box that your bestie or sibling will enjoy. Alternatively, you can purchase a single Christmas candle as a stocking stuffer to surprise the fam. 
Price: From $21 for individual festive candle set
Shipping fee: $5
Website | Instagram 
9. T2 – tea advent calendars
Source
For that homie of yours is always spilling the tea, these T2 sets are presents that'll play on irony in the best way possible. T2 currently has 2 different advent calendars available, that each contain 24 teabags, including flavours like green rose and French earl.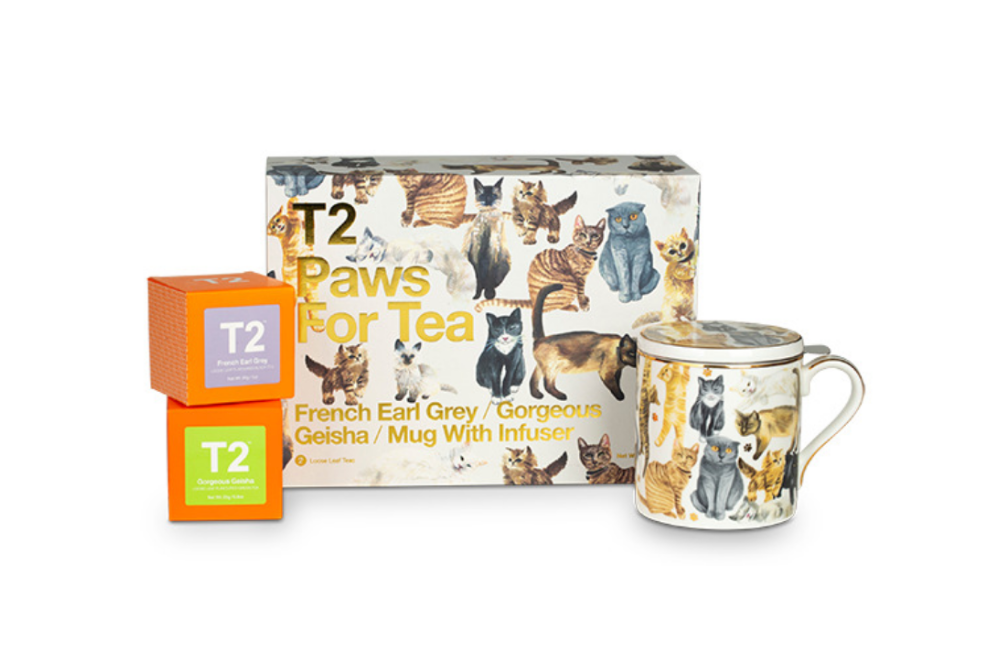 Source 
Apart from the Christmas specials, there are also themed tea sets like this cat version with a matching mug included – a great surprise for any feline fanatics.
Price: From $55 for Paws For Tea set
Shipping fee: $10. Free for orders above $40
Website | Instagram 
10. LookFantastic – skincare & makeup
LookFantastic is where you can find almost any makeup or skincare product, including sets specially made for Christmas. Add skincare advent calendars, perfume baubles and even mini stocking stuffer sets to your cart, which you can order to come within 2 weeks.  
Their products also have a wide price range, so you can get gifts to match your budget for all your beauty enthusiast besties at the same time. 
Price: From $4 for Revolution lip gloss bauble
Shipping fee: $8.50. Free for orders above $51
Website | Instagram 
11. TWG – tea sets
Source
If you're getting a gift for your aunt or grandmother who prefers their beverages more refined, you can consider one of TWG's holiday gift sets. In fact, they have a number of different gifts you can choose from like tea sets, candles and even teaware.
All the gift items come wrapped in the most festive way so you can deliver them straight to your close ones home in time for Christmas. And, if you'd like, you can choose to customise a gift box as well. 
Price: Starts at $15 for Joy Of Christmas tea set
Shipping fee: $5. Free for orders above $110
Website | Instagram 
12. Happy Bunch – up to 15 items per box
Source 
Happy Bunch allows you to customise gift sets that'll come specially packed and wrapped. The items you can select range from food items to alcoholic beverages, essential oils and even jewellery. 
You can pick from 2 to15 items to add inside a gift box, or if you're not too sure what to include, you can order one of their pre-packed sets. Alternatively, you can send flowers to your significant other if you're spending Christmas apart this year. 
Price: From $15 for a gift box, excluding items added
Shipping fee: Free same-day delivery
Website | Instagram 
13. Handmade Heroes – skincare products
If you're hunting for more unique gifts, consider Handmade Heroes where you can pick a present and #supportlocal. This homegrown skincare brand sells items like lip and body scrubs, with items specially curated for the yuletide season.
They also have a build-your-own-gift set option, so you can put together a care package especially for your friend or family member.  
Price: From $22.80 for scrub and mask ornament
Shipping fee: $4. Free with orders above $80
Website | Instagram 
14. Zenkle – aromatherapy products 
Source
To help your friend de-stress from any year-end errands, you have the option of aromatherapy products from Zenkle. All the products they have are made of completely natural ingredients that promote self-care and relaxation.
They also have festive season gifts available like a gua sha set and the Big Night In gift box which contains bath salts, a soy candle, a pillow mist and a sand timer – the complete pamper package.
Price: From $30 for gua sha board
Shipping fee: $3.50. Free for orders above $40
Website | Instagram 
15. Innisfree – skincare products 
For last-minute gifts or something more affordable, you can KIV Innisfree's holiday collection which features sets in collaboration with Steven Harrington. The packaging is charmingly designed with the holiday spirit kept in mind for that extra flair. 
The holiday collection has skincare sets as well as individual makeup products which you can mix and match with other items on their site. 
Price: From $16 for hand cream set
Shipping fee: Free shipping
Website | Instagram 
These Practical Gift Set Deliveries Will Help You Spread The Christmas Joy Safely 
Whether your secret Santee is a beauty guru or an alcohol connoisseur, this list will help you find the perfect gift to leave them feeling spoiled, while simultaneously spreading the yuletide joy – all without compromising on safety. 
Also read:
Coffee Bean Has Mickey Mouse & Frozen Gift Sets With Latte Art Stencils For Budding Baristas