Common Hair Care Concerns
To many, a good head of hair symbolises beauty. So it comes as no surprise that many of us would spend a lot of money to zhng up our hair using methods like perming and dyeing. However, there are repercussions to making our hair look nicer  — dry ends, dullness and the lack of volume are more common than we think.
We spoke to 8 women in Singapore to find out their hair care concerns and what they do to combat them.
1. "My hair was so damaged that I gave up and dyed it black to prevent myself from dying it again"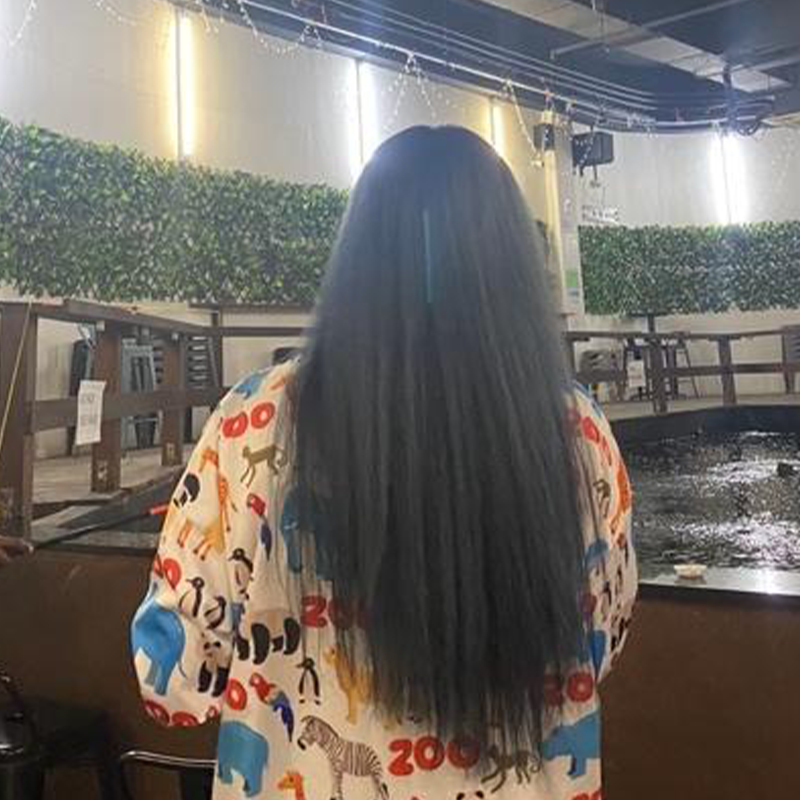 Image courtesy of Si Yu
"My hair is very thick, long, and straight. I have bleached it 8 times and explored different colours like light blonde, grey, purple and dark blue. After bleaching it 8 times, my hair retained its original texture, but it would become very fragile when it was wet.
I started noticing these problems when I washed my hair after the first time coming back from the hair salon. I bought different products to try treating it and went to the salons for treatments, but they only lasted one wash. Eventually, I gave up and dyed it black to prevent myself from dyeing it again.
Because of my damaged hair, I had to change my cotton towel to a microfibre towel to reduce friction. I also bought a new hairdryer with blue light to minimise hair damage while blow-drying, but it took forever to dry my thick and long hair. I even stopped tying my hair to reduce breakage, and I couldn't change my hairstyle; I always had monotonous hairstyles."
— Si Yu, 19
2. "My dandruff made me feel insecure and embarrassed"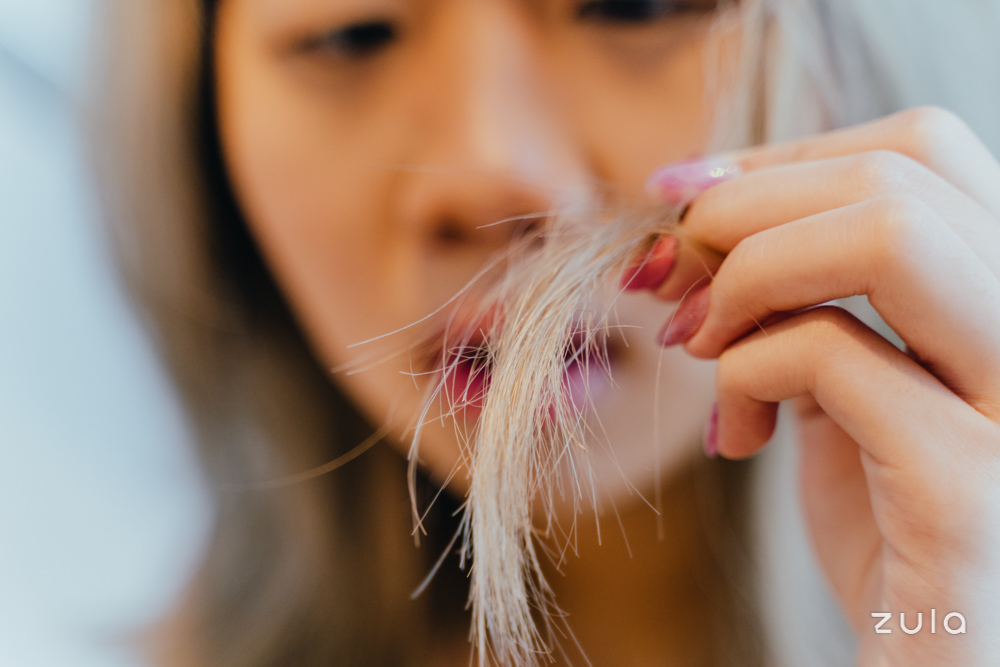 For illustration purposes only
"I would describe my hair type as dry and damaged. I suffer from several hair care concerns like hair fall, greasy hair and dandruff. 
I used to have really long hair, which dropped almost everywhere I went. My mom would always complain about my hair getting everywhere. On top of that, my dandruff made me feel insecure and embarrassed because I was afraid others might see and judge me for it. I tried going for hair treatments and detox sessions for it but they were always just one-time things since I hardly followed up on them due to budget constraints. 
I also tried products like horse oil, argan oil, coconut oil and also hair fall shampoo. The shampoo and horse oil had minimal effects on my hair. The argan oil would leave a greasy residue on my dry hair, but coconut oil works wonders for me! I apply it before I sleep and wash it off the following day. Additionally, I always use hair masks after I dye or bleach my hair which smoothes my hair."
— Sandy, 21
3. "I have a bad habit of scratching my head because the itch can get unbearable"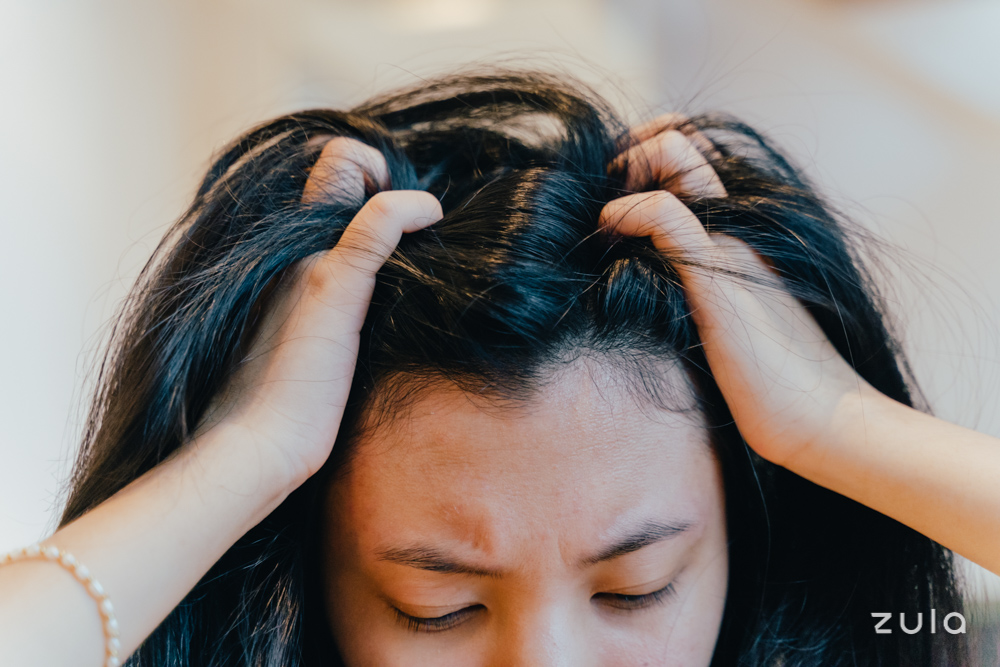 For illustration purposes only
"My biggest concern is having a dry scalp. My scalp can get sensitive, and I have a bad habit of scratching my head because sometimes the itch is unbearable. Because of this, my scalp tends to turn "flaky" and become dry. 
I started noticing my dry scalp at the end of 2020, and it just happened all of a sudden. I had not changed anything about my routine and was using the same shampoo and conditioner, which had never given me such concerns before. I tried a new shampoo which clears residue and buildup, and it seemed to have helped a lot."
— Cheryl, 19
4. "My hair looked like an old ragged broom if I didn't properly care for it"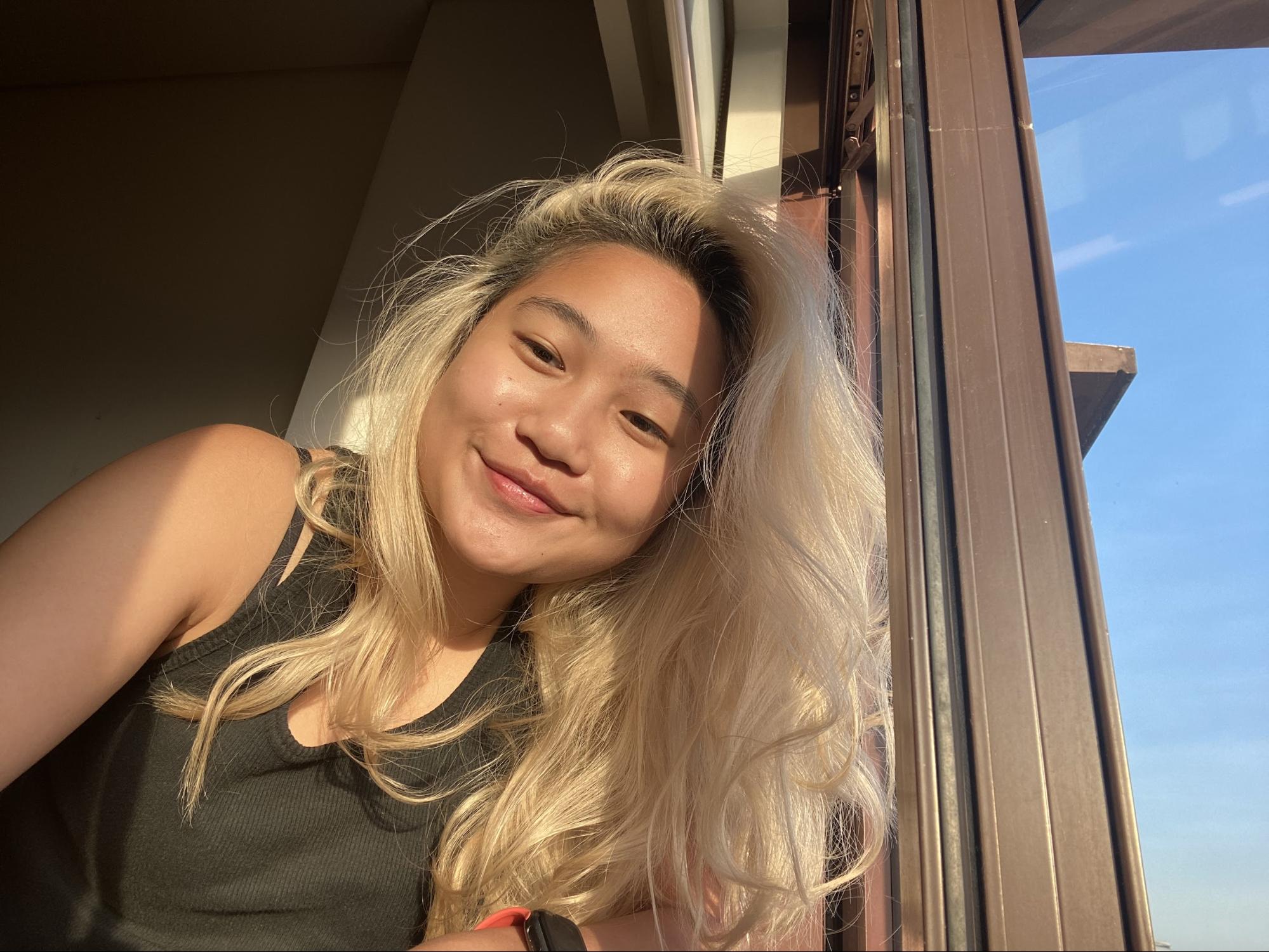 Image courtesy of Jochebed
"My current hair condition is slightly damaged from previous rounds of dyeing and bleaching, but it is growing again, so it's a mix of healthy and damaged hair. Dry split ends are the usual concerns. I just want my hair to look silky smooth and have volume. Flat hair is always a worry for me as well.
I guess I started taking more notice when I grew older, and people around me kept talking about hair care, but ultimately, after I bleached my entire head to go full blonde, I realised that my hair was getting really dry.
I used purple shampoo and conditioner when I had bleached and dyed hair, but right now, I mainly use a regular moisturising shampoo, hair essences and oils. I occasionally use a hair mask in the shower as part of my haircare routine."
— Jochebed, 22
5. "In this hot and humid climate, my hair is more prone to being frizzy"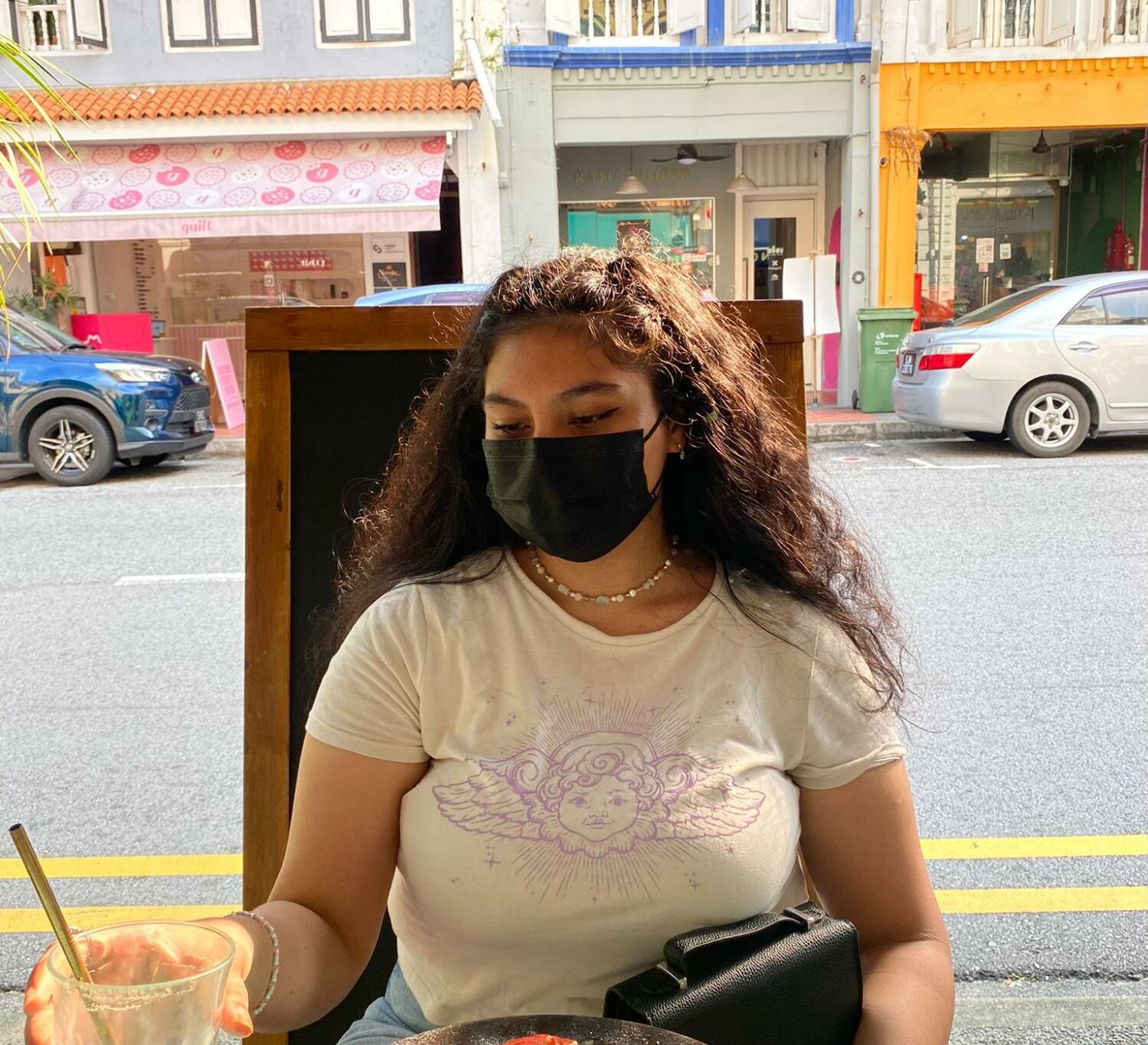 Image courtesy of Aminah
"I would say my hair is type 2C: dry and frizzy medium length curly hair. I tried relaxing my hair a few years ago and even experimented with henna for its benefits.
After a day out, my hair is like a lion's mane, and my curls are not defined. In addition to the frizziness, my hair looks quite dull, and there's no shine – plus, it's very dry. Keeping my curls defined has been a struggle, too, as my earlier concerns make my hair lose its curls.
I started using leave-in conditioners, hair masques, hair oils and hair smoothies to control the frizz and give my hair some hydration so it wouldn't be as dry. These worked well, and I still use them to this day as they are more effective than other hair products I have used in the past."
— Aminah, 19
6. "My hair tangles up into a ball, causing a lot of hair to drop when I try to untangle it"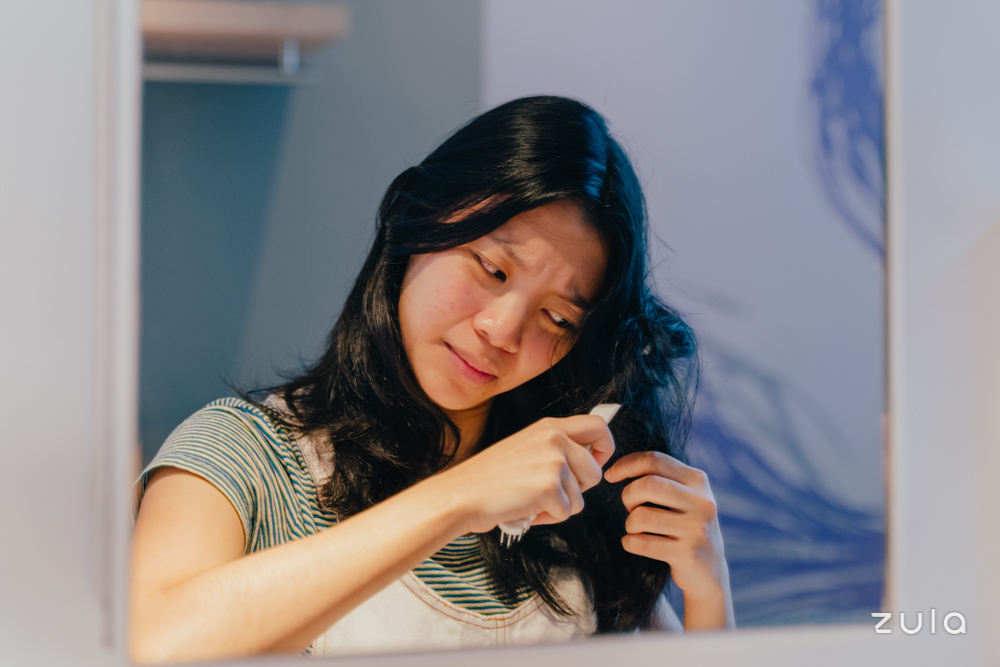 For illustration purposes only
"I'm not sure if it's because my hair is very long and thick, but it gets tangled easily. 
I have been using conditioner regularly and hair oil occasionally after washing my hair. This has been quite effective as after I apply these, my hair does not get tangled easily and remains soft and smooth. 
Another thing I do is to cut my hair yearly. Ever since I started cutting my hair regularly, my hair stopped growing past my chest area, which has resulted in less tangled hair."
— Chun Zhen, 20
7. "I can never seem to have a consistent look and feel to my hair"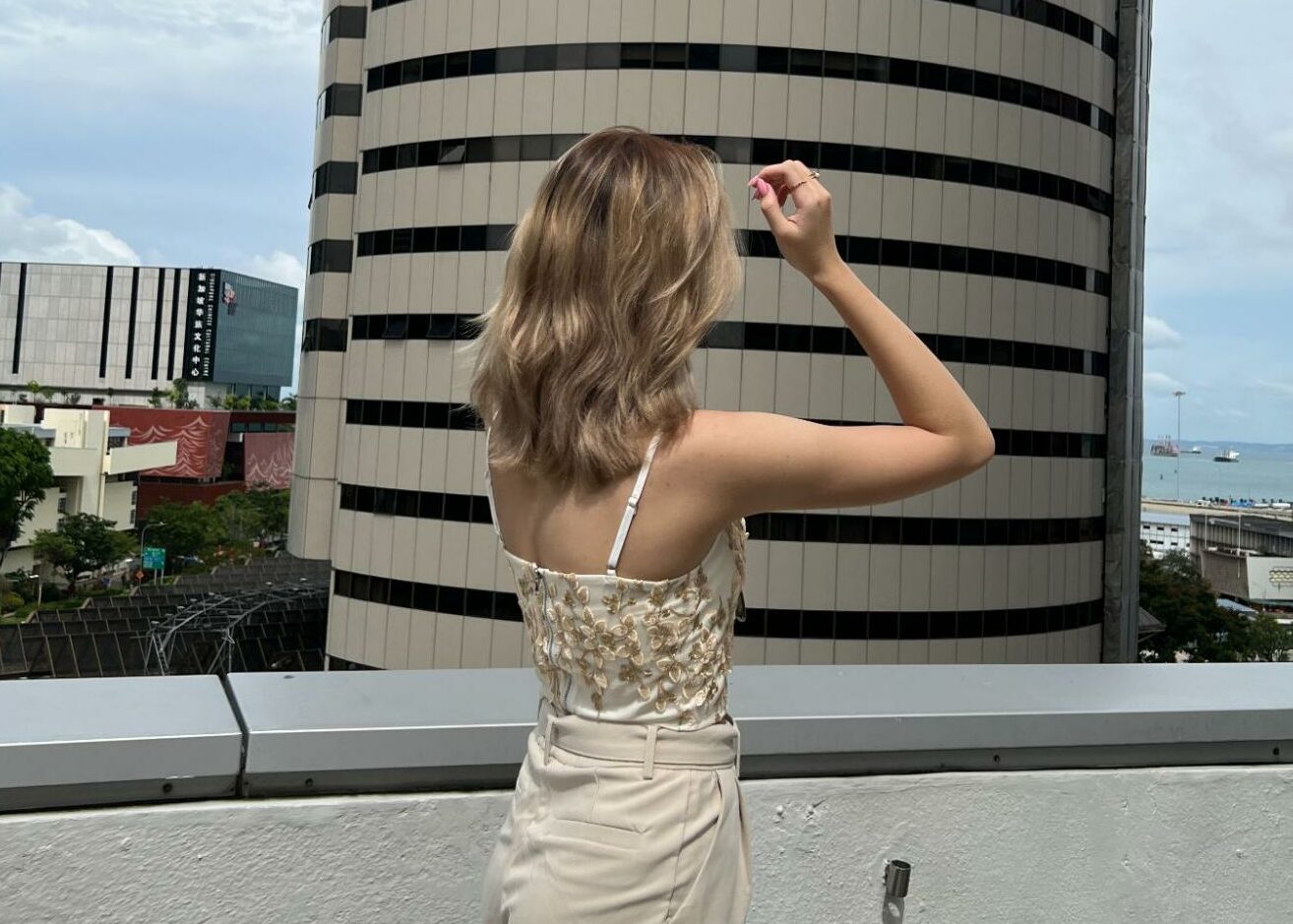 Image courtesy of Elizabeth
"I have thick, frizzy and wavy hair. Being someone who likes to play around with my hair colour, I have bleached it about 6 to 8 times and experimented with many colours like ash grey, purple and pink. With every new hair colour, my hair texture gets even dryer.
My hair care concerns can change quite drastically depending on how I treat my hair the day before. Most of the time, I would struggle with having an oily scalp, which would make my hair feel flat after a day out. If I use heat to dry my hair, it turns out straight with little to no volume.
After bleaching or dyeing, I would always go for treatment sessions to make my hair feel smooth. However, the feeling doesn't last long, and I don't like the smell of my hair after treatments. Apart from the occasional salon visit, I would also make an effort to apply hair oil instead of hair masks, as I find them quite time-consuming. I also use a sulphate-free purple conditioner to keep my blonde hair from turning yellow."
— Elizabeth, 19
8. "I went to cheaper salons which ended up damaging my hair in the long run"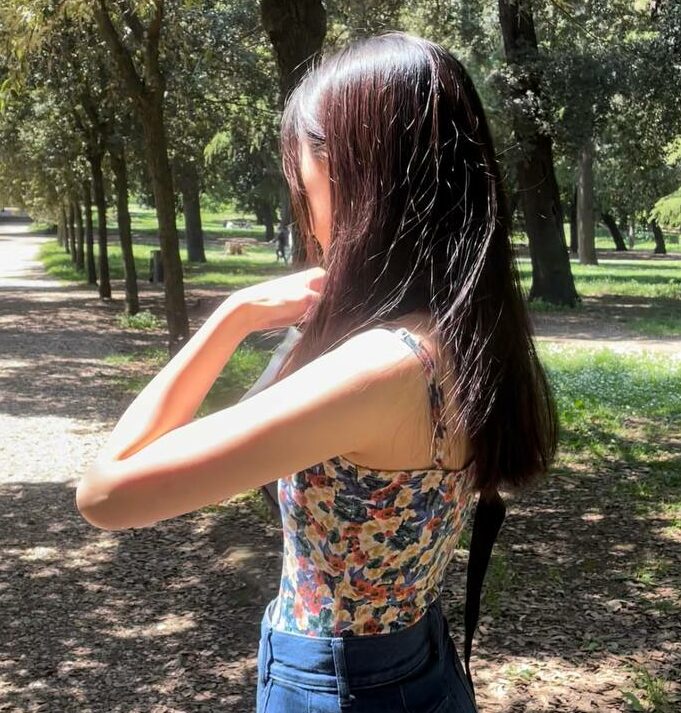 Image courtesy of Hannah
"I have really thick, dry and straight hair that can turn frizzy when I don't condition, oil or blow-dry. 
When I was younger, I used to have long, glossy hair until I started swimming regularly in primary school. Although I've stopped swimming, my hair never entirely went back to its original state.
I first tried perming my hair at 16 and liked it, so I did it several more times. It was a mistake, though, because I tried finding cheaper salons and ended up damaging my hair in the long run. I've also dyed it brown thrice and spent quite a lot of time on black box dyes trying to dye it back, which made my hair texture worse. It's been dry, a little damaged, and easily tangled even though I've spent the last few years growing it out."
— Hannah, 23
Tame Your Mane In The Comfort Of Your Home With Bear Fruits Hair Masks
These hair care concerns and remedies shared by the 8 ladies show that it takes a lot of effort to achieve the results they want. From frizzy hair to dandruff, hair issues are common and happen to the best of us. 
When you're looking for different hair concern remedies, it doesn't always have to come with a huge price tag. Instead of resorting to salon visits and expensive treatments, there are also ways to resolve your hair care concerns like incorporating hair masks into your beauty routine.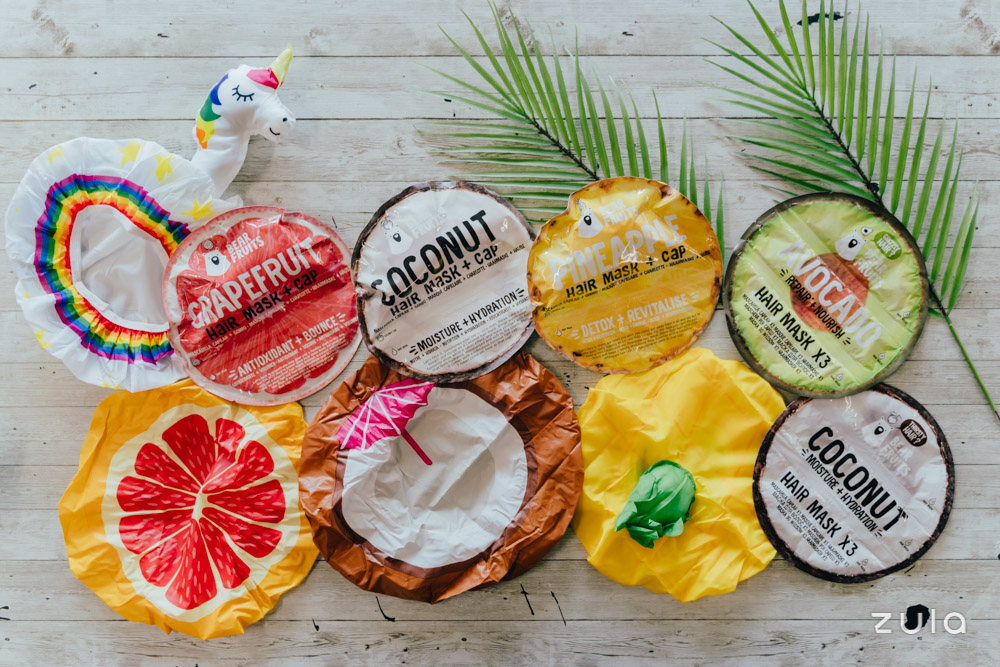 The Bear Fruits Hair Masks and their caps are conveniently packed in a singular disc-like packaging
Bear Fruits Hair Masks put a fun spin on hair care, coming in fresh scents and formulas to transform dull and dry hair in 30 minutes so that you can get that perfect post-salon hair in the comfort of your own home.
They also come in a compact size, so you can even bring them around on your holidays and ensure luscious smooth locks for all your OOTD pictures. 
Using hair masks has never been simpler. All you have to do is wash your hair, apply the mask and put on the shower cap, then leave it on for 30 minutes.
Each formula has its benefits and is made with premium quality ingredients, so you can rest assured that you're doing more good than harm to your hair.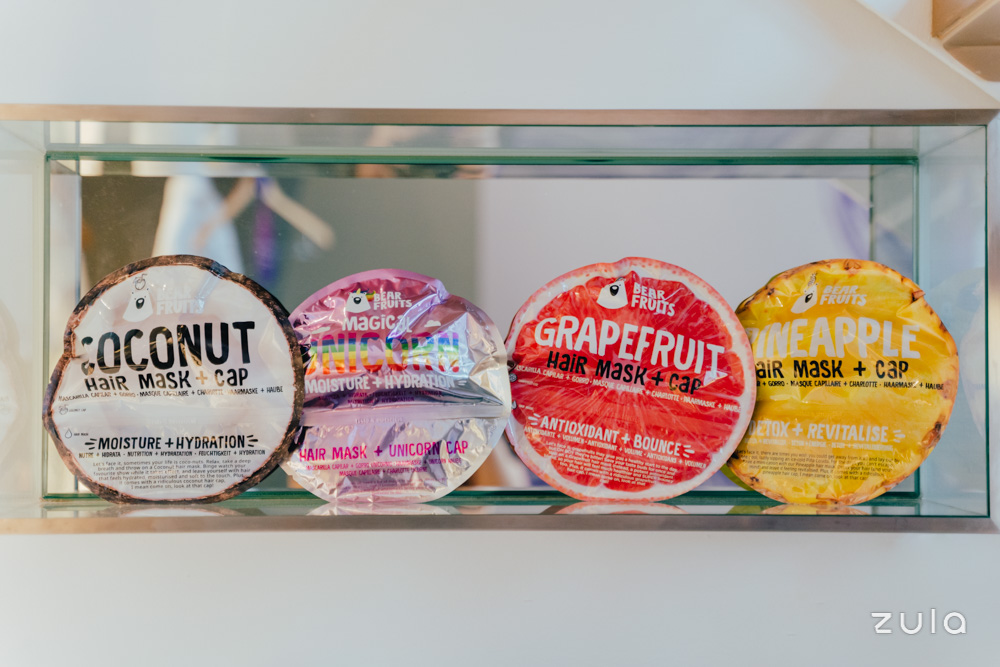 From left: Coconut, Unicorn, Grapefruit and Pineapple hair masks
For those of you looking for a solution to dry and rough hair, the Coconut mask will do just the trick. Coconut extract has been proven to work wonders for such hair care concerns, and if that doesn't convince you enough, the sweet smell serves as the perfect accompaniment to your new, smooth hair.
Coming up in May 2022 is the Unicorn mask, which is infused with argan oil and aloe vera to moisturise and hydrate your hair.
If you're craving that extra oomph to your look, opt for the Grapefruit mask to combat dullness and thinness. Its strong citrus scent will turn heads wherever you go too.
Everybody loves a miracle — with the Pineapple mask, you can glow from the inside as the pineapple extract detoxifies and revitalises your hair.
There are also many other variations like the Strawberry mask to give shine and detangle, the Avocado mask to repair and nourish, and the Flamingo mask for smoothness.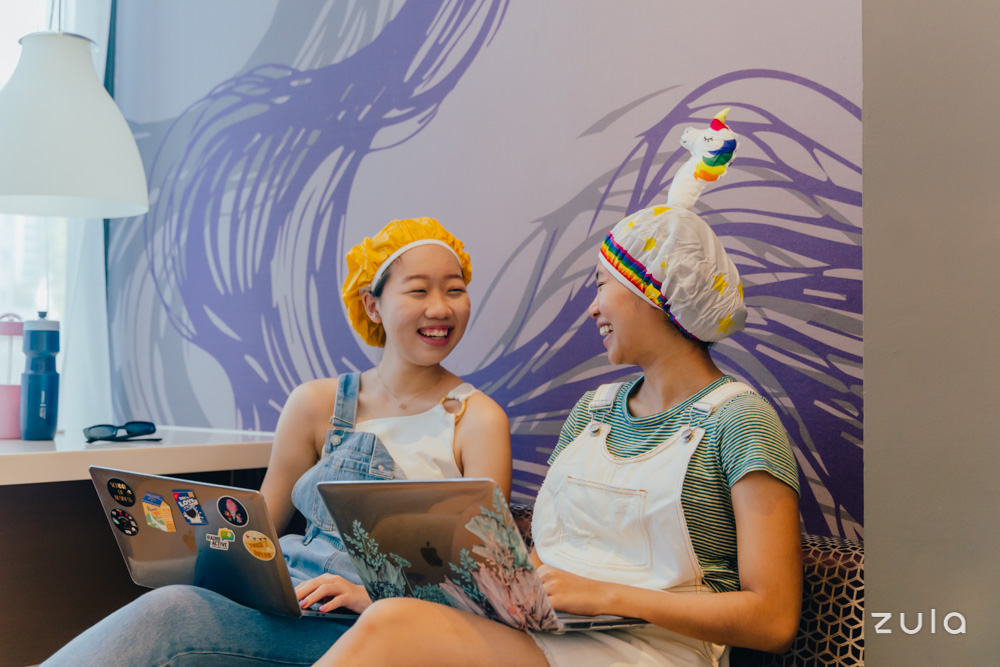 The Bear Fruits Hair Masks caps feature bright colours and unique shapes, making them a fun activity to do with your BFFs
Applying hair masks in the shower can be pretty messy, and waiting for 30 minutes can seem like a waste of time if the only place you can stay is in the bathroom.
Thus, Bear Fruits Hair Masks have your back with their super adorable reusable shower caps, specially created for each scent. Spread the mask onto your hair, wrap it up in the caps and keep the good stuff in as you go about your tasks.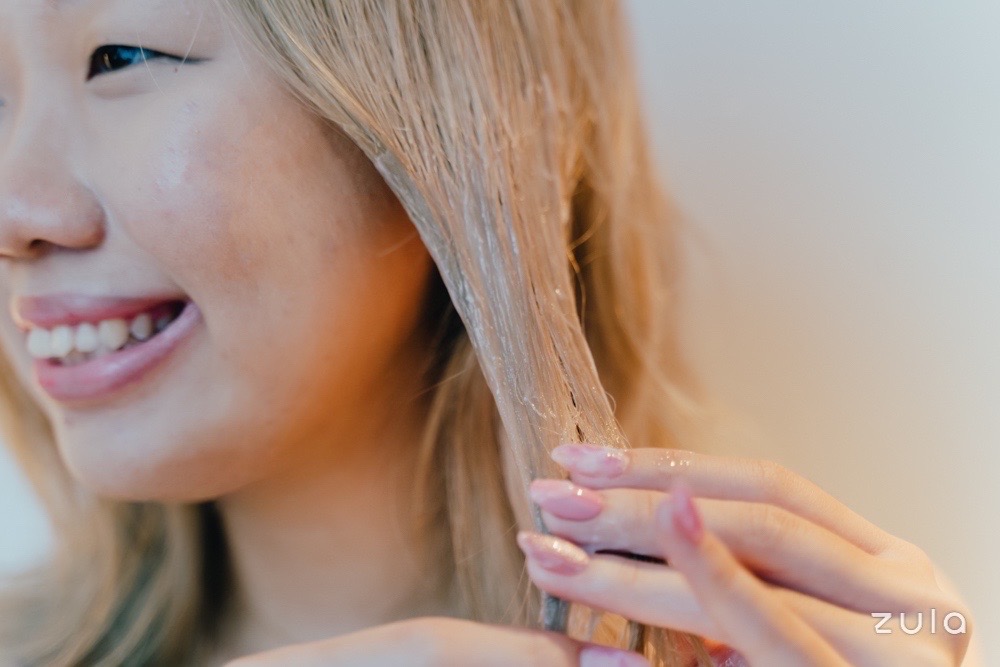 Applying the Grapefruit mask onto my hair
I tried out the Grapefruit mask and was surprised at how well it worked for my damaged blonde hair. I'm not usually one to sing praises for hair products as I find that the effects don't tend to last long, but this hair mask truly worked wonders for my hair texture.
Upon opening the packaging, I was hit by a strong and pleasant citrus fragrance. The texture of the mask is pretty light, which made the application easier too. The process of applying, waiting, and washing it off was effortless, and the immediate results lasted until the next day.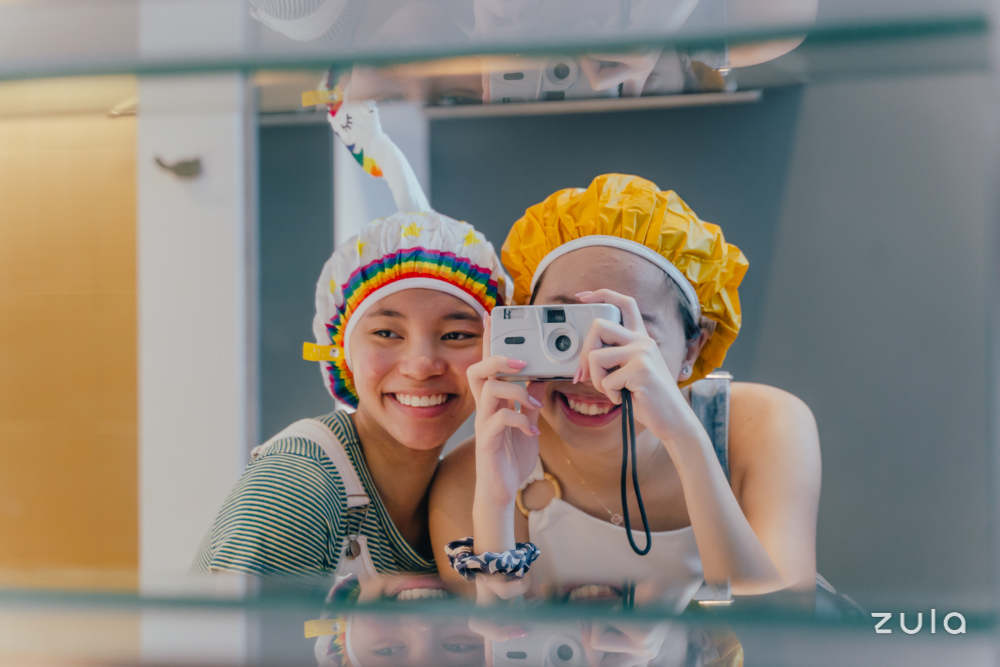 Here's an exciting idea for you — have a fun and relaxing time at a hotel staycation with your family and friends with these Bear Fruits Hair Masks. Not only will you feel rejuvenated, but your hair will thank you for it as well.
This post was brought to you by Bear Fruits.
Photography by Chan Hui Wen.
Also read:
16 Aesthetic Hair Dryers Other Than Dyson From $20 To Style Your Hair Like A Queen At Home