Aesthetic Hair Dryers
Unless you prefer to air dry your hair after a wash, owning a hair dryer is nothing new. Instead of using a hair dryer that comes in a simple and perhaps boring design, why not opt for one that promises both quality and aesthetics. It's no secret that Dyson hair dryers are the top choice when it comes to this, being at #1 on many females' wishlists.
But for more affordable alternatives, check out 16 chio hair dryers that will change your beauty experience at home and aesthetic game. 
1. Ezbuy – ULESM negative ion anion hair dryer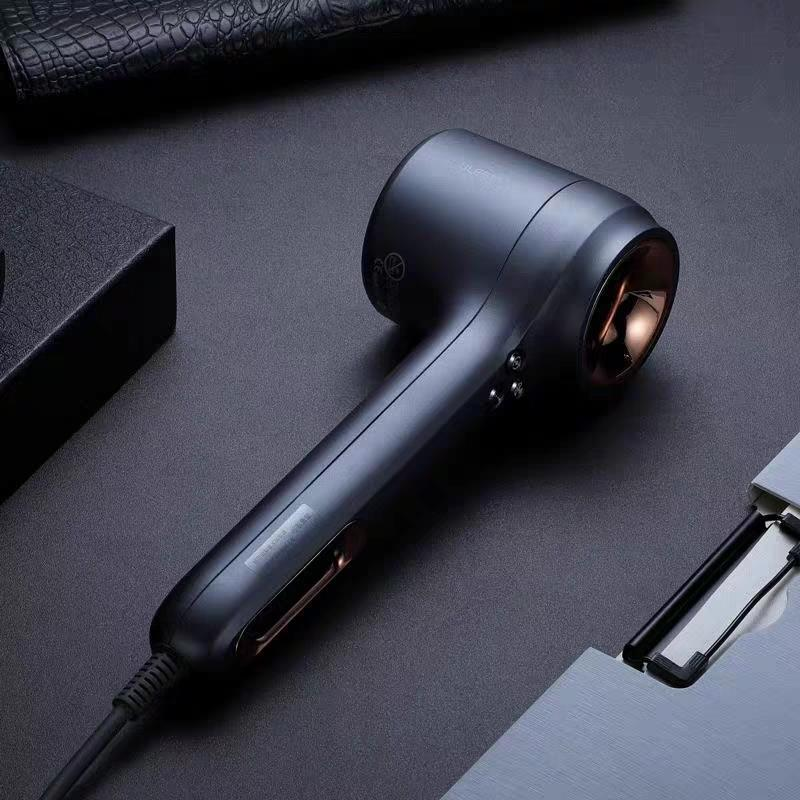 Source
Dyson hair dryers are known for their quality and innovation but for those with a budget, this hair dryer from ULESM is a cheaper alternative. 
Available in both grey and white, the hair dryer comes with a hollow airway in the centre that allows quick drying. It uses ion technology to reduce hair frizziness, leaving your hair smooth and shiny. Plus, it produces little noise so you won't disturb bae at night when you switch it on. 
Price: $211.19
Shipping: $2.80
Website
2. Lazada ‒ Panasonic double ion mineral hair dryer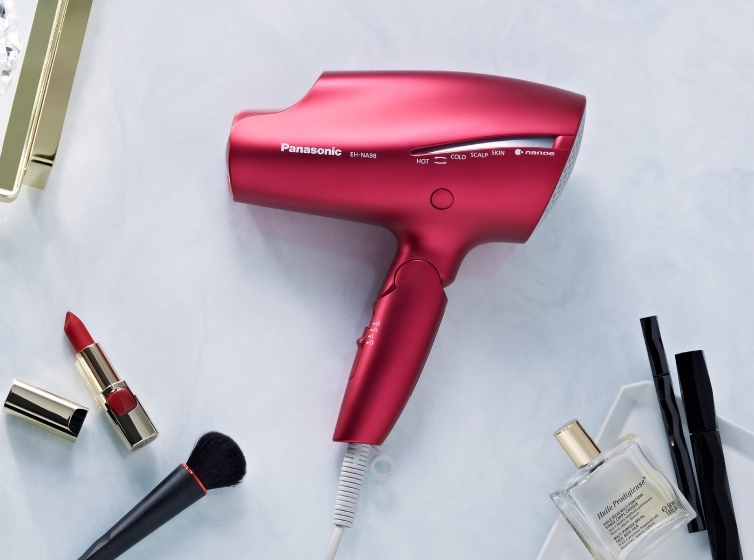 Source
This hair dryer from Panasonic doesn't just dry but also beautifies your hair. The double mineral ion technology protects your hair from UV light and locks moisture in to keep your scalp healthy. This way, it guarantees shine for your hair, giving you a glossy and healthy look. 
Apart from the numerous features, its one-of-a-kind design grabs attention. Compared to a standard hair dryer, notice how it has a shorter body length. It comes with a curve on top before it dips to the nozzle in front as well. As a bonus, the hair dryer is also foldable and weighs only 502g.  
Price: $193.90
Shipping: $1.49
Website
3. Shopee ‒ Standing hair dryer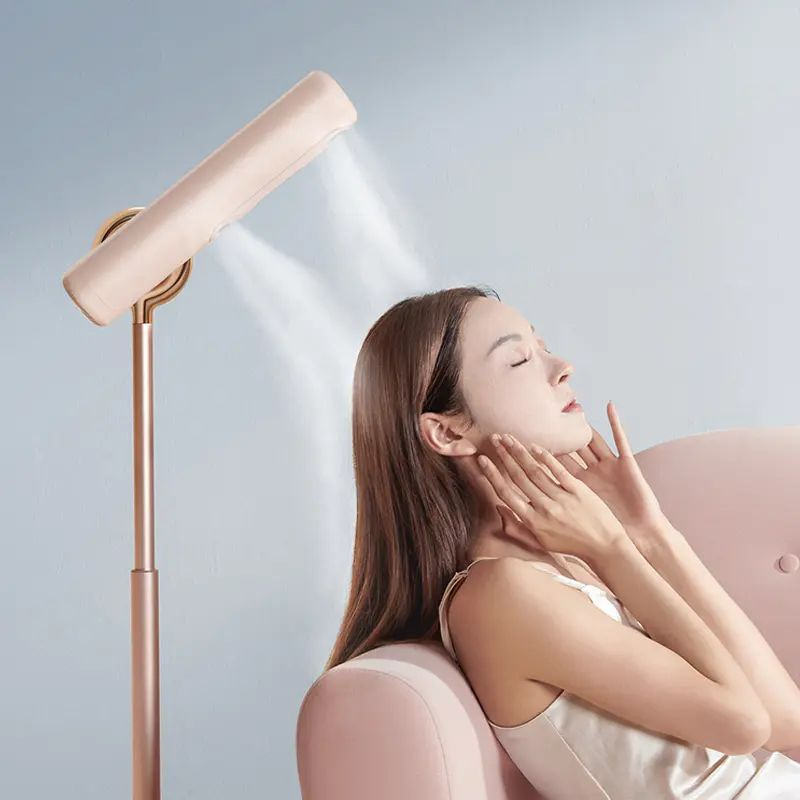 Source
Lazy peeps who just want to nua after showering would be interested in this hands-free standing hair dryer. It does the drying for you while you multitask, like texting your friends or watching a new episode of your Netflix show. 
The best part? You get to adjust the height of the hair dryer so it is blowing at you whether you're sitting on the floor or in front of your vanity table. Furthermore, there is also a remote control that lets you switch between five heat settings and three wind speeds. For full details about this hair dryer, check out this article. 
Price: $199.20
Shipping: Free
Website
4. Lazada ‒ Bedabenc gradient hair dryer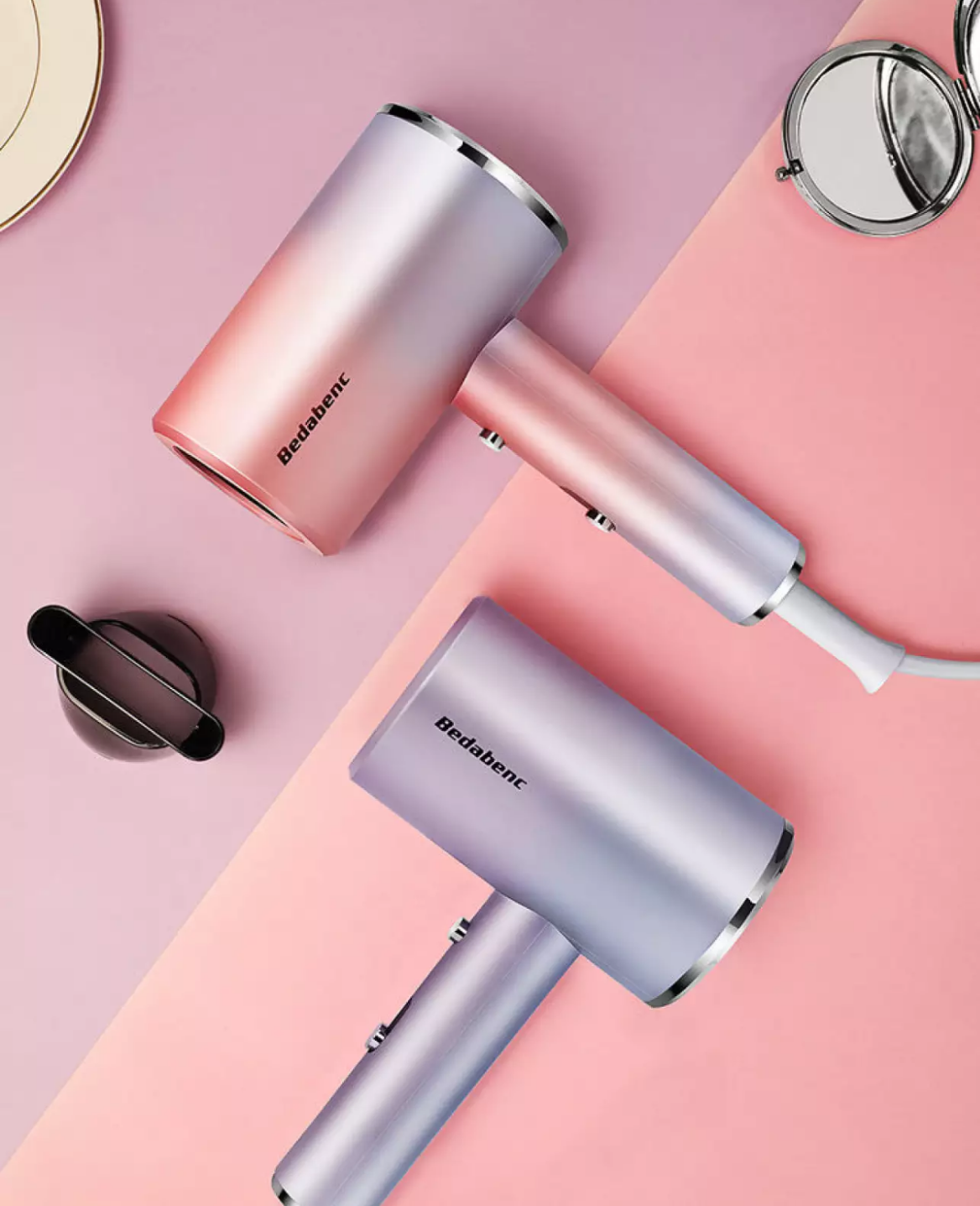 Source
This hair dryer from Bedabenc suits the definition of an everyday gadget as it is not only aesthetically pleasing, but also compact ‒ great for those with limited storage space. It comes in two colour choices, purple and purple-pink gradient. 
Despite its small dimensions of 24cm x 13cm, it is installed with 18 centrifugal fan blades that produce high speed and stable airflow for quick drying. In addition, the spiral wire prevents clumsy tangling of wires during the hair drying. 
Price: $20
Shipping: Free
Website
5. Lazada ‒ Orlif mini hair dryer with magnetic suction nozzle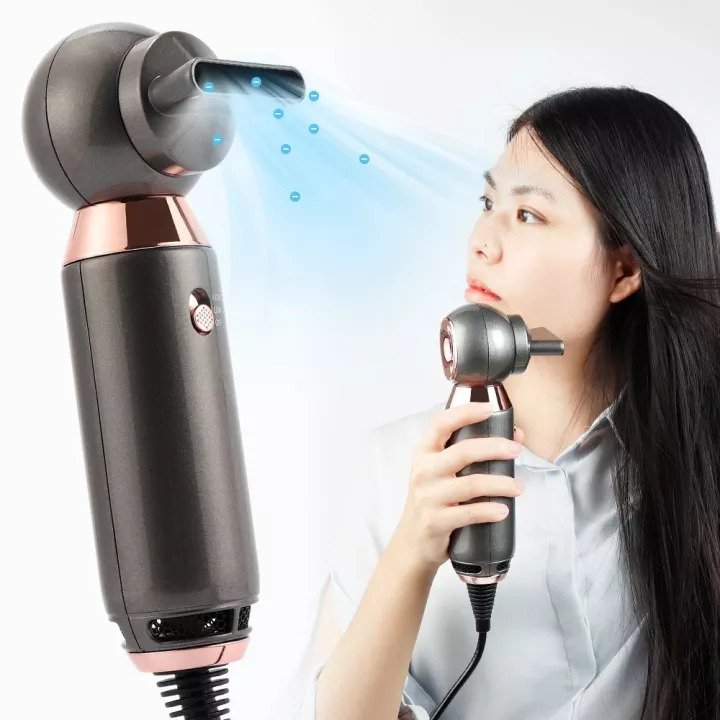 Source
At first glance, this peculiar hair dryer brings to mind a security camera or a webcam. The highlight of the hair dryer is none other than the 360 degrees magnetic suction nozzle, on top of providing precise drying and styling with its concentrator. That's not all, as the one-button operating system also makes it easy to switch between heat and speed settings. 
Weighing only 365g and with dimensions of 5cm x 20cm, you can bring this hair dryer on short trips or a staycation with your besties. 
Price: $27.16
Shipping: $1.49
Website
6. Shopee ‒ Mermaid hair dryer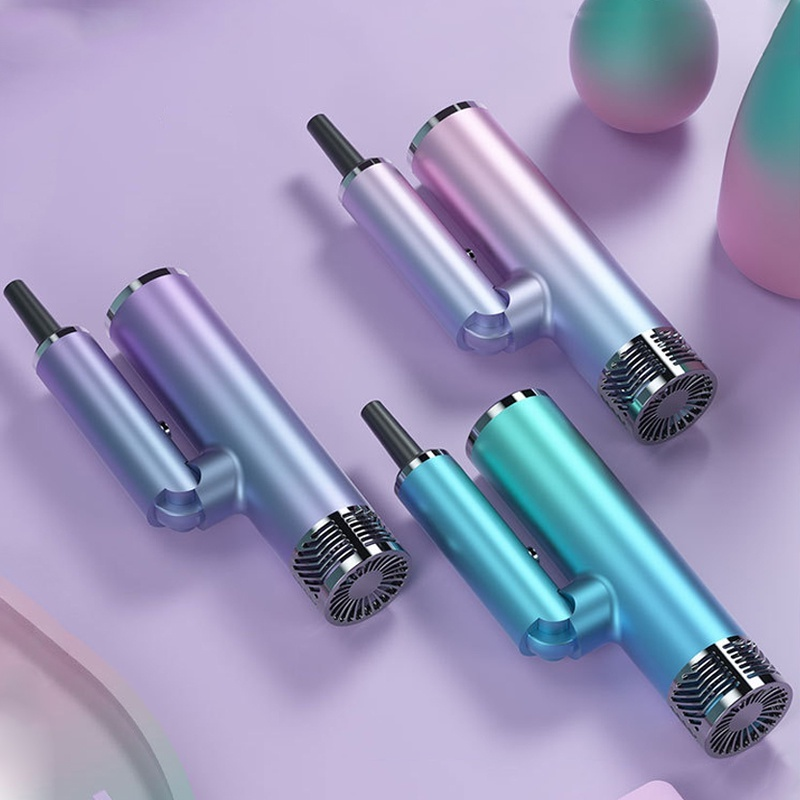 Source
Providing your mane with a sleek and soft finish is this cylinder-shaped hair dryer with over 4 colours to choose from. Smoother hair is also possible, thanks to the hair dryer's negative ionisation technology which helps to moisturise.
Touching on other features, the foldable hair dryer is equipped with a temperature monitoring function to prevent your hair from overheating. Additionally, it produces minimal noise when switched on.   
Price: From $25.50
Shipping: Free
Website
7. Shopee ‒ K-Skin portable hair dryer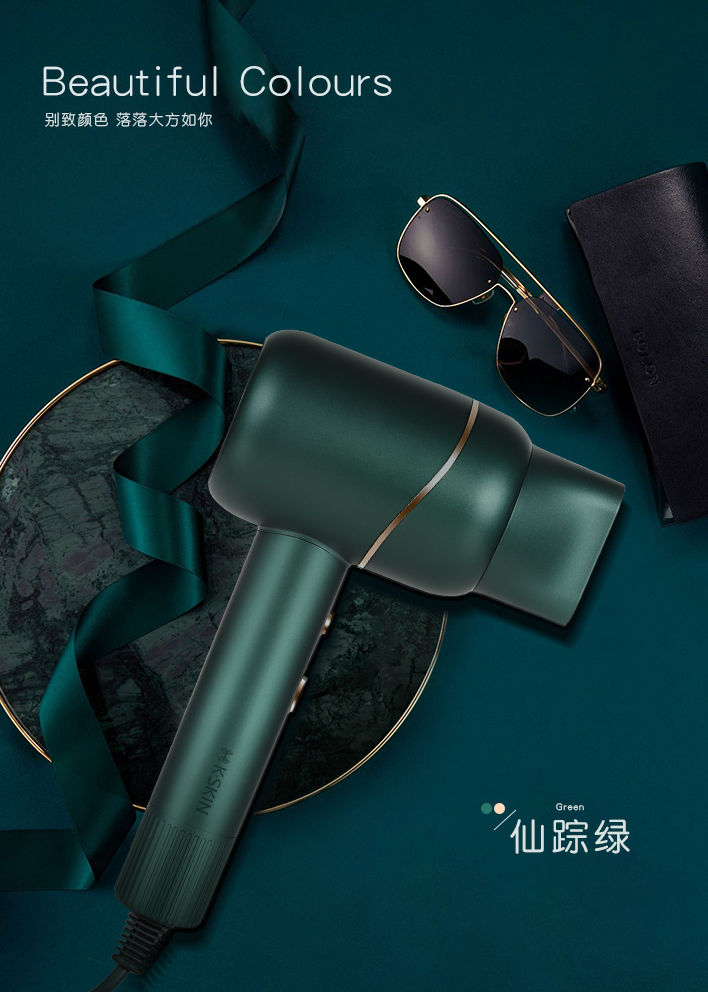 Source
It is hard to resist pretty things and when it comes to hair dryers, this one from K-Skin definitely fits that bill. The minimalist hair dryer comes in 3 colours ‒ green, purple and white ‒ with golden accents on the nozzle and switches. 
Don't judge its small size either – it has a built-in temperature protector and thermal fuse for safety purposes. This way, the hair dryer will switch off automatically on the occasion that the temperature exceeds the safe range.  
Price: From $32
Shipping: $1
Website
8. Amazon ‒ PHILIPS sense IQ compact hair dryer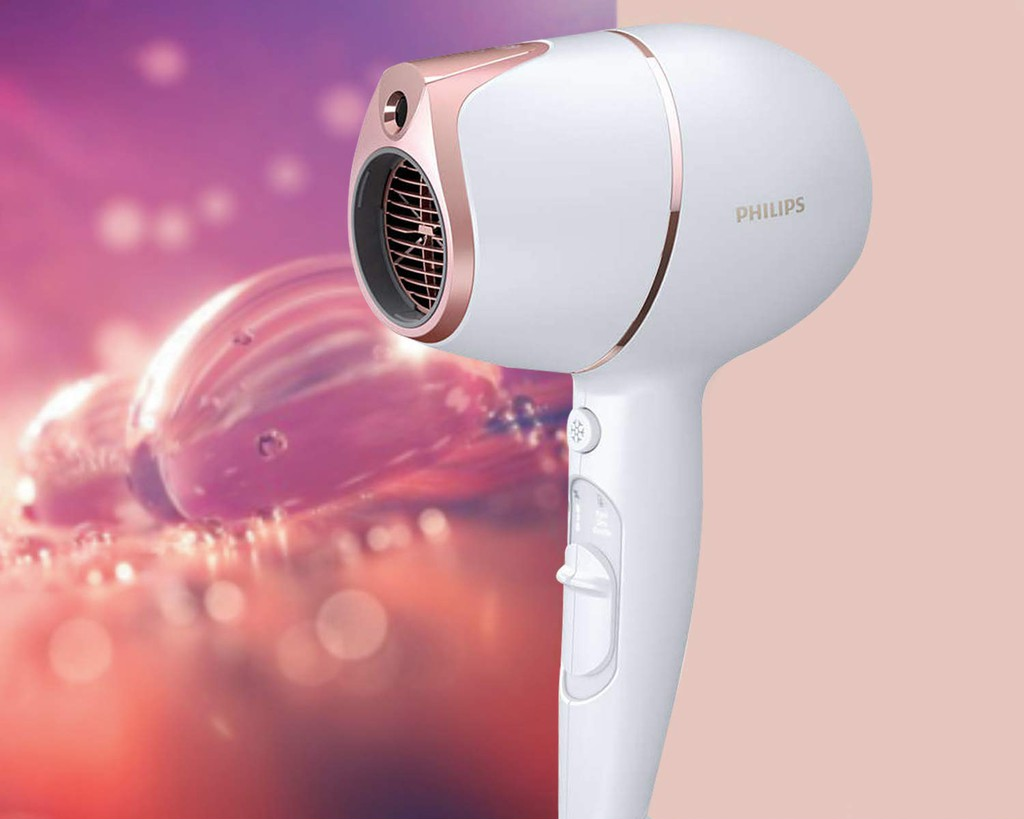 Source
Decked in a white body, this hair dryer from PHILIPS stands out with its rose gold accents on the rims of the airlets and grilles. On top of its chio factor, it is designed with two speeds and three drying preset modes ‒ eliminating the process to repeat setting up every time you dry hair. 
For those who are all about hair styling, this hair dryer comes with additional nozzles and diffusers. You won't have to worry about hair damage either as it also has two times the ionic care property than most other hair dryers to ensure consistent moisture in your hair.
Price: $195
Shipping: Free
Website
Also read:
There Are Now Sailor Moon Hair Curlers & Nail Sets That Will Give You A Magical Transformation
9. Zest Beauty ‒ Diva Pro atmos atom dryer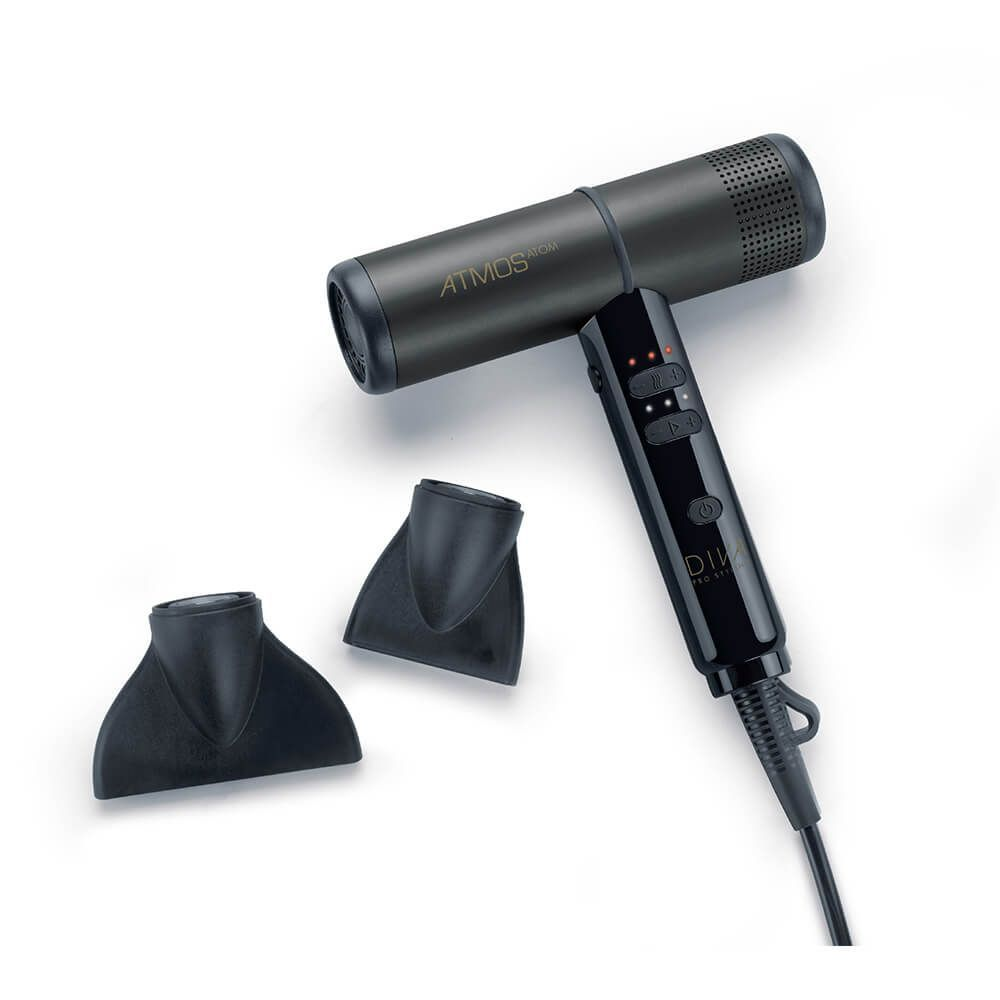 Source
Bringing to mind a speaker at first glance, this device is actually a hair dryer from Diva Pro. It takes a step back from the conventional design and features a cylinder-shaped body with the handle located right in the middle. Such modern design might pique the interest of minimalist and monochrome lovers.
While its price tag leans towards the higher end, rest assured your money is worth the value since the hair dryer is designed with ultra-fast drying. Despite being equipped with an AC motor, it produces significantly less motor noise too. 
Price: $338.66
Shipping fee: Free
Website
10. Shopee ‒ LINE Friends Cony hair dryer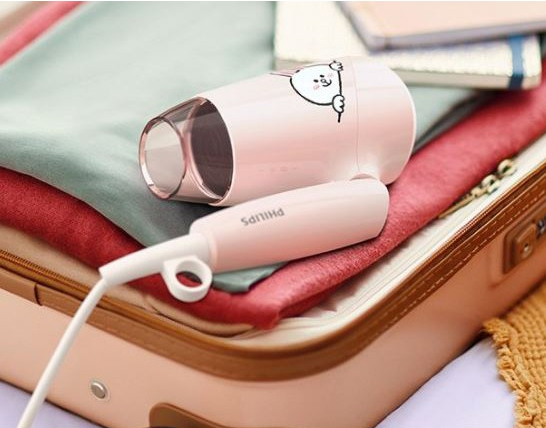 Source
For those who don't know, LINE Friends is from South Korea – home to all things aesthetic. Featuring Cony, the foldable hair dryer from PHILIPS includes an appearance of the adorable rabbit. It comes equipped with PHILIPS' ThermoProtect technology as well to prevent your hair from getting damaged.  
If you prefer other LINE Friends characters, there is also one with the design of Brown that comes in well, brown. 
Price: $29.80
Shipping fee: $1.99
Website
11. Shopee ‒ Kakao Friends Apeach mini hair dryer
Source
Kakao Friends is known for their cute characters and one of them is none other than Apeach. Pretty in pink, the hair dryer features the lovely peach which appears to be cuddling an elephant plush while sitting above a cloud. 
Apart from the adorable design, the foldable handle lets you keep the hair dryer without it taking up too much space. Plus, it comes with three temperature settings for quick drying and styling to make you feel like royalty.  
Price: $58.80
Shipping: Free
Website
12. Taobao ‒ Cardcaptor Sakura sealing wand hair dryer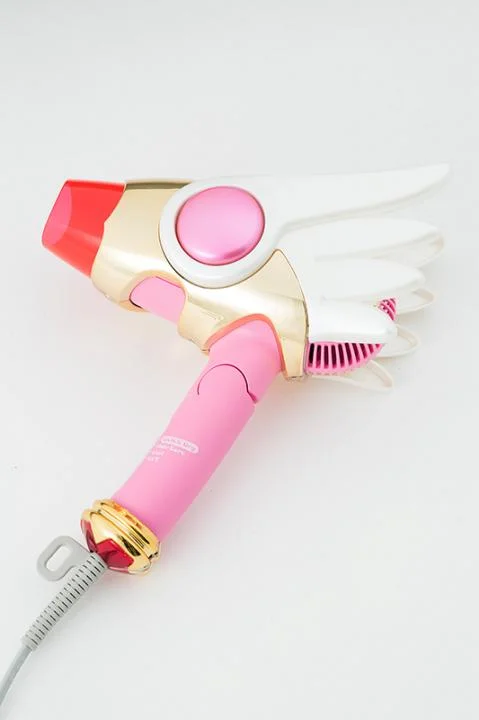 Source
Cardcaptor Sakura is a popular and widely known series among anime fans. For those who can't get enough of Sakura's magical powers, you can also work magic on your hair when you dry and style with this hair dryer.
Taking after the shape of her sealing wand, the nozzle of the hair dryer brings to mind a beak. The body even features a pair of white wings which is unique to Sakura's iconic wand. Apart from its kawaii design, the hair dryer also has multiple properties like various speed settings and cool air mode.  
Price: $27.27
Shipping: Calculated upon check out
Website
13. Nice Cosmetics ‒ Nobby by Tescom collagen ion hair dryer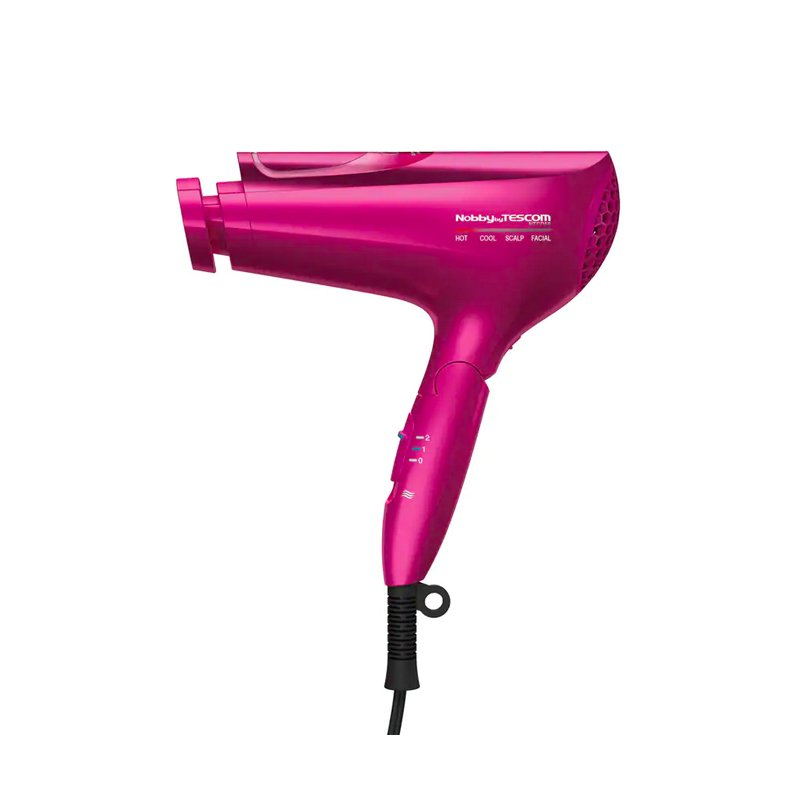 Source
Hair drying is not the only function of this hair dryer as you can also use it for facial purposes. The facial mode allows you to undergo a quick negative ion collagen facial before switching to the standard mode for hair drying. As a bonus, there's even a scalp mode that focuses on keeping your scalp healthy. 
Since this hair dryer is the only one in the market that combines collagen, platinum, nano moisture and negative ions, rest assured that your hair will feel incredible for a day out and about. 
Price: $248
Shipping: Free
Website
14. Beauty Expert ‒ BaByliss salon pro 2200 hair dryer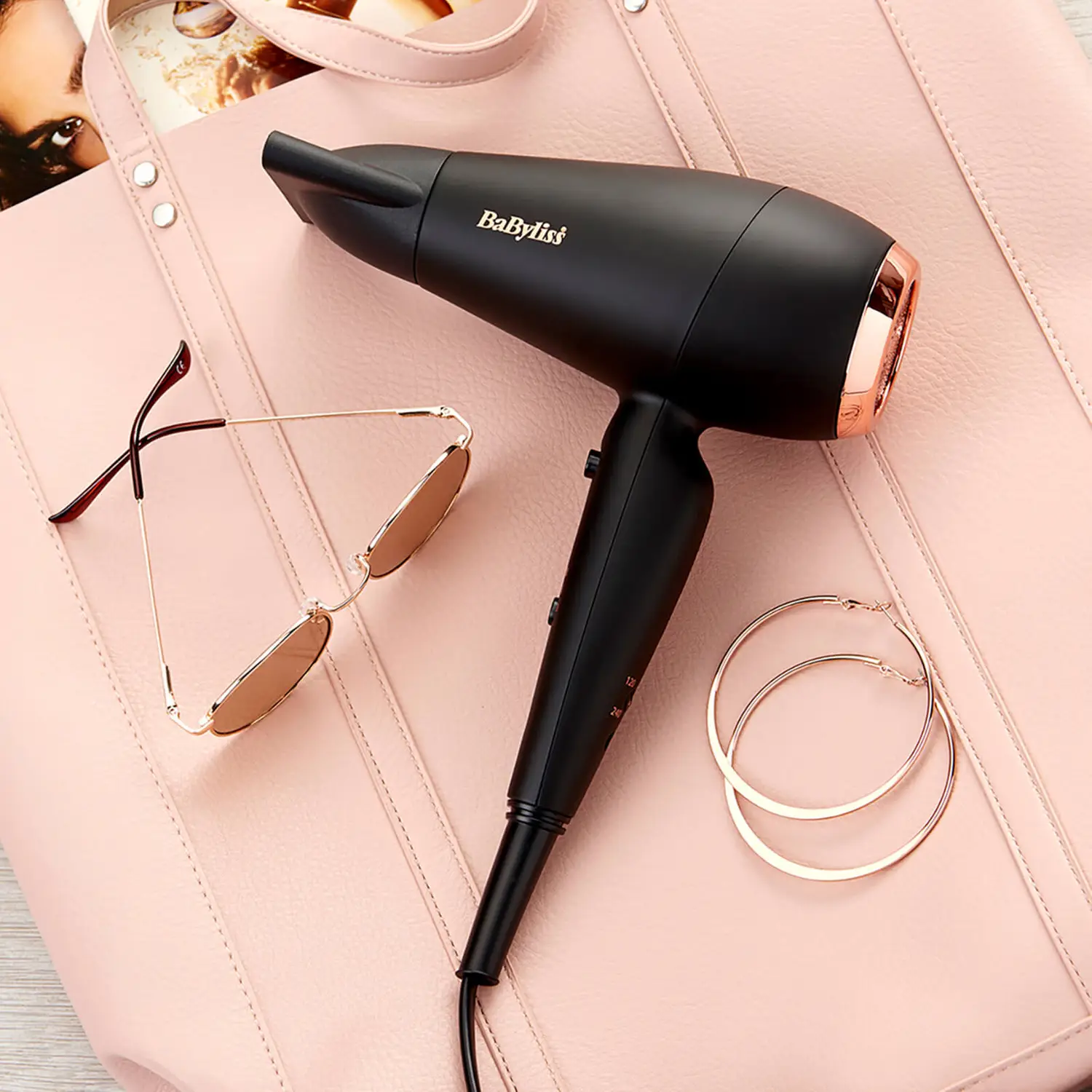 Source
Frizzy, untamed hair is something we all hate but this hair dryer from BaByliss helps to combat these problems. With a 1600W salon AC motor installed, the hair dryer uses ionic technology to smooth out hair cuticles, leaving you with a silky finish. Furthermore, it has two heat and speed settings so you can dry your hair at your preferred temperature. 
The matte black design with a rose gold accent at the air grilles also adds a feminine touch to the overall design. 
Price: $73.70
Shipping: Free standard shipping without tracking
Website
15. Sephora ‒ GHD helios professional hair dryer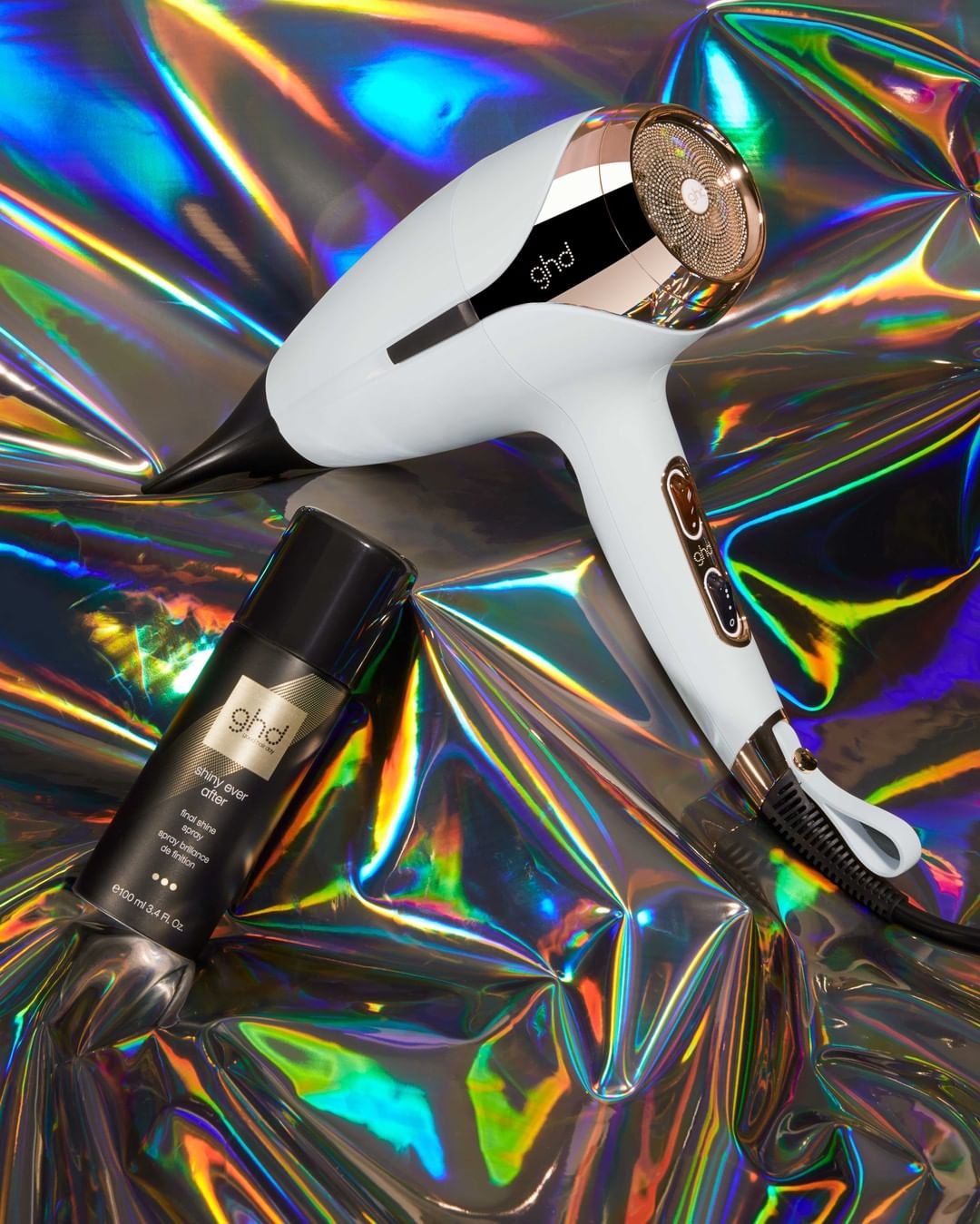 Source
Those with thick and long hair would understand the hardship of hair drying as it can take a long time to dry. To save both time and effort, this sleek hair dryer from GHB might be just the solution. Available in both white and black, the hair dryer is designed to dry your hair quickly with its powerful yet highly concentrated airflow travelling at 120km/h.
Unlike others, it comes with a contoured nozzle that provides a concentrated temperature and even airflow distribution. This way, you can style and dry your hair with more precision, leaving it with a glossy finish.   
Price: $295
Shipping: Free
Website
16. Shopee ‒ Slimfit hair dryer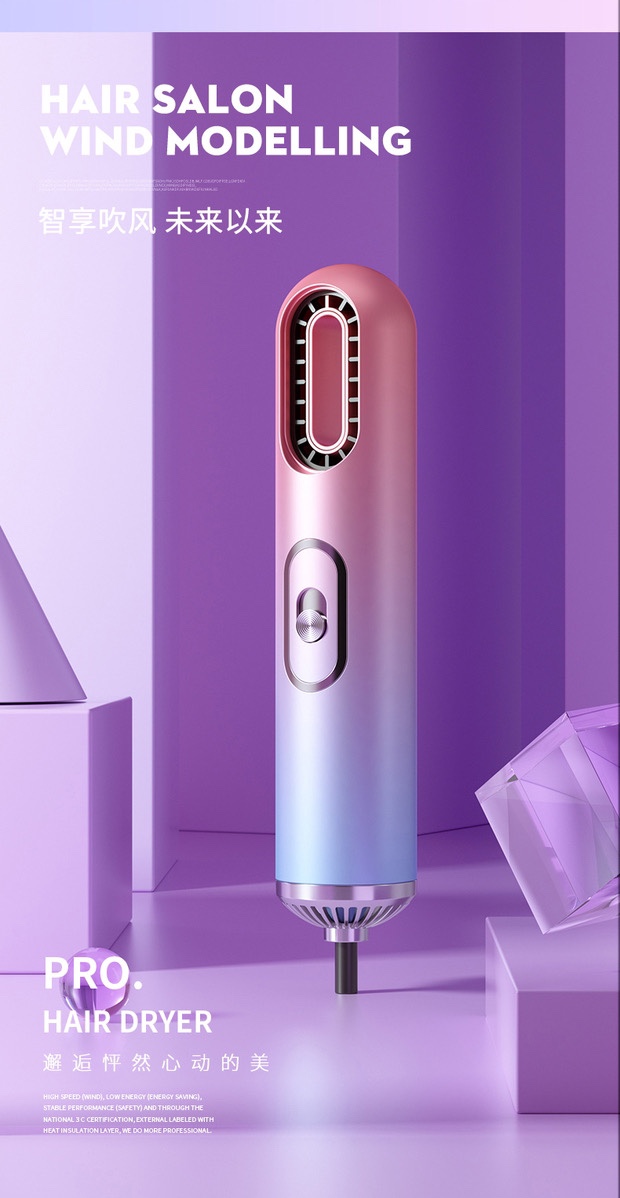 Source
Not all hair dryers have to come with a nozzle, just like this hair dryer. Instead of a nozzle, the hair dryer has a hollow outlet to direct the air around it to blow in one direction. 
With its unique and slim fit design, it is no surprise to see how it stands out from standard hair dryers. Plus, its petite dimensions of 22cm x 5cm fits well in small bags, especially when you bring it out for travelling.  
Price: From $29
Shipping: $1
Website
Expand Your Hair Styling Tool Collection With One Of These Aesthetic Hair Dryers 
These hair dryers prove that not all hair dryers have to come in the same standard design. They are also available in eye-catching colours and intriguing designs so you can create and style your hair for any look and occasion.
Also read: 
The Insert Name Here x Hello Kitty Collection Includes A Hair Waver To Give You Extra Volume