Coronavirus Necklace
The current COVID-19 pandemic has spurred companies to come up with lots of innovative creations. Think: Skin Inc's Mask Liner and EVA Air's Hello Kitty flights to nowhere. Now, you can add a Coronavirus necklace to the list.
As its name suggests, Belgian accessories brand Sciencejewelry1824's jewellery designs are inspired by science. Its minimalist sterling silver and gold-plated bracelets, earrings, necklaces and rings come in the shape of molecular structures, body parts and science apparatus; and other things you last saw in your secondary school science textbook. Its latest design, however, has yet to make its way into the pages of textbooks around the world.
The design
ICYMI, coronavirus is named for how it looks under the microscope, i.e. covered by spikes surrounding it like a crown, or "corona" in Latin.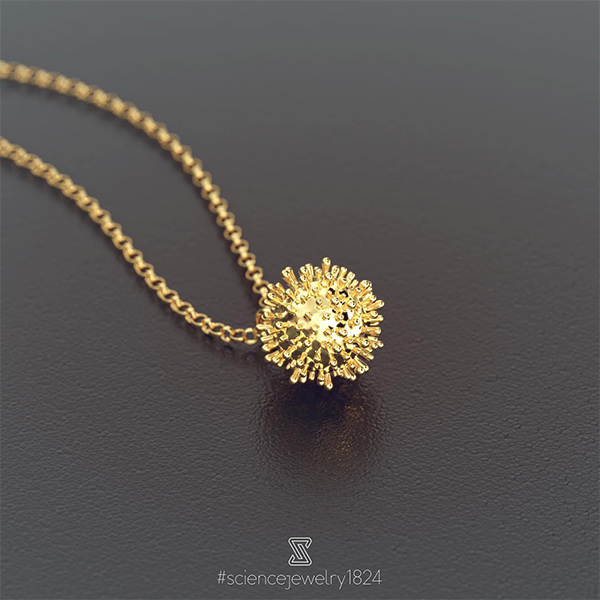 Source
We're used to seeing the virus resembling a fuzzy green ball in the form of an emoji. Well, Sciencejewelry1824's Coronavirus necklace might just be the most delicate interpretation of the virus yet.
Source
The pendant is made of 18K gold-plated brass. Your order will arrive with a 14K gold-plated chain that has a lobster clasp.

Source
Those with sensitive skin will be pleased to know that a hypoallergenic sterling silver (92.5% silver) version is also available. The pendant comes with a matching sterling silver chain.
Also read:
Skin Inc Just Launched A Mask Liner So You Have A Secret Weapon To Help Fight Maskne
The inspiration 
According to the brand, they made the Coronavirus necklace "as a reminder of the courage, the bravery, and the grit that frontline workers have to get up and go to work every day. It's a reminder that not all enemies are visible and that sometimes, surviving and fighting is about luck and mental toughness."
Because they're putting their money where their mouth is, part of the profits of each Coronavirus Necklace sold will be donated to the COVID-19 Solidarity Response Fund for WHO.
You might be wondering: why would anyone want to be reminded of the virus that has wreaked havoc across the world every time they look into a mirror? You're not alone. The necklaces have received a mix bag of reviews.
The reaction
Some see the necklace as the brand intended, as a sign of resilience and hope.
One customer left the following review on their website, after purchasing the silver coronavirus necklace: "This pendant will forever remind me that as a world we came together to protect each other. Perhaps that is the true 'beauty' behind a virus that is so aesthetically beautiful, yet so powerfully destructive."
Over on Instagram, @springalted commented that "The message behind this design is so gooood 😍😍😍😍😭😭". In the same vein, @sprinklebreana said: "Stunning necklace! Turning this virus into a symbol of hope and looking towards the future."
Others, however, are not as convinced.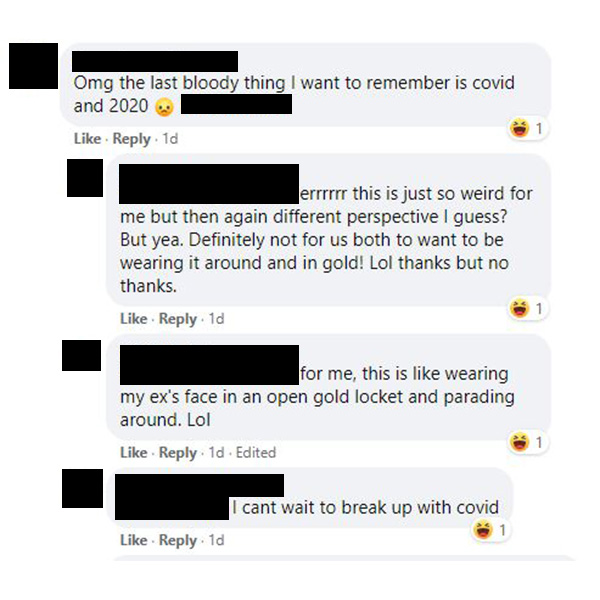 Source
This exchange between 2 friends on Facebook caught our eye for its relatability. "The last bloody thing I want to remember is covid and 2020" sums up all our thoughts about this year in a nutshell.
The Coronavirus Necklace Will Make You Feel Some Feels
The gold-plated Coronavirus necklace is retailing for $264.46. It is available on a pre-order basis. You'll have to wait for around 4 to 5 weeks before you can get your hands on it. The sterling silver Coronavirus necklace is already available and retailing for $253.24.
All images: Source
Also read:
These Singaporean Millennials Fighting COVID-19 As A Couple Prove Love Can Tide Through Tough Times