Crocs 3D Nail Art
There are two types of people in the world ‒ those that love Crocs and those that absolutely hate them. But no matter which side you belong to, there is no denying that the footwear brand has been making an impact in the fashion industry, and more recently, even the manicure industry. 
Enter Crocs-themed 3D nail art designs by Vancouver-based nail artist Jessica, which will make you stand out from the crowd. 
The design
If gel extensions with Haidilao and Durex designs are not quite your cup of tea, consider polishing up your looks with options like these ones inspired by Crocs. 
Paying tribute to iconic details of Crocs such as holes in the upper and back straps, each 3D nail art features an intricately crafted miniature footwear. Upon closer inspection, you'll even notice some of them are attached with tiny Jibbitz charms like a macaron and a rabbit. 
Perhaps with these one-of-a-kind nail art designs, you can even play a joke on your kakis by sharing that they are actually "shoes" for your fingers.
If that isn't impressive enough, Jessica even came up with a unique feature to amp up your individuality ‒ the tiny Jibbitz charms are actually detachable. This means you can always replace the charms with others, and switch positions depending on your mood and style. 
Other designs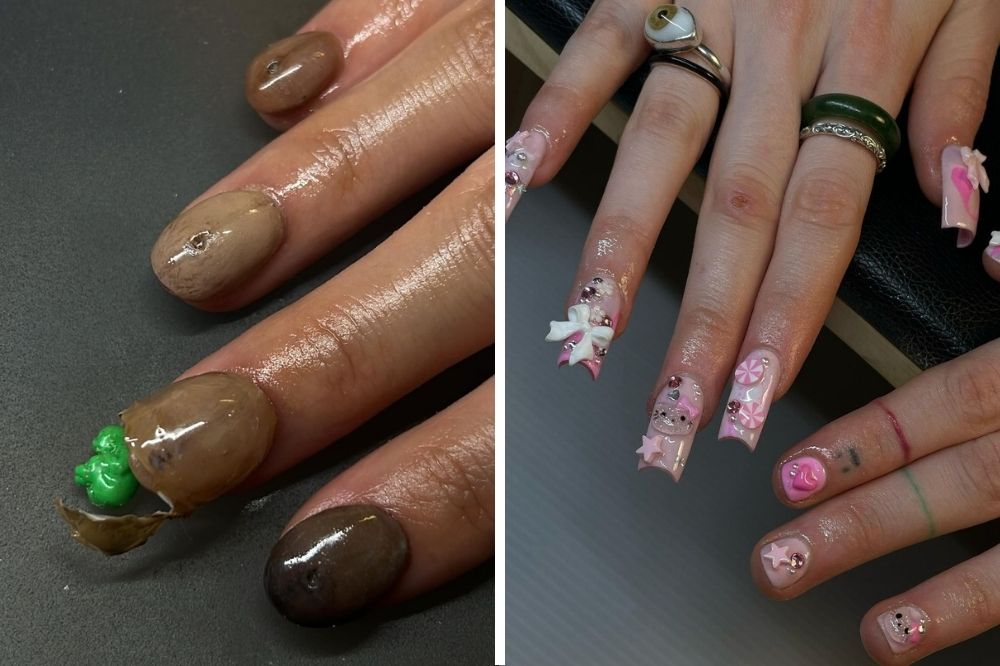 From left: Mother's Day nails, Hello Kitty nails
Source, source
As a matter of fact, the aforementioned nail art isn't the wildest design that you'll see from Jessica. Cast your gaze on her Mother's Day nail art, which features a miniature green fetus hat falls out from a "womb" ‒ inspired by the moment when Jessica's mother gave birth to her. 
On the other hand, those who are deep in the Y2K trend might want to save Jessica's Hello Kitty-themed nail art for future manicure inspo. 
"Wear" Crocs On Your Fingers With These Quirky Nail Art Designs
Thanks to Jessica's unique nail art designs, we now know that it is possible to "wear" Crocs on our fingers. As much as we'd love to get our next manicure done by Jessica, she is currently based in Vancouver, so you might want to KIV the next time you make a trip to the city. 
In the meantime, check out these home-based nail salons in Singapore. 
Also read: 
This Nail Artist Does Quirky Sculptures Like Working Water Coolers & Drinkable Wine Glasses