Haidilao & Durex Nails
Whether it's for an upcoming date or simply to make yourself feel good, having a fresh set of nails can give you the extra boost you need to take on the day. But if you're looking for nails that will make you stand out from the rest, home-based nail salon BakedNails.SG has wacky gel extensions inspired by Haidilao and Durex.
Gel extensions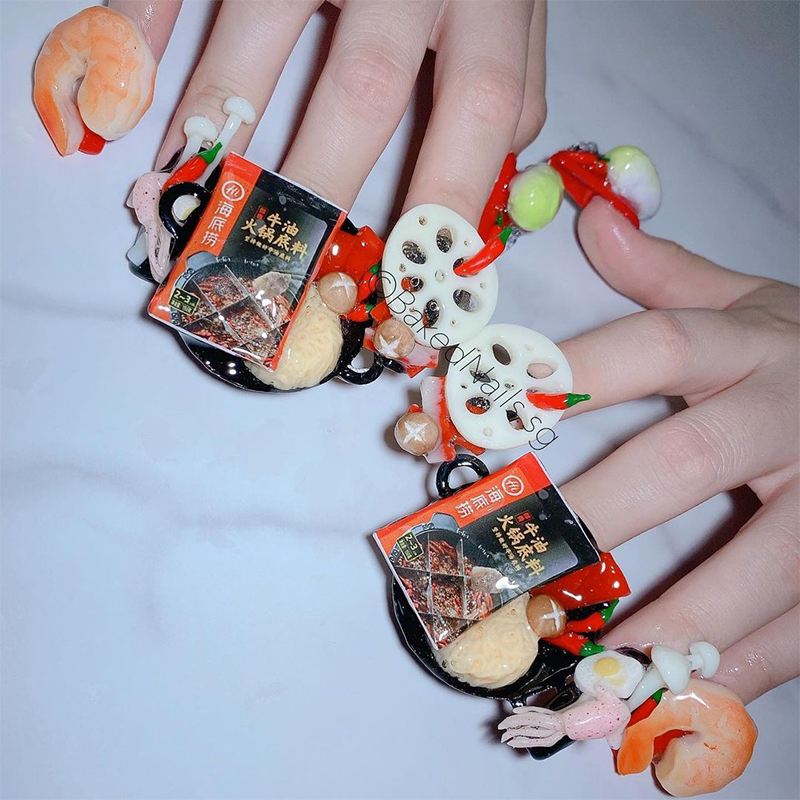 We all have that one friend who's always craving Haidilao, even if it's as late as 3am for supper. To show your undying HDL love, BakedNails.SG has a full set of Haidilao extensions, complete with 3D lotus roots and shrimps to satisfy your cravings. 
On the middle finger, a miniature Haidilao soup base packaging sits in a pot full of other ingredients.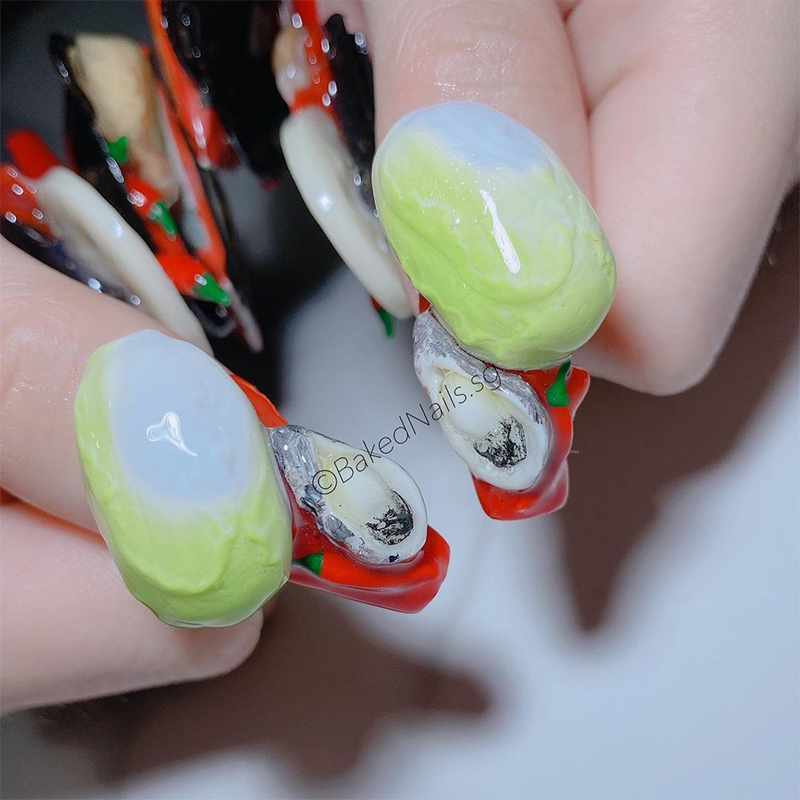 The set is complete with fresh oysters, chilli padi, and a head of Chinese cabbage on the thumbs. All your fave hotpot ingredients? Covered. 
No dancing noodle man here unfortunately — but if he's a highlight of your Haidilao experience, maybe BakedNails.SG will take your suggestion into consideration.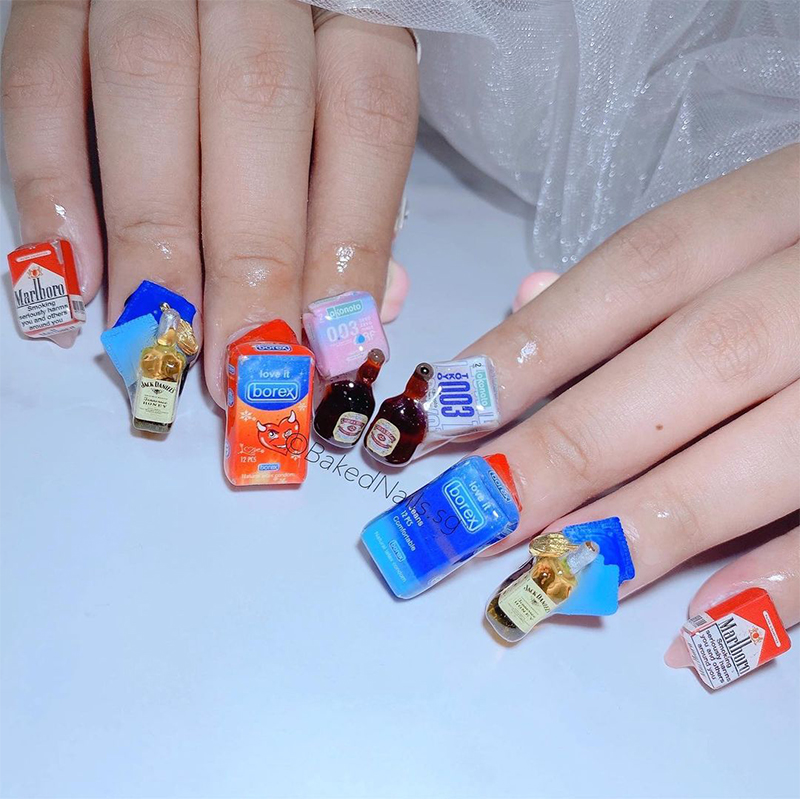 For the ladies who love staying high on the vice life, perhaps you can relate to this next Durex set. It comes with miniature figurines of condom boxes, alcohol bottles and even cigarettes to give your nightlife friends a good laugh.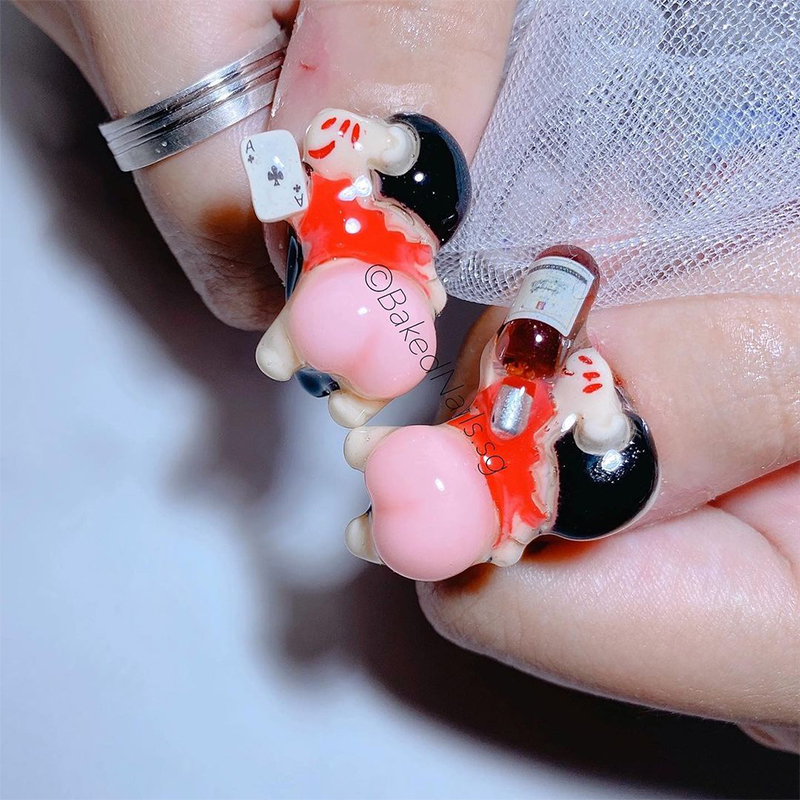 No matter if you want to huat while social gambling or chug a bottle of liquor while your friends chant "BTBLP", this set covers it all.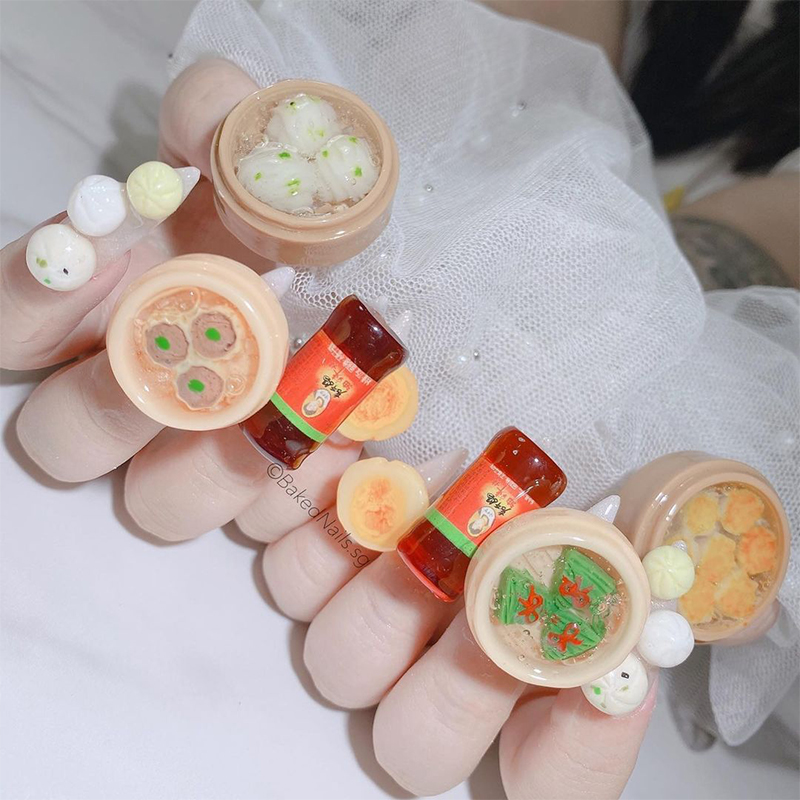 There's also a Dim Sum set with xiao long bao baskets and Lao Gan Ma chilli sauce bottles. If you're having a hard time deciding on what to eat, now you can simply look at your fingers for inspiration.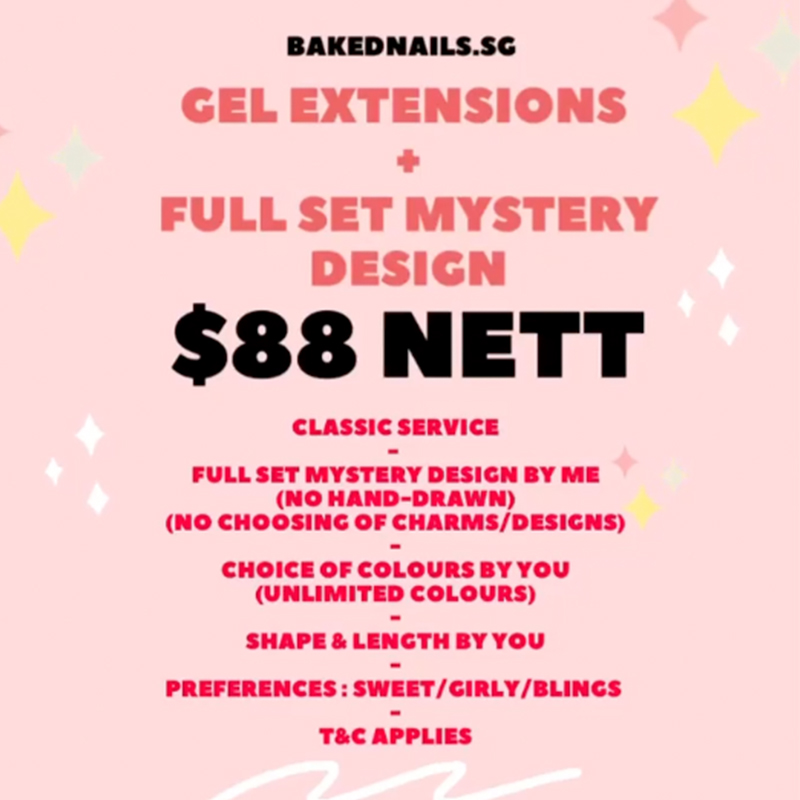 Apart from the Haidilao nails, most of BakedNails.SG's designs are part of their full set mystery package that costs $88 nett. This means that customers who opt for this package won't know of the design until the session is finished.
Of course, there are certain choices that you will get to make as well, such as the colours, shape, length and theme. If you're willing to give into the thrill and suspense of a mystery set, perhaps your next manicure will become viral too.
Additional designs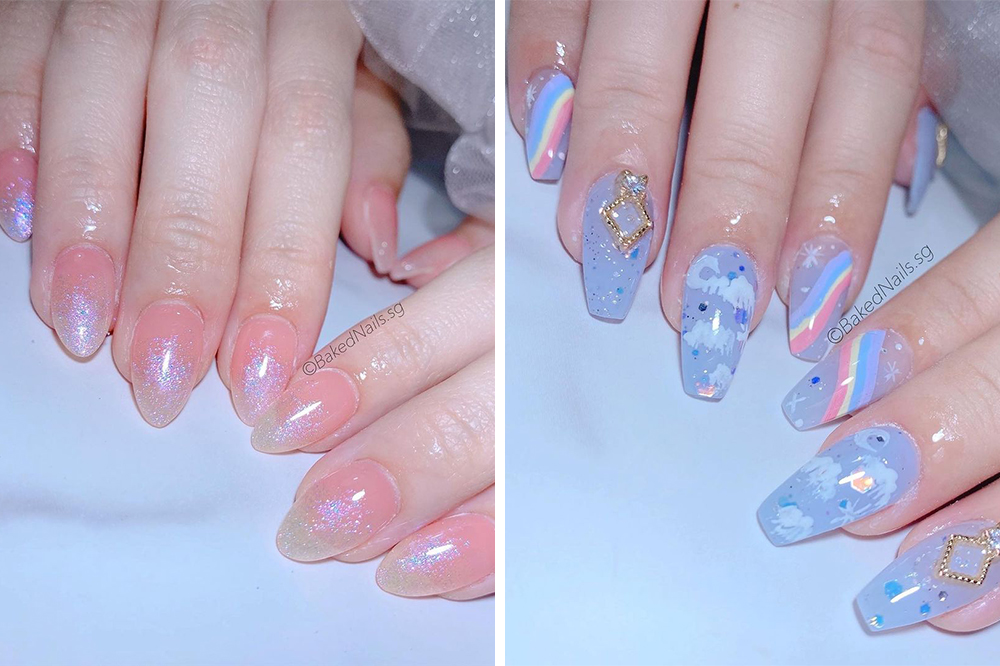 If the flashy 3D nails aren't for you, not to worry — BakedNails.SG also offers a range of other designs from minimalistic sparkles to hand drawn rainbows and clouds. 
Head over to BakedNails.SG's Instagram page to check out all their finished designs, or read through the highlights for more info on prices and booking.
These Haidilao & Durex Nails Will Satisfy Your Cravings For All Things Spicy
BakedNails.SG is located in the west, near Haw Par Villa MRT station, with the exact address available via Instagram DM. Slots are open only on weekdays from 12pm to 10pm. Westies who are looking for a convenient home-based nail salon can head down to get a set of these exciting mystery gel extensions. 
Just a disclaimer that if you do end up with a Durex set, we're certainly not responsible for your parents' wrath. 
All images courtesy of BakedNails.SG.
Also read:
Bubble Tea Nails Are Now A Thing In Singapore So You Can Take Your Love For BBT To The Next Level