Daiso Beauty Products
Whether you're looking for homeware, stationery or Christmas decorations, Daiso has almost everything you need for $2. But with this price tag, it's normal to feel a little sus about its beauty products, especially since you'll be putting them on your face. We did the legwork for you, and polled our friends and colleagues to find out what Daiso beauty products they actually use and swear by.
From Beautyblender dupes to sheet mask holders, check out these items the next time you pop by Daiso to run errands, or simply get them on Daiso's online store. 
1. Foundation Puff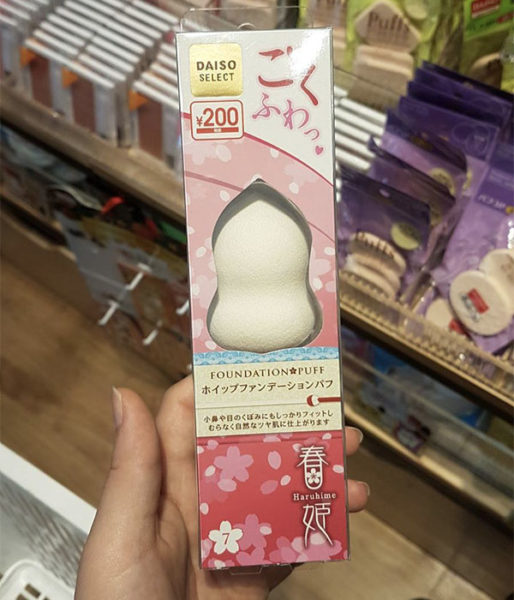 Daiso's Beautyblender dupe is called a Foundation Puff and comes in an hourglass shape. This makes it easy for you to grip, as well as blend your makeup around your nose area and cheekbones. A colleague who recommended this product stated that the texture is really smooth and that it is worth it for its quality. 
2. Powder brush
Setting powders are essential when it comes to keeping your foundation in place. If you're looking for a reliable brush, Daiso's powder brushes are fluffy and soft to the touch. According to our colleagues, these brushes are comparable to those from Ecotools and other legit brands of makeup brushes.
3. Makeup brush cleaner
Swap your $15 makeup brush cleaner for Daiso's $2 version. The liquid solution works magic in removing the makeup residue on your brushes and even sponges. 
"Honestly hands down the BEST brush and sponge cleaner around. I picked this up on a whim while I was in Daiso and I've since purchased it for my friends as well as for myself again and again and again. I had a beauty blender that was badly stained and had never been properly cleaned. I used this and it looked like new with barely any rubbing or wringing. My brushes are clean and the bristles are soft with no fall out. Excellent cheap but BRILLIANT product," an online reviewer, Farmy, raved.
4. Eyebrow pencils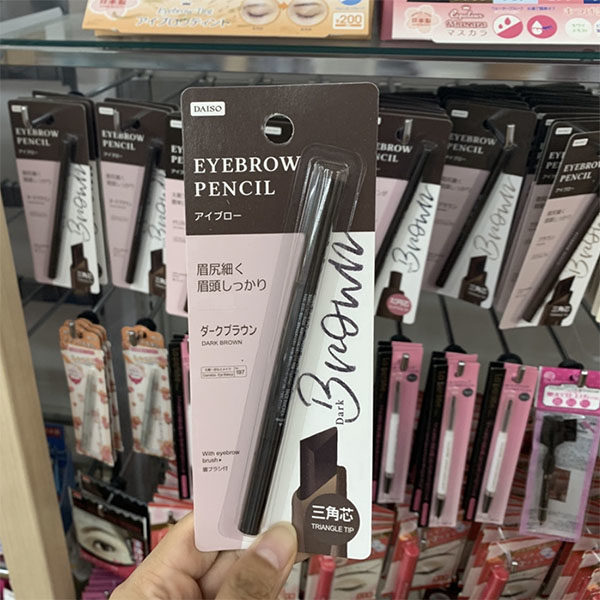 We all appreciate days when our eyebrows are on fleek. Eyebrow pencils in the market, however, can range from $10 to $50. And, eyebrow embroidery services typically have 3-digit price tags. If you're looking for a super affordable eyebrow pencil that is easy to use and does the job with no fuss, turn to Daiso. 
Whether you're looking for a round or fine tip, a dark or natural brown shade, Daiso has you covered with its eyebrow pencils. It also carries eyebrow pencils that come with an eyebrow brush, so you don't have to spend extra money buying a separate one.  
5. Eyebrow top coat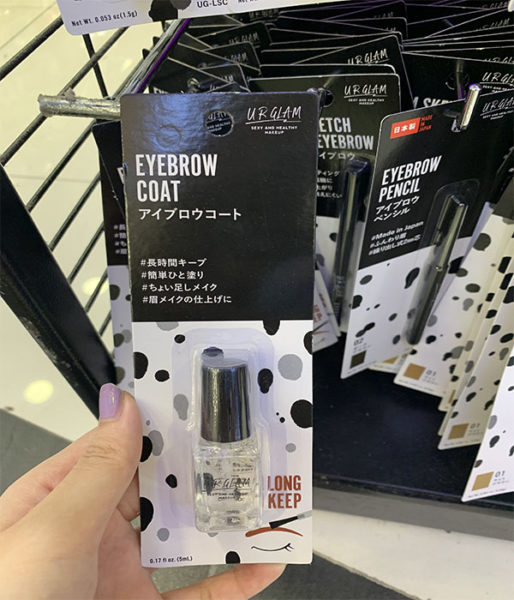 Say you're going on a first date with your Tinder match. Out of nowhere, it starts to rain. Next thing you know, your eyebrows are a mess. Enter Daiso's eyebrow top coat. This product forms a waterproof coating over your eyebrows to keep them intact through sweat and rain. 
Also read:
14 Atas Skincare & Makeup Brands In Singapore With Free Samples Through Delivery & Pick-Up
6. Double eyelid tape
Image courtesy of Erica Ng
For $2, you can get yourself 96 to 102 pieces of double eyelid tape. This means even if you use it daily, this will still last you around 3 months or so. The reviews online mostly seem to be impressed by the stickiness of the tape as it is able to maintain the double eyelid shape throughout the day. One of our colleagues also mentioned that it is easy to use and comfortable to wear. 
7. False eyelashes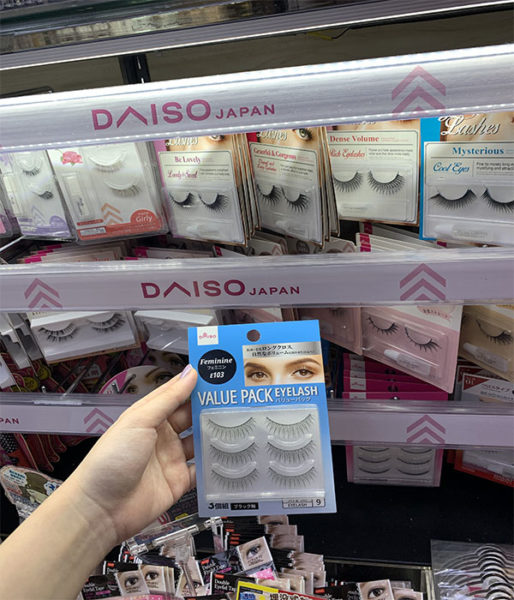 If you've been to Daiso, you'll have seen the wide array of false eyelashes available in the store, from natural-looking ones to those for a full glam look. As if they weren't already bang for your buck, a colleague's friend even shared with us a value-for-money hack. After using the lashes, all you need to do is put them into warm water with some makeup remover, which will cause the glue to peel off. After which, you can reuse the lashes a few more times. A total steal at its price point.
8. Sheet mask holder
You're probably familiar with the struggle of having to tilt your head up to keep your sheet mask on as you potter around the house. This sheet mask holder keeps your mask in place so you can go about your merry way without having to lie still for 10 minutes, perfect for those who like to multi-task. 
9. Matte finish top coat
Image courtesy of Kezia Tan
Daiso's matte nail polish top coat lets you have matte nails any time, anywhere. Simply apply this top coat over your existing stash of glossy nail polish to achieve your desired look, instead of buying a whole new set of matte nail polish. 
A colleague shared, "I love the matte look because it can elevate any shade of nail polish to looking more unique and elegant. The Daiso matte top coat is significantly thinner and more watery than thick and viscous, but it still achieves the matte effect really well. The fact that it's not so thick also means adding the matte top coat won't make my existing colour layers of nail polish look clumpy and three-dimensional."
10. Nail polish thinner
Image courtesy of Renae Cheng
Another nail product from Daiso that you need to add to your DIY mani-pedi kit is its nail polish thinner. As its name suggests, the solution is meant to thin out dry and clumpy nail polishes to give them a new lease of life. 
Add These Tried-And-Tested Daiso Beauty Products To Cart 
These 10 Daiso beauty products have been tried and tested by our colleagues and friends, so go ahead and try them out the next time you swing by Daiso. 
Also read:
10 Legit Brands Of Makeup Brushes You Can Get In Singapore From $1.60