Dealing With Eczema
With the number of skincare ads everywhere you look, the emphasis on good skin has never been more prevalent than now. Growing up, I was fortunate enough to have unproblematic skin and could never relate to my classmates who experienced puberty-driven breakouts.
It was only recently that I empathised with having a skin condition when a new friend Gesella* shared the pains of living with red, itchy patches on her skin aka eczema. Being forced to wear long sleeves and avoid going out were second nature to her daily life.
Having heard how skincare brand Suu Balm was formulated by a dermatologist at National Skincare Centre Singapore, I recommended their body wash and moisturiser to Gesella, in an attempt to help alleviate her skin struggles. Throughout a 2-week skincare routine with these products, she shared with me her journey to see whether they helped improve her condition. 
*Name has been altered for confidentiality.
Gesella's experience with eczema
Experiencing health issues as a kid or teen is never cool, and Gesella told me that her skin condition deteriorated when she was around 16 years old. Since her eczema was largely located on her legs, she would always try to cover them up by wearing long dresses and pants when they flared up ‒ feeling confident in short skirts and shorts was never an option.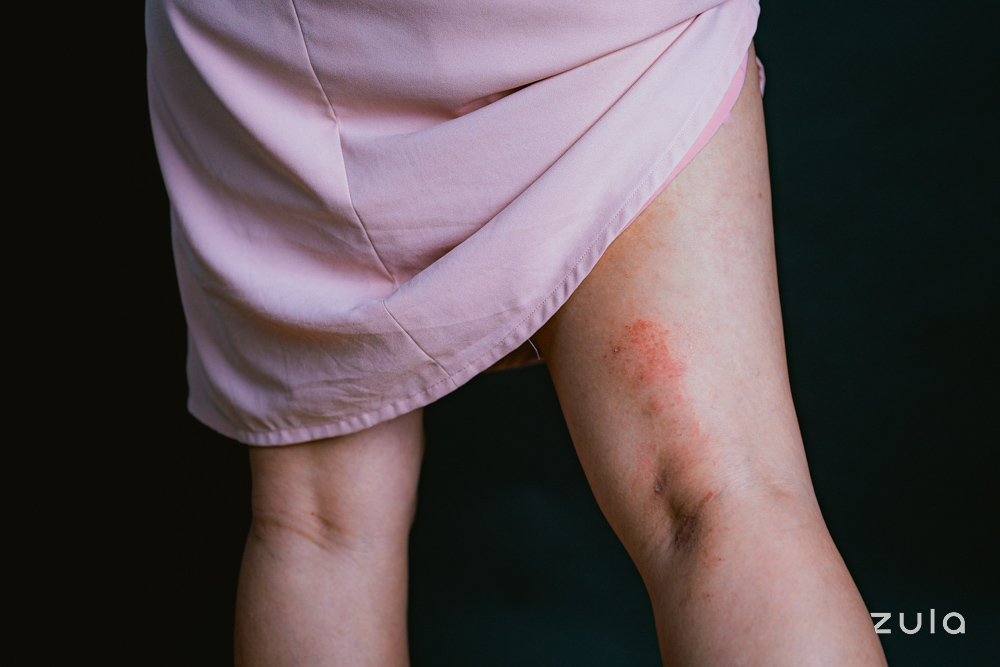 Apart from the fact that she wasn't able to wear certain clothes, she also couldn't enjoy activities by the beach since seawater and sand would aggravate her skin condition. Just imagine standing alone watching your family and friends have fun without you – the FOMO would be real.
The worst part? Gesella also had to cut down on eating seafood, which was her favourite.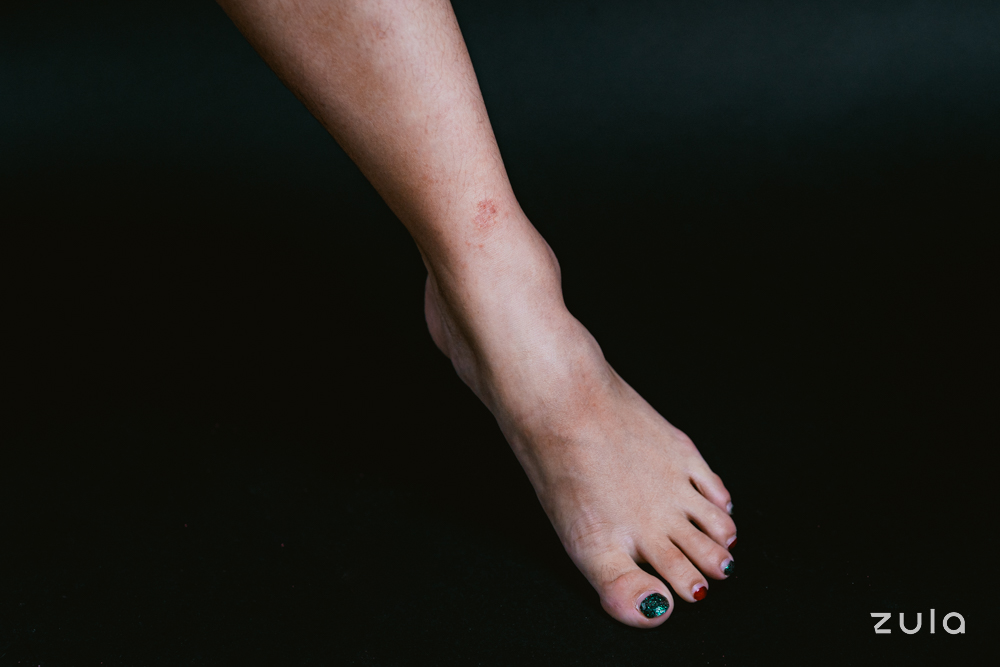 In an attempt to alleviate her eczema symptoms, she began to use steroid creams prescribed by her doctor. But instead of seeing improvement, she recalled the doctor had to increase her dosage three times more than the usual concentration for typical eczema treatments just because her condition was that severe.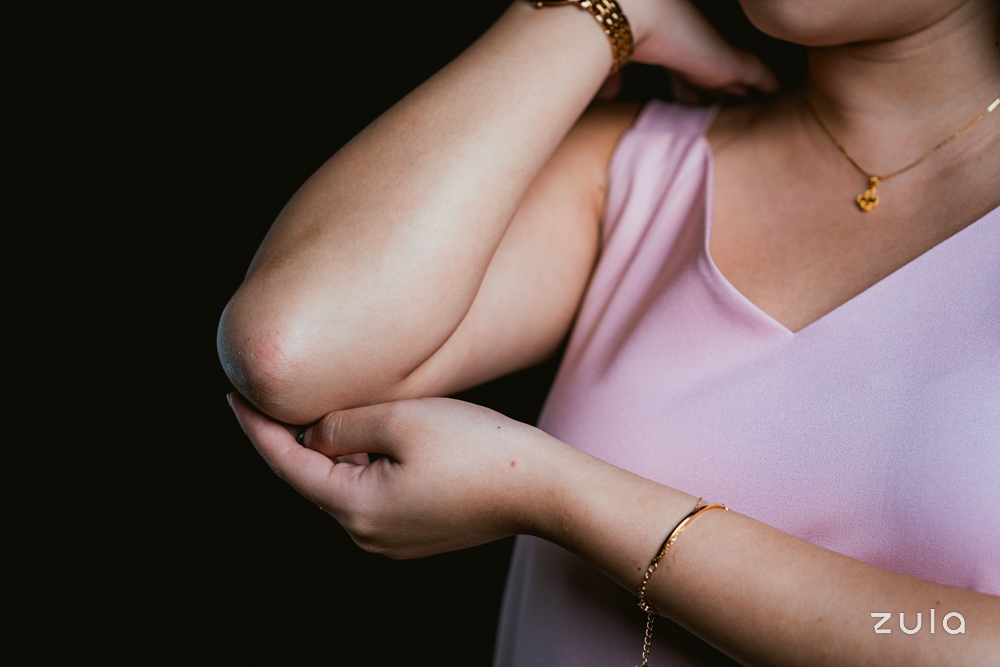 Gesella's elbows also have small patches of eczema
However, Gesella also knew that relying on steroid cream every time her eczema itched was not ideal. Despite benefits like reducing skin inflammation and itch, there are actually harmful side effects of using steroid cream long term, like thinning of the skin and developing stretch marks. 
She knew that there had to be a safer alternative to soothe her raging eczema.
Undergoing a Suu Balm trial for 2 weeks 
Week 1 ‒ controlling the itch & learning about ingredients good for the skin
After introducing Gesella to Suu Balm, she decided to test things out by starting a 2-step routine, starting with the Dual Cooling & Moisturising Cream Body Wash.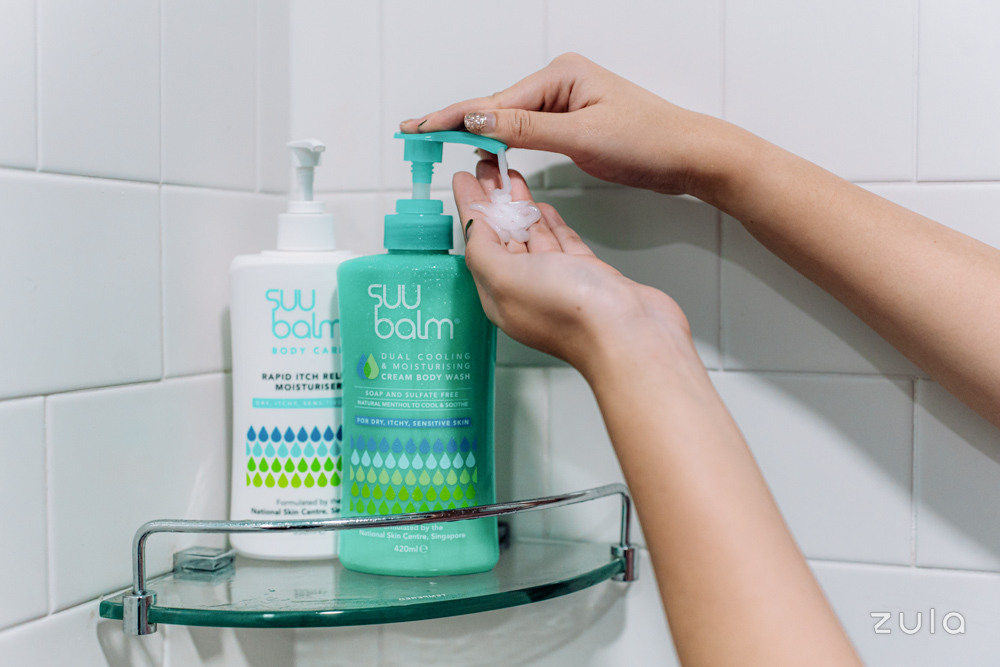 Since she was used to showering with a body wash that foams, she initially found it odd that the one by Suu Balm didn't do so ‒ the lack of bubbles made her feel as if she didn't clean her body "properly". Curious about the reason, she noticed the label on the body wash said that it is free from soap and sulfate. 
For the unacquainted, body washes containing soap and sulfates are useful in getting rid of oil and dirt on the body, but with a catch. 
They contain strong chemicals and ingredients that strip the skin's natural moisture, and easily cause skin irritation. The latter happens because once the skin loses moisture, it will become brittle with a weakened barrier, which allows irritants to enter and trigger eczema-prone skin even more. 
Thankfully, the body wash by Suu Balm is nothing like that sort. It is developed with an ultra-gentle formula and creamy texture that cleanses and soothes inflamed skin with their natural menthol ingredient. 
After one wash, Gesella was genuinely surprised by how her skin was soft, supple, and most importantly, moisturised. Plus, she didn't find her skin having a tight, squeaky clean feeling that other soap caused.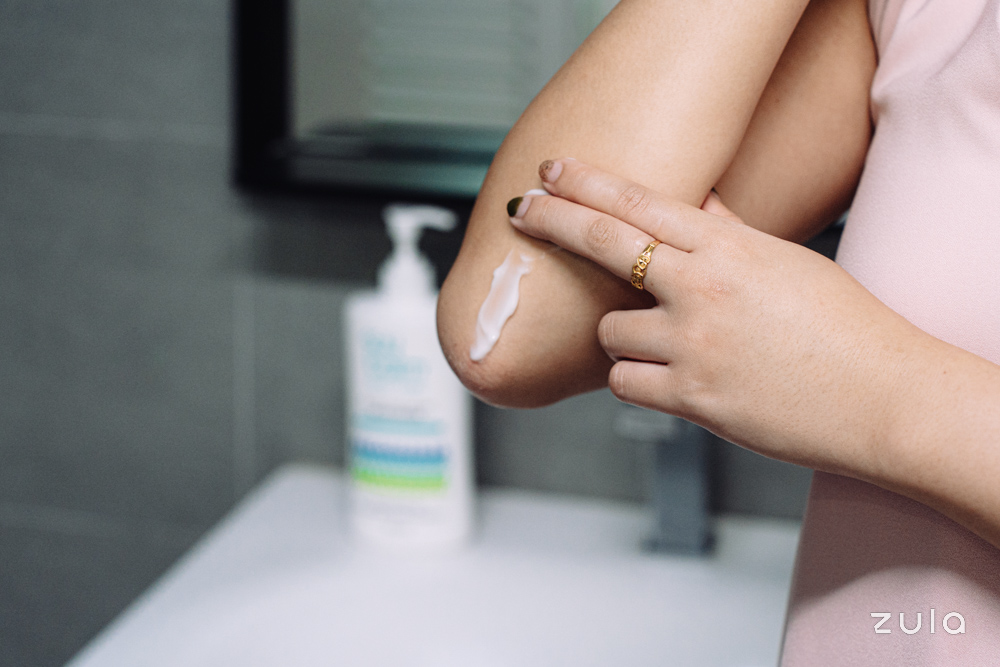 The next step was using the Rapid Itch Relief Moisturiser, which was also a game-changer for Gesella, especially on hot and humid days. Avoiding application on open wounds, Gesella felt a strong cooling effect that relieved her itchiness almost instantly when she spread the moisturiser onto her eczema patches.  
Rather than finding her skin feeling sticky, she was impressed with the lightweight formula, and even told me that it was "by far the best eczema moisturiser" she's ever used. 
That's not all ‒ both products are fragrance-free. Since they are free from harmful ingredients, Gesella was sure that she could use them without the fear of triggering her existing eczema. Moreover, the moisturiser also contains five types of skin-identical ceramides that replenish the skin barrier and lock in moisture.  
End of week 1 ‒ signs of improvement
For the whole week, Gesella continued to shower with Suu Balm's body wash and moisturise her skin with the moisturiser. Within a week's time, she already noticed several visible improvements on her skin.
Her eczema patches started to recover with fewer open wounds and bleeding that resulted from scratching. 
"Generally, my skin feels less itchy and moisturised, and I can tell that my eczema patches are less inflamed," Gesella pointed out.
Slowly yet steadily, the positive outcome gave Gesella high hopes, and she was "certain that [her] skin condition would continue to improve by the end of the second week". 
Week 2 ‒ less red and itchy patches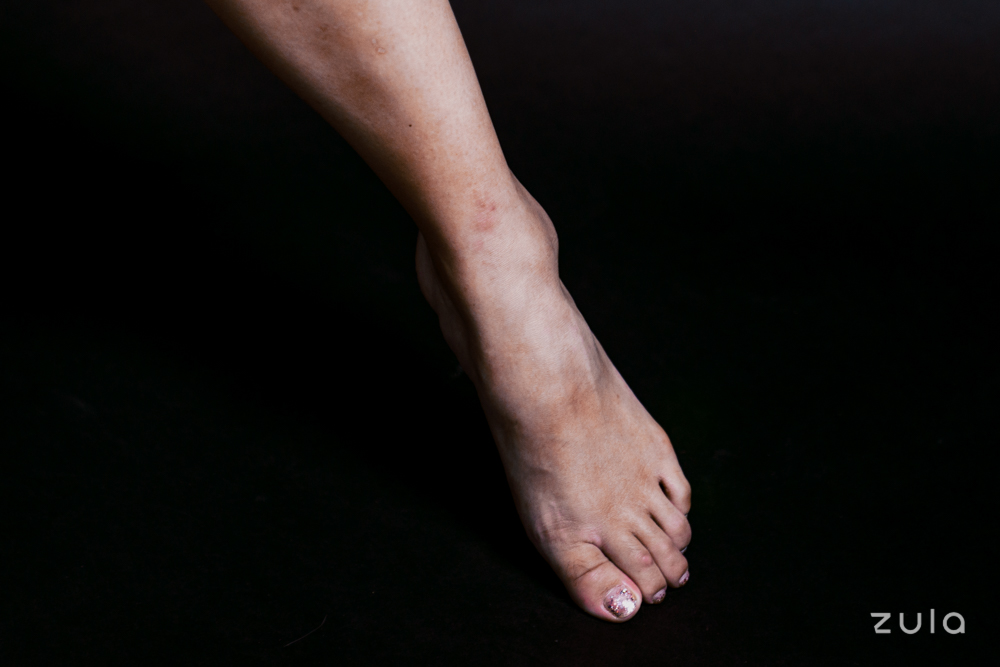 It turned out that her prediction was right ‒ Gesella's eczema patches were less red and no longer bleeding by the end of the second week. As a bonus, she also noticed that the scabs on her skin were healing.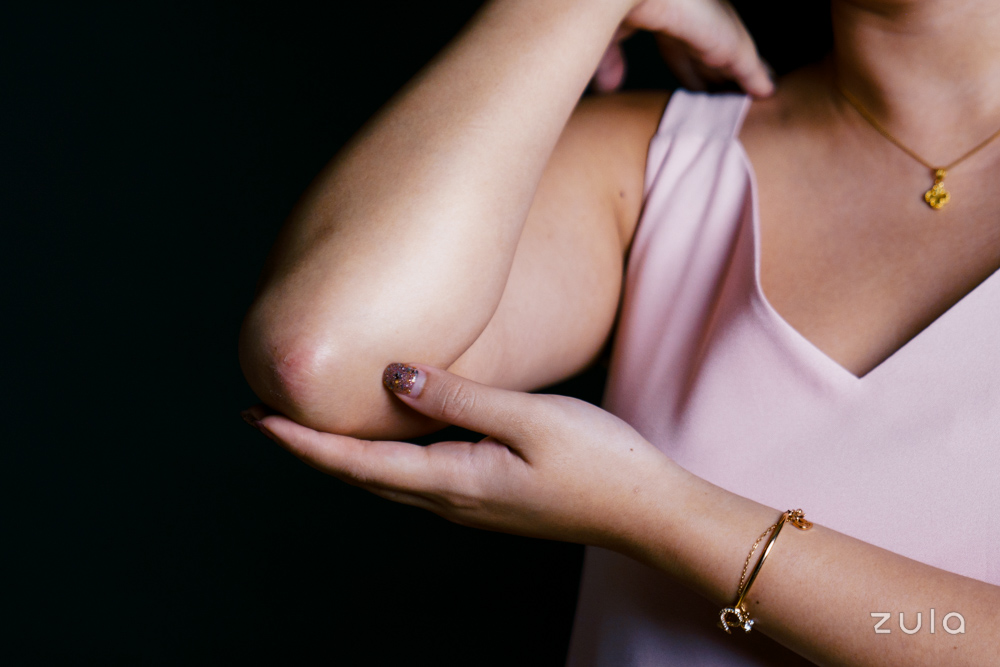 While Gesella's eczema still itches once in a while, she mentioned that "it was nothing like before". When the inevitable itch did happen, she would simply apply a layer of moisturiser to soothe it. In just 5 minutes, the cooling menthol sensation would set in to relieve the itch, and she'd be back to normal.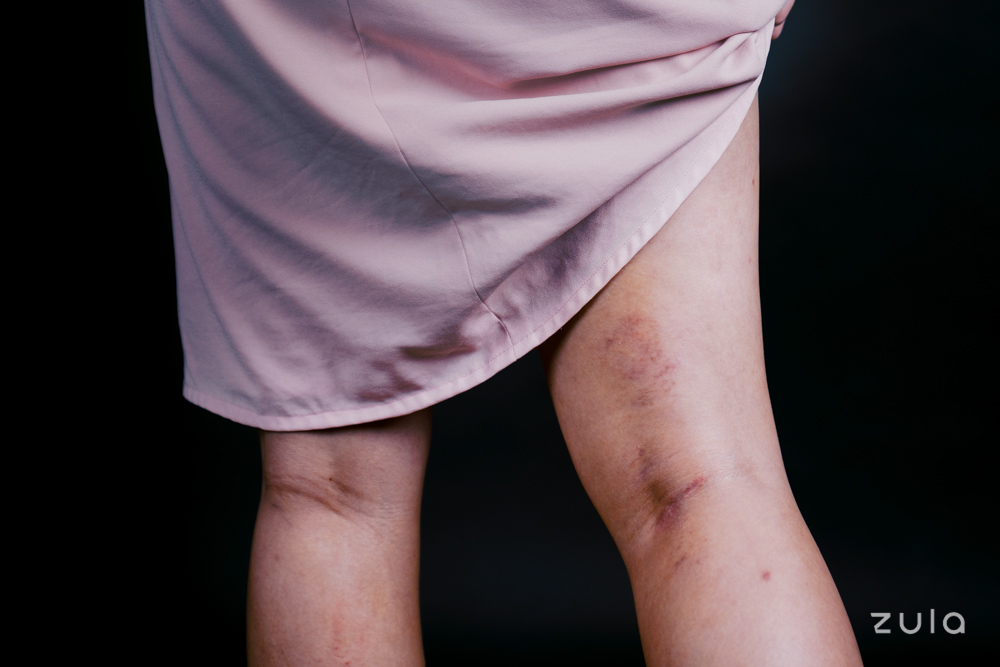 The visible results also provided Gesella with a confidence boost she rarely has. She shared, "I feel much better about my appearance and I can now wear short skirts and dresses". 
Soothing my eczema skin with Suu Balm body wash and moisturiser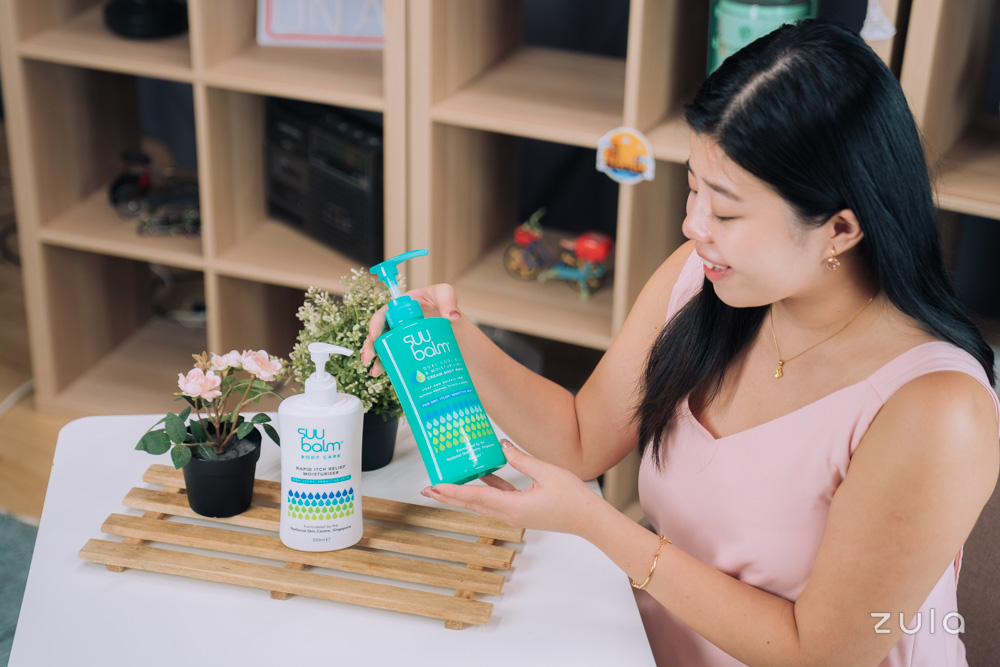 Gesella's 2-week journey with Suu Balm did more than just improve her skin condition. It also made her realise that it is possible to manage her eczema without compromising the health of her sensitive skin. 
Although Gesella incorporating Suu Balm products into her daily skincare has helped, she also understands that she needs to "commit diligently to the routine in order to maintain [her] improved condition". After all, she simply hopes her skin condition would never return to how it was before.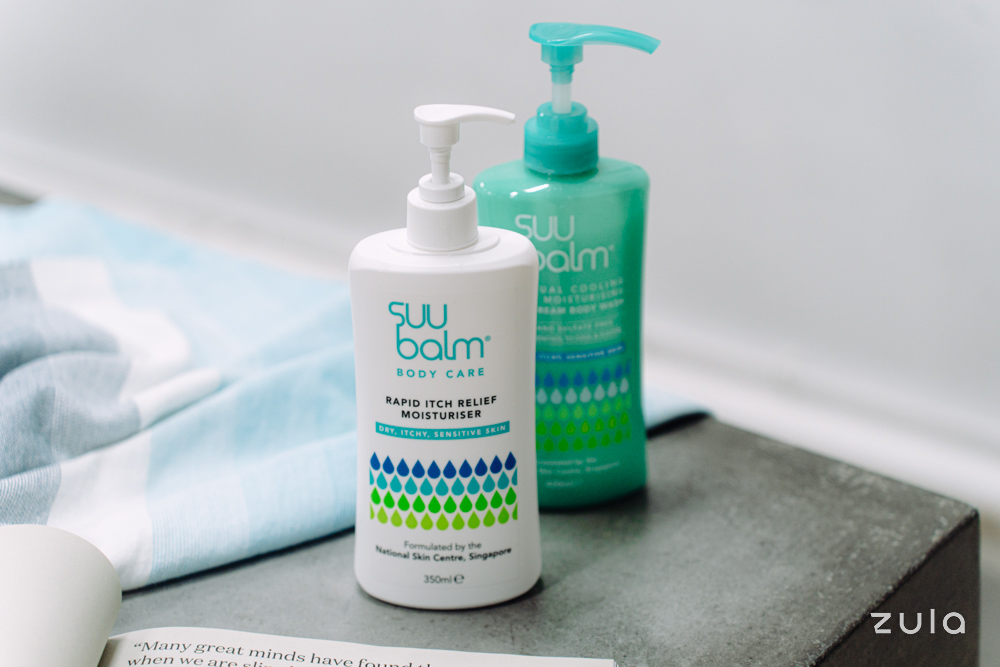 One of her biggest takeaways? She now has a better quality of life thanks to the 2-step routine. 
Since she is no longer scratching her skin as frequently as before, she finds herself sleeping better, and waking up with confidence. She also got to learn the ingredients to avoid the next time she shops for skincare products to prevent triggering her sensitive and eczema-prone skin. 
"I am relieved to know that the body wash and moisturiser are good alternatives that do not come with side effects," Gesella shared, "Those with similar skin problems as me should really give Suu Balm's products a shot."
Pleased and satisfied with the results thus far, Gesella is looking forward to continuously maintaining and improving her skin condition with Suu Balm.
Suu Balm's Body Wash & Moisturiser Help To Relieve Itch In 5 Minutes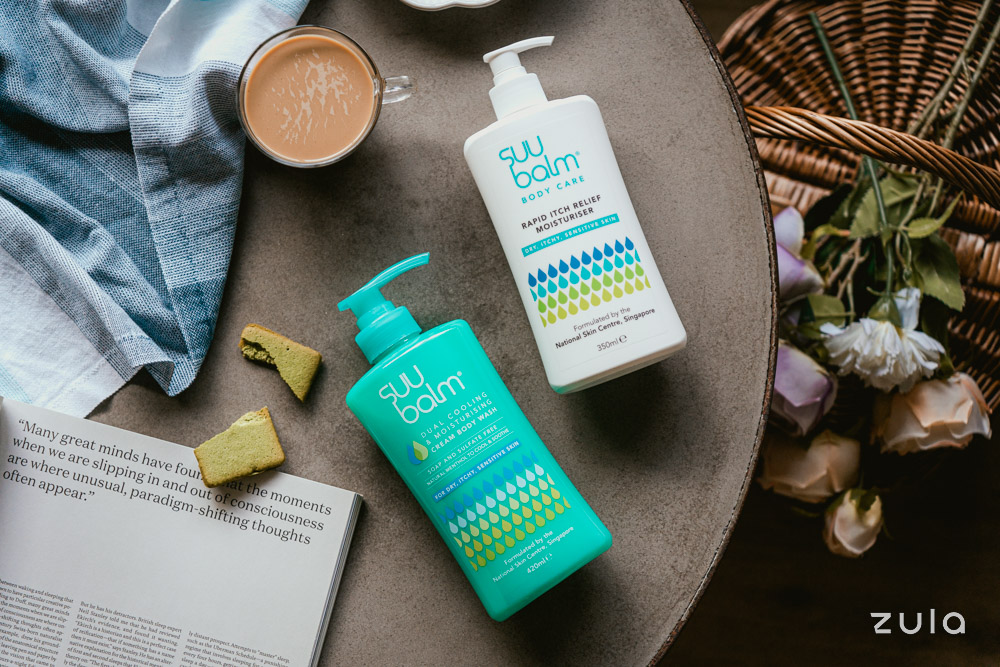 Gesella's experience with Suu Balm proves that it is possible to soothe raging eczema and have them under control with the right body wash and moisturiser. 
Those looking for a solution to their skin woes can try out the Dual Cooling And Moisturising Body Wash (420ml) available at $30.50, and the Rapid Itch Relief Moisturiser (350ml) available at $52.50. They are available at Guardian, Unity, and Watsons outlets islandwide, and online on Shopee, Lazada and their official website. 
Apart from body washes and moisturisers, Suu Balm also offers kids-friendly and facial skincare products. As a special promotion, Suu Balm is also giving a free 100ml body wash and 25ml moisturiser that are worth $20.80. The gifts are available only to customers who spend a minimum of $80 via this link from now till 5 March 2023, with no promo code needed.
It takes a lot of courage for someone like Gesella to share her story and insecurities, and as a friend, I found myself having a lot of respect for her. Hopefully through her story, it will also inspire others to not lose hope when addressing skin issues. 
For more information, follow Suu Balm's official Facebook and Instagram. 
Photography by Huy Pham and Clement Sim. 
This post was brought to you by Suu Balm.