Design Orchard We Bare Bears 
Orchard Road is usually filled with decorations and IG-worthy photo ops especially when the festive season approaches. With the new year right in the corner, Design Orchard is no exception, getting a makeover with We Bare Bears-themed decorations. 
On top of the decors, there are limited edition We Bare Bears merch like EZ-Link cards and fashion apparel by 6 Singapore-based designers. From now till 6 January 2022, jio a fellow fan of these adorable bears for a visit to Design Orchard. 
Photo spots 
For those who are unfamiliar with Design Orchard, the mall is where local designers retail their creative pieces.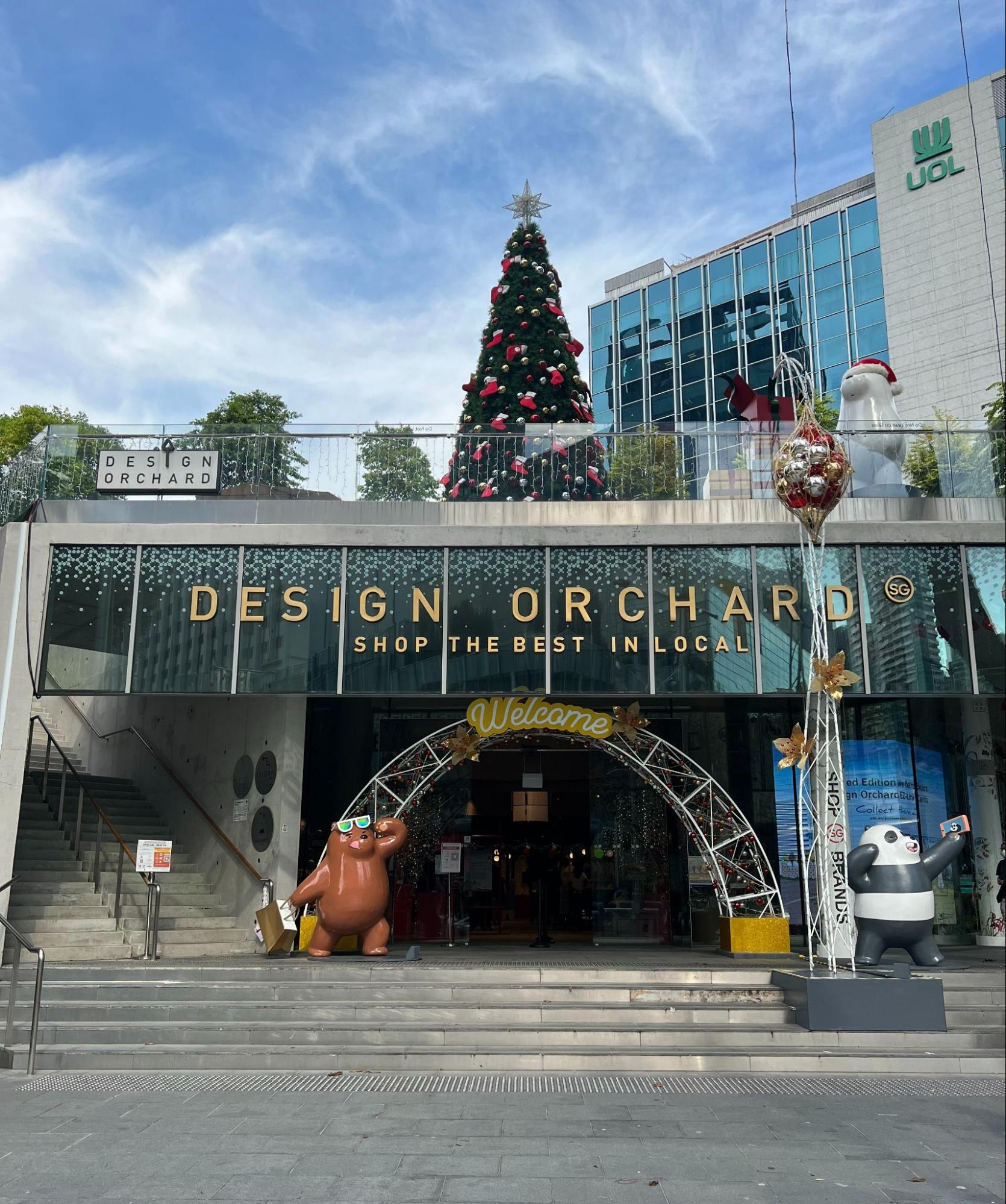 Before stepping inside, you'll be greeted by life-sized Grizzly and Panda on the ground floor. Plus, there is an arch with the "Welcome" sign on top, showing you warm greetings as you enter the building.  
For those wondering where Ice Bear is, you can find him on the open rooftop wearing a Santa hat.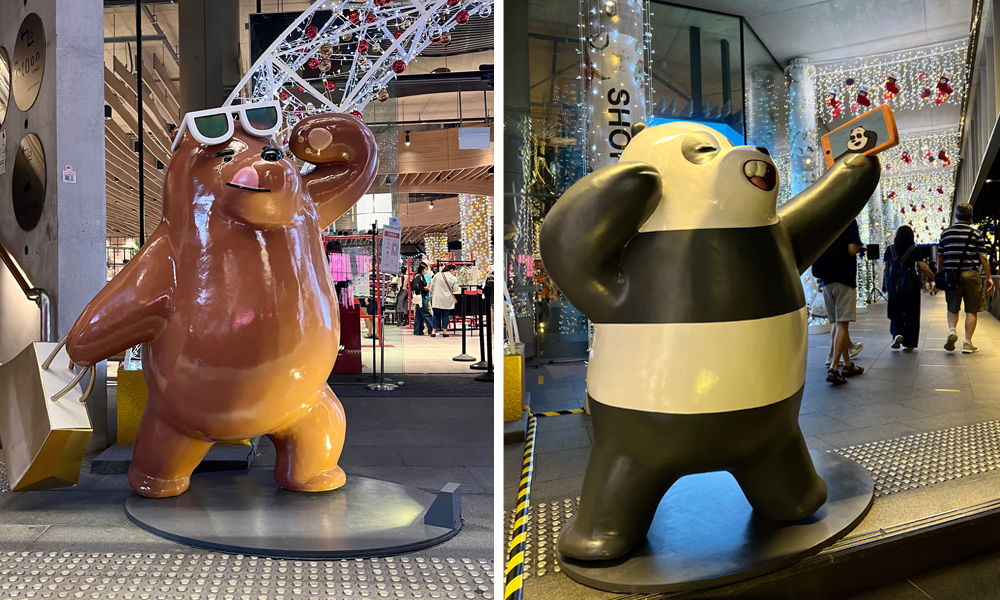 Grizzly looks as if he's in search of more shopping places with a shopping bag in his hand. For a cheeky photo, go for a dap pose when you take one with him. 
With Panda being a social media addict, it's no surprise to see him taking a selfie. Take this opportunity to join him for a selfie together.
Make your way up to the rooftop of Design Orchard if you want to see a Christmas tree that is decorated with beautiful ornaments and We Bare Bears socks. Each sock features a bear that might have very well been illustrated by Chloe in the cartoon series.  
EZ-Link cards
Commute with We Bare Bears when you make one of these limited edition EZ-Link cards yours. 
Available in 4 different designs, the first one shows them stacked up like how they would when travelling together. ICYMI: they are in front of the Design Orchard building.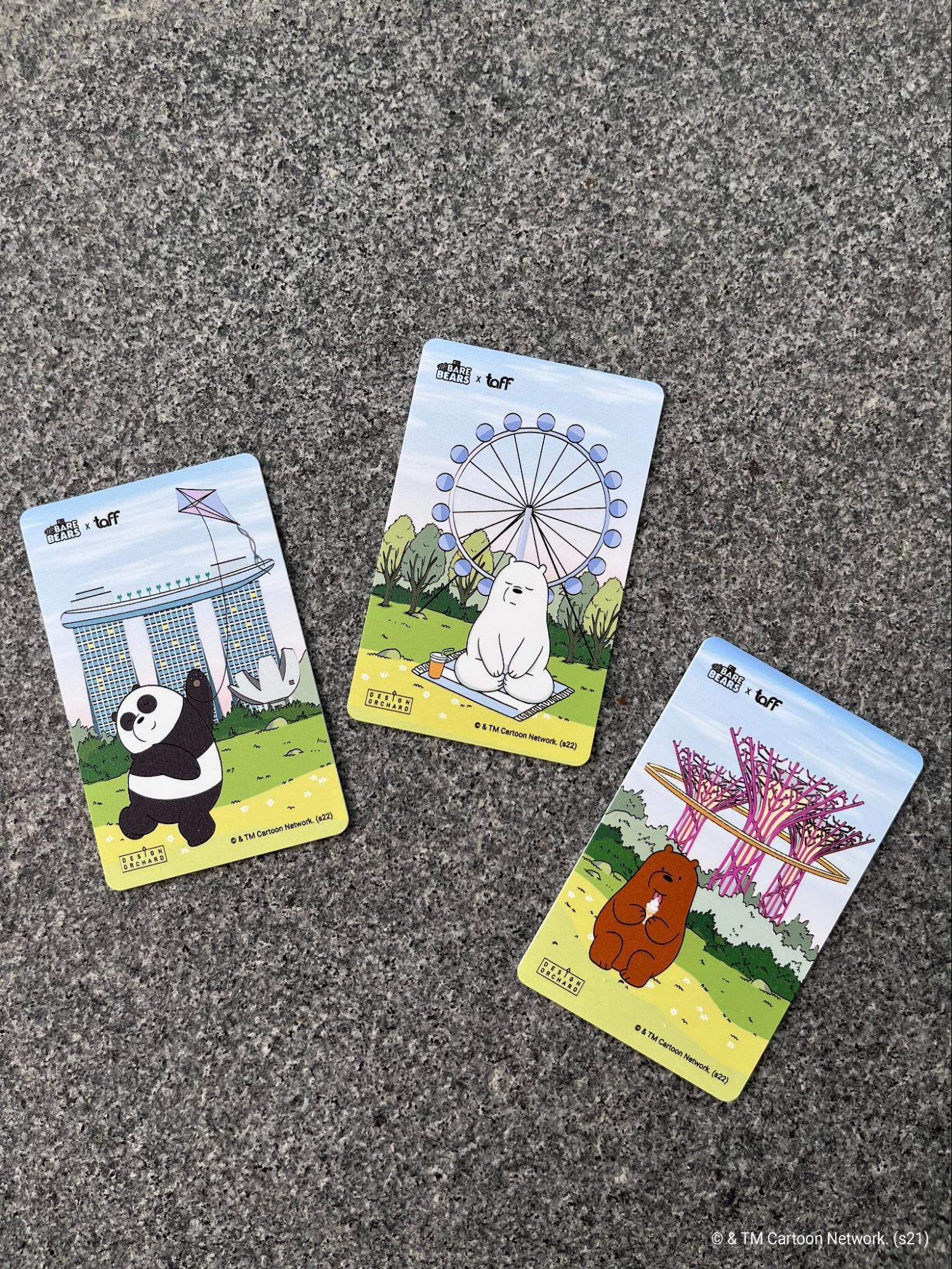 As for the rest of the designs, each features a Singapore icon that's hard to miss. Panda flies a kite near Marina Bay Sands Hotel, Ice Bear meditates in front of the Singapore flyer, and Grizzly chills with ice cream at Gardens By The Bay. 
Capsule fashion collection 
We Bare Bears is a cartoon series but that doesn't mean they can't be incorporated into trendy fashion apparel.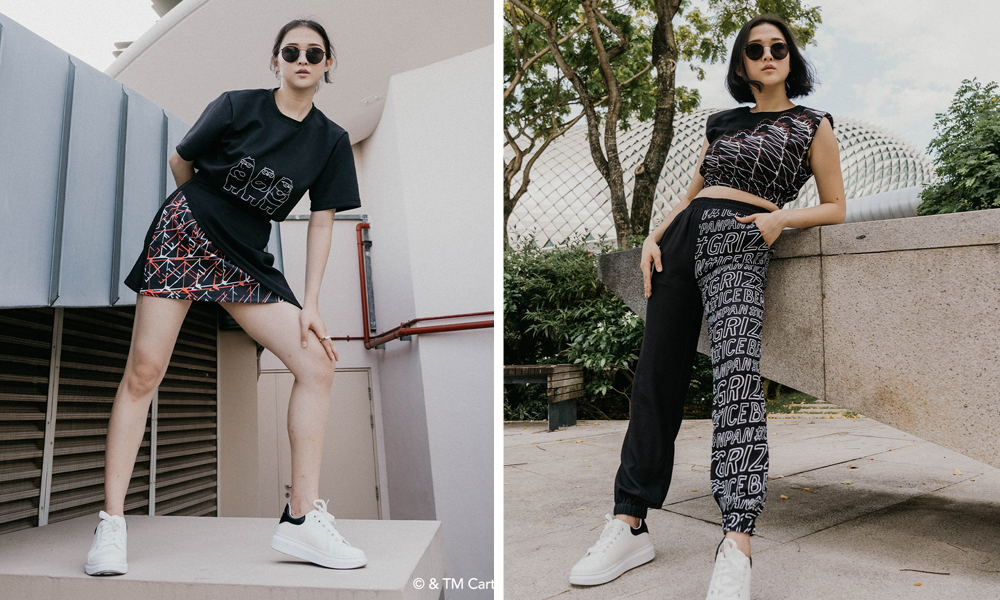 Enter Joannalsm, a fashion brand that takes pride in their custom, avant-garde fashion pieces. In this collection, they are inspired by the spiky exterior of Esplanade which takes after the silhouette of the king of fruits, durian.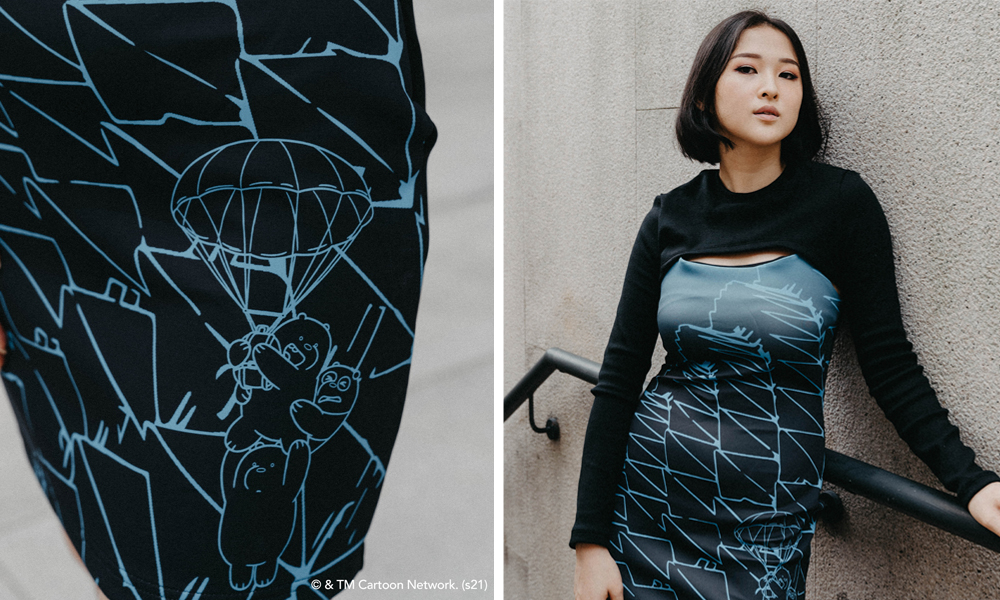 The pieces are highlighted by the colourful lines and you'll also notice their designs with the bears exploring the art centre.  
Another brand available in Design Orchard, Photo Phactory, is one that embraces the Peranakan style. 
Alongside their unique designs, they introduce the bears onto their apparel with this long pleated skirt and white T-shirt ‒ a subtle way to express your love for the cartoon series. 
Paying homage to the Peranakan culture, the design of the clutch bag shows the bears standing in front of shophouses while wearing sunglasses. Also, there's a tote bag for you to bring out when running errands. 
Apart from these items, Photo Phactory has We Bare Bears wooden serving trays, coasters, and scarves. 
Activewear
With activities like spin classes and hiking a trend in Singapore these days, it's no surprise that activewear is also gaining popularity.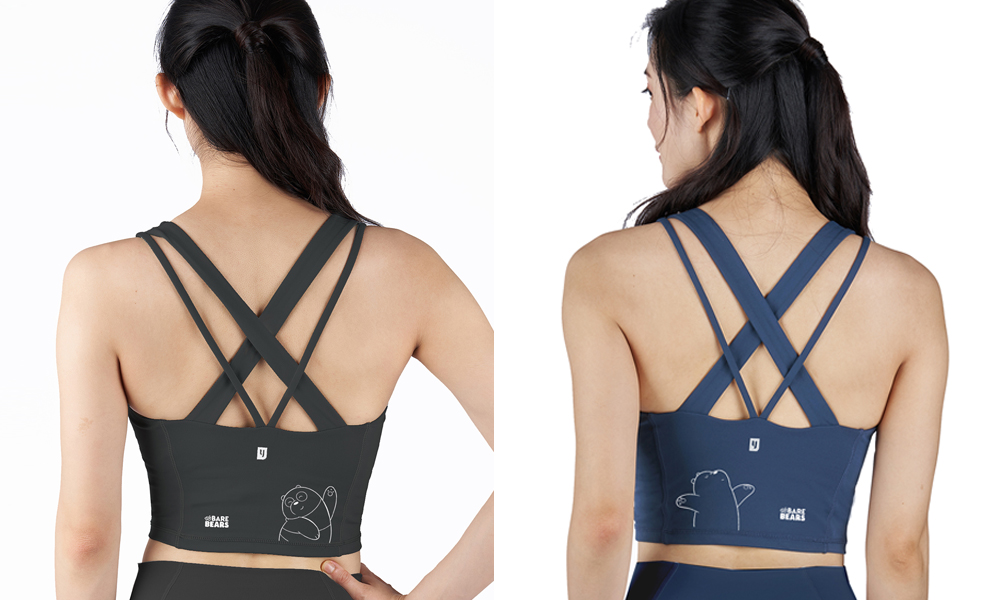 By activewear brand Yumi Active, the We Bare Bears collection includes cross back sports bras, 7/8 tights with pockets, tank tops and sleeved T-shirts. 
Every piece features one of the We Bare Bears characters and depending on your colour choice, you'll find a different bear on it. 
Besides activewear, Yumi Active also has sports equipment like yoga mats and yoga blocks that are great for home training.
Accessories
Your outfit is not complete without accessories and with the brands, La Tierra and Pearly Lustre, there is a huge selection for you to choose from. 
We Bare Bears earrings
Photo for illustration purposes only.

Pearly Lustre has created a versatile We Bare Bears jewellery collection ‒ 6 jewellery charms that feature the faces of each We Bare Bears character and its respective bear paw. 
You get to mix and match as the charms go well as either earrings, necklaces or bracelets.
Since wearing masks is the new norm, you can switch up your plain ones with this reusable We Bare Bears mask from La Tierra. The design highlights the beauty of Singapore and shows the bears taking a selfie together.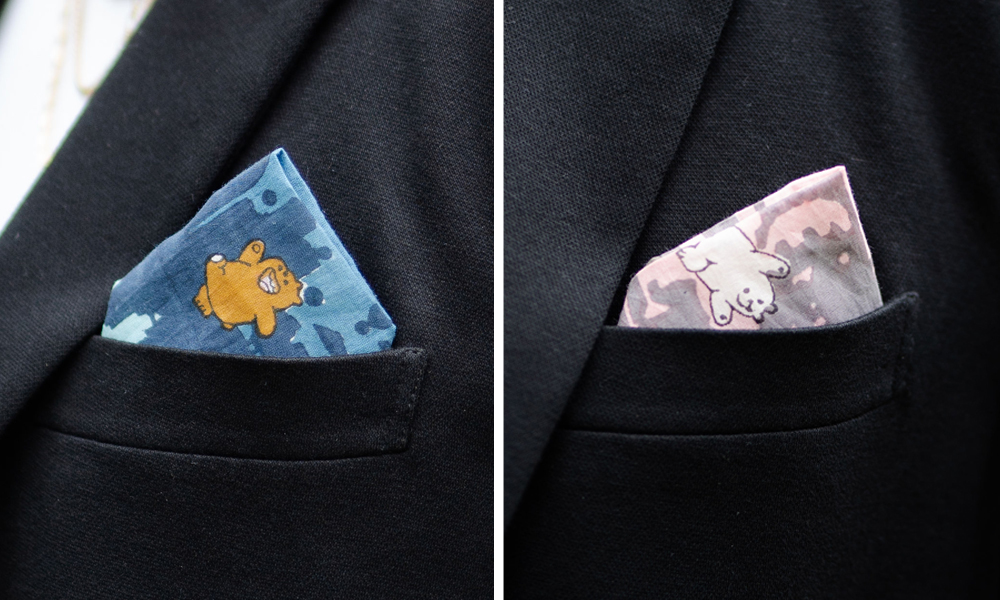 For more formal occasions like attending a wedding banquet, you can opt for these pocket squares to spruce up your suit instead of the usual stripes and polka dots. 
Besides these accessories, you can also find scarves, laptop sleeves and pouches from La Tierra. 
Head Down To Design Orchard For A Fun Day Out With Your We Bare Bears Gang
If you're searching for a fun activity to do this coming weekend, time to head down to Design Orchard for cute photo ops and shopping with your We Bare Bears squad. For those who are interested in purchasing these limited edition We Bare Bears merch, they are also available online at One Orchard Store from now till 19 January 2022. 
Address: 250 Orchard Road, Level 1, Singapore 238905
Opening hours: 11am to 8pm daily
All images courtesy of TaFF.
Also read: 
Skechers x We Bare Bears Has Matching Tees Featuring Grizzly, Panda & Ice Bear For Your Squad Goals