Museum Of Ice Cream At Design Orchard
Unless you've been living under a rock, you would have heard that the NYC-based Museum of Ice Cream is making its way to Singapore. Before it opens its doors to zhng your IG feed with its aesthetic installation in August, the museum will be transforming the space at Design Orchard for a special retail showcase.  
The showcase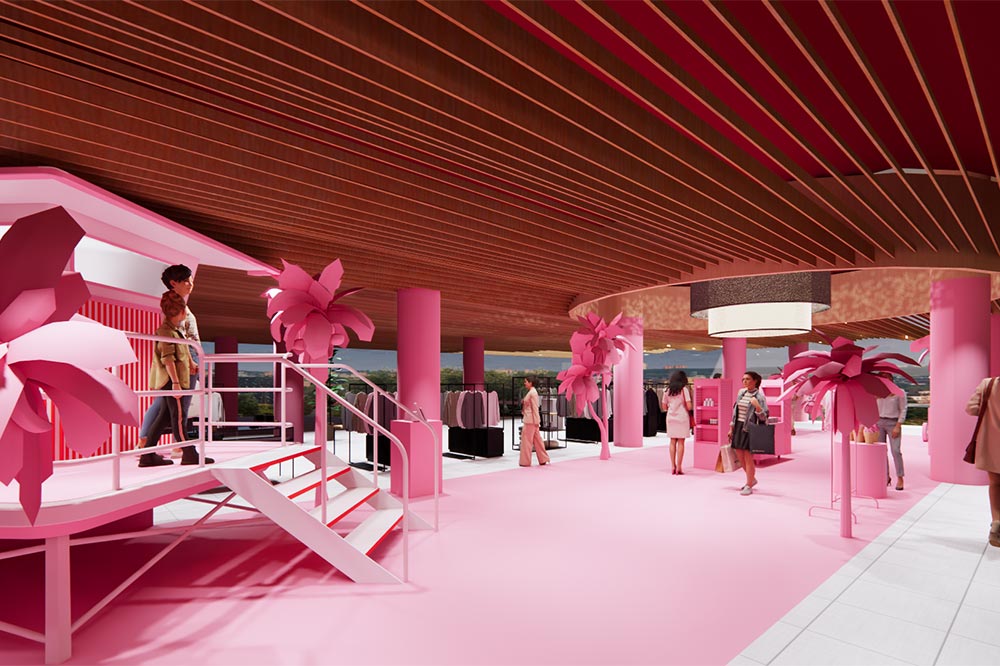 Image courtesy of Museum of Ice Cream
Museum of Ice Cream's special teaser pop-up will be running from 30 April to 27 May 2021 at Design Orchard, located right in the heart of town. Visitors to the retail showcase will be treated to a preview of the museum's Lifeguard Beach installation, complete with its signature waffle cone trees. An all-pink pastel wonderland for the VSCO girls out there. 
Collaborations with local brands 
Design Orchard is a retail space dedicated to promoting local products. For K-drama fans, think along the lines of Start-Up's Sandbox but for Singaporean brands. Therefore, it's no surprise Museum of Ice Cream's showcase will feature collaborations with our local companies. 
Merchandise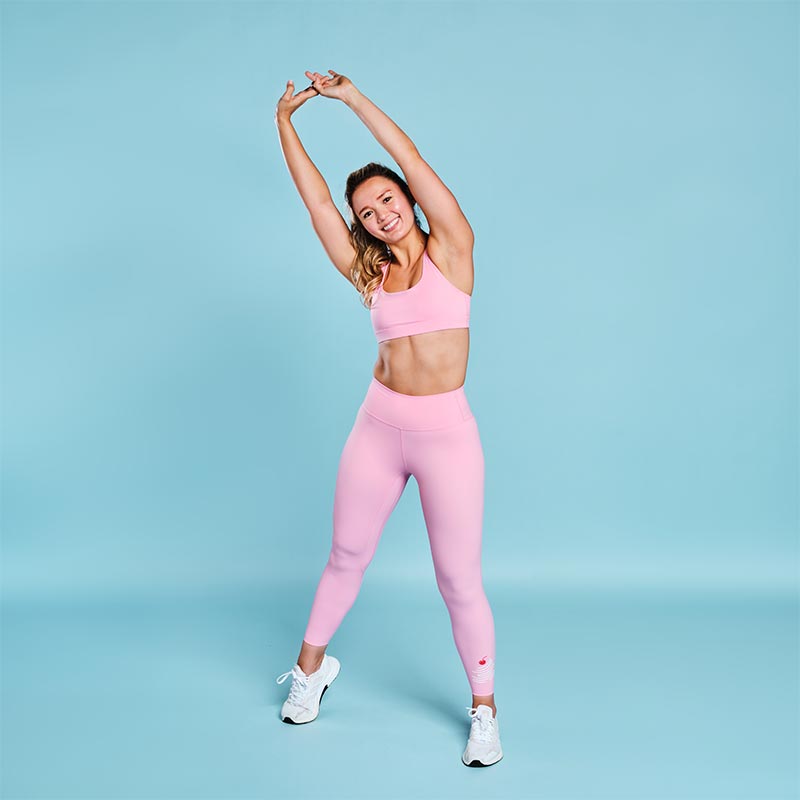 Image courtesy of Museum of Ice Cream 
Fitspos can look forward to Museum of Ice Cream's fitness apparel collection. Made in collaboration with Kydra Activewear, a local sportswear brand, you can sweat it out with a matching all-pink Sports Bra and Leggings set. The Sports Bra retails for $55 while the leggings cost $85.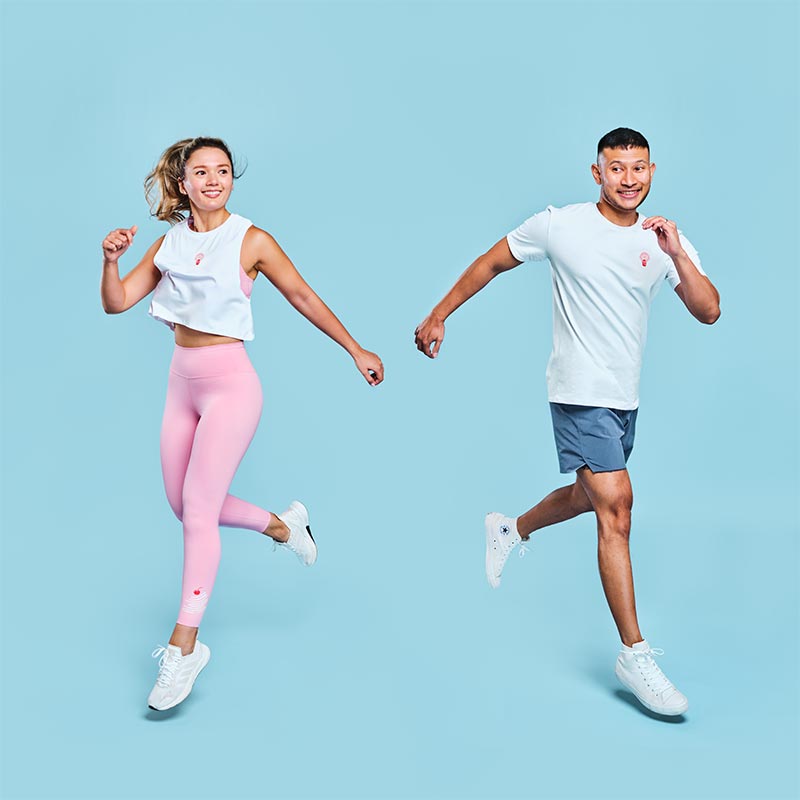 Image courtesy of Museum of Ice Cream
You can also rep Museum of Ice Cream's logo at your next spin class with the line's Cropped Tank and White Tee, available for $39 and $42 respectively.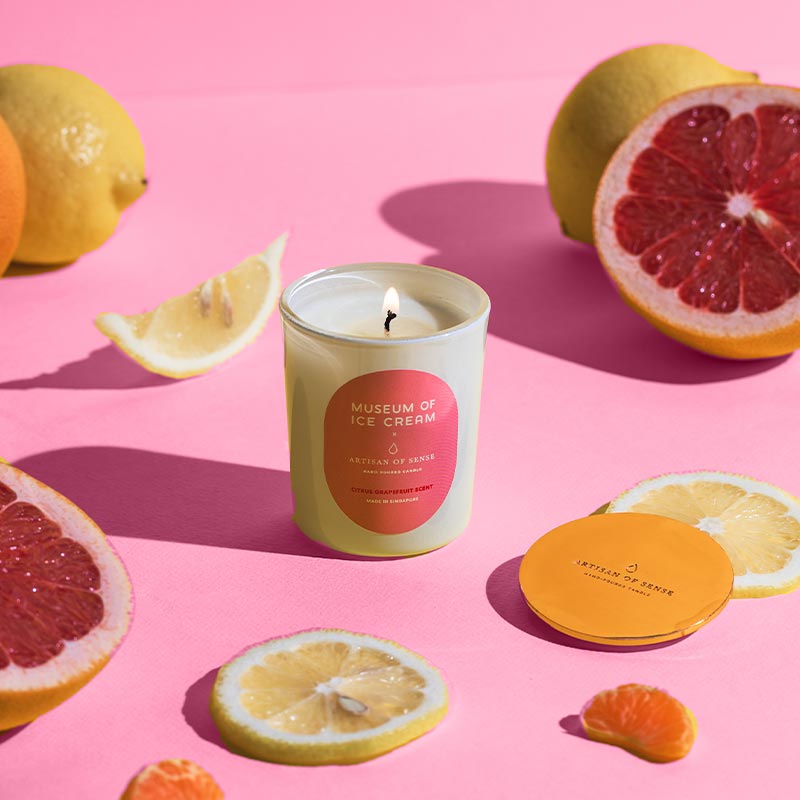 Image courtesy of Museum of Ice Cream
When work gets too stressful, it's good to pamper yourself with some self-care. The museum has teamed up with Artisan of Sense, a candle brand in Singapore, for a limited edition scented candle for your chillout needs.  
For $33, you will get a fruity Citrus Grapefruit Scent candle made of 100% pure soy wax, created by the 2 brands.
F&B offerings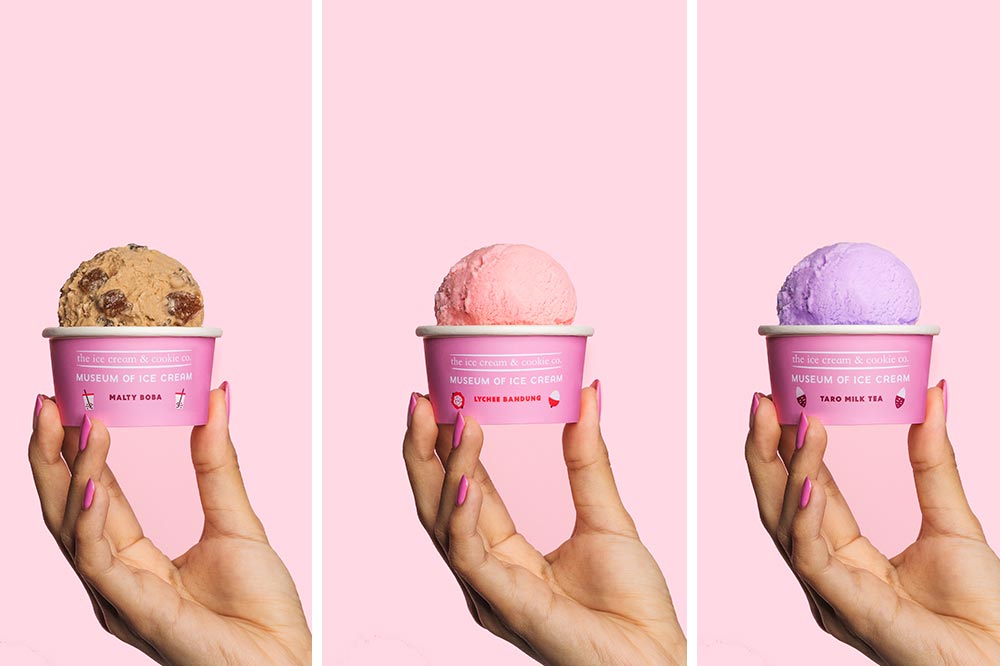 Images courtesy of Museum of Ice Cream
Of course, the museum's pop-up at Design Orchard experience isn't complete without actual ice cream. Three unique local flavours were co-developed with The Ice Cream & Cookie Co., a wholesale ice cream supplier in Singapore. Satiate your sweet tooth with the Malty Boba, Lychee Bandung and Taro Milk Tea flavours (left to right) at $6 a cup.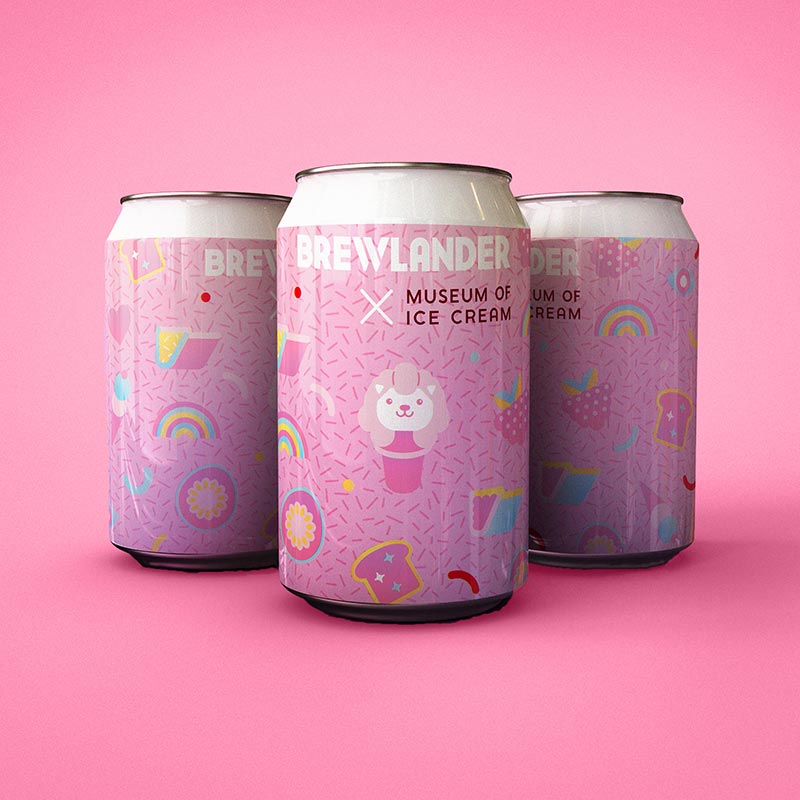 Image courtesy of Museum of Ice Cream 
Here to accompany you as you relax with alcohol are uniquely Singaporean icons like the Merlion and ice cream sandwiches. Museum of Ice Cream's limited edition beer by local brewery Brewlander costs $7.90 per can. 
Also read: 
12 Spin Classes & Cycling Studios In Singapore Whether You're A Beginner Or Pro
Rooftop yoga at Design Orchard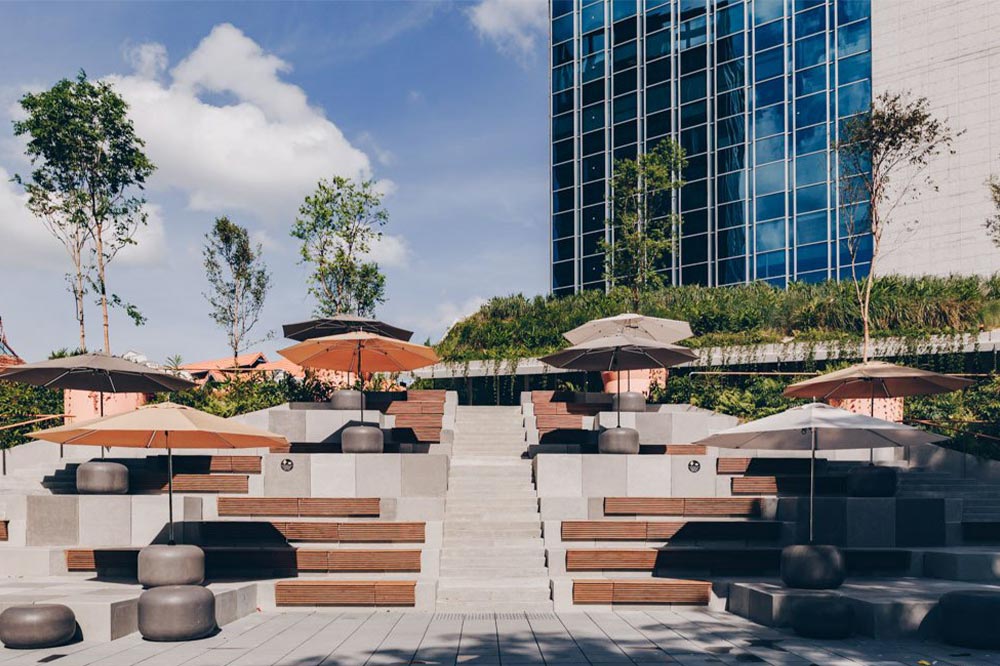 Chances are, Design Orchard's terrace-style rooftop garden has caught your eye while walking along the stretch between ION Orchard and 313@somerset. Now, picture yourself doing yoga there.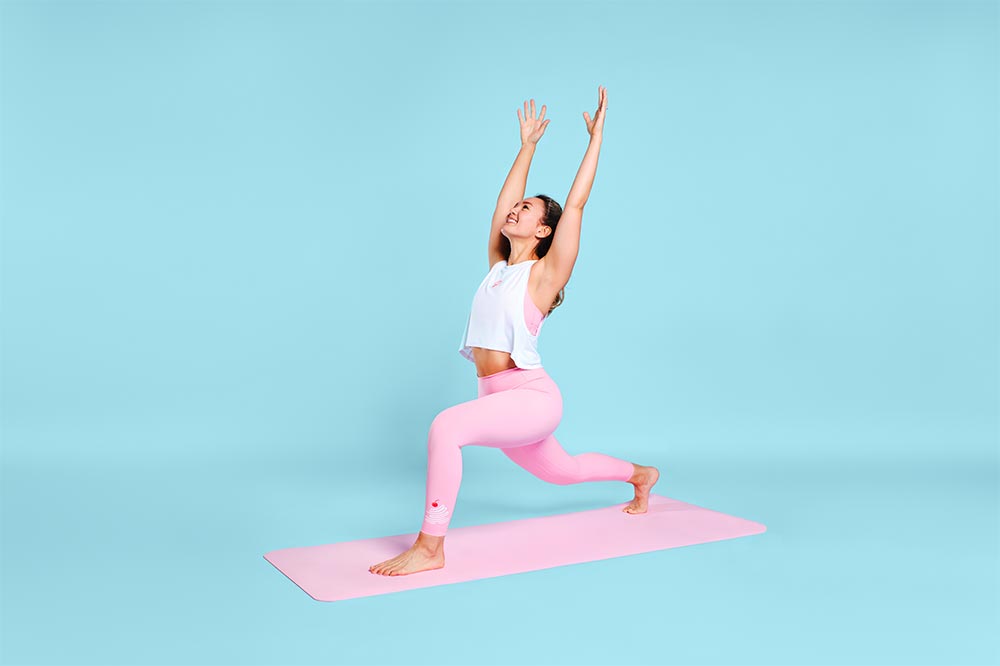 Image courtesy of Museum of Ice Cream
If you're enamoured with the idea, good news. The museum is collaborating with ClassPass to offer the Pink Oasis Yoga Sessions. Stretch out with your yogi BFFs at Design Orchard's rooftop, which will have special pink palm tree installations. You'll also be given a complimentary scoop of ice cream or can of beer to reward yourself with after a good workout. 
Each session lasts for 1 hour and will require 10 ClassPass credits. Head over to ClassPass' website to sign up for a session.
Museum Of Ice Cream At Design Orchard Is A Sweet Treat For All Shoppers 
As mentioned earlier, Museum of Ice Cream's retail showcase at Design Orchard will be running from 30 April to 27 May 2021. Don't miss the chance to savour sweet treats, shop limited edition merchandise and zen out with rooftop yoga at this special pop-up.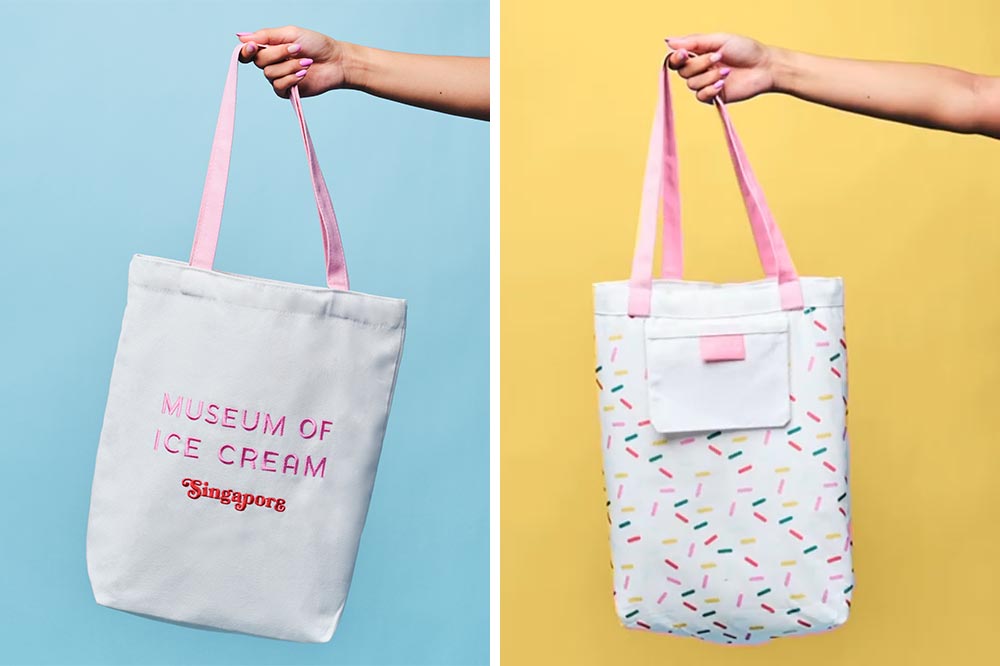 Image courtesy of Museum of Ice Cream 
With this upcoming teaser event, the hype is real for the museum's opening in August. You can also look forward to more merch while you're there, including ones exclusive to the retail store, such as the tote bag above. Make sure to book your tickets for the exhibition over at its website ASAP to avoid any disappointment! 
Cover: Image courtesy of Museum of Ice Cream, Source  
Also read:
Suntec City Has Exclusive BTS Merch & Life-Size Photo Ops For SG ARMY Missing Their Idols Because Life Goes On