Sending Dick Pics
It's no secret that unsolicited dick pics have plagued girls since the dawn of online dating.
But now, a new trend has emerged where a small group of Singaporean guys are searching up random Telegram users and sending pictures of their weiners to them.
Sending random Telegram users surprise dick pics
On a recent night out with my friends, Hannah Tan, 24, showed our group some seriously NSFW pics she had received from strangers.
Hannah received her first dick pic in October 2018. She began receiving unsolicited saucisson images at a frequency of once every two months.
Apparently, she "always kena" because she has "a commonly searched name and surname".
She added there are two types of guys—those who send pictures of their dicks sans small talk, and those who preface with a "hello, can I ask you smth?".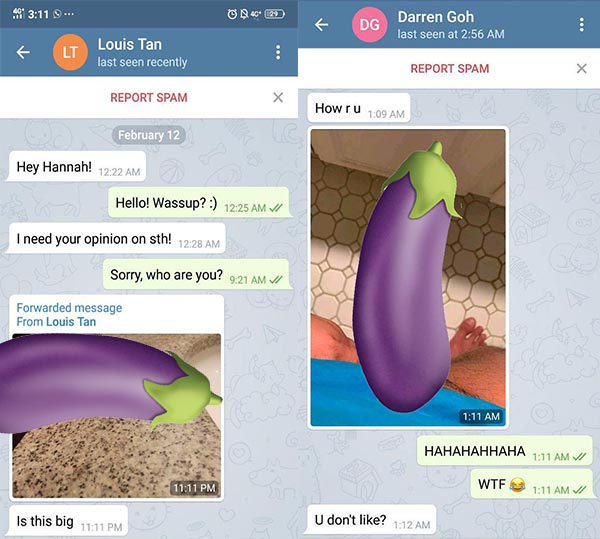 "After the second dick pic, I got fed up and asked the guy how he found me. He explained he will randomly search a name, and look at the profile pic before sending out the dick pics, so he knows he is sending pictures to a girl and not a guy."
Also read:
Responding to dick pics
Among women, it can be agreed that receiving unwanted images of a stranger's ding-a-ling evokes disgust, shame, and distress.
Hannah felt "shocked and traumatised", and compared receiving such pictures not unlike getting "a slap to the face to the point [she] felt like crying". To cope with these feelings, she laughed it off and tried to make light of it.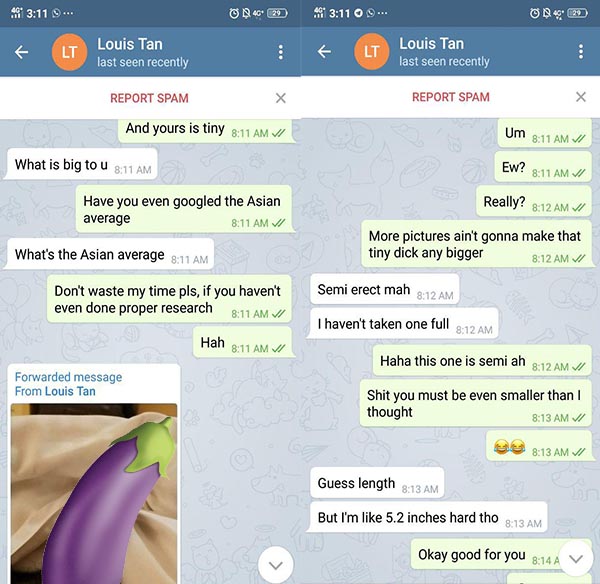 As to why some choose to be the internet equivalent of an IRL flasher, Hannah guessed that "those that send unsolicited ones, especially to strangers, are perverts with a fetish of gaining sexual gratification when people respond to their dick pics."
"For those guys who are sending random dick pics, I don't know what to say leh… I think you really need some psychological help."
Along this vein of unanswered "y r u lyk dis?"s, I think womankind can agree it's a damn good thing the Singapore law is acknowledging we want no more unasked for lupcheong pics.
Unwanted Dick Pics
In the new Criminal Law Reform Bill read on 11 February 2019, unsolicited sexual exposure will be criminalised as "cyber-flashing".
"Cyber-flashing" is when "images of genitalia are sent to recipients without their consent, and with the intention to cause humiliation, distress or alarm".
Rejoice, the days of horndogs sending you unwanted dick pics may soon be over.
Also read:
I Sent Vagina Pics To Random Guys On Dating Apps Because I Am Sick Of Getting Dick Pics