Dr Clear Aligners Dental Care
For many, having a nice smile is a necessity, as it can make or break one's confidence. I'm no exception – I was never comfortable smiling with teeth in pictures until after I did braces. However, the process was definitely a painful journey – I constantly had ulcers and had to ensure that I didn't eat anything too hard or sticky in case the braces went haywire – literally. 
Even after braces, teeth will still shift over time, so I committed to retainers to maintain the shape. Hence, when I heard about Dr Clear Aligners dental care, which helps the teeth straightening experience be less arduous with minimal discomfort, I was intrigued.
The aligners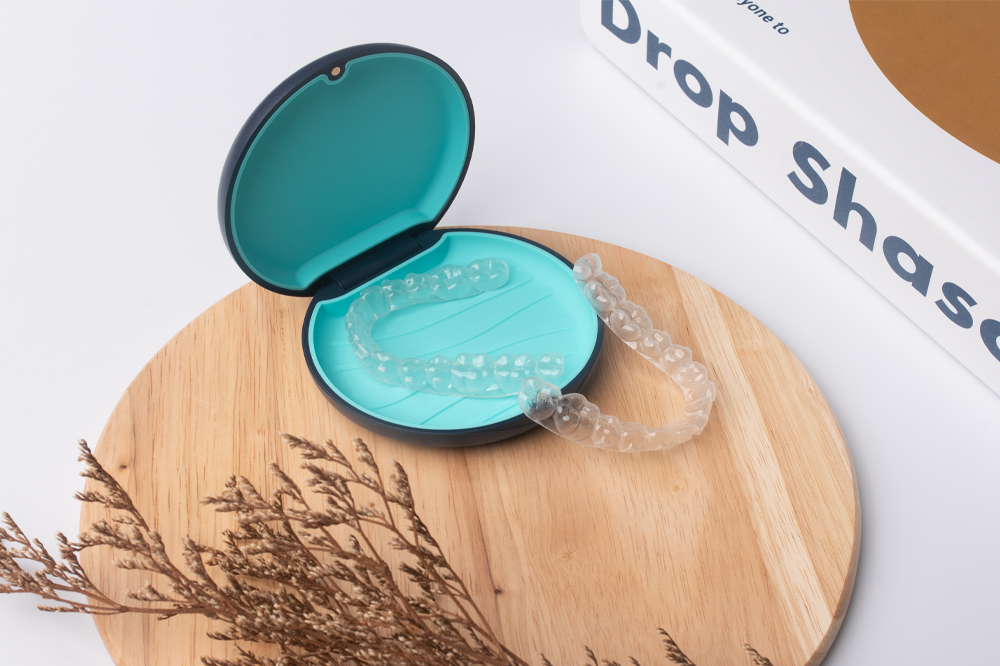 Image courtesy of Dr Clear Aligners
Braces have been a popular way of straightening teeth for a long time, but now, many are turning to other orthodontic options such as aligners. While aligners work similarly to retainers, they help shift positioning of your teeth instead of maintaining them. 
An option you can consider is Dr Clear Aligners. With their clear and invisible aligners, you don't have to worry about a mouth full of metal and wires. FYI, the treatment period is a lot shorter than having braces too, starting from 6 months depending on your condition, so you can potentially fast-forward the awkward transition period.
The aligners are made from Zendura Flex BPA-free material – a premium material which ensures that your aligners are comfortable and durable. Plus, it doesn't wear out or crack easily. Fun fact: the aligners are sustainably made, so you'll be making a small step to help the environment too.
Another plus point of aligners is how you will save yourself the pain and cost of extracting teeth. Furthermore, you can bid farewell to sudden lisps or bits of food getting stuck in your braces. 
Dental care products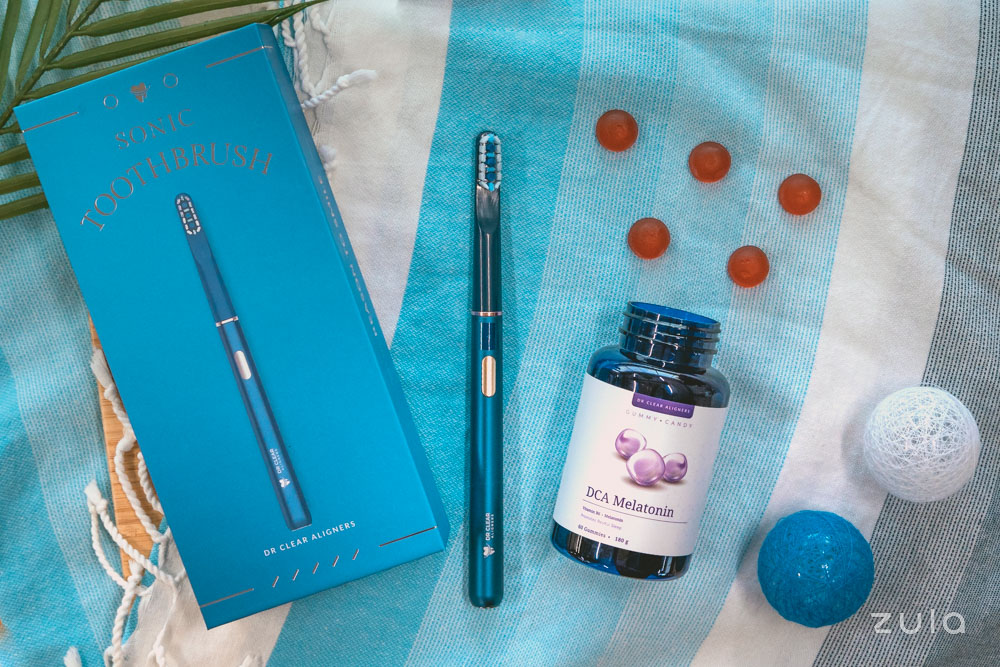 Dental care is never complete with just aligners. Other than their teeth-straightening gear, Dr Clear Aligners also has dental care products that complement your journey from start to finish. 
Sonic toothbrush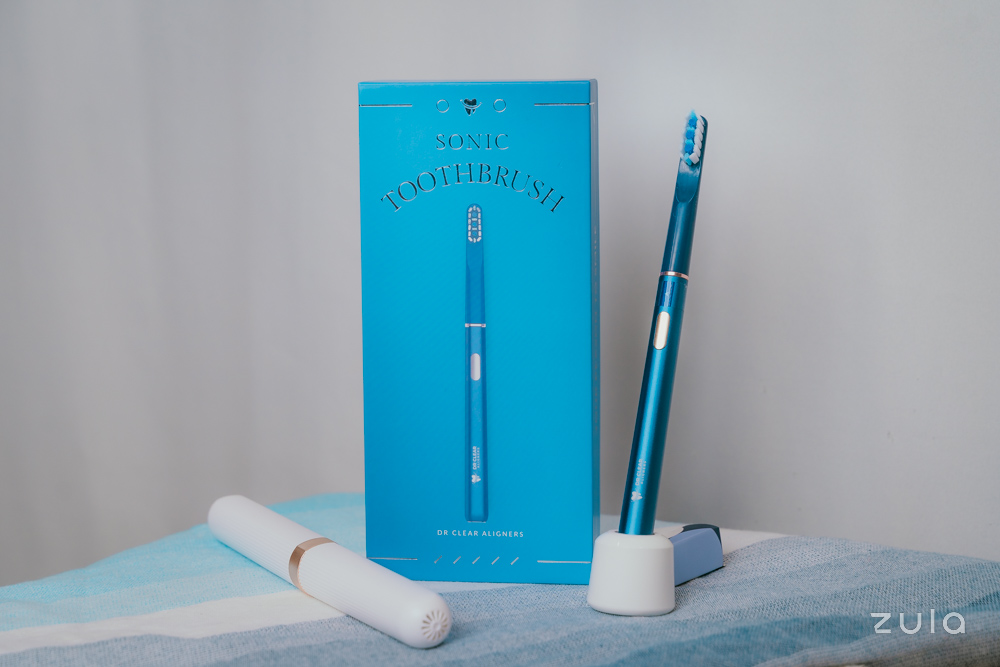 After wearing aligners the whole day, your teeth deserve a good scrub to rid bacteria and germs. Dr Clear Aligners' Sonic Toothbrush helps with 10 times more plaque removal, which in turn reduces bad breath too. Healthier gums = a healthier smile anyway. 
The sonic toothbrush has a sleek blue body and lean rectangular shape which makes it convenient to carry around, especially when you're on-the-go and want a clean fix after a meal.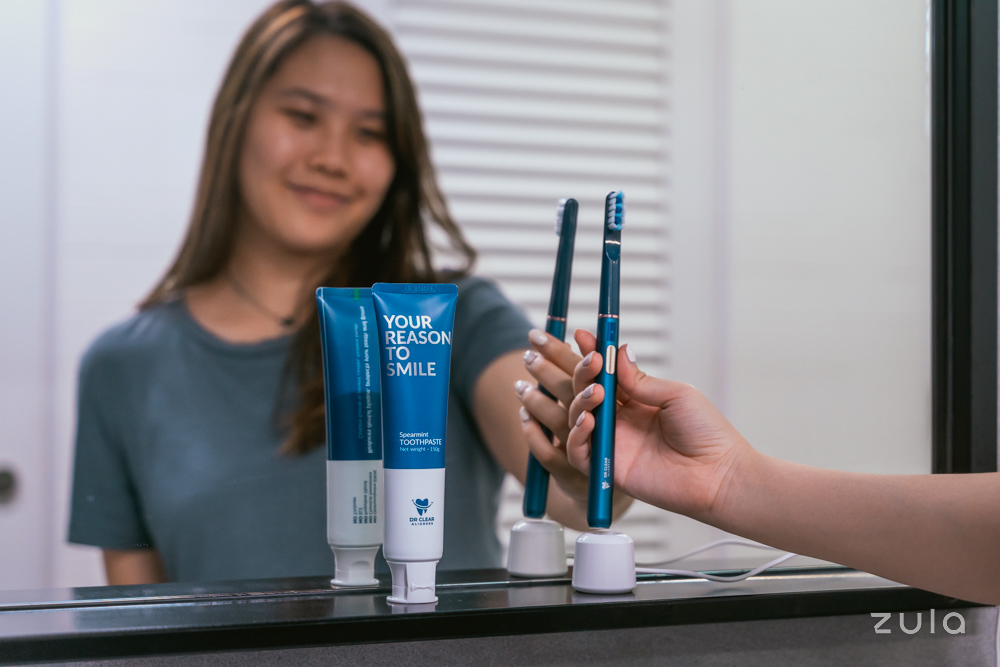 You can also adjust its speed with up to three settings, depending on how sensitive your teeth and gums are. If you're the kind to brush your teeth in the shower, the DuPont toothbrush is IPX7 waterproof so you don't have to worry about it spoiling either. 
The cherry on top has to be the wireless induction charging, which removes unnecessary cables. 
Toothpaste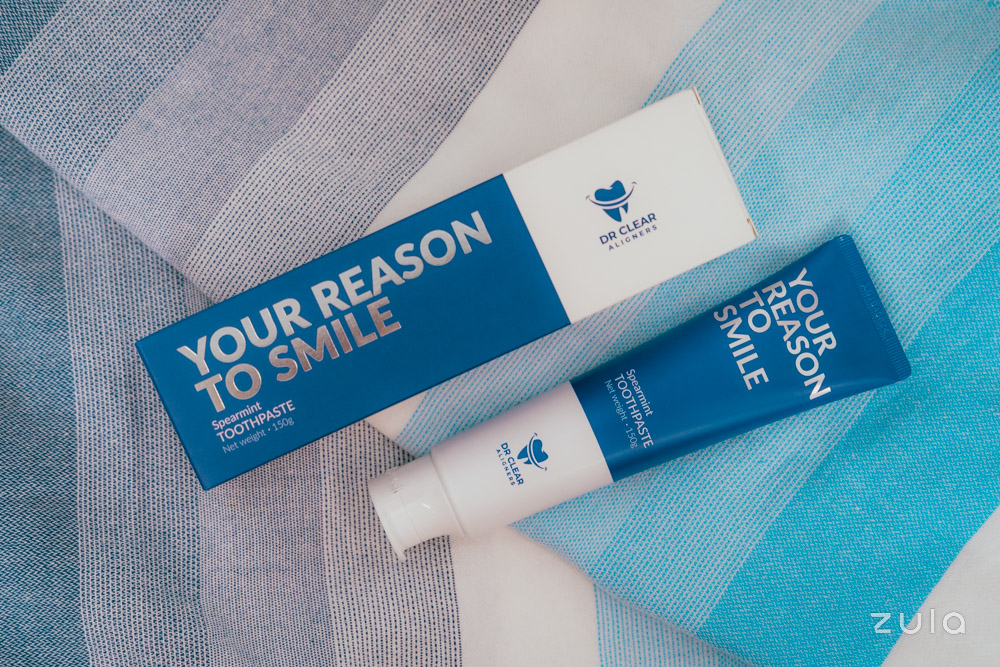 Accompany your Sonic Toothbrush with Dr Clear Aligners' Spearmint Toothpaste. It contains probiotics and helps to prevent growth of harmful oral bacteria in your mouth.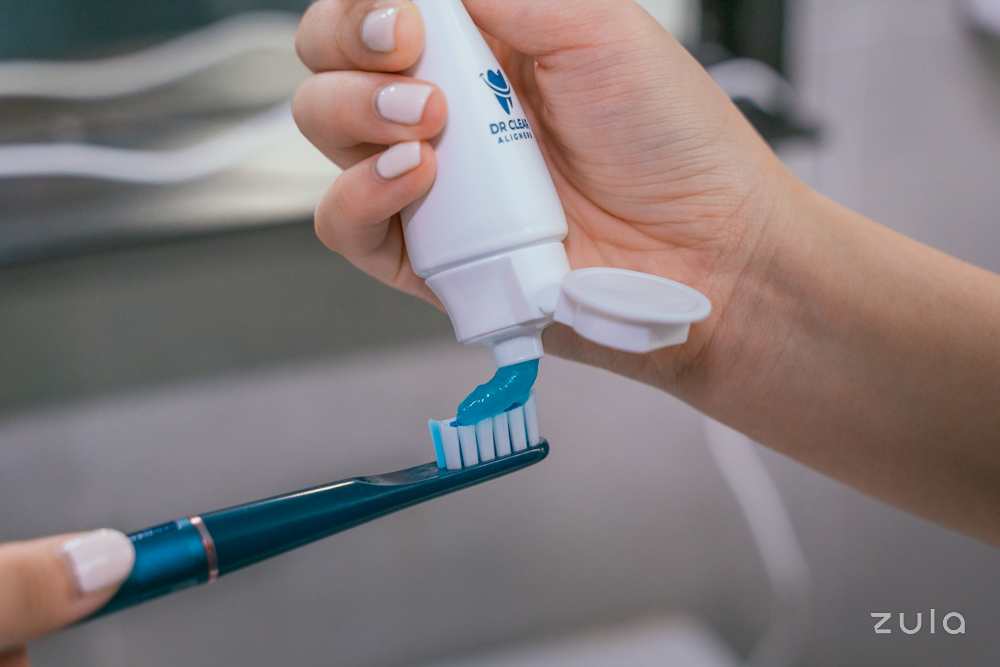 Having tried it with a thin spread of the sticky blue paste myself, I was welcomed with a kick of mint flavour, and my brush session maintained a cooling sensation throughout – my mouth felt fully refreshed after gargling it out.
DCA Melatonin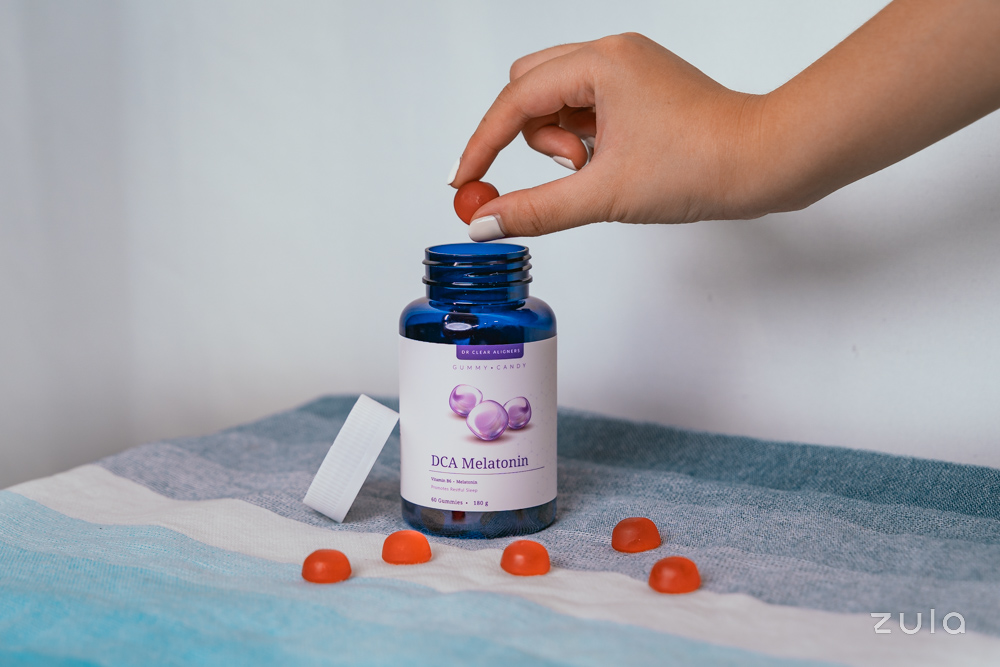 We've all been there – staying up worrying about that exam or waiting for a text from your crush, which leads to lack of sleep and the dreaded eye bags. 
Be better comforted with Dr Clear Aligners' DCA Melatonin sleep gummies, which help to promote a more restful sleep, especially for those with insomnia. For the unacquainted, the gummies do this through regulating your body's circadian rhythms, while treating delayed sleep phases and circadian rhythm sleep disorder.
The bite-sized pastilles are packed with ingredients such as Vitamin B6, which in turn help to promote proper cell function, as well as the regulation of cells and metabolism. Additionally, the gummies help in the creation and secretion of neurotransmitters, so you know these round-shaped treats are giving you nothing but goodness.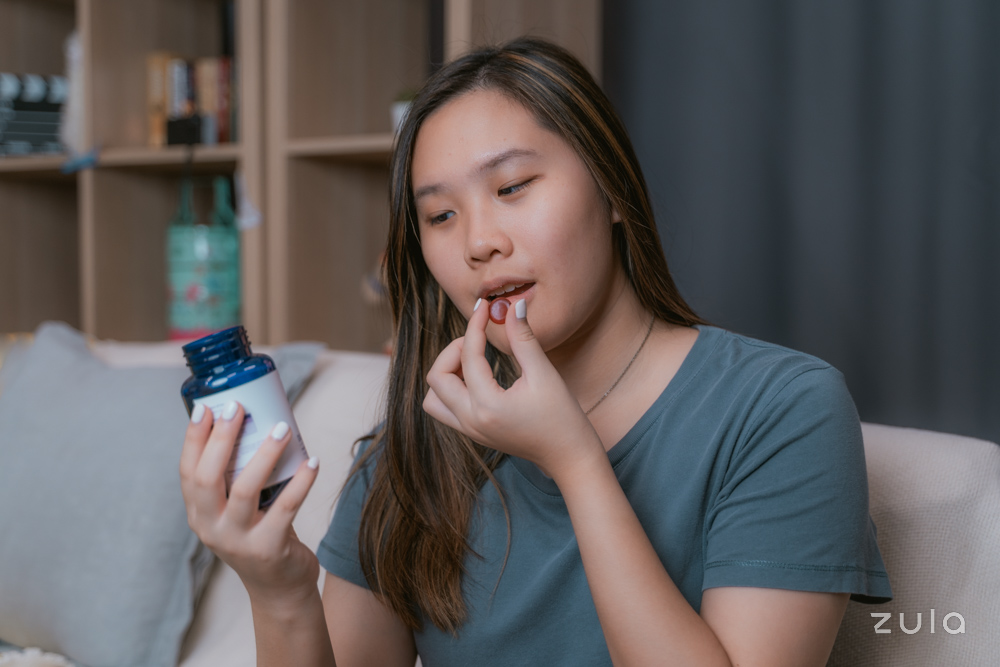 Coming in a dark purplish-red colour and a chewy texture, they reminded me of grape gummies and smelled like blackcurrants too. Upon further inspection of the bottle label, I learnt that the gummies also do wonders for those who have stress, jetlag, and anxiety. 
Pro tip: pop one into your mouth twice a day and you're good to go. Each bottle contains 60 gummies, so you're set for at least a month.
Mouthwash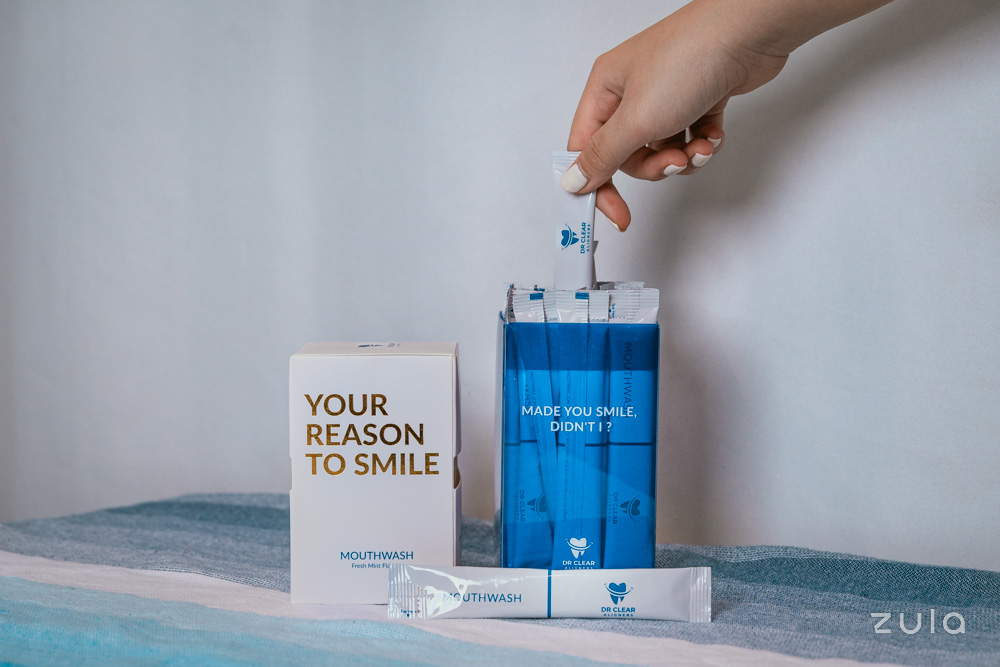 If you're heading out on a date with bae or to impress at a party and need a quick oral fix, simply bring along a few of these mouthwash sachets in your purse. Small and convenient, these packets contain 0% alcohol and help to kill germs, so you can keep your mouth feeling and smelling good the whole night. Here's a step-by-step breakdown: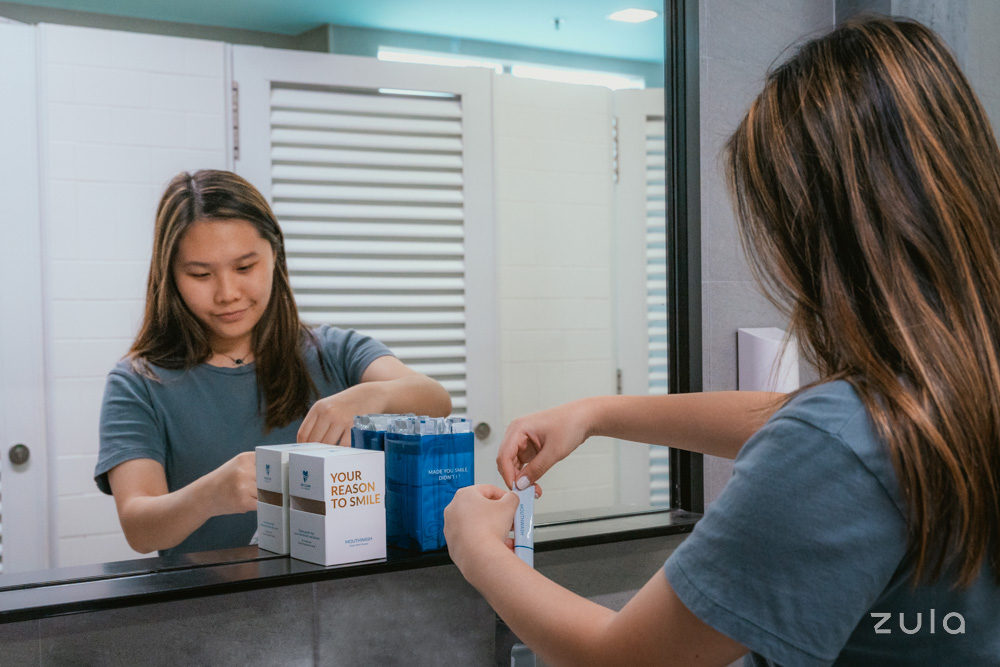 First of all, tear open the sachet that's marked with a small label on the side, so you can pull it off cleanly with one rip.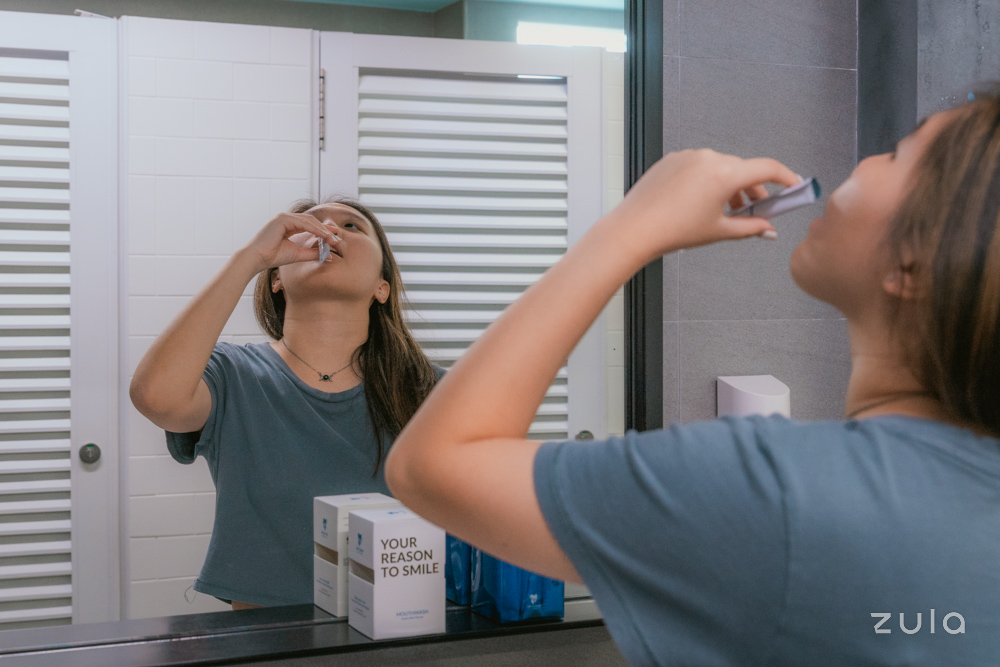 Pour the contents of the sachet into your mouth and gargle the clear blue liquid for 30 seconds. Spit it out after you're done and you're all set to slay. 
If you're tasting mint afterward, that's because the mouthwash contains camellia sinensis extract, as well as mentha arvensis leaf oil, ensuring that your mouth is left feeling refreshed and clean. 
One box contains 30 sachets. 
Cleaning Tablet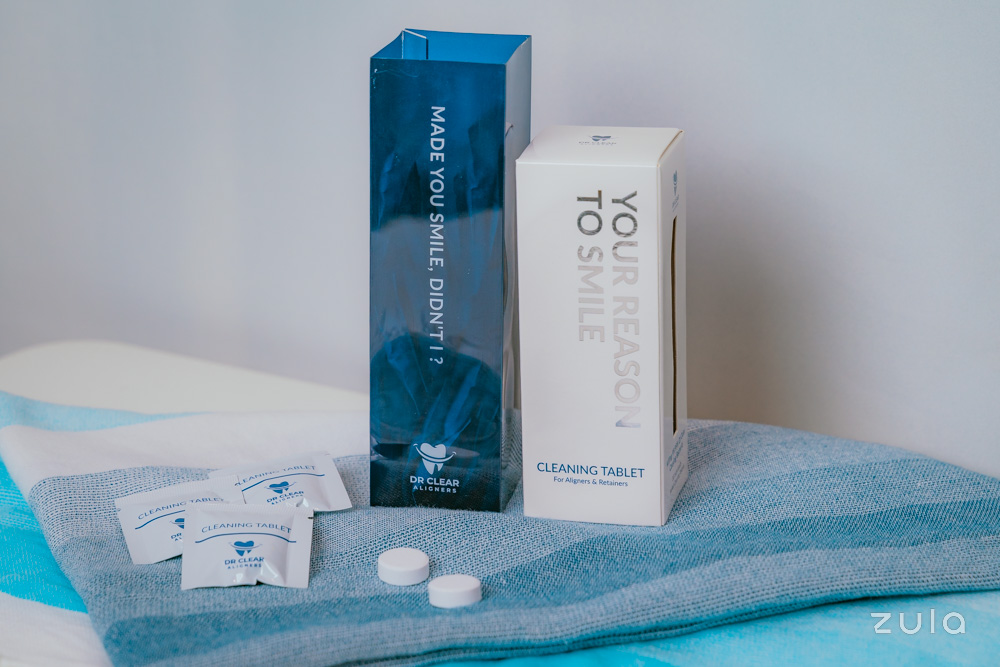 Apart from keeping your mouth clean, it's important to keep your aligners clean too, as you don't want them to get nasty with the amount of germ and bacteria buildup. Usually, when I wear my retainers, it tends to have a yellow stain and smells rank fast if I don't clean it properly. 
With Dr Clean Aligners' cleaning tablets, you can ensure your aligners are clean and clear with just one tablet every day. Place your aligners in a cup of warm water and drop the circle-shaped tablet in, before allowing it to sit for 15 minutes.
Following which, take your aligners out and use a brush to clean them or rinse in cold water. Voila – they're as good as new. One box contains 30 packets, with one tablet in each sachet. 
Flash A Brighter Smile For The Coming Year With Dr Clear Aligners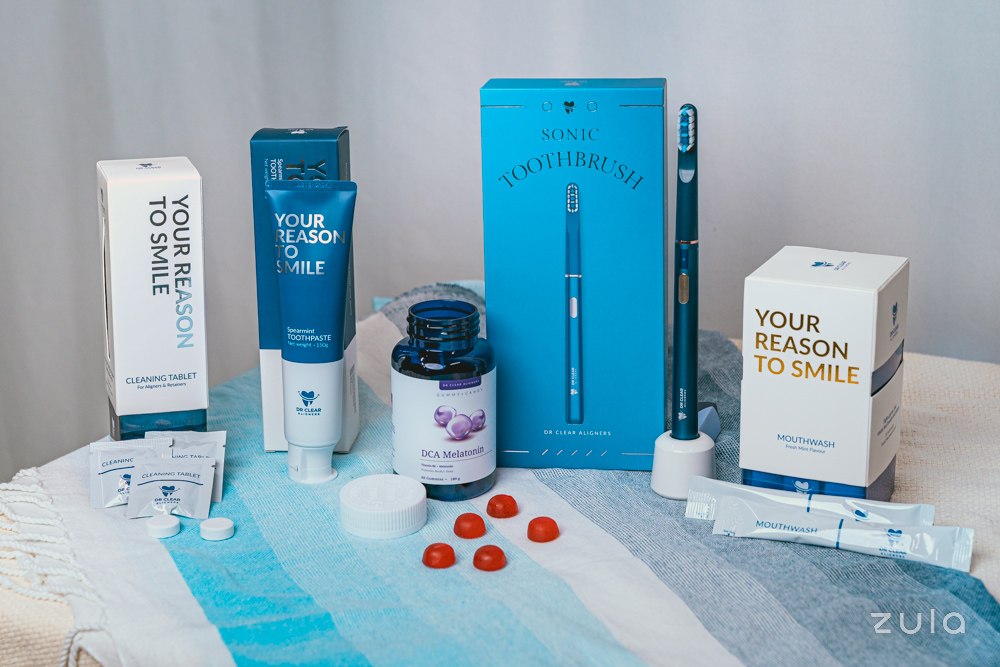 Whether you had an "ugly duckling" braces phase or are still feeling insecure about your teeth alignment, Dr Clear Aligners has got you covered with their invisible aligners and dental care products to help you breeze through the year.
With Dr Clear Aligners' customised digital treatment plan for each individual, you're guaranteed to get the best care possible with laser focus on your specific needs. Each session will introduce you to professional consultants, and hassle-free treatment processes to ensure the combo of lesser discomfort and easier maintenance. 
Image courtesy of Dr Clear Aligners
Starting from $1,950, their dental care kit is available for anyone looking to level up their smile. You won't break your bank either, as they have instalment plans, as well as deals for the entire month of March.
The March Super Deals campaign includes reduced prices for Dr Clear Aligners' products and bundles. Some of these include melatonin bottles at $60 (U.P. $120) and mouthwashes at $38 (U.P. $76) Plus, all products include a buy 1 get 1 free deal for this limited time.
Whether you're planning on getting the products for your household or as gifts for a friend, you can consider special bundles – one which consists of a melatonin bottle, two mouthwash cartons and toothpaste for only $80 (U.P. $199). Otherwise, you can also opt for a sonic toothbrush, free toothpaste and mouthwash bundle for $79 (U.P. $129). 
That's not all – there is also a special deal for the aligners case, which retail at just $19.90 (U.P. $28).
If your resolution this year was to have greater confidence, start now by working towards a brighter smile. Dr Clear Aligners' products are readily available on their website, and you can also check out their Instagram, Facebook, and TikTok for more information and updates. 
Photography by Afiqah Amir unless otherwise stated.
This post was brought to you by Dr Clear Aligners.