Estée Lauder x Disney  
Whether you saw yourself as a simple bookworm like Belle or a curious adventurer like Ariel, most of us grew up relating to a particular Disney Princess. As an adult, you can now rep your fave Disney Princess on your dressing table. The Disney Princess Collection by Estée Lauder includes 8 powder compacts and 8 perfume compacts inspired by 8 Disney princesses. 
Designed by luxury jewellery designer Monica Rich Kosann, enamel and Swarovski crystals decorate each item, making them fit for even a princess. Let's take a look at some of the designs!
Mulan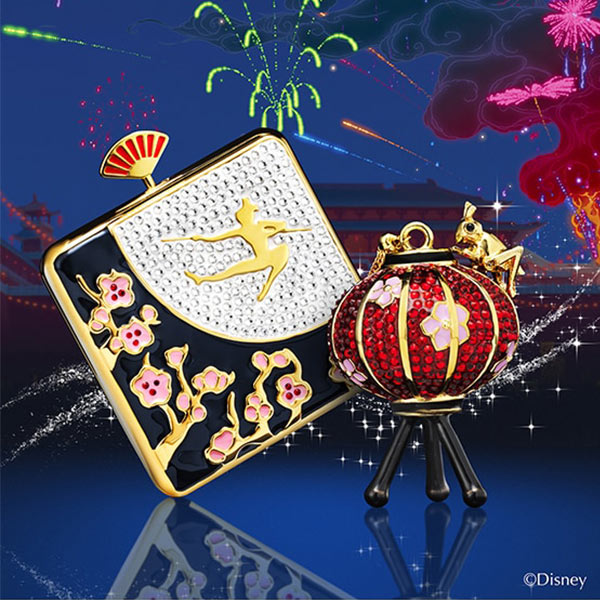 What's a Disney collection without its most talked-about Disney Princess of the year?
While the popular I'll Make A Man Out Of You sequence was not included in the Mulan 2020 remake, the Find Your Inner Warrior Powder Compact has Mulan in her signature fighting stance while surrounded by Swarovski crystals. Cherry blossoms make up the other half of the compact, with a fan as the clasp.
For those wondering what is inside the compact, it's Estée Lauder's Perfecting Setting Powder. The translucent powder can be worn alone or over foundation for sheer, lightweight coverage.
The Pleasures True To Your Heart Perfume Compact is a lantern-shaped perfume decorated with cherry blossoms and red crystals. For added whimsy, the tassel and cricket sitting at the top of the lantern move as well.
The fragrance is a solid perfume based on one of Estée Lauder's most iconic scents, Pleasures. A blend of floral notes like lilies, white peonies and jasmine, it will transport you to a garden similar to the one outside Mulan's home.
Also read:
The Mulan 2020 Remake Is Basically Jamie Oliver's Egg Fried Rice With Chilli Jam And No 'Wok Hei'
Ariel
Start your collection of gadgets and gizmos aplenty with the Make A Splash Powder Compact and Pleasures Under The Sea Perfume Compact.
Featuring Ariel's striking red hair and silhouette in a sea of crystals, the powder compact is ideal for fans of the free-spirited mermaid. The clasp is in the shape of a clamshell, which adds to the underwater aesthetic.
As with the other powder compacts in the collection, it is filled and refillable with the brand's Perfecting Setting Powder.
The Pleasures Under The Sea Perfume Compact features Flounder, aka Ariel's bestie. The friendly fish is resting upon a red coral and holding the pink flower he gives to Ariel in the movie. It'll make the perfect Christmas gift for your own BFF. 
Display it on your vanity table, and when you're heading out, simply apply the solid perfume onto your pulse points, such as your inner wrists.  
Belle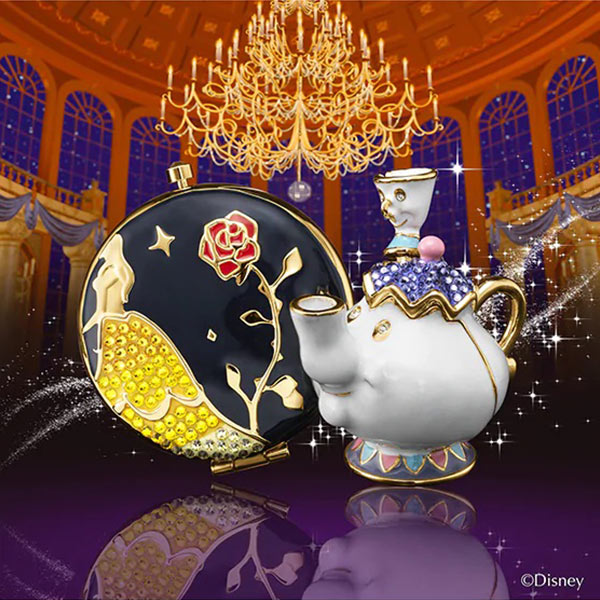 Be our guest and look (and smell) your best with the perfume and powder compacts inspired by Beauty and the Beast.
The Beauty Is Found Within Powder Compact features Belle in her yellow gown and iconic rose. It is a simpler and more classic design compared to the other powder compacts, similar to the down-to-earth bookworm princess.
Besides Belle and the Beast, one of the most memorable characters in Beauty and the Beast is Mrs Potts. You can now have a Mrs Potts of your own with the Beautiful Belle Better Together Perfume Compact. Her son, Chip, is nestled on her head and jiggles like how he does in the movie too. 
The scent within, Beautiful Belle, is a blend of floral and fruity notes like rose and lychee.  
Isn't The Estée Lauder Disney Princess Collection Neat?
These are just a few of the items from the Estée Lauder x Disney collection. Visit Estée Lauder's website for more products like a perfume compact modelled after the magic lamp in Aladdin, or a powder compact featuring Snow White and her red apple.
The collection is currently only available in the US, ranging from US$150 to US$300 (~S$203.58 to ~S$407.16). We're crossing our fingers that it will make its way here to Singapore, hopefully right in time for Christmas.
All images courtesy of Estée Lauder.
Also read:
20 Liu Yifei Facts Including Her Dating Life, Career & Backlash For Those Curious About The Mulan Actress