FIFA World Cup 2022 Bromance
Even if you're not a soccer fan, it's nearly impossible to avoid news about the FIFA World Cup 2022. The hype of the event has been taking over headlines everywhere. But if you're someone like me who has no idea what is going on this soccer season, online memes are the best way to get information. 
With thorough "research" online, one thing that caught my eye was all the intense bromance that was going on during the games. This made me wonder — has soccer always been like this? It seems like many non-soccer fans have also been wondering the same, and we're not complainin'.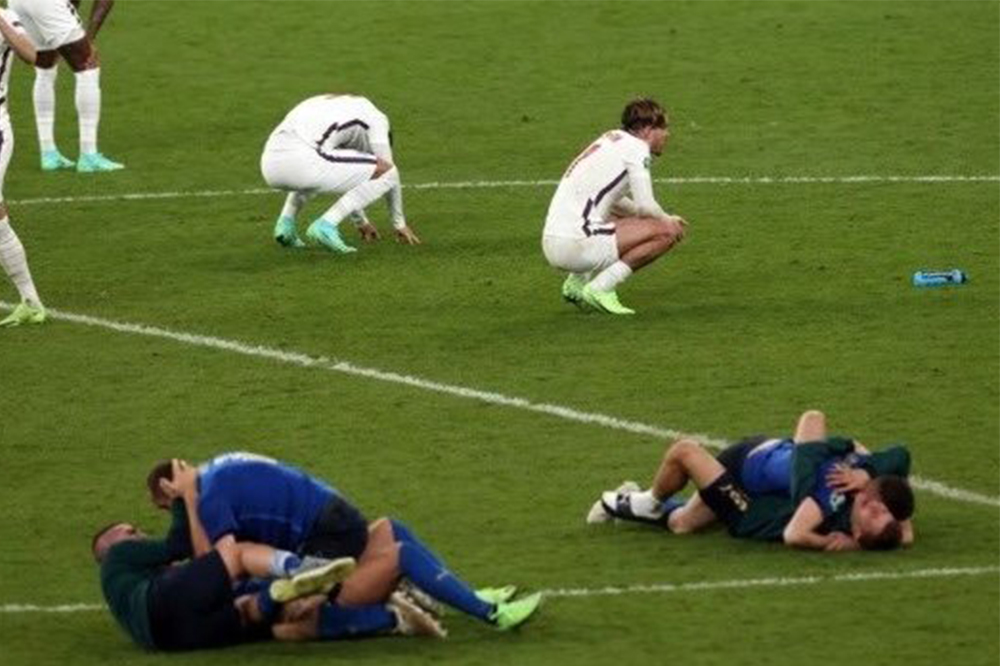 Can someone explain to me what is happening here?
Source
Deep diving even further, I answered my own question. Yes, soccer players have always shown affection that may look a bit sus from certain angles. I don't blame them though, these moments occur at their most vulnerable headspace of winning or losing.
We've compiled a list of seven hot bromance moments from the FIFA World Cup 2022 that gave us BL or even fanfiction trope vibes. Buckle up, because fic writers are seriously going to have a field day with this list. 
Disclaimer: I don't watch soccer, so please don't take this list too seriously. It's all in good fun.
1. Kylian Mbappe and Olivier Giroud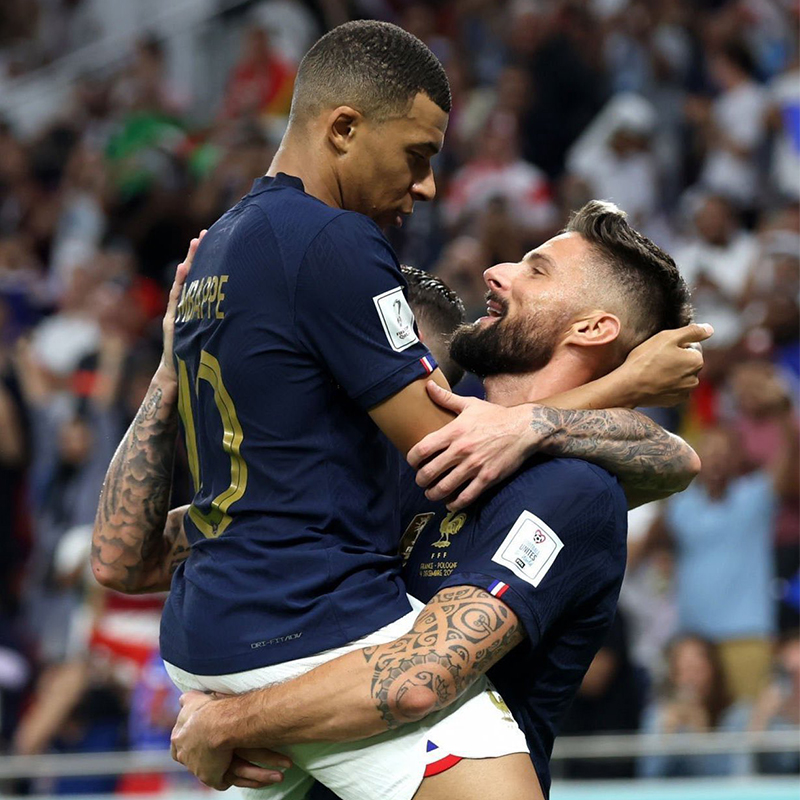 Source
Taking the internet by storm, Kylian Mbappe and Olivier Giroud's celebratory hug looked a little too romantic for the field. After scoring the winning goal for France, Giroud caught Mbappe who excitedly jumped into his arms to congratulate him. 
Just two sweaty bros staring into each other's eyes passionately while locked in an embrace — honestly, me when?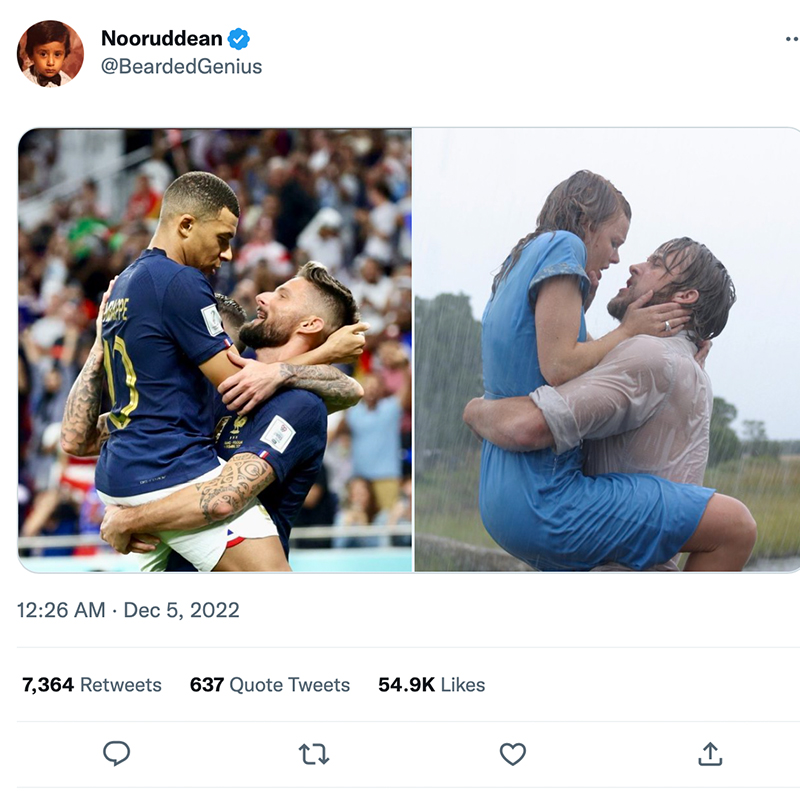 These spot-the-difference images do be getting harder nowadays
Source
Some fans have even pointed out that their pose looked just like the iconic rain scene from The Notebook. Minus the kiss that follows the movie scene, Mbappe and Giroud's proud celebration had us hardcore shipping the two.
2. Cho Gue-Sung and Lee Kang-In
Korean idols are known for being comfortable with skinship, but Cho Gue-Sung took it up a notch with his post-match celebration. 
In a viral video that has over 5.8 million views on Twitter now, Gue-Sung aggressively grabbed fellow player Lee Kang-In's face and appeared to plant a kiss on his lips. That wasn't all — he also swooped in for a hug after that ordeal.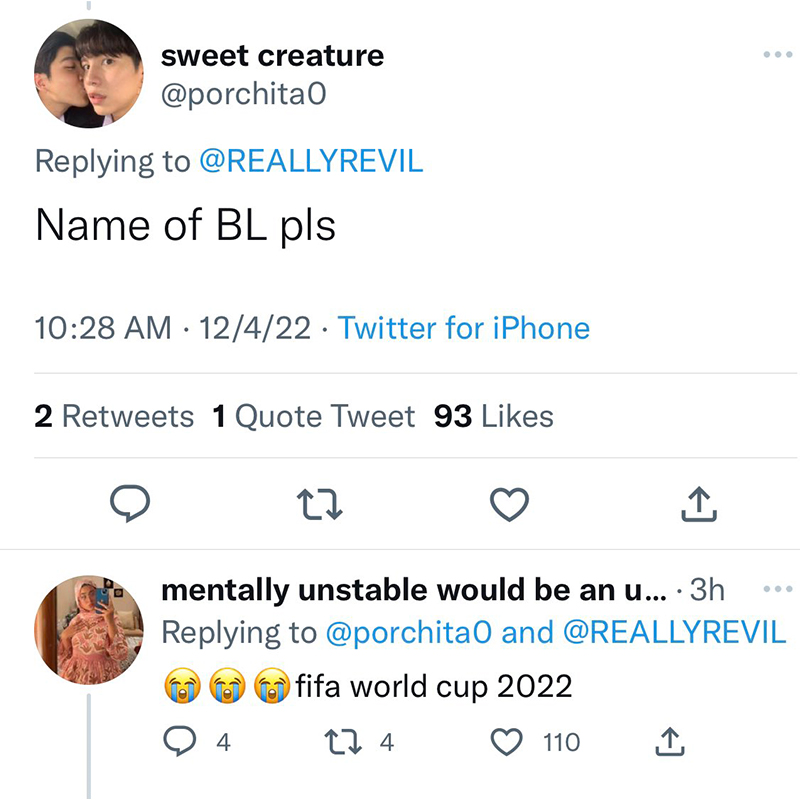 Source
Non-soccer fans have taken to Twitter to express their shock too. One of the most hilarious replies included an oblivious user asking "name of BL pls", thinking that it was from a scene of a BL film. 
Another angle revealed that Gue-Sung had kissed Kang-In on the cheek instead of the lips. Though it's hard to tell where he was initially aiming for, since both guys were moving around so much. 
Kang-In is braver than me TBH. I would've asked Gue-Sung "what are we?" after that kiss. 
3. Son Heung-Min and Richarlison
Well-loved by many fans and soccer players alike, Son Heung-Min, also known as Sonny, has been nothing but sweet to the people around him. 
They may be on different teams now, but fans managed to capture this blurry background moment where Son reached over to pinch Richarlison's cheeks on the field.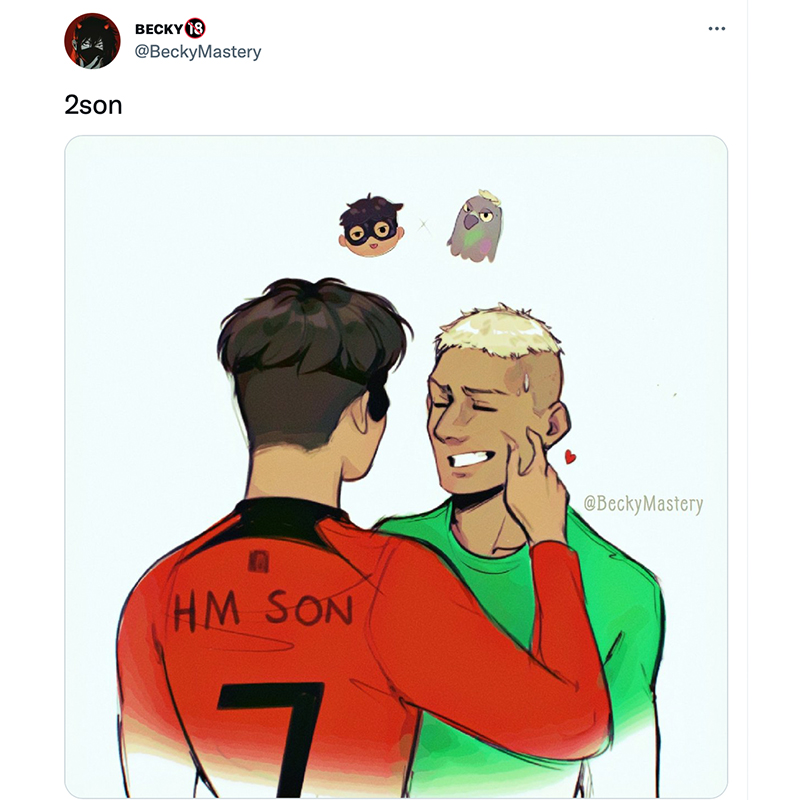 Is 2son their ship name now?
Source
This moment resulted in fans shipping the pair, with some going as far as to create adorable fanart. Son and Richarlison were also given the pairing name "2son".
It sounds like something Archive Of Our Own might be seeing soon — rivals to lovers, 70k words, angst with happy ending tag? We're waiting.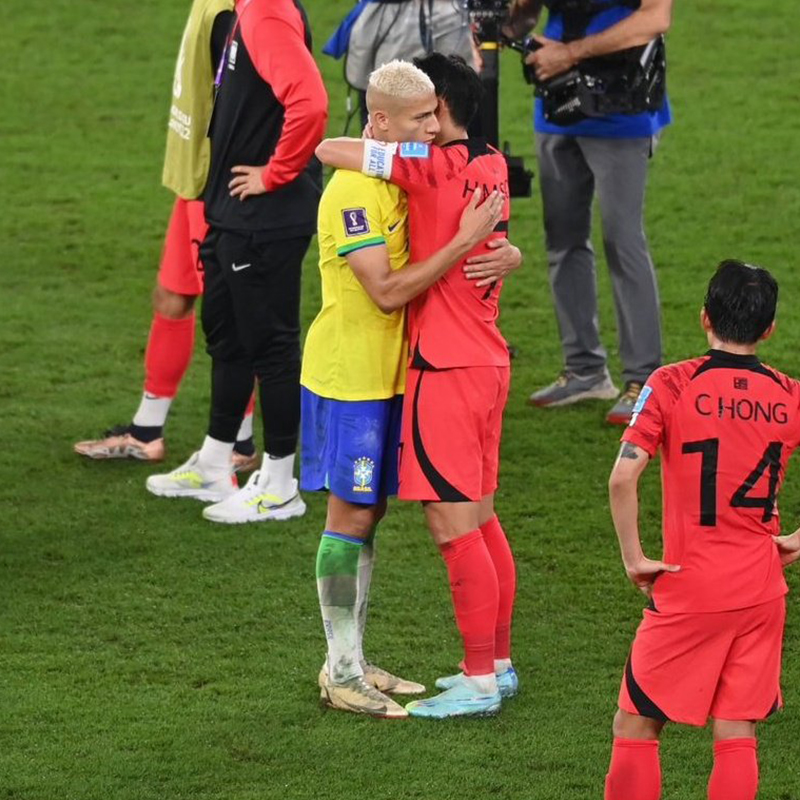 Source
With Korea knocked out of the World Cup after losing to Brazil, Richarlison kindly took to Twitter to share how proud he was of Sonny despite the loss. 
Posting a picture of the two players embracing each other, Richarlison tweeted, "I know how hard you fought to be here and that's why you're a hero to your people!" 
Son replied to the tweet with "was good playing against you brother". Aww. 
4. Krystian Bielik and Nicola Zalewski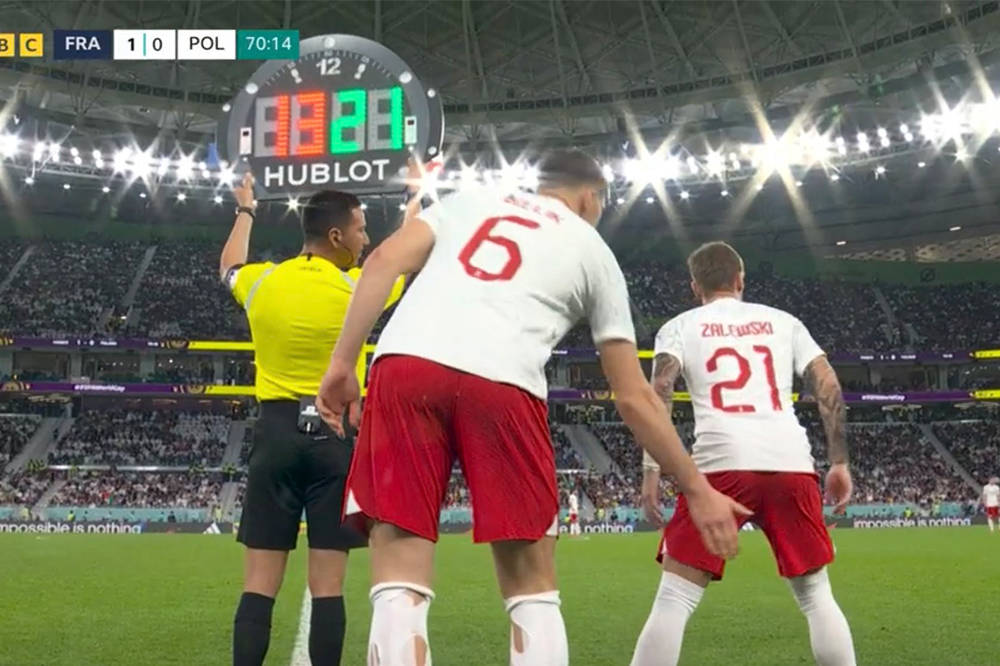 Source
Apart from the heartwarming celebrations, FIFA World Cup 2022 also included many funny moments too. This scene where Krystian Bielik couldn't resist reaching over to his teammate Nicola Zalewski to give him a few taps on the butt had us cackling. 
The butt tap was unintentionally captured by the official camera. With all that cake right in front of Bielik, we understand why he let the impulsive thoughts win. 
Also read:
Gender Inequality In Singapore: 7 Moments From One Week Love That We Can Still Do Better In
5. Jude Bellingham and Bukayo Saka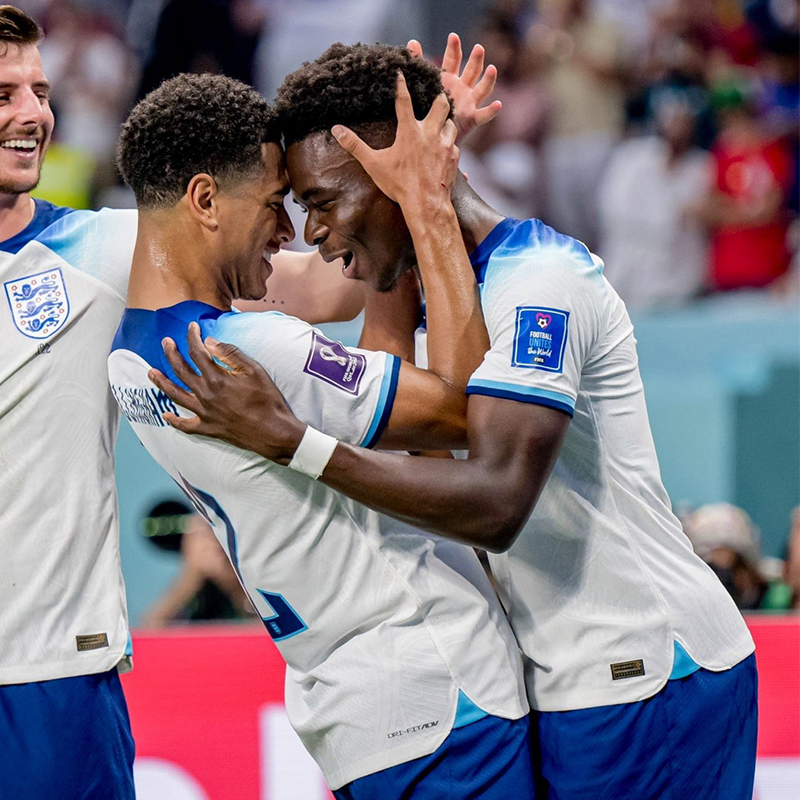 Source
Fans love seeing Jude Bellingham interact with different players throughout the seasons, and this season didn't disappoint either. Both Jude Bellingham and Bukayo Saka celebrated their win against Iran by adorably pressing their foreheads together. 
That's not all — the pair have also made it on the all-time list of England's Youngest World Cup Goal Scorers this season. We stan two successful besties. 
6. Jude Bellingham and Jordan Henderson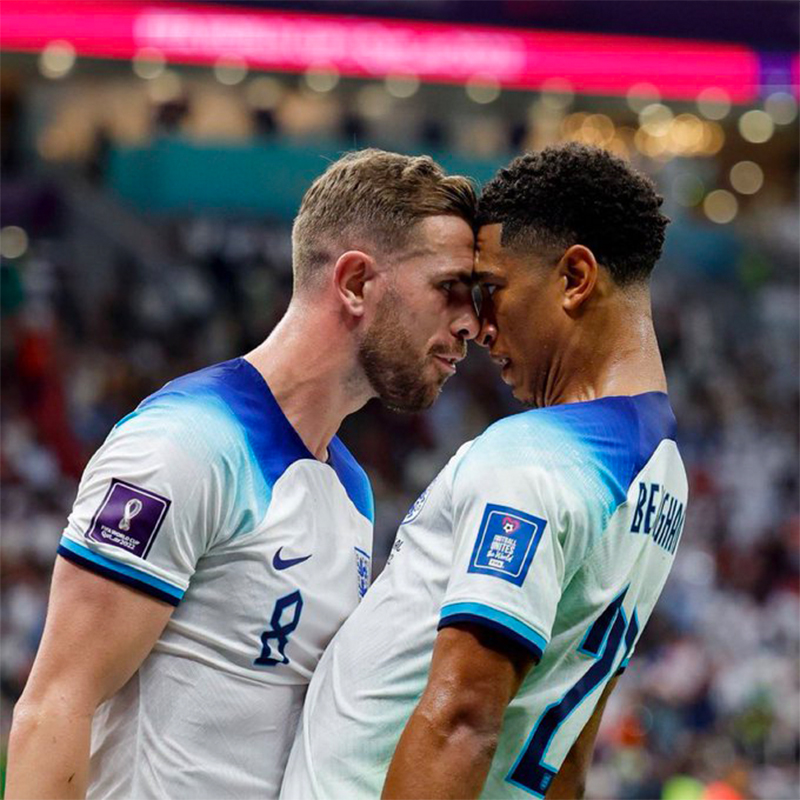 Source
It seems like forehead-touching has become Bellingham's signature action. After winning a game against Senegal, he and fellow player Jordan Henderson rushed to press their foreheads and noses together. A cute moment that's undoubtedly a little fruity too. 
As quoted from Twitter user @nuitclaire, "they don't have a single match where they need to be doing all this." 
7. Lionel Messi and Memo Ochoa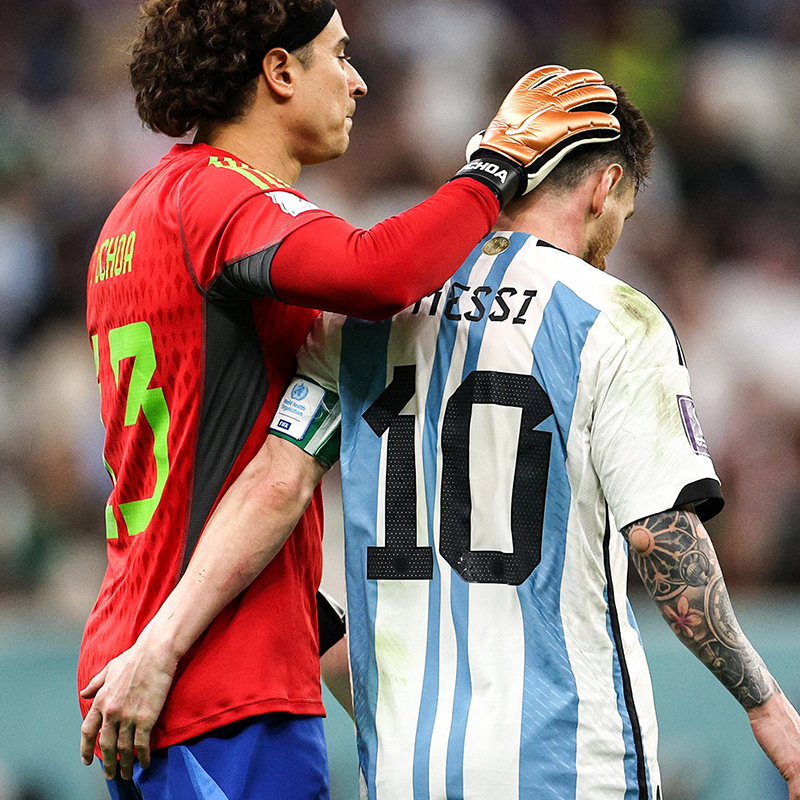 Source
Not even the best soccer player of all time, Lionel Messi, is spared from all the FIFA World Cup bromance. After Messi scored a golazo against Memo Ochoa, the goalkeeper couldn't help but pay his respect to Messi by patting his head. 
Messi returned the gesture with a friendly pat on Ochoa's butt, which of course, didn't go unnoticed by fans. Messi, what is this behaviour?
These Bromance Moments From The FIFA World Cup 2022 Add Extra Excitement To The Season
Who would've thought that the FIFA World Cup 2022 would be so spicy? Beyond the actual game, these bromance moments have both fans and non-fans of soccer on the edge of their seats and wanting more. The best part is that the season's isn't even over yet.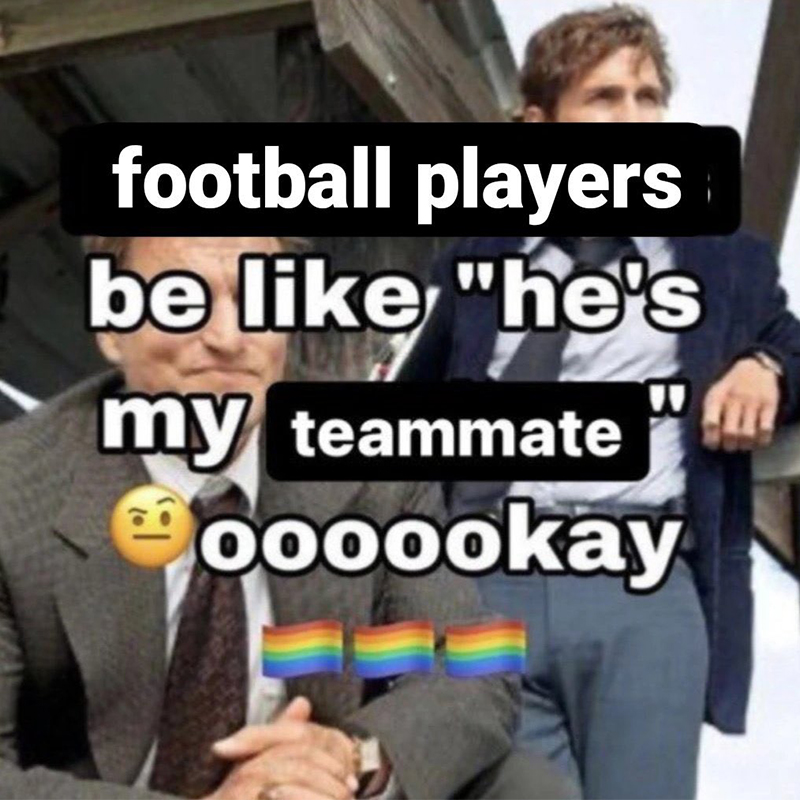 Source
At the end of the day, it's heartwarming to see men being affectionate with each other without society harshly judging them for it. If soccer can create a safe space for men to be vulnerable while remaining secure in their masculinity, then we're all for it.
If your appetite for spice isn't satisfied yet, we also ranked 20 steamiest K-drama kissing scenes here.
Also read:
20 Steamiest K-Drama Kissing Scenes Ranked, From It's Okay Not To Be Okay To Hospital Playlist