K-Drama Kissing Scenes
Some people might not enjoy the cheesy scenes and unrealistic storylines typically found in a K-drama. But, for all the hopeless romantics out there, those are the exact moments we look forward to, which eventually lead to that squeal-worthy… kiss. 
From an innocent peck on the lips to a passionate tongue lock, check out 20 of the steamiest K-drama kissing scenes. 
20. Pinocchio (2014)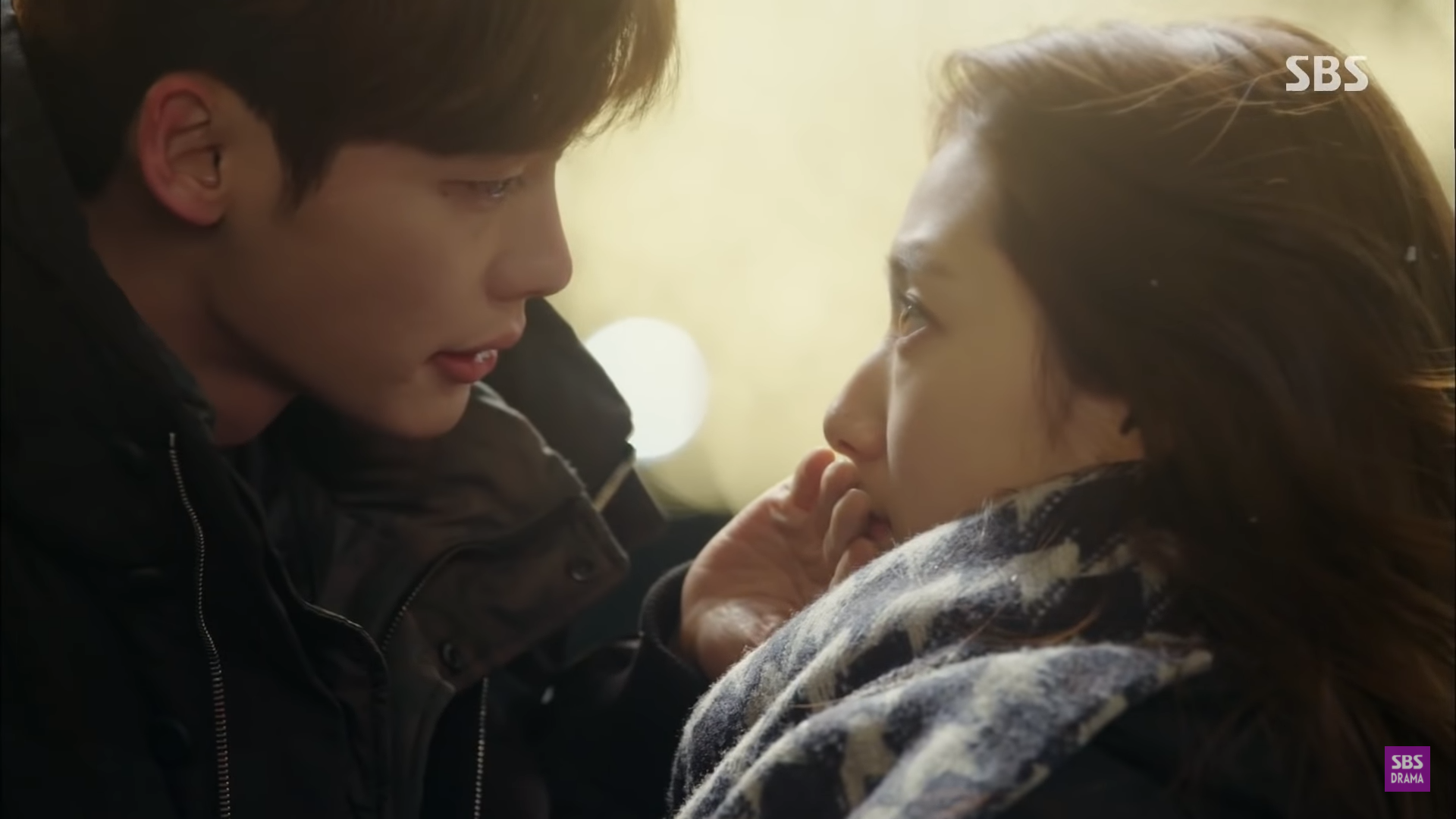 Source
As Singaporeans only get to experience summer in Singapore, not a lot of people actually know what it feels like to kiss under the snow. But through this scene that featured Lee JongSuk chasing after Park ShinHye from 2014's Pinocchio, we can get a rough idea. 
Initially, Park ShinHye rejects the kiss by covering her lips with her hand. But Lee JongSuk takes her by surprise when he gently kisses her hand. Later, they exchange loving gazes before Lee JongSuk swoops down for a romantic kiss with his hand on her back. 
Check out the moment here. 
19. Hospital Playlist Season 2 (2021)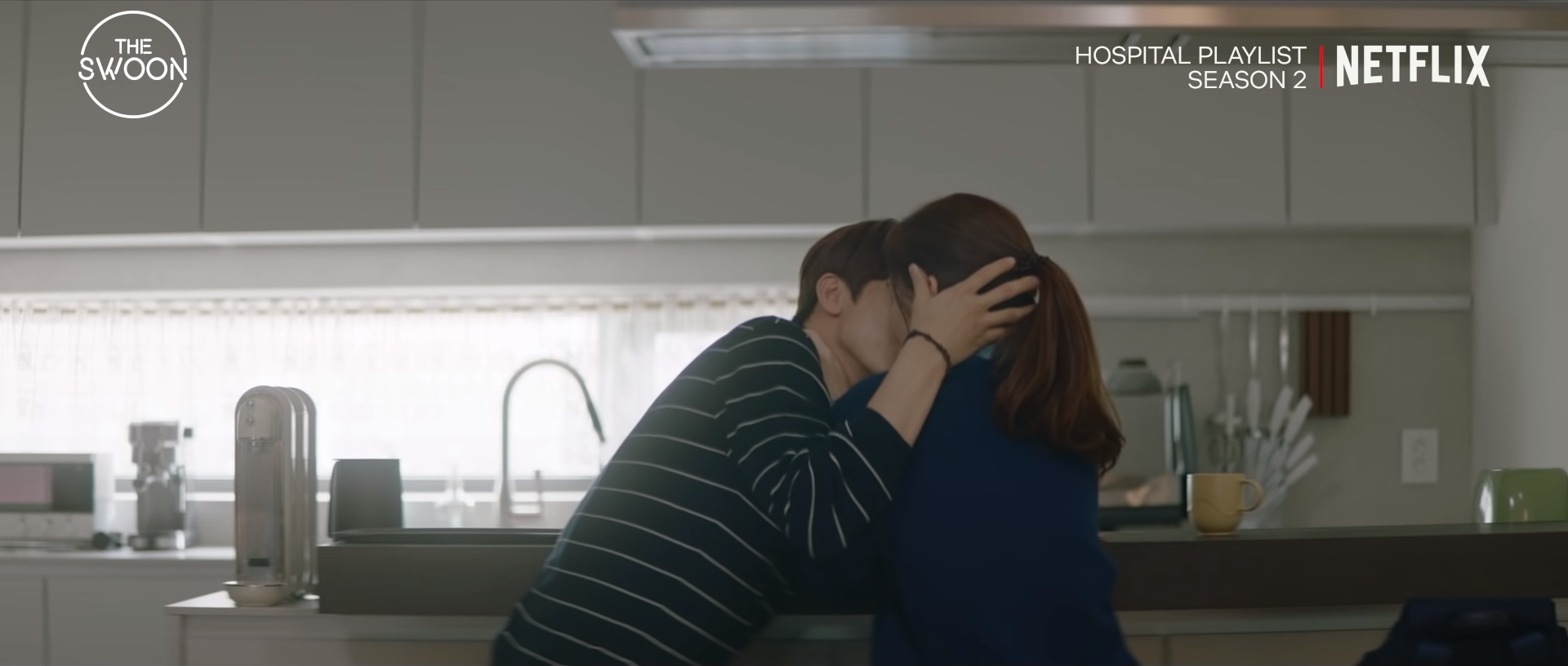 Source
We stan someone who prepares cute lunch dates, plans trips as a couple, and is willing to have open conversations. In the latest season of Hospital Playlist, Yoo YeonSeok is the thoughtful boyfriend of Shin HyunBeen.  
He is not embarrassed to express his love and adores HyunBeen's character, Jang Gyeo Ul, from the bottom of his heart. The way he holds her head and cups her face while kissing her had us wishing to switch places with Shin HyunBeen – please?
Check out the moment here. 
18. Gangnam Beauty (2018)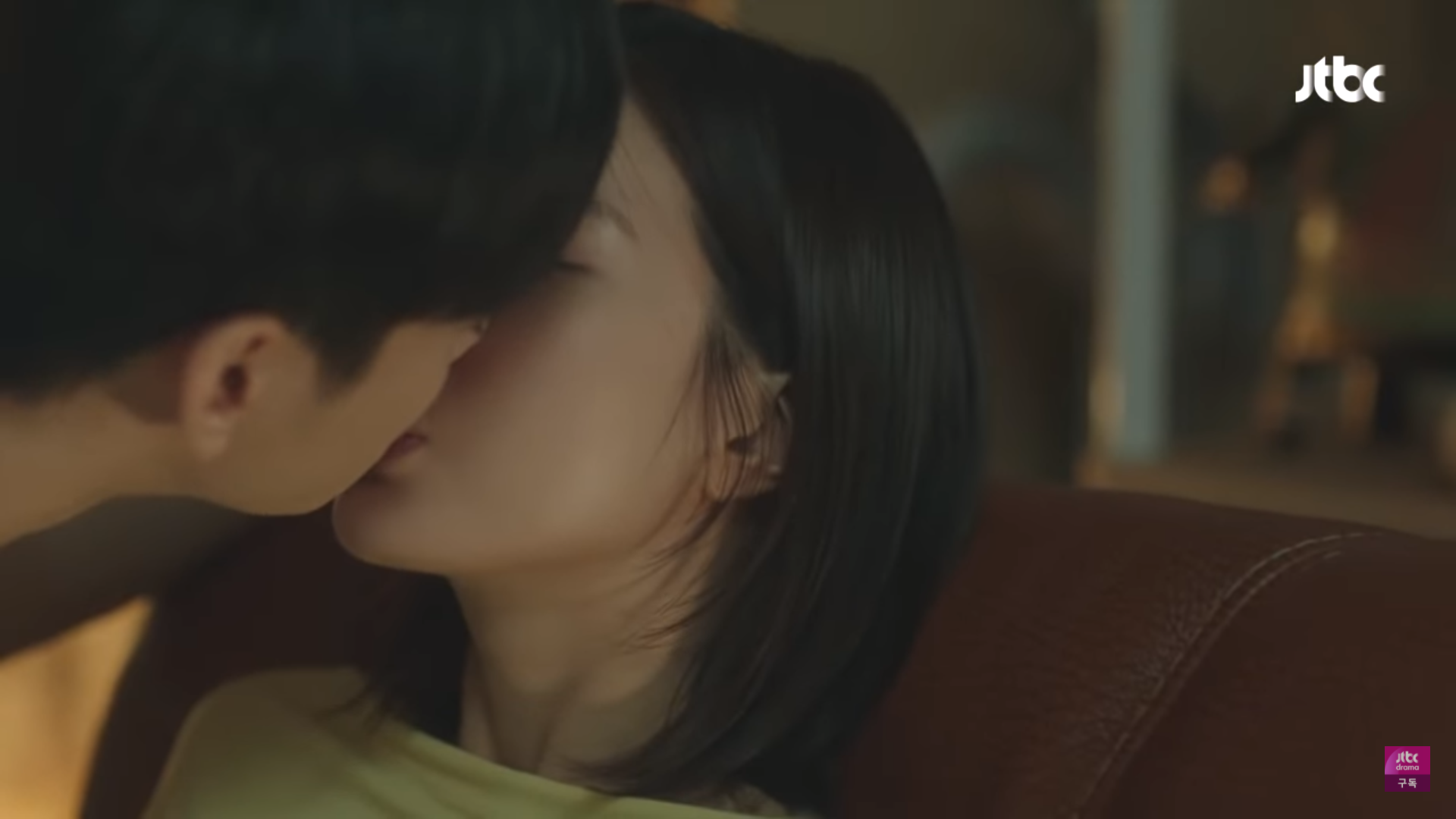 Source
Everything feels fresh and new when you start a relationship for the first time. In this university romance K-drama, Cha EunWoo falls in love with Lim SooHyang for her inner beauty and not her looks. 
Despite this being their "first" kiss, Cha EunWoo seems skilful as he leads Lim SooHyang into the kiss, making us wonder just how experienced of a kisser he is in real life.
Check out the moment here. 
17. Just Between Lovers (2017)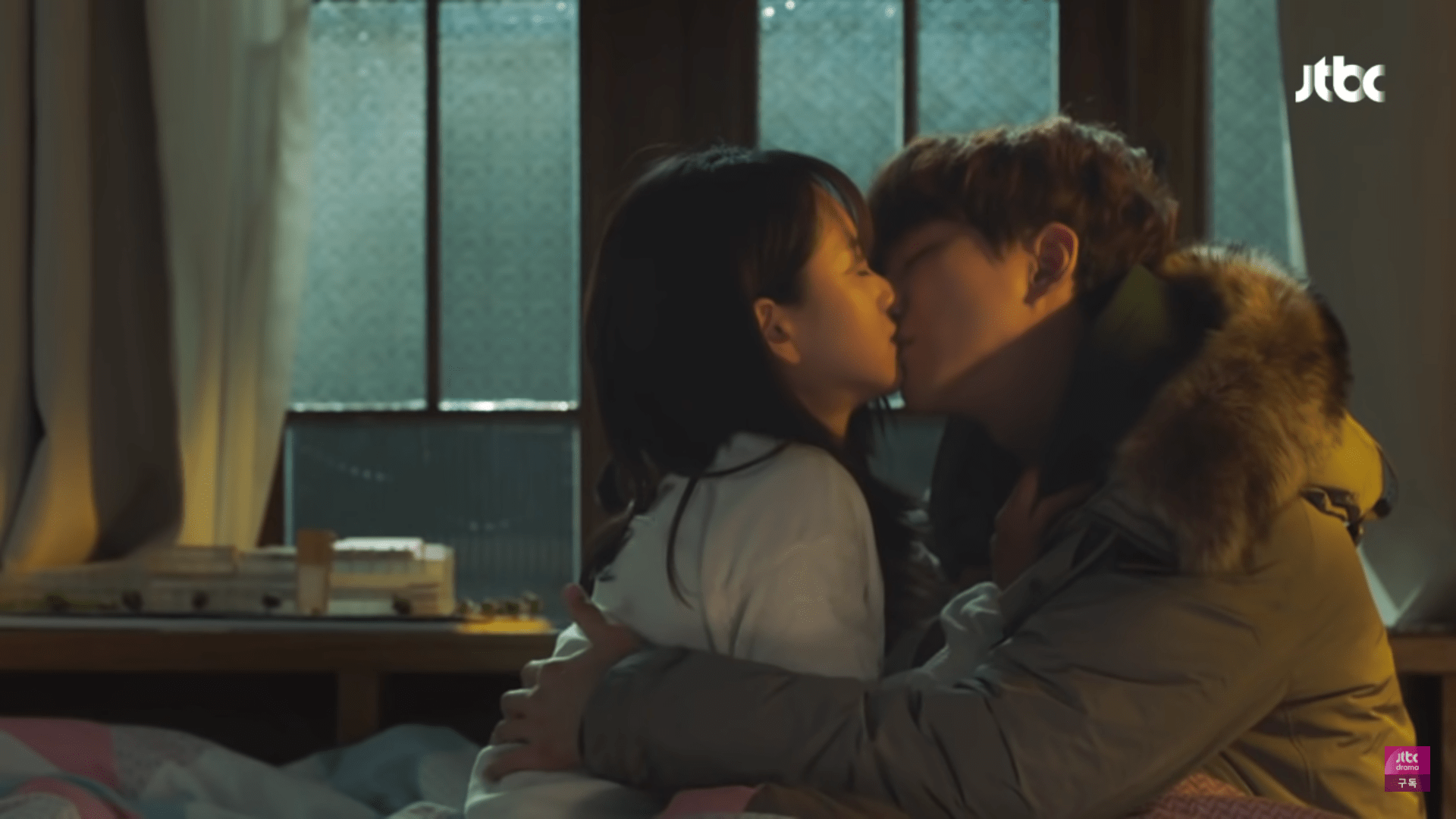 Source
What would you do when your bae shows up in your room unexpectedly? For Won JinAh, it is hiding Lee JunHo under her blanket when her mother tries to enter the room ‒ a common scenario that many might actually encounter in real life. 
In this scene, Won JinAh lifts up the blanket to find Lee JunHo looking at her lovingly before he pulls her in for a kiss. They break off for a moment before Lee JunHo sits up and continues to plant gentle kisses on her lips. 
With such sweet and heart-fluttering kisses, we can only wish such romantic moments happen to us too. 
Check out the moment here. 
16. W (2016)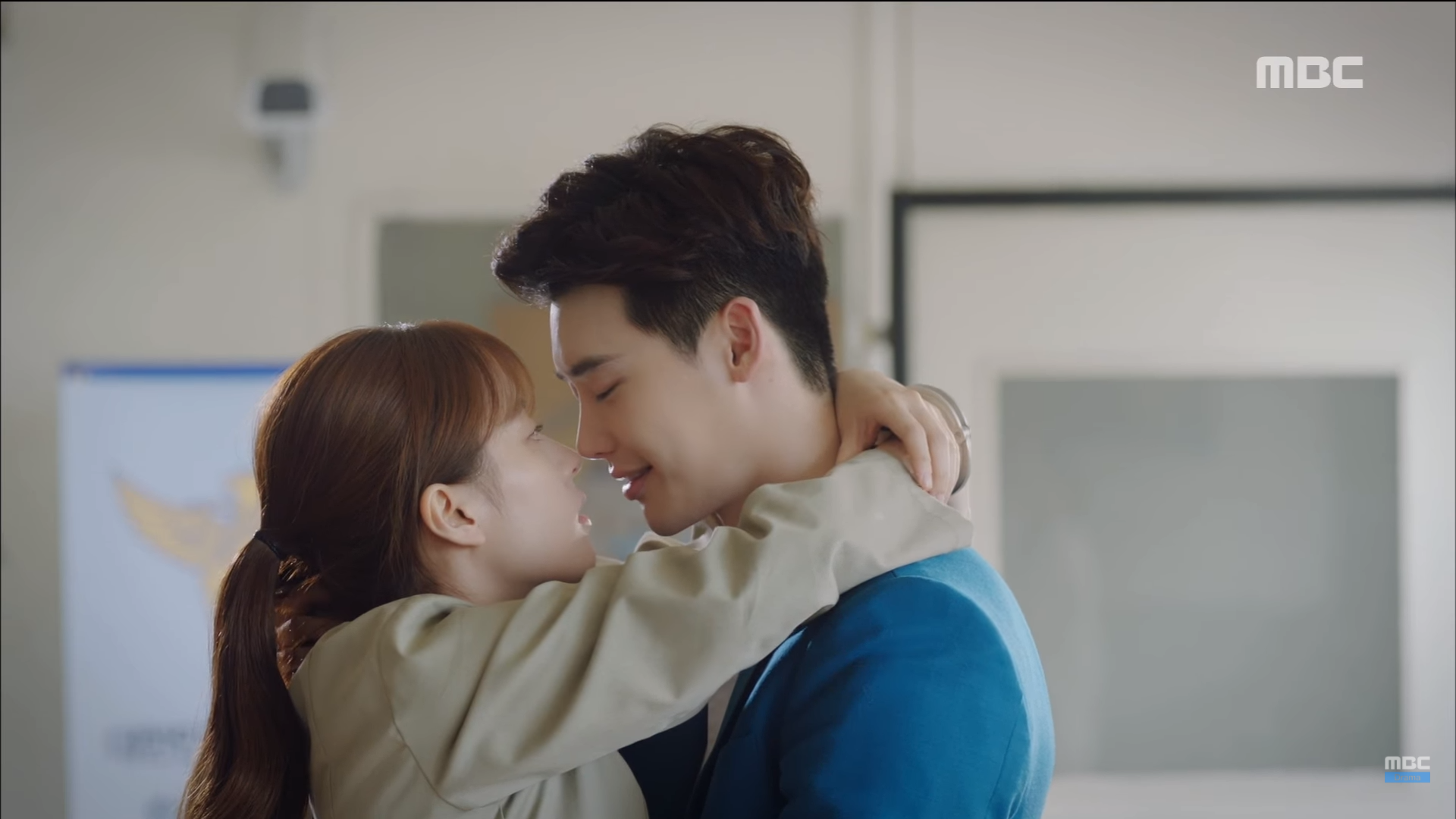 Source 
Things get a little kinky in this kissing scene from 2016's W, as Han HyoJoo has her hands handcuffed while kissing Lee JongSuk on the lips. By looping them behind Lee JongSuk's neck, the duo get closer than ever. Normally, one wouldn't be in the mood for a steamy kiss in a police station, but it seemed like nothing else mattered during this romantic exchange. 
Because of how popular this scene became later on, this kiss was later dubbed as the "handcuff kiss" by fans of Lee JongSuk. 
Check out the moment here. 
15. Strong Woman Do BongSoon (2017)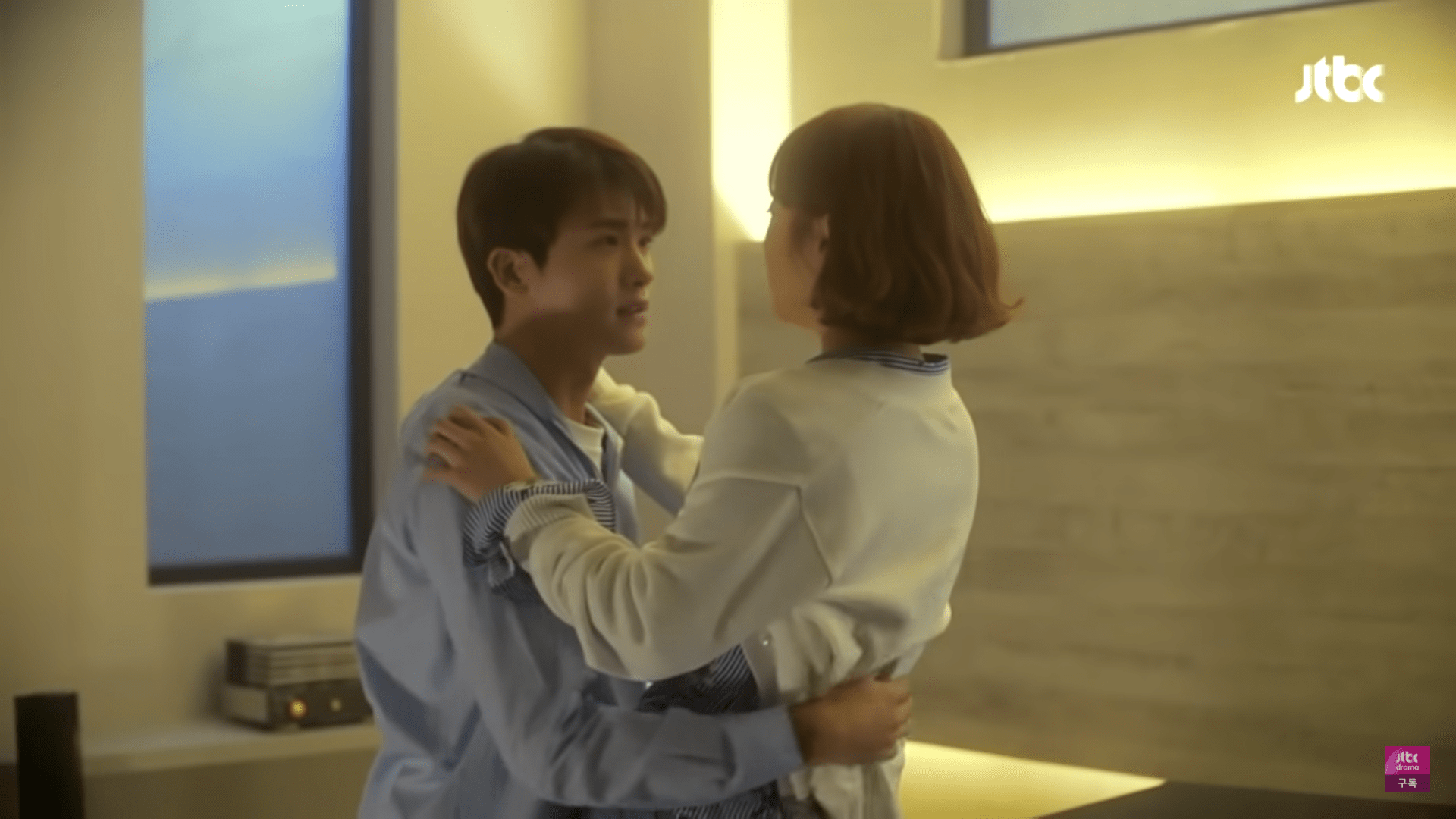 Source
Did you know that Park HyungSik apparently confessed to liking Park BoYoung IRL? There was even a dating scandal that broke out, suggesting how the two were seeing each other off-screen. 
Although K-drama fans wished that was true, the closest proof they could get is through this piano kissing scene in their show together. Here, Park BoYoung comes over to Park HyungSik's house and confesses that she misses him. As expected, Park HyungSik has the same mutual feeling. 
What happened next shocked viewers – he crashes his lips onto Park BoYoung's and lifts her up onto the piano for an intense kissing session. Thanks to this scene, many viewers might not look at a piano the same way ever again.   
Check out the moment here. 
14. She Would Never Know (2021)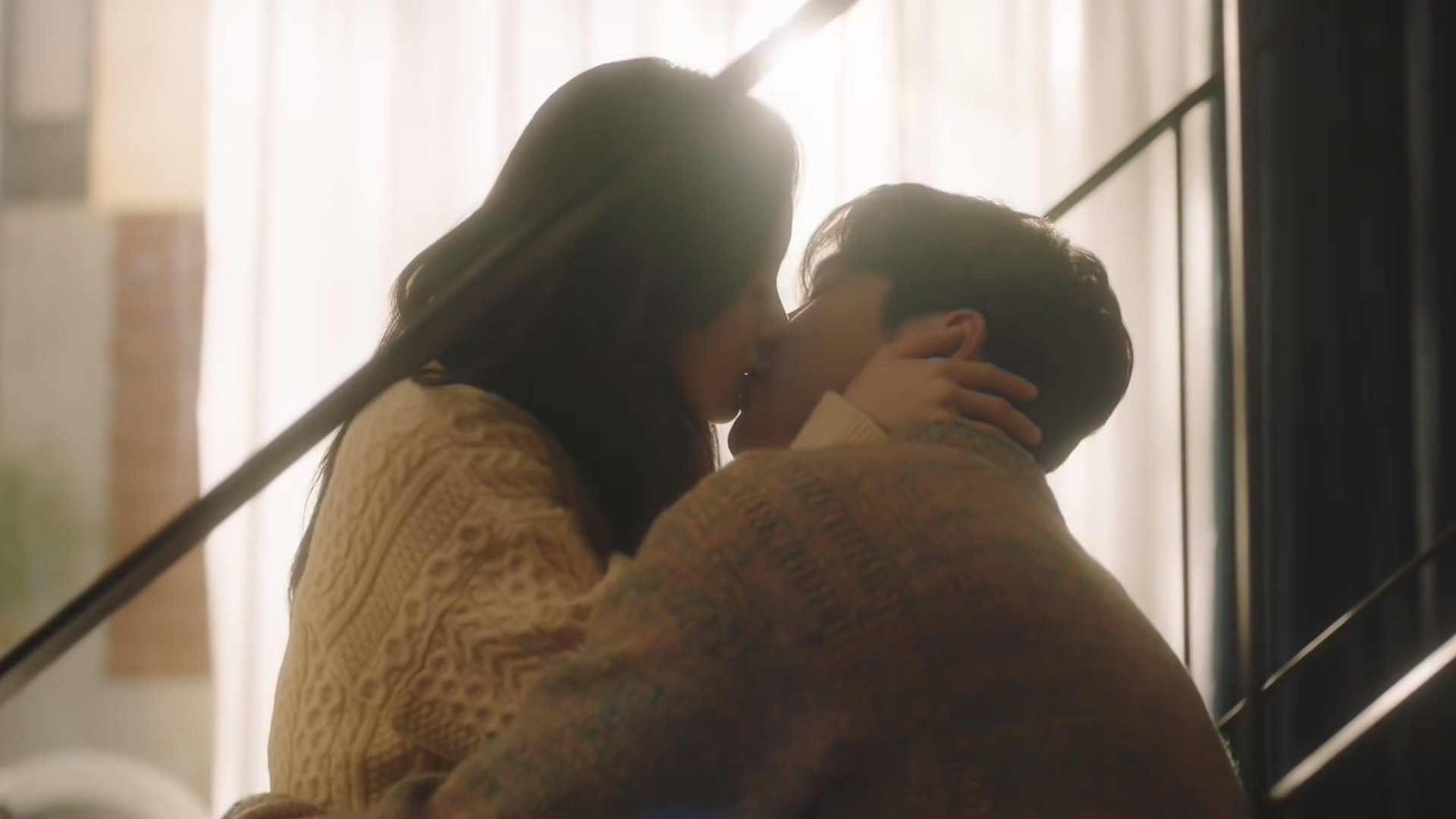 Source
Sure, watching a K-drama with a charming oppa is nice, but once in a while, a noona aka older female romance can give you a fresh take on relationship stereotypes. 
In this scene, RoWoon engages in a playful chase after Won JinAh as she runs to the stairs with the game controller. Because of RoWoon's tall height, he meets her gaze at eye level although she's on a higher step. Soon, things become passionate when RoWoon leans in for a kiss and later reaches out for Won JinAh to sit on his lap.   
"Yes please" to a younger male who isn't afraid to take the lead in a relationship. 
Check out the moment here. 
13. Abyss (2019)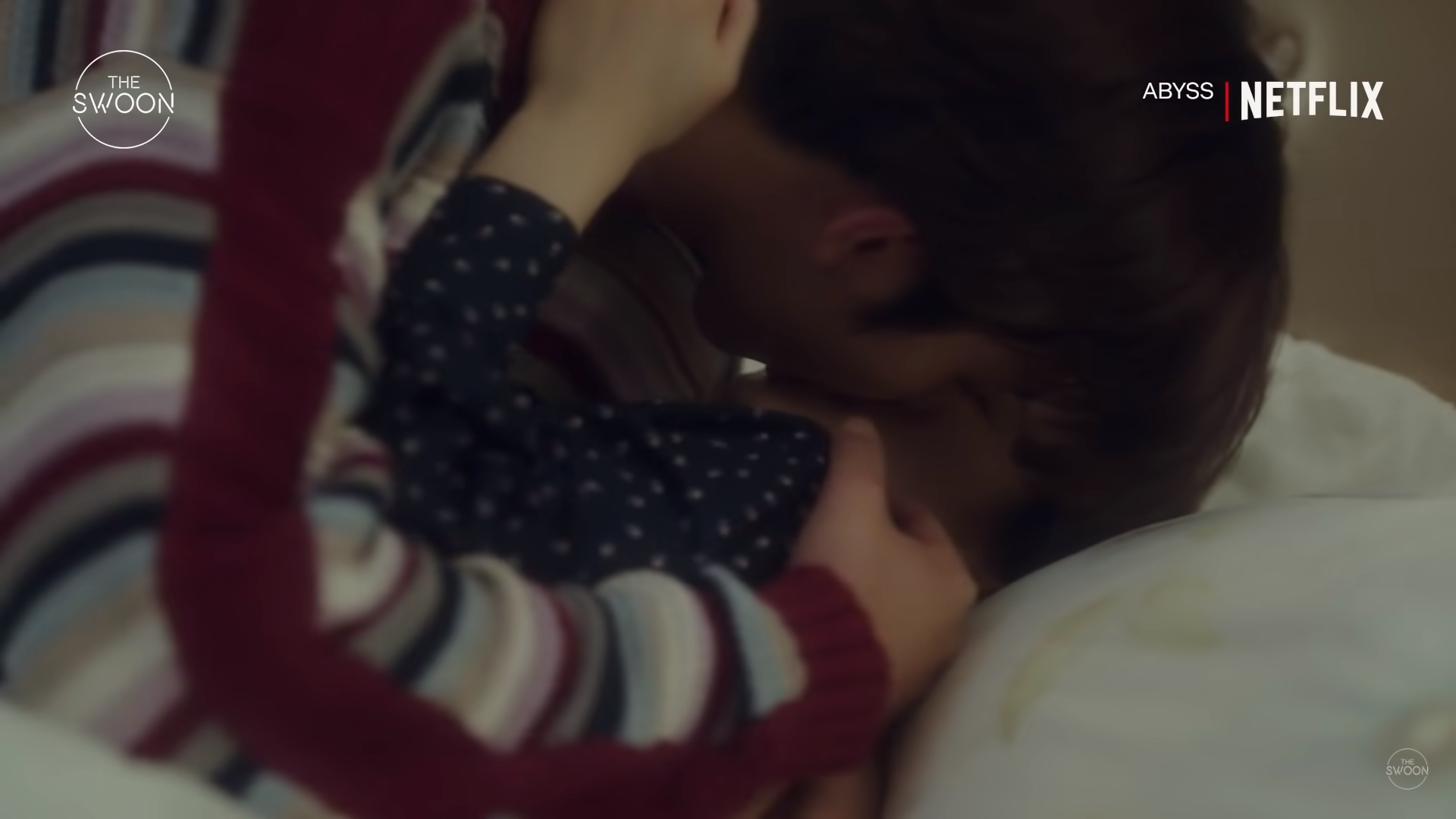 Source 
In Abyss, after Ahn HyoSeop tucks Park BoYoung in bed, he gives her a goodnight kiss on her forehead before leaving the room. However, he can't hold back further feelings any longer and returns to kiss her on the lips. Before taking things to the next level, Ahn HyoSeop tells her that he can't protect her and wants to sleep by her side. 
Perhaps it is the way he "warns" her about what is coming next, that makes us blush every time we think about this scene. 
Check out the moment here. 
12. What's Wrong With Secretary Kim? (2018)
Park SeoJoon's fans will never forget the time when he shared a passionate kiss with Park MinYoung while sitting in a wardrobe. 
There is just something about kissing in a small space that makes the scene "hotter" and more intimate. Plus, who could forget how Park SeoJoon had his hands running down Park MinYoung's back too. *gulps*
Check out the moment here. 
11. Fight For My Way (2017)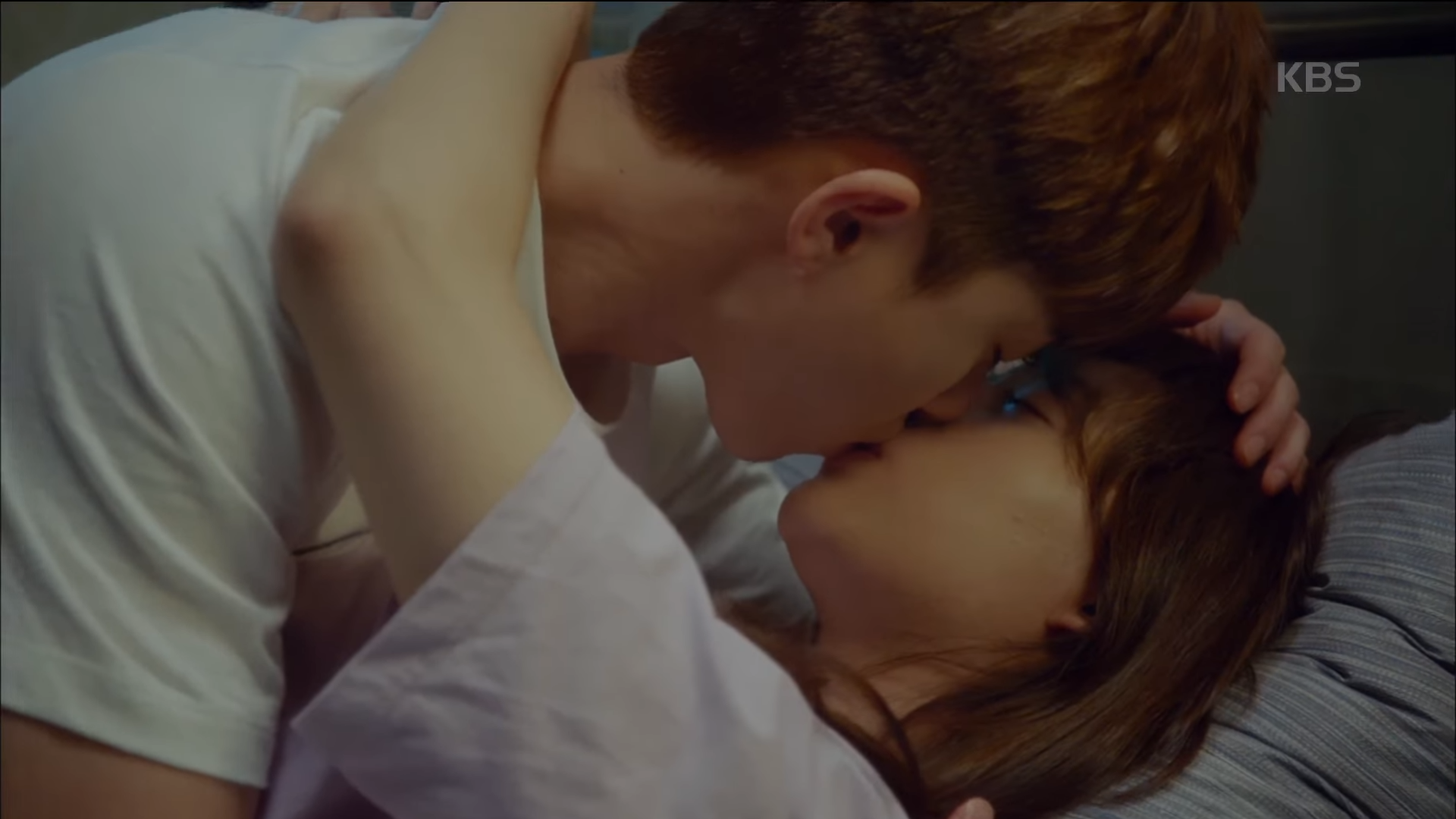 Source
It looks like Park SeoJoon deserves the title of "kissing expert" as he had another scene with Kim JiWon that had viewers falling head over heels for him in 2017's Fight For My Way. 
As the sweet and caring boyfriend, he tells Kim JiWon how much he loves her. At the same time, he also warns that he won't be able to stop before laying her on the bed. As if seeking her permission, Park SeoJoon looks lovingly at Kim JiWon before going in for deep, passionate kisses. 
If you replayed this scene multiple times, we're pretty sure you're not alone.
Check out the moment here. 
Also read:
14 Hospital Playlist Life Lessons Including Fighting For Your Beliefs & Learning To Move On
10. Lovestruck In The City (2020)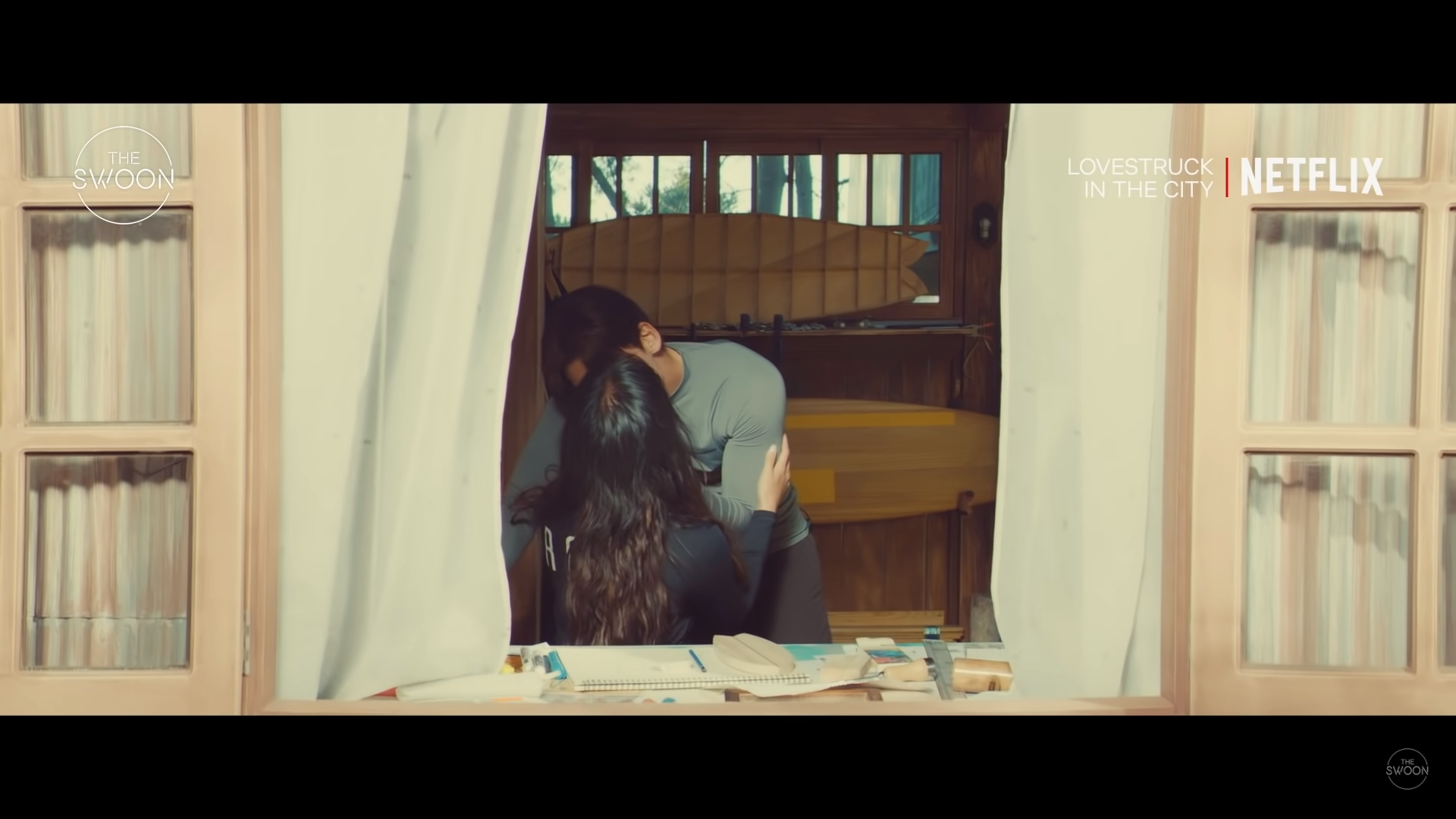 Source
Normally during a K-drama kissing scene, you would expect some dreamy OST in the background to set the mood. However, Ji ChangWook and Kim JiWon proved that all they needed was each other in Lovestruck In The City. 
Thanks to the natural sound of the sea waves in the background, this kiss scene felt so realistic and perhaps, even relatable to some. It also appears that the kiss could have evolved into something more intimate, if not for the gust of wind that ruined the vibe. 
Check out the moment here. 
9.  Forest (2020)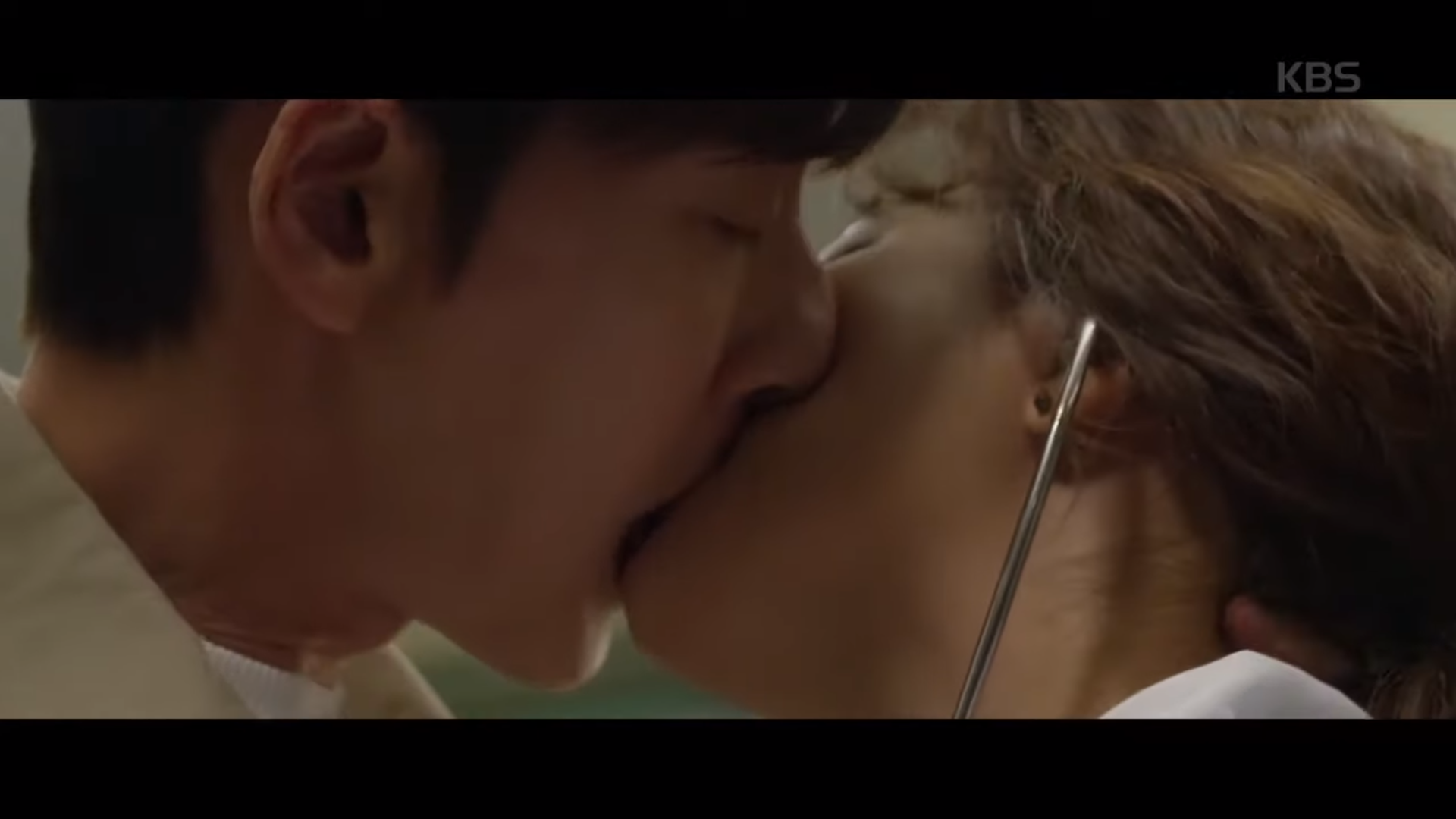 Source
Any prop in the filming set of a K-drama can become a creative kissing tool. In the case of Forest, it is a stethoscope. 
Park HaeJin makes kissing more interesting when he holds the stethoscope against Jo BoAh's chest. It is as if he wants her to hear the increase in her heartbeat while they kiss ‒ making good use of her heightened senses.  
Adding on, the sound of the 2 actors kissing can easily pass off as ASMR, causing viewers to focus even more on the way their lips interlock. BRB, fanning myself right now. 
Check out the moment here. 
8. Coffee Prince (2007)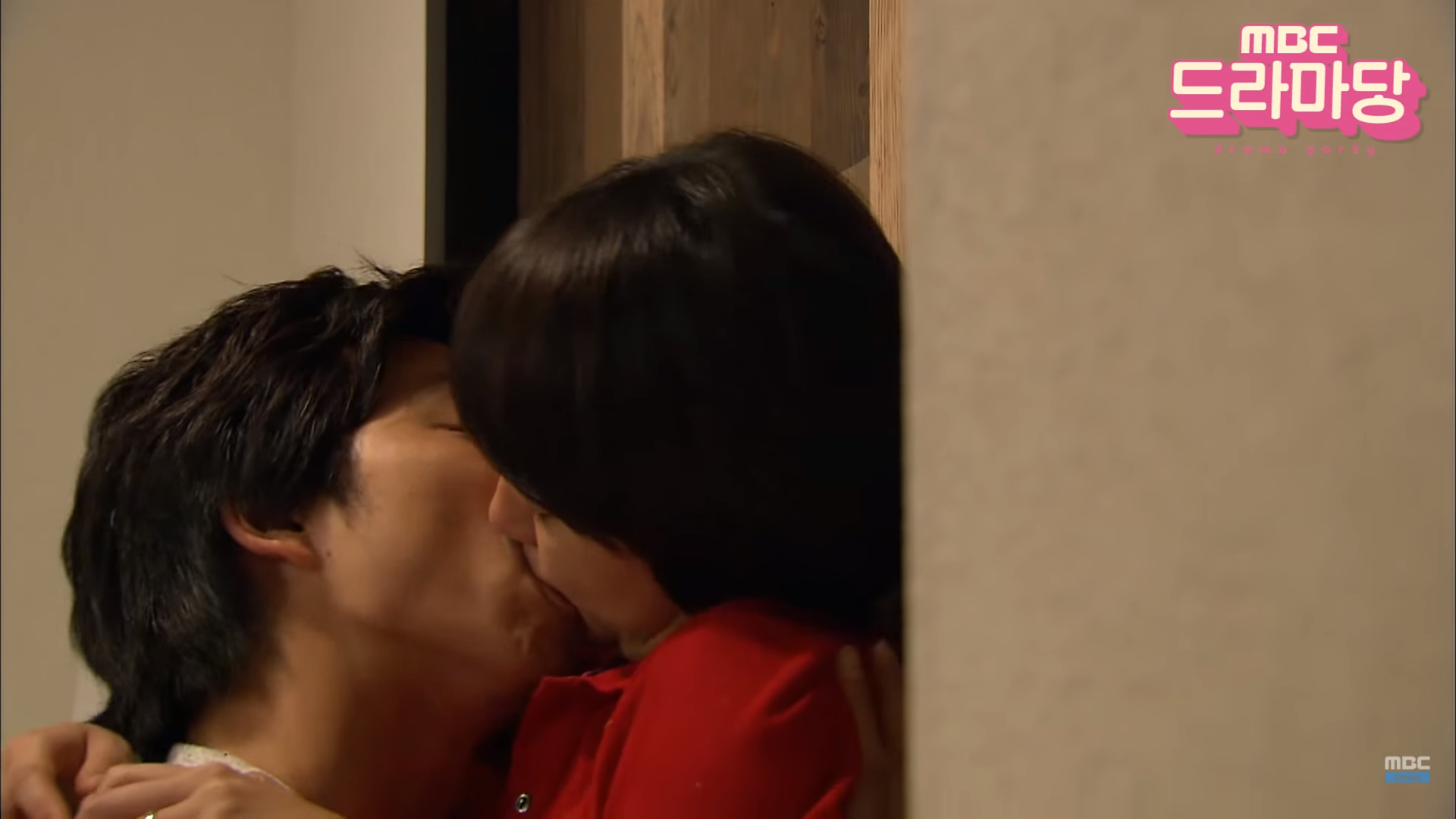 Source
Gong Yoo is known for his iconic role in Goblin but before that hit drama, he took on the character of a handsome and rich owner of a coffee shop back in 2007's Coffee Prince. Ask any K-drama fans and they will definitely remember this classic series. 
In this scene, Yoon EunHye finally realises her love for Gong Yoo and makes her way to his house. Gong Yoo tries to send Yoon EunHye away and tells her that he won't let her go home if she doesn't leave now. To his surprise, she doesn't leave. 
As if right on cue, Gong Yoo lifts her up and the lovebirds engage in affectionate kisses. They make their way to the bed and you could even see Yoon EunHye attempting to remove Gong Yoo's top. Calm down, gurl.
Check out the moment here.   
7. Her Private Life (2019)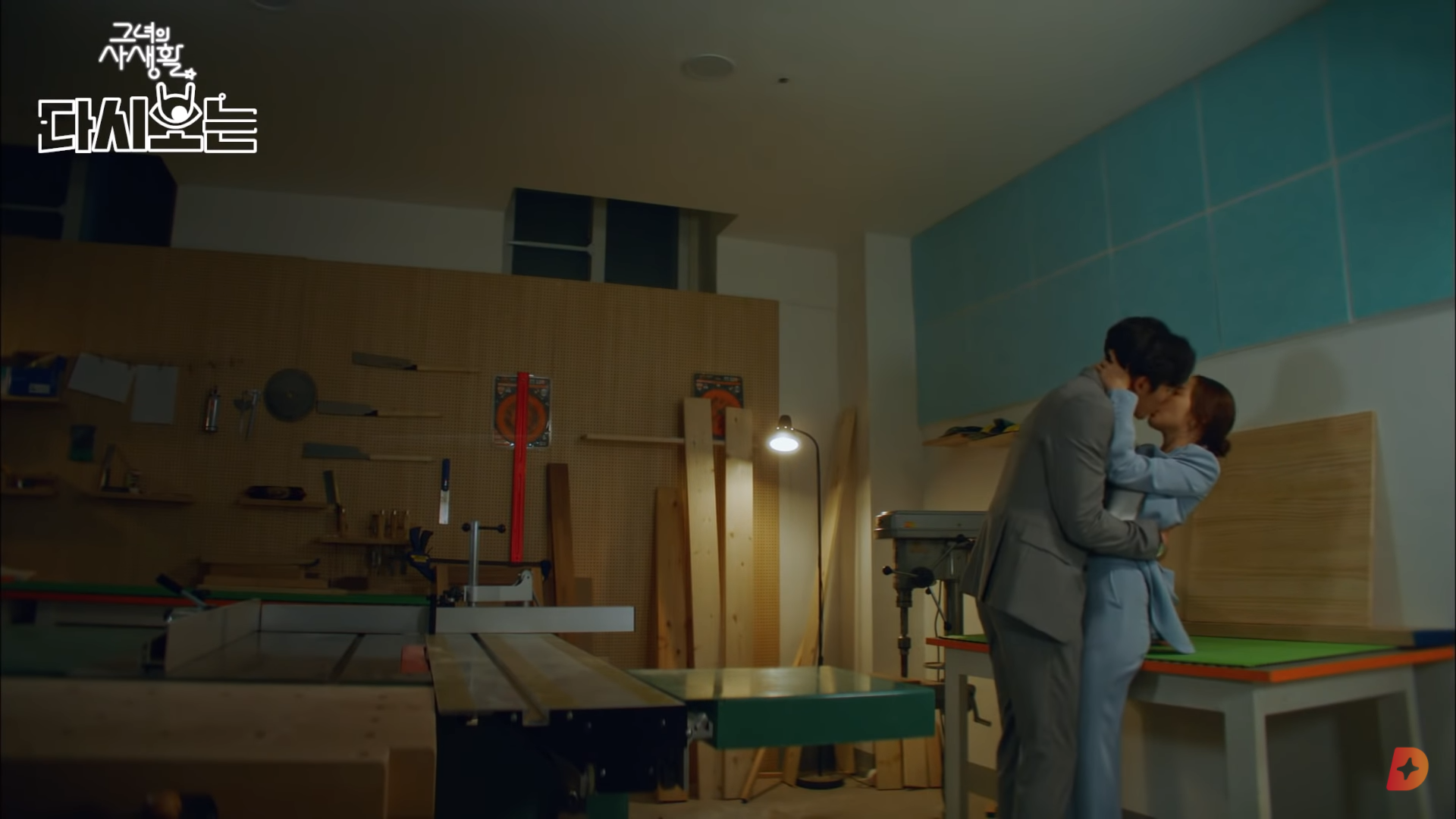 Source
Kissing publicly without getting caught adds a sense of thrill and it appears that in this scene from Her Private Life, Kim JaeWook and Park MinYoung enjoyed the excitement too. 
The two begin kissing in a shop after confirming the feelings they have for each other. Later, they sneak to the back to continue their "naughty" deeds when a delivery man enters the shop.
What makes this scene extra steamy is the way Kim JaeWook shows his desire for Park MinYoung. He tries to close up on the gap between them although she is already very close to him. Plus, don't miss out on how easily he lifts up Park MinYoung before placing her on top of the table. 
Check out the moment here. 
6. Dr. Romantic (2016)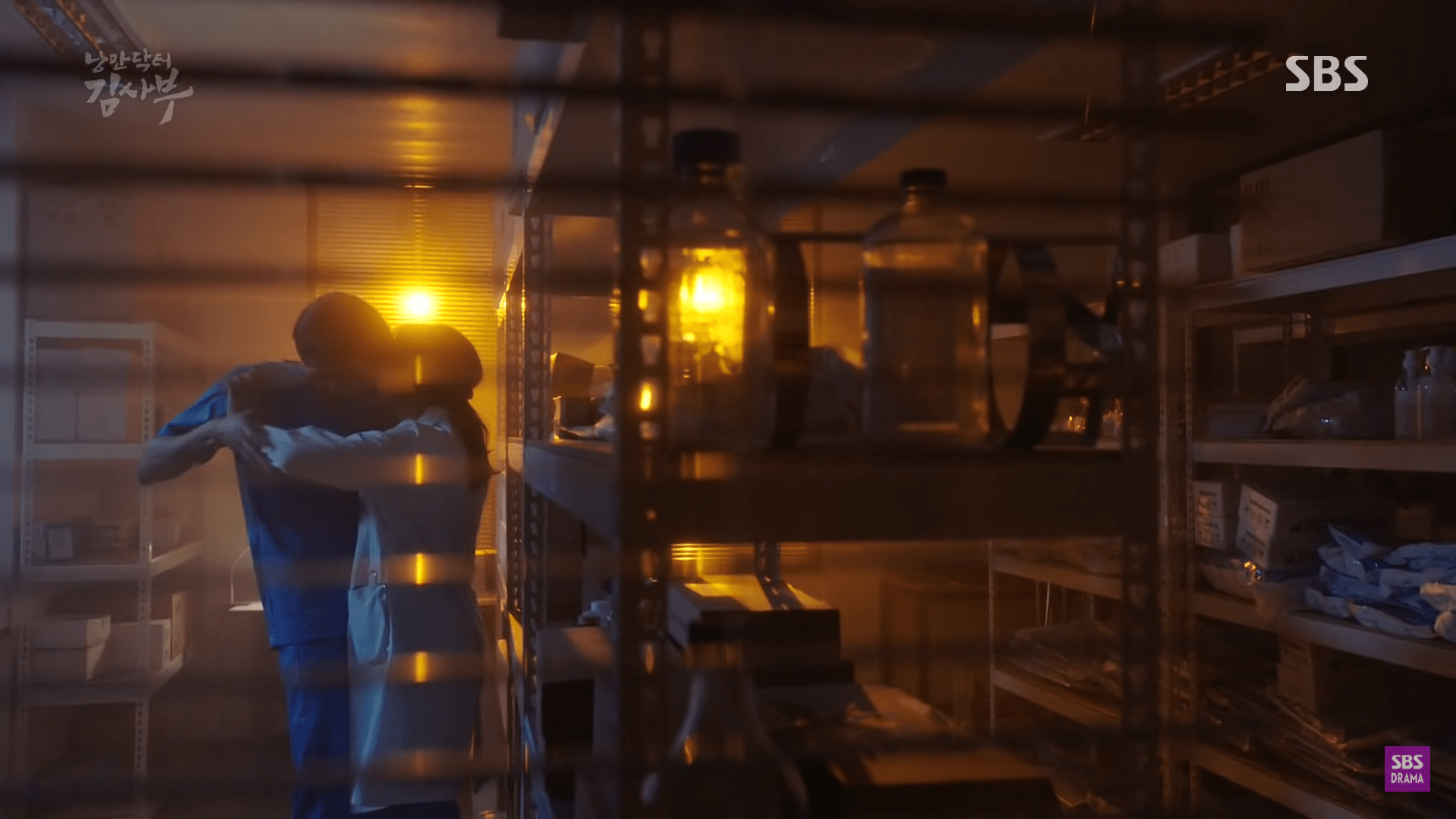 Source
Those who fantasise about getting pushed against a wall ‒ or in this case, a shelf ‒ while getting kissed are going to especially enjoy the kiss between Yoo YeonSeok and Seo HyunJin. 
The subtle roughness from Yoo YeonSeok, the closed-up shot of his veiny forearms, as well as the heavy breathing afterwards, make it the epitome of a hot, steamy kiss. 
Check out the moment here. 
5. Touch Your Heart (2019)
Source
We mentioned the Lee DongWook and Yoo InNa coupling previously in Goblin and this time, they return as the leads in Touch Your Heart. 
Intoxicated with not only alcohol but also each other's feelings, Yoo InNa explains to Lee DongWook how she fakes her kissing scenes on screen as an actress. Taking a bold move, he asks how she would do it if she really wants to kiss someone. 
This leads to the affectionate kisses before Lee DongWook asks if he could take another step further. Well, we all know what that means. *wink*
Check out the moment here. 
4. It's Okay Not To Be Okay (2020)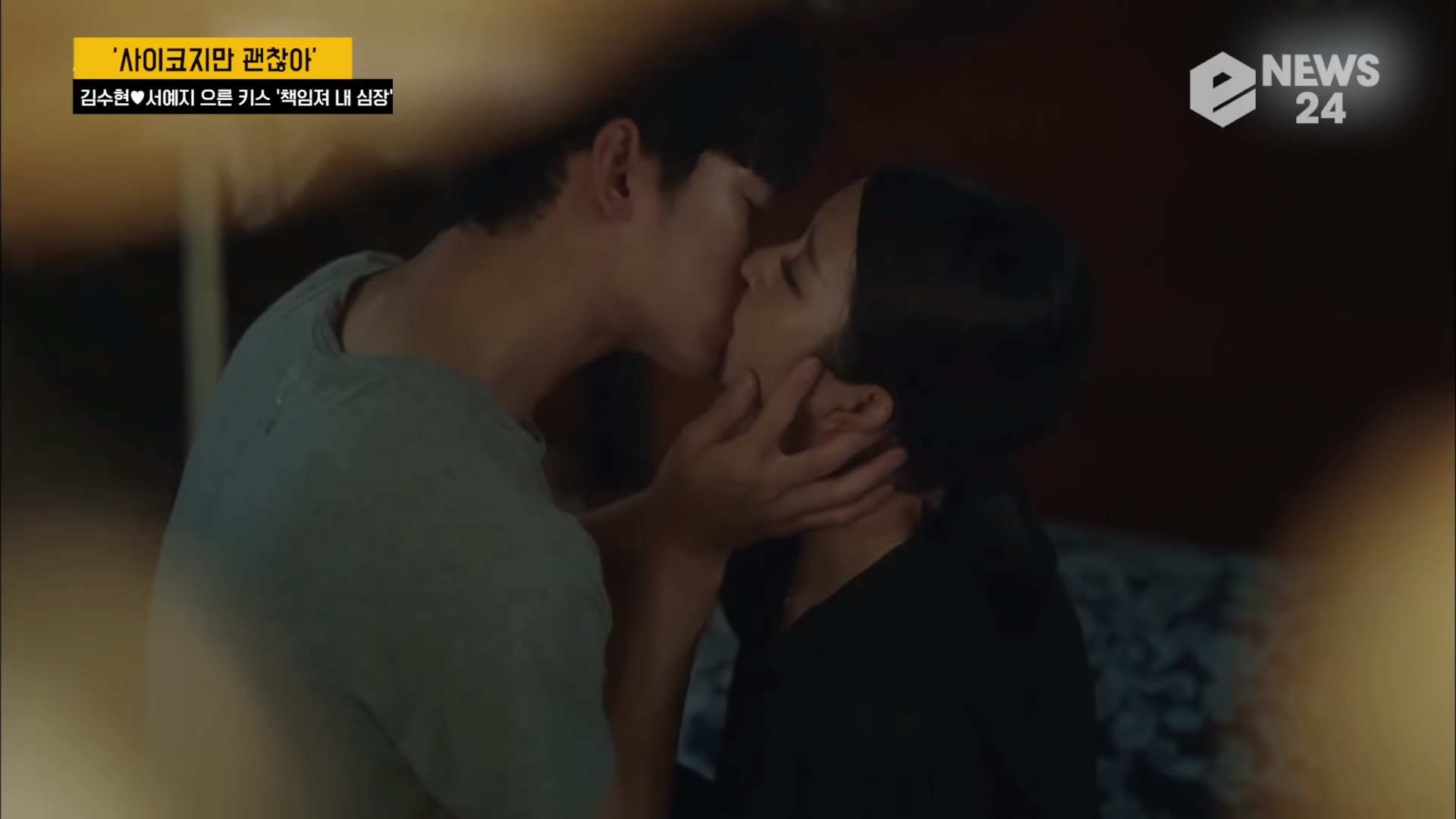 Source
Though It's Okay Not to Be Okay is a K-drama that touches on mental health, it also had its fair share of hot kissing scenes.  
Here, Kim SooHyun knows what he wants and he wants Seo YeJi. He doesn't hesitate when he leans in and begins to kiss her passionately. If you listen carefully, you could even hear the exact moment when their lips touch. 
Talk about a man who knows his desire, right?
Check out the moment here. 
3. The King: Eternal Monarch (2020)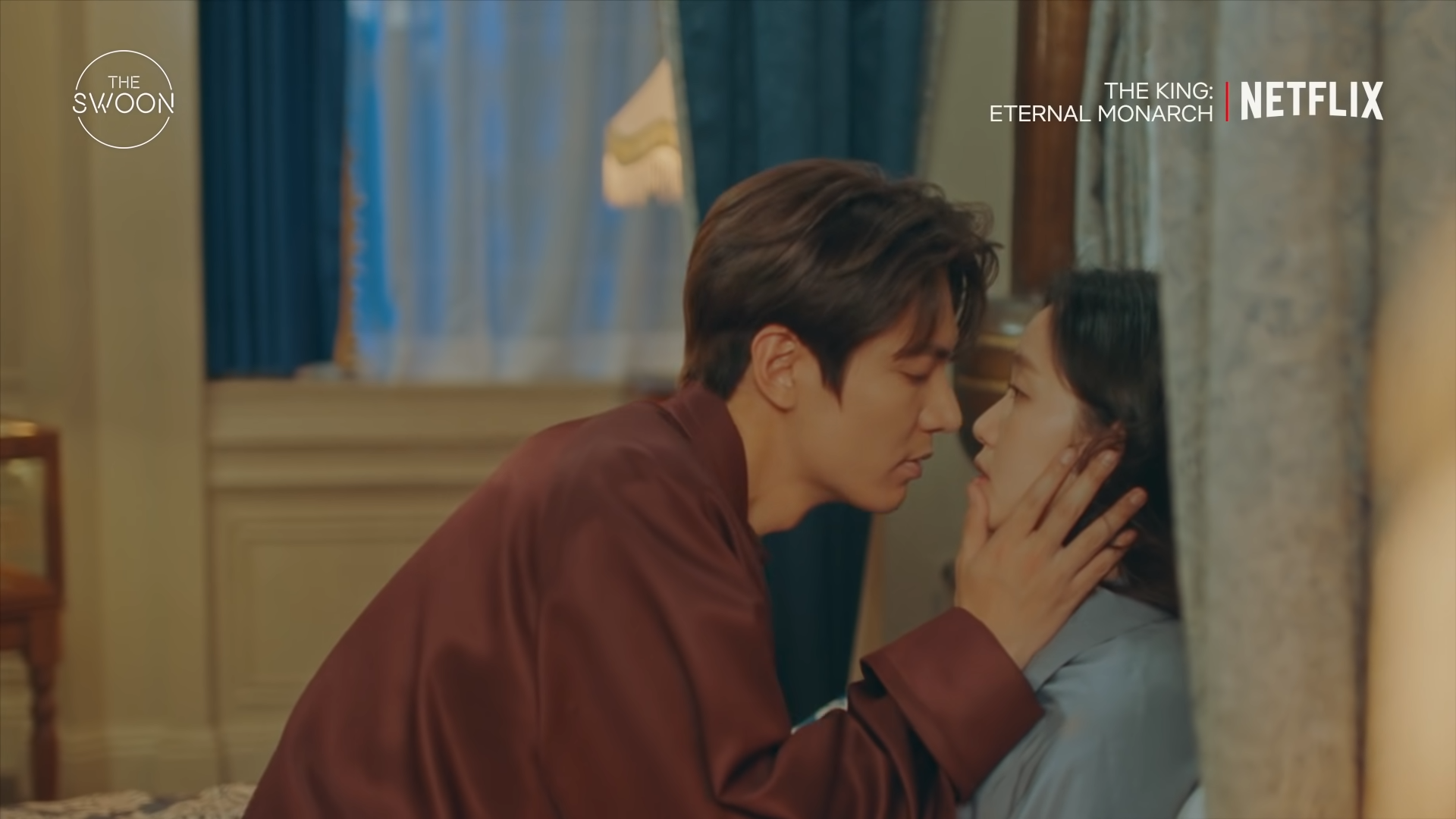 Source
In a universe where defying the king means beheading, Kim GoEun is lucky that Lee MinHo has a soft spot for her. Instead of "off with her head", it is a kiss on her neck instead ‒ a first in a K-drama!
"Punishing" Kim GoEun with kisses, Lee MinHo expresses the love he has for her through his soft and delicate pecks. Without a doubt, the kisses turn needy and passionate and we all know what comes afterwards…
Check out the moment here. 
2. My Roommate Is A Gumiho (2021)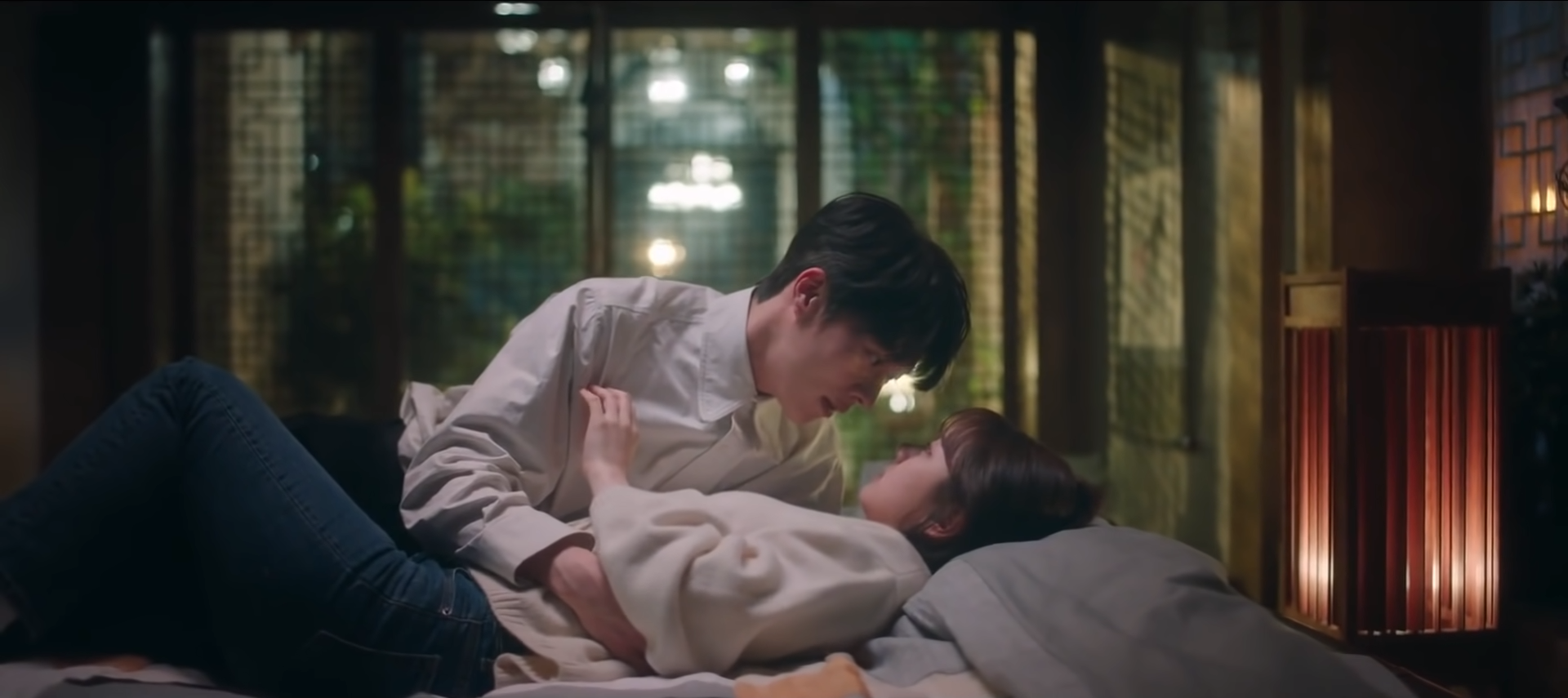 Source
Nine-tailed foxes aka gumiho are mythical creatures in Korea with irresistible charms and magical powers. In this drama, Jang KiYong takes the role of a handsome, 999-year-old gumiho. 
In this unforgettable scene, HyeRi takes the initiative and kisses Jang KiYong. That is when Jang KiYong finds it hard to resist and warns HyeRi that "things are about to get dangerous". True to his words, Jang KiYong keeps his "promise". He showers HyeRi with kisses that come not only in short and sweet pecks, but also in deep and long swoon-worthy frenches.  
Check out the moment here. 
1. Nevertheless (2021)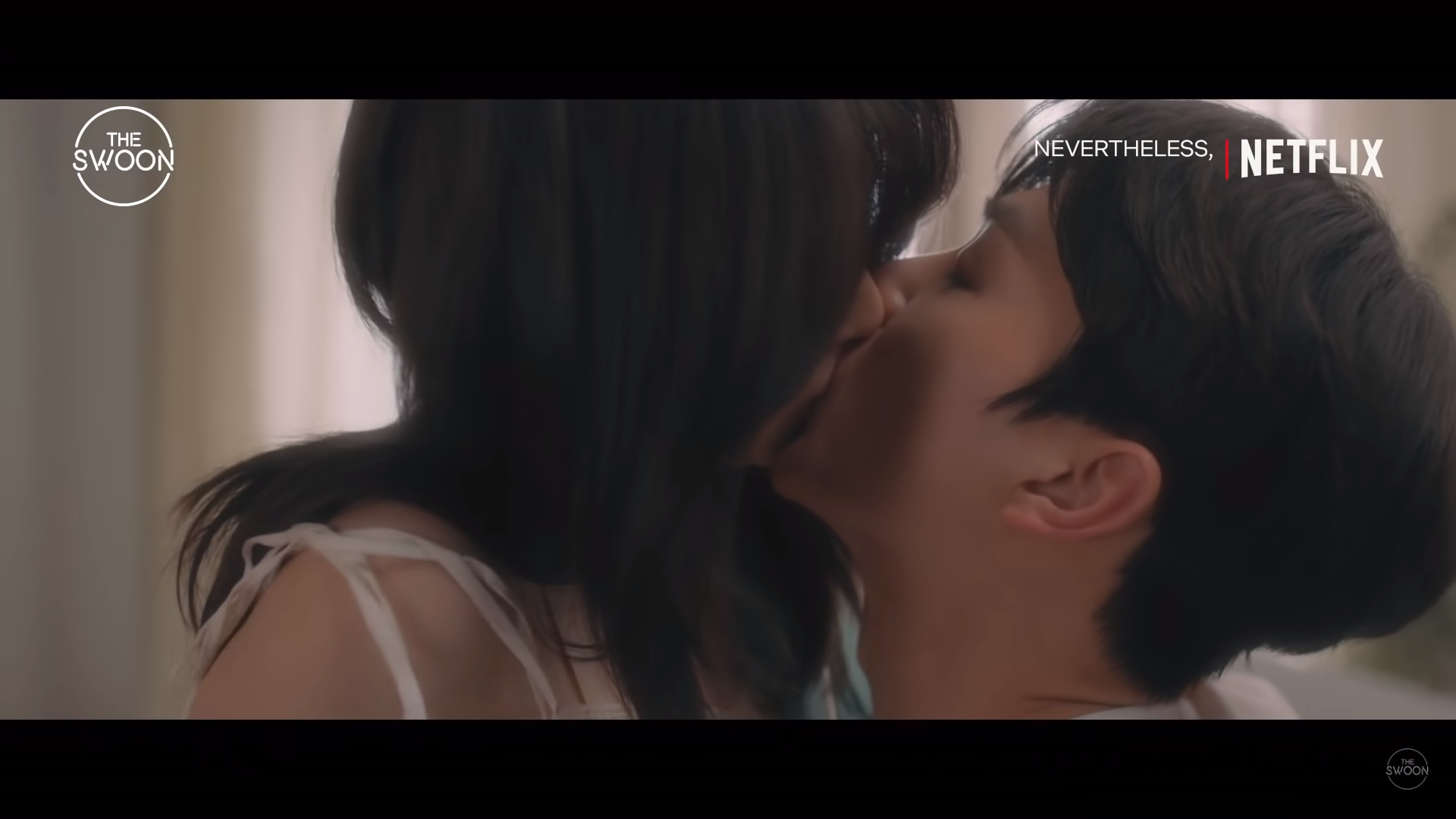 Source 
When you have Song Kang and Han SoHee together in the same K-drama, you can only expect quality work from them. The same goes for their kissing scenes. 
Although this scene turned out to only be Han SoHee's fantasy in the drama, you will still find yourself fanning your blushing cheeks, wishing it was real. In addition to the intimate kisses Song Kang places on Han SoHee's lips and shoulders, you also have to acknowledge how amazing the camerawork was. 
Check out the moment here. 
These Steamy Kissing Scenes Set Our Kissing Standards Higher Than Before
In some ways, such romantic and passionate kissing scenes found in K-dramas set the kissing standards higher than before. Be it light pecks, smooches or even hot french kisses, we love all of them, especially when performed by our favourite Korean actors. 
If you're looking for other genres of K-dramas such as Boy Love, check out the list here. 
Also read: 
22 Song Kang Facts Including His Admiration for BTS, Ideal Type & New Dramas For Fans Of The Love Alarm Oppa