Food Pun Bags Inspired By Luxury Brands
Check out this range of food pun bags inspired by luxury fashion labels from The Cool Hunter's online store.
Most of us will have to work for multiple lifetimes to save up for an actual Hermès Birkin bag. A tub of hummus, however, we can easily afford. Somewhere in between are these high SES-looking grocery bags with satirical graphics inspired by our favourite luxury labels.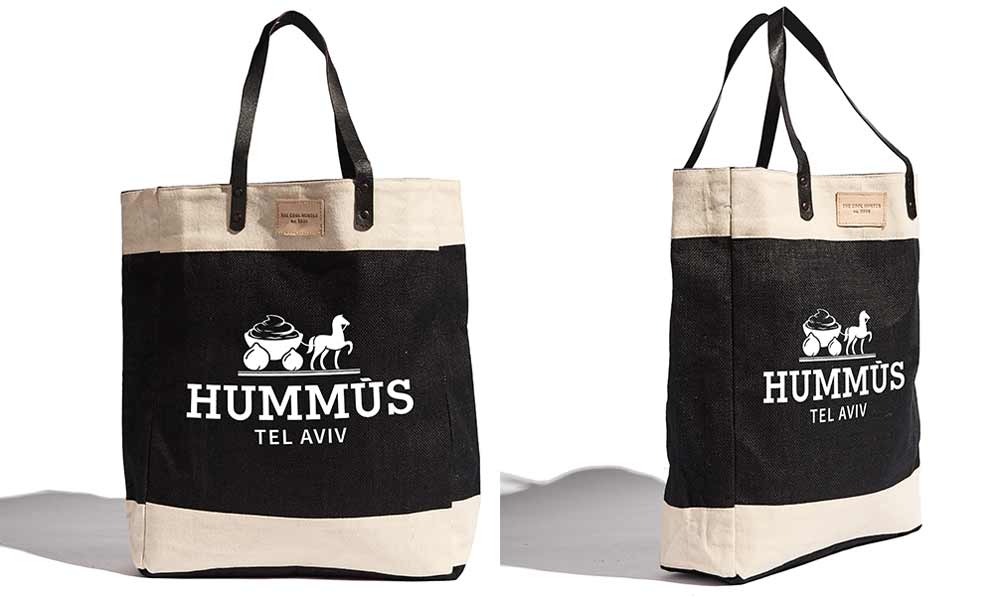 For this Hermès parody bag, the original horse carriage logo has been turned into a horse pulling a bowl of hummus with garlic for wheels. Instead of the word 'Paris' from the original logo, it reads 'Tel Aviv', the Israeli city where the dish is a staple.
Other brands parodied include Off-White, Valentino, Burberry and Balenciaga.  
The bag's design 
Each bag retails for US$55 (~S$77) and measures 35cm wide, 45cm tall and 45cm deep, providing ample space for your next grocery trip. There is a flat shipping fee to Singapore for US$20 (~S$28).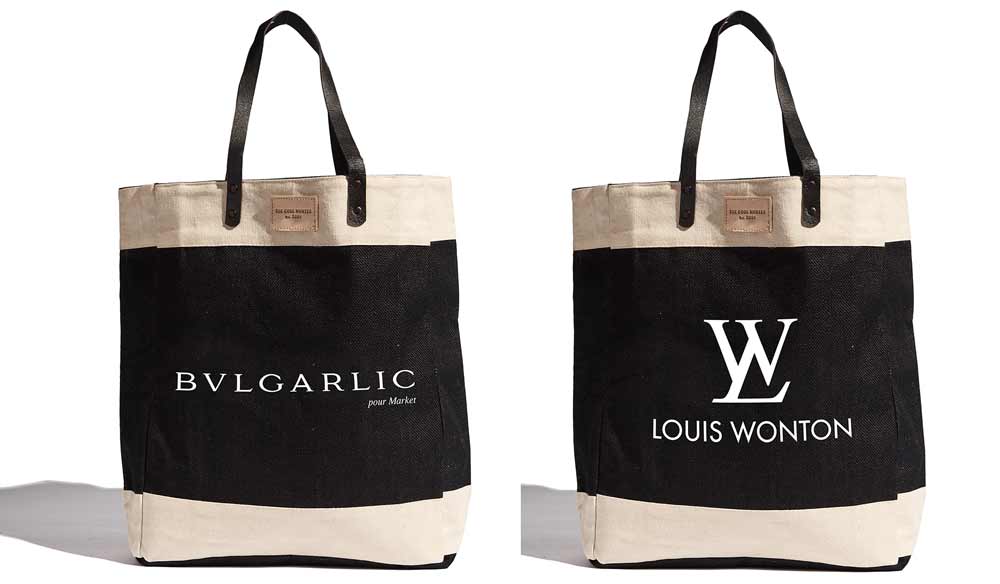 Each bag has an inside pocket to fit your keys or small items. The bag has waterproof lining to protect your belongings on rainy days. 
Made of heavy-duty jute canvas, the bag will hold up to 3kg securely. It will easily fit your laptop or tablet for working on the go. The cherry on top is the leather handle for a soft and luxurious touch, not unlike an actual Balenciaga bag, for a fraction of the price.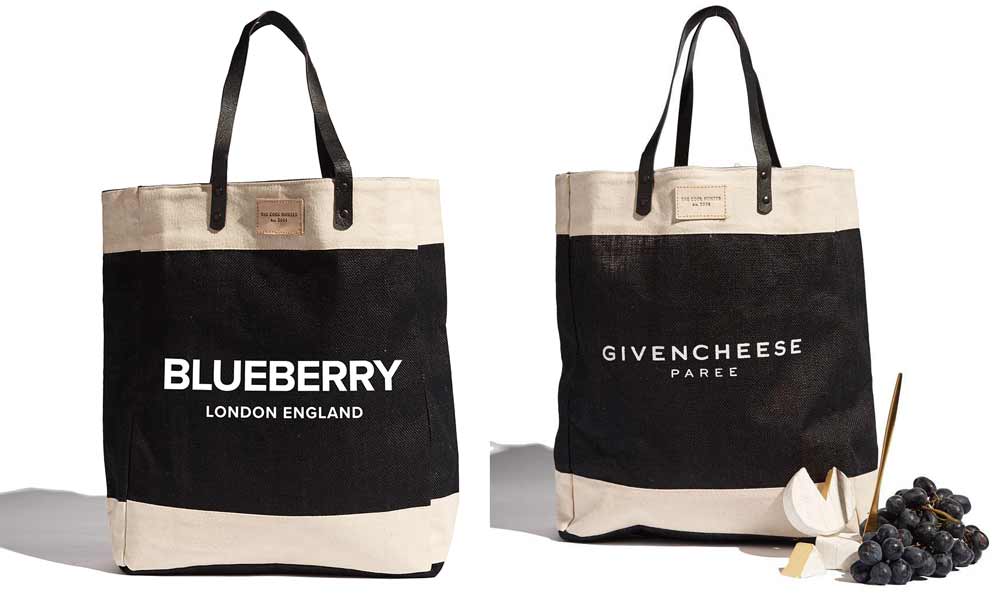 The beige of the canvas paired with the white-on-black graphic wraparound will keep these bags always looking chic, no matter what outfit you are wearing. 
Also read:
This S$300 'Maggi Mee Instant Noodles' Handbag Wins The Internet For A Day
Some notable designs
Saint Croissant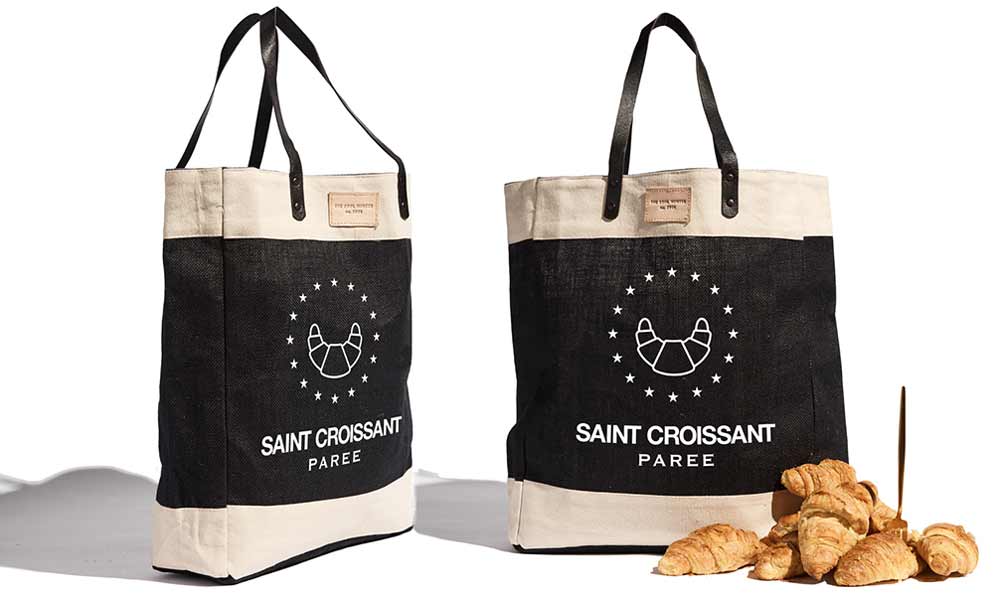 The Saint Croissant bag caught my eye with the simple lined graphic of a croissant surrounded by stars. It parodies the rebranded Saint Laurent Paris logo by paying homage to an iconic Parisian snack, the croissant.
Egg-White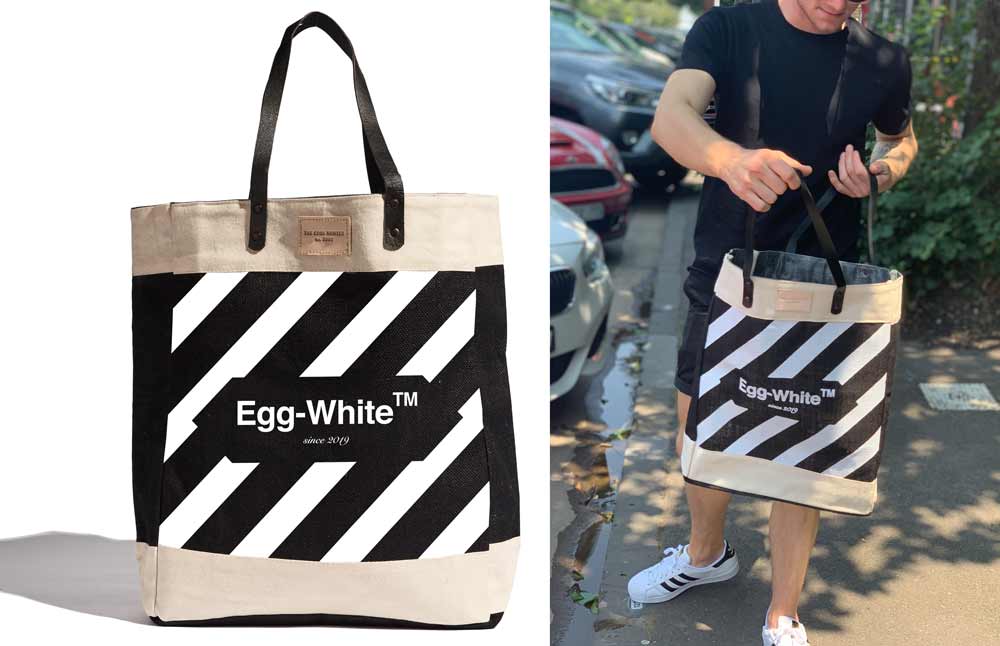 If you prefer a design that is more eye-catching, how about the Egg-White design meant to parody popular hypebeast brand, Off-White. 'Egg-White' is printed atop its iconic black-and-white diagonal stripes, in the label's Helvetica font. 
Versalad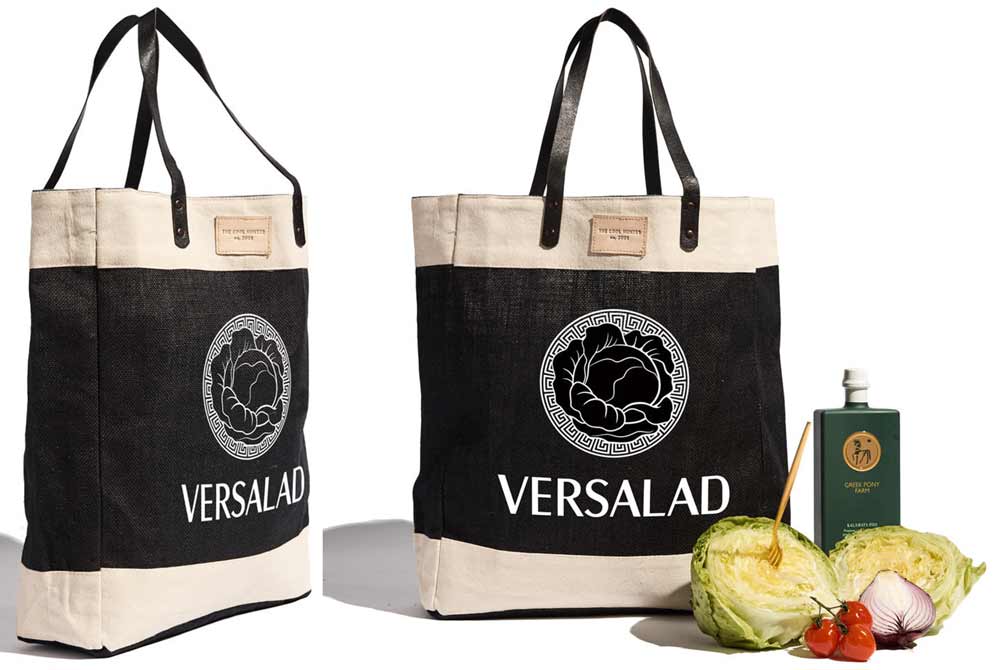 Italian high-end brand, Versace, is reincarnated as a salad. Gone is the Medusa head, replaced by a head of lettuce in an intricate porcelain bowl. The perfect design if you are a vegetarian. 
Tom Food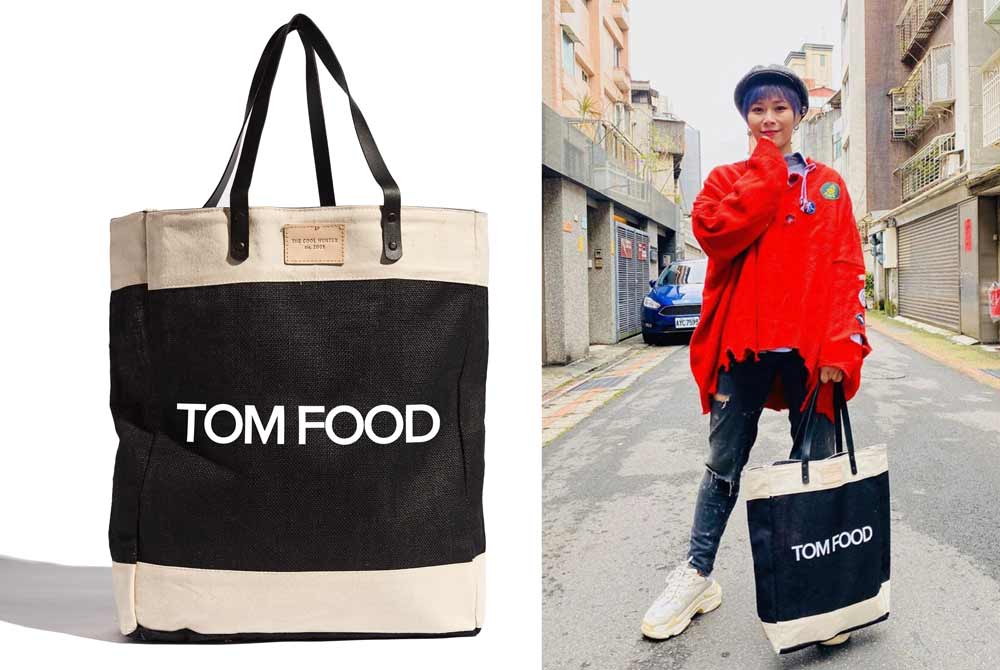 If one of your dreams is to own a Tom Ford bag, this 'Tom Food' design can keep you happy in the meanwhile. The bag celebrates food (because who doesn't like food) while you hustle your way to own something from the designer to the stars. 
Food Pun Bags Celebrate Our Love For Food And Fashion
These food pun bags from The Cool Hunter are a tongue-in-cheek way of celebrating our passion for food and fashion. And who knows, you might even hang up your actual Louis Vuitton for 'Louis Wonton' after using the bag because it is more practical for daily use.
All images: Source
Also read:
KFC x Crocs Clogs Are A Must-Add To Your Bucket List If You Love Fried Chicken