KFC x Crocs Collaboration
Crocs just announced a new collaboration with KFC, which will be released this spring. Retailing at US$60 (~S$83.34), each pair of KFC Crocs will come with 2 Jibbitz charms to take your shoe game to a whole new level.
Fried chicken clogs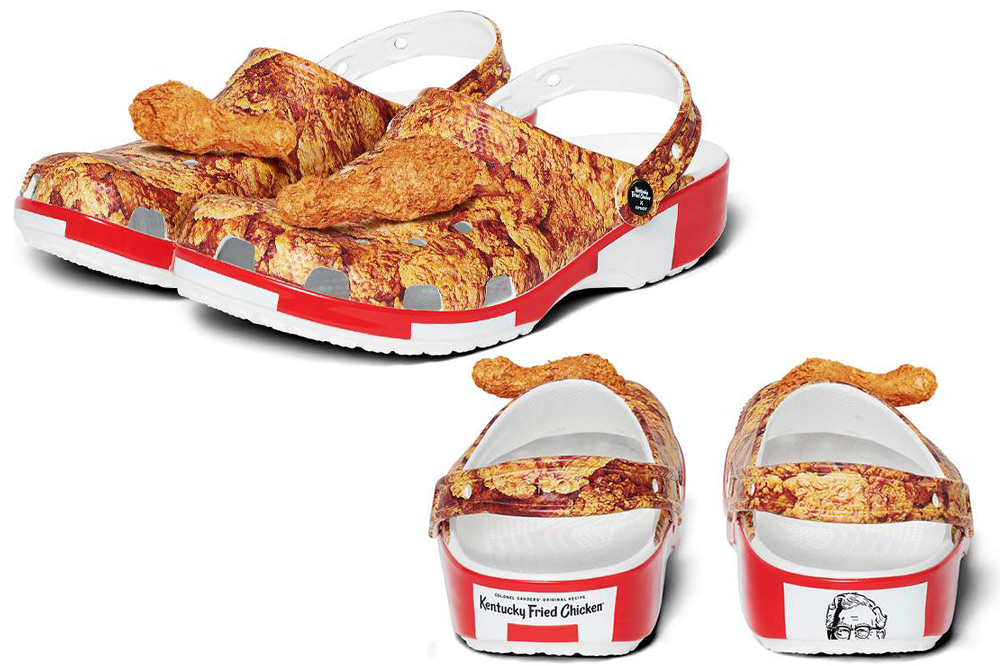 Source
The main body of the Crocs is plastered with a print of KFC's crispy fried chicken. The print is also visible on the footwear's signature heel strap, making us salivate at first glance. KFC's signature red-and-white striped bucket design is printed on the midsole, as if containing the fried goods. Black rivets adorned with the words 'Kentucky Fried Chicken x Crocs' in the brands' respective logos' hold the heel straps in place.
With Crocs back in the hype game these days, you definitely don't want to miss out on this statement piece.
Fried chicken Jibbitz charms
Source
Each pair also comes with a pair of fried chicken Jibbitz charms. Get this: they're fried chicken-scented. It's hilarious how uncanny the resemblance is. Crocs even issued a disclaimer on the product page stating, "Not for human consumption." 
Truly finger-licking, or in this case, toe-licking good.
Also read:
Get Cat Paw And Chicken Feet Socks For An Easy Play-Cheat Halloween Horror Nights Outfit
Other epic Crocs clogs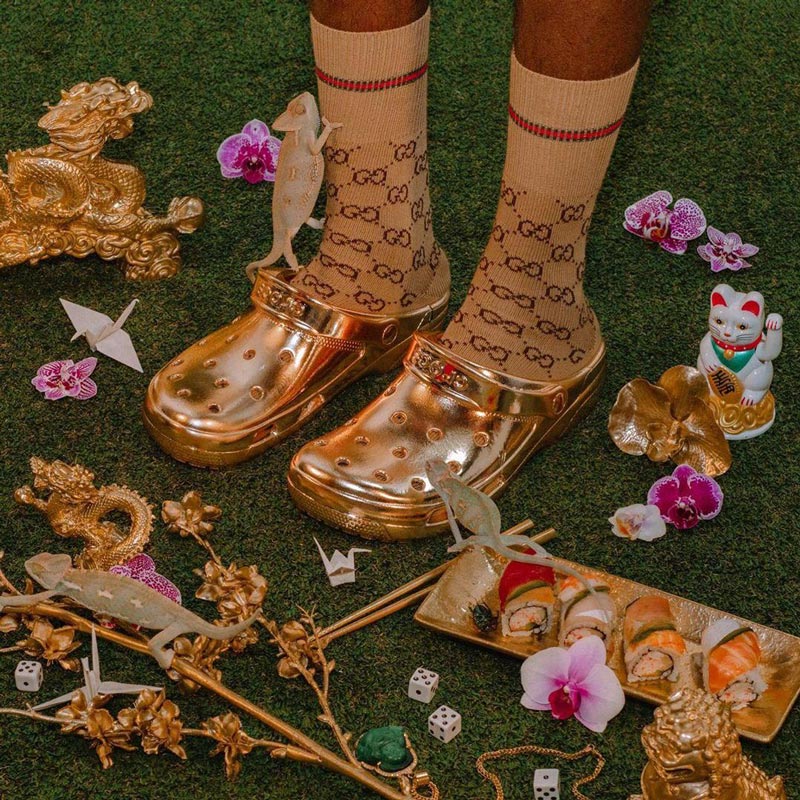 Source
In January, artist L8LOOMER made his own custom-made pair of gold Crocs, which made a splash on his Instagram feed. He even organised a giveaway recently due to the high volume of followers expressing interest in getting themselves a pair.
His signature look of Gucci socks matched with the Crocs makes the whole ensemble look bougie and expensive AF.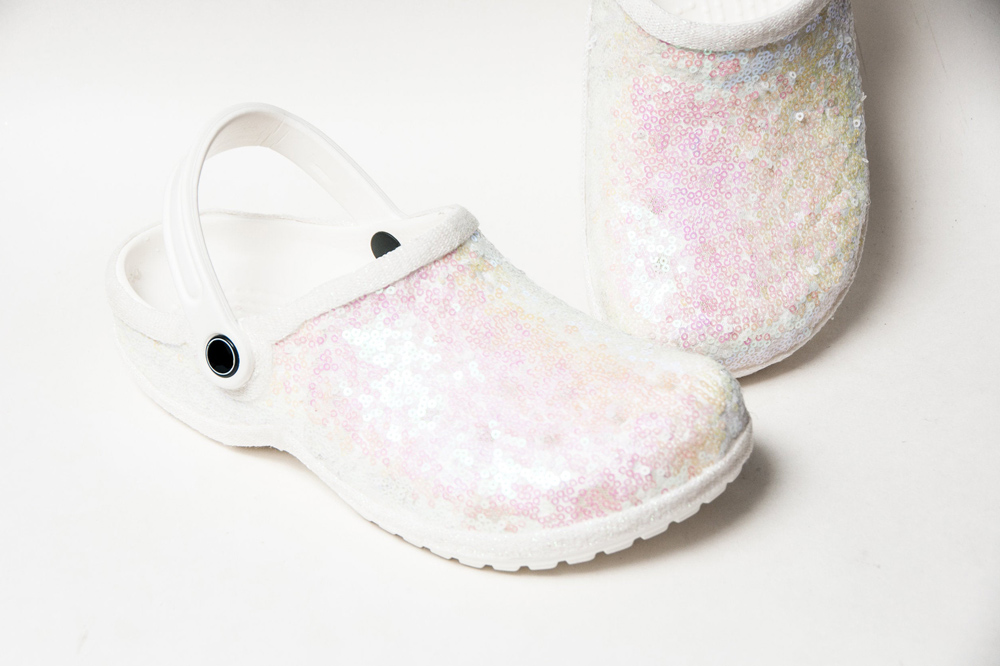 Source
In May 2019, Etsy seller Princess Pumps made a white pair of iridescent sequin Crocs for brides to rock on their special day. The sequins shift between hues of pink and white under various lighting conditions for a touch of quirky glamour. 
The custom shoe designer makes them to order for S$158.58++ a pair. The shoes have garnered lots of interest and positive reviews. Twitter user Allie shared about the shoe, "110% wearing wedding @Crocs during my reception and NO ONE can stop me sorry future husband."
Getting Yourself A Pair Of The Crocs x KFC Fried Chicken Clogs
Crocs are undeniably making a major comeback with increasingly epic and outrageous designs, especially with fringe cultures like VSCO girls popularising them. Crocs has yet to announce the exact launch date of these KFC fried chicken clogs, so keep your eyes peeled for updates on Crocs' Instagram page or sign up for its mailing list.
Also read:
New Gucci Tennis 1977 Shoes Have Monogram & Stripe Details So You Can Flex Your Canvas Sneakers Too
Cover image: Source