Gucci Doraemon Bag
Hands up if you spent your childhood waking up early on the weekends to catch Doraemon on television. The Japanese manga series is celebrating its 50th anniversary this year. As expected, many brands will be coming up with Doraemon collections. Less expected, however, is the fact that Gucci is one of them. The Italian luxury label will be releasing a Doraemon bag in its upcoming Resort 2021 collection to bring the anime character into the realm of fashion.
Gucci resort 2021 collection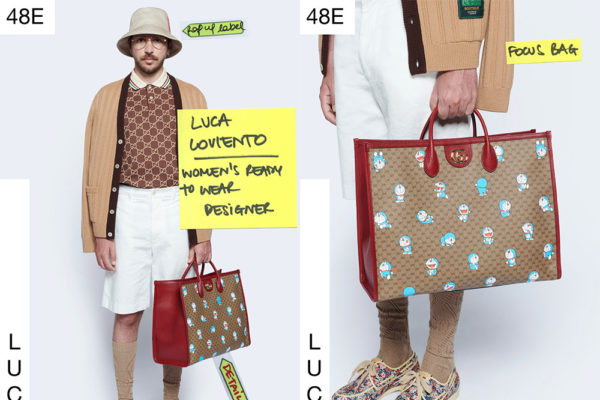 Source
Real-life runway shows are not possible now due to COVID-19, but fashion never sleeps. Over the past 2 weeks, many brands have been unveiling their resort 2021 collections in creative ways online.
To debut Gucci's resort 2021 line-up, the brand produced a whopping 12-hour livestream held at the Palazzo Sacchetti in Rome. It was accompanied by a lookbook starring the actual designers who had worked on the collection.
Among the 55 looks, one bag stood out in particular. Women's ready-to-wear designer Luca Loviento carried a boxy shopping tote with Doraemon prints layered atop the Gucci monogram. Burgundy leather lines the sides and top handles of the bag, giving it a vintage look. On the front, Doraemon is seen waving, running, doing a handstand and striking other adorable poses that are sure to elicit looks of interest or gushes of excitement from your friends. 
The collection also includes a Donald Duck bag and luggage, a follow-up to the Gucci Mickey Mouse collection released earlier this year.
Also read:
Valentino x Onitsuka Tiger Sneakers Will Be Launching In SG On 17 July, Sneakerheads Can Mark Your Calendars
Nike Doraemon Sneakers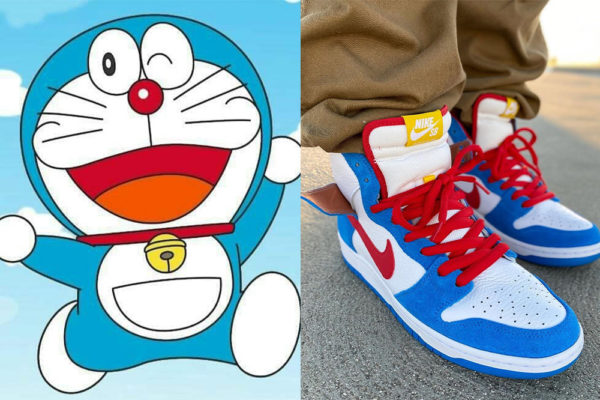 Source, source
Another fashion giant set to release a Doraemon collab is none other than Nike.
Skate videographer Kevin Perez shared a sneak peek at the Nike SB "Doraemon" Dunk High on his Instagram account. Unlike the Gucci bag, the Nike SB Dunk High sneakers are a subtle reference to Doraemon. Its red, blue, yellow and white colour palette is modelled after the character's colours.
The IG post also included a video of Perez reaching into a little pocket behind the tongue of the shoes, where he had stored an SD card. Clearly, it's an homage to Doraemon's own magic pocket, which was used to store all sorts of gizmos and gadgets.  
Gucci's Doraemon Bag & Nike's Doraemon Sneakers Are A Major Closet Upgrade
From Sailor Moon to Pokemon and now Doraemon, add your favourite Japanese anime character to your closet for some extra quirkiness. 
Gucci's Doraemon bag is part of its resort 2021 lineup, so you'll have to wait until the end of this year to cop the item. You'll also have to be patient when it comes to the Nike SB Doraemon Dunk High sneakers, as the official release date has yet to be announced.
Also read:
Gucci's Mickey Mouse Shoes & Bags Are The Ultimate Flex For The Year Of The Rat
Cover image: Source