Hello Kitty Rice Cooker
Sanrio will be collaborating with Zojirushi on a Hello Kitty Limited Edition Collection, including a super kawaii Hello Kitty rice cooker.
Zojirushi is a Japanese brand that manufactures and sells household and thermal products such as breadmakers and vacuum-insulated bottles. In fact, some of the items in your kitchen might just be from the company without you realising it.  
Prices for this collection are expected to range from US$52 (~S$73.82) to US$203 (~S$288.23). It will be available on the Zojirushi US website starting 1 July 2020.
Rice cooker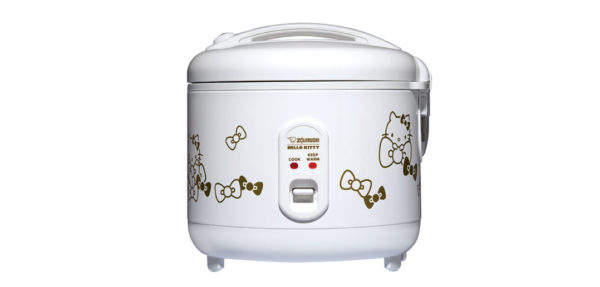 The rice cooker will bear a special gold Hello Kitty design on a white background, with graphics of bows scattered around the body of the machine. The pattern was designed specifically for Zojirushi. That means even hardcore Hello Kitty fans will not already own something with this never-before-seen pattern.
The rice cooker has a 5.5-cup capacity, which is nearly 1 litre, so you can cook up a storm for the entire fambam. In terms of technical aspects, the rice cooker has a one-touch feature to avoid any complicated buttons, and an automatic warming function to keep your rice steaming hot. It also comes with a non-stick inner pan, detachable inner lid and a tight outer lid with push-button release.
Purchasing the rice cooker will give you other add-ons such as a measuring cup, spatula and spatula holder.
The price has yet to be announced, but it is estimated to cost US$203 (~S$288.23).
Other products
The collection will also include stainless steel mugs in white-and-gold and black-and-gold options. Pictures of the mugs have yet to be unveiled but they are estimated to retail for US$52 (~S$73.82).
Use This Hello Kitty Rice Cooker To Cook Your Omurice Meal
For now, it seems like the Hello Kitty Limited Edition Collection will only be released in the US and Canada, but you may want to keep your eyes peeled on Zojirushi Singapore's website in case it makes its way here.
Also read:
This Hello Kitty YouTube Workout Routine Lets You Exercise Together With Your Friends While Stuck At Home
All images: Source