Hello Kitty x VICTOR 
Fashion is just as important as functionality when it comes to sportswear ━ don't ever underestimate the confidence boost a cute racquet can bring to your game. Sports equipment company VICTOR has done just that with their new themed collection with pastel racquets and matching sportswear, inspired by everybody's favourite cat, Hello Kitty. 
The collection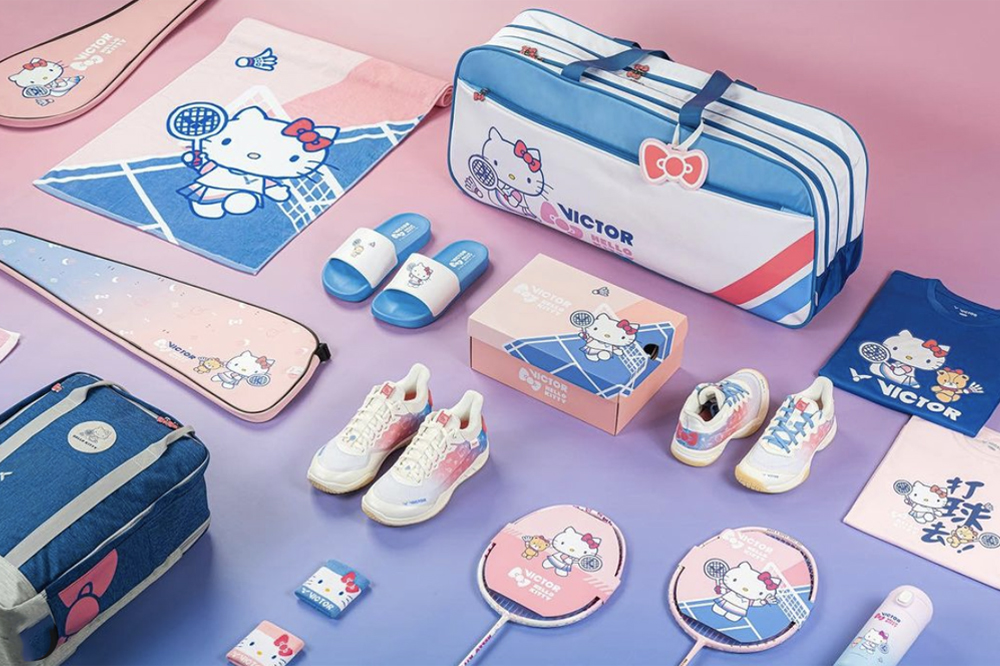 Source
With a full range of sneakers, racquets, tees, and bags to choose from, this Hello Kitty collection is rife with adorable motifs and designs for you to carry out your best badminton play. Coming in pastel hues, this is perfect to match that soft girl look with a mean backhand. 
Apparel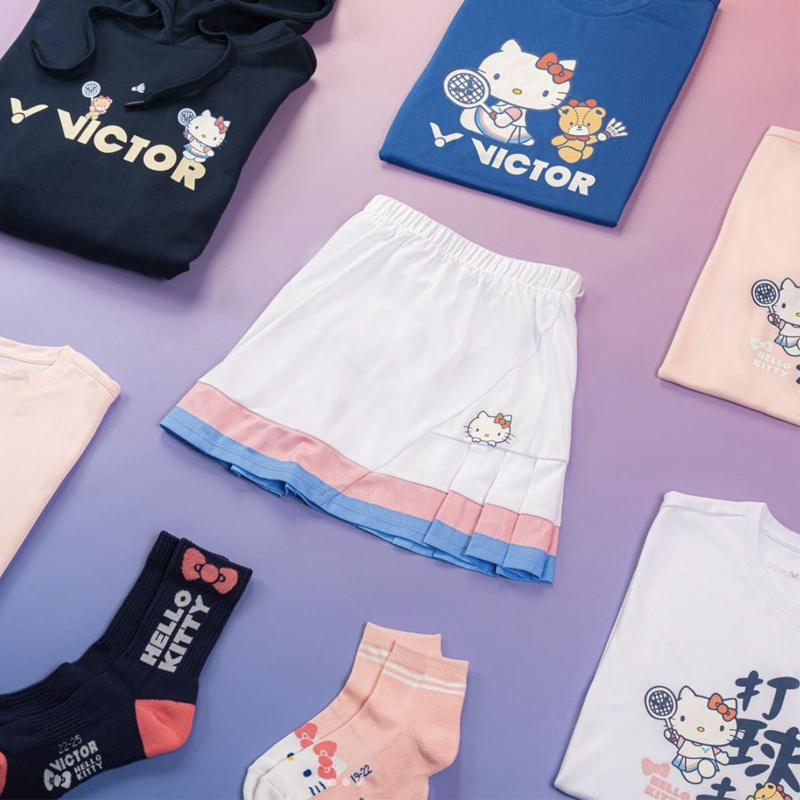 Source
Donning a cute skirt will definitely help you to flaunt your style on the court. This white skirt is bordered with a pink and blue band, with a cute Hello Kitty logo at the corner. Match it with your choice of black or pink socks, both stitched with Hello Kitty motifs such as her signature ribbon.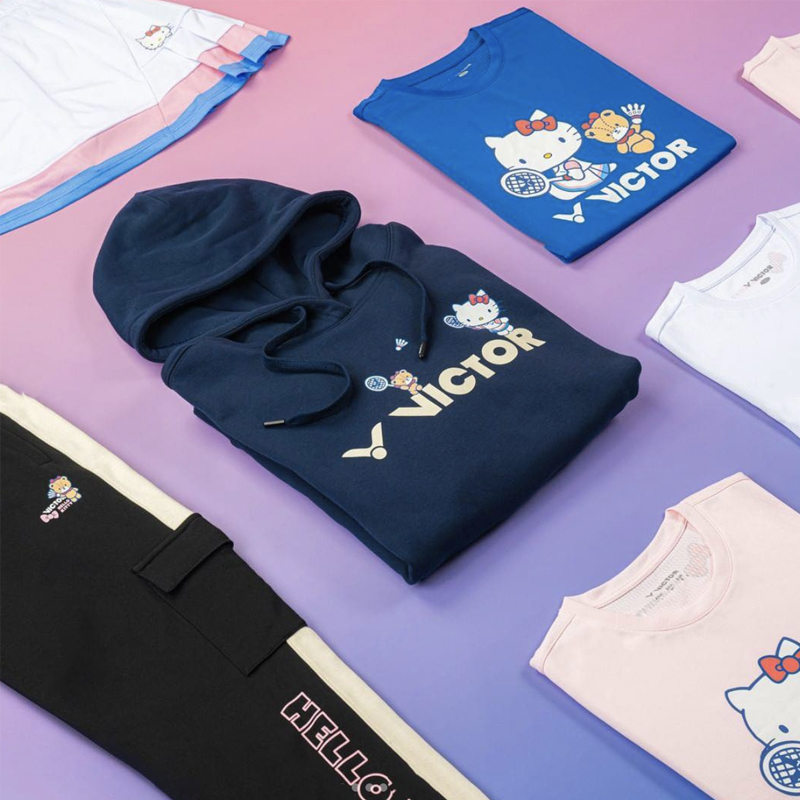 Source
Snuggle up with these hoodies to get ready for a cosy night in. This dark blue hoodie has the brand logo emblazoned across the chest, featuring a Hello Kitty and a bear holding a badminton racquet atop the logo. You can also opt for the white design for this hoodie.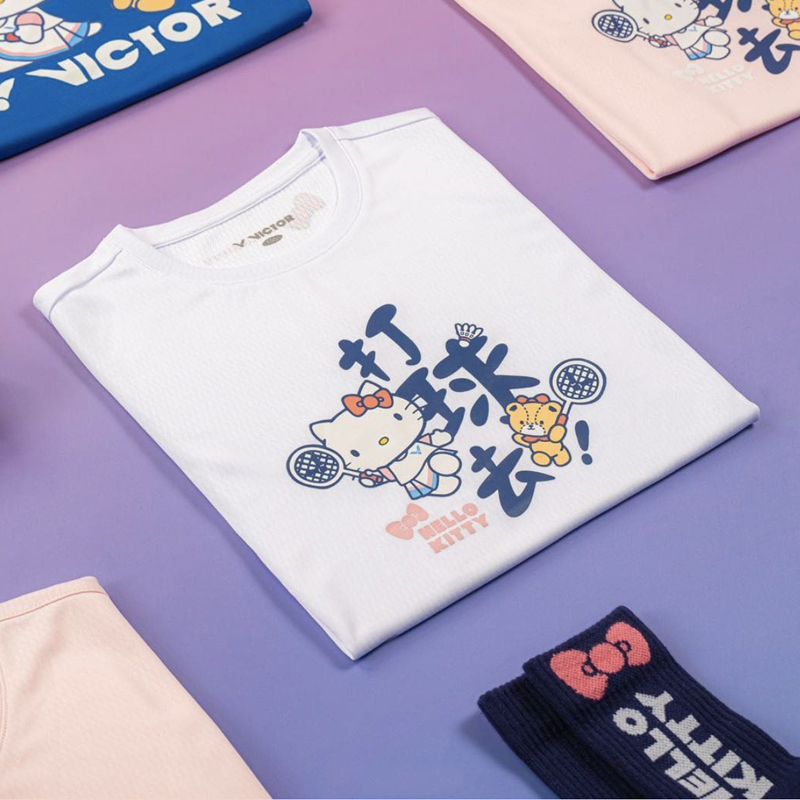 Source
Unleash your inner athlete with these chio Hello Kitty tees, featuring the characters on the way to play badminton. It comes in blue, pink, and white.
Cop these sweaters in pink or white to keep yourself warm. With "Hello Kitty" printed in block letters and varying shades of pink across the front of the sweater, you'll also find the kitty's head peeking adorably out amidst the words.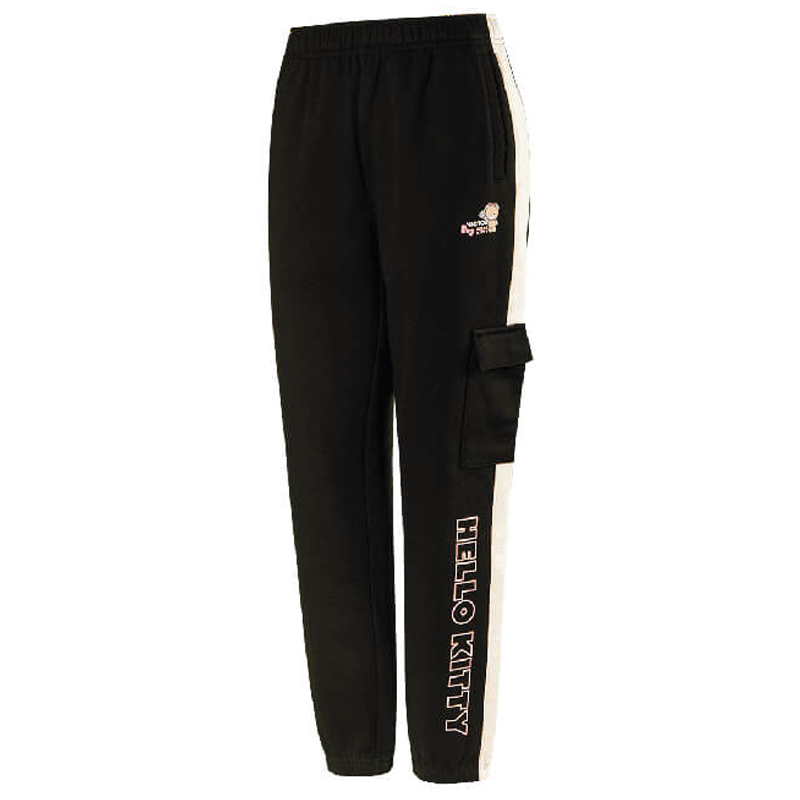 Source
Whether you're staying in or hopping out for a run, these sweatpants are perfect for the occasion. The black pants come with pink details and pockets, including a patch pocket on the side. They're made of viscose, which makes them super workout-friendly.
Sneakers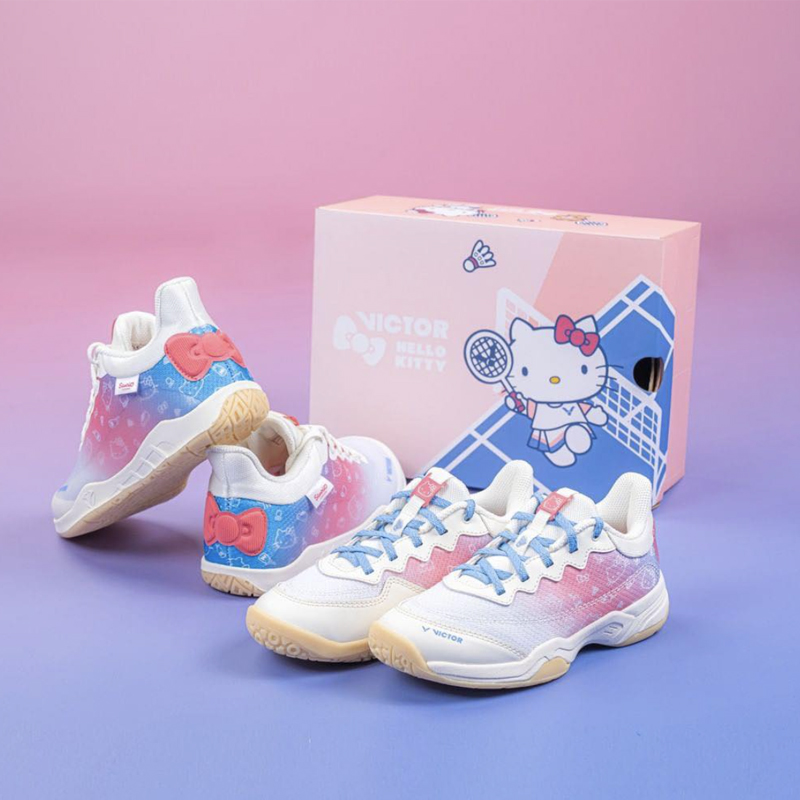 Source
Nothing makes a run better than being booted in cute kicks. With ombre white, pink, and blue uppers, printed with adorable Hello Kitty motifs, these sneakers make for an aesthetic run, especially with the cute pink bow on the heel. It also includes blue laces that complete the fun tie-dyed look.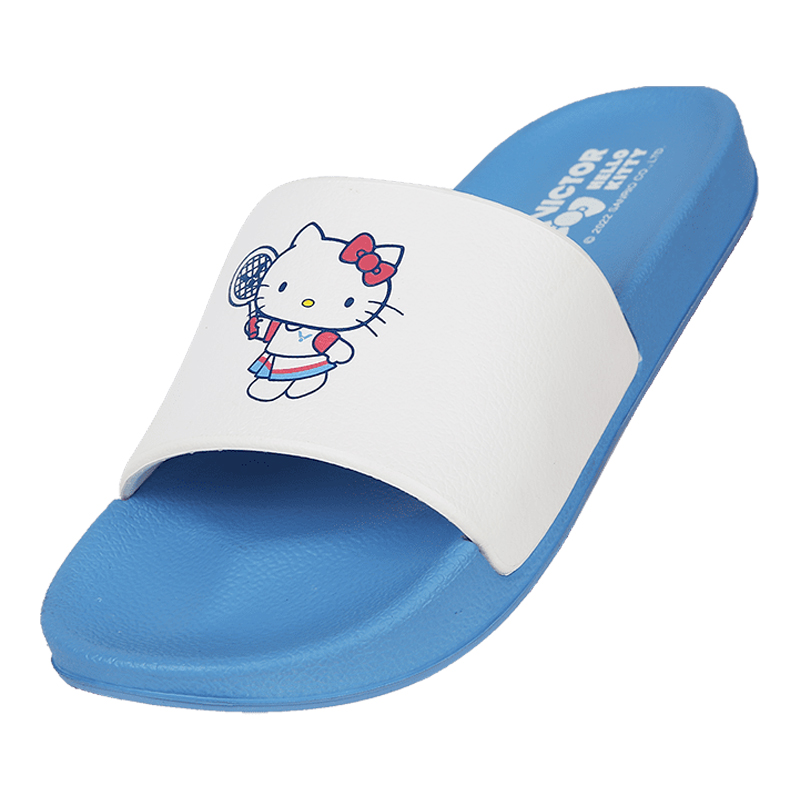 Source
Apart from the ever-popular Crocs, slides are certainly making their mark in the fashion world. These slides come in blue, with Hello Kitty playing badminton on the white strap. 
Bags
The largest bag in the collection comes in blue with a white strap, as well as a pink ribbon accessory on the handle. With dimensions of 46cm x 20cm x 35cm, the bag is roomy enough to fit your essentials, such as a laptop or iPad. It also has a front pouch for you to store smaller items such as your EZ-Link card. 
Otherwise, there's a dark blue duffel or backpack with grey straps. Both bags have multiple pockets to fit all your items. The backpack also comes with a water bottle compartment. 
Complete your look with these multipurpose pouches, which come in white and dark blue. The white version is a zip-around bag with a flat top, and blue and red stripes zipping across one corner. It is finished with Hello Kitty's iconic ribbon as pull tags on the zips.
If you're looking for a smaller pouch, the dark blue design comes with a white wrist strap. Its size is perfect for quick days out when you just need to bring along essentials such as your wallet and phone. 
Racquets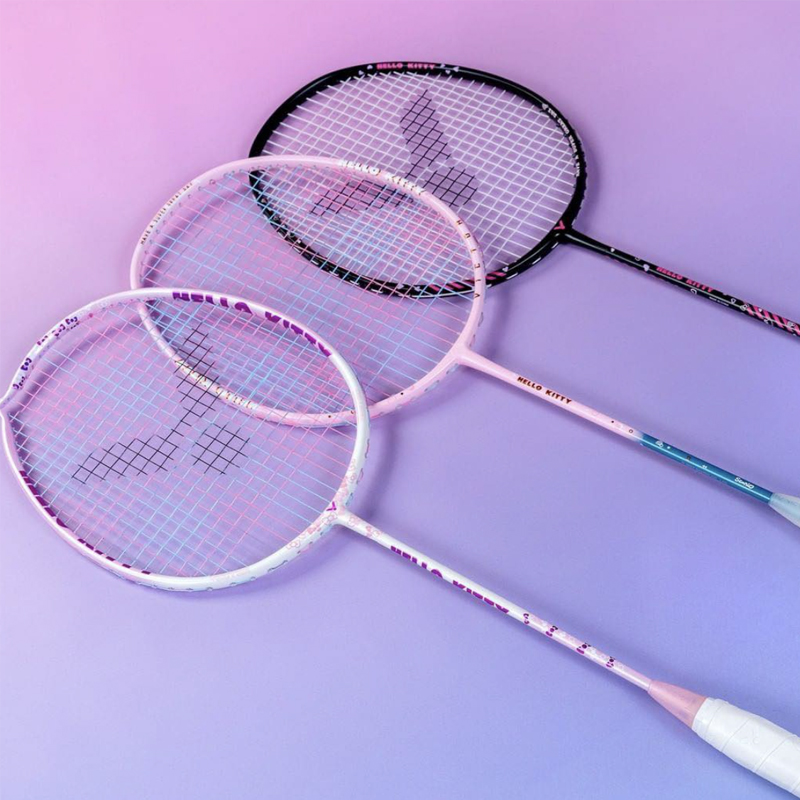 Source
For badminton fanatics, choose from these three pastel racquets for a cute game play. With colour options of black, white, and pink, they each come with different Hello Kitty motifs and designs, and coloured handles.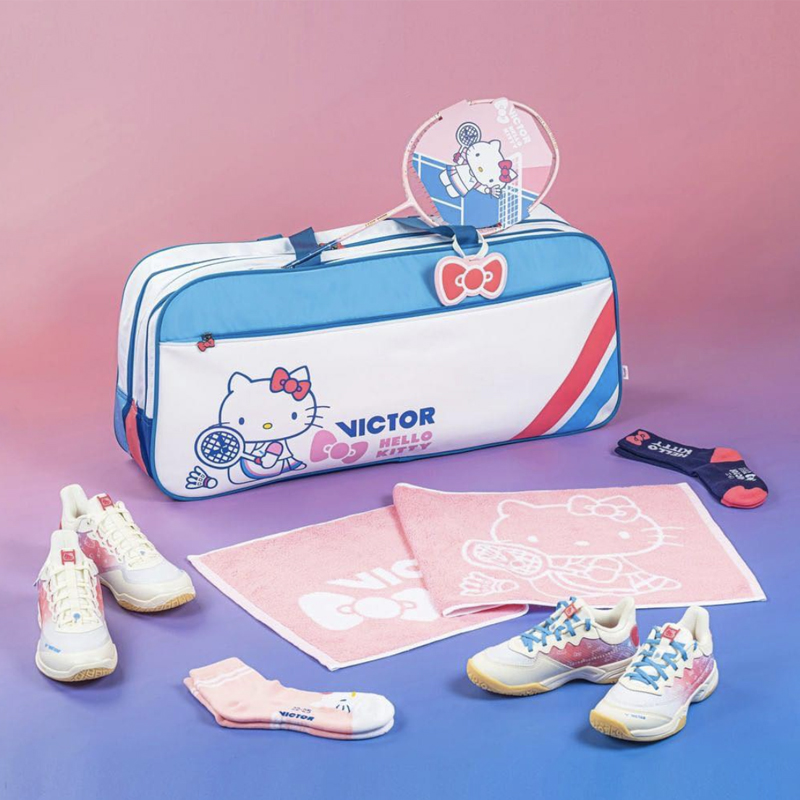 Source
This white racquet bag completes your game look with its red and blue stripes, and matching ribbons as a charm and on the zipper pull tags. It'll definitely give you fashion points, and be your good luck charm when you're on the court. 
Accessories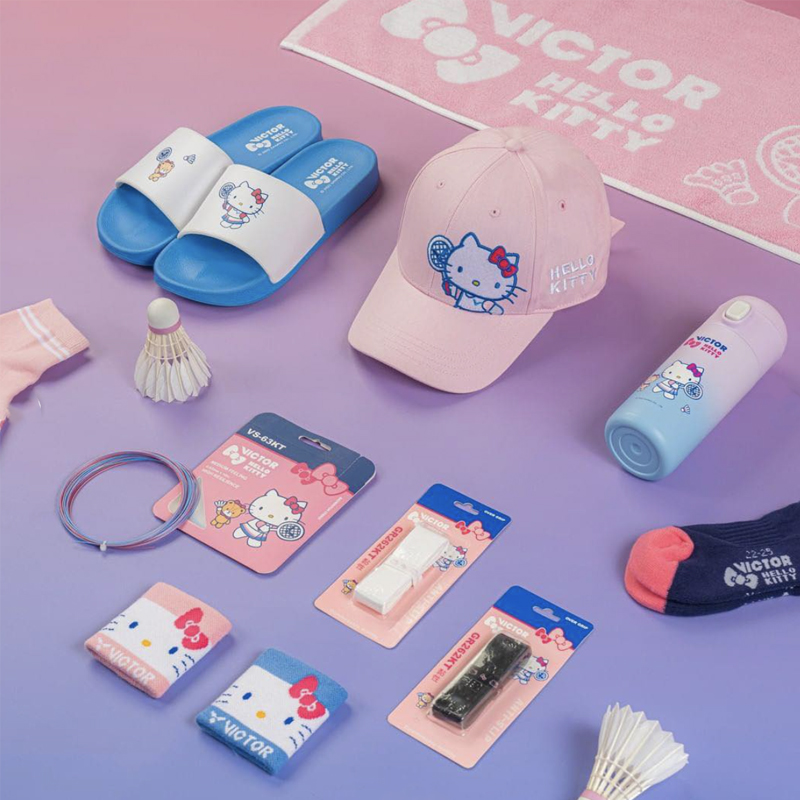 Source
Top off all your cute Hello Kitty-themed merchandise when you don the pastel pink cap to keep yourself safe from the sun, and purple and blue water bottle so you'll be inspired to stay hydrated. 
This Hello Kitty-Inspired Athleisure Collection Will Help You Stand Out On The Court
Become a major player on the court and stand out from the crowd with these adorable pink- and baby blue-coloured sportswear and accessories. 
If you're interested in purchasing the collection, keep a look out for the products and prices to drop soon on VICTOR's website and in stores. 
Also read: 
Kipling x Hello Kitty Welcomes CNY 2023 With A New Bag Collection Featuring Kawaii Rabbit Motifs