Hindu-Muslim Lesbian Couple's Anniversary Photos
If you're happily attached, you'll probably celebrate your anniversary with romantic activities and share your day on social media. But not every couple has the luxury of expressing their affection publicly when the occasion rolls around, particularly those in the LGBTQ community. It's even tougher to do so if homosexuality is frowned upon in your religion and culture.
However, Anjali Chakra, a Hindu girl from India, and Sundas Malik, a Muslim artist from Pakistan, proved that love knows no boundaries. The Hindu-Muslim lesbian couple, who live in New York City, posed for a photoshoot to commemorate their 1-year anniversary.
The romantic photoshoot
In the pictures, Anjali and Sundas wore gorgeous traditional gowns in golden yellow and rich red as they posed away in Midtown Manhattan.
Anjali posted the images on Twitter and wrote, "Happy anniversary to the girl who taught me how to love and be loved." Cue the waterworks, guys.
The loving couple also shared a kiss at a carousel in Bryant Park. Let's take a moment to take in all that beauty.
In the caption of her Instagram post, Anjali spoke candidly about the difficulties she faced when the couple first started dating. "I used to let go of Sufi's hand a few blocks before my office when she walked me to work because I was scared people would find out I was queer," she wrote.
But after a year of dating, the couple spent their anniversary at Anjali's cousin's wedding, where Sundas "met 50 members of [Anjali's] extended family who loved her". "Here's to many more years of growing in our love, together," added Anjali on the post.
Their photographer Sarowar Ahmed shared photos on his Instagram too, titling the series A New York Love Story. The images show Anjali and Sundas embracing one another under an umbrella on a rainy day.
Also read:
Praises from the public
The pictures went viral soon after they were posted. Many people on Twitter felt the photo series was a commentary on how same-sex love could transcend borders and unite divided nations.
A few months later, Sundas shared that they never thought their love would be able to mend 2 religions and cultures in conflict. "Our relationship was politicized beyond our imagination. The Hindu-Muslim, Pakistani-Indian dynamic of our relationship was brought up in most conversations about us," she said.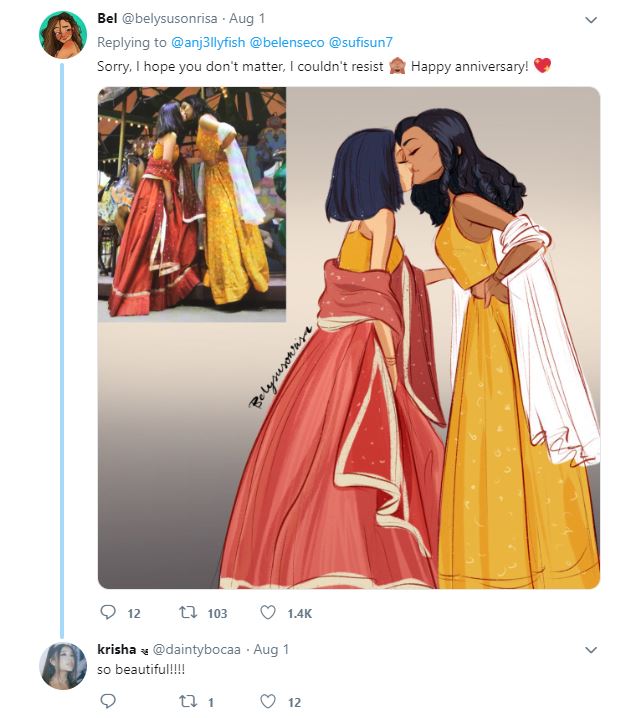 Inspired by their photoshoot, a few Twitter users created illustrations of the couple too.
How they first met
People were most curious about how Anjali and Sundas met, so the couple took to YouTube to share their story.
They followed each other on Tumblr for 7 years and often reblogged one another's posts. When Instagram came about, Anjali slid into Sundas' DMs and the two hit it off right away. Watch the full video above to hear them gush about one another.
Hindu-Muslim Lesbian Couple's Anniversary Photoshoot
Apart from warming up our hearts, the couple's anniversary photos serve as an inspiration to everyone in the LGBTQ community.
If you'd like to follow the couple's journey, check out their YouTube channel for more wholesome content.
Also read:
This Taiwanese Gay Couple's Wedding Photos Might Be The Inspiration You Need For Your Wedding Shots