House Of Sillage Harry Potter Collection
Despite the first Harry Potter movie being released 22 years ago and the books going further back, the franchise's popularity hasn't waned one bit. 
The series even has seen brands such as Pomelo and Crocs jumping on the bandwagon, or well, broomstick, to create Harry Potter-inspired merchandise. Potterheads, prepare for a beauty addition to your collection as House of Sillage has a new line, complete with perfumes and lipstick cases. 
Perfumes
Featuring the two rival houses of Gryffindor and Slytherin, these perfume bottles come in a unique globe shape, featuring feather designs over the cover. The Gryffindor perfume has a red clear glass on the lower half of the bottle. Peer closer and you'll notice the lion icon on the top of the bottle. 
Meanwhile, the Slytherin perfume follows suit with clear green glass. The top features a snake icon as well – channeling the dark energy the house is known for.
You can also opt for the Ravenclaw and Hufflepuff bottles, decked with clear blue and yellow glass and the eagle and badger icons on top respectively.
Each perfume bottle retails at $270 USD (~S$357.21).
Lipstick cases
Decorated with gold and red embellishments and diamonds, this leather shell lipstick case on the left features lion mascots on the design. On the right, the case features a snake and is adorned with green and gold. They might be mistaken as brooches or hair clips at first glance, but open them up to reveal a snug lipstick. 
The Hufflepuff case comes in yellow, with a badger logo on the left side of the case. Meanwhile, the Ravenclaw case comes in blue, with the eagle logo in flight. The small and compact case also allows you to bring this around easily – drop it in your bag for quick touch ups anywhere.
The cases come with an extra refill. Each Limited Edition Lipstick Case Set retails at $221.25 USD (~S$292.64). 
Miscellaneous items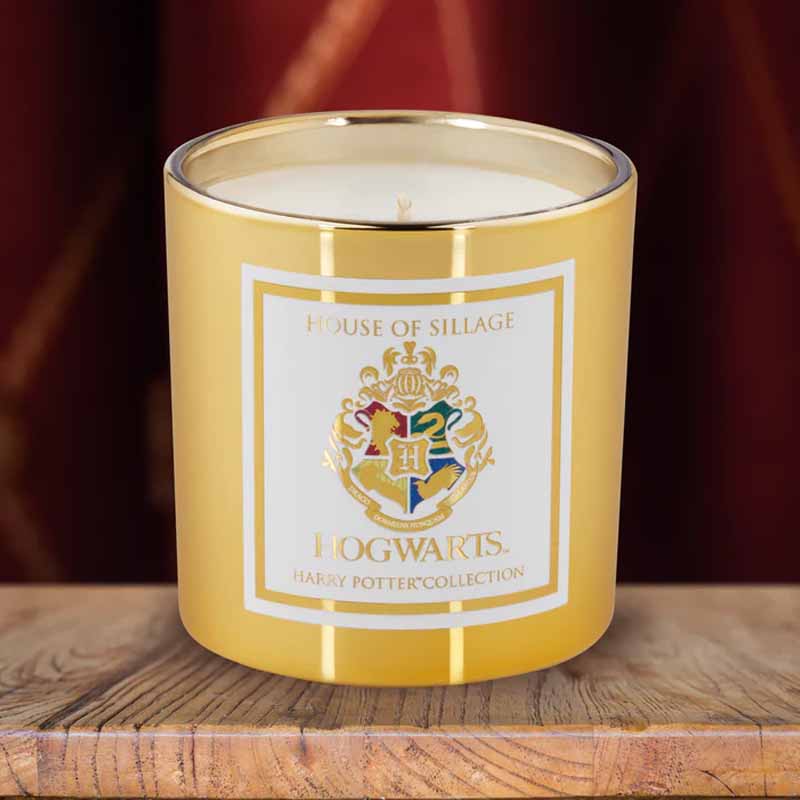 Besides smelling and looking good, you can also amp up the comfort at home when you light up this yellow Hogwarts candle. With the school logo in front, this candle promises a magical vibe.
The Harry Potter Collection Hogwarts Candle retails at $45 USD (~S$59.52). 
If you can't decide between the four perfumes, you can sample them all in smaller doses.
This set has four small vials of the Gryffindor, Slytherin, Hufflepuff and Slytherin perfumes — it makes an ideal gift for yourself or a fellow HP fanatic.
The Harry Potter Collection Discovery Set retails at $40 USD (~S$52.92). 

Avoid FOMO and don't want out on anything by getting the full set, that includes one lipstick case, perfume, and candle. 

Available in sets of the four Hogwarts houses, you will also receive a free gift wrap set – which consists of a gift bag, ribbon, and tissue with any purchase of the collector's set. 
Each Harry Potter Collector's Set retails at $500.50 USD (~S$662.22). 
This Harry Potter Cosmetic & Fragrance Collection Will Leave You Feeling Like Magic
You can feel closer to the Wizarding World with these chio products adding some magic to your aura.
If you're interested in purchasing the collection, it is currently available on House of Sillage's website. 
All images courtesy of House of Sillage.
Also read: 
Pomelo x Harry Potter Has Preppy House Vests & Hogwarts-Inspired Shirts For A Scholastic Look