Mini Fridges In Singapore 
Skincare doesn't just keep breakouts at bay, they also give us a glow from within, boosting our confidence. But as a skincare noob myself, I've only recently begun a routine – an upgrade from only applying facial wash and slathering on some aloe vera gel occasionally. 
Arguably the best part of my foray into skincare routines is also the variety of chio mini fridges in the market, suitable to keep cosmetics and skincare products cool and organised. Ahead, we've compiled a list of aesthetic mini cosmetic fridges you can consider to have the vanity set-up of your dreams. 
1. Kakao Friends – Ryan Fridge 
This mini two-tiered fridge from Kakao Friends features Ryan the lion. In an entirely orange exterior, this fridge is not only perfect for storing your makeup, but also for drinks and light snacks.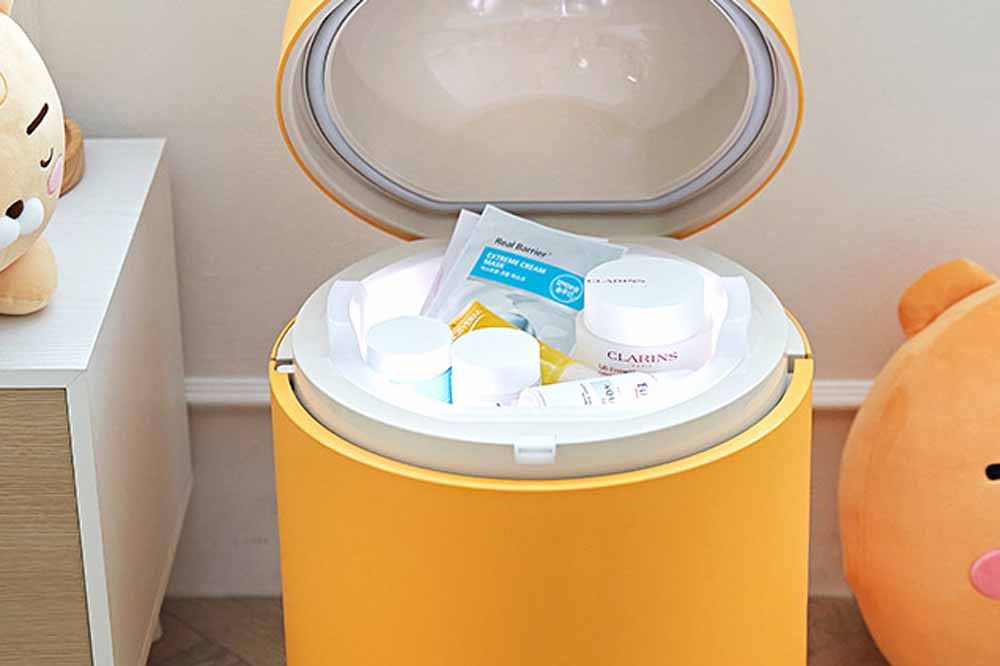 Source
Other than storing products, this multifunctional fridge is also a bluetooth speaker, as well as a night light. The fridge itself also contains a UV sanitiser tray to ensure that your products are clean and sterilised. Even when your products are not in use, the tray compartment is interchangeable so you can display them.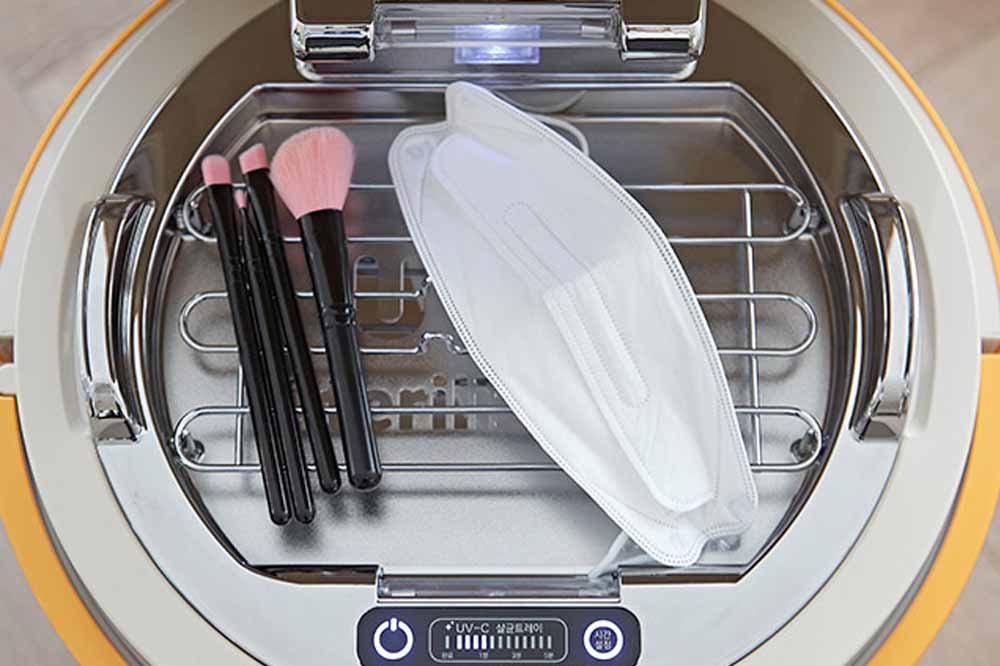 Source
With dimensions measuring 67cm tall and 38cm wide, this 31L mini fridge can sit in a corner of your room snugly without taking up much space.
Price: ₩389,000 KRW (~S$410.19)
Website 
2. Vanity Planet – Fria Skincare Fridge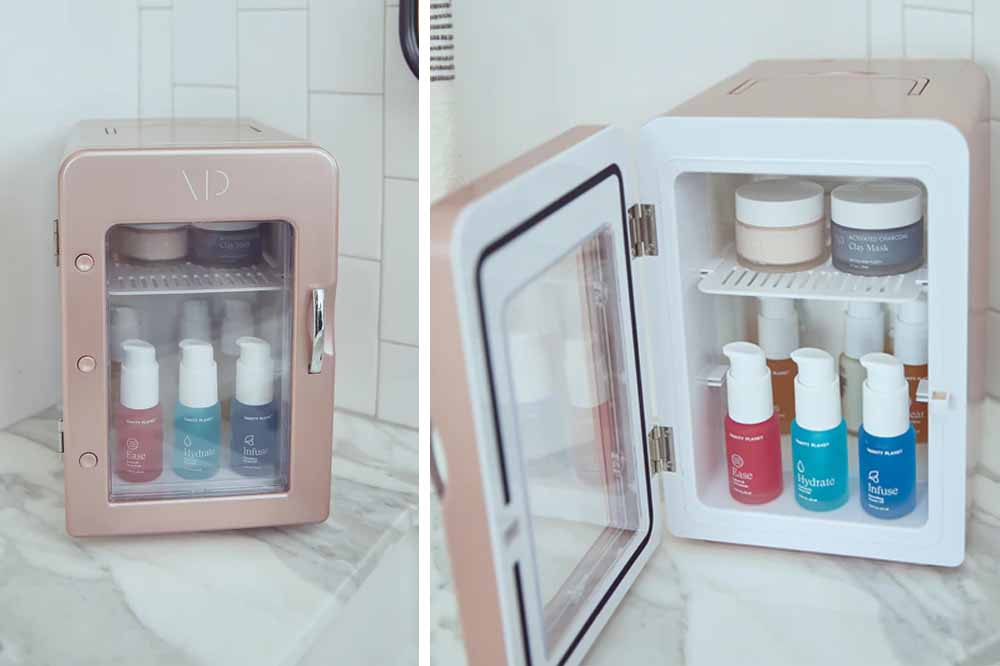 Source
For girly girls who want to add a touch of glitz and glam to their daily routine, Vanity Planet's Fria Skincare Fridge will make a great choice.
With a sleek rose-gold metallic body, the fridge has a rectangular shape that allows you to store your products for as long as you want, ensuring the freshness of your skincare essentials. Minimalists can also opt for this fridge in white to match their home decor. 
The two-tiered fridge has removable shelves, so you can organise your items carefully and in whatever order you prefer. It also features a curved metal handle and a clear window exterior so you'll get visual reminders to apply your skincare every night. 
Price: $99 USD (~S$131.71)
Website
3. Modern Home – PinkTop Cosmetic Fridge
As we are able to travel overseas with ease now, don't forget to take care of your skin – especially if you're heading to a winter country. This Modern Home PinkTop Cosmetic Fridge reminds us of a luggage, a sure way to always keep your essentials with you. 
Choose between a 5L and 13L fridge, with the former being travel-sized and featuring a single door. With four different colours – red, green, white, and pink  – to choose from, you're definitely spoilt for choice. 
If you're a serial shopper, the 13L fridge includes double doors and several compartments for greater storage. The centre of the fridge has four containers, as well as a little drawer at the bottom where you can chuck smaller items like brushes and rollers.
Price: $321 (13L), $150 (5L)
Website
4. Lvara – Mini Skincare Fridge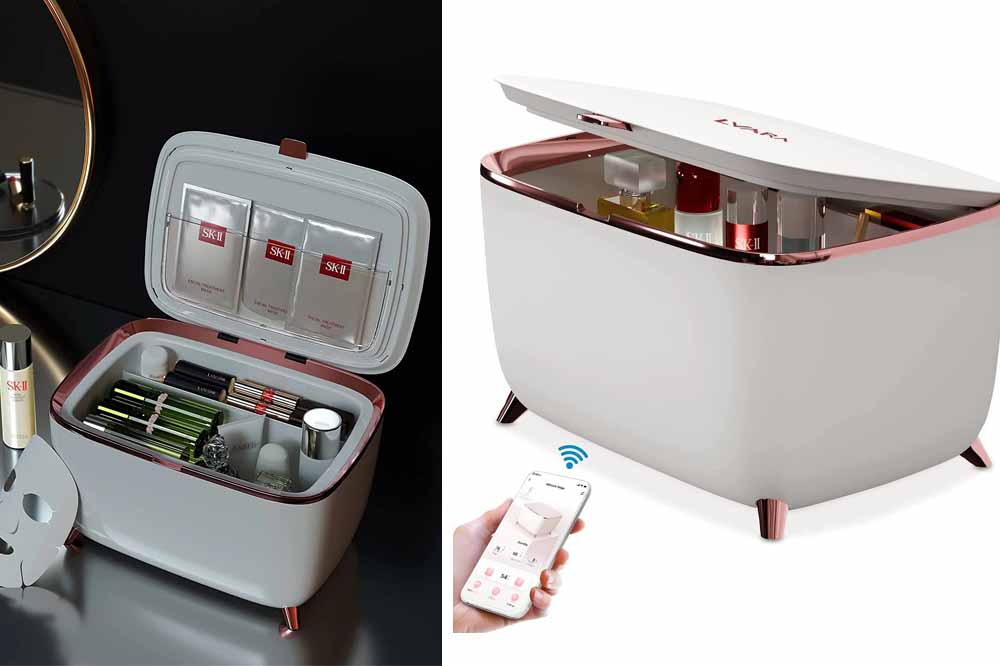 Source
If you prefer something slightly more unconventional, opt for this smart box-shaped mini fridge from Lvara. 
With colours such as white, pink, and green to choose from, the 9L box contains interior dimensions of 32cm x 14.9cm x 13.4cm so you have sufficient space to fit all your essentials. There is also a pocket on the inside of the lid so you can fit in items like face masks easily. The cute, compact size of the fridge also allows you to store it neatly when you're not using it.
The cherry on top has to be the mini fridge's smart feature — it's controllable via an app and through Wi-Fi on your phone so you can set reminders for products' expiration dates. While the features are undoubtedly cool, you can also choose the option without the smart function too. 
Price: Mini Skincare Fridge (pink, white) –  $129.99 USD (~S$175.15)
Smart Mini Skincare Fridge (white, pink, green) – $199.99 USD (~S$269.47)
Website
Also read: 
16 Aesthetic Hair Dryers Other Than Dyson From $20 To Style Your Hair Like A Queen At Home
5. Amazon – AMYAL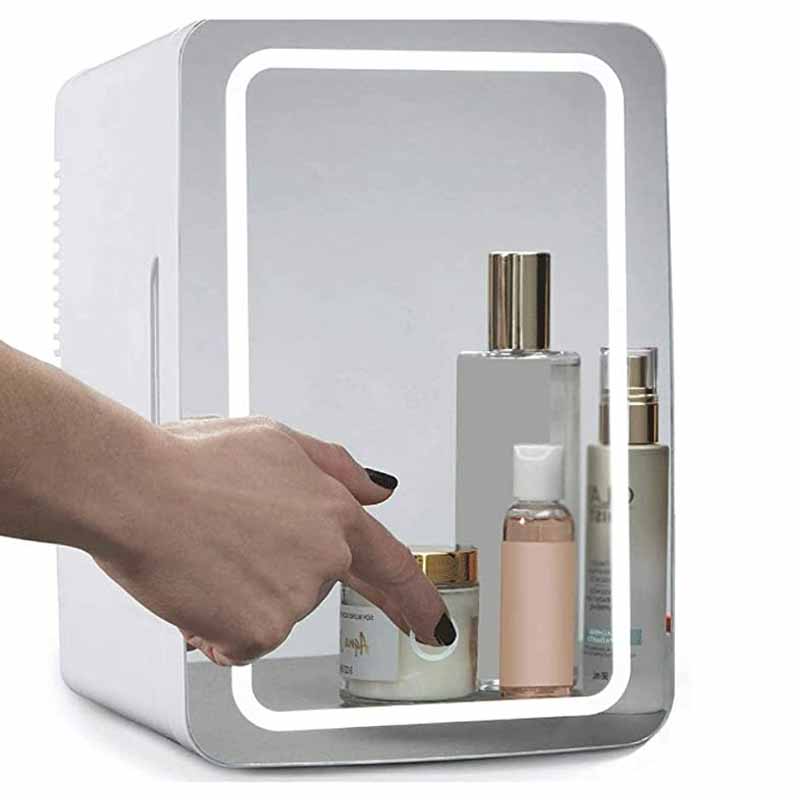 Source
Convenience and comfort go hand in hand when it comes to applying makeup and skincare — the AMYAL mini fridge offers both with its features. 
Even though the exterior looks simple with an all-white palette at one glance, minimalists will definitely enjoy the chic vibe the fridge exudes. A nice addition to the fridge is the mirror at the front panel, so you can slather on your skin protection conveniently. Tap the button located near the button of the fridge for warm LED light –- perfect for selfies and for doing your makeup. 
With dimensions of 26cm x 19.5cm x 28cm, you can easily bring this around your home as well, be it to the bathroom or even for a weekend staycation.
Price: $178
Website
6. Shopee – Fridge/Pen Cup Holder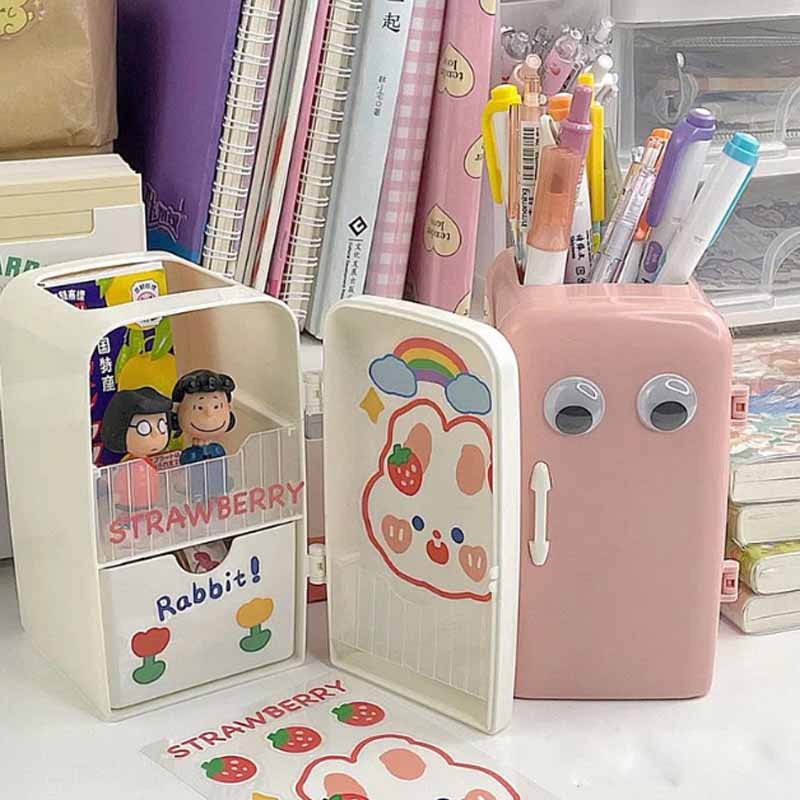 Source
We definitely all have aspirations to be a multitasking pro. With this mini fridge and pen holder that is adorable AF, you can look good, and accomplish your tasks at the same time.
Don't be fooled by its compact dimensions of 10cm x 8cm x 14cm, it's still ideal for on-the-go makeup fixes when you're having a girls' night out or travelling. The box-like compartments have room for makeup brushes, sample-sized products or even stationary for a school girl vibe. 
With adorable googly eyes pasted on the fridge, you're more than welcome to add on stickers and doodles to make it uniquely yours.
Price: $4.85
Website
7. Alibaba – Egg-Shaped Fridge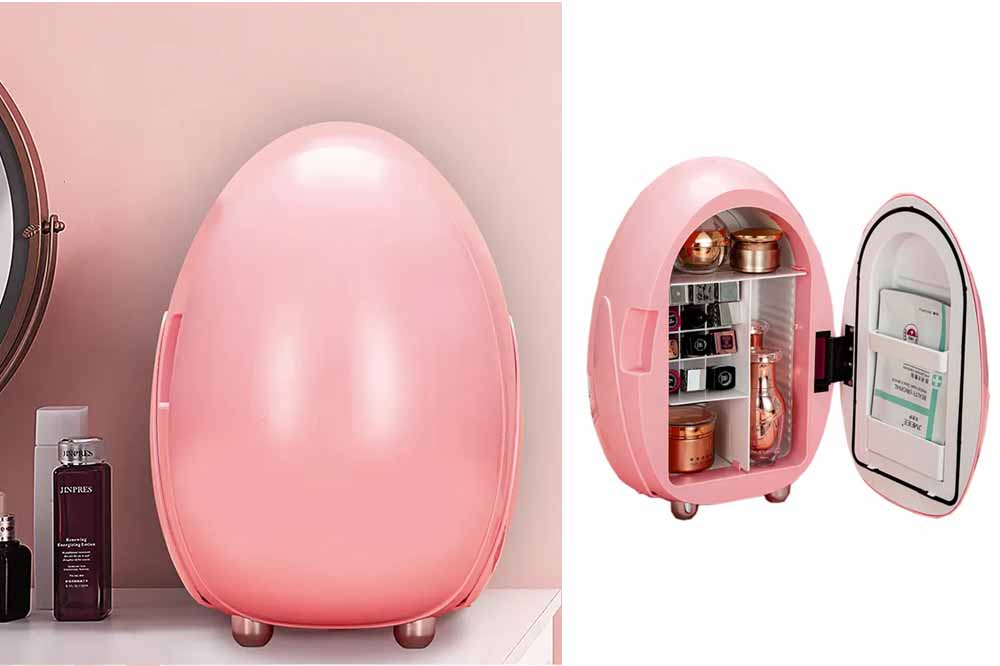 Source
Beauty fanatics might be egg-cited for this egg-shaped fridge. With an adorable oval shape, this pink fridge opens up with a door to reveal multiple compartments of varying sizes, fit for creams, oils and tubes. The door also includes a space where you can keep and secure your face masks. 
Place this egg fridge on your table or in your toilet for a cute and aesthetic touch – it'll definitely be a great conversation starter for guests too. 
Price: $23.80
Website
8. Amazon – Chefman Blackboard Fridge 
For the super-organised, the Chefman Blackboard Fridge will help keep your life in order. Sleek and chic, it can be placed on your study table and double up as a reminder board. The 4L fridge comes with a metal handle, and contains two removable tiers, where you can sort out your products accordingly. 
A great feature about this is the dry erase board, which is also the cover of the fridge. The fridge comes with blue, green, and pink markers, which you can use to decorate the fridge or make to-do lists.
Price: $39.99
Website
9. Ccomo – BT21 Cooky Mini Fridge
With BT21 being a well-known brand over the world, ARMYs would probably be thrilled to hear about this pink Cooky mini fridge — the character is inspired by Korean idol group BTS' youngest member, or maknae, Jungkook. 
With holders on the inside of the lid, you can place your sheet masks and smaller bottles there for safekeeping. The interior of the 11L fridge allows you to organise your larger bottles and jade rollers neatly inside as well.
Furthermore, it comes with a moulded handle function, which traps the cold air in, working like a usual household refrigerator. Plus, there is LED lighting in the fridge as you open it, providing a vibrant glow to your products.
Price: $513
Website
10. Ccomo – Refrigerator Home Bar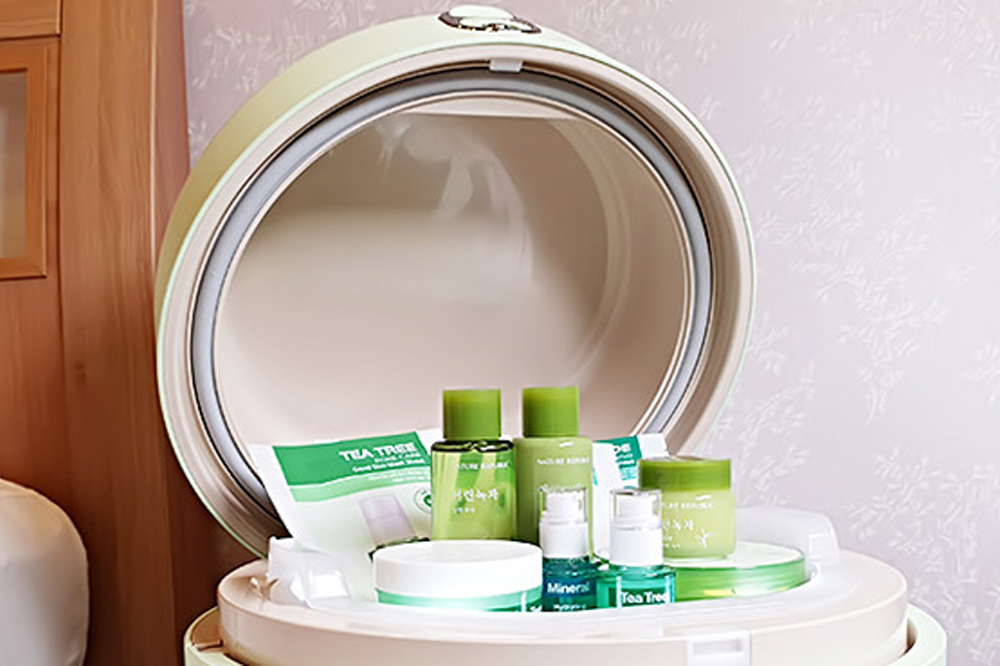 Source
For an all-in-one purpose mini fridge, this can-shaped one will be an aesthetic choice to add to your room.
With dimensions of 54.2cm x 59.7cm x 38cm, this 30L fridge comes in cream, mint, pink, and purple colours so you can match the colour with your vibes.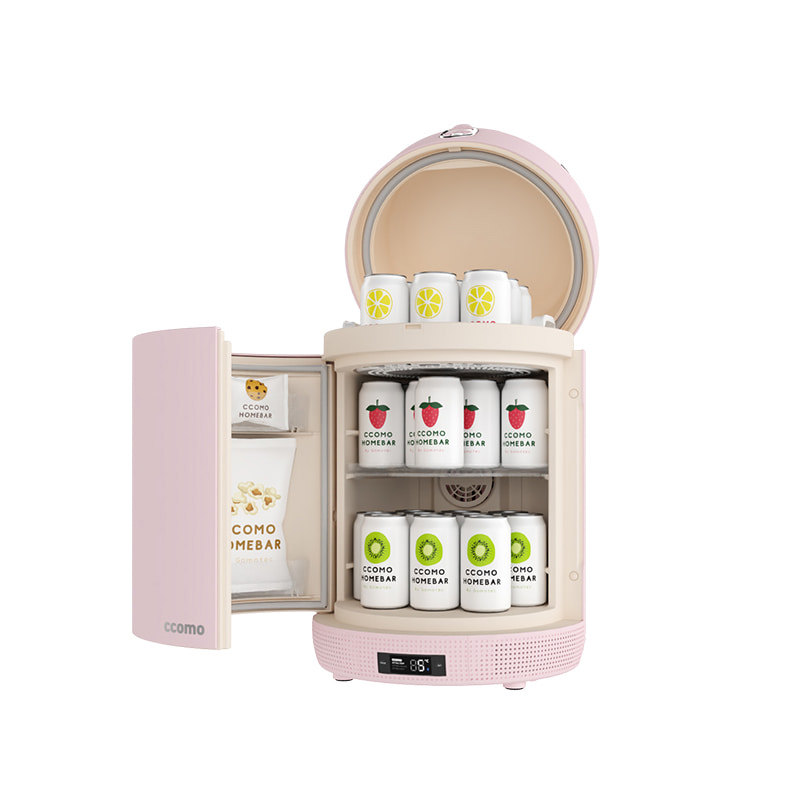 Source
To open the fridge, either slide open the door or pop the top by pressing the "can opener". You'll notice that the fridge emits a warm light, highlighting your products.
There are two tiers in the fridge, as well as a clear holder on the inside of the door, allowing you to place items such as masks or your rollers. The fridge also has in-built UV sterilisation, so you can ensure that your brushes and combs don't become nasty. 
Not only does the fridge have temperature control, it is also a bluetooth speaker, so you can jam out to some tunes in the bedroom as you do your makeup. 
Price: $820.80
Website 
Make Your Daily Skincare Routine More Convenient With These Aesthetic Mini Fridges 
Having a skincare routine doesn't need to be repetitive and boring. You can rediscover the wonders of your products with these vibrant mini fridges, which can make the process a more enjoyable one with their adorable and unconventional designs. Plus, it doesn't hurt that they help to store your items neatly and maximise your space.
Also read: 
This Portable Mini Fridge Doubles As Both A Room Cooler & A Chiller For Your Liquid Makeup Items