Indoor First Dates
With an average temperature of 32 degree celsius, Singapore is a melting hot pot for outdoor dates. Most of us don't want to risk looking sweaty and unglam before our potential bae, the same way not all of us are comfortable with outdoor activities like canoeing or go-karting.
As a result, most couples prefer to stay indoors. But more often than not, the first dates usually result in a dinner and a movie which can get boring over time.
So to help you impress your date and ensure you have a good time, we've compiled a list of fun activities you can try indoors when you're tired of the typical 'Netflix and chill'.
Sports Activities
1. Indoor batting @ Home Run Baseball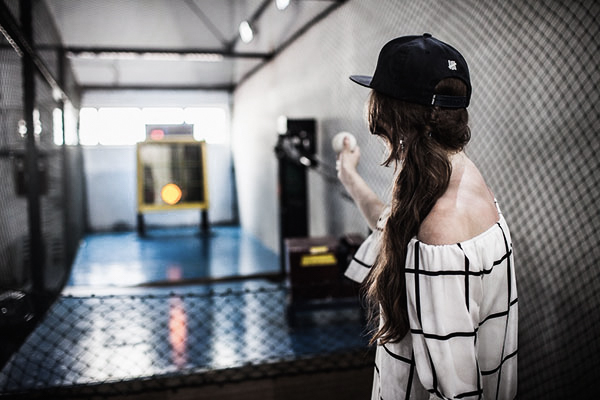 The plus side of playing sports indoors is not having to worry about getting sunburnt. You can show off your pro side if you're great at the sport, and if you're not, at least you and your date will be learning a new skill together.
Price: From S$20
Address: 200 Pandan Gardens, #01-01, S(609336)
Opening Hours: 1.00pm to 11.00pm (Mon – Thurs), 1.00pm to 1.00am (Fri), 9.00am to 3.00am (Sat), 9.00am to 12.00am (Sun)
2. Ice-skating @ The Rink, JCube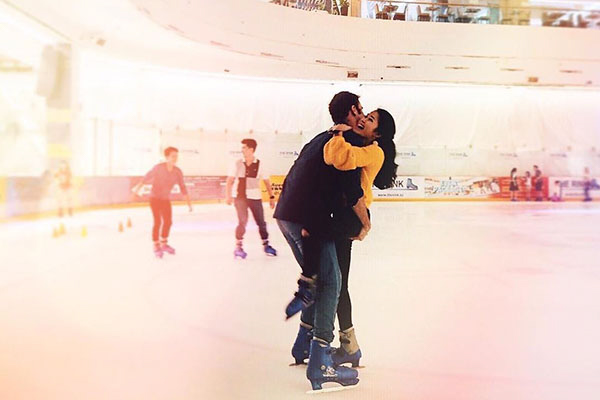 We've seen it all too often in K-dramas—the girl who can't skate versus the boy who can. Usually, the girl insists on trying, but gives in to holding his hand so she doesn't land on her butt…again. *cue fangirl screams*
Fear not if you can't play the 'damsel in distress' card as the activity is still, let's just say, a good way to break the ice.
Price: From S$12
Address: 2 Jurong East Central 1, JCube, #03-11, S(609731)
Opening Hours: Varies due to National Skating Association training sessions. Public skating sessions can be viewed here
3. Scale new heights @ Climb Central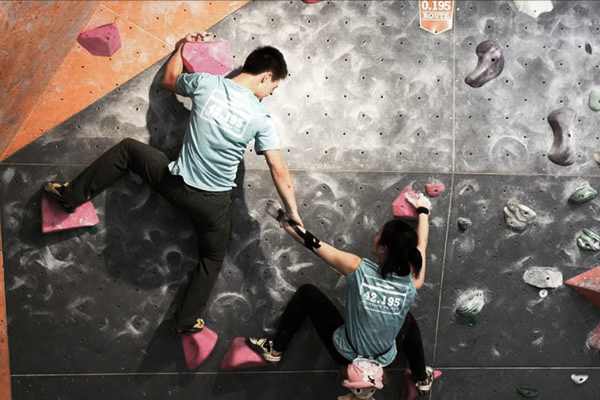 As an air-conditioned climbing gym, you and your date can spend less time worrying about sweaty pit stains and focussing more on bonding through the challenging exercise.
Bonus point if your date has good stamina because we all know what that means *insert winky face*
Price: S$32
Address: 1 Stadium Place, Kallang Wave Mall, #B1-01, S(397628)
Opening Hours: 11.00am to 11.00pm (Mon – Fri), 9.00am to 9.00pm (Sat- Sun)
Register here
4. Glow in the dark bowling @ Orchid Club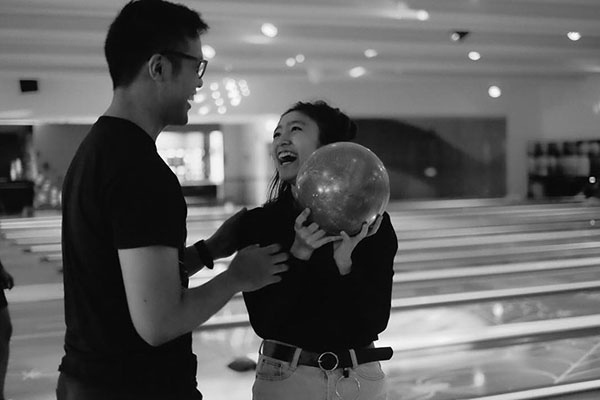 If you're intimidated to go bowling with your date alone, try jio-ing other couples along for some fun. You can split into teams and work together to see who can hit the most strikes.
Plus, you can come up with a team name by combining your names together. I mean, isn't it a giveaway that you'd make a good couple if you have a nice #shipname though?
Price: From S$20/ hour
Address: Branch locations found here
Opening Hours: 10.00am to 1.00am (Mon – Thurs, Sun), 10.00am to 3.00am (Fri – Sat)
5. Shed calories @ Bounce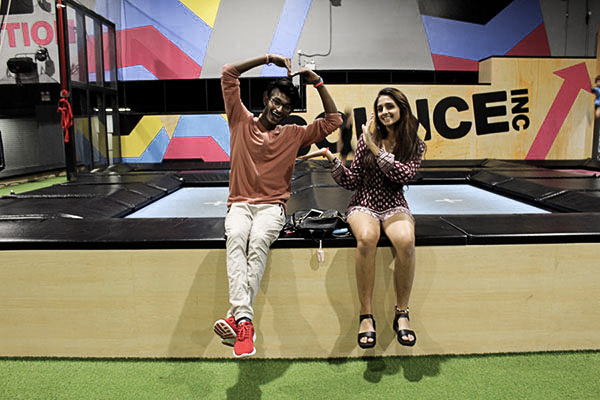 Instead of jumping straight into bed, try jumping on a trampoline with your future partner, where both of you can unleash your childish selves while burning calories.
Bounce currently offers a 2-for-1 promotion on weekday evenings from Monday to Thursday.
Price: From S$25/ hour
Address: 8 Grange Road, Cathay Cineleisure Orchard, #09-01, S(239695)
Opening Hours: 10.00am to 10.00pm (Mon – Thurs) , 10.00am to 11.00pm (Fri), 9.00am to 11.00pm (Sat), 9.00am to 10.00pm (Sun)
Book here
Workshops
6. Make your own pottery @ Center Pottery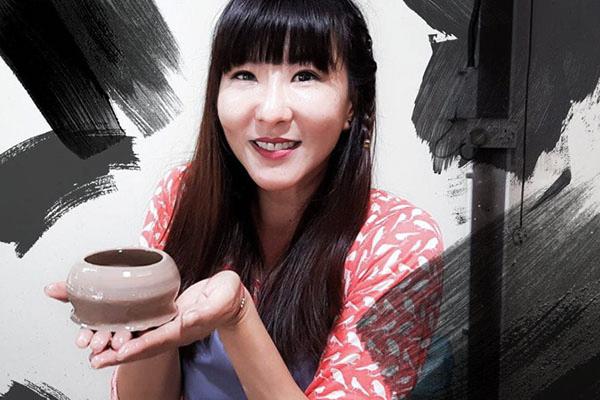 For a unique dating experience, bring your date to a pottery workshop where you can make ceramic pots and paint them to your liking.
If you're looking for something that will bring you both closer, you can sign up for the V-Day Pottery Wheel Workshop and re-enact this iconic scene à la Demi Moore and Patrick Swayze style.
Price: From S$68.80/session
Address: 97L Lor Tawas, S(639824)
Opening Hours: Workshop sessions found here
Sign up here
7. Get your Picasso on @ Arteastiq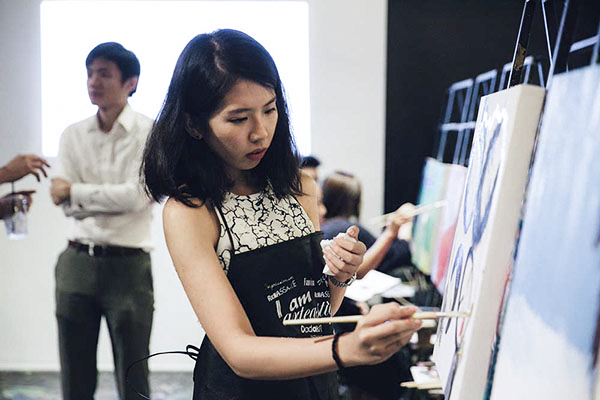 You don't have to be the next Picasso if you want to impress your date through art. Even if you've only ever drawn stick figures, painting allows you to explore your creative side and offers a therapeutic retreat once you really get into it.
Besides, you won't feel pressured to keep the conversation going when you're both busy painting up a masterpiece.
Price: S$48/session
Address: 333A Orchard Road, Mandarin Gallery, #04-14, S(238897)
Opening Hours: 11.00am to 10.00pm (Mon – Fri), 10.00am to 10.00pm (Sat – Sun)
8. Build your own pancake @ Slappy Cakes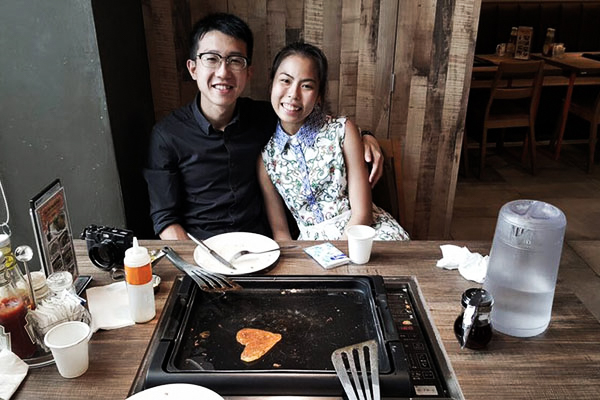 It's true when they say the way to a person's heart is through their stomach. Instead of going for a regular wine and dine, take your date to this D.I.Y pancake restaurant. You'll even get to pick the ingredients and design the pancake however you want.
Price: From S$14
Address: 200 Turf Club Road, The Grandstand, #01-20, S(287994)
Opening Hours: 10.00am to 9.30pm (Mon – Fri), 8.00am to 9.30pm (Sat – Sun)
Entertainment
9. Laugh till your stomach hurts @ Canvas Comedy Club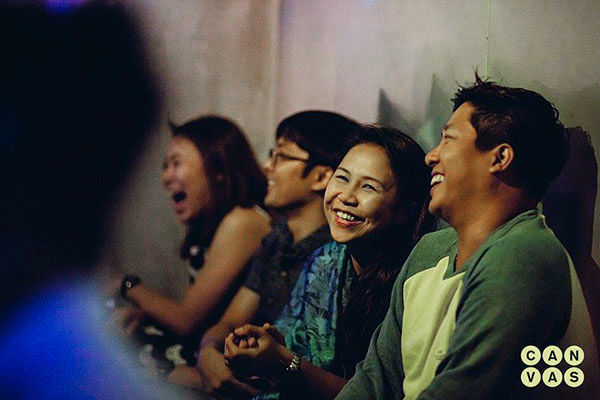 The struggle to keep conversations going on first dates is something all single pringles know too well. If you're a socially-awkward turtle, let the comedians do the talking while you and your date laugh till your abs hurt.
Price: From S$26.88
Address: 20 Upper Circular Road, The Riverwalk, #B1-01, S(058416)
Opening Hours: 8.30pm to 11.30pm (every Tuesday)
Book tickets here
10. Unleash your inner Mariah Carey @ Voicebooth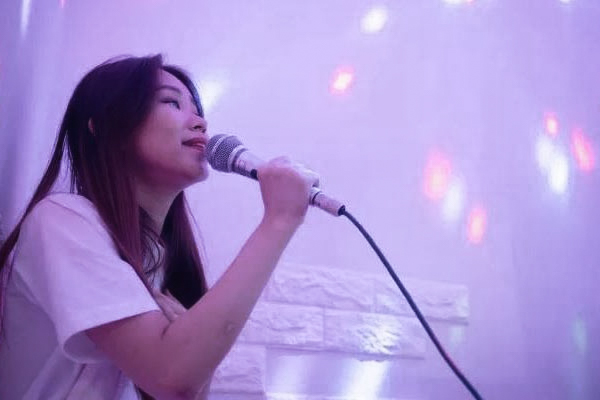 A good way to get rid of any awkwardness is to do an activity out of both your comfort zones. With a muted backtrack and intense strobe lights, this Korean-style noraebang does just that.
Sing your hearts out and have a blast playing with the 'applause' and 'cheer' buttons while jamming to your favourite hits.
Price: From S$10/hour/room
Address: 2 Handy Road, The Cathay, #03-14, S(229233)
Opening Hours: 11.00am to 10.00pm
11. Catch a film @ The Screening Room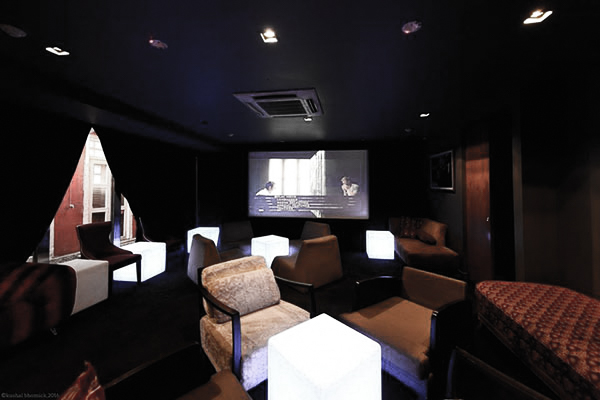 Sometimes, nothing beats a good ol' fashioned movie date. However, instead of hitting the usual cinema spots, try giving this screening theatre slash bar a shot.
The cosy ambience usually makes for a good cuddle, and when the film is over, you can hit the rooftop bar for a view of the city while sipping a glass of mojito.
Price: S$15/ticket
Address: 12 Ann Siang Road, S(069692)
Opening Hours: 5.30pm to 2.00am (Mon – Thurs), 5.00pm to 3.00am (Fri), 5.00pm to 4.00am (Sat)
Book tickets here
Others
12. Stargaze @ Singapore Science Centre Observatory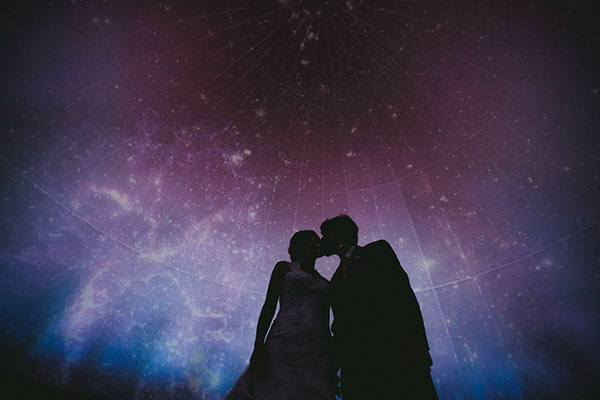 In the concrete jungle we call home, it's hard to believe we can stargaze without having to pitch tents on West Coast Park. At the Singapore Science Centre, you can view constellations of both the Northern and Southern hemispheres, while telling your date how they're the "better view".
*cue fangirl screams again*
Price: Free
Address: 21 Jurong Town Hall Road, S(609433)
Opening Hours: 7.45pm to 10.00pm (Fri)
13. Play board games @ The Mind Cafe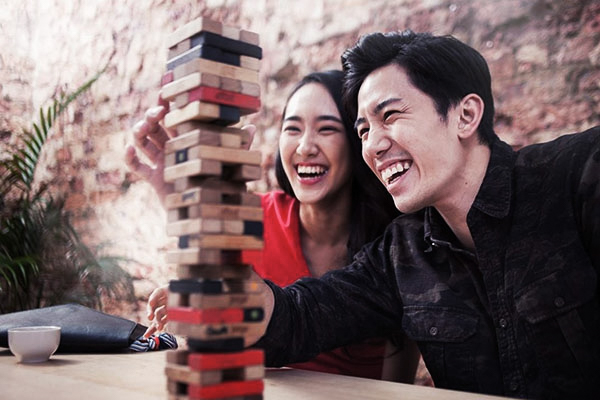 Challenge your date to a day at The Mind Cafe where you can have a go at playing over 500 board and card games.
You'll know they have your best interest at heart when they don't use their 'UNO +4' card on you.
Price: S$18.80 for 2 hours of gaming and 1 main course
Address: 60A Prinsep Street, S(188664)
Opening Hours: 2.00pm to 11.00pm (Mon – Thurs), 12.00pm to 6.00am (Fri), 10.00am to 6.00am (Sat), 10.00am to 2.00am (Sun)
Book a table here
14. Go second-hand book shopping @ Bras Basah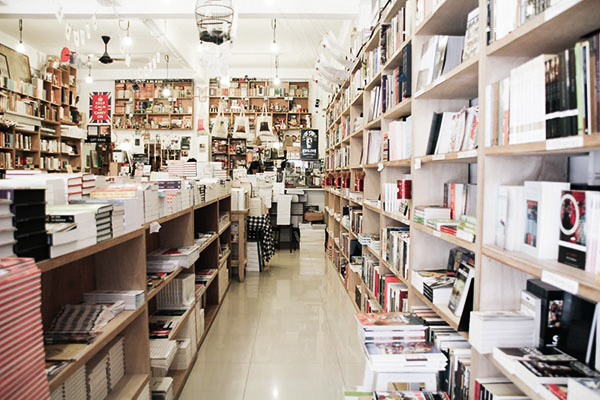 For the literature nerds, book-shopping on a first date is a dream come true. The shelves of books often give you endless topics to chat about, and you can even buy each other a book as a first date gift.
Plus, isn't there something sexy about a man who can speak Shakespeare? (No? Just me? Ok.)
Price: Free
Address: 231 Bain Street, Bras Basah Complex, S(180231)
Opening Hours: 10.00am to 7.00pm (Mon – Thurs), 10.00am to 9.00pm (Fri – Sun)
15. Visit ongoing exhibitions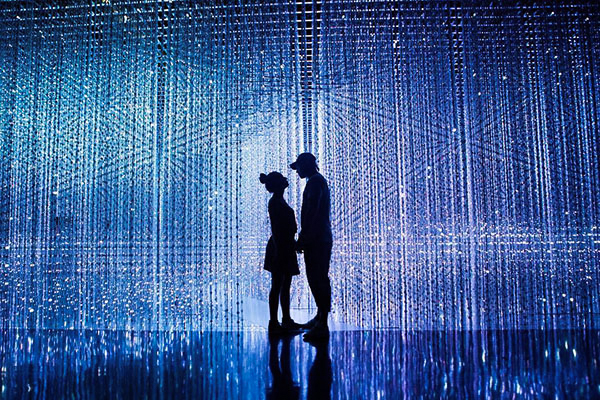 With various exhibitions happening on the tiny red dot, you'll never run out of locations to bring your first date. Not only will you be able to learn something new together, but also get to impress your soon-to-be bae with your intellectual side.
List of ongoing exhibitions happening here
First Date Locations Minus The Heat
The next time you run out of places to impress your new bae with, use this handy first date guide to help you gain possible girlfriend/boyfriend points, while also earning yourself a second date.
Cover image: Source