Outdoor First Date Ideas
First dates often rack up a whole bag of nerves for many single Pringles. There's always the pressure to look good, say the right things, and find a suitable activity both of you will enjoy, to make it to date #2.
While movie dates still stand as the classic first date experience, it doesn't quite cut it in terms of getting to know the other person better. With outdoor dates, not only can you bond over a series of challenges, you're likely to make good memories that will stand out from the many other movie dates you've been on.
For all the single ladies (and men) looking to level up their dating game this year, here's a list of outdoor date ideas to consider the next time you get a 'match' with someone attractive.
1. Go on an open-air panoramic ride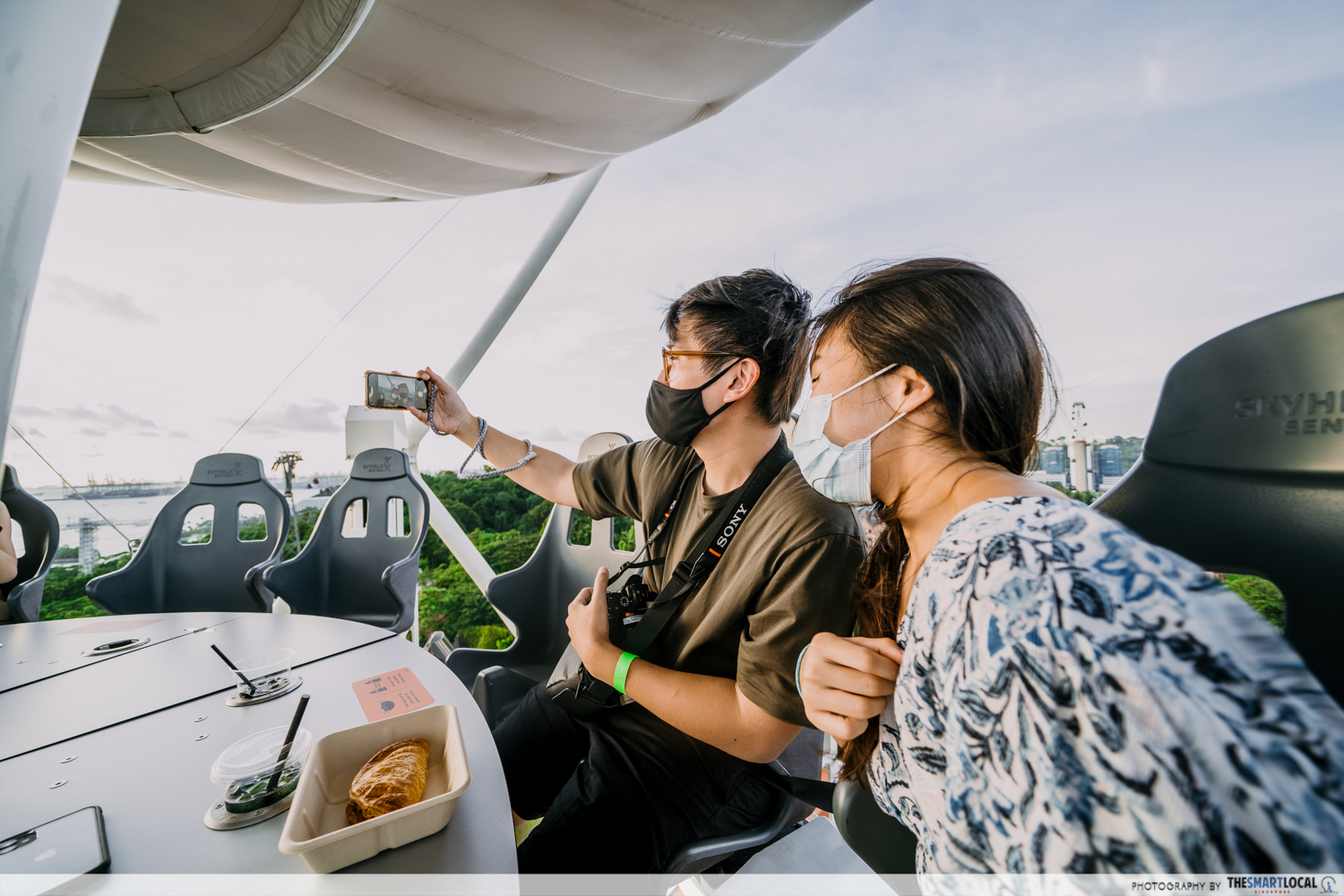 Why stay on the ground when you can have your first date 79m above sea level? At SkyHelix Sentosa, you'll be taking your date on an open-air panoramic ride, with gorgeous views of Sentosa and the surrounding waterfront. 
Rest assured that the gondola rises gently and slowly, so it's not too overwhelming if you or your date have a fear of heights. Plus, you'll also be served a complimentary, non-alcoholic beverage for you to sip on while you chat.   
Price: $18 per pax
Book: Via website
Address: 41 Imbiah Road, Sentosa, Singapore 099707
Opening hours: Mondays to Sundays 10am to 9.30pm (last admission at 9pm)
Website 
2. Visiting Universal Studios Singapore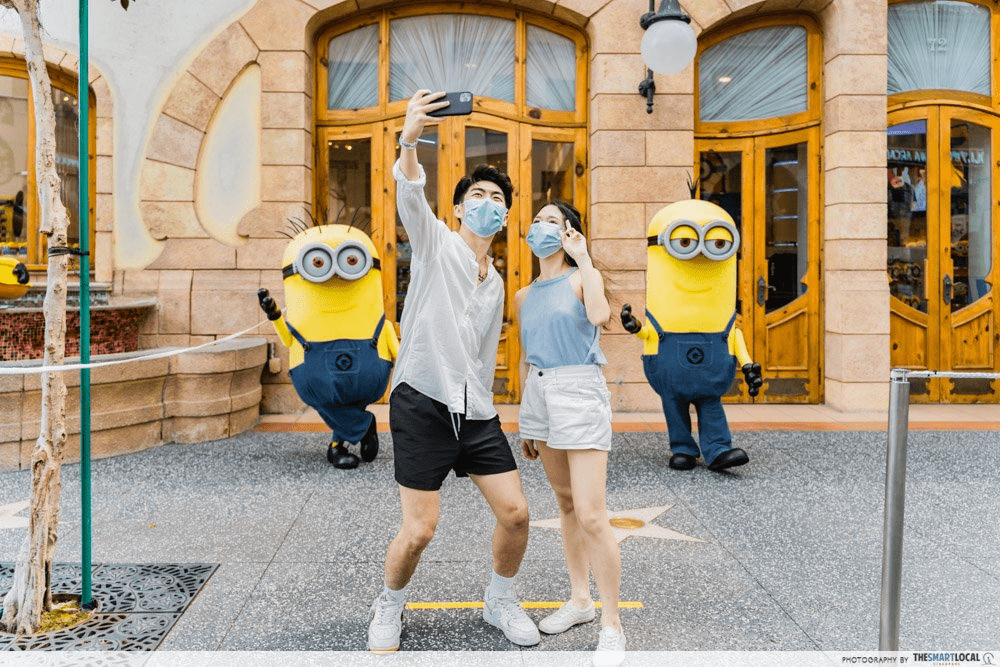 Universal Studios Singapore (USS) is a must-visit location for couples, especially if the two of you enjoy thrilling rides and attending meet-and-greet sessions. Scream your lungs out when you go on the Revenge of the Mummy ride, or embark on a watery adventure when you board the Jurassic Park Rapids Adventure.  
Plus, you can also help your date with photo taking ‒ a chance to show that you're IG-boyfriend material. With USS's 7 themed zones, you can expect to spend almost the entire date there. 
Price: $68 per pax
Book: Via website
Address: 8 Sentosa Gateway, Singapore 098269 
Opening Hours: Mondays to Saturdays 12pm to 7pm Sundays 12pm to 5pm
WebsiteㅣFacebookㅣInstagram
3. Cycling along Marina Bay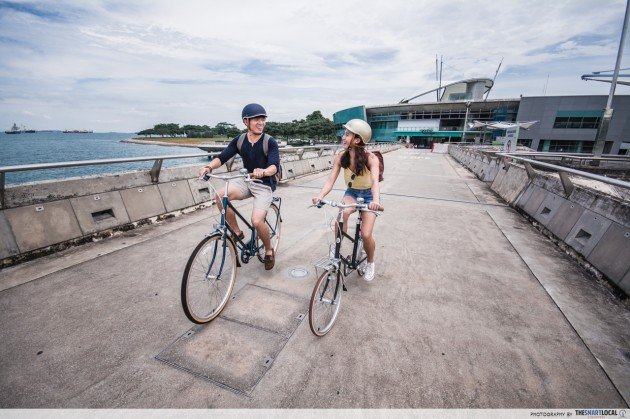 Marina Bay is a popular cycling destination with avid cyclists for many reasons ‒ the cooling sea breeze, scenic spots, and its convenient access to bike rental shops. If you and your potential partner are looking for a casual date, why not suggest cycling along this route? Rent your own bike from just $4/h at the Marina Bay branch of GoCycling, located at the Singapore Flyer. 
Since Marina Barrage is also in the area, both of you can end the date on the rooftop garden with a romantic sunset picnic before returning the bikes.
4. Water biking at Pasir Ris Beach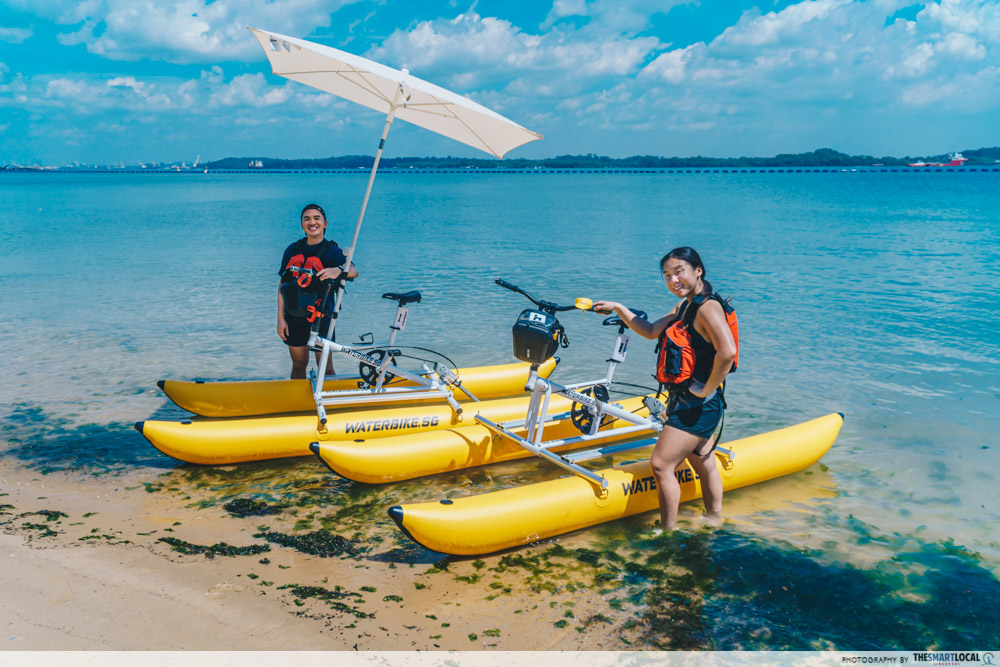 If cycling on land is too mainstream, consider water biking as an outdoor date at Pasir Ris Beach. Known as Singapore's first water bike, Waterbike SG allows you and your date to go on a fun-filled adventure that involves exploring the shores. The best part? You don't need to know how to cycle on land to work the water bike. 
The water bikes reach speeds of up to 15km/h, so you can also suggest a friendly race with your date. Plus, if it gets too sunny, you can even request for the staff to attach an umbrella to your water bike – it's free of charge! 
Price: $30 per pax for 1 hour
Book: Via website
Meeting point: Campsite 1 at Pasir Ris Park, 159T Jalan Loyang Besar, Singapore 506927
Opening hours: By appointment basis on Sat & Sun (Between 9am and 6pm)
WebsiteㅣFacebook ㅣInstagram
5. Conquering an obstacle course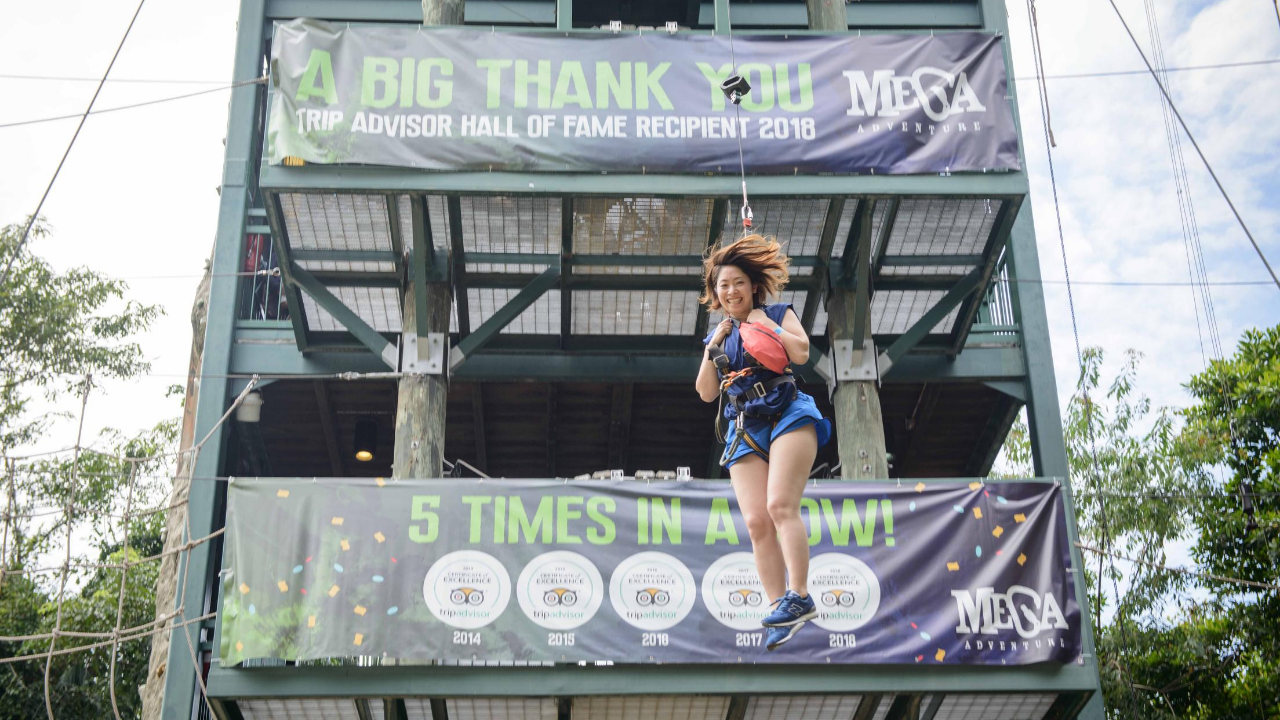 Source
ICYMI, there's a saying that goes "couples that sweat together, stay together". If you're not shy about showing your sweaty side to your date, conquering an obstacle course at Mega Adventure might be the perfect first date idea. 
With a total of 36 obstacles spread across giant eucalyptus trees, hanging above the ground from heights of 5m to 15m, you'll get to choose 1 out of 3 levels before starting the challenge. Perhaps you'll get to bond and build trust as a potential pair of lovebirds as you scale these heights.  
Price: $50 per pax
Book: Via website
Address: 10A Siloso Beach Walk, Singapore 099008 
Opening Hours: Mondays to Fridays 2pm to 6pmㅣSaturdays to Sundays 11am to 6pm
WebsiteㅣFacebookㅣInstagram
6. Beat the heat at a floating aqua park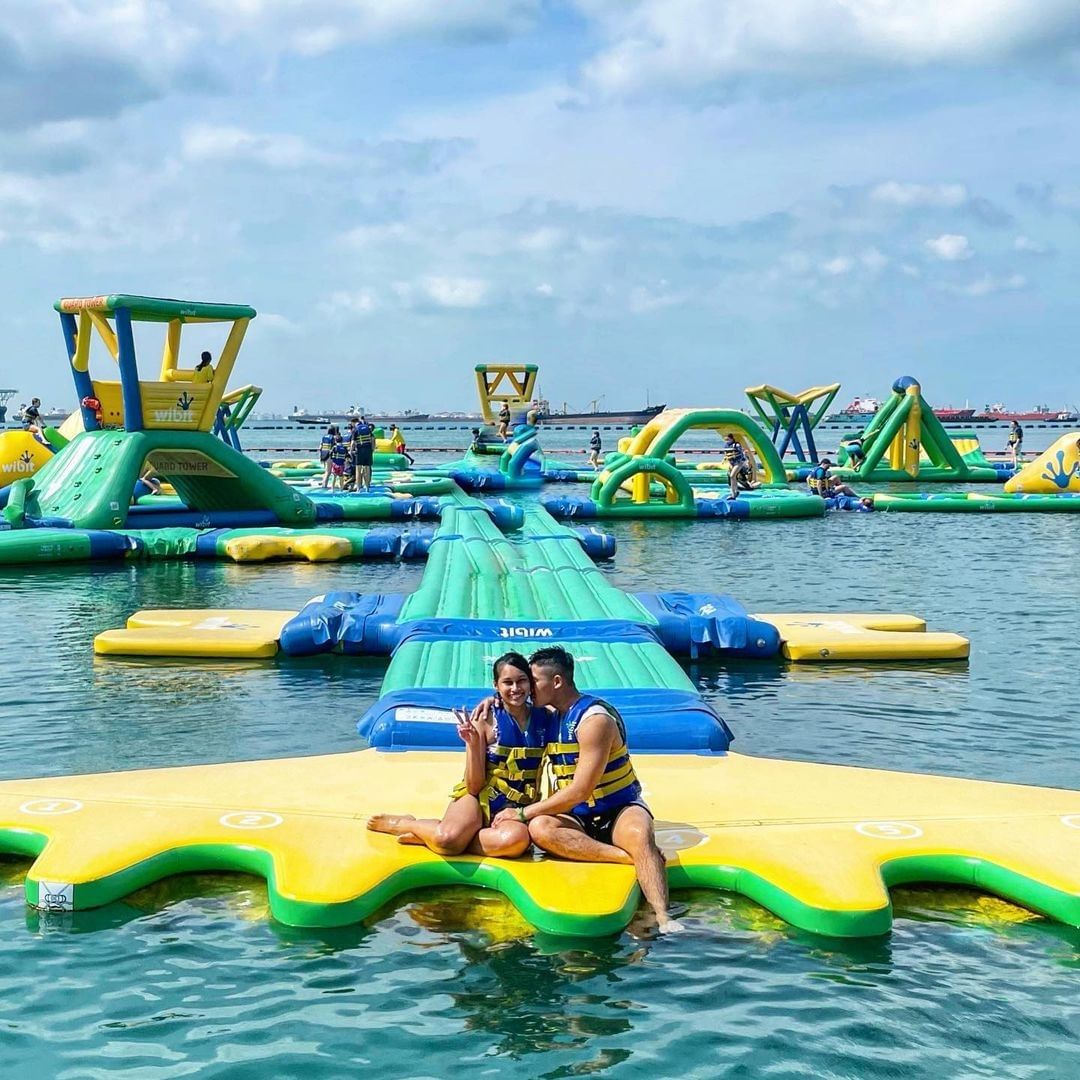 Source
If obstacle courses are your thing, here's another date idea for you. Located at Palawan Beach, HydroDash is Singapore's first floating aqua park that's designed for you to climb, slide, leap, and bounce on. As a cherry on top, you get to beat Singapore's sweltering heat while you have fun. 
Since the inflatable playground is also family-friendly, you won't have to worry about the courses being too challenging. 
Price: $18 per pax for 1 hour
Book: Via website
Address: Palawan Beach, Singapore 098498
Opening Hours: Mondays to Fridays 12pm to 6pmㅣSaturdays to Sundays 10am to 7pm
WebsiteㅣFacebookㅣInstagram
Also read: 
14 Fun Indoor First Date Ideas For Couples Afraid Of The Singapore Heat & Awkward Conversations
7. Race go-karts as a couple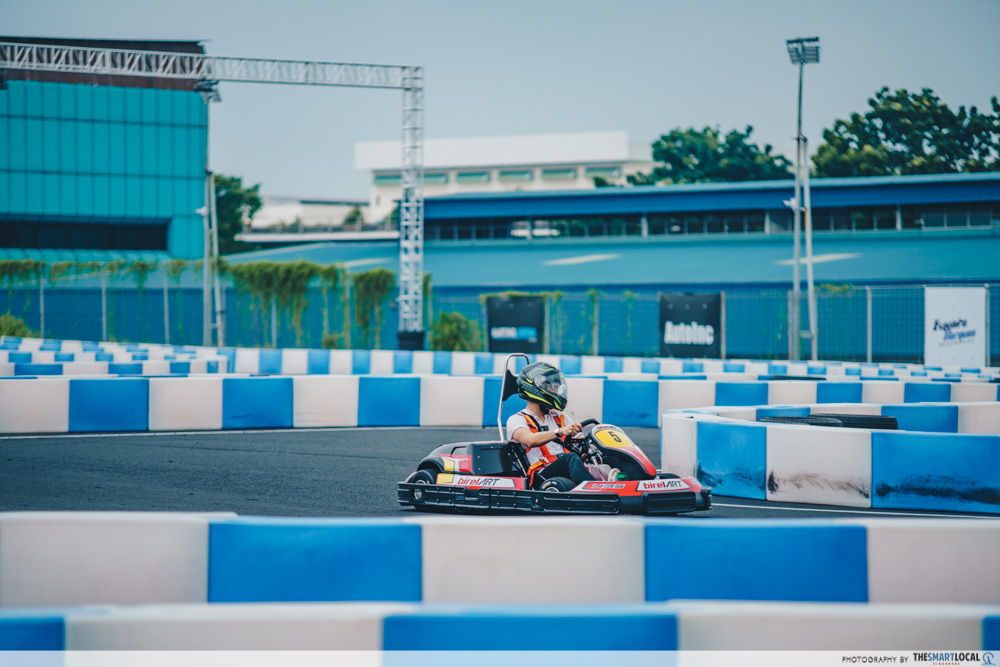 There's something immensely thrilling about hopping into a go-kart and circling the track – more so if you're having a race with your date. At The Karting Arena, you get to show off your sick drifting skills, and perhaps even uncover each others' competitive sides. However, fear not if you're not a thrill-seeker, as the go-karts only power up to 50km/h. 
Available at Jurong and Bukit Timah, you can pick between petroleum karts and electric karts respectively.  
Price: From $30 per pax 
Book: Via website
Address: Block B, 511 Upper Jurong Road, Singapore 638366
Opening hours: Tuesdays to Fridays 1pm to 9pmㅣSaturdays to Sundays 9am to 9pm ㅣClosed on Mondays
Address: 200 Turf Club Road, #01-01B, The Grandstand, South Car Park, Singapore 287994
Opening hours: Wednesdays to Fridays 1pm to 8.30pmㅣSaturdays to Sundays 10am to 9pm ㅣClosed on Mondays and Tuesdays
WebsiteㅣFacebookㅣInstagram
8. Get muddy at an ATV adventure park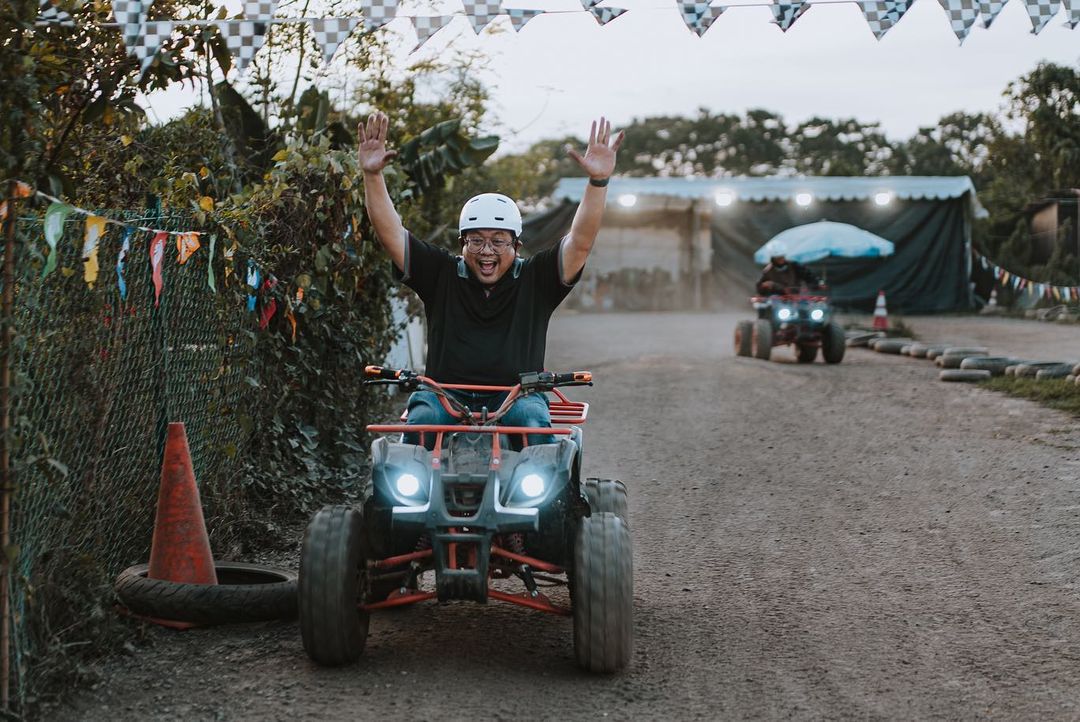 Source
Enter Mud Krank, Singapore's first ATV trail riding facility which is even safe for kids. Located on a farm in Kranji, the escapade promises an exhilarating and muddy adventure for an adrenaline-packed date. The Muslim-owned facility also has halal eateries, for everyone to enjoy a meal after the thrilling ride. 
Price: From $35 per pax
Book: Via website
Address: 10 Neo Tiew Lane 2 Gallop Kranji Farm Resort, Farm H, Singapore 718813
Opening Hours: Tuesdays to SundaysㅣClosed on Mondays (Latest operating hours)
WebsiteㅣInstagram
9. Prawning at Hai Bin Prawning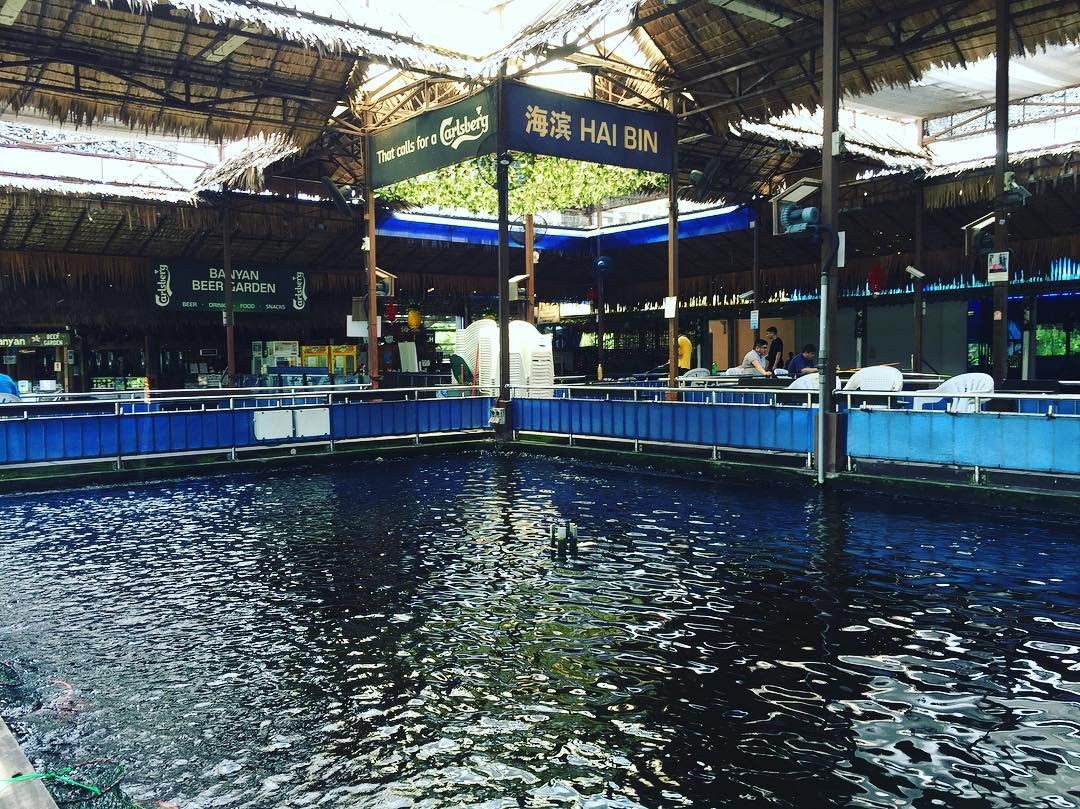 Source
Prawn-fishing is more than just an 'uncle's activity'. In fact, it makes for a great first date experience as you and your date can race to see who can catch the most prawns. At Hai Bin Prawning, you can also show off your cooking skills when you grill your catch at the nearby barbeque for a 'home-cooked' meal with your date.
Price: $20 per rod for an hour 
Address: Hai Bin Punggol, 6 Tebing Lane, #01-04, Singapore 828835
Opening Hours: Opens 24/7 daily
10. Canoe at the Kallang Basin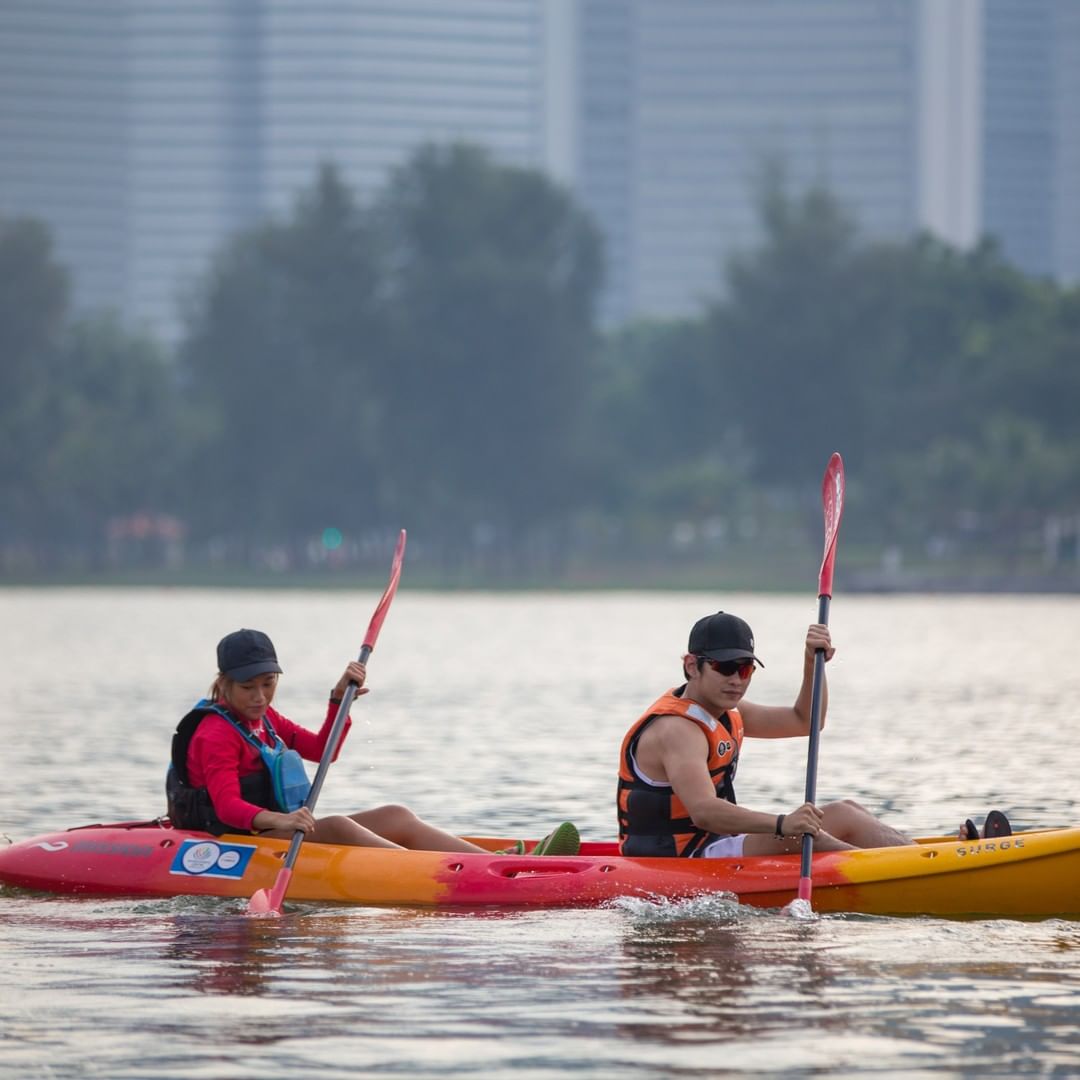 Source
If you're both the adventurous type, then canoeing across the Kallang Basin might be a good idea. It tests your teamwork as a pair, and the calm and quiet river provides an opportunity for some alone time together.
And if your date isn't afraid of getting soaked and tanned, chances are, you've probably found yourself a keeper.
Price: From $12 per pax for 2 hours
Address: Sports Hub, 8 Stadium Walk, Singapore 397699
Opening Hours: Mondays to Sundays 7.30am to 6.30pm 
Contact: Call 6653 8900
Website
11. Explore nature with a guided tour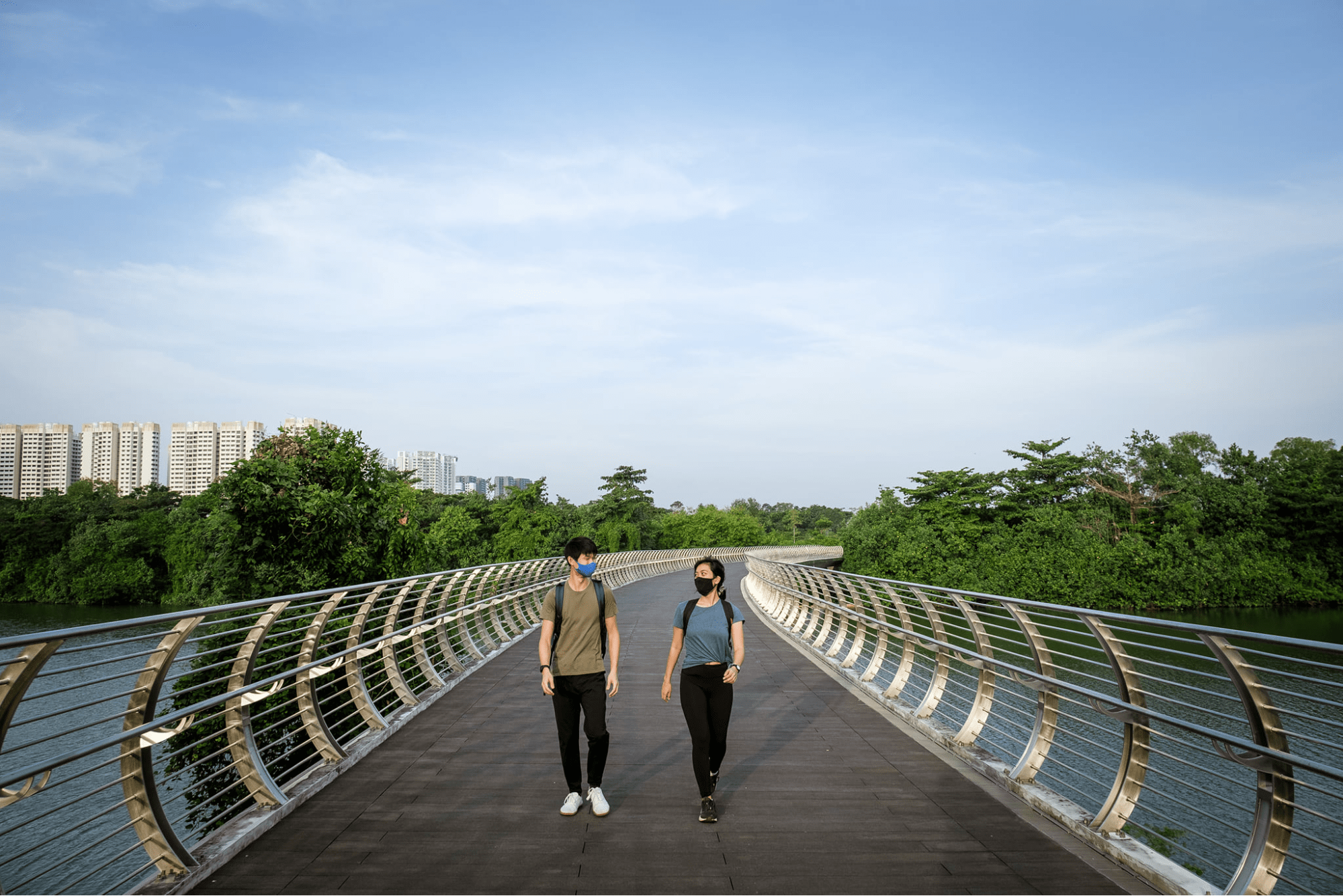 Source
Exploring nature on a first date might sound a tad boring for some. Yet, with a tour guide will help make things less awkward, so there's no reason to not give this date idea a shot. For those who didn't know, there are many ongoing activities and guided tours available on the National Park's official website. 
You can opt for a Kampong Tour to learn more about our cultural heritage, or go on a Chek Jawa Wetlands tour to learn more about unique natural habitats in Singapore. There's also a foraging and farm tour where you'll learn to identify edible plant species. At the end of the day, you and your date will definitely benefit from the extra knowledge.
12. Enjoy dinner at the Night Safari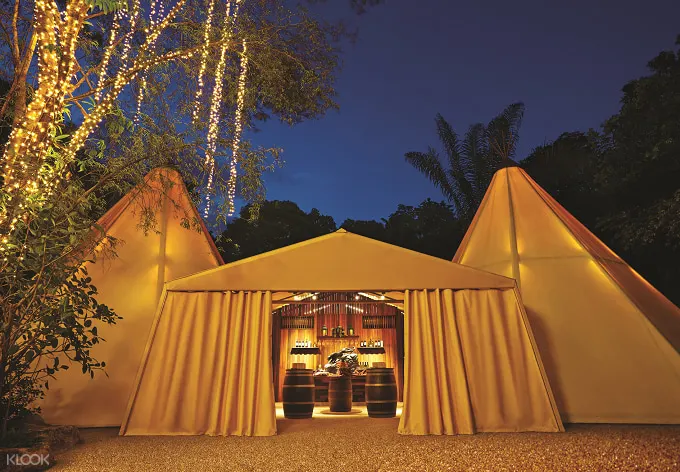 Source
Surprise or not, you can do more than just observe nocturnal creatures at the Night Safari. The park also offers exotic date experiences, like having a private chartered tram for you and your date, or also dining at their Tipi tent venue. 
Depending on your budget and preference, the Night Safari has a variety of dining options such as a 4-course curated dinner. For more information about their current promotions, be sure to check out their official website. 
Book: Via email to sales.enq@mandai.com
Address: 80 Mandai Lake Road, Singapore 729826
Opening hours: 6.45pm to 10pm
WebsiteㅣFacebookㅣInstagram
These Outdoor First Date Ideas Are Excellent For Breaking The Ice 
While first dates require that you impress your potential SO, sometimes it's easier and more relaxing to get to know someone outside the confines of a fancy restaurant.
With this list of outdoor dates, you won't have to worry about awkward silences while you're busy trying to steer a canoe.
Cover: Images courtesy of The Smart Local
This article was originally published by Kimberly Walker on 5 February 2018 and updated by Jou Teng Tan on 11 February 2022. 
Also read:
This New Japanese-Themed Spa In The West Has Ice Baths & A Cafe, Time For A Spa Date With Bae Or The BFFs