New iPhone 12 in Blue
Every time Apple releases a new iPhone, fans think nothing of spending hours in line to get their hands on the latest gadget. The tech behemoth recently released the iPhone 12 and iPhone 12 Pro in a slew of new colours. But out of all the colours available, one in particular has captured the attention of Chinese netizens. Just like the Bottega Veneta Twist Bag, Chinese netizens are associating the iPhone 12 in blue with another trash-related item: a recycling bin.
Chinese netizens' reviews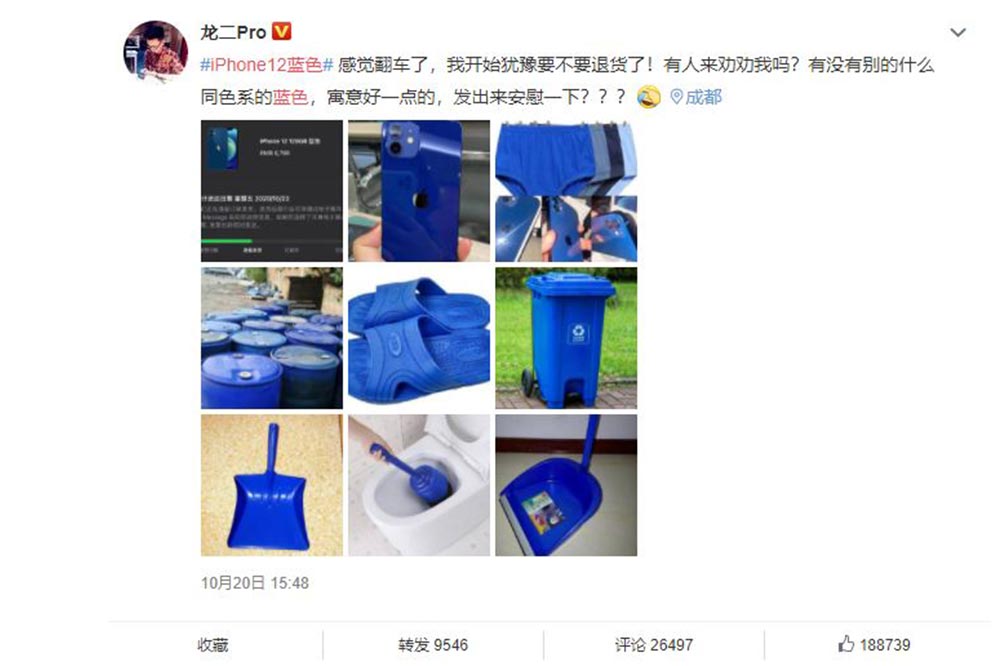 The term "iPhone 12 Blue" went viral on Chinese networking site, Weibo, after a post from user Dragon Two Pro. Upon receiving his new iPhone 12 in blue, he felt that the colour reminded him of the recycling bins seen around China. He was so affected, he even did up a collage of other household items that the colour reminded him of. Namely, dustpans, a toilet brush, home slippers and briefs.
He then asked if anyone could comfort him by naming other items in the same colour. His post went on to rack up over 25,000 comments—that's a lot of comforting going on right there.
Source
A separate user on Weibo made an edit comparing 4 of the new iPhone colours to the different recycling bins seen in China. The caption reads,  "Nobody is more environmentally friendly than us" in Chinese.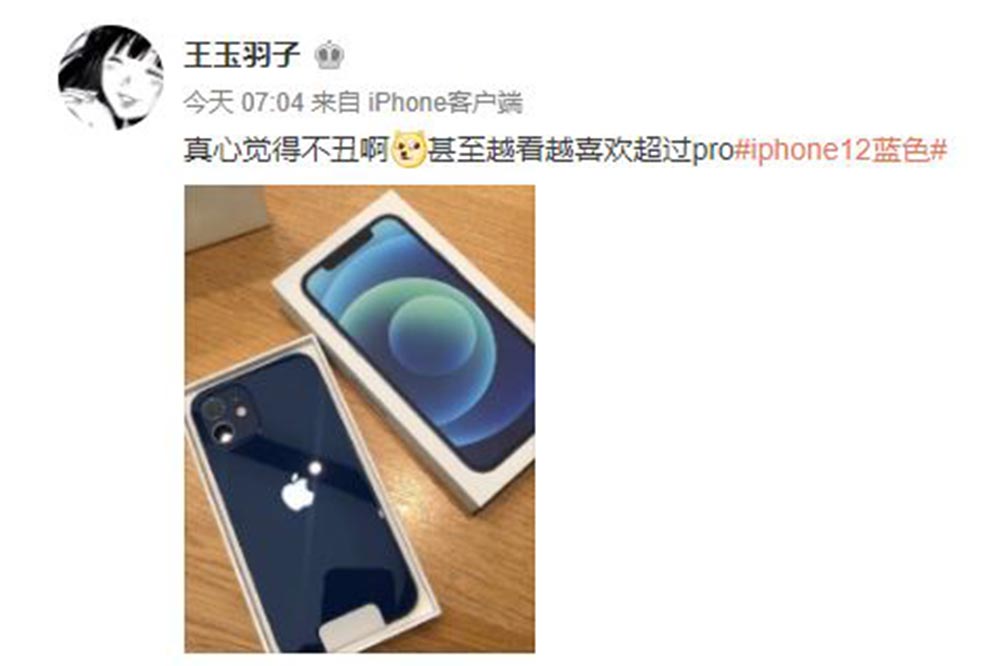 Source
After the online brouhaha (or should we say blue-haha?) over the colour, other Weibo users have since posted in defence of the controversial hue. User Wangyuyui, for example, said that she thinks her new iPhone 12 in blue isn't ugly at all. In fact, the more she looks at it, the more she prefers it to the iPhone Pro. Presumably, she means the iPhone 12 Pro in Pacific Blue.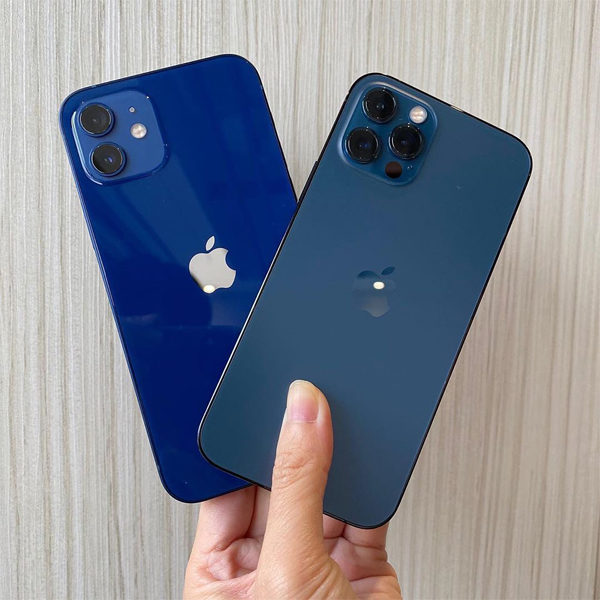 Source
Here's a side-by-side comparison of the 2 phones, so you can decide which you think is prettier.
According to CNBC, the most popular model on Chinese e-commerce site and authorised Apple reseller Fenqile was the iPhone 12 64GB in blue. It made up 20% of the pre-orders on the site. The iPhone 12 Pro 128 GB in Pacific Blue came in second, making up 11% of the pre-orders. No wonder then, that people had so much to say about what the colour looked like IRL.
Also read:
Bottega Veneta's New Bag Looks Like A Garbage Bag & Proves That One Woman's Trash Is Another Woman's Treasure
Shades of blue

Outdoors on the left vs indoors on the right
Source
The main gripe Chinese customers seem to have about the iPhone 12 in blue is that it looks different indoors versus outdoors. When indoors, it looks close to what is on Apple's website: a deep metallic blue. Once you take the phone outdoors, however, it appears to be a bright cobalt blue.
While Chinese netizens do not seem to be impressed by the latter colour, it is actually similar to two shades of blue that have long been adopted by the art and fashion worlds. These shades have decorated everything from buildings to clothing and accessories.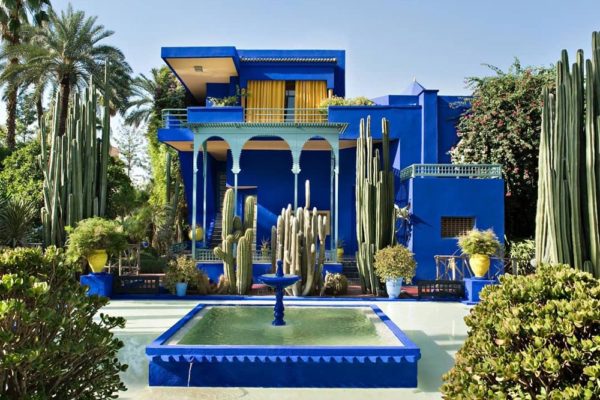 Source
Jardin Majorelle in Marrakech is a must-visit destination for Yves Saint Laurent fans. The late French fashion designer loved the garden so much, he purchased it in 1966 to save it from developers. Besides its famous owner, the most well-known aspect of the garden is that it is painted in marjorelle blue, a striking bright hue created by French artist Jacques Majorelle.
The other shade is known as Yves Klein Blue, named after another French artist, Yves Klein. He was the first artist to mix this ultramarine hue for many of his artworks. Designers for high fashion brands from Phoebe Philo during her time at Céline to Nicolas Ghesquière at Louis Vuitton have also turned to the colour for their creations.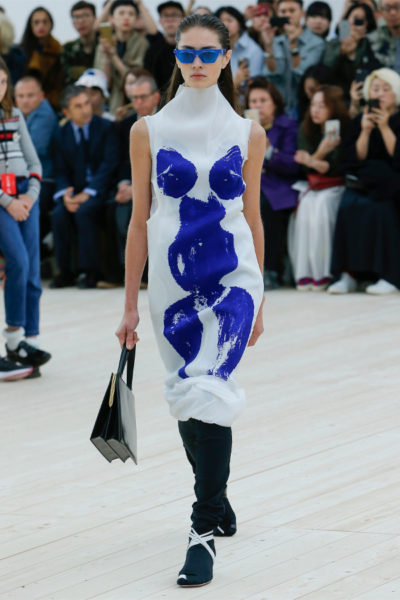 Source
For Celine's spring 2017 collection, Phoebe Philo sent models down in white dresses with strokes depicting the female silhouette in Yves Klein blue.

Source
Louis Vuitton's fall 2019 collection included this Capucines BB handbag in a similar bright blue. If you still have some spare cash lying around after purchasing the iPhone 12 in blue, go ahead and get a matching bag too.
The New iPhone 12 In Blue Is Getting Mixed Opinions Online
Love it or hate it, it seems that Chinese netizens are definitely passionate about their iPhone colours. The iphone 12 is available in 5 colours: blue, green, black, white and (PRODUCT)RED. Visit Apple Singapore's website now to check out the full selection of colours and models, including the iPhone 12 Pro, as well as the upcoming iPhone 12 Pro Max and iPhone 12 Mini. 
Also read: 
The Humble Good Morning Towel Is Now A $530 Knit Scarf & Singaporeans Are Shook