July Events In Singapore 
Half of the year has zipped past, and we hope 2019 has been a fruitful year so far. Otherwise, catch up on life by heading down to this list of curated events that you and your girlfriends can enjoy in July 2019. 
Highlights
1. Tiger District Party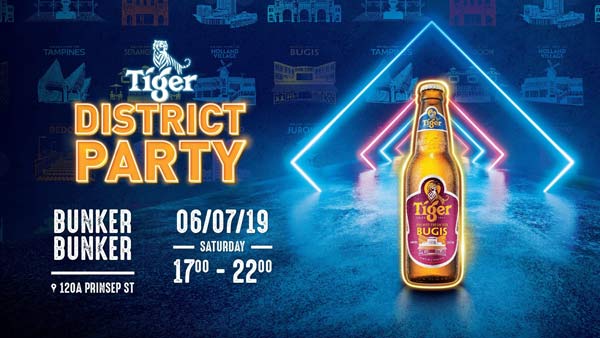 Source
Tiger Beer is celebrating Singapore's iconic neighbourhoods, from Bugis to Bishan, with its limited-edition district bottles. On top of that, it will be hosting a party where you can indulge in local fare such as hakka bowls, wanton mee and other  dishes that will go well with Tiger Beer. 
Local band Astronauts and funk artist Abby Simone will keep the party going with live performances.  
Date: 6 July 2019
Time: 5pm to 10pm
Address: 120A Prinsep Street, BUNKERBUNKER, Singapore 187937
Admission: Free
2. José González Live In Singapore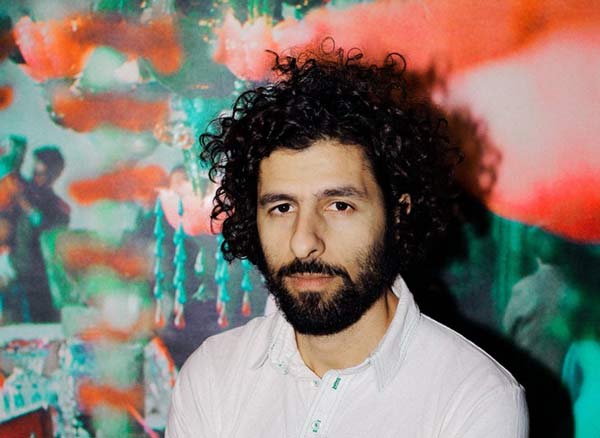 Source
Swede singer-songwriter José González will be blessing us with his guitar skills and beautiful vocals for one night only. Besides his awesome original compositions, González is well-known for his covers of Joy Division, Bruce Springsteen and even Kylie Minogue. 
Gather your music-loving friends and enjoy a night out with this talented musician. 
Date: 11 July 2019
Time: 7.30pm to 10.30pm
Address: 17 Stamford Road, Capitol Theatre, Singapore 178907
Admission: $78 to $128, tickets available on Eventix
3. D'Tour—Aliwal Arts Night Crawl Edition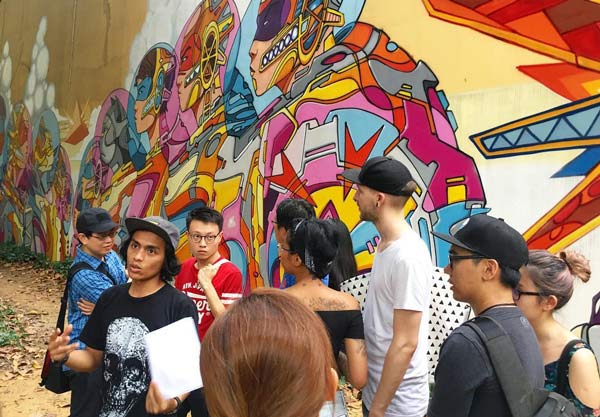 Source
Enjoy Kampong Glam's murals with knowledgeable guides and meet some of Singapore's up-and-coming street artists. There will be live performances and a night market so you will have plenty of experiences to engage in while checking out this historic district. 
Date: 13 July 2019
Time: 5pm to 6pm
Address: 28 Aliwal Street, Aliwal Arts Centre, Singapore 199918
Admission: Free, sign up at Peatix
4. East Coast Park Trash Clean Up by Trash Hero Singapore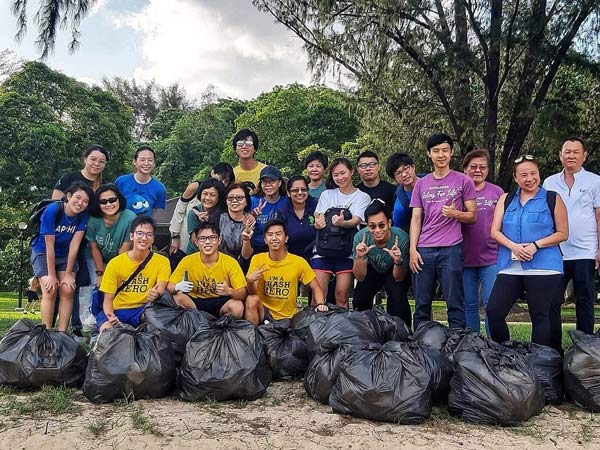 Source
Show your love for  Singapore's shoreline by participating in this community clean-up. All you have to do is show up with sunblock, insect repellant and a bottle of water and you can help make East Coast Park clean again! 
Date: 14 July 2019
Time: 9am to 11am
Address: 1500 East Coast Parkway, National Sailing Centre, Singapore 468963
Admission: Free, register on Eventbrite
5. Singapore Cat Festival 2019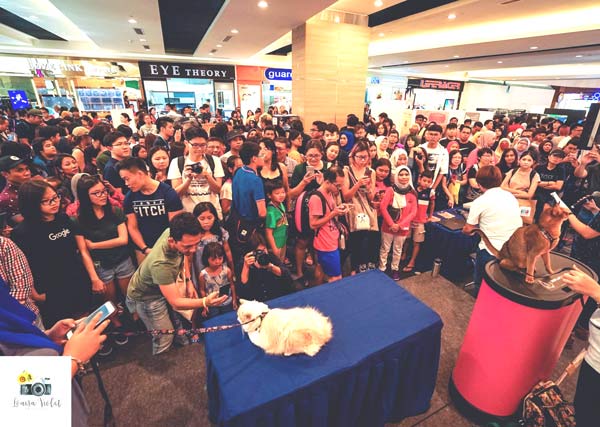 Source
Feline lovers can bring their kitties to meet fellow feline lovers at the Singapore Cat Festival 2019. There will be the latest cat products on display, adoption drives and educational talks given by pet experts. You might also bring home cat-related prizes during the giveaways. And if you don't have a cat but love kitties, this is a good place to meet some. 
Please keep your cat leashed and kept in travel carriers for the safety of others and your cat. Please do not bring other animals to the event. 
Date: 27 to 28 July 2019
Time: 11am to 9pm
Address: 1 Kim Seng Promenade, Great World City, Singapore 237994
Admission: Free
Screenings and performances
6. Story Party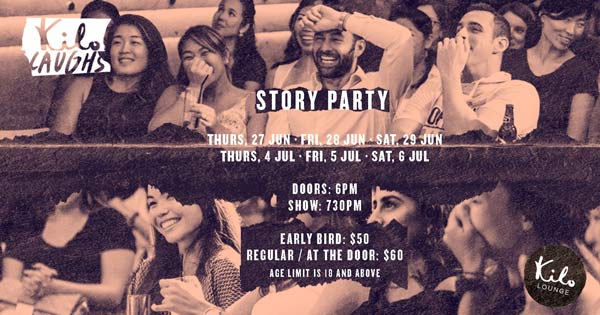 Source
If you are tired of dating apps, laugh out loud with fellow modern-dating cynics at Story Party. The most horrifying and funny dating stories will be told and you will probably see yourself or your friends in them. You can even share your own story and they might just post it on their Instagram account.
Please note that  entry to this event is only for  those aged 18 and above.  
Date: 4 to 6 July 2019
Time: 7.30pm (doors open at 6pm)
Address: 21 Tanjong Pagar Road, Kilo Lounge, Singapore 088444
Admission: $50 for early birds, $60 at the door; tickets available here
7. Ballet Under The Stars 2019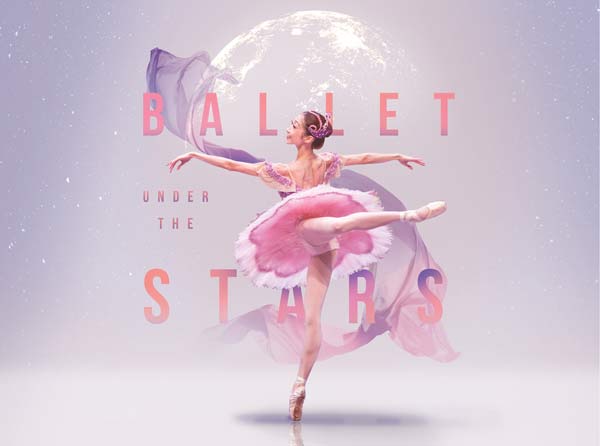 Source
Be mesmerised by the graceful movements of dancers from the Singapore Dance Theatre at this year's Ballet Under The Stars. Returning for the 24th edition, the performances will take place at the Fort Canning Green, a serene spot to get away from the bustle of city life. 
Watch classics like Giselle (Act II), Swan Lake and The Nutcracker (Act II), as well as audience favourites like Evening Voices and Linea Adora. 
Date: 5, 6, 7, 12, 13, 14 July 2019
Time: Varies, please check Singapore Dance Theatre's website
Address: Fort Canning Green, River Valley Road, Singapore 179037
Admission: $40, tickets available on Singapore Dance Theatre's website
8. The Projector Presents Comedy Night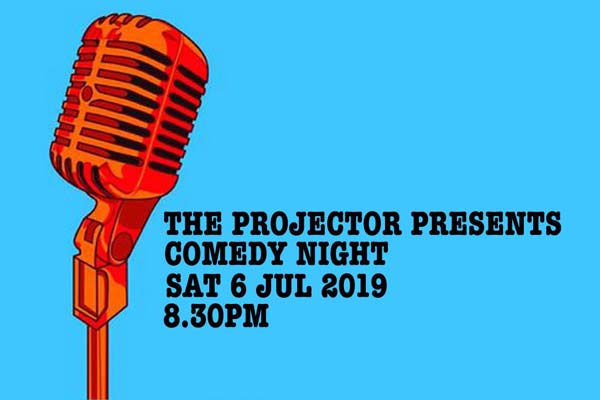 Source
Laugh out loud with some of Singapore's homegrown comics and stand-up comedians from countries like India and Russia. For one night only at The Projector's Intermission Bar, be treated to a variety of comedy styles by these comedians who have made waves both at home and overseas. 
Date: 6 July 2019
Time: 8.30pm
Address: 6001 Beach Road, The Projector, Singapore 199589
Admission: $15, buy tickets on The Projector's website
9. Kurios by Cirque Du Soleil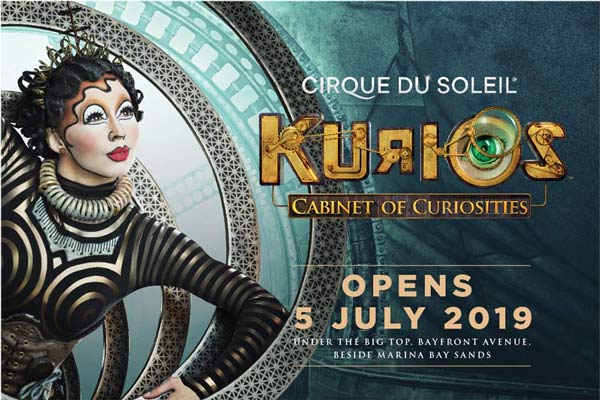 Source
If you have always wanted to check out the world-famous Cirque Du Soleil, now's your chance as they are headed to Singapore. Be enthralled as the acrobats transport you into the world of an inventor and his Curio Cabinet, which distorts the laws of space, time and dimension. 
Date: 6 July to 4 August 2019
Time: Varies, please check SISTIC's website
Address: Big Top at Bayfront Avenue, Singapore 018956
Admission: $95 to $329, tickets available on SISTIC
10. Charity Screening of The Lion King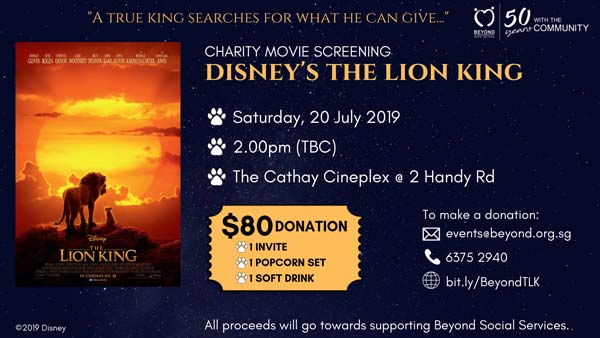 Source 
Simba, Mufasa and Pumbaa are back for this new adaptation of The Lion King, which stars Beyonce and Donald Glover. Enjoy the movie while helping out a good cause with this charity screening. For the ticket, you will also receive 1 popcorn set and a soft drink. 
The screening helps Beyond Social Service, a non-governmental non-profit that helps fight inequality by providing assistance to children of impoverished families.   
Date: 20 July 2019
Time: 2pm to 4pm
Address: 2 Handy Road, The Cathay, Singapore 229233
Admission: $80, donate at giving.sg for a ticket invite
Nightlife
11. G Session 2019: Glochella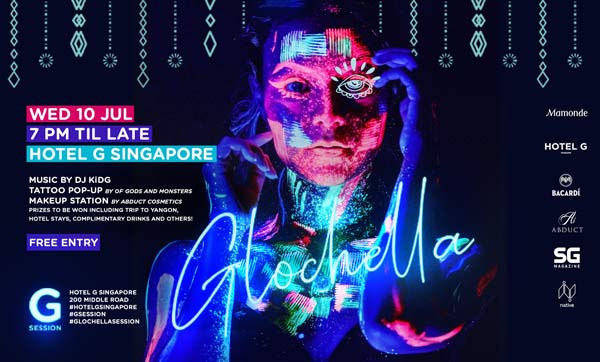 Source
Party at Hotel G and get a chance to win an air ticket to Yangon with a 3-night stay at Hotel G Yangon. There will be finger food and spiced rum cocktails as you club to beats by DJ KiDG. You can even get a makeover from Abduct Cosmetics' booth, so feel free to show up barefaced and have somebody do your makeup on the spot.  
Date: 10 July 2019
Time: 7pm onwards
Address: 200 Middle Road, Hotel G, Singapore 188980
Admission: Free
12. Latin Fiesta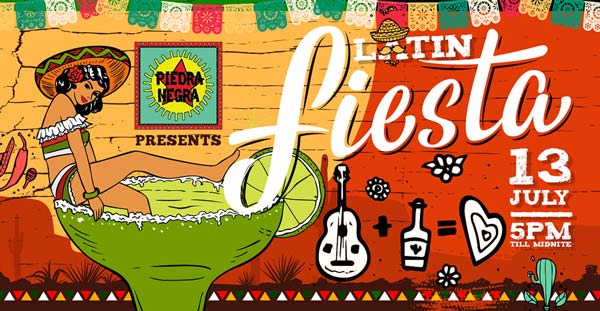 Source
Bask in the festive atmosphere at Haji Lane as Piedra Negra hosts Latin Fiesta! There will be a free tequila shot for the first hundred guests who arrive. Buskers will be performing to keep you entertained. Enjoy hitting a pinata, making memories with a photo booth and a delectable selection of tacos and margaritas. 
Date: 13 July 2019
Time: 5pm to 12am
Address: 241 Beach Road, Singapore 189753
Admission: Free
Miscellaneous
13. Style Theory Mid-Year Sale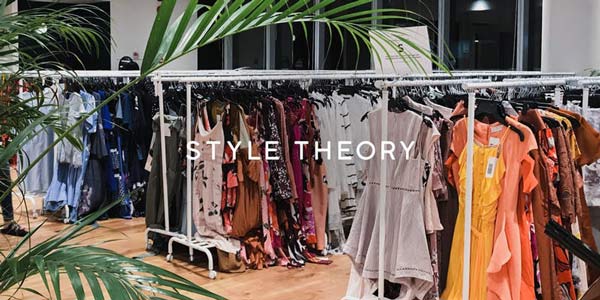 Source
The Great Singapore Sale continues at local fashion outlet, Style Theory. Refresh your wardrobe at Style Theory's mid-year sale, which will stock brands like Aijek, BCBGeneration, Finders Keepers, and many more. Some of the merchandise will be up to 90% off, so be sure to book a slot at the link below. 
Date: 5 to 7 July 2019
Time: 11am to 7pm (5 July), 10am to 6pm (6 to 7 July)
Address: 100G Pasir Panjang Road,  Level 2, The Interlocal, Singapore 118523
Admission: Free, book a slot on Eventbrite
14. Friday Night At The Barre Activewear Swap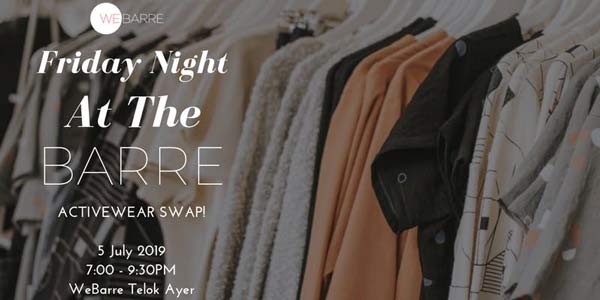 Source
Instead of buying new yoga gear, get some new tights at this activewear swap. You can bring your sports bras, tank tops, shorts and other types of activewear that are in good condition. There will also be healthy snacks, cocktails and mocktails served through the night.  
Date: 5 July 2019
Time: 7pm to 9.30pm
Address: 5A Stanley Street, Level 2, Singapore 068724
Admission: Free
15. Day Of Mindfulness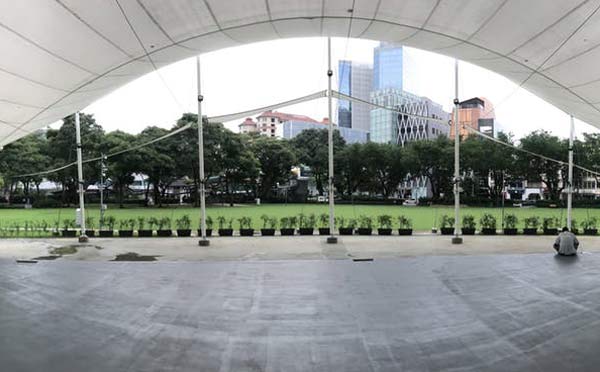 Source
Learn the simple yet profound art of mindfulness to help you cope with stressful situations. Mindfulness coach Danica Toh will be teaching easy-to-grasp mindfulness techniques based on the Mindfulness-Based Stress Reduction (MBSR) programme by Jon Kabat-Zinn. 
Date: 7 July 2019
Time: 8.30am to 12pm
Address: New Bridge Road, Hong Lim Park, Singapore 059299
Admission: Free
16. Streat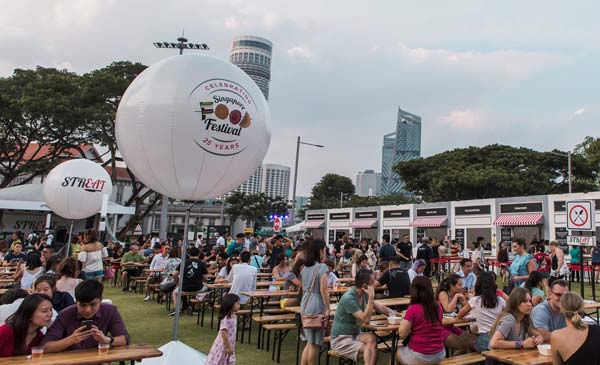 Source
Tuck into hearty local hawker fare and twists on Singapore favourites as food vendors gather to give your mouth a treat at Streat 2019. Participating vendors include FatPapas Burgers and Shakes, Indian Express, Artichoke Singapore and Jin Ji Teochew Braised Duck & Kway Chap. 
There will also be a pop-up bar by Origin Bar so you can have delicious drinks to pair with the food. Charlie Lim, Glen Wee and Dreebsby & Astronauts will also be performing live to create a vibrant atmosphere. 
Date: 12 to 13 July 2019
Time: 5pm to 11pm
Address: 11 Marina Boulevard, The Promontory @ Marina Bay, Singapore 018940
Admission: Free
17. Game On! At The Quay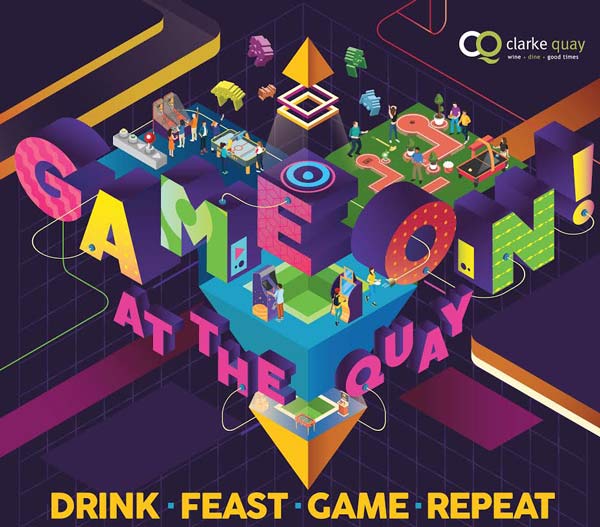 Source
See the Clarke Quay area transformed into an exciting fun zone filled with neon lights. Feel like you are in a video game as you participate in the games this event has to offer. If you feel peckish, there will also be plenty of food and drink options available by PONG Singapore, Chupitos Shots Bar and Hey Tea. 
Date: 4 to 6 July 2019
Time: 6.30pm onwards
Address: 3 River Valley Road, Clarke Quay, Singapore 179024
Admission: Free
July Events 2019
This list of events for July 2019 will ensure you will have plenty of things to do in Singapore. 
Also read: 
Cover image: Source, Source, Source