Gucci Tennis 1977
Gucci just announced the comeback of its Tennis 1977 shoes with the launch of 4 new iterations. With price starting from $870, the GG Apple Print, Butter Cotton and Mini GG Print shoes are already available in Gucci Paragon, ION Orchard and Marina Bay Sands. 
GG Apple Print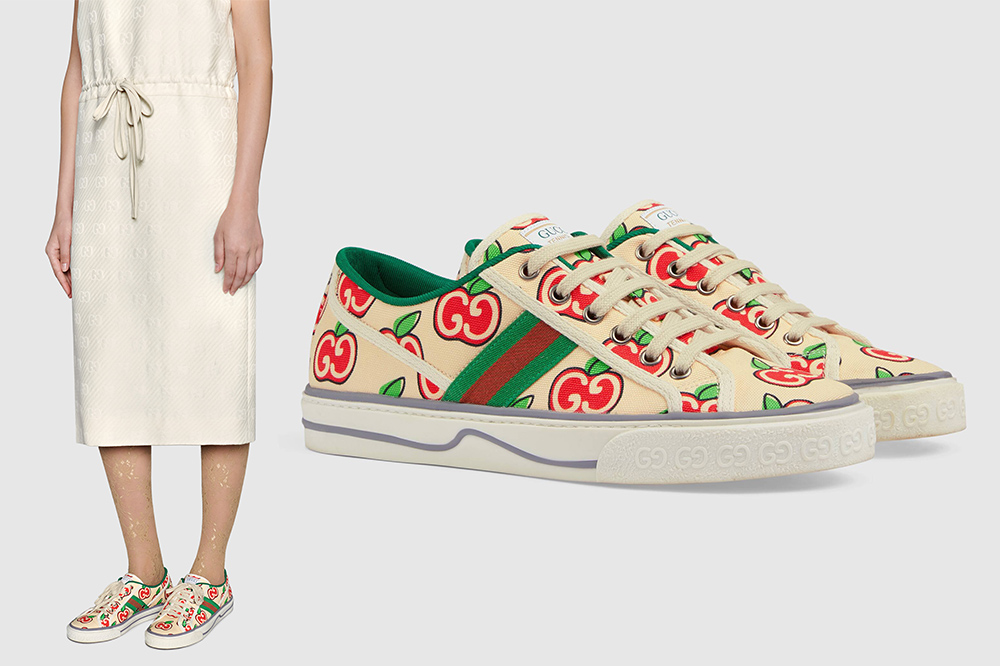 The first design features a GG monogram apple motif against a cream canvas base. The grey lining along the midsole gives it a rather futuristic and edgy vibe, contrasting the sweetness of the apple prints. Valentine's Day is just around the corner—a great occasion to don this lovely pair to show the apple of your eye just how sweet you are. It retails for $970.
Butter Cotton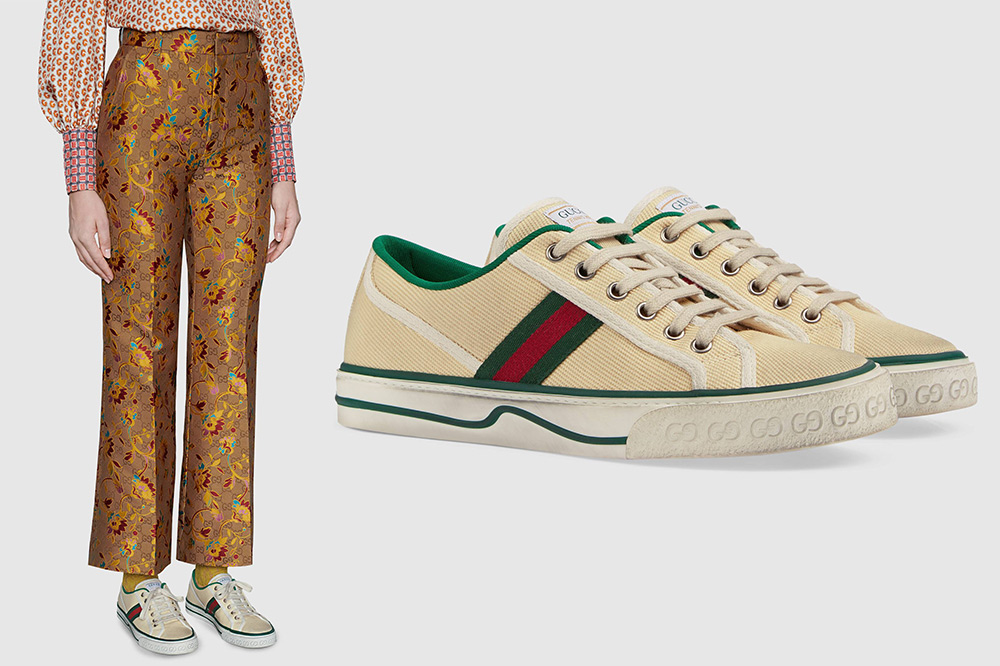 For those who crave simplicity, consider the Butter Cotton design instead. As its name suggests, it is made of soft butter cotton in a trendy off-white tone. The minimalist design brings attention to the green lines along the topline and midsole, as well as the signature red and green Gucci stripes. Its versatility means that you could match this with literally any outfit and would still look bomb. It costs $870.
Also read:
The Full Adidas Valentine's Day Collection Is Now Available In Singapore For A Hypebae-Worthy Date Outfit
Mini GG Print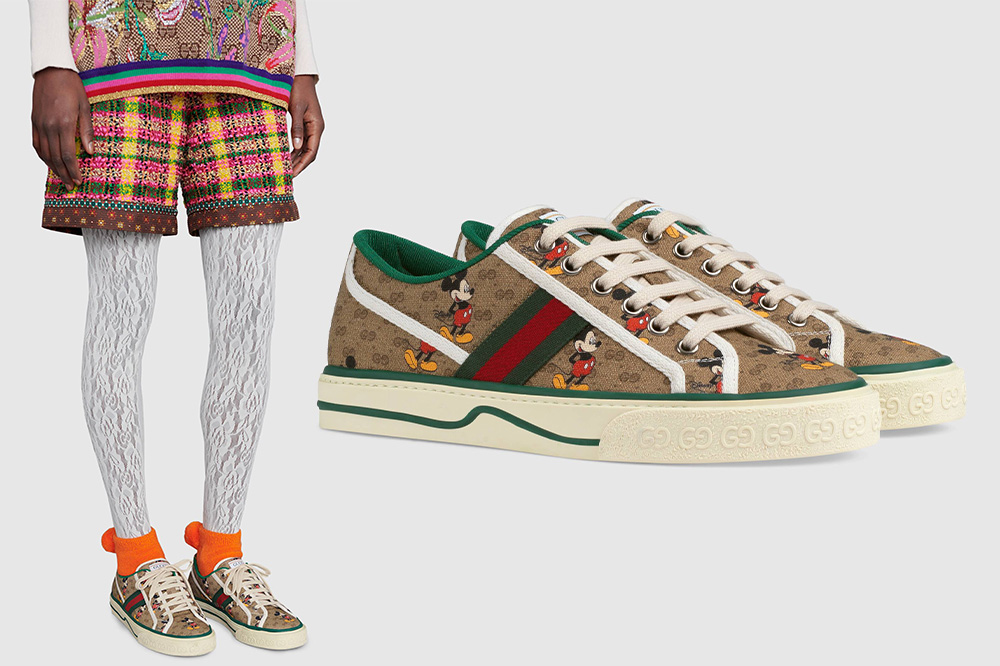 Making its first appearance in the recent Disney x Gucci collection, the same design is now available as a Gucci Tennis 1977 shoe. This Mickey Mouse shoe boasts the classic beige and ebony mini GG canvas and will surely turn heads when you strut down the street. A 3D pop-out of the GG monogram is also seen running along the front of the midsole. It goes for $970.
GG Stretch Cotton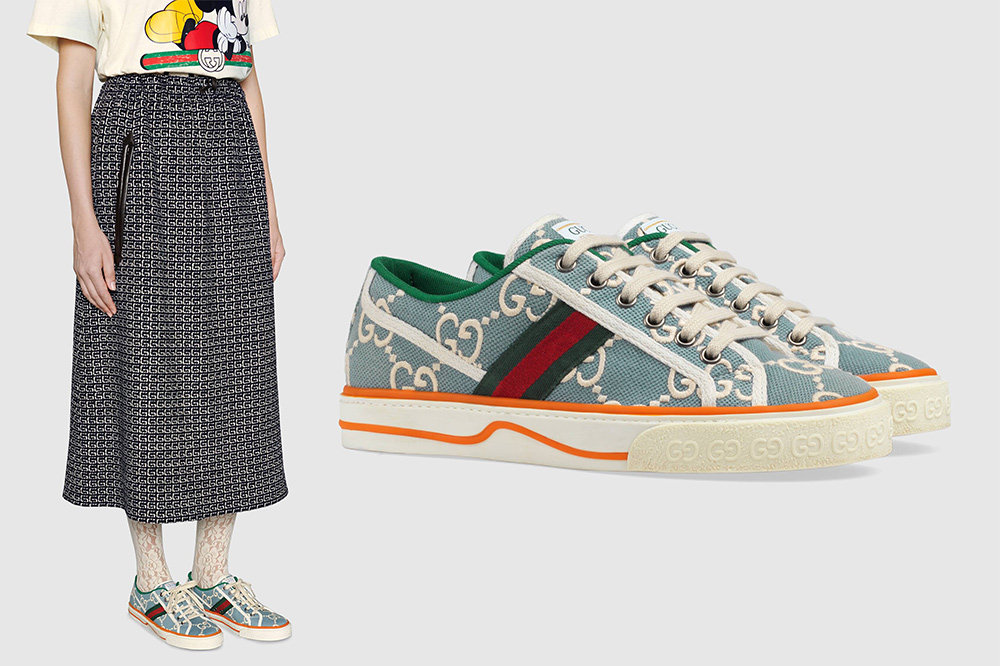 The final design features the Gucci monogram against a cool light blue base and along the front of the midsole in a 3D pop-out effect. Details like the electric neon orange and green stripes lining the midsole and topline accent the soft blue shade, making this super fun, fresh and casual. For now, it is not available at Gucci stores in Singapore.
Gucci Tennis 1977 Shoe Has Made A Comeback
These 4 Gucci Tennis 1977 shoes have been revived from the brand's archives. The GG Apple Print, Butter Cotton and Mini GG Print shoes are now available at Gucci Paragon, ION Orchard and Marina Bay Sands.
Also read:
Gucci's Mickey Mouse Shoes & Bags Are The Ultimate Flex For The Year Of The Rat
All images: Source