Korean Celebs Y2K Style
Since the rise of TikTok, many Gen Zs have been taking over the fashion scene with Y2K outfits. FYI, for those who are unfamiliar, Y2K is short for "year 2000", a trend that covers late 90's to early 2000s style. Think vests, beaded accessories, low-rise denim jeans and Juicy Couture — and not to forget, Regina George's closet of pink, pink and more pink. 
With the Y2K trend at its peak, many Korean celebrities have also hopped on, so we've compiled a list of those who rocked the style perfectly and where you can get their looks too. While the items listed may not be their exact fit, these alternatives are a great way to start trying out these trends yourself. 
1. Kim Hyuna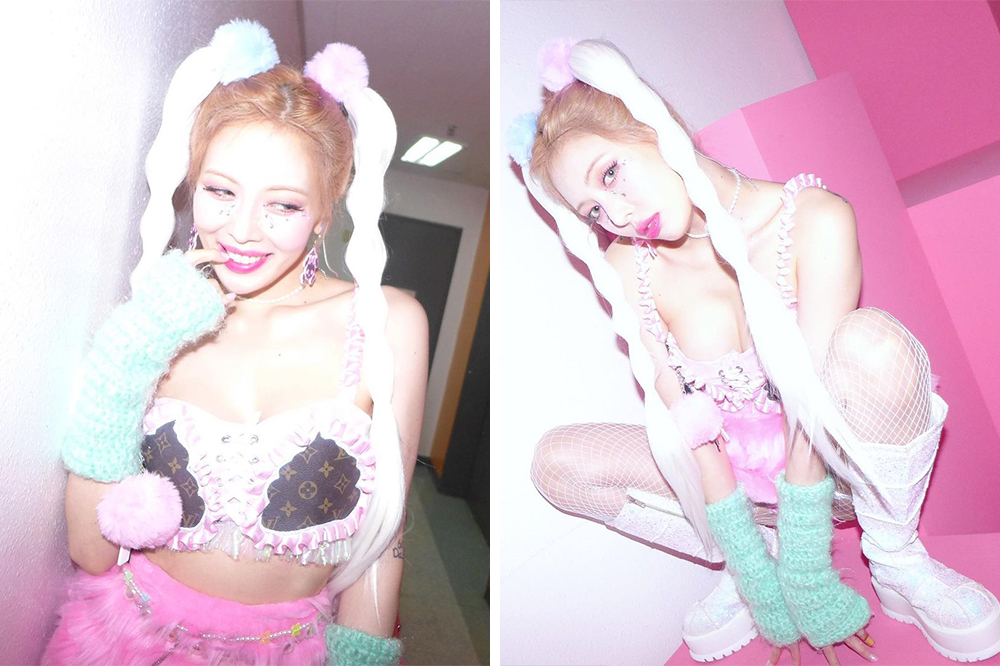 Source
We can't deny that Hyuna is pretty much the queen of K-pop and Y2K fashion trends. From her Ping Pong music video looks to her engagement rings with Dawn, the soloist knows how to make a bold first impression. Hyuna showed off her most unique look from one of her music shows, featuring a custom-made Louis Vuitton bralette her stylist made by cutting up a bag and stitching them together. 
Accompanied with puffy pom pom hair ties, white fishnets and high-cut boots, Hyuna's OOTD is one that screams "we're ready to party!"
Rubber bands: Etsy
Earrings: Amazon
Bralette: LingerieSG
Pom pom keychain: Shopee
Hand warmers: Shopee
Skirt: Lazada
Belt: Shein
Fishnets: Shein
Boots: FWRD
2. Kim Taeyeon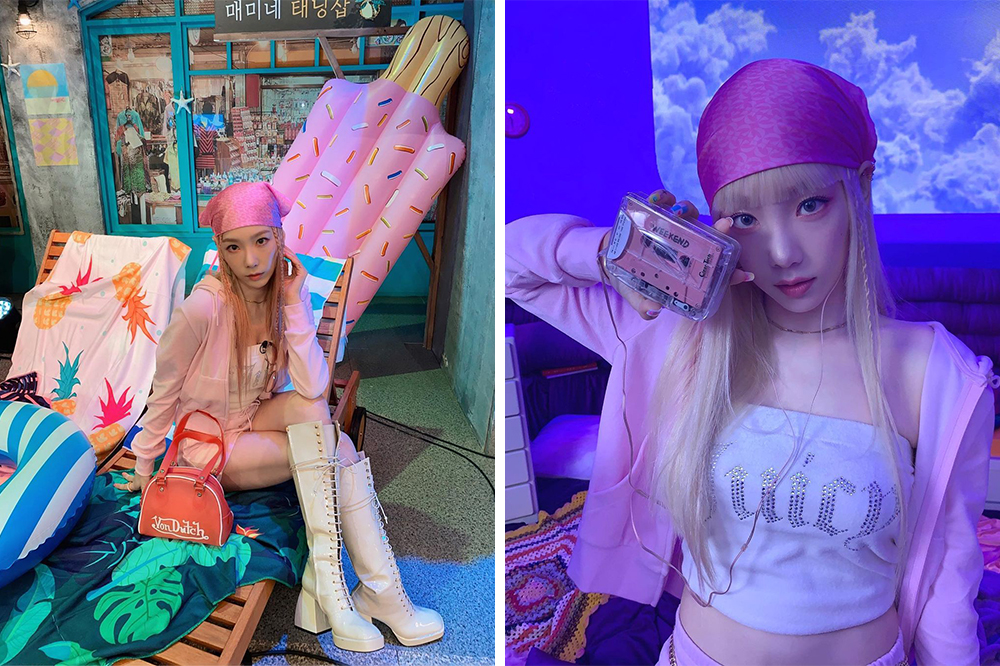 Source
Sporting a matching pink tracksuit jacket, shorts and bandana, Taeyeon's look from her Weekend music video perfectly encapsulates the phrase "on Wednesdays, we wear pink". Adding thin braids to her hair and making use of cassette players as props, her outfit truly brings out the nostalgia of music videos from the 2000s.
Bandana: Lazada
Choker: Maison De Femmes
Tracksuit jacket and shorts: Shein
Top: ASOS
Boots: Newchic 
3. Jennie Kim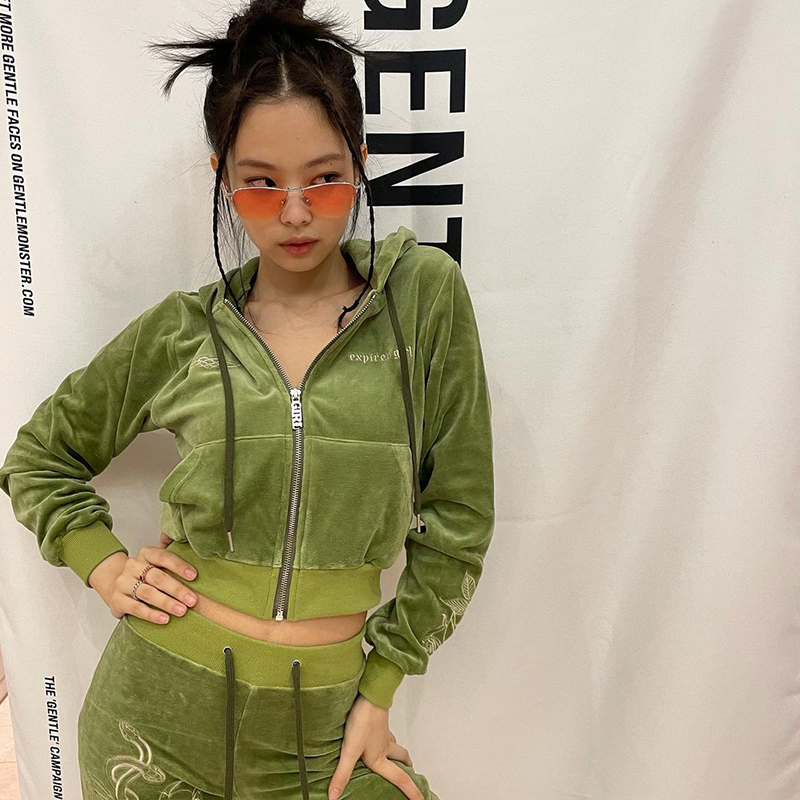 Source
Combining comfort and style, Jennie's simple full-green tracksuit with matching pants remind us of Britney Spears' and J-Lo's fashion from the 2000s. One of the pant legs features a design of coiled snakes to add onto the edgy vibe, while Jennie tops it off with contrasting bright orange sunglasses. 
Sunglasses: Sunglasses Hut
Rings: Ana Luisa
Tracksuit and pants: AliExpress 
4. Jeon Somi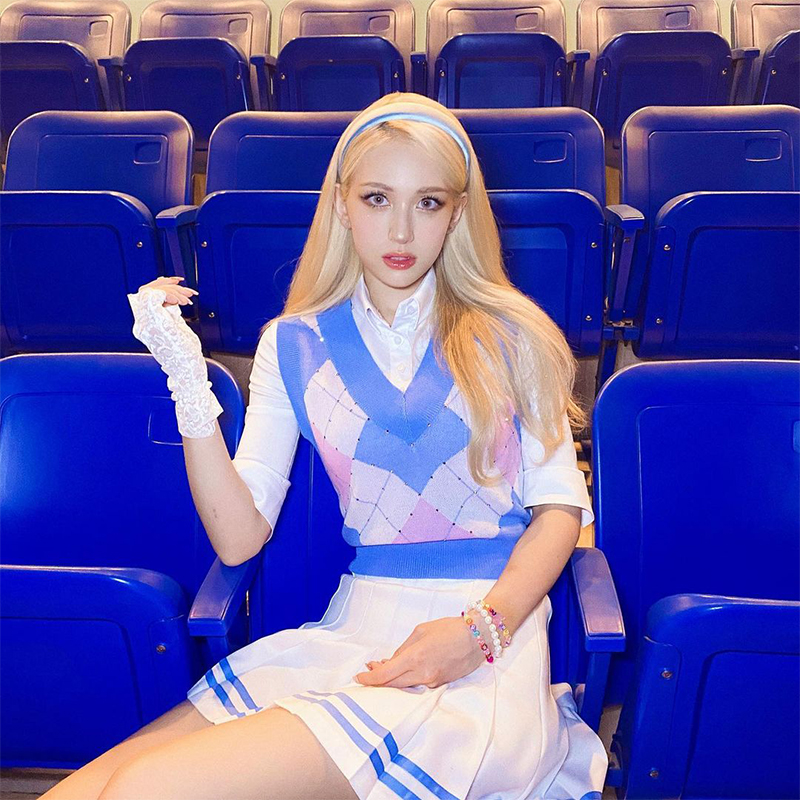 Source
Somi goes for a softer look with her knitted vest and tennis skirt, along with a thick hair band to tie everything together. We're drawn to her lace gloves, which she only wears on one hand, while the other features a variety of colourful beaded bracelets. The blend of elegant and cute in this outfit is perfect for those going for a sweet first-date. 
Hairband: Shopee
Shirt: UNIQLO
Vest: Shein
Gloves: Lazada
Skirt: Cotton On
Bracelets: Smileysbymai
5. Lee Sunmi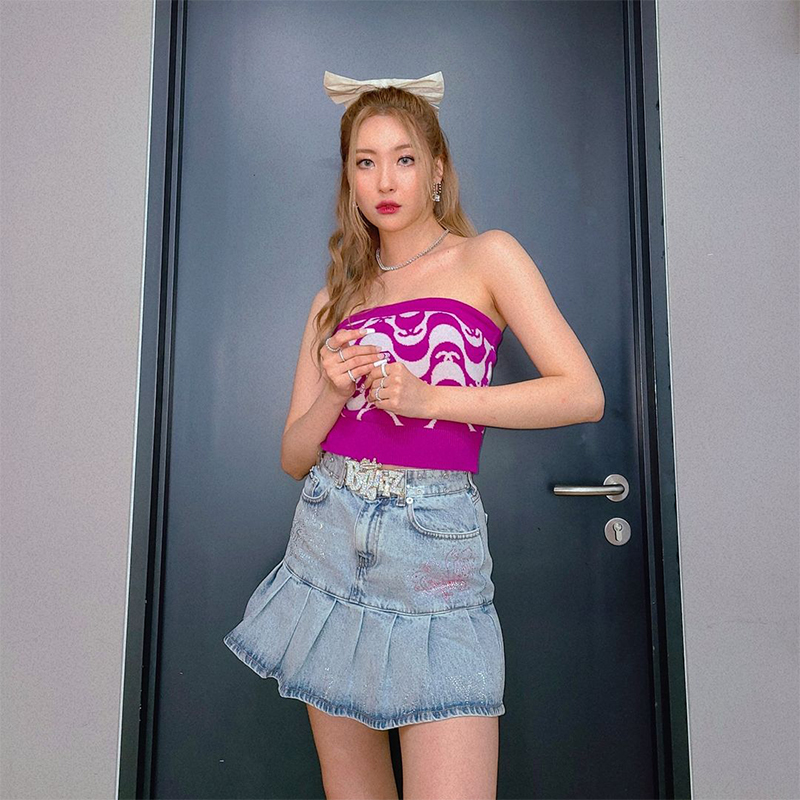 Source
Besides Barbies, Bratz dolls were also known for their unique fashion outfits — a main source of inspiration for Y2K fashion today. Sunmi's Bratz-inspired outfit features a thick glitter belt with the word "Bratz" on the buckle, accompanied with a low waist denim skirt and a knitted tube top. She doesn't miss out on accessorising either, with chic beaded rings and a bow hairband to give off effortless confidence.
Hairband: Shopee
Necklace: Jeulia
Top: Shein
Rings: Shopee
Belt: Dolls Kill
Skirt: H&M
Also read:
9 Best Korean Fashion Online Stores That Ship To Singapore Besides Stylenanda
6. Hwang Yeji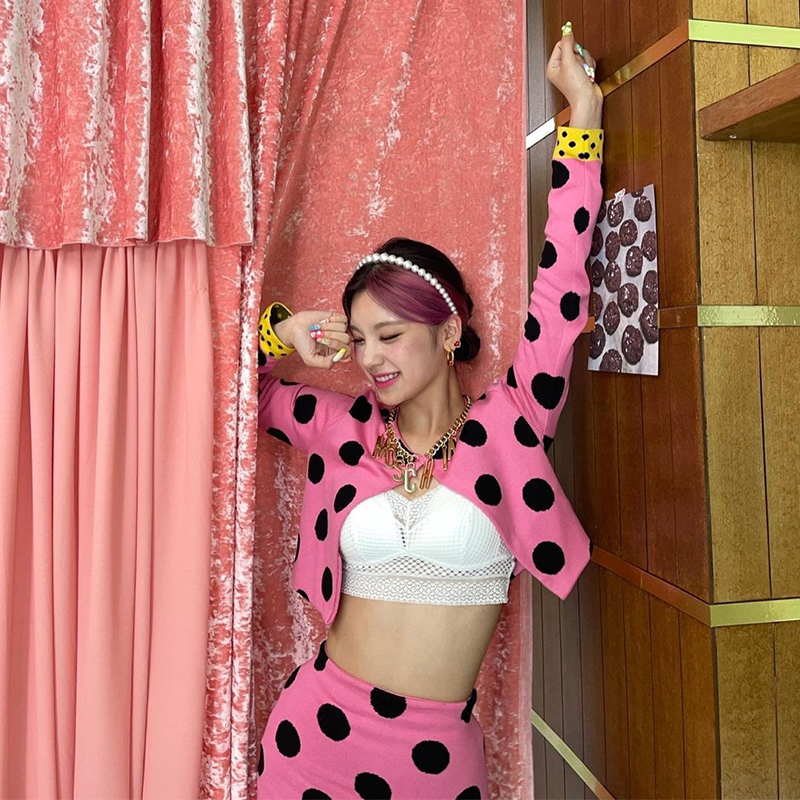 Source
It's easy to just let your outfit do the matching for you — as seen from Yeji's pink and black polkadot cardigan and skirt. Beneath her cardigan, her white bralette does its job in remaining neutral so that the bright colours on her outfit pops. Definitely feeling "not shy" just like ITZY's song, Yeji finishes the radiant look with a pearl hairband and chunky necklace below her low bun.
Hairband: Shopee
Necklace: Moschino
Cardigan and skirt: Moschino
Bralette: Perk By Kate
7. Joy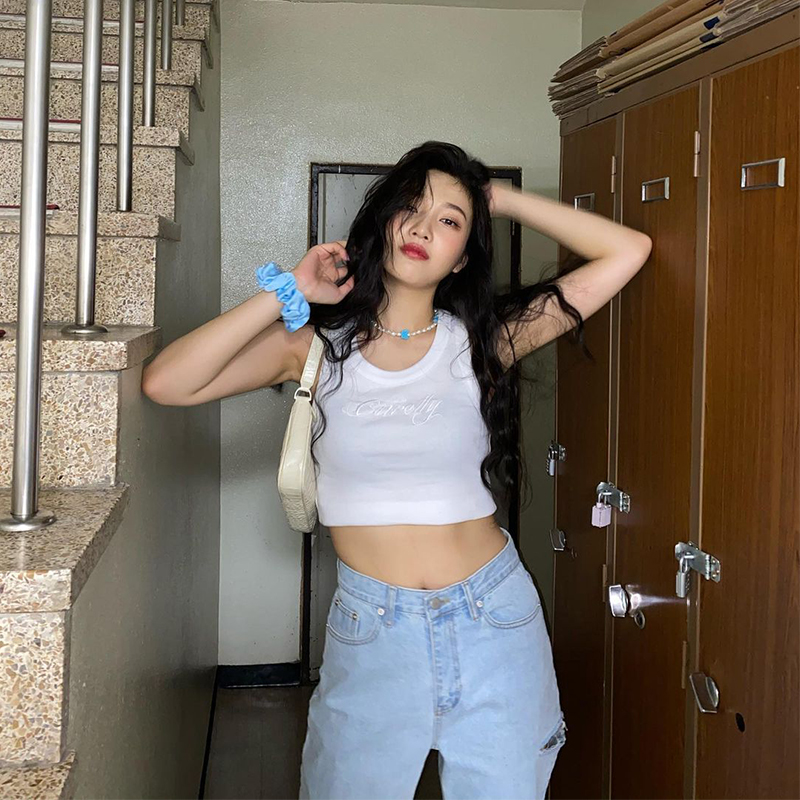 Source
If you're looking for an outfit that's simple while still incorporating Y2K fashion vibes, Joy's look might be more up your alley. Donning a white crop top and mid rise ripped jeans, this outfit is comfy and stylish enough to chill with your BFFs. Her satin blue scrunchie doubles up as a wrist accessory too, while the tiny shoulder bag adds on to her carefree mood.
Scrunchie: Shopee
Necklace: Shopee
Handbag: Shein
Top: Cotton On
Jeans: Zalora
8. Lee Hi
Lee Hi brought low rise jeans to the table and showed us how they can perfectly match any Y2K-inspired tops — like leather vests and bandanas. Despite low rise jeans being harder to pull off, Lee Hi reminds us that it's you who brings the confidence in play, rather than your clothes. She also stuns us with a red rose choker, and a matching bold red lip to complement the whole look.
Choker: Etsy
Vest top: Vintagewknd
Bandana top: Shein
Jeans: Zalora
9. Jung Wheein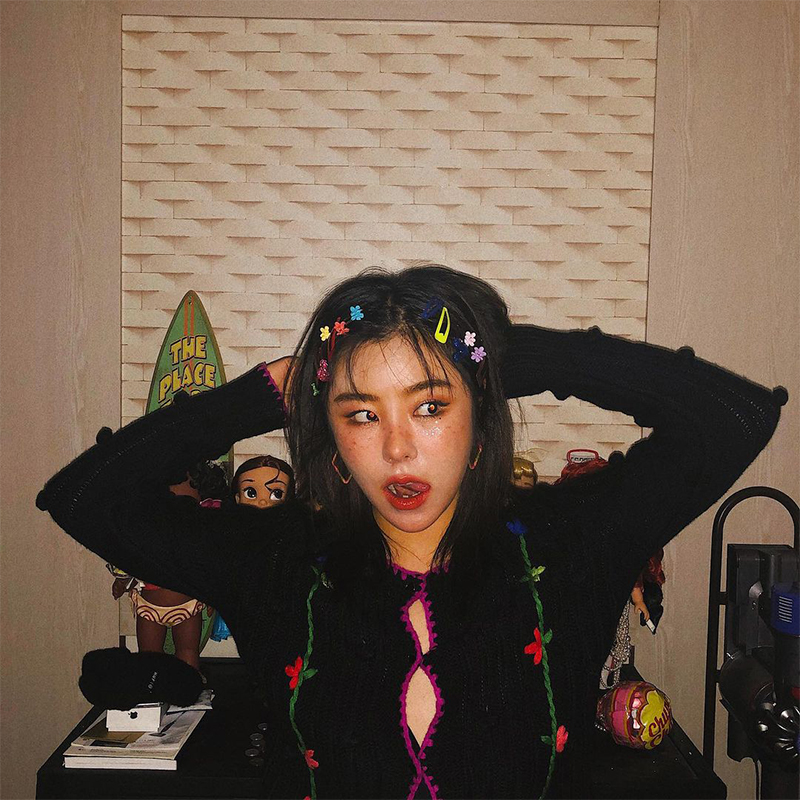 Source
Besides the hype of Y2K clothing, Wheein also makes use of makeup, through freckles and face glitter, to add an e-girl look to her outfit. Our favourite part of her ensemble is the range of colourful butterfly clips slotted on the front of her hair, appearing as if they are fluttering around the flowers on her cardigan. 
Butterfly clips: Shopee
Coloured clips: Shopee
Earrings: Lovisa
Cardigan: Shein
10. Im Nayeon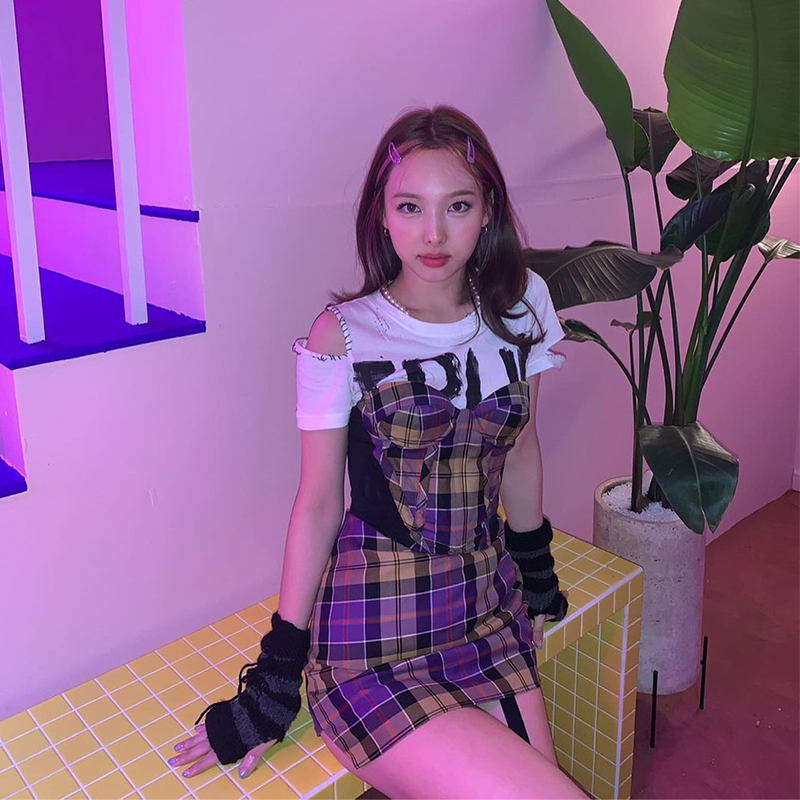 Source
Y2K fashion is all about layering, and Nayeon nails the concept from TWICE's "The Feels" music video. Her checkered corset and mini skirt draws inspiration from punk fashion, whereas the layering of an inner graphic tee and coloured clips are what makes the overall look more "Y2K-worthy". A garter on her thigh also peeks out from her skirt, adding a subtle cheeky vibe to her outfit. 
Coloured clips: Shopee
Necklace: Shopee
Top: Farfetch
Corset: Luisaviaroma
Skirt: Lazada
Garter: Shein
Hand warmers: Lazada
Level Up Your OOTD With These Korean Celebs' Y2K Looks & Styles
For those who are searching for new ways to add some spice to your OOTD, these Y2K outfits might inspire your next shopping cart check out. For more Korean-inspired looks, discover 9 Korean hairstyles inspired by K-dramas so you'll always be ready for a date with an oppa.  
Also read:
9 Korean Hairstyles Inspired By Recent K-Dramas To Show Your Hairstylist On Your Next Salon Visit