Korean Streetwear Brand With T-Shirts & Totes
If you like your streetwear with a slice of parody, check out Conichiwa Bonjour's Spring/Summer 2020 collection. The Korean fashion brand has put its own spin on logos and graphic designs borrowed from popular culture, including 2 recognisable beverage brands: Evian and Coca-Cola.
Have a look at the tees and tote bags, which will make great conversation starters.
Water Tee White (~S$101)
To kick things off, the range has a white tee with a graphic screen-printed on the back of the shirt. The word "bonjour" is in a bright red font, reminiscent of the Evian logo, while the "CONICHIWA" text is right below it in sky blue.
Made of comfy cotton, the Water Tee has a relaxed cut to give you that baggy sk8er boi-inspired look. It's roomy and breezy enough to wear out in our humid climate, or when you're working from home.
Water Bag White (~S$52)
Also sporting the same tongue-in-cheek graphic, the Water Bag is a white tote bag with light blue handles to keep in line with the Evian aesthetic. The tote has a snap button closure and a squarish frame with a wide base, which means you can stuff more belongings in the bag.
Ciao Bonjour Tee Purple (~S$101)
Next up, there's the Ciao Bonjour Tee, a reddish purple T-shirt with the words "Ciao bonjour" on the chest area. The font plays on Coca-Cola's popular logo, and it can be seen in an aubergine shade. Just like the Water Tee, the Ciao Bonjour Tee has a relaxed fit for comfort.
Also read:
IKEA's Viral Bucket Hat Is Now Actual Official Merchandise To Help You Nail The Hypebeast Look For US$3.99
US Army Tee Grey & US Navy Tee White (~S$101 each)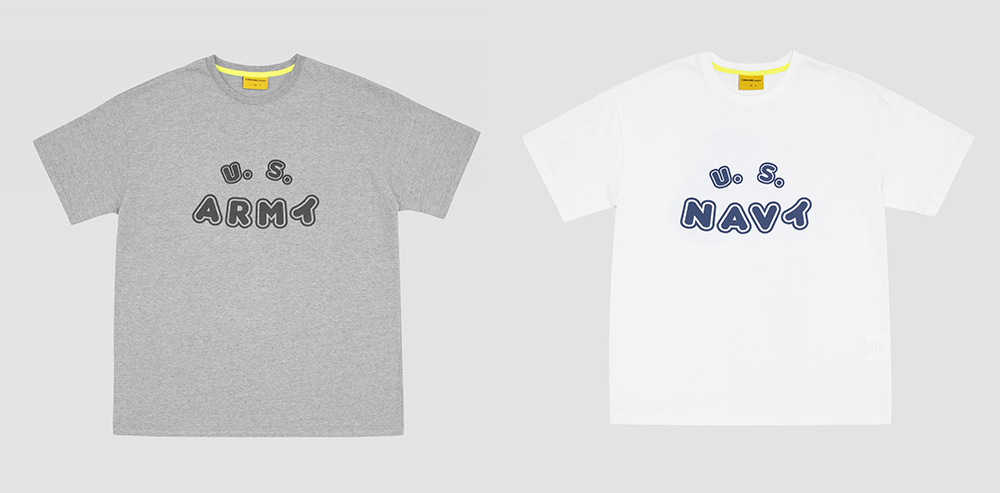 Drawing inspiration from American culture, Conichiwa Bonjour's US Army Tee (left) is a grey T-shirt with a slouchy fit. The tee has the words "U.S. ARMY" in a cute, darker grey font on the front, while the letter Y has been turned upside down for a quirky touch.
A similar design, the US Navy Tee (right) is a white T-shirt screen-printed with the words "U.S. NAVY" on the chest area, with the letter Y also turned upside down. These tees will pair well with jeans and sneakers for a cool, casual outfit.
This Korean Streetwear Brand's New Collection Is Inspired By Popular Beverages
The Korean streetwear brand also has caps, sweatshirts and long-sleeved T-shirts in the range. You can find Conichiwa Bonjour's full Spring/Summer 2020 collection exclusively on Couverture & The Garbstore's website.
Cover image: Source
Also read:
Food Pun Bags Inspired By Luxury Brands Are Perfect For Your Next Grocery Hoarding Trip