Kung Fu Champion Lynn Wong Yuqing
"These weapons are for warfare," Lynn Wong Yuqing declares as she drags a guandao out of an old wooden closet. "The ones you see these days are just for performance."
The rooftop of Kong Chow Wui Koon (Kong Chow clan association) is wet with rain. Still, Lynn is able to twirl various weapons on it steadily, including the heavy guandao at 1.5 times her height.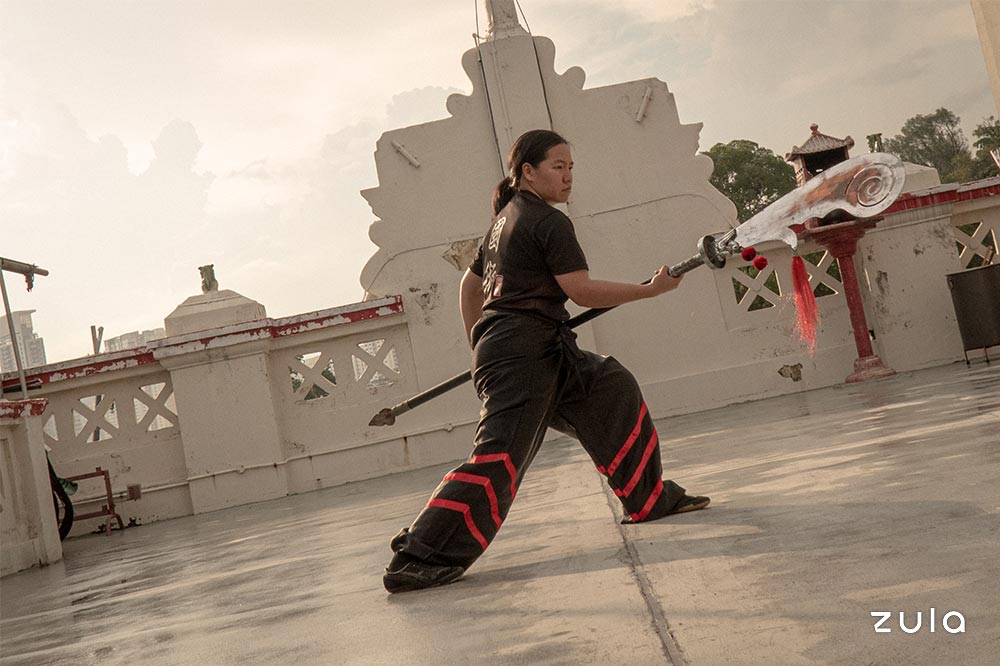 The guandao was used for slicing the legs of war horses
The horse stance forms the basis for kung fu and is what allows her to manoeuvre heavy weapons skilfully. Yet when I ask her how long she took to master the horse stance, she hesitates to reply, indicating she is still mastering it despite her 16 years of kung fu training.   
This dedication to years of foundational training is rarely seen in the children she teaches, who usually require quick results.
"Everything is about shortcuts these days." She explains, "You should have practised [the horse stance] for at least 5 years before holding the lion head [for lion dance]. But we let the children hold them to keep their interest [in continuing training]."
Her dedication won Lynn the 2014 Wong Fei-Hung Cup, a martial arts competition held annually in China. As an international kung fu champion who beat opponents from across the world, she fights to preserve Chinese heritage and culture in Singapore.
Kong Chow Wui Koon is her self-proclaimed second home, and where she actively imparts kung fu and Cantonese to children and teenagers.
Conserving an eroding culture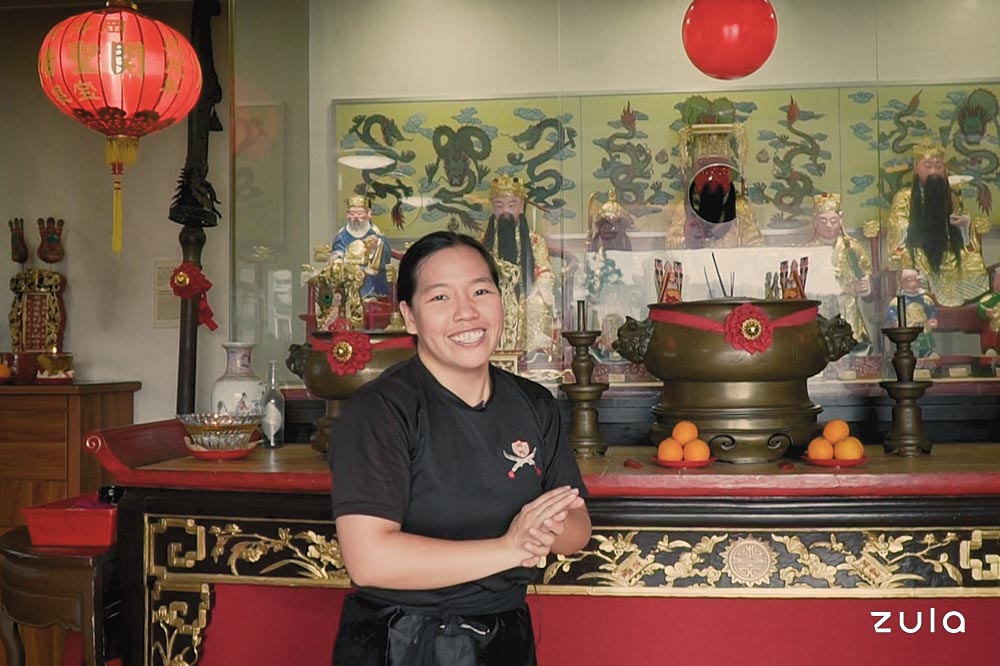 Lynn first became involved with the clan association when its members conducted a martial arts programme in her school. After that, she continued to attend classes at the clan regularly.
"Over the years, my clan has trained thousands of students. But who is left? Only me."
Lynn quit her marketing PhD at a top French school to pursue her interest in preserving Chinese heritage, because "If I cannot market what I'm passionate about, then what's the point of my PhD?"
Losing her grandparents was one of the factors that propelled her decision. She regrets not mining her grandparents for stories that might shed new light on Chinese culture in Singapore.   
"Even when people interview them (the older generation), they don't know how to trigger their memory for things they might have forgotten about," she says.
She gives me an example: Giant dumplings are eaten in some provinces in China during Chinese New Year. The story relates to Justice Bao, when villagers put all their produce in one dumpling to thank him.
When this tradition was introduced to Singapore, the big leaves for wrapping the dumpling were unavailable, so banana leaves were used instead. This changed the flavour of the dumpling and shows how Chinese heritage transforms with geography.
The nuances of such stories are orally transferred and Lynn is in a battle against time to unearth memories buried deep in the elderly who are fading away.
"If I don't do it now, I have no second chance," she explains poignantly.
Also read:
This 26-Year-Old Singaporean Girl Left The Corporate World To Bury The Dead
Fighting gentrification in Chinatown
Lynn explains why clan associations need to be preserved, "These organisations are as old as our country. [They hold] values that are essential to Singapore as we're trying to discover our identity."
Located on New Bridge Road alongside a sauna and ma la restaurants, its teal and red gates aren't the most welcoming. The building's architecture had piqued my curiosity before but I hadn't entered it because I assumed I would not be entertained.
Advocates like Lynn guard this sacred space for fear of it turning into a historical funhouse. Chinatown, the district where the clan sits, has become a picture of gentrification, which might inevitably corrupt the space one day.
Known as Kreta Ayer to our grandparents (ngow chay shui in Cantonese, literally "bullock fetching water"), the Chinatown of today is decked out in red lanterns and souvenir shops to mirror Chinatowns in London and New York.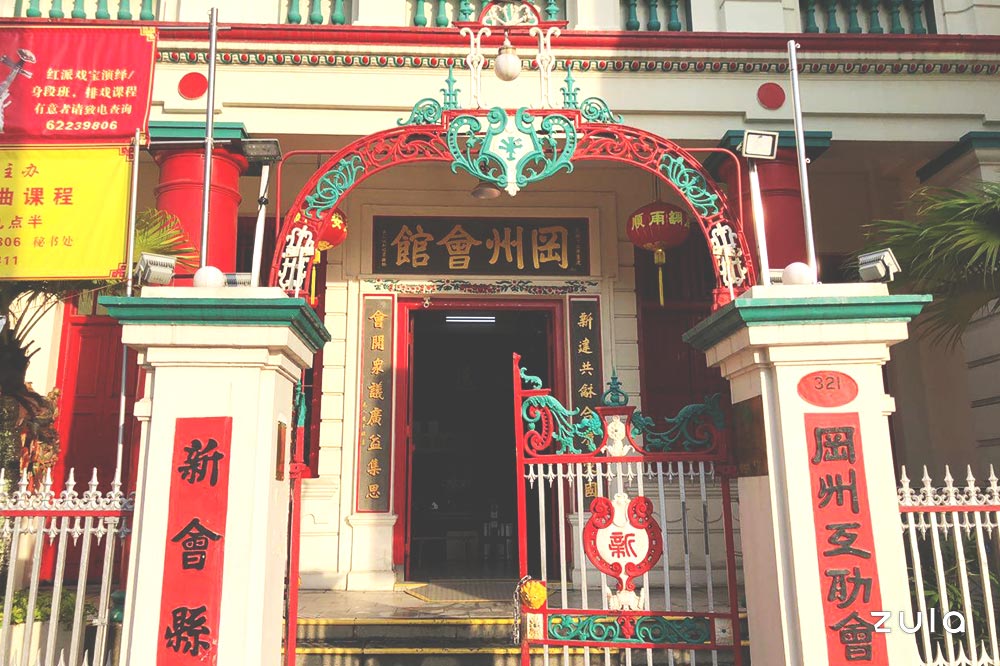 Photo credit: Asher Mak
Many of its original inhabitants have also been displaced due to redevelopment.
For example, the samsui women we iconise in National Day Parades and books have mostly moved out. Ironically, the progress we celebrate them for has stripped their original kampungs of meaning.
Lynn does not want the same fate to befall the clan association and speaks of renewal multiple times. It's a building laden with historical and political weight.    
The clan association's original design staved off destruction during World War II because it transformed into a charity hospital then.
Lynn is a guardian of Kong Chow Wui Koon's treasures
Our national discourse emphasises sacrifice, community, greater good. Our institutions, our everyday lives—they regulate and compel individualism, competition, self-centredness.
—Teo You Yenn, This Is What Inequality Looks Like
The irony between our narratives and systems that Professor Teo speak about is the space where Lynn and Kong Chow Wui Kwoon exist.
On one hand, we pine about the kampung spirit, which clan associations represent and facilitate. On the other hand, it's our drive for success and a "profitability per square feet" mentality that erode such historical sites and their legacies.
Lynn cannot contain her excitement about the building as I peer at the plaques and photos that decorate its walls. She tells me of how Lee Kuan Yew chose its grand hall to rally for National Service, right in front of pillars from the Qing dynasty decorated with mother of pearl.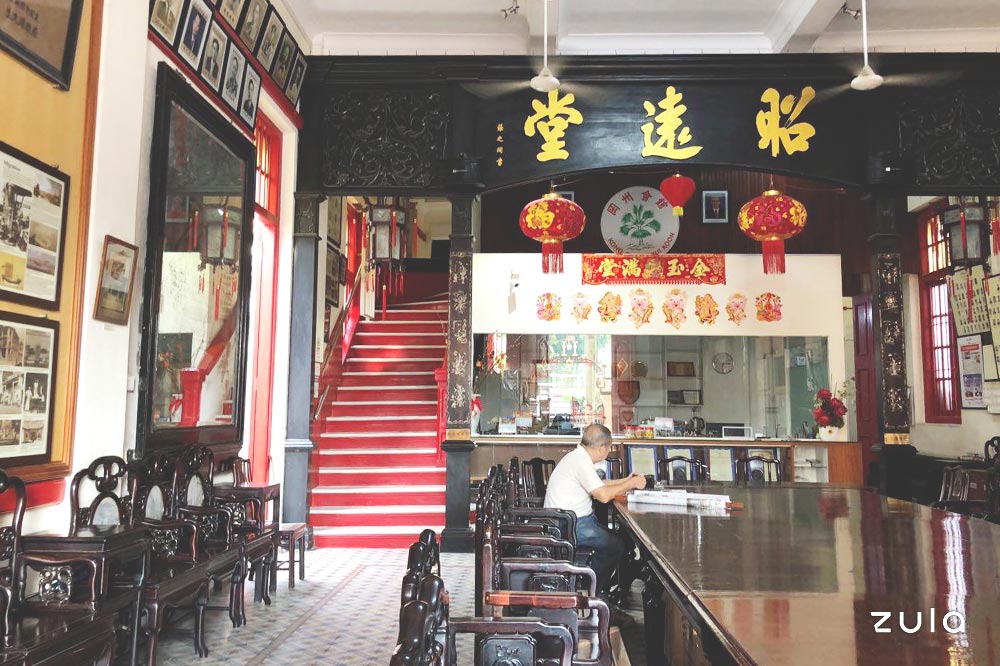 Photo credit: Asher Mak
Today, an elderly man sits in front of the same pillars, thumbing through Lianhe Zaobao. The vigour that used to fill the place has been replaced by the humdrum of impending irrelevancy.
Kung Fu Champion Lynn Versus An Eroding Heritage
As I prepare to leave, the great hall of Kong Chow Wui Koon is bathed in golden evening light. Its plaques glow under the illumination, as if they were restored to their former prominence in society.
I came wanting to know Lynn's personal story, but Lynn's story is the story of lion dance. Her story is the story of Kong Chow Wui Koon and our ancestors. Lynn's story is Wong Fei Hung's story when she learns and teaches his moves to young children.
Lynn is a masterful storyteller, making Chinese history as compelling as Marvel movies. To us, the lion dance is just a Chinese New Year tradition, but to Lynn, the art form spells the virtues of Romance of the Three Kingdoms' generals.
She explains why the lion has to encounter hurdles during performances—it symbolises the Han people's struggles in overthrowing Manchurian rule during the Qing dynasty.
As she bears the weight of the lion's head, bringing it to life, I can't help but feel she has an insurmountable battle to preserve heritage in a nation driven by profit and efficiency.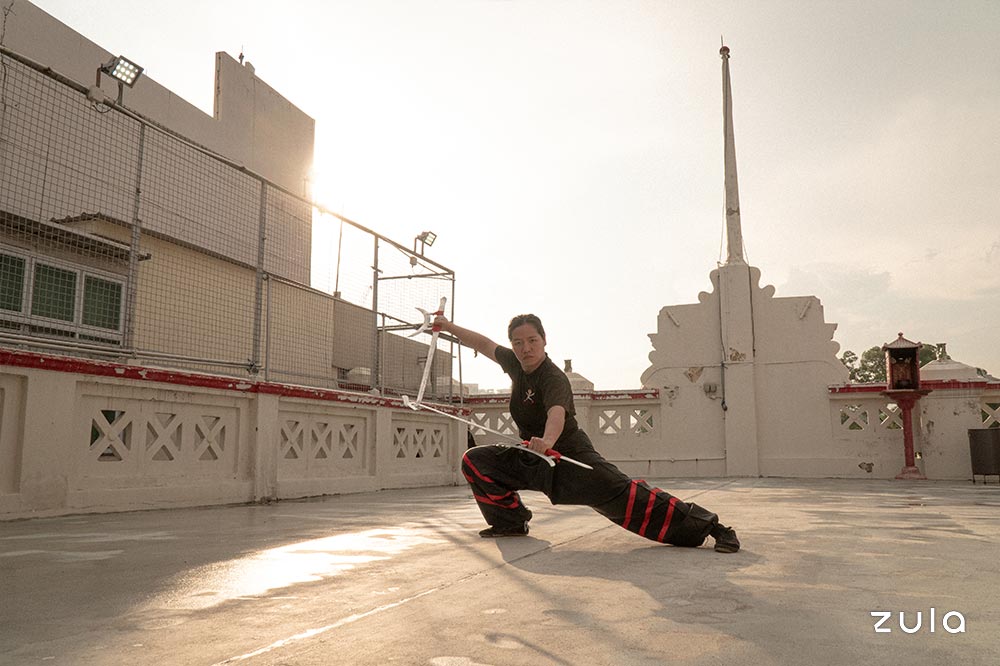 Also read:
Kimberly Hoong: Yale-NUS Graduate Who Rejected The Corporate Life To Be An Urban Farmer
Learn martial arts and Cantonese with Lynn at Kong Chow Wui Koon.
Photography by Sebastian Tan.