Life Of A Singaporean Undertaker
The universal truth is that all living things die, yet death is an inevitable fate we often fear and avoid. We'd splurge thousands of dollars on obituaries and sympathy flowers but would rather steer away from a man lying in his coffin. "Pantang lah," old wives would mutter.
But for 32-year-old Kelly Lim, superstitions aren't enough to deter her from arranging funerals for strangers on a daily basis.
In 2017, Kelly left her sales & trading job in an IT firm to take over her family's funeral business, Hiap Hin Tian Kee Undertaker. Despite the unexpected call-ups during odd hours, she cites being an undertaker as a meaningful career.
"I organised a funeral for a 21-year-old NS man who committed suicide and his mother was too distressed to handle the situation," she tells me. "I may not save lives but I help families be at ease."
As her family has done for the past 70-odd years, Kelly dedicates her time to help others cope with their loss by handling funeral arrangements. Besides services such as embalmment, cremation and burial, she'd also offer emotional support for those in grief.
Day in the life of an undertaker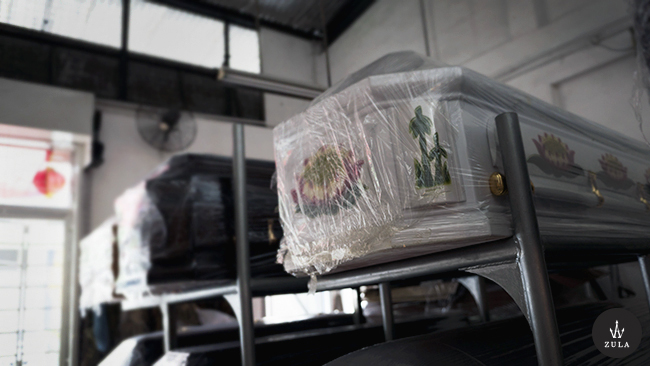 The process sounds straightforward: when Kelly first receives a call, she'll ask for their address, settle the deceased's death certificate and ask the family members if they wish to embalm the body.
Next, they'll arrange the full setup of the funeral at the venue. Depending on the deceased's religion, they'll organise the required rituals, and have the casket sent to the crematorium on the last day.
But behind each step, Kelly admits being in a time-sensitive industry can be operationally demanding.
"We cannot anticipate how many funerals there will be in a day. Miscommunication and manpower issues can pose a problem. Sometimes, we have to find a way to schedule our workers without compromising on our customers' requests."
The future of funeral businesses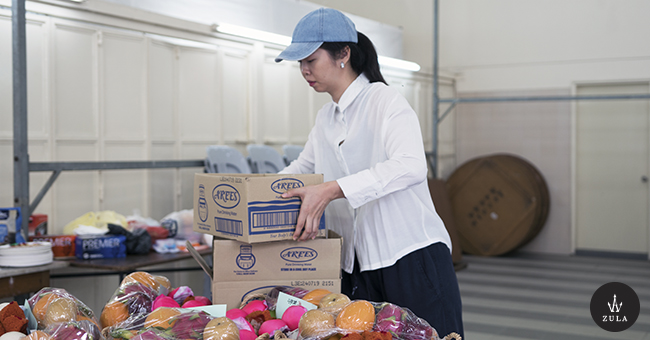 If catered food runs out during a funeral, Kelly would sometimes buy packet food for guests.
While medical or engineering degrees are noble pursuits, Kelly believes young Singaporeans often overlook and undervalue essential careers in trades such as the funeral industry.
"When I lost my uncle to cancer earlier this year, I never realised the significance of a good embalmer. His body was so frail but the embalmer managed to preserve his body which made him look healthy and well."
But Kelly laments getting into the trade can be a challenge, as skills in the funeral industry have to be learnt on-the-job.
"Most people I work with are elderly men who speak in dialect," she tells me. "They're not highly educated and do things based on their gut instincts. This means they find it hard to explain certain instructions."
As a result, communication and language barriers are adversities both young and old generations have to overcome in order to preserve the trade.
Yet, despite the challenges, Kelly hopes our generation can learn the ropes and help push the local industry forward. Kelly cites freeze-drying bodies into fertilizer as one such advanced "environmentally-friendly burial technique" she wishes to adopt.
Like all industries, she feels it's important for funeral businesses to constantly evolve and advance in techniques. "You just need to keep observing, keep learning on your own and not limit yourself to what you think you cannot do," advises Kelly.
Also read:
Getting Diagnosed With Alopecia & Losing All My Hair At 19 Taught Me The Importance Of Self-Confidence
The importance of empathy
When asked if she can recall an incident which struck a chord with her, Kelly tells me of her friend's father who had passed away.
"It was the first time a friend approached me for help. It was also the first time I had to fully handle an entire funeral from start to end. Although there were some hiccups, it was a job well done."
"My friend was extremely grateful throughout the entire process. He trusted me so I wanted to make sure I did a great job. I saw how much a service affects the families directly and felt his heartfelt gratitude."
So what's one takeaway she learnt from being an undertaker?
"Empathy," she tells me, without hesitation.
"With empathy comes patience, which is important when family members are flustered and ask repeated questions. To me, that is good customer service regardless of how well the funeral turns out."
On what the funeral trade taught her
For someone who constantly stares at death in the face, Kelly has a lively personality. "I used to fear death but once I accepted it, I started to live my life knowing every moment is a blessing," she explains.
So how would an undertaker picture her own funeral when the time comes?
"I'd like a happy funeral. When I was young, I wondered why people had to play mahjong to stay awake at songkas. Death is a natural process, so why don't we celebrate life instead?"
"I'd love to look awesome even on my death bed with nice blusher and highlighter," she beams. "Maybe even with DJ Khaled spinning some great tunes."
But until playing upbeat mainstream music at funerals is considered acceptable, Kelly hopes to preserve the traditional funeral rites which may fade away in the years to come.
Watch the full video here:
This article was first published on 22 August 2017 and last updated on 22 November 2023. 
Also read:
This 29-Year-Old Female Funeral Director Shares Stigmas Faced, Her Outlook On Life & How To Plan For Death