Lancôme's Beauty Tech Flagship
As we welcome back the mask-less era, there's no denying that many Singaporeans are loving the freedom of eased restrictions ‒ from travelling to attending physical events. And one such event to have on your radar is Lancôme's Beauty Tech Flagship. 
Filled with interactive activities and free samples that feature their anti-ageing serum Advanced Génifique, the flagship is open to the public outside Mandarin Gallery from 25 August till 7 September 2022. 
Beauty Tech Flagship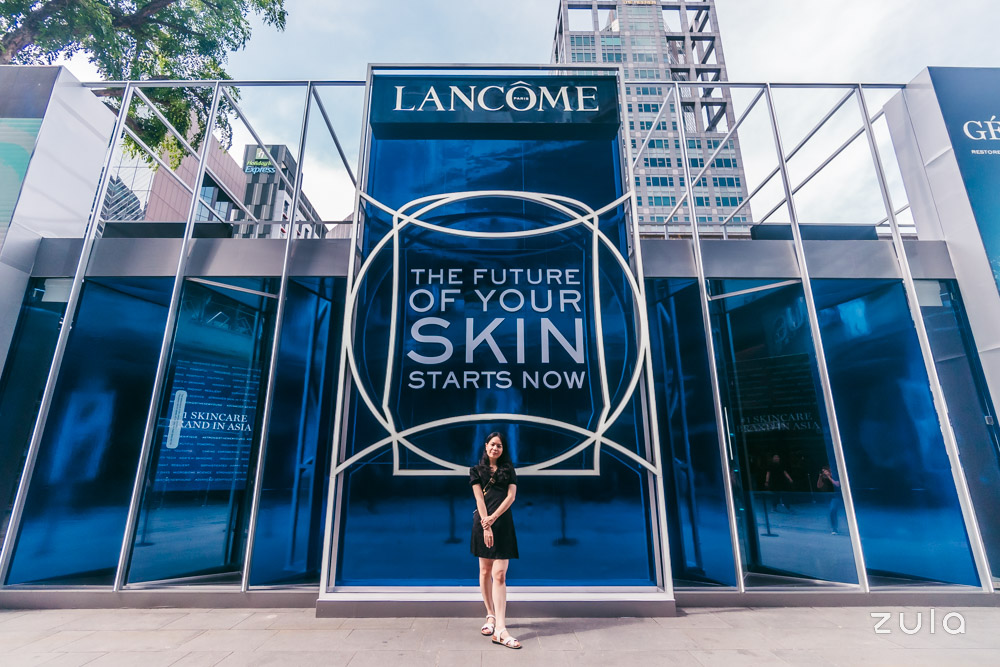 Catching your attention with its sleek and futuristic theme, the exterior of the flagship has metallic features and Lancôme's inviting message of "the future of your skin starts now". Even before entering the event space, make sure to pose outside for a glamorous OOTD shot to commemorate your visit.   
Génifique Immersion Gallery
The flagship begins with the Génifique Immersion Gallery ‒ an illuminated walkway that offers an insight into Lancôme's Advanced Génifique and the brand's futuristic world of beauty and tech. 
Thanks to its immersive educational gallery, you can move on to the next section with a gain in knowledge of the science behind the anti-ageing serum. Fun fact: the serum is proven to help skin recover 77% faster by strengthening the skin's microbiome. 
Write Your Strength Studio
Alongside the product feature, Lancôme is also honouring 50 inspiring ladies from Singapore of different backgrounds through their #StrongIsTheNewYoung nationwide campaign. Familiar names like Tabitha Nauser and Rozz are part of the campaign.
By sharing their strengths through handwritten messages at the Write Your Strength Studio, the inspiring ladies aim to empower and uplift the female community. 
Visitors are also invited to do the same, and the moment will be captured and shared with them via a GIF, which can be downloaded for them to further spread the inspiring messaging on social media.   
Lancôme Skin Screen
For the unacquainted, Lancôme has been tapping on the expertise of technology since 2009 to treat their customers' skin better. After the launch of E-Youth Finder, the brand has recently developed Skin Screen, an advanced beauty tech that offers complete diagnosis and prediction of customers' skin. 
It took only about 30 seconds for the Skin Screen to analyse my face 
The Skin Screen is capable of measuring 13 skin clinical parameters, with exclusive parameters like hydration and firmness. This is possible thanks to Lancôme's cutting-edge technology that combines tri-polar light technology, artificial intelligence, and advanced algorithms.
Currently, Lancôme is the only beauty brand capable of measuring such an extensive range of specifications.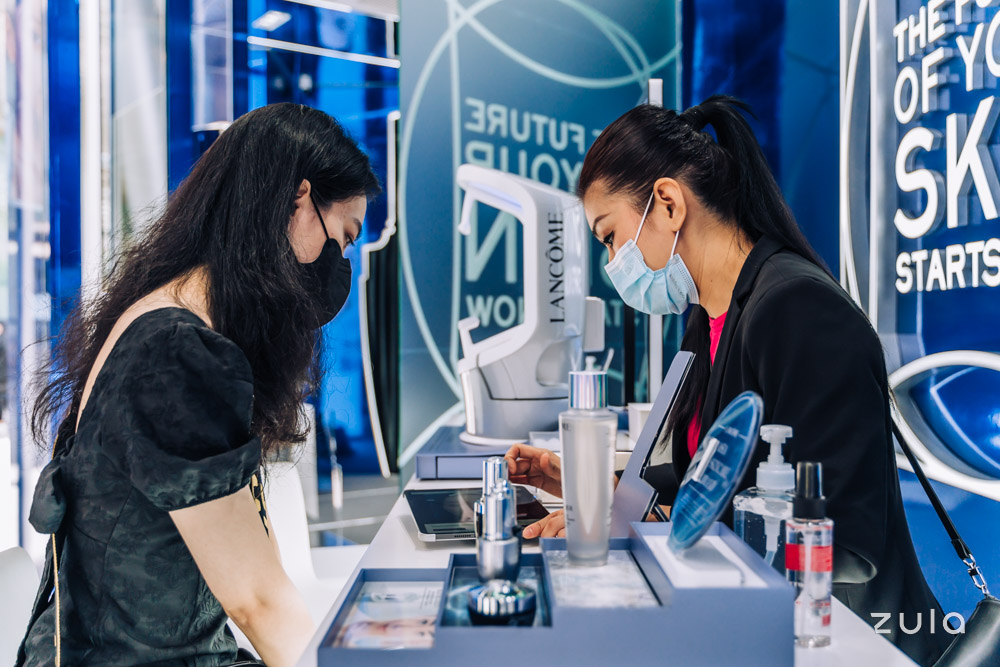 The Beauty Advisor explained to me in detail about my skin condition and shared that I need to improve on hydration and take care of my visible spots
At the flagship, you can experience the Skin Screen for yourself after completing a questionnaire. With the help of Lancôme's Beauty Advisors, you'll receive a personal analysis of your skin and a customised skincare routine based on your skin's needs. The best part? It is all free. 
Génifique 7-Day Sampling Machine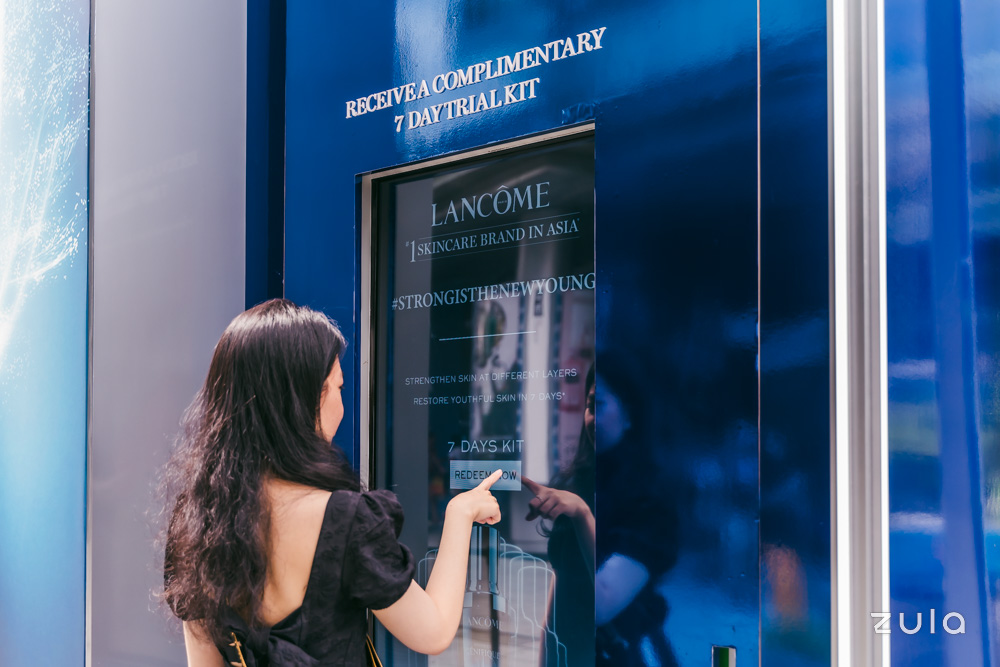 Don't just head off after you're done with your complimentary Skin Screen consultation ‒ you also get to take home a 7-day sampling kit from a vending machine located outside the flagship. 
The freebies include 10 sachets of Lancôme's Advanced Génifique and Advanced Eye Cream so you can experience your skin's transformation first-hand. 
Sign Up For A Slot To Lancôme's Beauty Tech Flagship & Support Underprivileged Women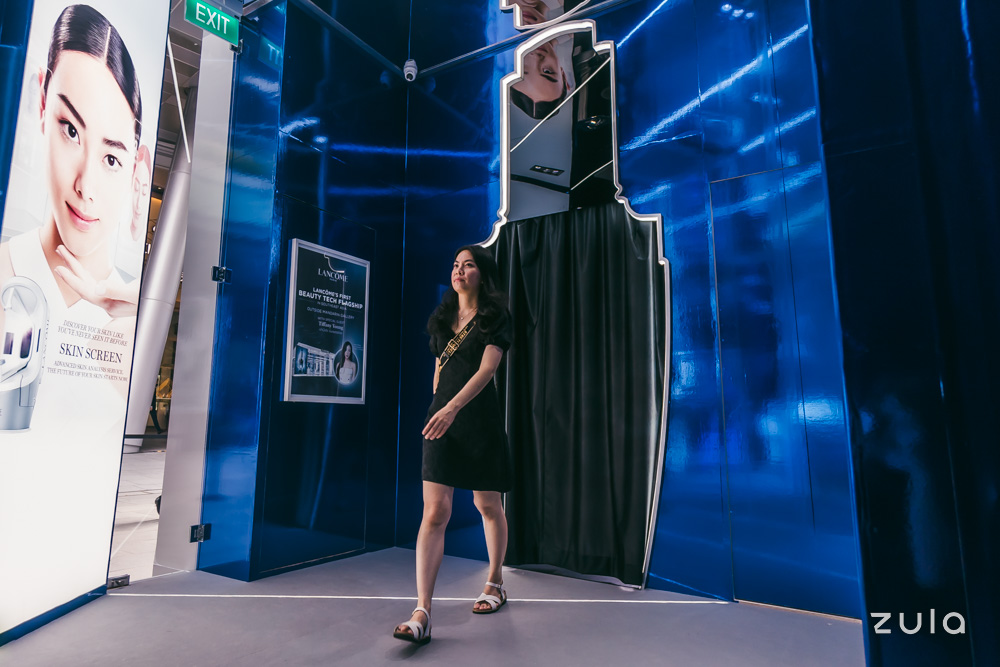 As part of Lancôme's continuous effort in empowering women, the brand will also be supporting Daughters Of Tomorrow (DOT), their appointed charity for the Beauty Tech Flagship. For every registered sample sign-up, Lancôme will be donating $5 to DOT to support underprivileged women in their back-to-work journeys. 
Don't fret if you can't make it to the flagship before 7 September 2022. You still get to enjoy perks like a 49% discount on Lancôme's Advanced Génifique set when you shop on Takashimaya's online shop. 
For more information and to sign up for a slot to visit Lancôme's Beauty Tech Flagship, head over to Lancôme's website.
Lancôme Beauty Tech Flagship 
Date: 25 August to 7 September 2022 
Address: Mandarin Gallery, 333A Orchard Road, Singapore 238897
This post was brought to you by Lancôme. 
Photography by Doreen Fan.