Using A High-Tech LED Mask
As a beauty writer, I've smeared, lathered and layered on a ton of skincare products. But no matter how many formulas I try, I can't seem to get rid of my acne scars and fix my uneven skin tone. Facial treatments at the spa seem to do the trick, but after a year of visits, my bank account was crying.
For months, I'd seen influencers on my Instagram feed posing away with their RoboCop-like LED masks. They also raved about its skincare benefits in the captions, such as firming and brightening. Since it's the same technology used in some of my favourite facials, I'd always wondered if I could swap out my spa visits for an at-home treatment instead.
So when I was offered the chance to try an LED mask, I was curious to see if the hype was real.
First impressions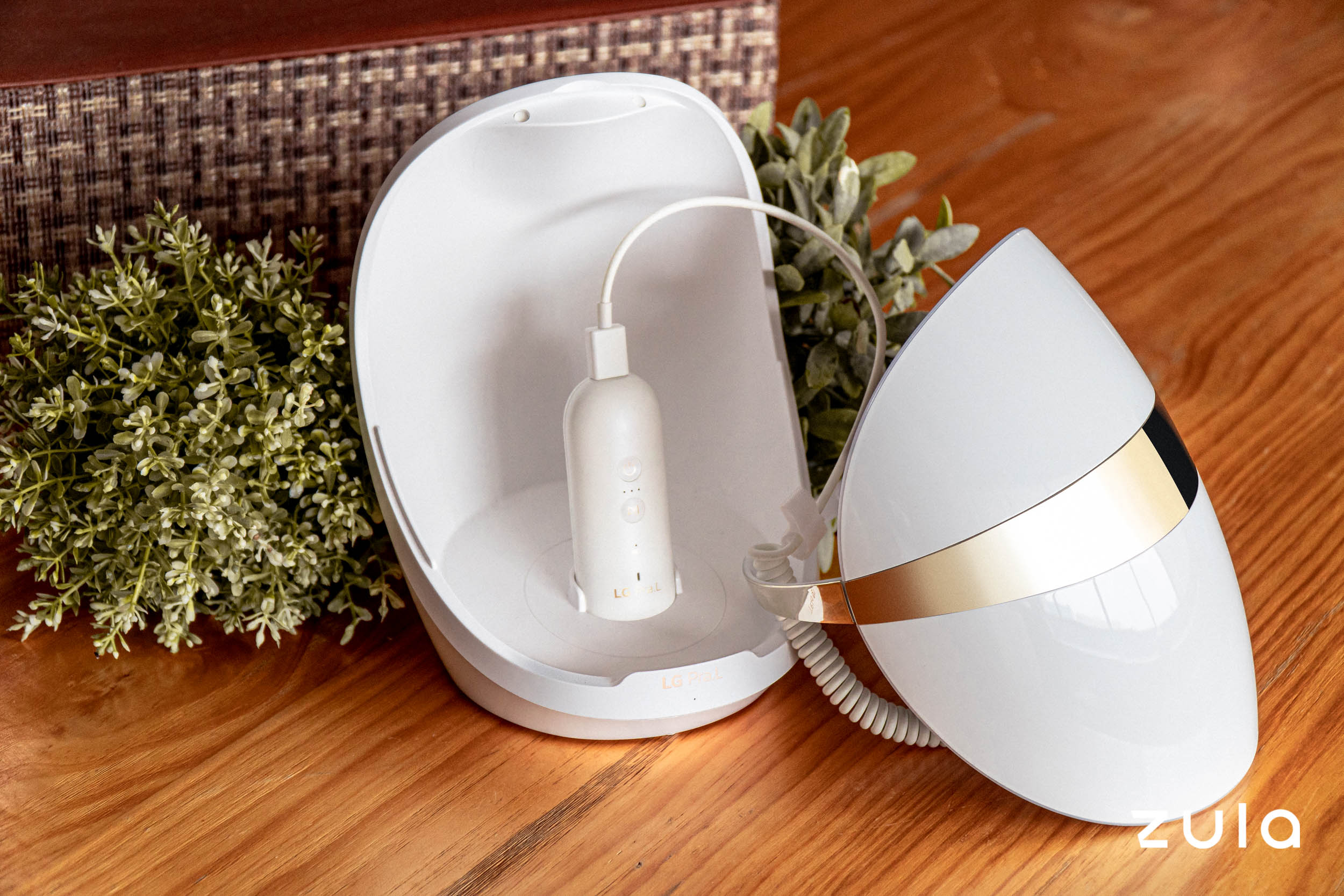 "Wah, that's a face mask? Jin sui (very beautiful) leh," my ah beng colleague commented before I brought the set home. Indeed. The white and gold LED mask comes with a magnetic cradle, so you can charge the device through its handheld controller easily.
When not in use, the mask resembles a futuristic sci-fi pod that doubles up as a sleek sculpture on your bedside table.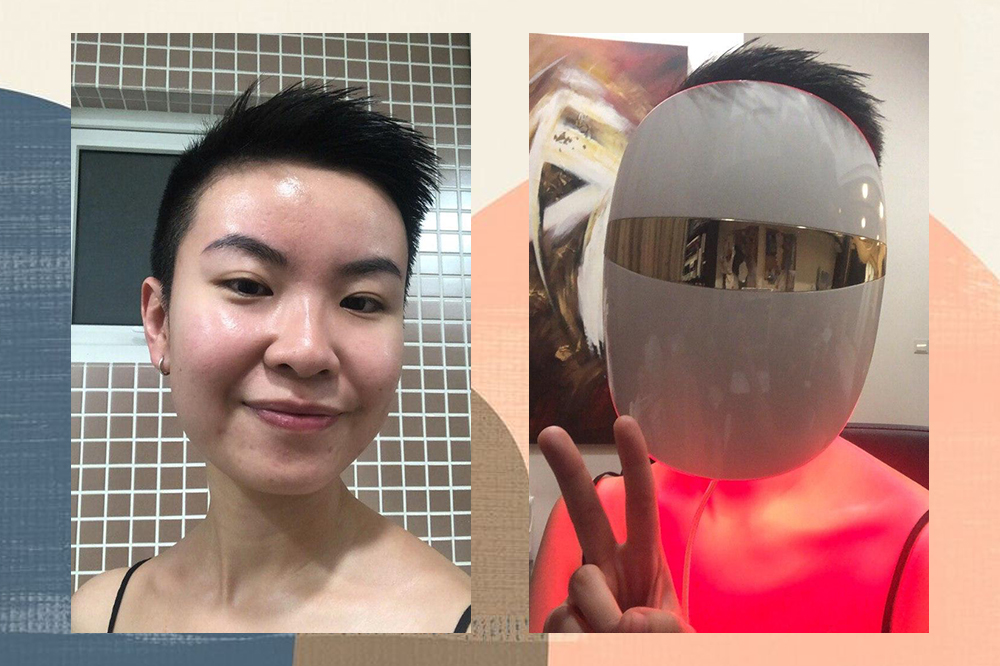 After moisturising my skin (left); trying the mask on for the first time (right)
After cleansing, toning and moisturising my skin in the evening, I slipped on the LED mask like how I'd wear a pair of sunnies. It felt a little snug around the temples, but it wasn't uncomfortable by any means. There's a flexible silicone guard within the mask that's designed to shield the eyes from the glare too.
The gold strip on the mask is actually transparent, so I could look through the tinted lens. At every 3-minute mark, the device would sound off to let me know how much time I had left. I tuned in to an episode of Terrace House, and before I knew it, my 9-minute session was up.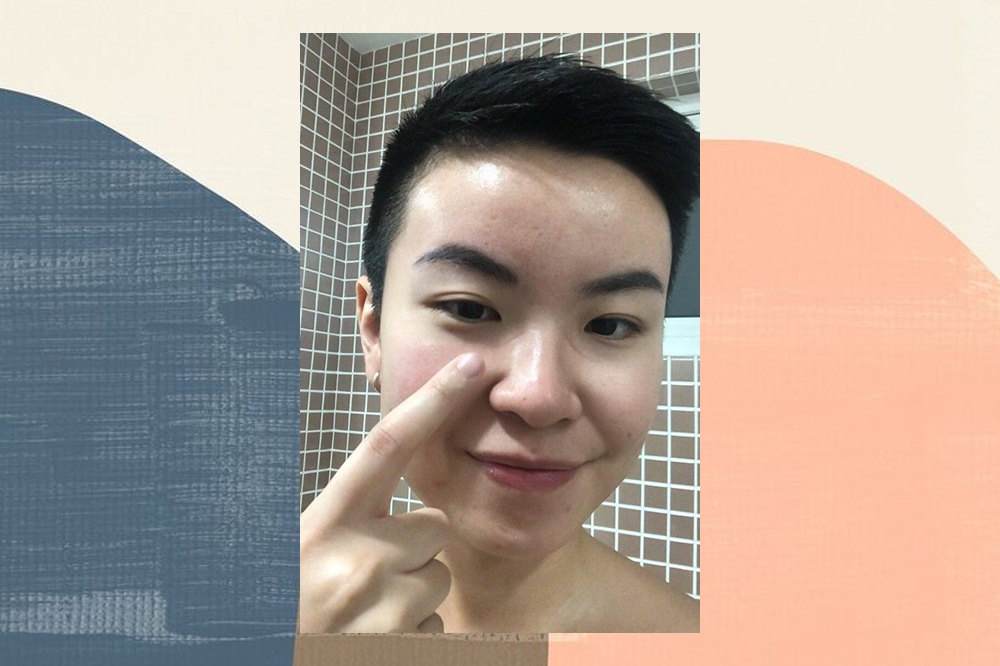 The marks caused by the eye shield
When I removed the mask, I saw that the eye shield had left a couple of marks across the bridge of my nose. Since I'd only be busting out the LED mask at night, I didn't think it was a problem at all. There wasn't a visible difference to my existing acne scars from the first session, but I was still looking forward to seeing what a month's trial could do.
Midpoint check-in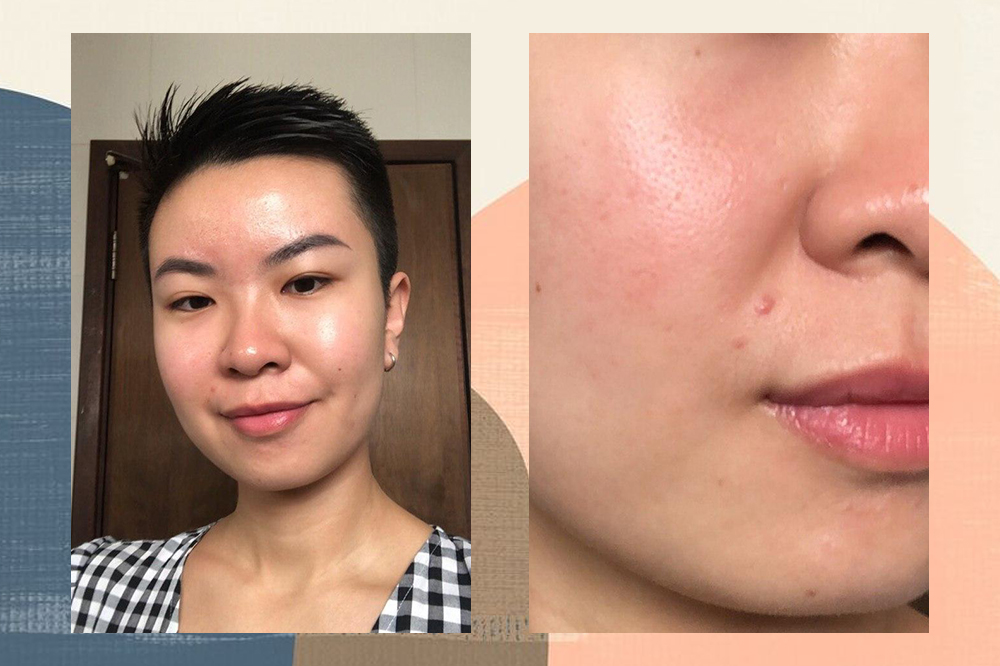 Period woes: Red patches on my face (left); close-up of my new pimples (right)
Unfortunately, the arrival of my period brought about new zits above my lips. My skin became a little more sensitive, which explains the flush on my cheeks and forehead. Curse you, hormones.
Despite that, my skin felt tighter and appeared more lifted, thanks to 2 weeks of daily LED masking. I have a bad habit of picking my skin, but the mask served as a reminder to back away from the mirror and unwind, even when shit hits the fan during my menstrual cycle.
I thought using the LED mask every day would be a hassle, but it was a breeze. Unlike a serum-filled sheet mask, I didn't have to keep tugging at the corners to adhere it to my skin, and there was no gloopy serum to clean up. The mask did feel a little heavy though, so I wouldn't suggest cooking or cleaning while you're wearing it.
Final thoughts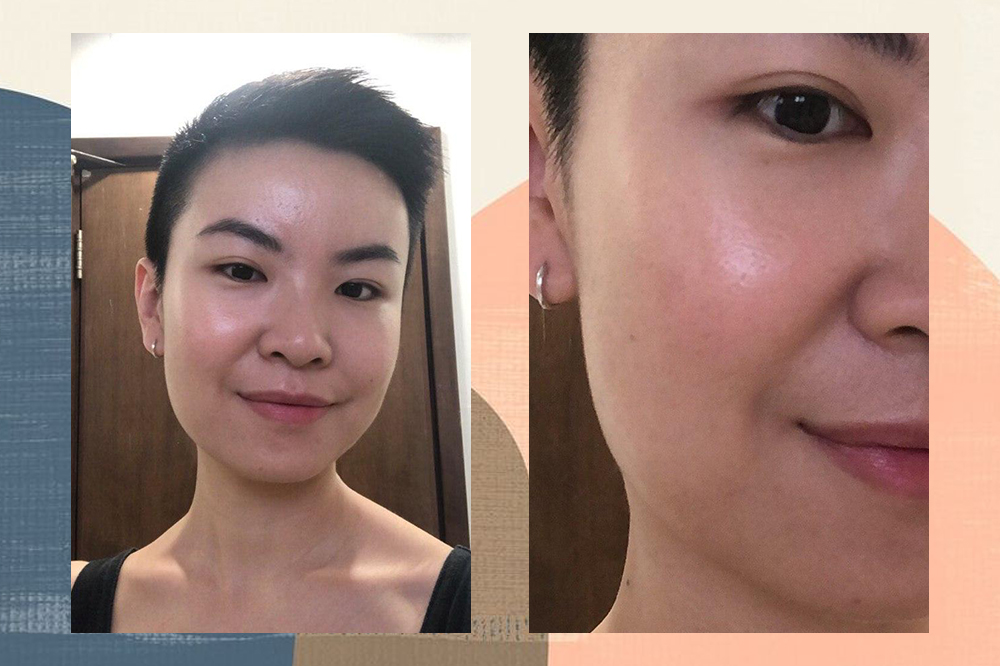 After 1 month: More even skin tone (left); acne scars were mostly healed (right)
Hormonal zits often overstay their welcome, but over the final 2 weeks, the pimples above my lips healed almost completely. My face wasn't as flushed and my overall skin tone looked more even. When I cleansed my skin, its texture felt smoother too.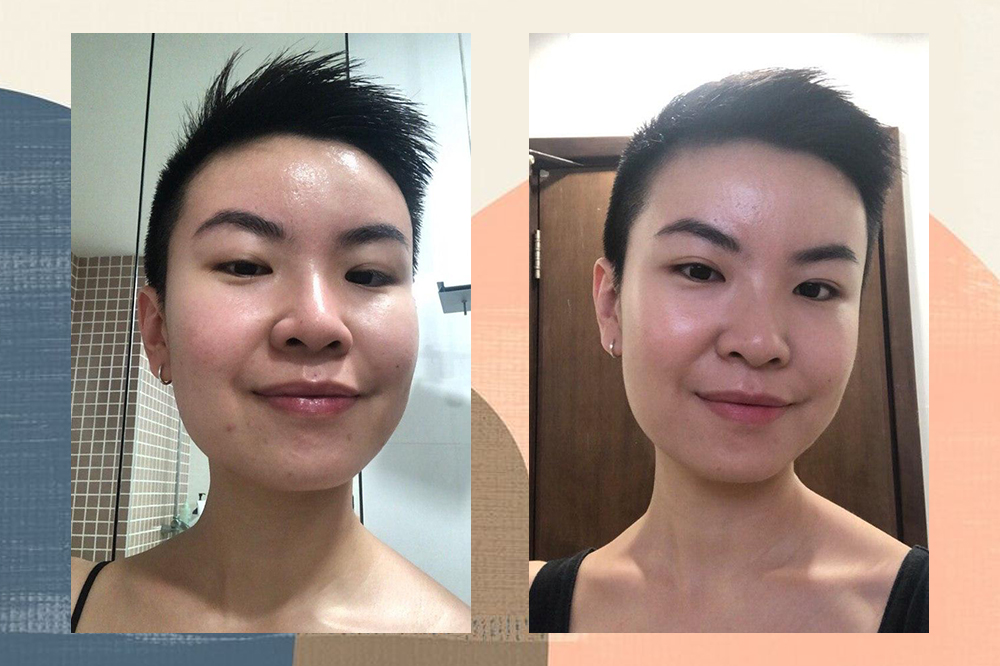 Before (left) and after (right) the 1-month trial
While my dark circles didn't appear lighter, I did notice a healthier glow to my face. "So this is what I'd look like if I got 8 hours of sleep daily," I thought. I primarily expected the LED mask to help with my acne scars, but I was pleasantly surprised to discover its other benefits.
I did a bit of research, and here's what I found. Apart from cultivating plants in space, LED light therapy also aids in cell regeneration to give the skin a boost in bounce and glow. That is probably why my skin looked more radiant after the trial. My face now feels more taut and is visibly less puffy in the mornings too.
Priced at $1,349, the LG Pra.L Derma LED Mask delivers the same results as a spot-correcting facial. All that's required is a bit of daily diligence.
Also read:
7 Express Facial Treatments Around Singapore's CBD For A Quick Complexion Pick-Me-Up From $68
LG Pra.L's skincare devices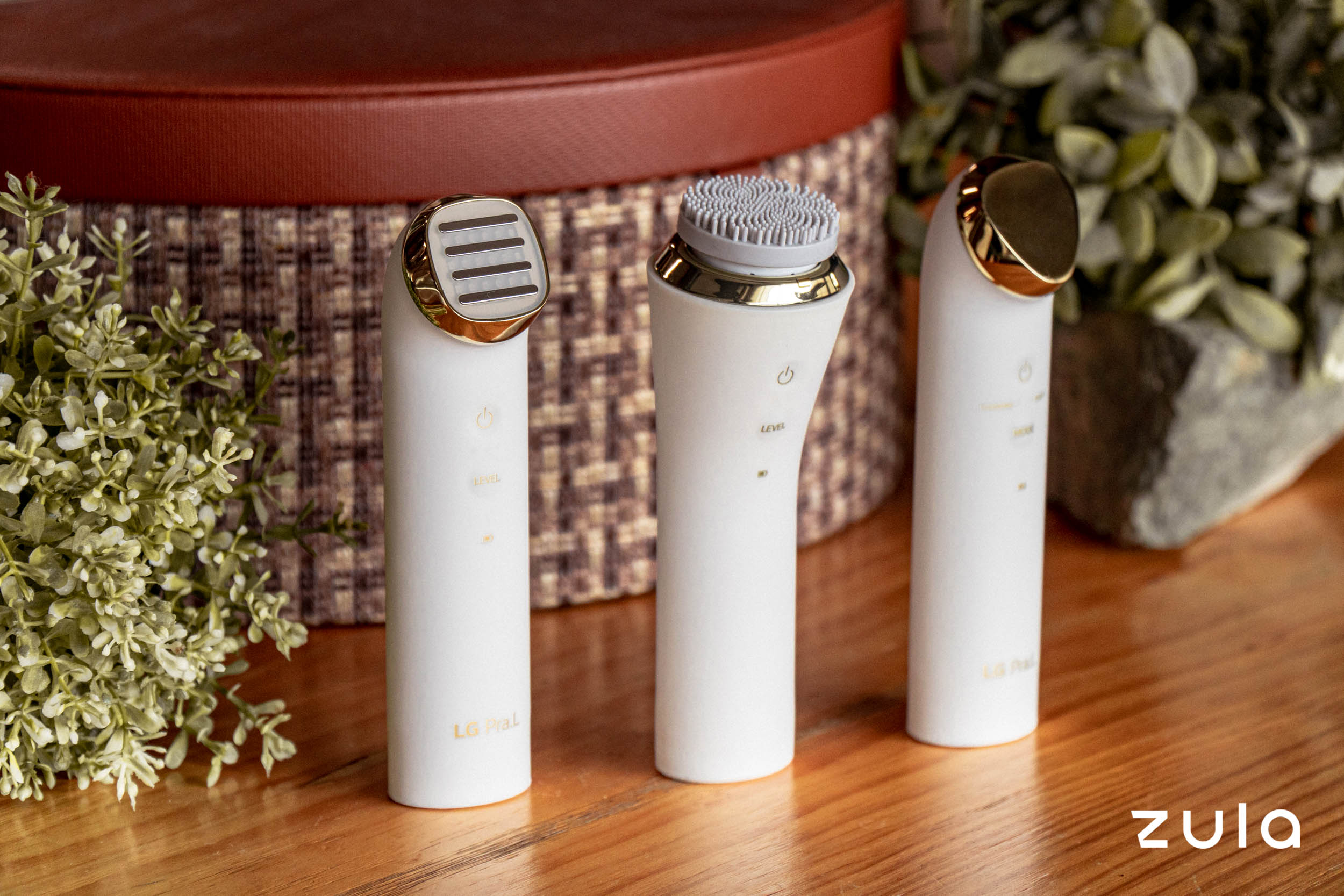 Apart from the LED mask, LG Pra.L also offers 3 beauty devices to help cleanse, lift and firm the skin.
For a gentle or deep cleanse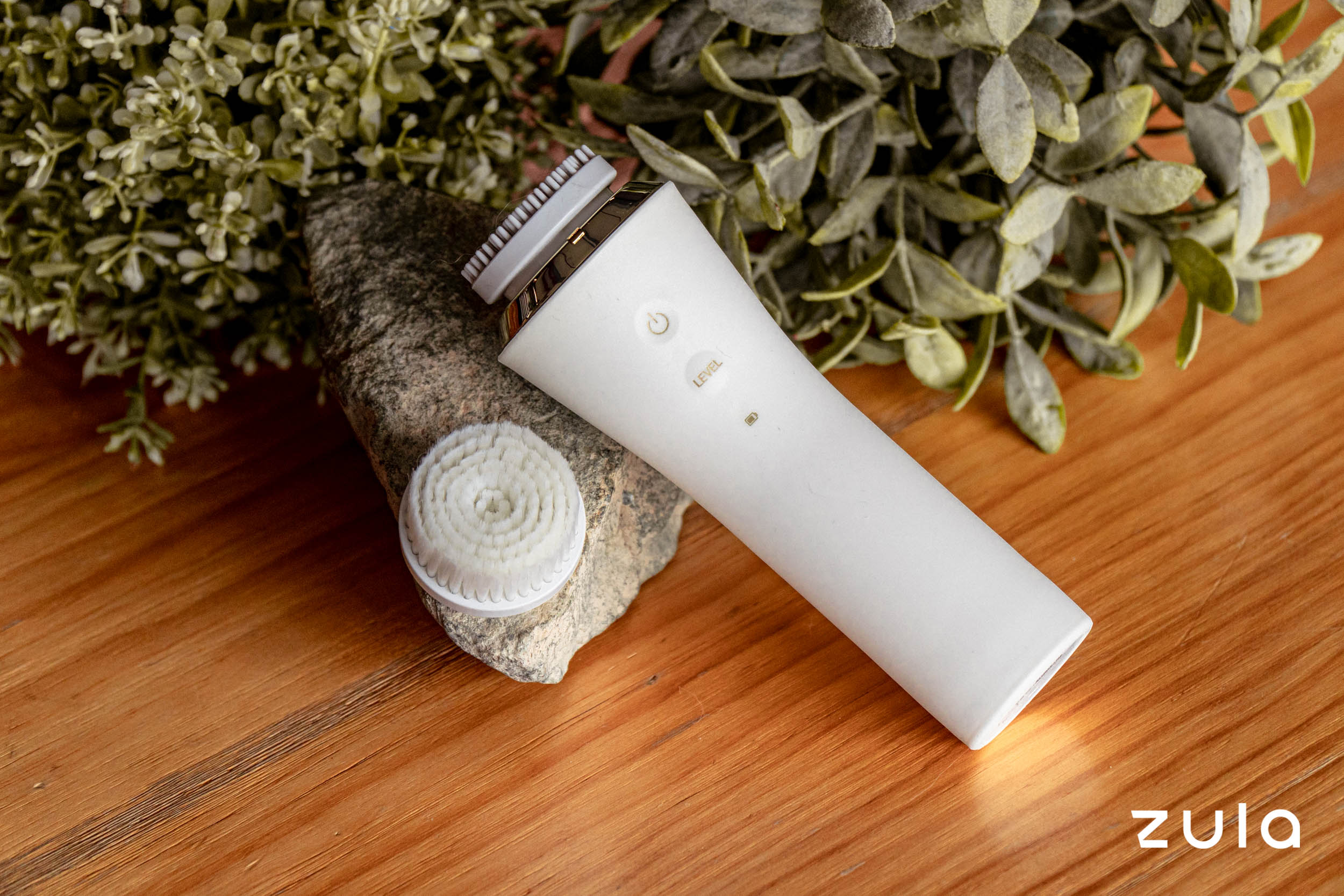 Dual Cleanser ($449)
Like its name suggests, the Dual Cleanser comes with 2 brush heads. For a gentle, daily cleanse, pop on the silicone brush. If you're struggling with clogged pores, switch it out for the fibre brush to get rid of grime and dead skin.
The waterproof device is also able to detect which brush head you've attached to it, so it adjusts its motions accordingly.
To enhance product absorption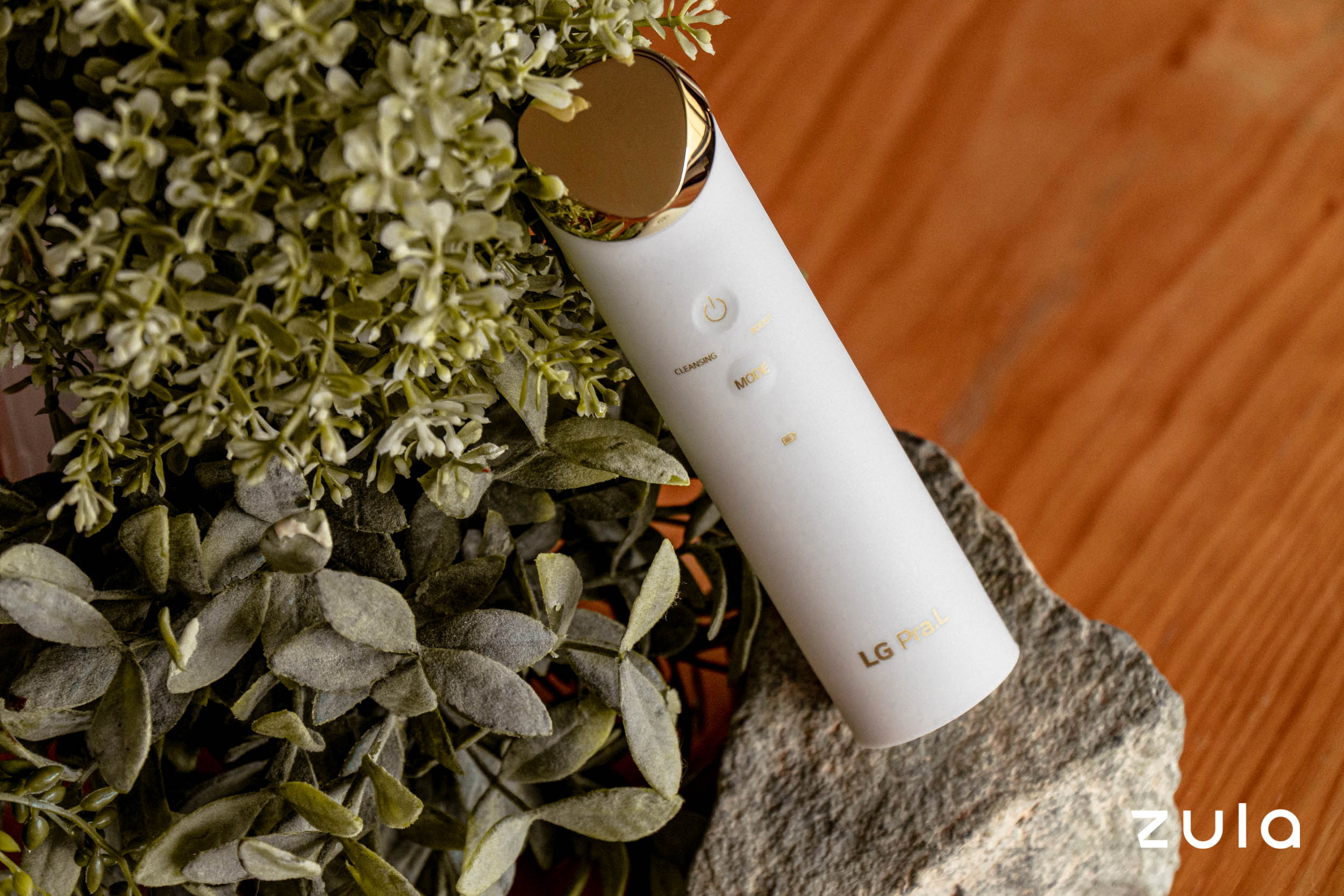 Galvanic Ion Booster ($529)
When used with a cleanser, the Galvanic Ion Booster loosens the pores with thermal therapy to draw out dirt and impurities.
The device can also be used after you've layered on your serums and moisturiser. It produces a safe level of heat to deliver the beauty benefits of your products deeper into the skin. The metal tip should glide across hydrated skin with minimal tugging.
To lift and firm the skin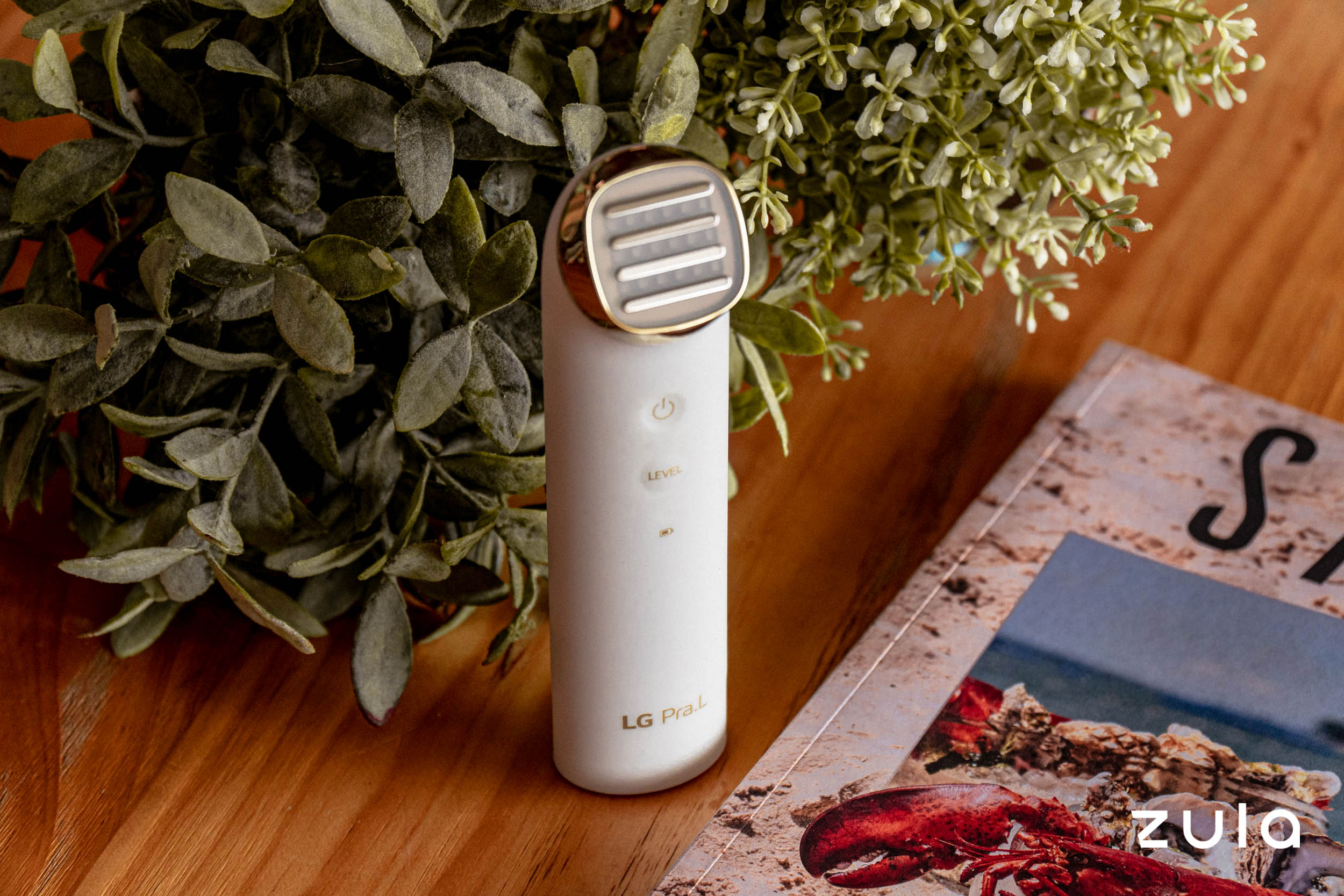 Total Lift Up Care ($699)
To show your skin some TLC, use the Total Lift Up Care twice a week. The firming mode uses red LED light and thermal therapy to plump up the skin, while the lifting mode uses microcurrents to stimulate skin tissue for a slimmer face.
After applying your skincare products in the evening, massage your skin with the device.
Using A High-Tech LED Mask For A Month
With continued use, the LG Pra.L Derma LED Mask managed to solve my biggest skincare dilemma, so I can skip expensive, time-consuming facials. Instead of using harsh acid treatments to lighten my scars, the mask offered a gentler way to tackle stubborn spots. My skin tone looks more even too—a major boon in my book.
To check out LG Pra.L's products in person, head down to TANGS at Tang Plaza, Robinsons The Heeren and Robinsons JEM, and Best Denki at Ngee Ann City.
This post is brought to you by LG Electronics – Home Beauty.
Photography by Sebastian Tan.
Also read:
8 Beauty Launches in December 2019: Tested, Reviewed & Rated