LeSportsac x Kellogg's Collection
There are 2 kinds of cereal eaters – Corn Flakes lovers and Fruit Loop addicts. I was always in the latter camp growing up. Either way, the nostalgia that hits whenever we open a box of cereal and catch a whiff of the sugary sweetness is nothing short of euphoric.
If you've been looking for a way to hold on to those feel-good vibes, New York based lifestyle brand LeSportsac, known for their sturdy yet lightweight ripstop nylon bags, has just released a collection of slings and totes inspired by Kellogg's wide range of cereal types and the iconic characters of the brand. And the "milk" to these cereal-infused bags? An early bird promotion of 10% off the items. Read on to find out more about the full collection.
Cereal Crossbody Bag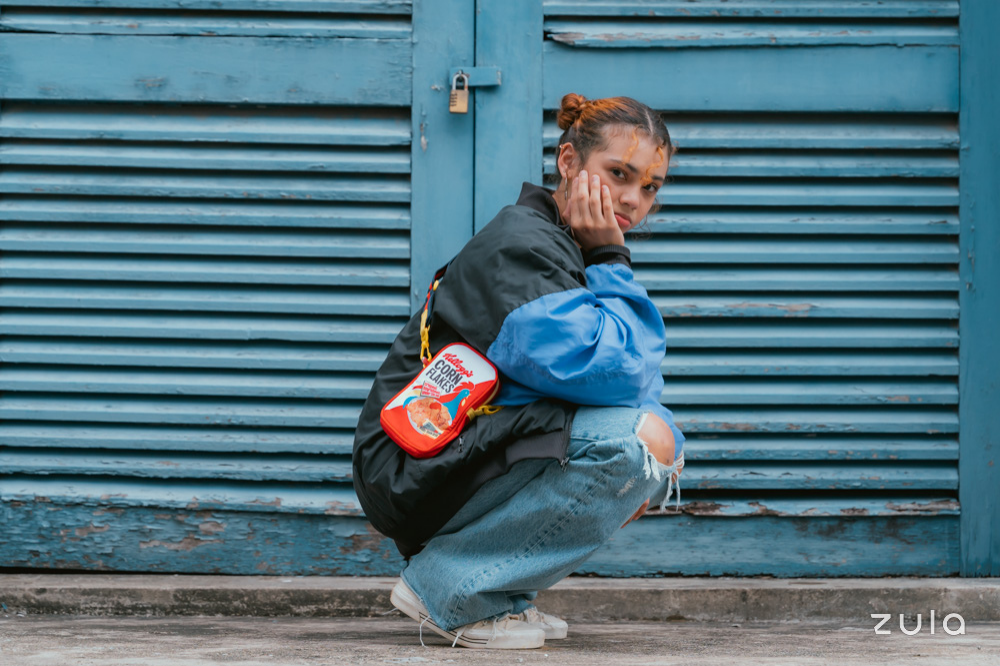 The collection starts off on a vibrant note with the Cereal Crossbody bags designed after 3 of Kellogg's instantly distinguishable cereal flavours – Corn Flakes, Frosted Flakes and Fruit Loops. All of the bags have an adjustable strap and are shaped like mini cereal boxes. 
Additionally, they are made of high-quality nylon which is both durable and lightweight, just like the other bags in the collection.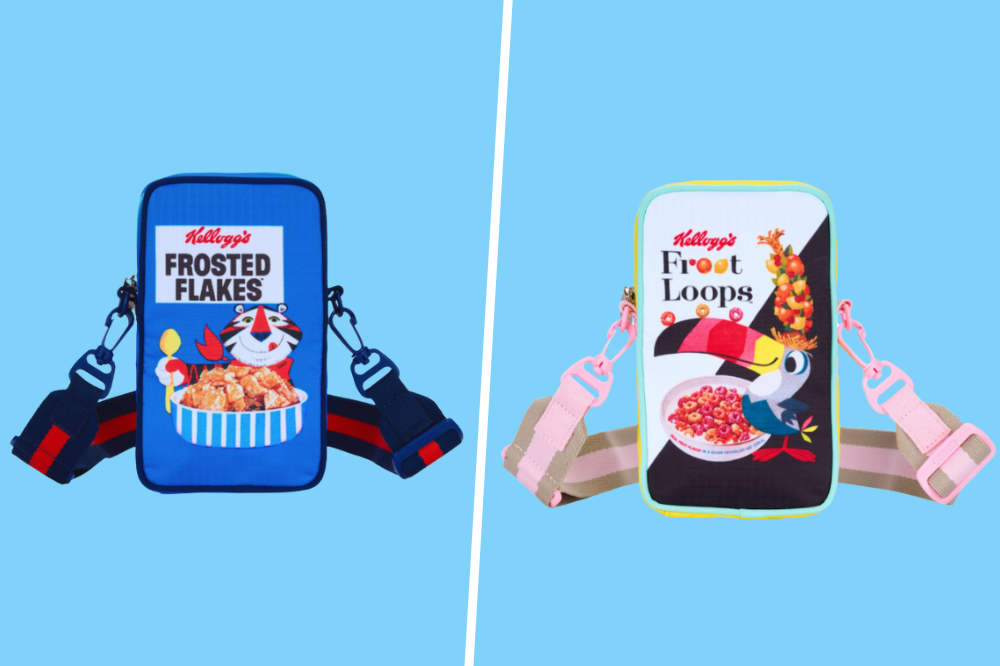 From left: Frosted Flakes Crossbody, Froot Loops Crossbody
The first version of the bag is coloured cobalt blue and mimics the Frosted Flakes cereal box from 1951, with Tony the Tiger licking his lips. 
Alternatively, there's a Fruit Loops version of the bag, with Toucan Sam featured at the forefront – an easily recognisable face for those of you who grew up powered by the cereal. In yellow, this bag is one you can pair with high-waisted denim and a fitted crop-top for that Y2K aesthetic.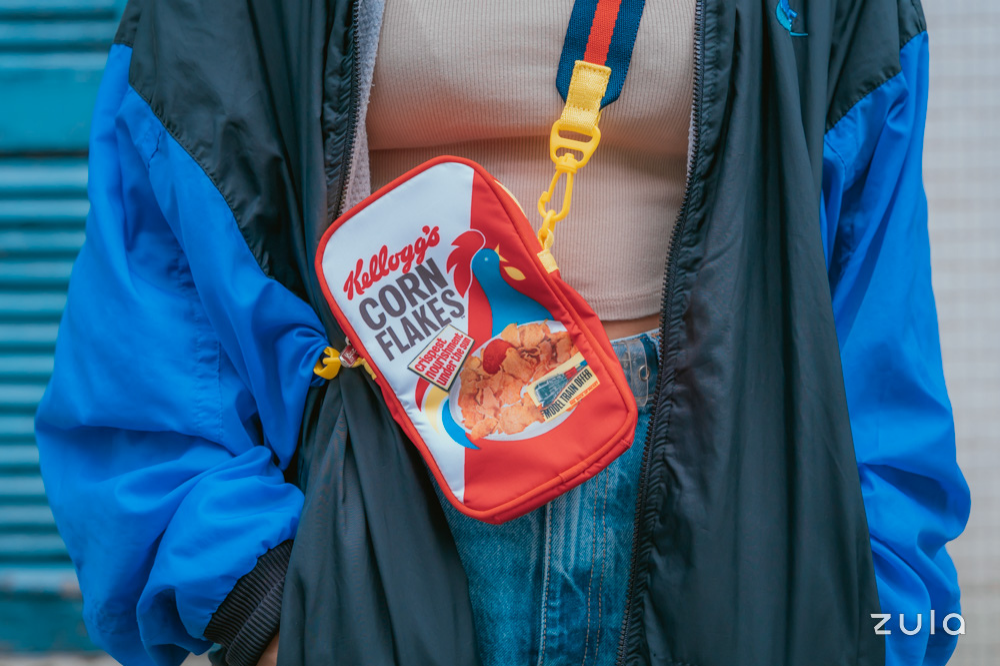 Red is a colour synonymous with passion – so if that's how you feel about your cereal, then this Corn Flakes crossbody is an option worth giving a go. With Corny printed on the front, the bag will leave you craving some sticky-sweet honey joys. 
The Cereal Crossbody Bags are priced at $95 each. 
Retro Cereal Box Bowl Crossbody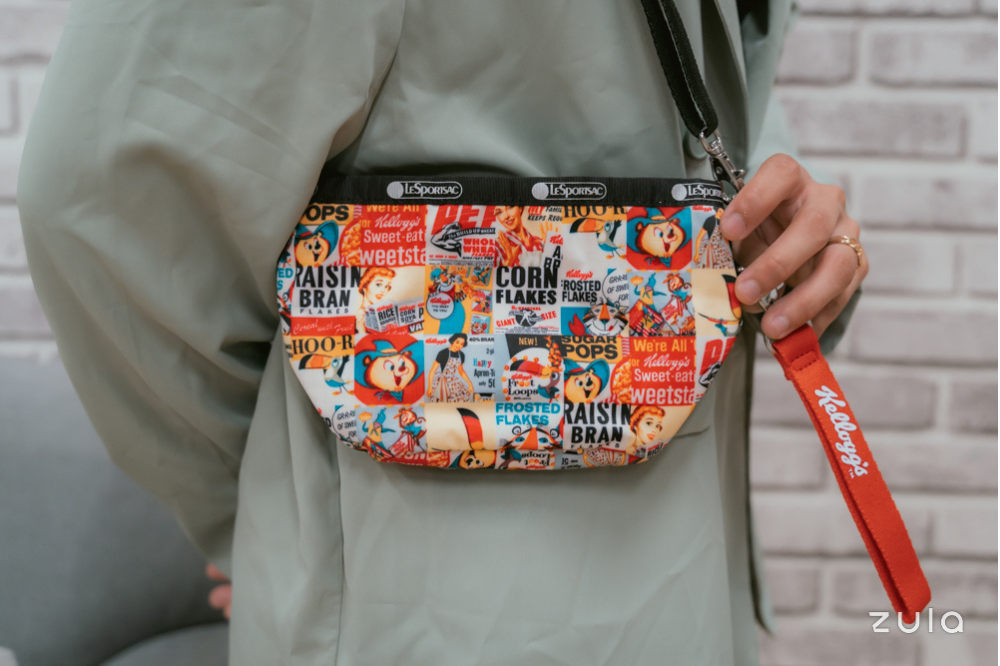 My personal fave of the collection is the Retro Cereal Box Prints Bowl Crossbody with retro-style patchwork prints of Kellogg's cereal flavours. The bag is shaped like a purse and can fit your phone, wallet and keys – all you need for a girls night out.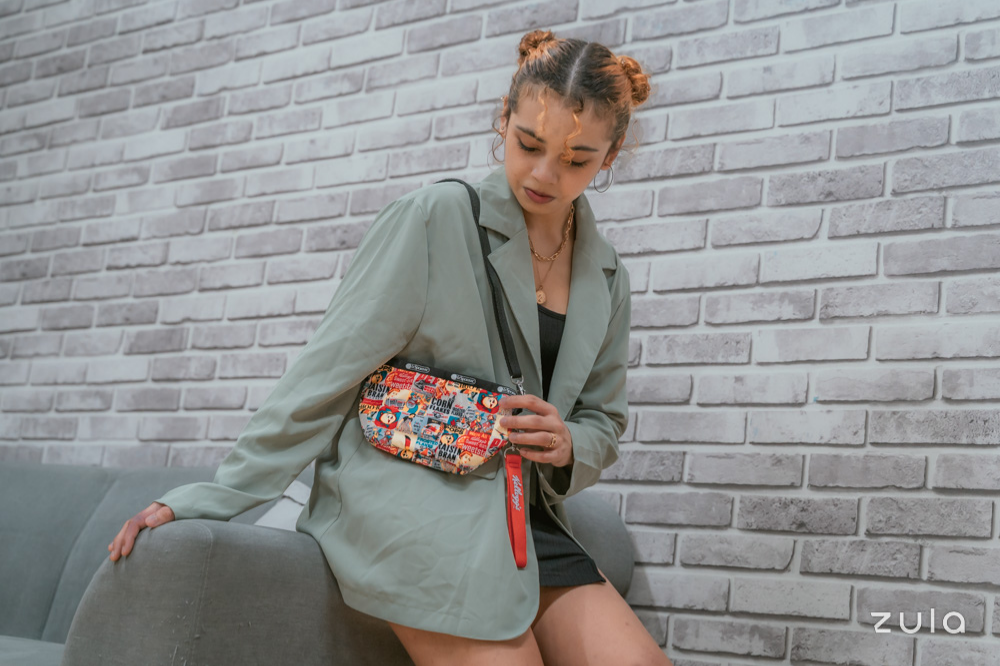 Plus, it'll pair nicely with either a classy or street style fit. 
The Retro Cereal Box Bowl Crossbody is priced at $85. 
Retro Cereal Box Convertible Bag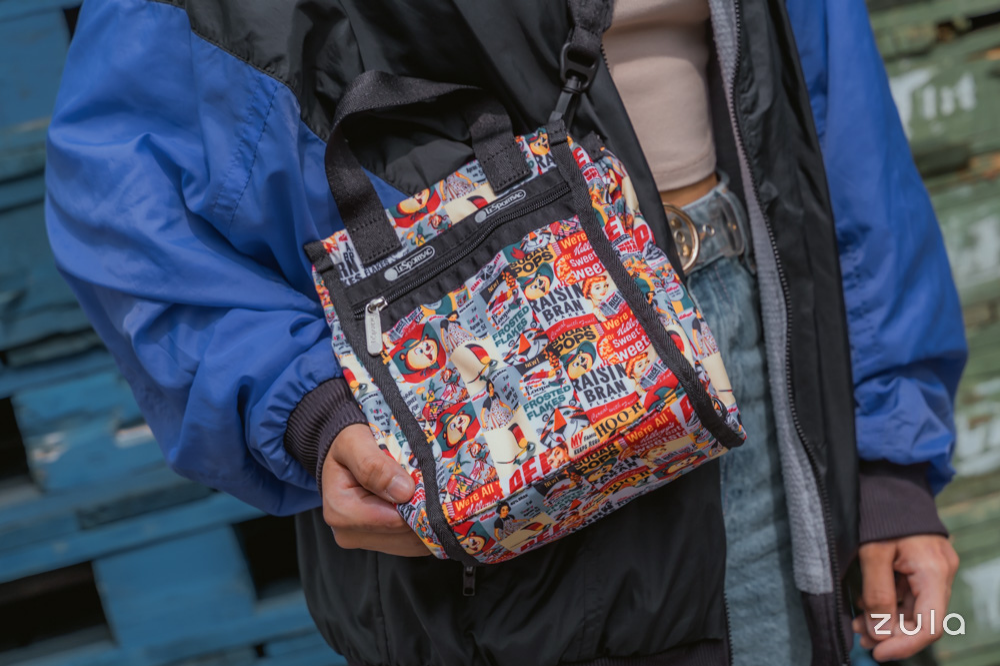 Featuring the same print as the previous crossbody, this convertible bag comes shaped like a box and has 2 carry options – hand carry straps or a detachable crossbody feature to sling across your shoulders.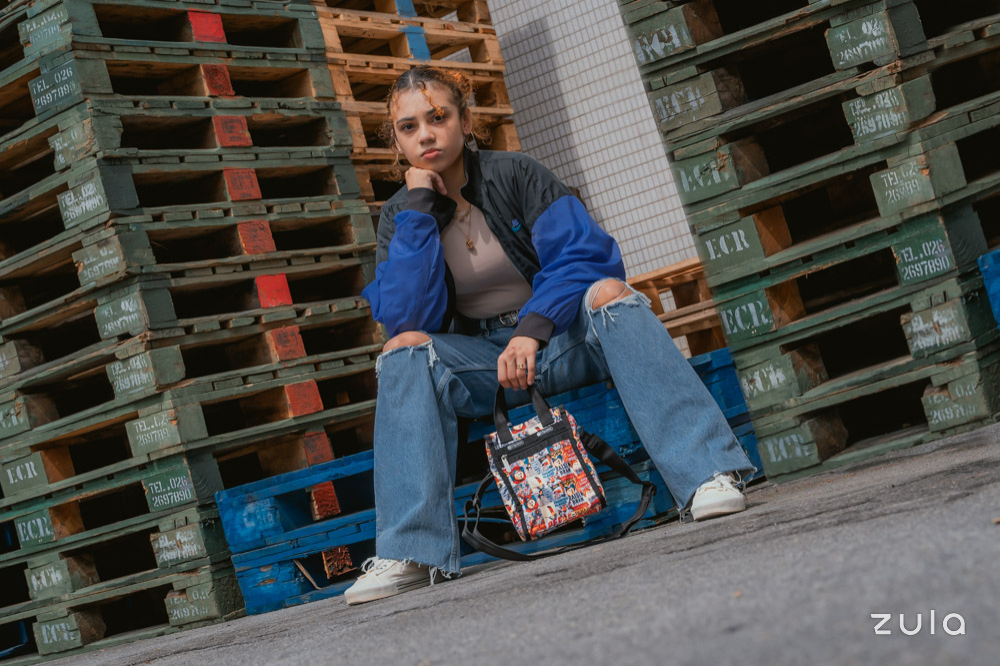 The extra compartment in the front and the space that the box shape affords allow you to carry a deceiving amount of items despite its compact size. 
The Retro Cereal Box Convertible Bag is priced at $160.
Tony Stripe Patch Pocket Tote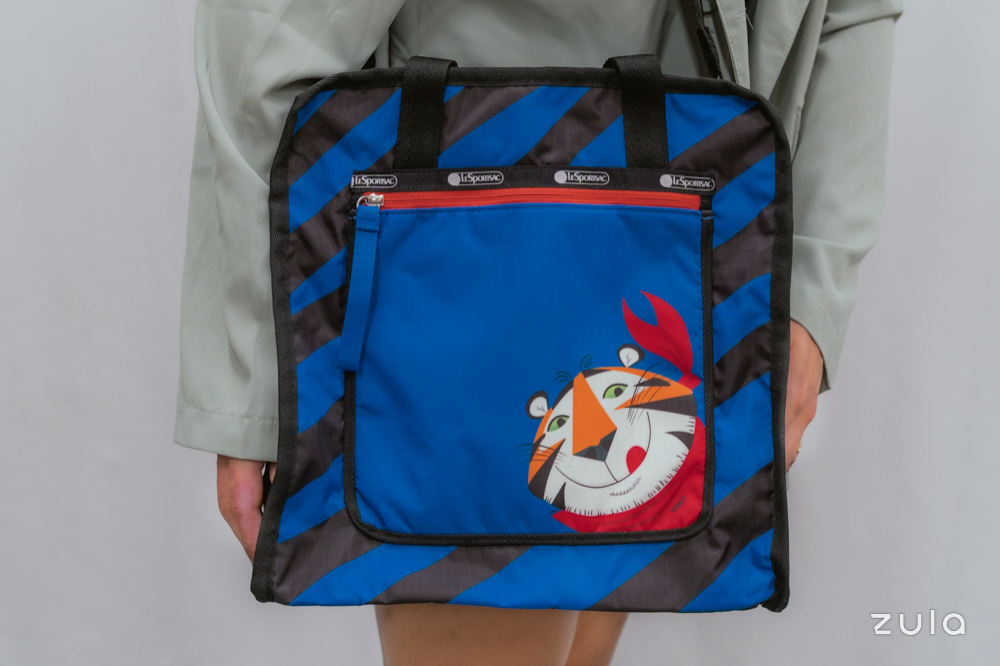 Tote bags are a life-saver, so why not add one more to your collection at home with this striped  Patch Pocket Tony Tote? The bag has black and blue stripes running along the edges, with Tony peeping out the side of the blue compartment on the front.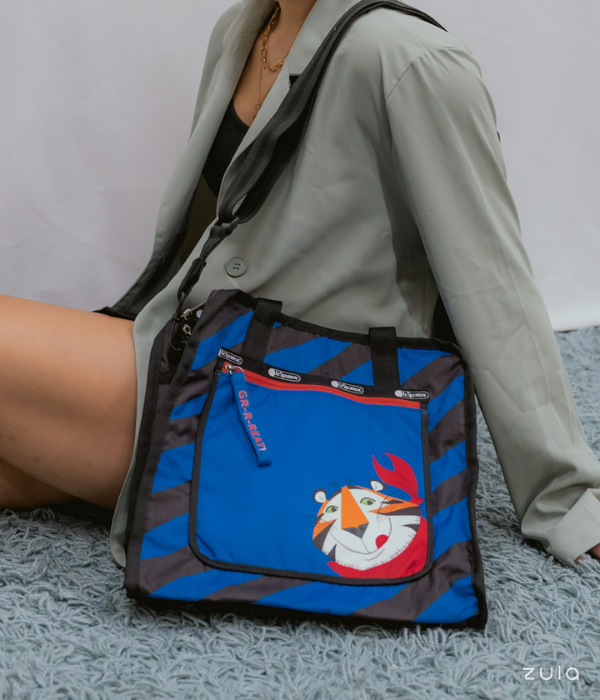 Take a closer look at the bag's blue zipper, and you'd spot the words "GR-R-EAT" printed in red – a homage to Tony's iconic catchphrase. Plus, the 2 different straps allow you to pick between using the bag as a crossbody or hand-carry it out. 
The Tony Patch Pocket Tote is priced at $235. 
Corny Easy Everywhere Tote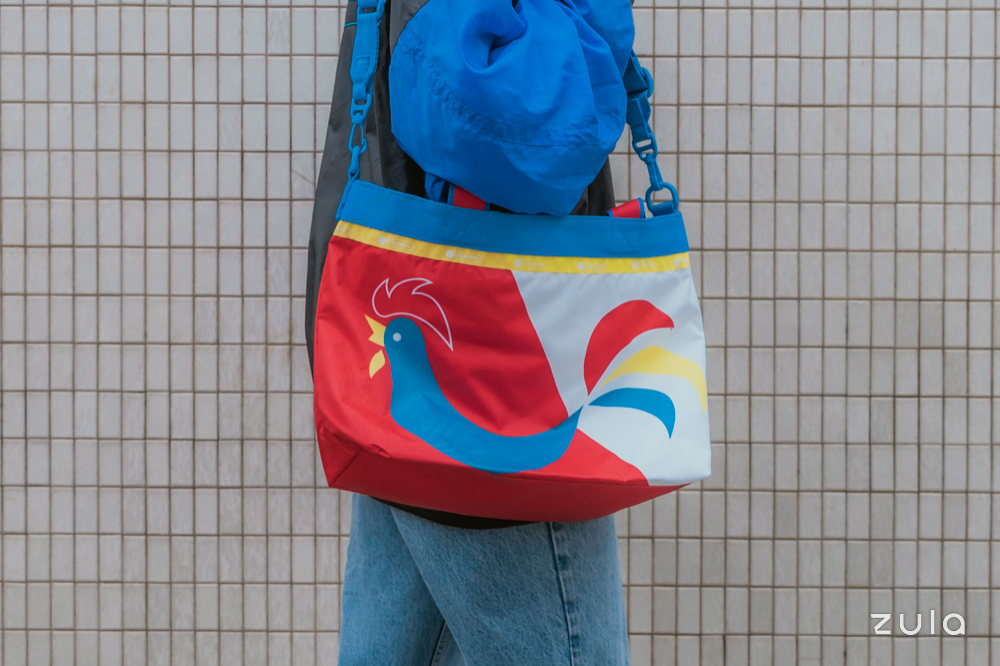 If your packing method is "bring everything just in case", then this Corny tote bag will have your back. With a large Corny printed across the front of the red and white bag, you'll still look hip while lugging around all your barang. In fact, the bag is large enough to fit your laptop, water bottle or even an extra change of clothes for gym day.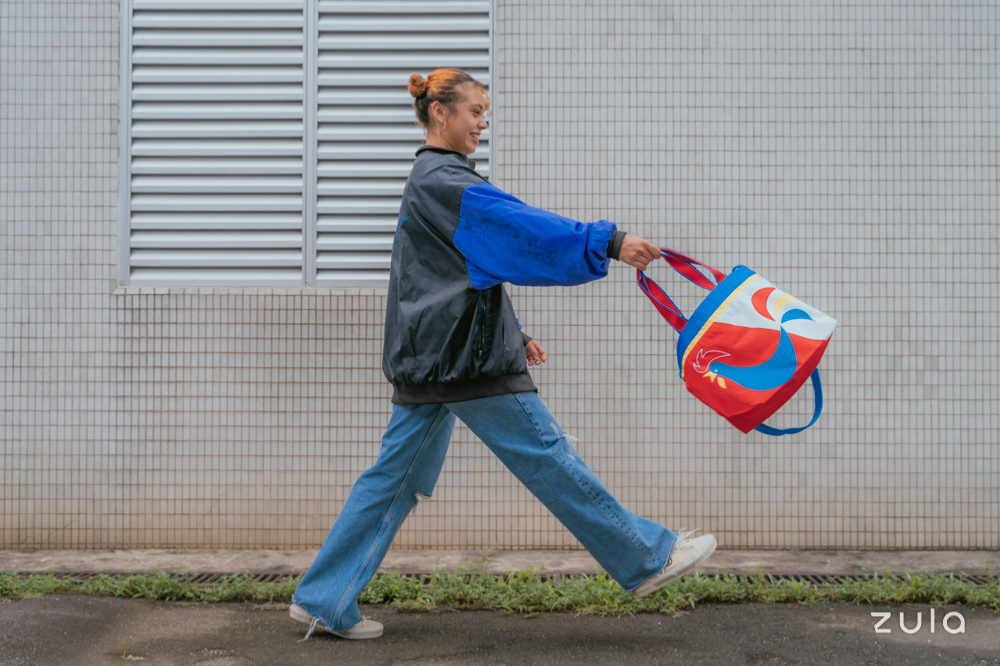 Similar to the previous design, the tote has a removable crossbody strap for days you want to carry the bag out but still keep your hands free.  
The Corny Easy Everywhere Tote is priced at $200. 
Toucan Striped Crossbody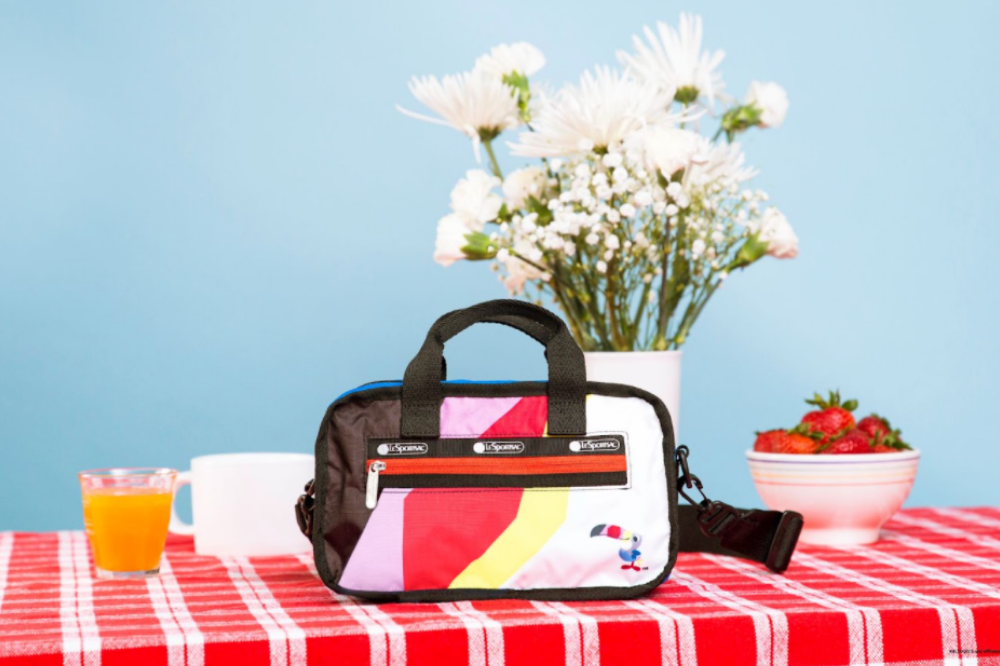 With convenience, style and retro-chic all rolled into one, this office-friendly striped crossbody bag will not just make your OOTDs pop on camera, they're bound to brighten up your mood too. 
The base colours of the bag are inspired by Toucan Sam's beak – the Fruit Loops mascot who just so happens to be printed on the side of the bag as well. The size of the crossbody bag also makes it a fitting option for when you're going to be out the whole day but don't want to carry a bulky backpack or shoulder bag. 
The Toucan Striped Crossbody is priced at $125.
Cereal Mix Patch Route Backpack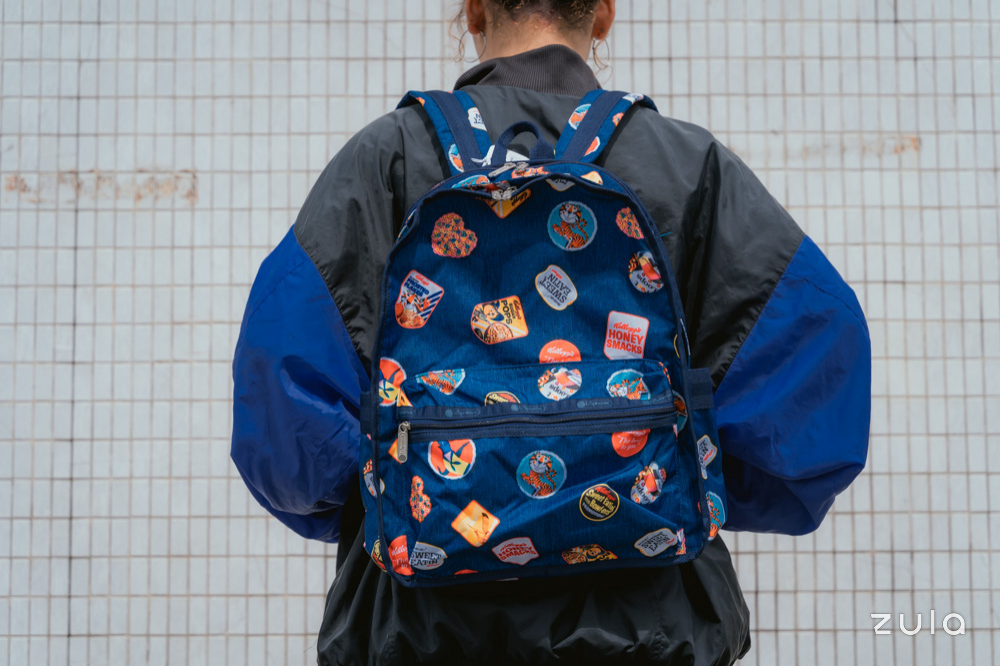 This denim blue backpack with mixed cereal patches will help you achieve that 2 kool for skool look. The straps have an added cushioning while the bag itself is extremely lightweight, so even if you've decided to bring all your work and study essentials out, you won't have to fret about aching shoulders.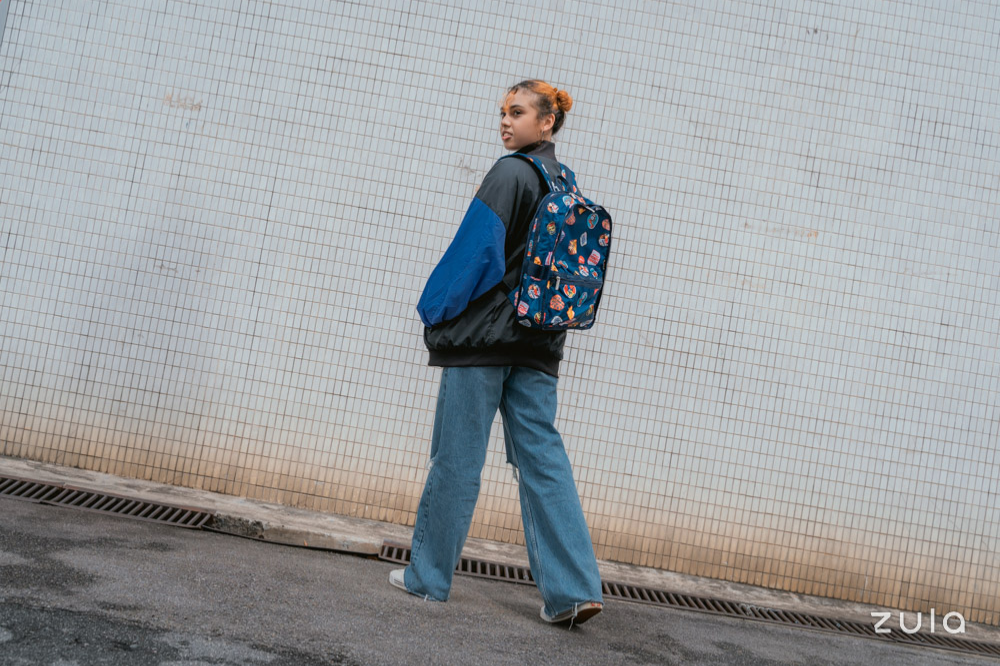 You can also pair the bag with a preppy outfit for a day out to nail that OOTD. 
The Cereal Mix Patch Route Backpack is priced at $235. 
Cereal Mix Patch Renee Crossbody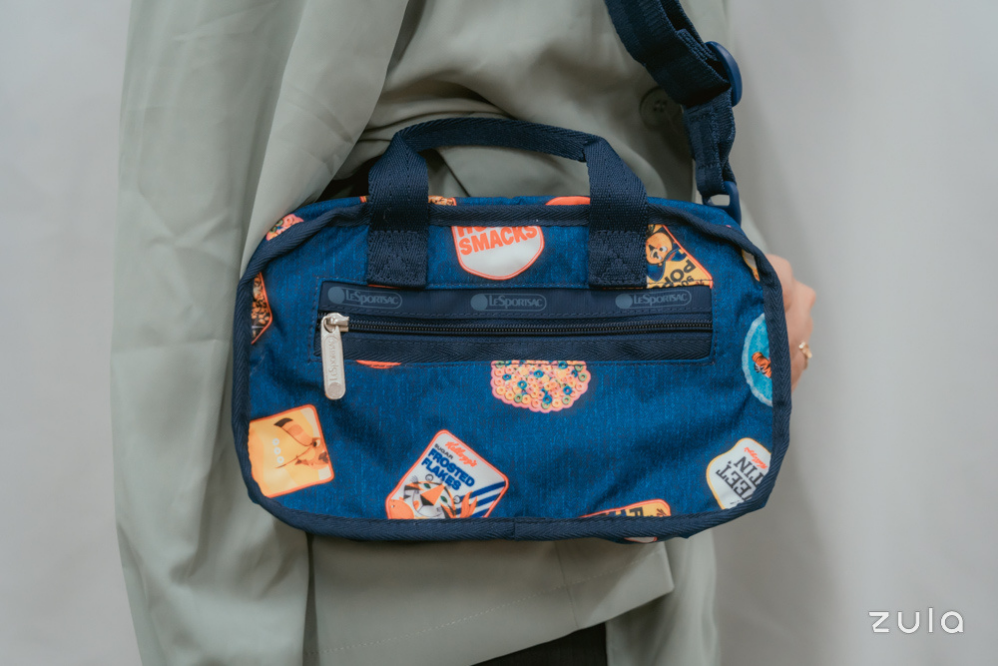 An aesthetically pleasing marriage between the Cereal Mix Patch Route Backpack print and Toucan Striped Crossbody shape, this bag is fitting for those who want both functionality and style. 
The blue jean wash of the bag also makes it a great piece to complement any denim-on-denim outfits you have in mind. 
The Cereal Mix Patch Renee Crossbody is priced at $125.
Breakfast Pouch Set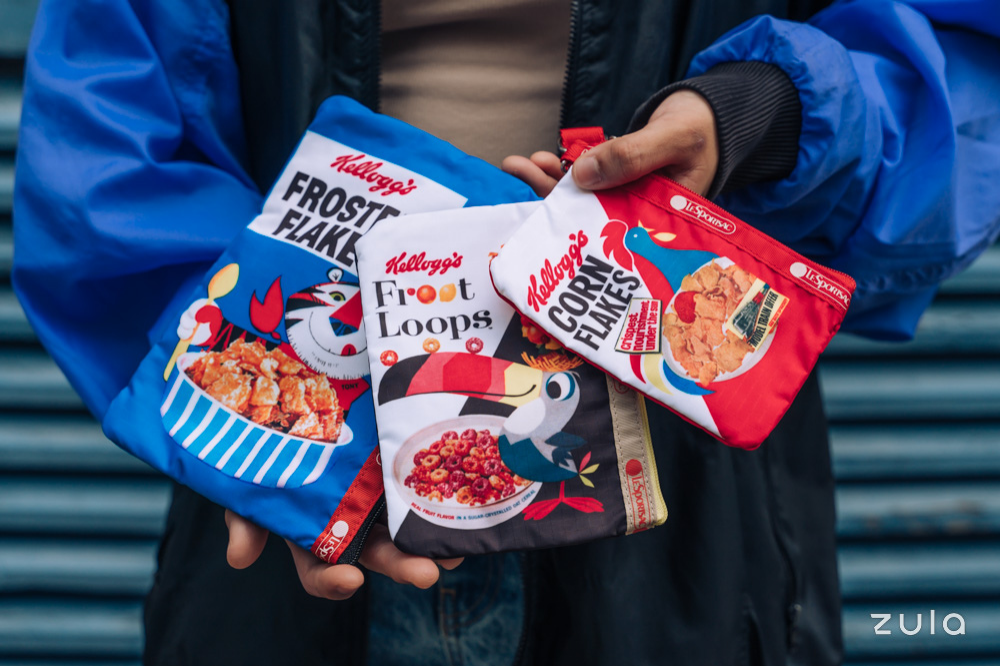 Just like our quick fix morning brew, this Breakfast Wristlet Pouch Set comes in a 3-in-1 combo that features Kellogg's most beloved cereal flavours on different sized pouches. With a single strap attaching the pouches together, you can use them for any purpose, whether as a creative yet convenient clutch, or to organise your essential knick knacks neatly. 
The Breakfast Wristlet Pouch Set is priced at $100.
Toucan XL Rectangular Cosmetic Pouch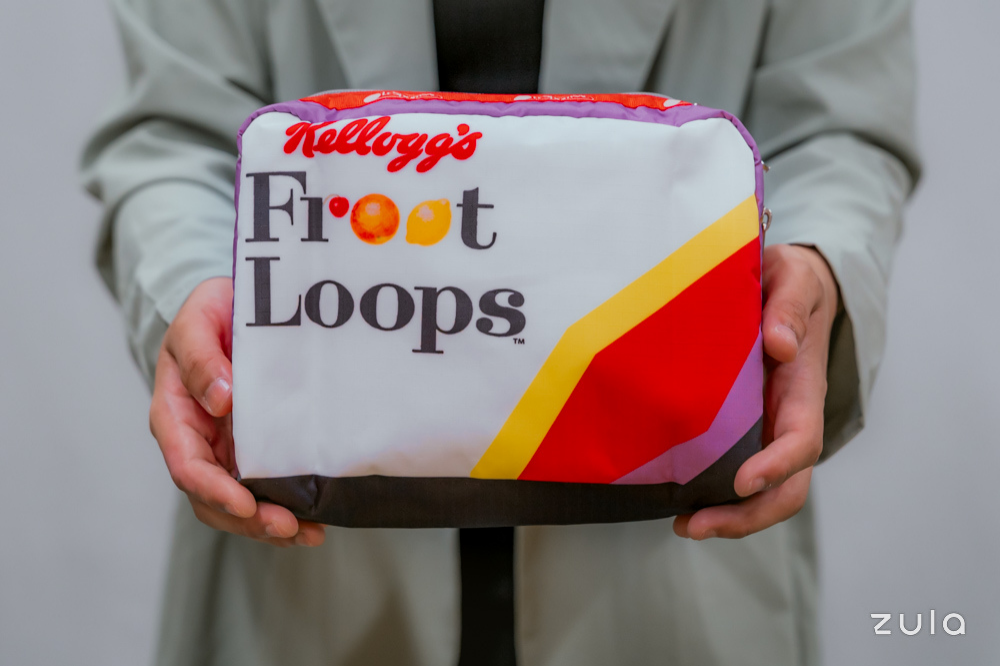 Pouches are honestly life savers – so why not consider this Toucan version. The pouch is large enough to store your compact, blush, eyebrow pencil, lipstick and a couple brushes so you can touch up your makeup while out and about, easily. 
When you're done, just throw it into a larger tote and you won't lose or accidentally crush any of your important makeup items. 
The Toucan XL Rectangular Cosmetic Pouch is priced at $75.
Tony Rectangular Cosmetic Pouch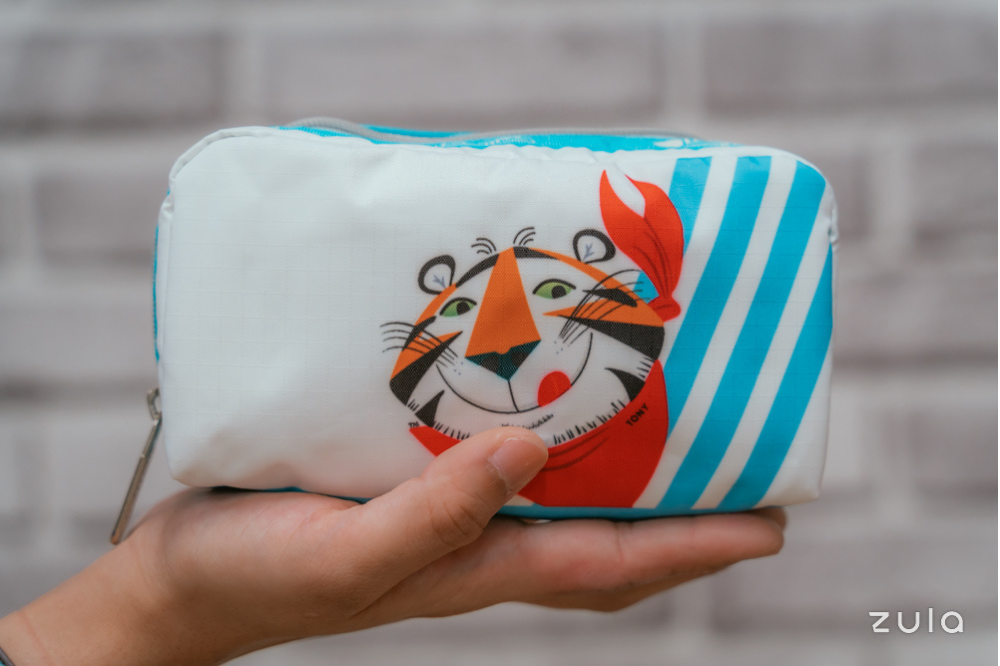 Switch up your overused makeup case for this Tony Rectangular Cosmetic Pouch which can fit all your beauty essentials. The pouch is coloured white with light blue stripes running along the sides and Tony The Tiger plastered on the front. 
Alternatively, you can use it to store things like plasters and hand sanitisers so you can always stay on guard against accidents and Covid-19. 
The Tony Rectangular Cosmetic Pouch is priced at $45. 
The LeSportsac Kellogg's Inspired Collection Will Take You Back To Cereal Mornings 
All the bags in the LeSportsac Kellogg's collection can be purchased online from Lazada or at LeSportsac retail stores – but you might want to hurry as the bags are limited. If you want to enjoy their early bird promotion, all you have to do is spend a minimum of $150 between 25 to 31 October 2021, for 10% off your purchase – valid at physical stores only. 
Additionally, you can follow them on Instagram and tag 3 friends in the comments for a chance at winning in the LeSportsac x Kellogg's giveaway. In fact, if you share the post on your own Instagram story, you'll double your chances at winning. The 3 winners will be picked by 7 November 2021. 
If you're looking to sweeten up your wardrobe,  these LeSportsac x Kellogg's bags are perfect to give your outfits a satisfying retro lift. 
This post was brought to you by LeSportsac.
Photography by Milim Tay.