Levi's x The Simpsons
Believe it or not, it has been more than three decades since the first episode of The Simpsons, and it is still running. For both adults and kids, the show is a source of comfort, entertainment, and laughter. 
If you happen to be a fan of this wholesome TV series, Levi's has released a streetwear collection that features The Simpsons and characters from Springfield. Continue reading to find out what the collection includes.  
The collection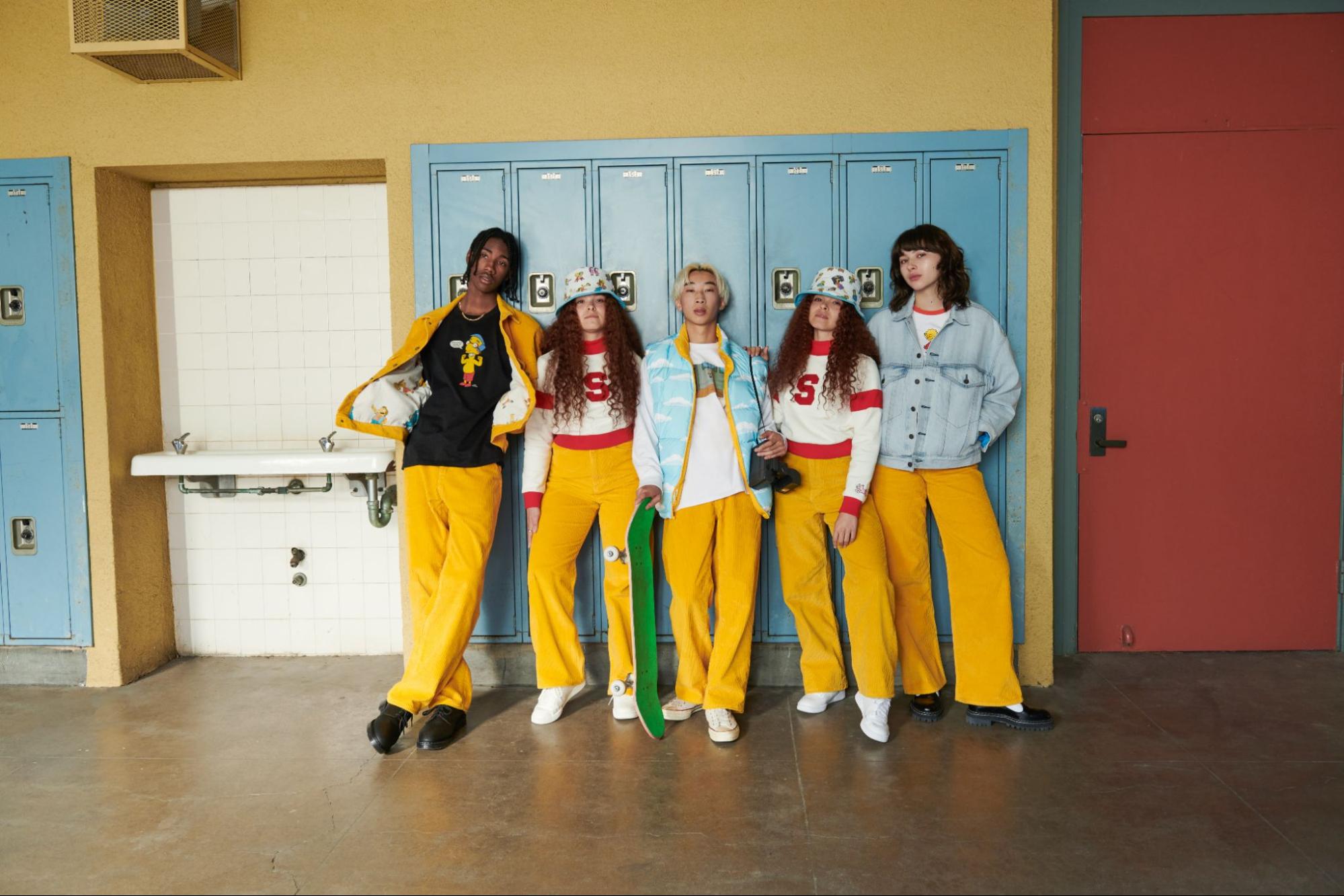 Taking inspiration from The Simpsons, the collection sports a yellow and blue colour palette, sprucing up your OOTD with a pop of bright tones. As the collection consists of T-shirts, sweaters, pants, jackets, hats, and bags, you might consider going for a total wardrobe haul in anticipation of the rest of 2022. 
Tops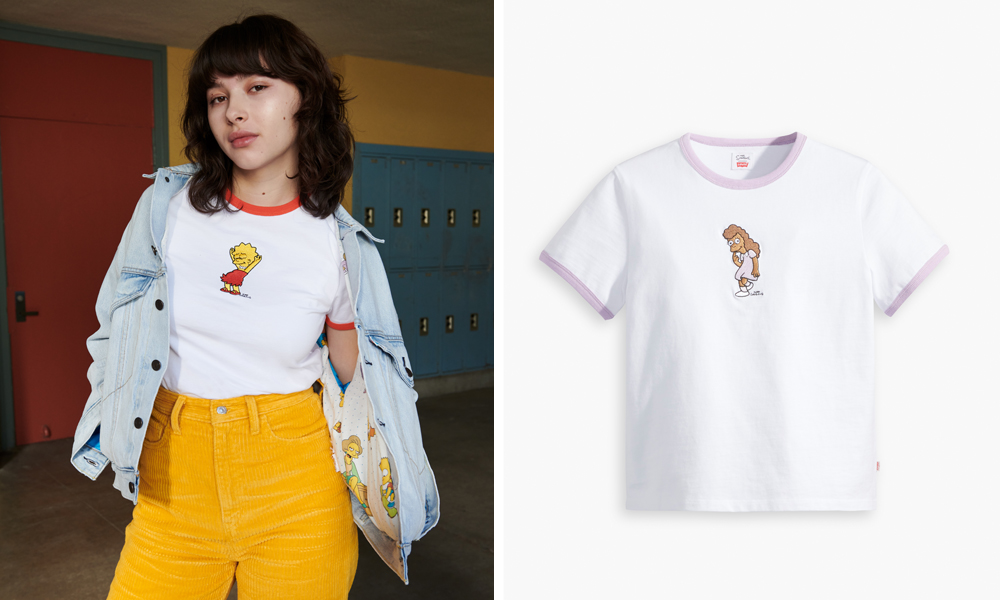 Crew neck T-shirts are classics, and easy to match with any bottoms. In this collection, you'll find them in two designs, featuring Lisa and her best friend since 2nd grade, Janey Powell. Since the T-shirts represent friendship, why not get them as gifts for you and your BFF. 
Each T-shirt retails at $59.90.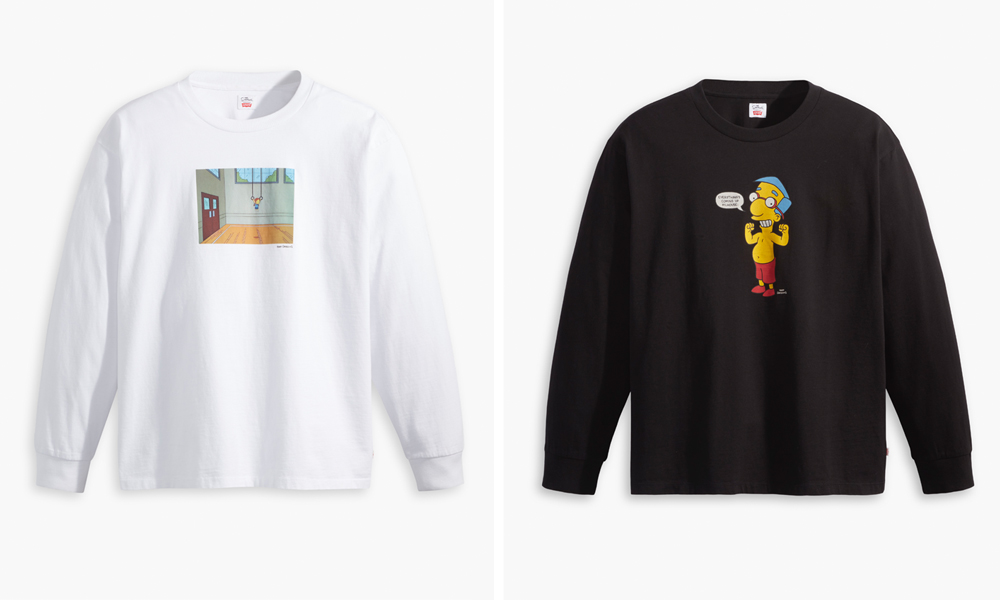 Keeping you warm and cosy during cold days in Singapore are these sweaters available in white and black. The former features a graphic print where a little girl from Springfield Elementary was calling for help from Mrs Plummelhorse, and that she'd like to get down.
As for the one in black, Milhouse Van Houten greets you with a speech bubble that reads "Everything's coming up Milhouse" ‒ an iconic line of his. 
Each sweater retails at $69.90.
Pants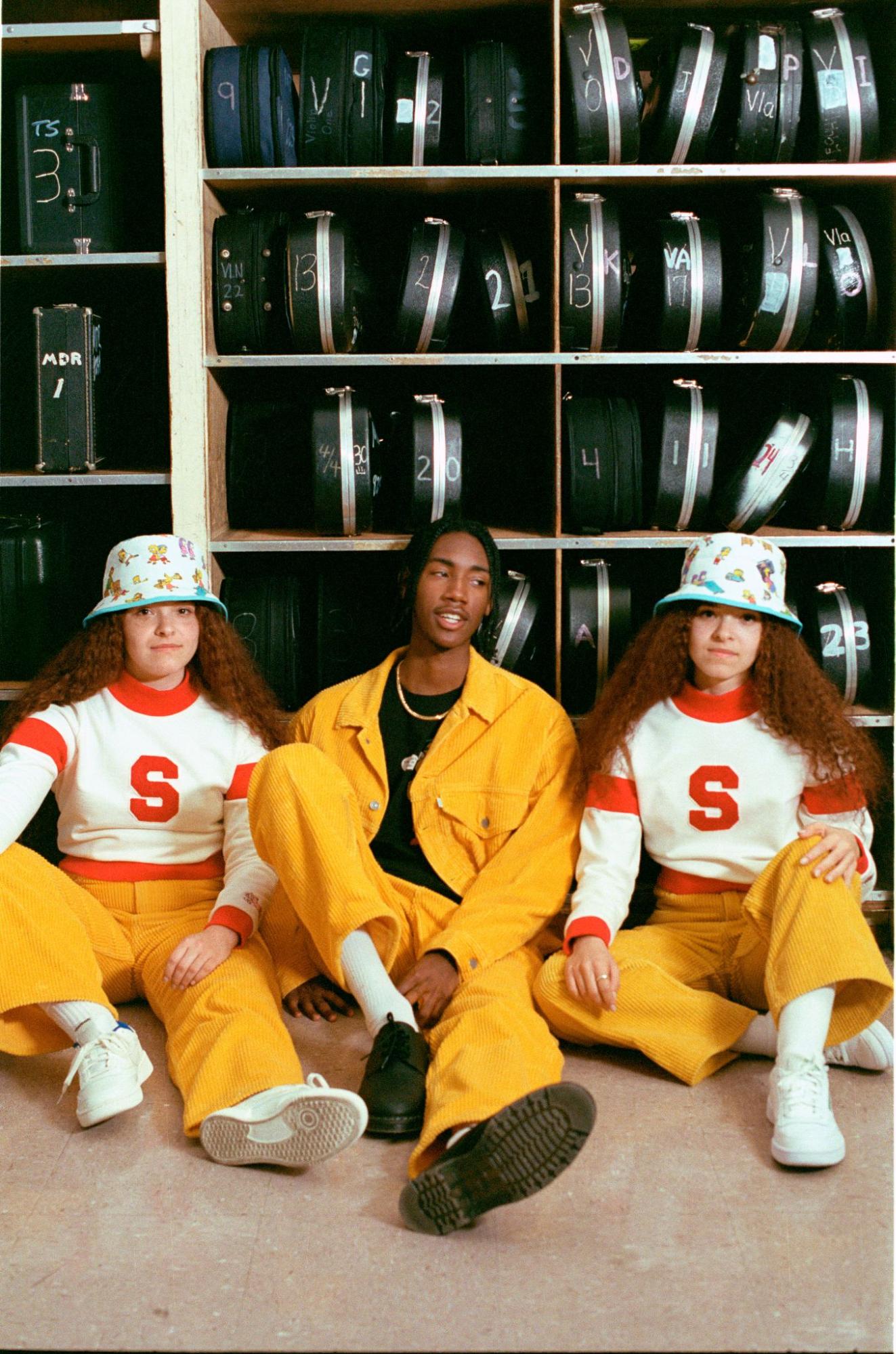 ICYMI, corduroy is returning as a fashion trend, and it's no surprise to find the pants from this collection made of the material.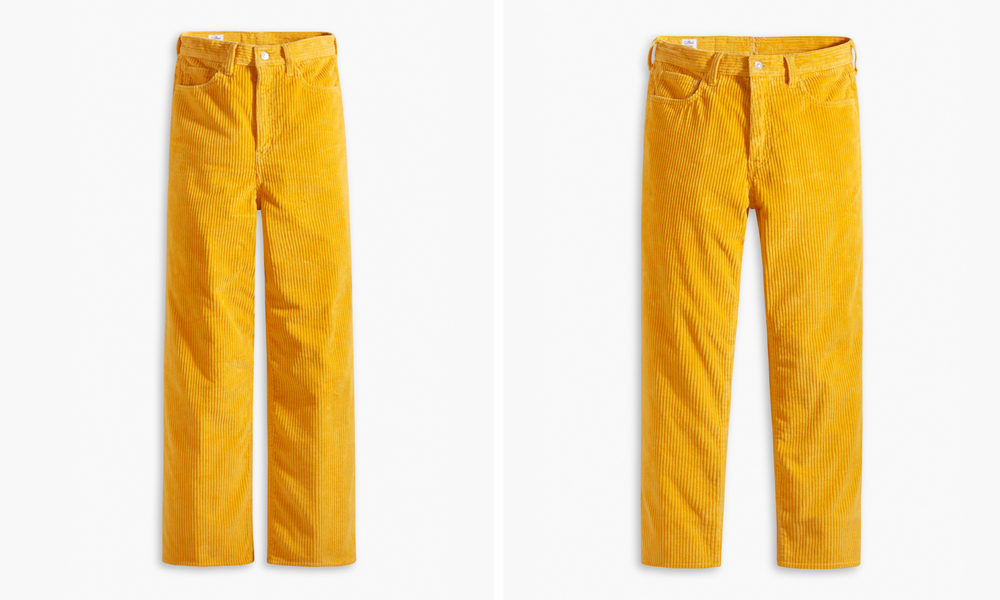 From left: The Simpsons Highloose Cord, The Simpsons Stayloose Cord
Designed with a vintage twist from Levi's classic jeans, the pants are decked in yellow and come in two designs. The Simpsons Highloose Cord suits those who prefer to sport a high-waisted fashion, and The Simpsons Stayloose Cord is great for a casual look. 
Both pairs of pants retail at $159.90 each. 
Outerwear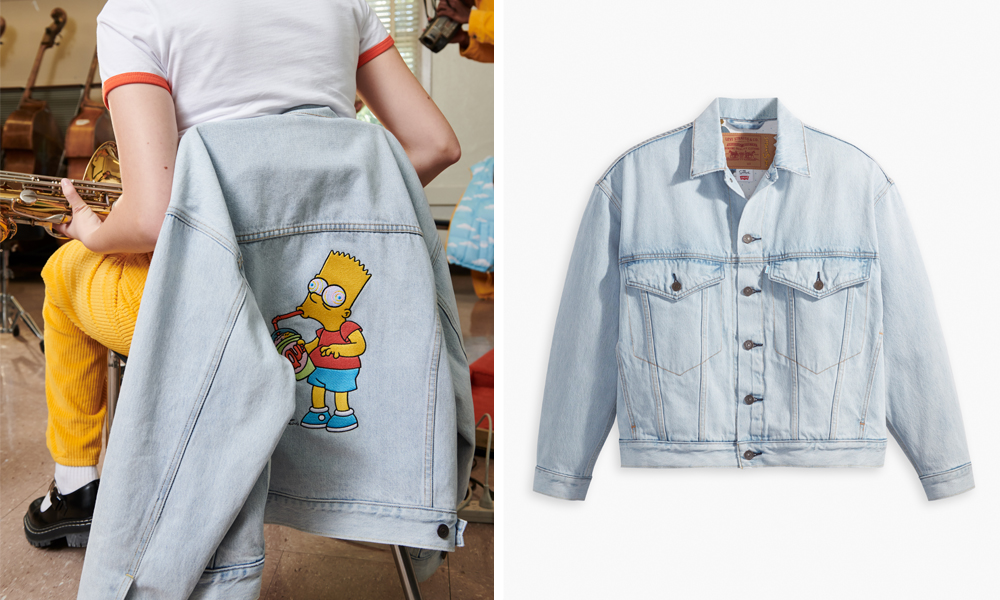 Like how many of us enjoy carbonated drinks that ain't healthy, Bart also likes drinking Squishee, an unhealthy slushie sold at the Kwik-E-Mart. On The Simpsons Trucker Jacket, you'll spot an embroidery of the character going bananas as he slurps the frozen drink. 
The Simpsons Trucker Jacket retails at $199.90.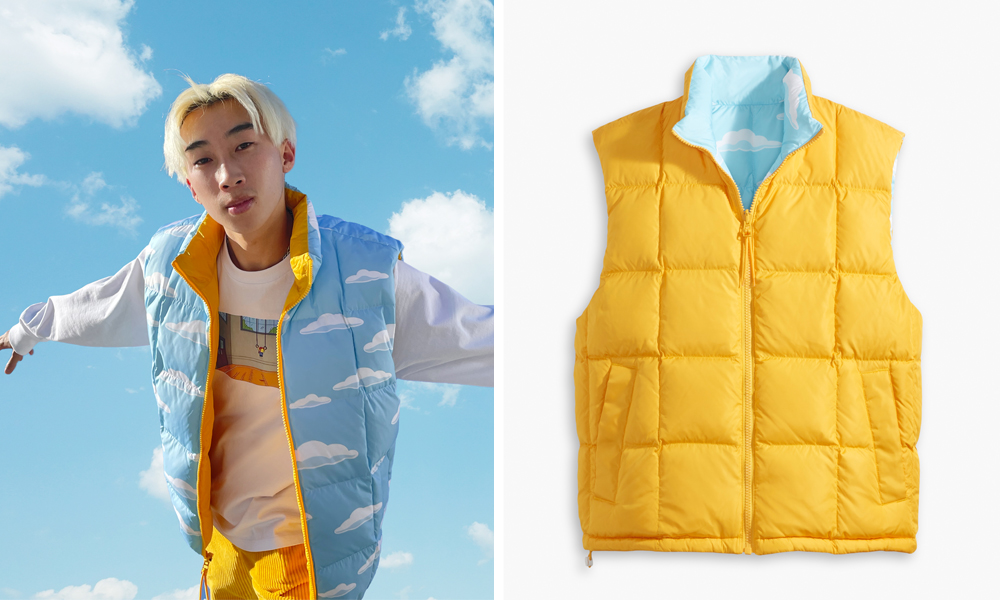 Giving a nod to The Simpsons' opening credits, this reversible Puffer Vest features a sky and cloud print on one side. When you flip it around, the bright yellow side reminds us of The Simpson's signature hues. 
The Puffer Vest retails at $219.90.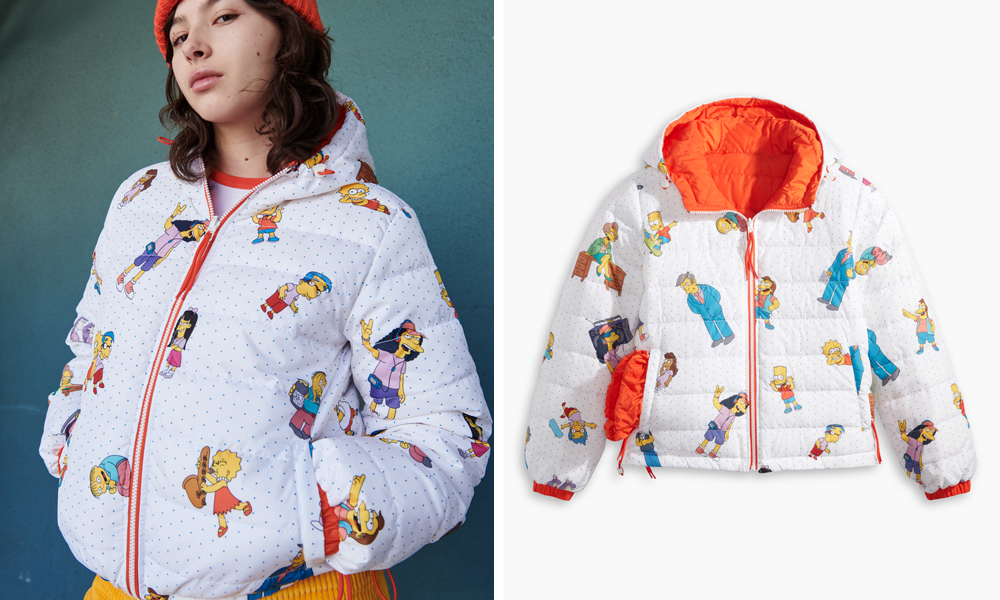 As another reversible item in this collection, The Simpsons Packable Jacket honours the students of Springfield Elementary through an all-over print lining of characters like Ralph Wiggum, Mrs. Krabappel, and Otto the Bus driver.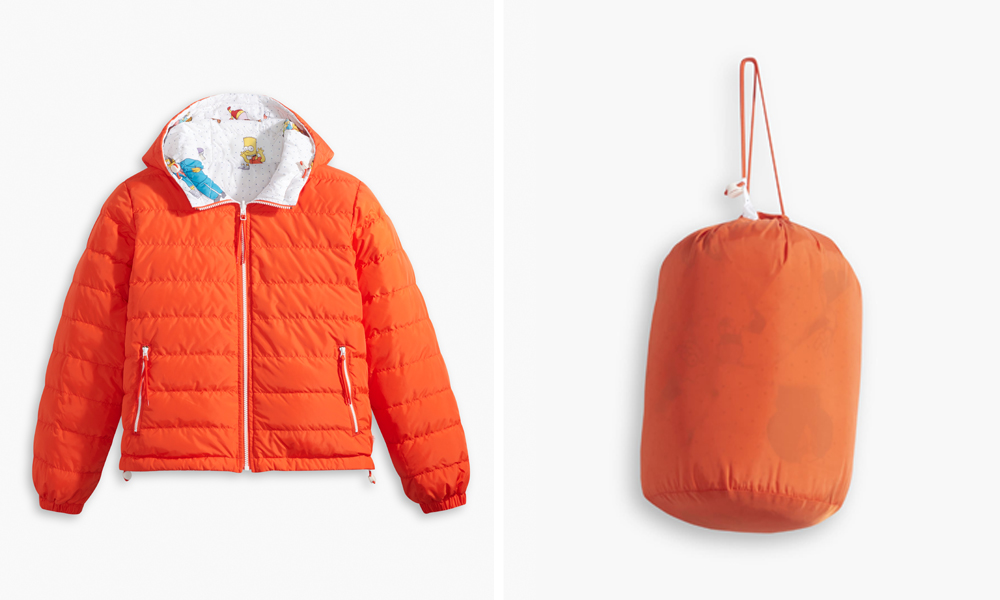 If you feel like switching things around, you can always reverse the jacket, and go for a bright orange look. Plus, the jacket comes with a drawstring bag attached to the inside of the pocket, so you can keep it compact when you're not wearing it. 
The Simpsons Packable Jacket retails at $239.90.
Accessories 
Completing your look are these sling bags that come with sufficient storage space to store your essentials.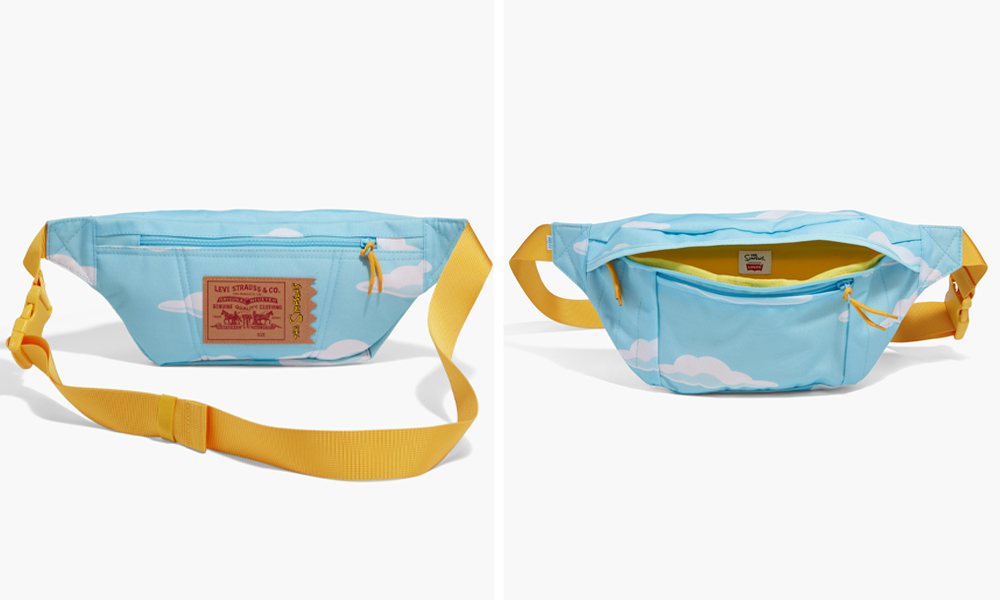 Once again, the sky and cloud prints make an appearance on The Simpsons Cloud Sling Bag that also features an inner yellow lining. Plus, it comes with several compartments so you can keep keys and wet wipes separated from each other.  
The Simpsons Cloud Sling Bag retails at $49.90.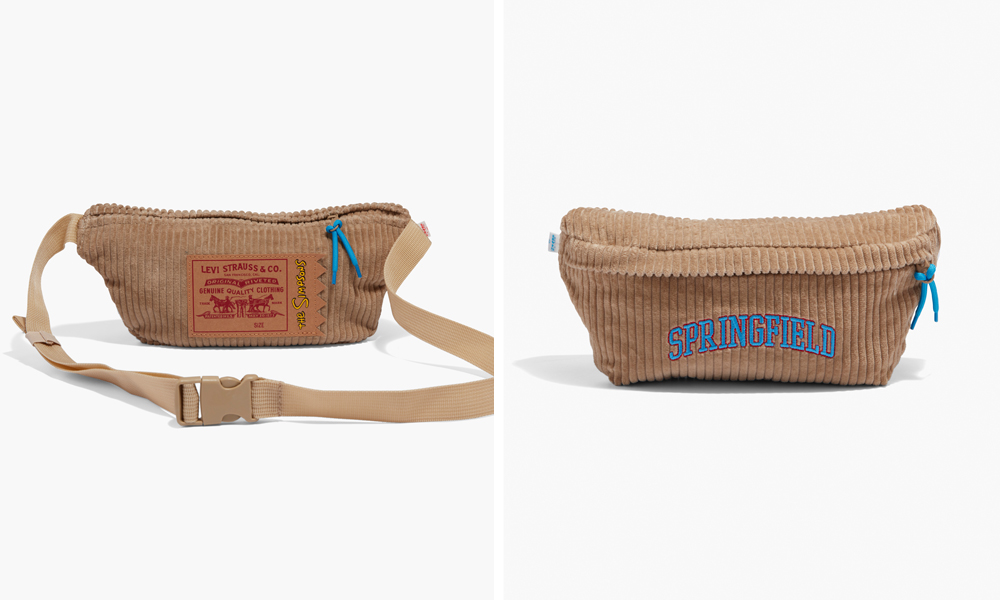 For a more subtle look, consider The Simpsons Colourblock sling bag instead. It comes in a muted brown with a corduroy texture, and also features "Springfield" in blue. 
The Simpsons Colourblock Sling Bag retails at $39.90.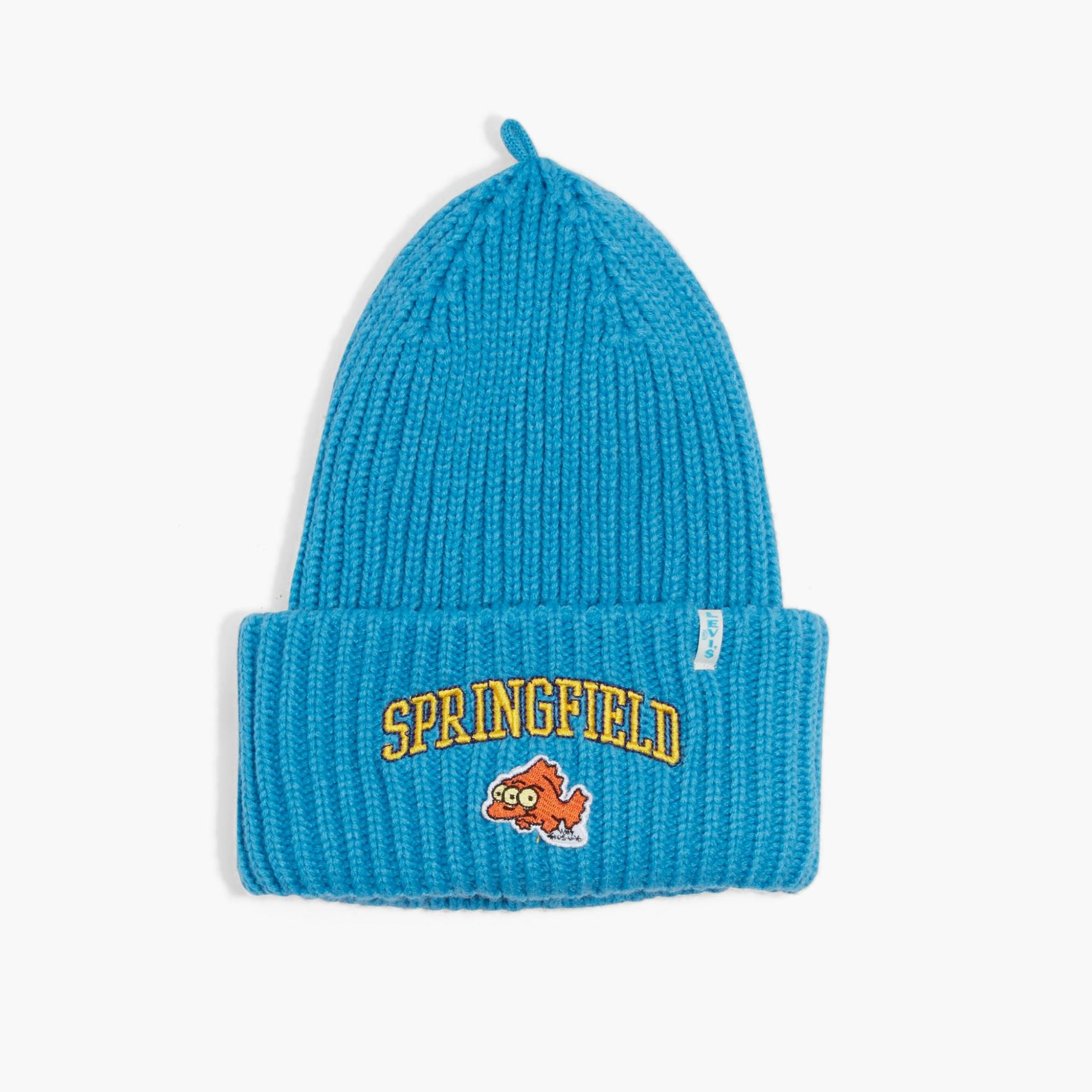 While it might be too hot in Singapore to wear a beanie, you can KIV this The Simpsons Oversized Beanie the next time you head to a colder country. Featuring an embroidery of a three-eyed fish, Blinky that was caught by Lisa and Bart, the beanie makes a subtle fashion statement thanks to its eye-catching colour. 
It retails at $39.90.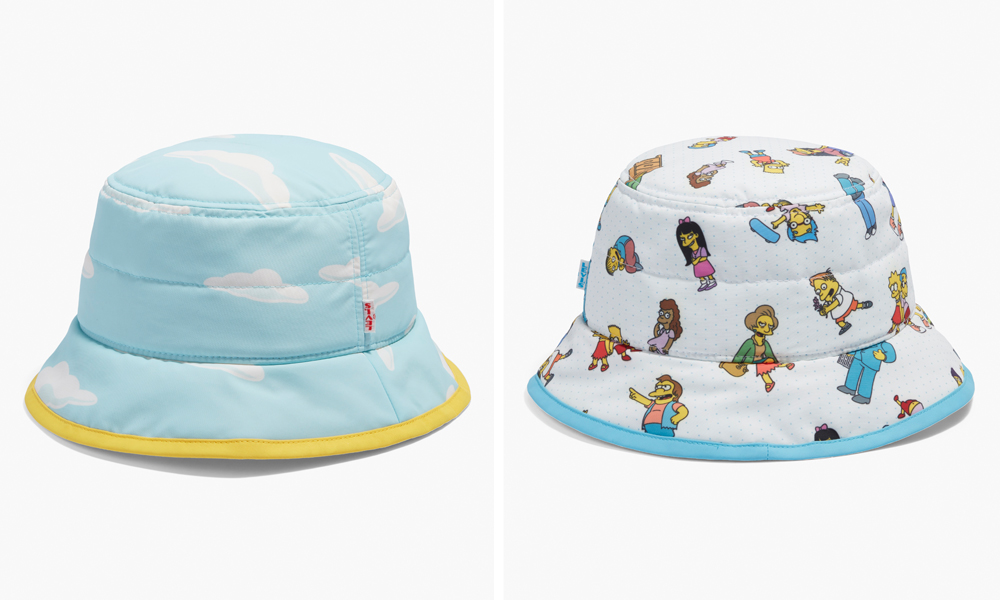 For those who love a reversible fashion item, here's another one for you, The Simpsons Cozy Puffer. On one side, it features the sky and clouds repeated in the collection, and on the other, you'll spot the same pattern seen previously on The Simpsons Packable Jacket. 
The Simpsons Cozy Puffer retails at $49.90. 
The Levi's x The Simpsons Collection Provides The '90 Kids With A Sense Of Childhood Nostalgia 
Whether you're planning for a wardrobe haul or expressing your love for The Simpsons, this collection comes with stylish apparel to spice up your OOTD. For those who are interested, the collection launches on 3 March 2022 on Levi's official website. 
All images courtesy of Levi's. 
Also read: 
UNIQLO Is Launching A My Neighbour Totoro Collection That Will Whisk You Away To A World Of Magic