Lianhuey SG Eyebrow Embroidery
Home-based brow embroidery and lash extensions service provider Lianhuey SG is launching a new permanent initiative, FKCR BROWS. 
In a series of Instagram Stories, it acknowledged how tough the process of hair loss during chemotherapy can be, and introduced its free eyebrow embroidery services for cancer patients. 
Free Eyebrow Embroidery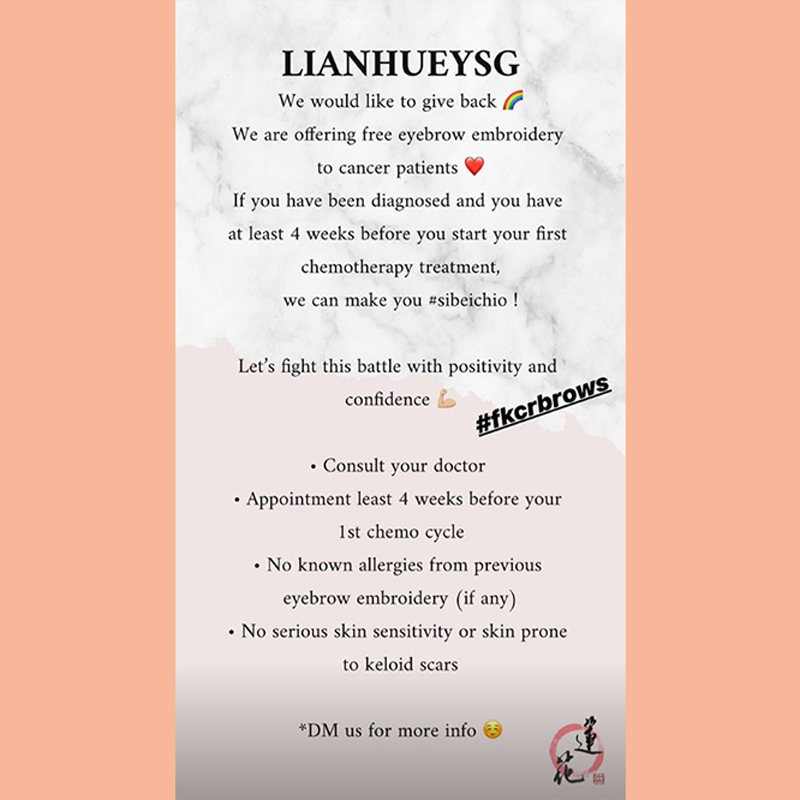 Patients who have 4 weeks or more before embarking on their first chemotherapy treatment are eligible for the free embroidery service. You must also ensure that you're not allergic to the chemicals used and that your skin isn't sensitive or prone to keloid scars. In addition, you are advised to consult your doctor beforehand.
Also read:
5 Health Screenings Women In SG Should Get In Their 20s For Early Detection & Peace Of Mind
Raising Awareness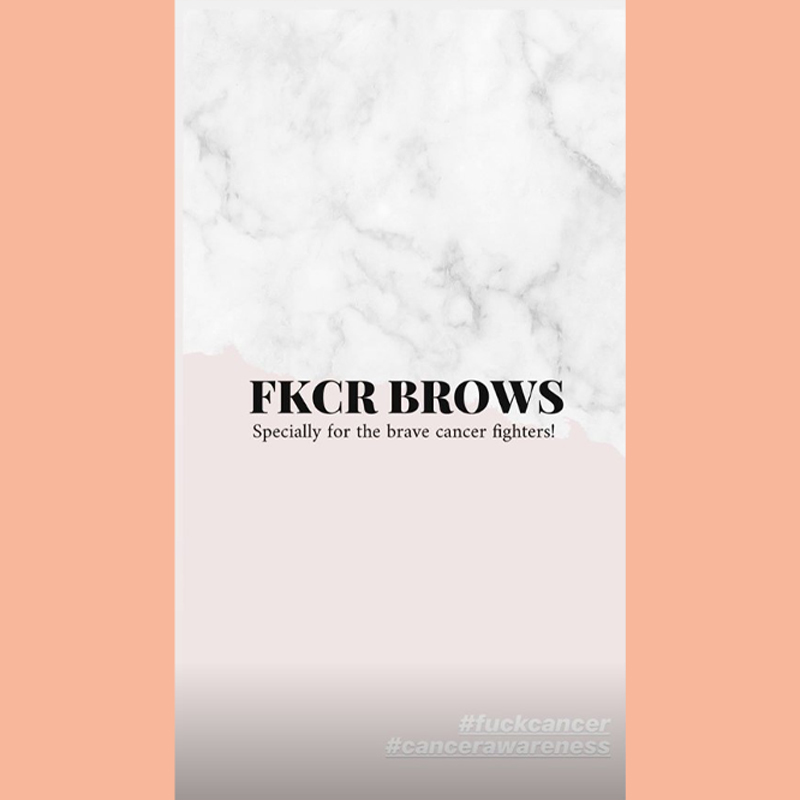 The first of the 3-story series introduces the initiative, accompanied by its tagline, "Specially for the brave cancer fighters!" The greater message is in the hashtags at the bottom of the story—#fuckcancer and #cancerawareness. 
This is a unique and novel approach of raising cancer awareness. Hopefully, this initiative will also encourage other organisations to join Lianhuey SG in helping patients cope with recovery a little better in their own ways.
Stay Positive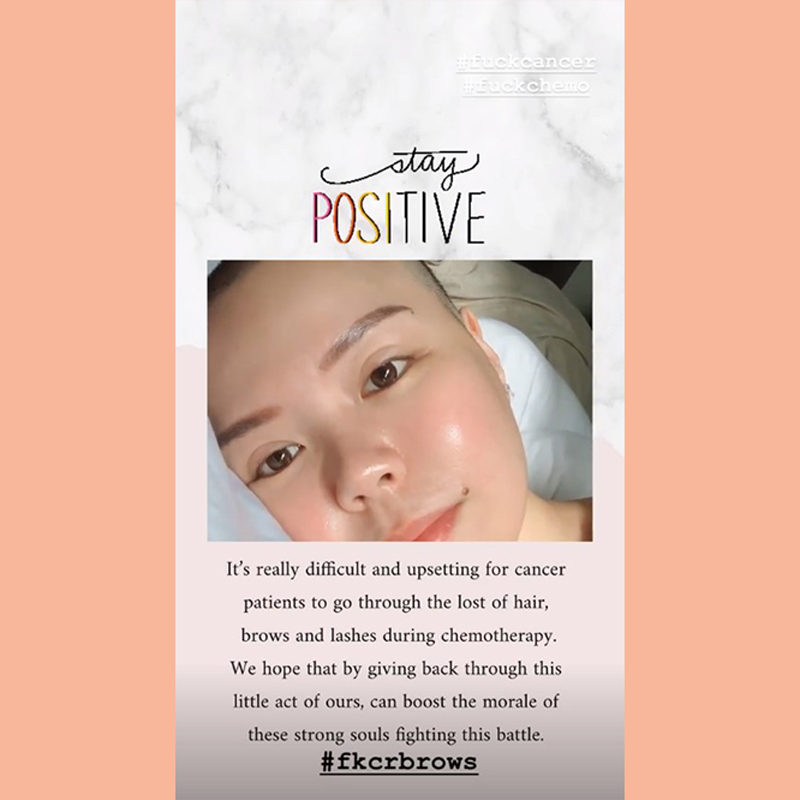 The final story features a video of a gorgeous lady with a shaved head who presumably just had her brows done. The text shares its wish to provide cancer fighters support with this initiative.
Lianhuey SG
Lianhuey SG was founded by Belinda (Lian) and Yvonne (Huey) in January 2018 out of their shared interest in beauty.
FKCR BROWS was inspired by Yvonne's own battle with breast cancer earlier this year. She was diagnosed with stage 2 breast cancer and went through surgery to remove the cancerous lump. Upon being told that she would have to go for chemotherapy treatments, her first worry was hair loss. A few weeks before her first chemotherapy session, she asked Belinda to microblade her brows, which immensely boosted her confidence.
Belinda and Yvonne believe this small act can boost the morale and fighting spirit of patients. "We thought we could provide this service to other patients [so that] hopefully, they will feel better when they see themselves in the mirror every day," Belinda shared with us.
Eyebrow Embroidery For Cancer Patients 
It's heartwarming to see Lianhuey SG giving back with the provision of free eyebrow embroidery. 
If you or your loved ones are interested in seeking Lianhuey SG's free brow embroidery services, you can send them a direct message on Instagram for more information.
Also read:
Mental Health In Singapore: Maxine Kuah On Getting A Tattoo To Cover Up Her Self-Harm Scars
All images: Source