Mental Health Scar Tattoo Cover Up
[Update] Maxine passed away on 21 July 2020. If you or someone you know are coping with mental health issues and need someone to talk to, here are some numbers you can call:
IMH Mental Health Helpline: 6389 2222
Singapore Association for Mental Health: 1800-283-7019
Samaritans of Singapore (available 24/7): 1800 221 4444

Trigger warning: This article contains images of self-harm scars and talks about depression, eating disorders and self-harm.
This story was written from the point of view of 25-year-old Maxine Kuah (@learninghowtoslay). The article was edited for clarity and brevity.
Maxine:
I've had suicidal feelings since I was in Primary 6. I think it's hereditary because my father had depression as well.
I constantly had the feeling that I wasn't enough and that I deserved to die. But I didn't tell anyone about these feelings because I thought it was normal and everyone had their sad days.
Dealing with anorexia, bulimia and cutting
At the age of 17, I began going to the gym with my sister. What started as a way to keep fit turned into a secret weight loss competition [for me]. I ate less and less until eventually, I developed anorexia and bulimia.
Whenever I ate, I would cut myself as punishment. That was when I accumulated hundreds of scars on my arms. I tried to hide the marks by putting Band-Aids over bleeding cuts and wearing long sleeves.
But my teacher noticed my sudden weight loss and came to talk to me. I confessed my suicidal feelings and she referred me to the school's self-help therapist. I was then referred to a psychiatrist at IMH (Institute of Mental Health) and started taking medication.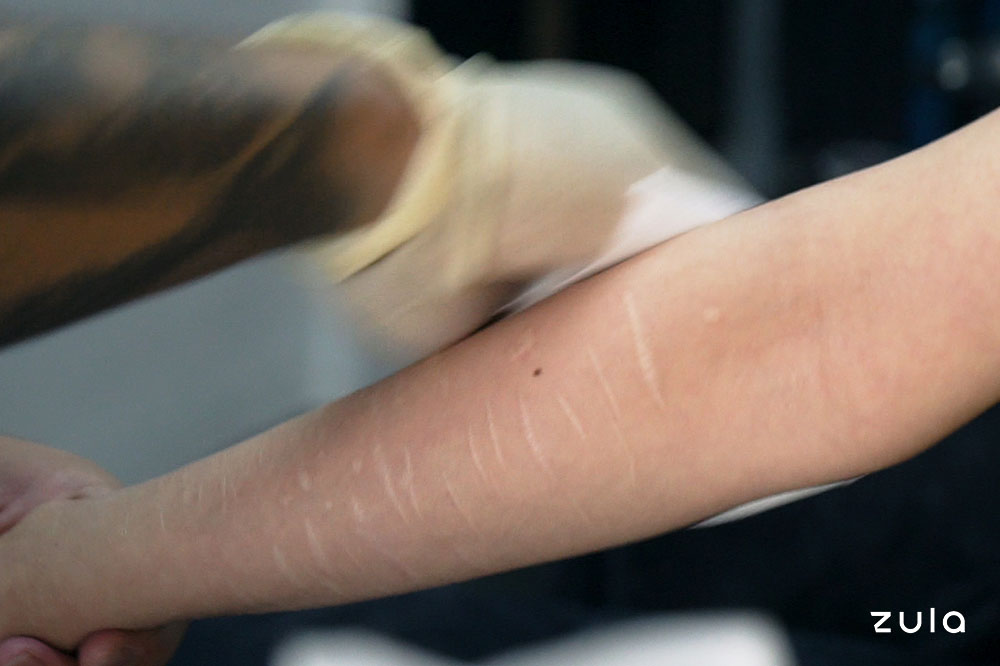 Maxine's tattoo artist cleaning her arm
Even though I continued seeking help, I still cut myself whenever I ate.
For four years, I would wake up in the middle of the night to binge and purge. It got so bad that I begged my mum to lock all the food cabinets and tied myself to my bed so I couldn't get to the food.
My mum cried a lot. She thought I was possessed so she called a priest over to perform an exorcism. But I wasn't possessed, obviously. It was just me having mental health issues.
I guess the demons in my head forced me to do all these sorts of things where I couldn't stop myself, even though I wanted to.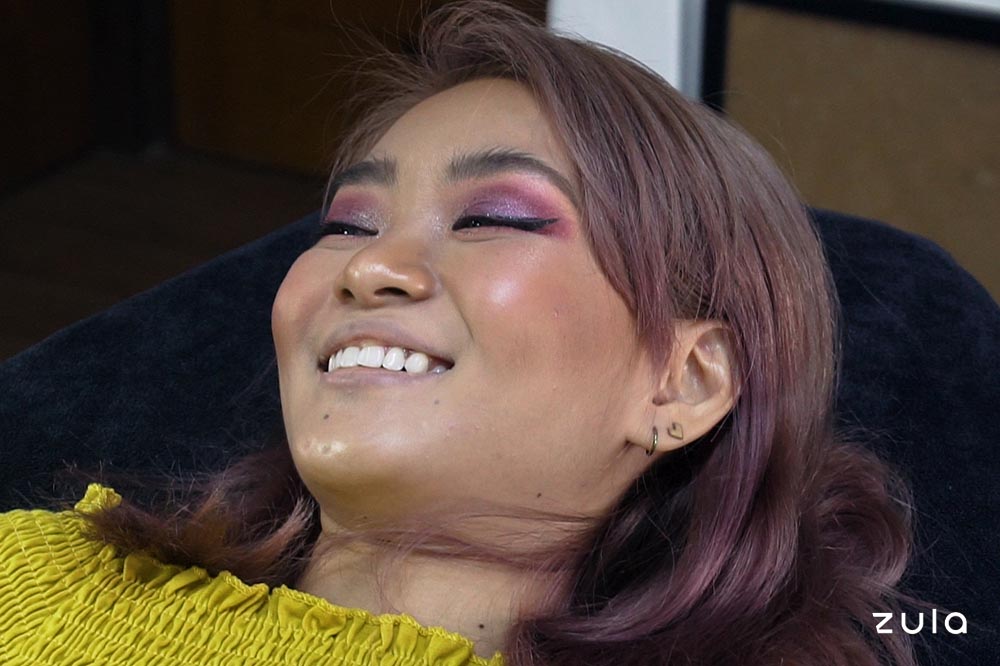 Maxine lying on the tattoo bed
How people perceive self-harm scars
In 2013, my father suddenly passed away from lung cancer. I became more depressed because I couldn't accept his death. As a result, I dropped out of Temasek Polytechnic's Law and Management course.
My mum told me to try to stop [self-harming] and be 'normal'. I thought 'normal' meant having a job, so I tried to find work.
But my anxiety, depression and self-harm scars are not things I can hide. I couldn't hold a job for more than a month because I would constantly take MCs for my mental health. So, I tried taking up ad-hoc event jobs but they sometimes required short-sleeved uniforms and that made me uncomfortable.
[From my experience,] I don't think employers want employees with visible self-harm scars. There is a generalisation that a person like that might not be stable enough to hold a job, though the [cutting] incident may have happened years ago.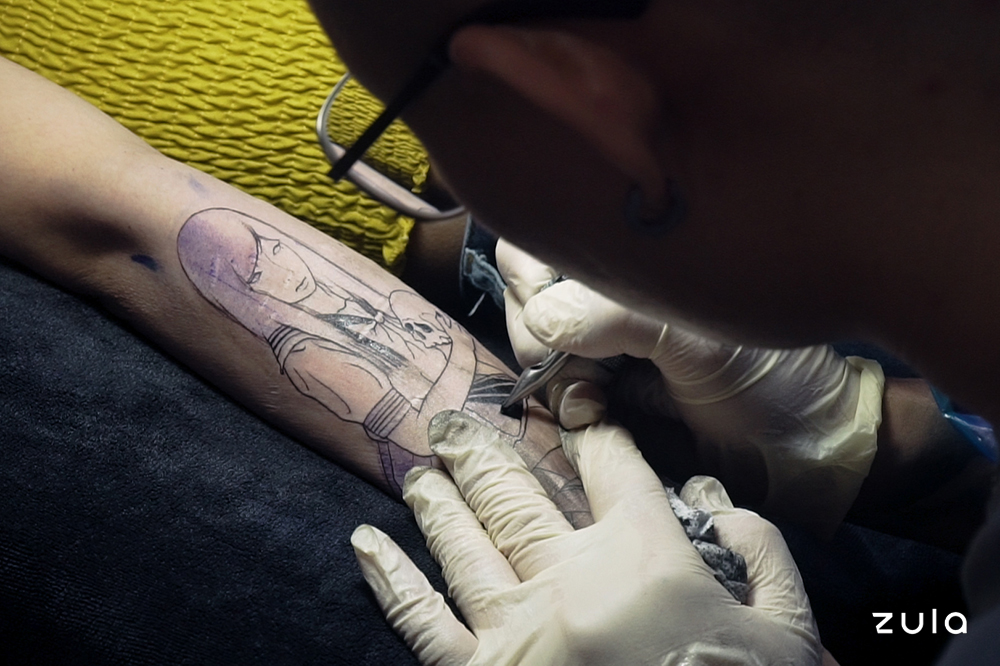 Maxine's tattoo in progress
I do get a lot of stares in public when I wear short sleeves. Sometimes, people come up to me and ask why I have all these scars on my arms. I tell them, "I have mental health issues," but doing so makes me feel even more abnormal.
I think self-harm scars are something people make fun of. They say if you're cutting across, you're just seeking attention. But then, if you're seeking attention, why would you hide your scars?
Getting tattoos to cover my scars
Eventually, I managed to stop cutting through taking medication and practising self-care.
I thought of covering my scars up a couple of years ago. My scars are keloids, which meant that I would require skin grafting or individual keloid injections for each scar. But that would cost a lot of money, so I decided to get tattoos as a form of self-expression instead.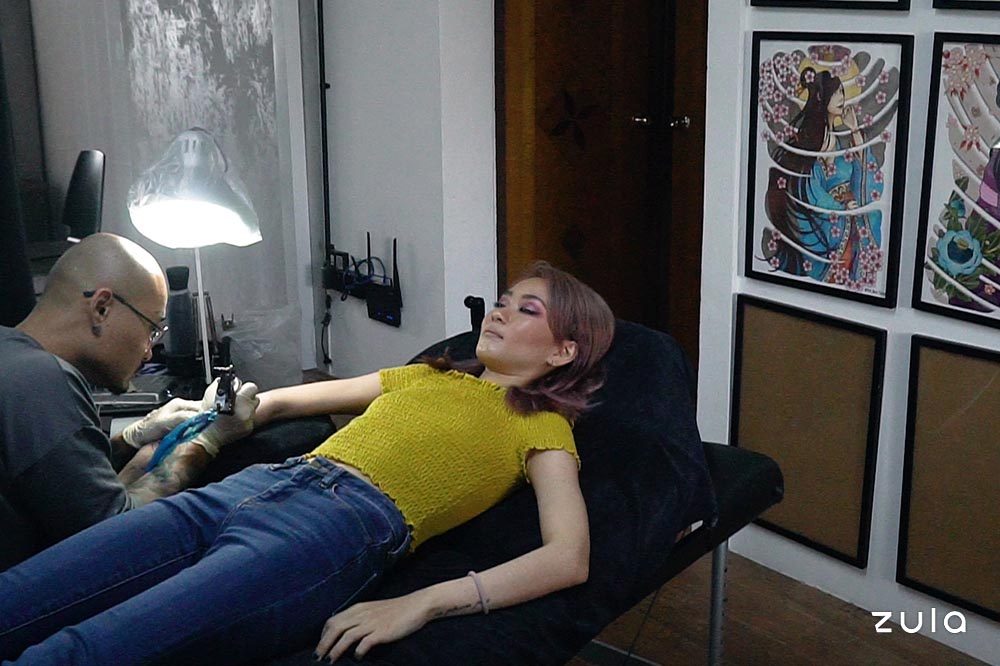 Maxine getting her fourth tattoo
I currently have 3 tattoos and they all symbolise something about my mental health. I feel like all tattoos should be something that you know you can relate to.
For my fourth tattoo, I wanted to get a girl cradling a skull. It symbolises me holding onto my past life. [It's a] reminder that the past is the past and now with this tattoo, the 'dead' me is moving forward and creating a new future.
Talking About Mental Health
Right now, I feel better about myself. I still think there's a very long way to recovery but I am hopeful.
I decided to come out and tell my story because I feel society has become more open about mental health issues. I hope people can stop hiding and be willing to talk about their mental health issues, as well as seek help if they think something is wrong with them.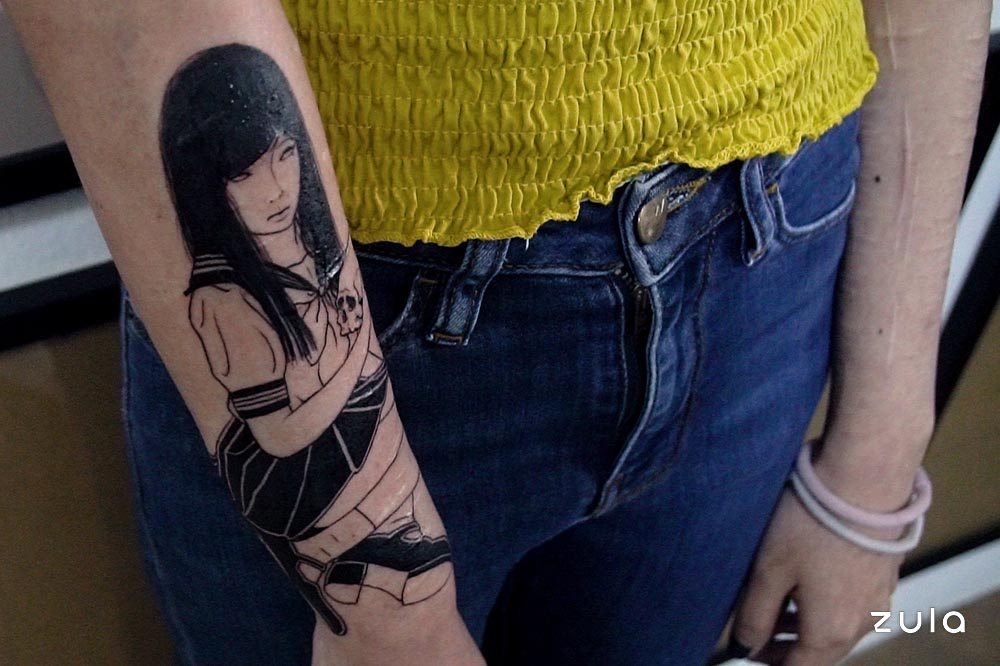 Maxine's completed tattoo
Without a healthy mind, I don't think you can have a healthy body. I don't want people to go through what I had to go through, with the confusion and not knowing [what's going on with you and your mental health].
Hiding and not knowing is more scary than being able to have someone to talk to and to have a psychiatrist to give you medication [if need be].
Because, you know, mental health isn't something you shouldn't be afraid to talk about.
If you know someone who needs help, call 1800-283 7019 or contact the Support For Eating Disorders Singapore (SEDS) at eatingdisorders@sgh.com.sg
Also read: