Louis Vuitton AirPods Earrings
If you've been feeling like wearing your AirPods out and about isn't enough of a flex, Louis Vuitton's got your back. DLOUISV shared an Instagram post of what seem to be Louis Vuitton AirPods earrings, and let's just say people had a lot of thoughts about it.
DLOUISV is "a website dedicated to archiving LV collections, future and past" and a consignment-based marketplace for all things LV. Its 91,000 Instagram followers look to the account for previews of upcoming releases from the French fashion brand. According to DLOUISV, the earrings will retail for US$350.
Louis Vuitton has yet to reveal if these AirPods earrings are actually going to be sold in its stores. What is clear, however, is that the powers that be at LV are definitely AirPods users, since they also previously dropped the Louis Vuitton AirPods case.
The design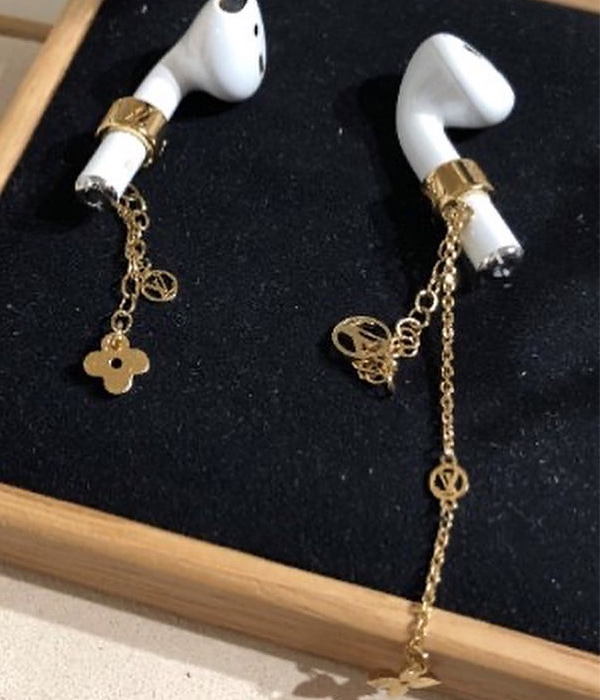 Source
DLOUISV's picture showcased a pair of Apple AirPods, each with its stem being cradled by a gold ear cuff.
Source
The detachable cuffs are engraved with Louis Vuitton's logo, the interlocking "L" and "V", as well as the Monogram flowers. Dangling from each ear cuff are 2 gold chains of different lengths and thickness, along with various charms.
The LV Circle appears twice on the left ear cuff, capped off with the 4-point star. On the right ear cuff, the LV circle and the 4-petal flower dangle off 2 shorter chains.
Also read:
Louis Vuitton Has New Monogram Sneakers In Ombre, Pastel & Denim To Keep You Looking Fresh In Phase 2
The comments 
From the comments on the post, it's clear that the earrings elicited a lot of confused reactions. People couldn't decide if they loved them or hated them, or both at the same time. Instagram user @lifestyledbyl spoke for many of us when she commented, "Oh man these are so useless and pointless but I kinda want them?!"
Others wondered about how practical these earrings will be, with one user saying, "Earbuds gonna be falling out NONSTOP". A fair point, considering the cuffs and chains might weigh the AirPods down.
Another valid concern was raised by @vonwaldenstein, who brought up one of the main pain points of AirPods users. "Bruh the struggle when you put them away and bring em back out 10 min later".
Louis Vuitton AirPods Earrings Are Both Bizarre And Bougie At The Same Time
Whether these earrings are a real thing or just something dreamed up by the Internet, we're still curious about whether these are a sign of more AirPods accessories to come. Beyond the standard AirPods cases, no one has dreamed up anything to jazz up the headphones yet. This just might be the thing to kickstart a whole new world of AirPods accoutrements.
Also read:
Louis Vuitton's New AirPods Case Helps You Fulfil Your Tai Tai Dreams In Baby Steps