Makeup During Work-From-Home Season
It's been almost two months since Singapore's Circuit Breaker measures kicked in. Many of us have been working from home, which essentially means: hello pyjamas, goodbye makeup.
For some Singaporean millennials, however, working from home doesn't mean going barefaced. Whether it's a swipe of lipstick or a full-on glitter eye, we spoke to 3 women who are continuing to apply makeup during this period to find out how it affects their mood and productivity.
"Makeup gives me that work-home division that I need at times"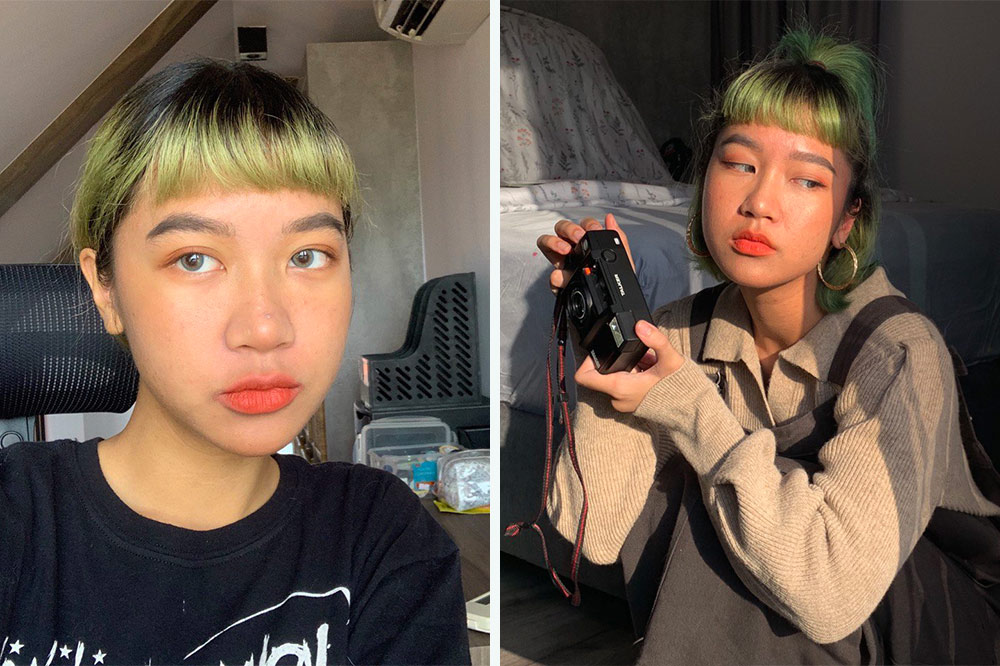 When Yana first started working from home, she was confident that she'd be going makeup-free the whole time.
She shares, "At first, I was so ready to be completely barefaced till the end of Circuit Breaker. But after 2 weeks, I felt like my daily routine was getting too monotonous."
Yana decided to add a few self-care days to her routine "to keep every day feeling new again."
She started off using a face mask before work. After a while, "I wanted to feel snatched so I started adding makeup into the regime," she elaborates.
Sometimes, that means using a primer on the high points of her face. This is followed by brows, a simple eye look, bronzer and blush for an outdoorsy flush, and her usual lippie. When she's not up for a full beat, she skips blush and uses a light wash of colour on the eyes.
Because a typical WFH day consists of Yana "sitting in front of my laptop all day with a constant supply of snacks around me," she has come to the realisation that "having makeup on makes me feel like I'm truly at work and that I can be productive rather than me being in full-homebody form. It gives me that work-home division that I need at times."
Even if she sometimes feels that it's a bit of a waste when removing her makeup because she didn't leave the house at all, ultimately, "it's worth it, knowing that you feel great from the start to the end of the WFH day."
Yana concludes, "It feels nice to remove your makeup at the end of the work day because it's time taken to focus on yourself."
"It's a fun time to experiment with beauty"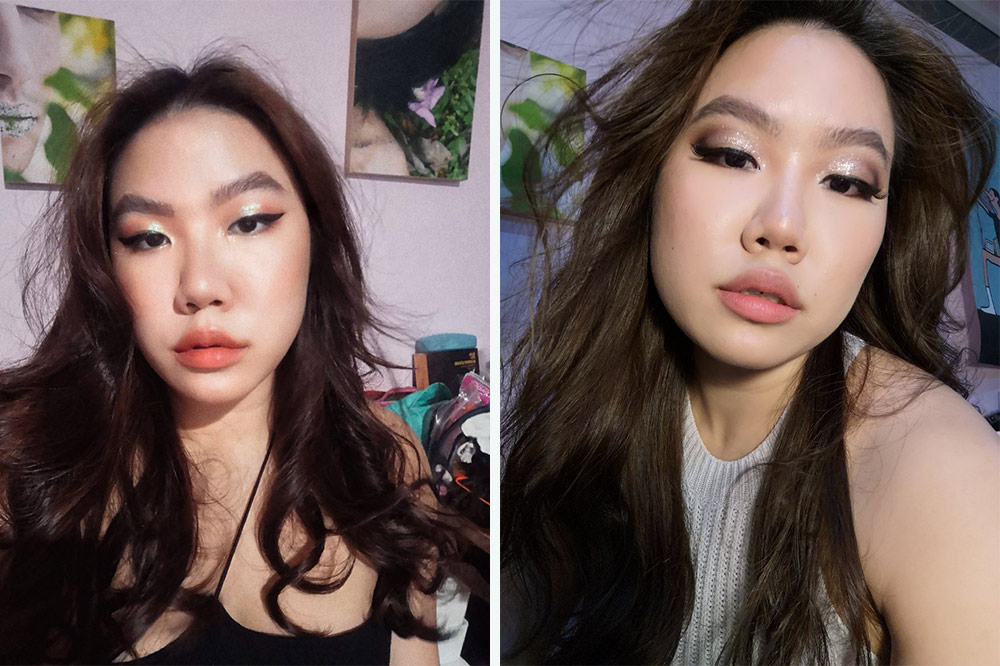 For Clara-Anne, "makeup is but an extension of self expression." So while many people are sticking to the bare minimum for their work-from-home makeup looks, she's been doing the exact opposite.
The photographer at a beauty company is using less base makeup while concentrating on sculpting her face, and focusing more on her eyes and lips "just for the fun of it."
She adds, "I tend to do looks that I wouldn't necessarily go out in, just so I can experiment and test out my stash." That translates to makeup trends like the foxy eye look and glitter eye makeup using products she hadn't used since buying them a while ago.
She even recreated a look from her favourite makeup artist, which led to him reposting her Instagram story.
There's a practical side to her makeup choices too. For most of the day, Clara-Anne sits in front of the computer, which includes meetings with colleagues and clients over Zoom. Because the webcam doesn't pick up blush as well, she's been gravitating towards more blush and lip looks.
On days when she is virtually "meeting" new clients, makeup "makes a difference to their first impressions of you. It also makes me speak more confidently not wondering if the person was looking at my blemish," she says.
Since working from home means that she now has more control over her time, Clara-Anne has been adding a mask into the mix when removing her makeup. "I feel the most at ease when I do my cleansing routine and subsequently skincare routine. It puts me into a mood where I can unwind with some green tea and good jazz music."
"Having makeup on makes me feel more confident while filming"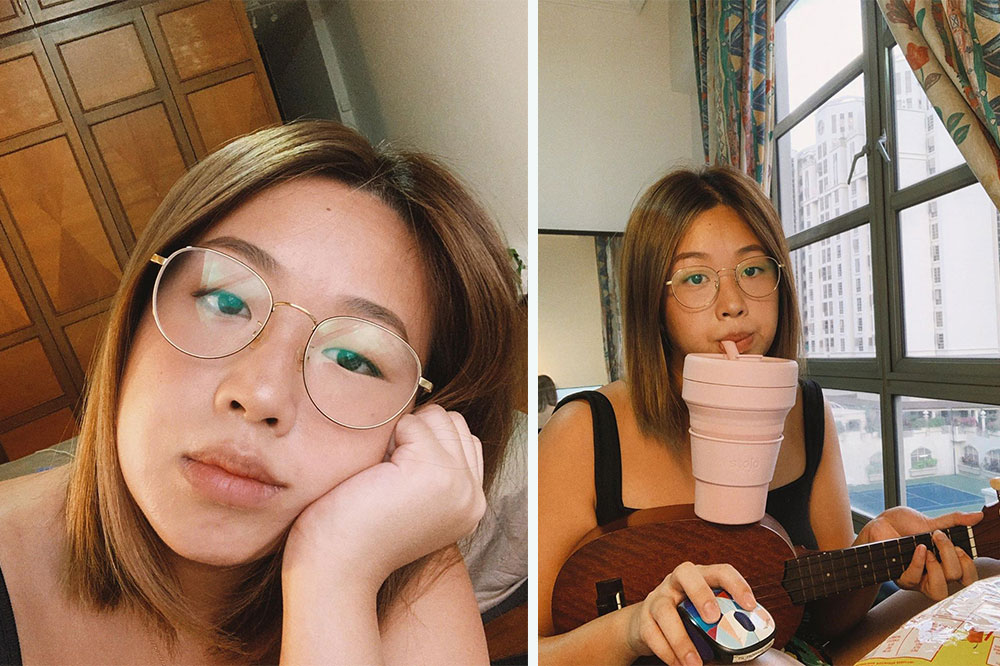 As a writer and host, Chiara's daily WFH routine varies depending on her schedule. A typical day can include desk work, cooking work and filming work.
Before WFH kicked in, applying makeup was a must for Chiara when heading out of the house. The rare times she was barefaced were when she was running an errand, meeting family members or working out.
Now, she wears makeup when she has to film herself for shoots. "I started wearing makeup while working from home out of vanity. When I film, I need to look alive at least! I use products that are natural yet long-lasting, as I might have to cook up a storm in the hot kitchen yet still look presentable while doing it.
"But there have also been occasions when I was bored and wanted to try out new makeup," she shares.
Compared to her usual "natural" no-makeup makeup look that "is actually not so effortless", her current aesthetic is #iwokeuplikethis. For her, that means lightly filling in her brows, putting on some blush, and concealing her under eye circles and any blemishes.
She explains, "Having makeup on makes me more confident when filming. It also gives me a reason to take a pretty Instagram Story when I'm bored, and a reason to go on Zoom or Houseparty to talk to friends when I'm suffering from cabin fever."
It's not just wearing makeup that has psychological effects. Removing makeup has an impact on Chiara's mood too. "Removing makeup feels great because it marks the time for me to stop working immediately. Working at home can really blur the lines of work and after work for me."
These Millennials Continue To Put On Makeup During Work-From-Home Season
For these Singaporean millennials, applying makeup as part of their work-from-home routine keeps them feeling empowered and productive. Removing their makeup also means the WFH day has come to an end. As Yana says, "It feels nice to remove your makeup at the end of the work day because it's time taken to focus on yourself."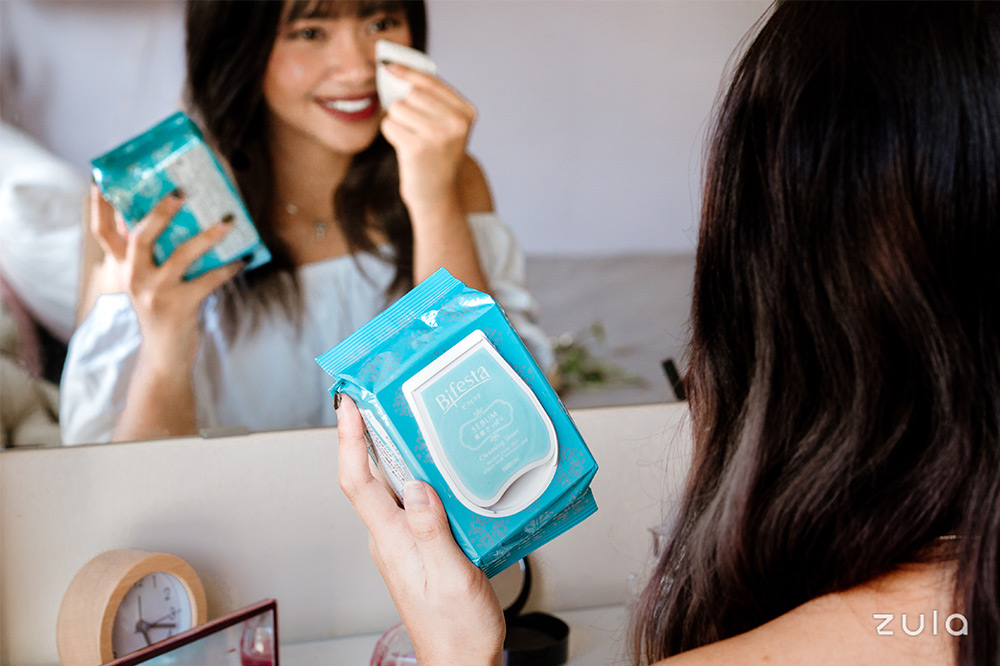 Removing makeup is a breeze with Bifesta's Sebum Micellar Makeup Remover Wipes
Even if you're opting to go barefaced for now, once the Circuit Breaker period is over, you can kickstart your own self-care process at the end of the work day by removing your makeup with Bifesta's new Sebum Micellar Makeup Remover Wipes.
The Japanese brand's latest addition to its popular range of makeup remover wipes contains green tea extract for a relaxing and refreshing experience to help you begin the process of winding down.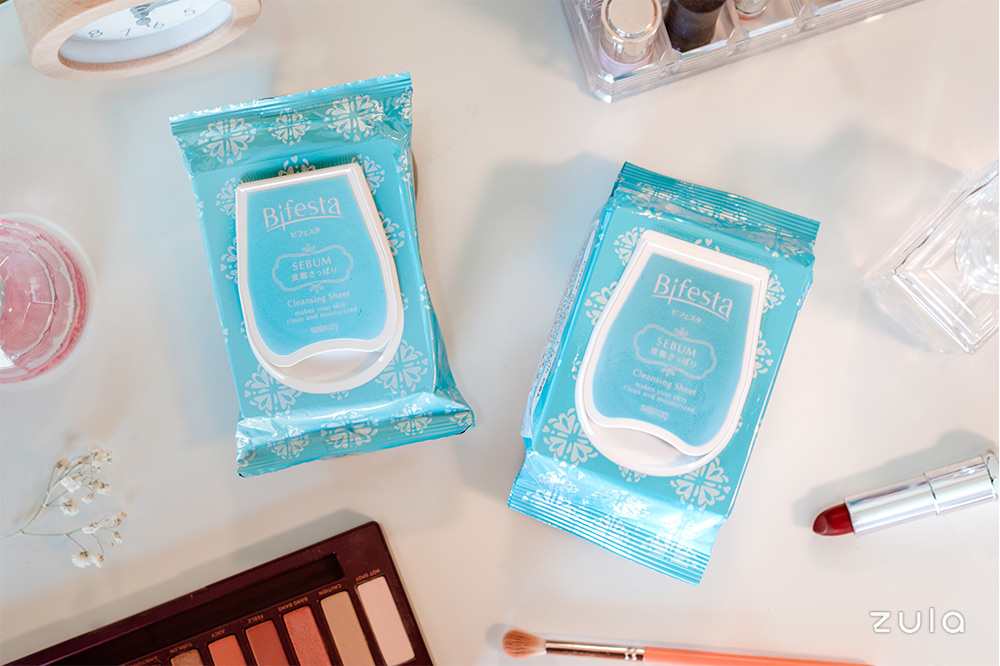 Bifesta's Sebum Micellar Makeup Remover Wipes come in a pack of 10 sheets (left) and 46 sheets (right) 
Its low-friction formula is soft and gentle on your skin, with no drying or sticky after-feeling. For those looking to shave time off their night-time beauty routine, this means there is no need for double cleansing.
It is also hypoallergenic, and free of alcohol, oil, colourants and fragrances, so you won't be subjecting your skin to harsh chemicals once you go back to putting on makeup.
Infused with hyaluronic acid and green tea extract, the makeup remover wipe boosts your skin's hydration levels while getting rid of makeup impurities, excess sebum and dead skin cells. With consistent use, you can even look forward to improved skin texture and clarity over time.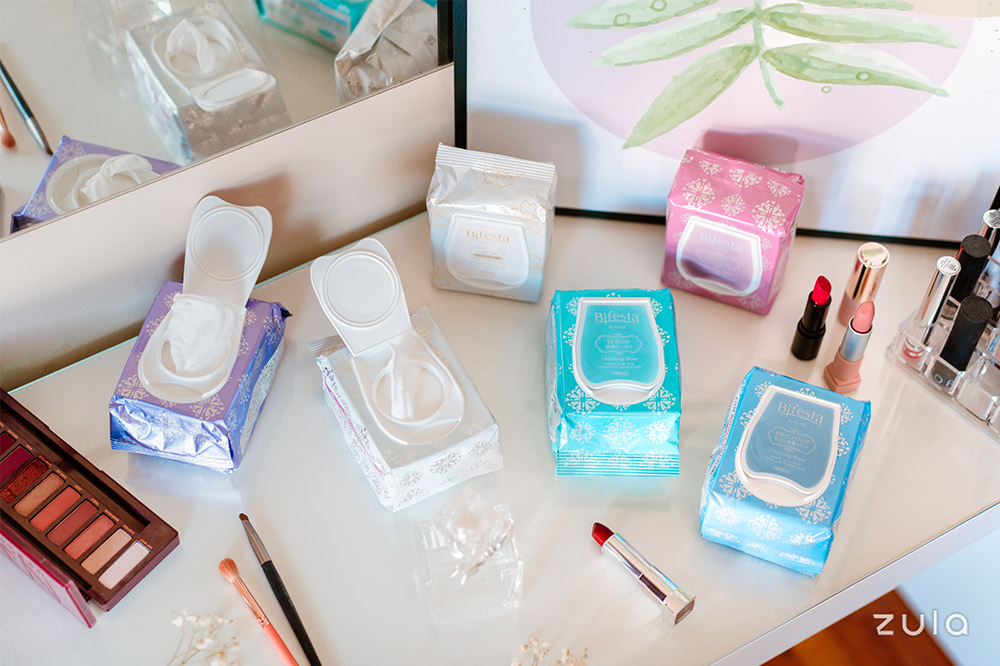 Bifesta's range of Makeup Remover Wipes (left to right):
Enrich, Perfect Clear, Oil in, Sebum, Moist, Brightup
No matter what your skin type, and whether you're going for a natural look or dramatic eye makeup, Bifesta's range of 6 different makeup remover wipes have you covered.
On days when you have on basic makeup, opt for a micellar water wipe like the "Brightup" variant. It has vitamin C and AHA to brighten dull skin. On days when you're experimenting with a full beat, opt for the "Perfect Clear" variant. It has botanical rice bran oil and artichoke extract to remove heavy waterproof makeup and unclog pores.
All Bifesta wipes come with an airtight cap that keeps the wipes fresh and moist for a long time. The large sheet size (15cm x 20cm) also makes it easy to get makeup off using just one sheet.
At the end of the day, you make your own rules when it comes to makeup. Do what makes you feel good, and the same applies to removing makeup too. Bifesta's Sebum Micellar Makeup Remover Wipes retail for $14.50 (46 sheets). You can check out Bifesta's full range of products on its website. They are available online on Shopee and Lazada, Watsons and Guardian and offline at all leading drugstores, supermarkets and department stores.
This post is brought to you by Bifesta.
Product and model photography by Pepita Wauran.