Zula Team Tries: Maybelline Instant Age Rewind Concealer
Whether you're a beauty junkie or simply spend a lot of time on YouTube, there's a high chance you've heard of the Maybelline Instant Age Rewind Concealer.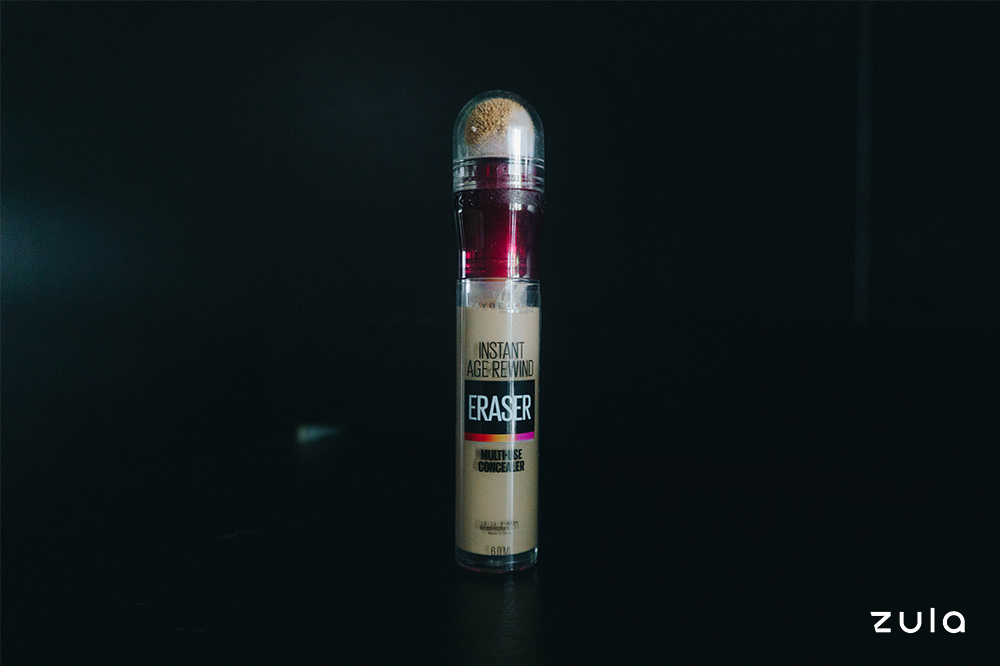 A lot has been said and written about this concealer, which claims to "fake 8 hours of sleep in under a minute and get rid of dark circles". But many other just-as-legit concealers with equally bold claims have been released since it was launched in 2010.
To find out if it has stood the test of time, members of the Zula and Eatbook teams were tasked to pick a shade that suits their skin tone, and wear it for the entire day while working from home. Reviewers had to snap selfies and record their findings at 9am, 1pm and 9pm.  Read on to find out how the concealer fared.
1. Chiara wears the shade 140 Honey
Previous concealer experience 
"Concealers are a staple for me as I don't like the tacky feeling of foundation applied on my entire face for the whole day. That is why I only use concealers to hide my eye bags, breakouts, or any redness around my nose.
IMO I have a bad case of (uneven) dark circles, with the one under the right eye darker than the one on the left. I look for medium to high coverage that does not oxidise to a darker shade by the end of the day.
This Maybelline concealer was my holy grail back when I was a teenager who could only afford drugstore brands. It covered my baby dark circles well and was easy on the wallet."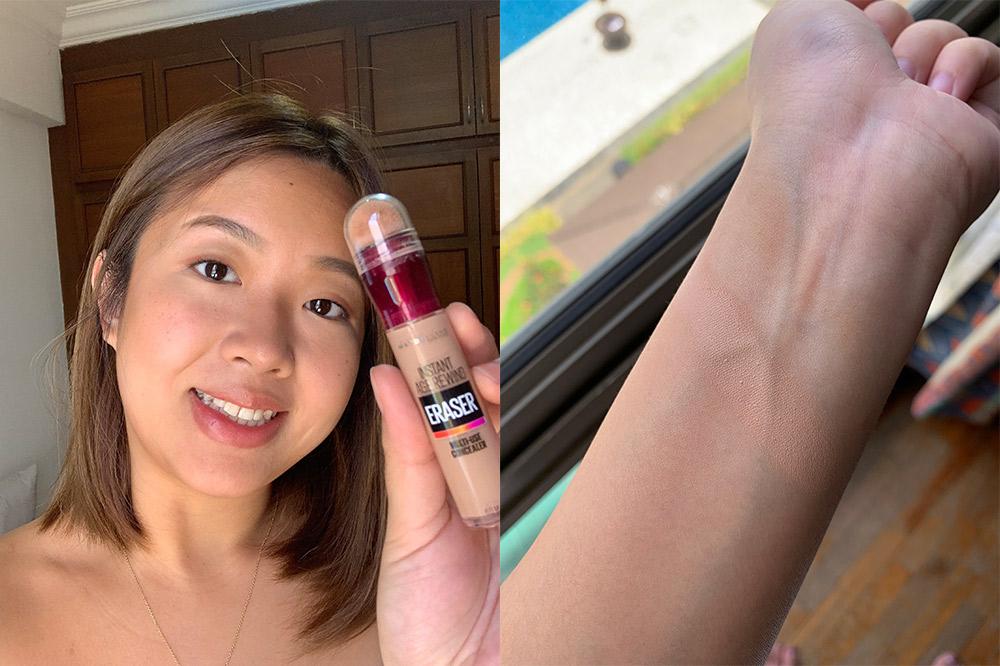 9am: First impressions
"Before the reign of the Beautyblender, I just used the fluffy applicator head that came with the concealer. It was hygienic in the sense that I didn't have to use my hands to hold the applicator. However, after trying it out again today, I found myself reaching for a damp Beautyblender as the concealer was extremely streaky—but nothing a BB can't correct.
The concealer is thin, creamy and easy to apply. It starts off wet but dries to a smooth satin finish, without drying out too quickly. It doesn't need any baking as well.
I picked the shade 140 Honey, which has a pink undertone that helps to colour correct my dark circles. This also made me look more radiant as it made my skin colour brighter under the eyes."
1pm: after lunch (left), 8pm: after dinner (right)
1pm: After lunch
"I have monolids, so my concealer either tends to smudge under the eyes, or it sometimes catches mascara or eyeshadow fallout after a few hours. As expected, with a thinner concealer like Maybelline's, there were light smudges along my bottom lids. But surprisingly, they could not be detected when I was playing Houseparty with my friends at lunch!"
8pm: After dinner
"More smudging and fallout, and some purple from my under-eye also came through. The saving grace of the Maybelline concealer is that the concealer doesn't crease as much as other drugstore concealers I've used before."
Final thoughts
"I would wear it with a little help from the baking technique, in hopes of the concealer staying in place for a longer period of time. This is definitely more for a 'no makeup makeup' or an 'I woke up like this' makeup look.
As compared to my current favourite Tarte Shape Tape concealer, the Maybelline concealer offers more of a light to medium coverage. It is great for short grocery trips or when you have a video call at home with someone you want to impress hahahaha."
2. An wears the shade 130 Medium
Previous concealer experience 
"I rarely step out of the house without using a concealer because I have pretty bad "panda eyes" and pimple scars. A few things that are important when it comes to my concealers are: strong coverage, lightweight, moisturising and long-lasting. I've heard a lot of raves about this Maybelline Instant Age Rewind Concealer but I've never tried it before, so I'm excited to try it!"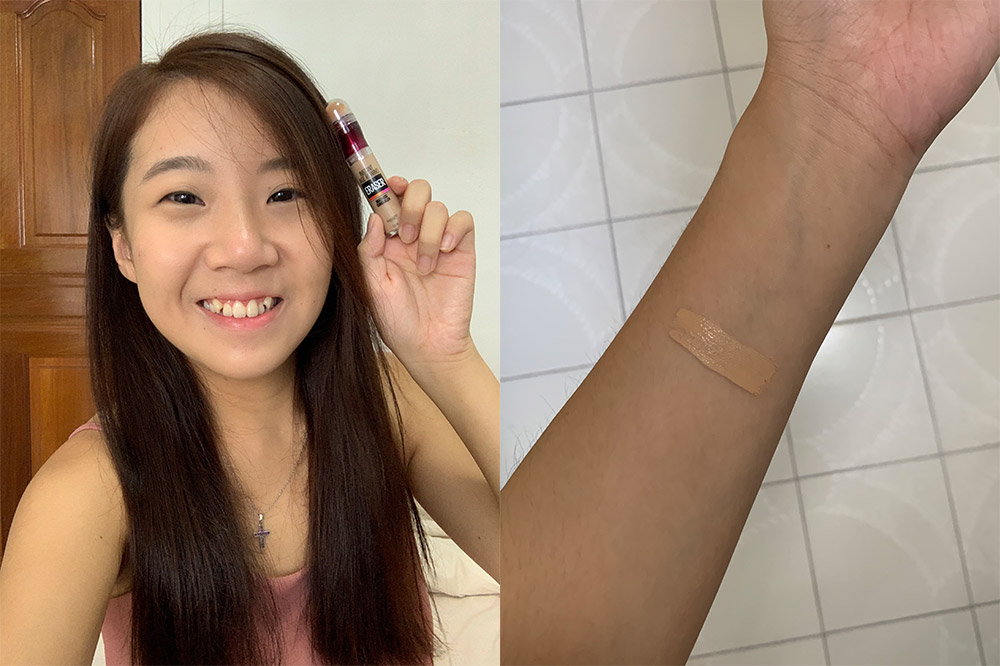 9am: First impressions
"I was really surprised by the softness of the applicator when it first touched my skin. The concealer was really smooth to apply especially with the soft cushion applicator. I used it not just on my dark eye circles, but also my pimple scars. I think it covered my dark eye circles pretty well, but not so much on the pimple scars."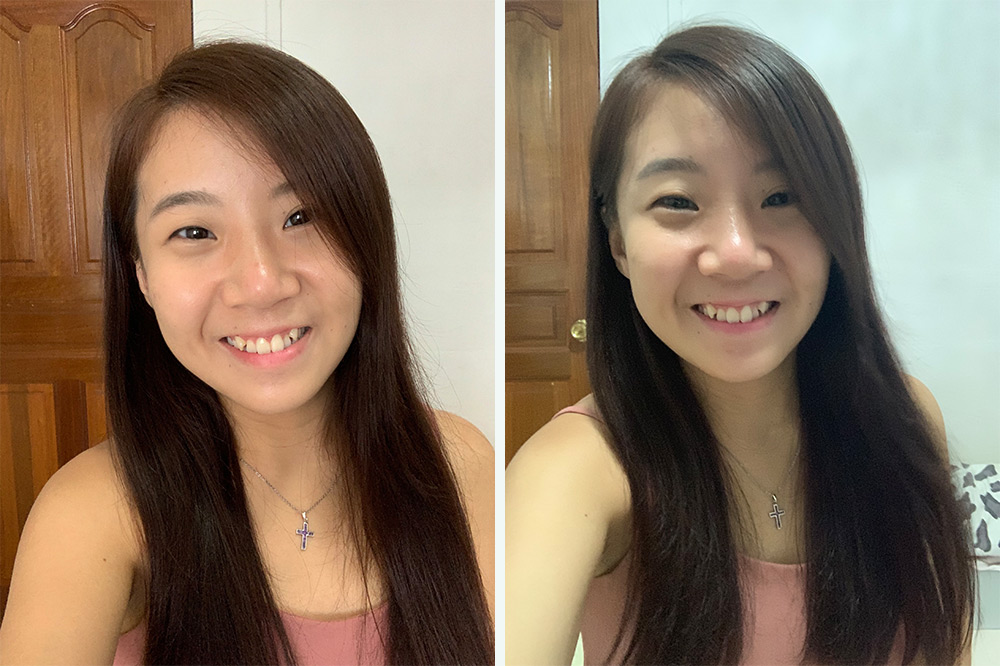 1pm: after lunch (left), 8pm: after dinner (right)
1pm: After lunch
"I cried a little while watching a show over lunch but the concealer stayed on without leaving any streaks down my face. The weather was pretty humid and I don't have air-con at home so I could feel my face starting to grease up. But so far, the coverage on my dark eye circles is still holding up well."
8pm: After dinner
"As the day went on and my face got greasier, I could see that the concealer coverage was getting lesser too. My dark eye circles became more prominent again. But at least the concealer didn't leave any creases or uneven patches."
Final thoughts
"Overall, I still like this concealer, considering it has medium coverage and yet is very lightweight without forming any crease in my "smile lines" throughout the day."
3. Kai Ying wears the shade 120 Light
Previous concealer experience 
"My dark undereye circles are genetic, so no amount of sleep or eye cream is gonna save them. I've been looking for a good concealer since my uni days. When I got tired of experimenting, I settled on the NARS Radiant Creamy Concealer for good. Yes, it costs $46, but it does the job and I find that it doesn't crease as much as others."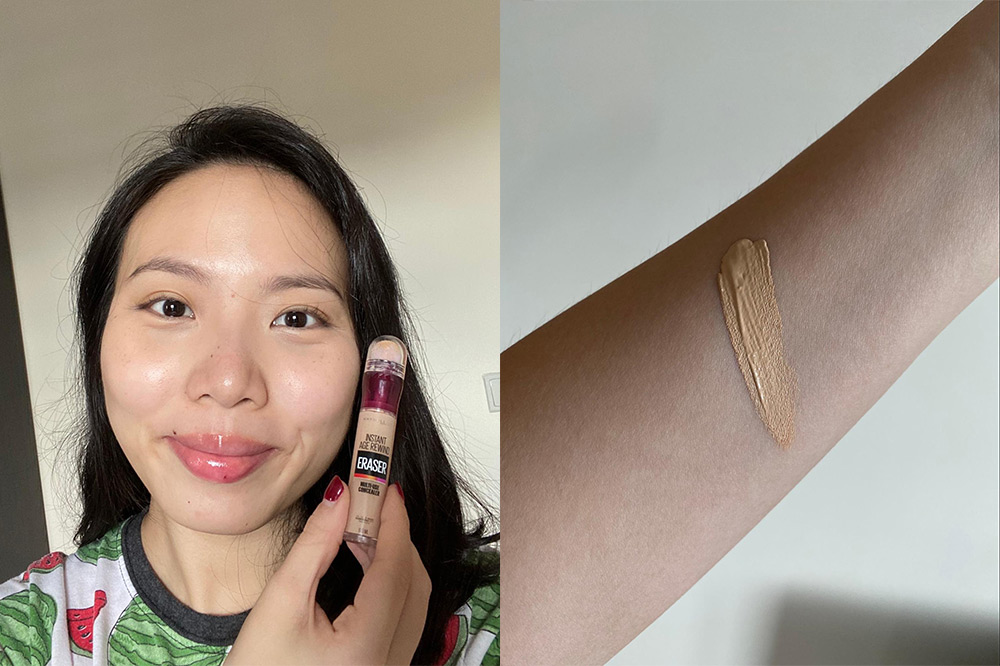 9am: First impressions
"Full disclosure: I tried the Maybelline Instant Age Rewind Concealer when it first came out in the States, when I was there on exchange one semester. I remember it as a light liquid concealer that offered decent coverage, but not as long-lasting as the NARS one.
Opening the new concealer reminded me of why I stopped using it—the giant applicator felt unhygienic after a few uses. Applying the creamy product was a breeze, just some dabbing and blending, and we're good to go.
I could still spy the slight darkness under my eyes in the mirror, but they were indiscernible in photos and during the video call I had at 10am."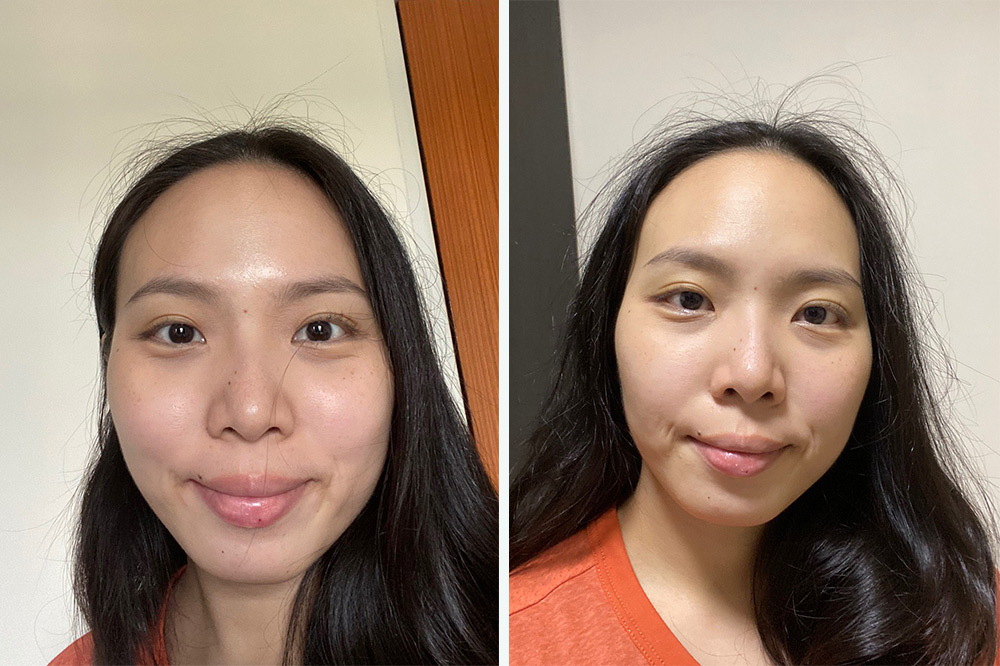 1pm: after lunch (left), 8pm: after dinner (right)
1pm: After lunch
"The concealer faded a little and was starting to crease. I had lunch with my friends over the House Party app but those panda eyes surprisingly didn't show. They also remained well hidden during a Zoom call at 2pm. When I looked in the mirror, however, I could clearly tell that some touching up was needed. But I didn't have any more calls for the rest of the day so…fuck it."
8pm: After dinner
"Okay, no hiding those panda eyes now. The concealer had faded, and left behind were accentuated versions of the lines under my eyes. I felt tired, and looked exhausted. Whatever was left of the product still helped to brighten my dark eye circles though, albeit just by a little."
Final thoughts
"My thoughts about it are the same as before. The coverage is not bad and lasts an okay amount of time, but the applicator is a turn-off. That being said, at $19.90, this is something I would consider buying when I feel broke."
4. Sheryl wears the shade 122 Sand
Previous concealer experience 
"Concealer is something that I put on whenever I apply makeup. My eye bags aren't terribly bad but they are noticeable, especially if I haven't gotten much sleep the night before. I do have random pimples and spots, however, so I tend to always need concealer. I like concealers that are light and don't cake up when applied. It'd be best if it feels like I'm not wearing it at all."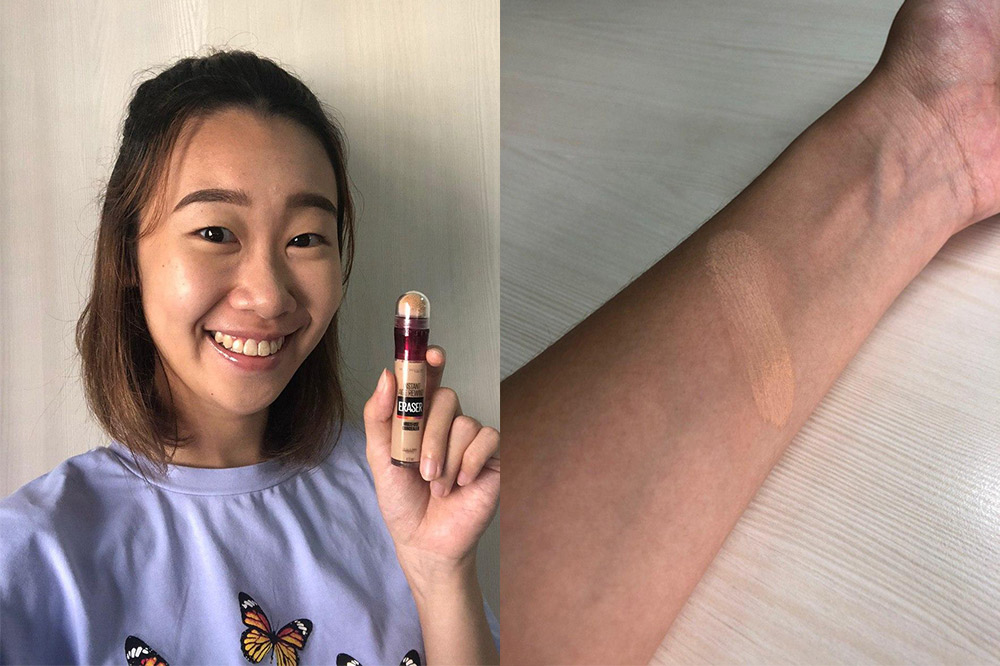 9am: First impressions
"I have never used such an applicator before so it took me a while to figure out. Once I got the hang of it, it was quite easy to apply and control. It blends easily and feels very light after applying. It managed to conceal my big-ass pimples (you can try to spot them) pretty well without having to go over them too many times. There was a cooling sensation when applied that got me feelin' fresh. I like that it made my skin look glowy and moisturised."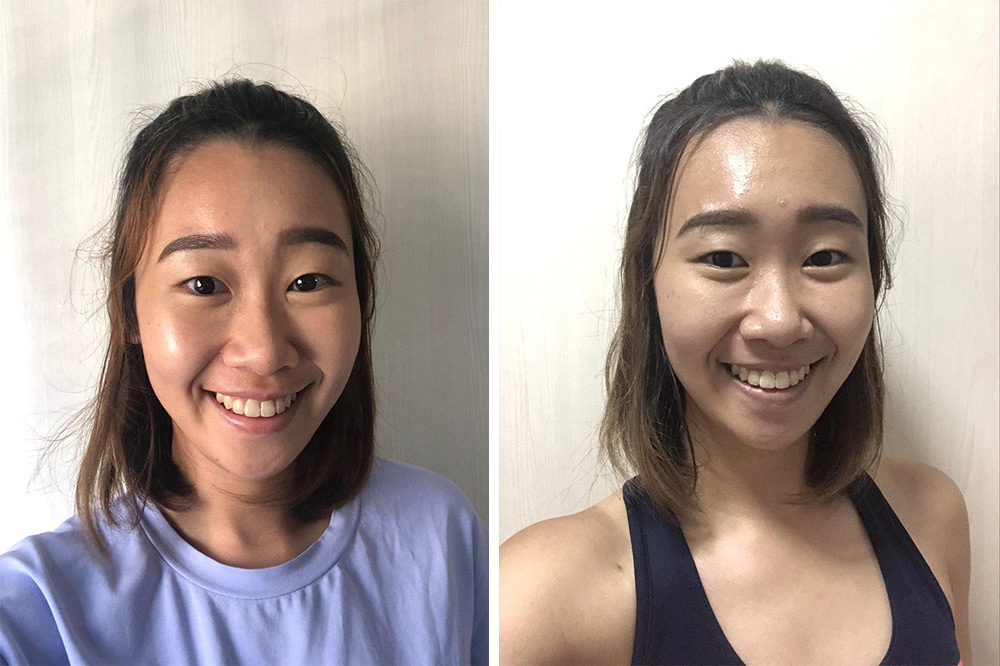 1pm: after lunch (left), 8pm: after dinner (right)
1pm: After lunch
"The concealer started to harden a bit around one of the pimples because of the dry scab. But other than that, everything still felt light and properly concealed. Usually when I use concealer, it tends to get very oily easily, but this one didn't seem to be getting oily yet."
8pm: After dinner
"I did a workout so the sweat probably caused the concealer to fade a bit, which was why my pimple became more visible. Other than that, my eyebags were still pretty well concealed and I really like how it felt on my skin. At this point, it still wasn't oily or feeling gross, which is a super big plus point for me."
Final thoughts
"Although I'm not a big fan of the applicator due to hygiene purposes, I think it did a pretty good job and I would wear it again."
Also read:
8 Girls Tried Benefit Cosmetics' Roller Liner Eyeliner To See If It Would Last Through Sweat & Tears
5. Annabelle wears the shade 142 Butterscotch
Previous concealer experience 
"The last time I used a concealer must have been about a decade ago. I use foundation every day, which is enough coverage for me. My eye woes are my eye bags, which I feel can't be covered by concealer. If I did use a concealer though, it would be on my dark spots from leftover acne scars."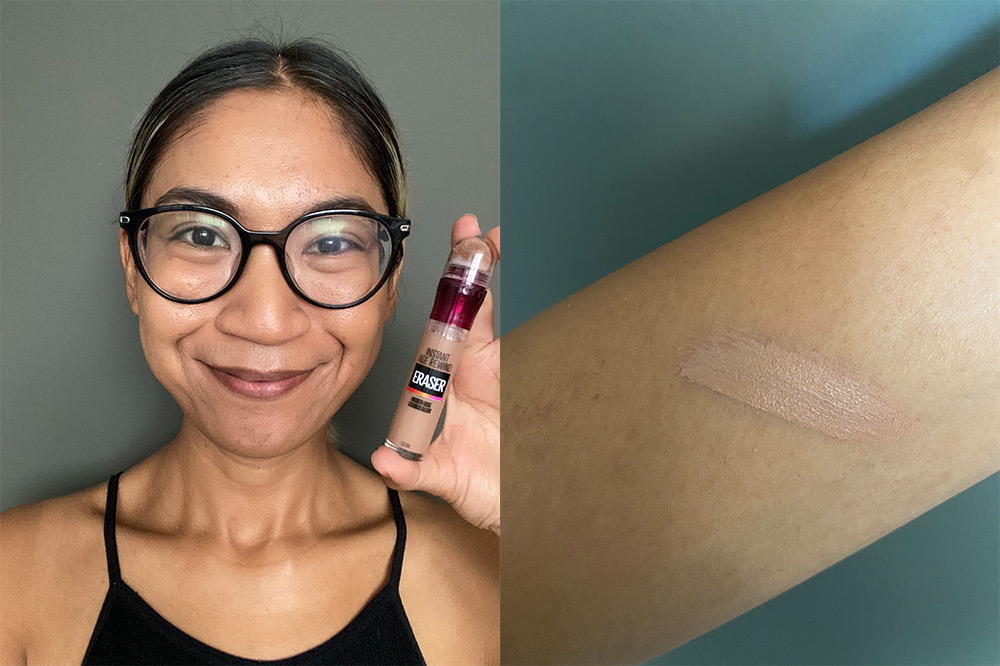 9am: First impressions
"I legit had to watch a YouTube video to find out how to apply concealer on the undereye area. Thanks to the twist-brush applicator, this was super easy to apply, even for a noob like me. I used it on my undereye area and on dark spots too. I felt the coverage was better over a larger surface area though; when it came to dark spots, the coverage was minimal. The shade was a perfect match for my skin tone, so yay!"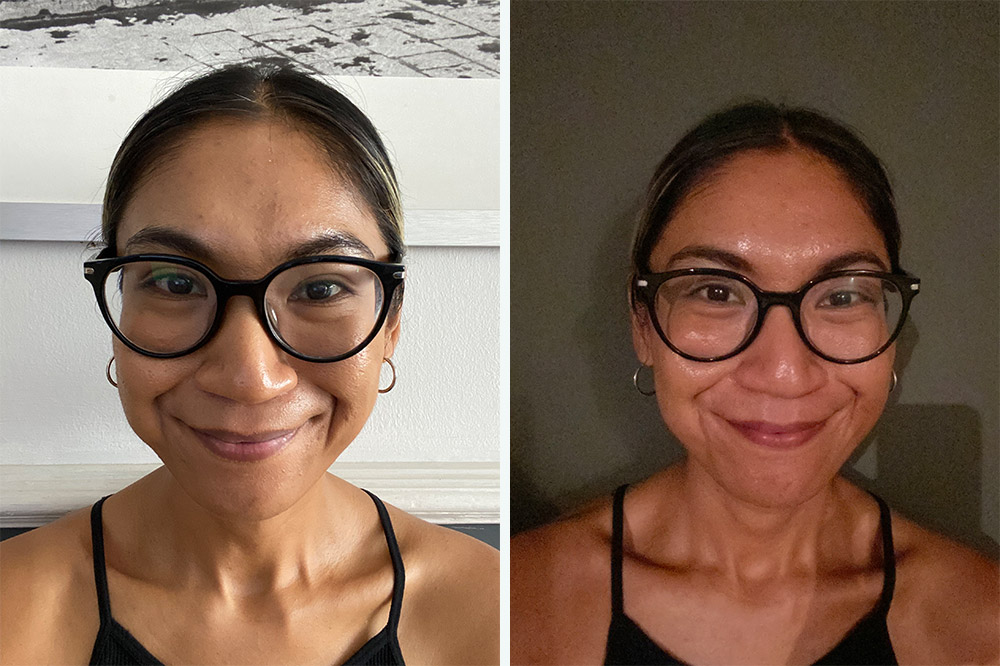 1pm: after lunch (left), 8pm: after dinner (right)
1pm: After lunch
"We don't have air-conditioning at home, so I've been using a mini fan attached to my computer to stay cool. Thankfully, despite the heat, the concealer remained pretty much intact. I also had to film myself for an upcoming episode of Zula Perspectives, and I'm glad to report that the concealer could not be seen through the screen (I hope)."
8pm: After dinner
"After a whole day of working in the living room, my face was seriously an oil slick. Weirdly enough, while my foundation had almost disappeared by this point, the concealer on my under-eye area remained but as patchy spots."
Final thoughts
"Concealers are still not going to be part of my everyday makeup routine. However, I wouldn't mind giving this concealer another shot once we're back to working in air-conditioned offices again."
6. Jielin wears the shade 120 Light
Previous concealer experience 
"Concealer used to be a staple before I started using foundation many years ago. Now, they usually come hand in hand, or I use foundation alone. What I look for in a concealer is coverage and how well it sits on my skin, it shouldn't feel heavy.
I've tried the Maybelline Age Rewind concealer before. It was a recommendation from a friend but I got it one shade too light. Not that it was a bad experience then, because I could layer foundation over."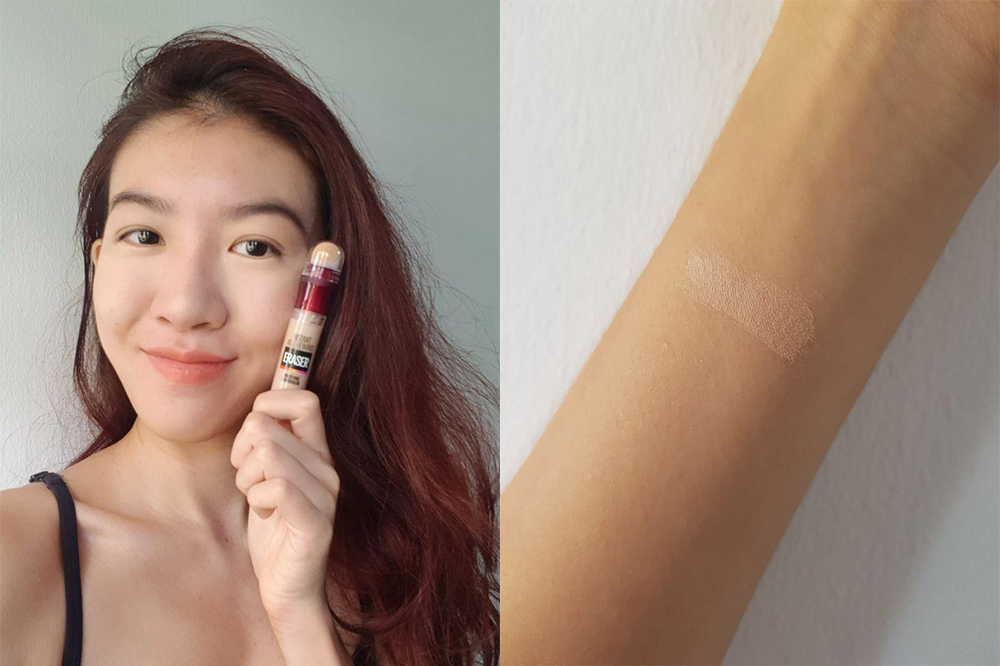 9am: First impressions
"I like how compact it is, especially since it has the puffy applicator attached to it already. I can see it being an on-the-go item for emergency touch-ups, provided the results are good at the end of this 1-day test. The puff sponge is something I'm not very used to anymore, so I actually dispensed too much product.
Application-wise, I liked how the puff sponge was really soft. Because of the pen-like nature of the packaging, I had quite a fair bit of control as to where I wanted the application to be. Blending-wise, I was confused how to do so because, well, I dispensed too much product. So I ended up using my fingers, though I know that defeats the point of having the sponge so you don't get your hands dirty 🙈
Initially when I started blending, I thought the concealer colour was way too yellow for me, but it turned out to match my skin tone after all. In fact, I could skip my usual setting powder. It has a slightly creamy consistency and a matte finish, and it actually blended in with my non-foundation skin really well.
There was a noticeable difference on my eye area with and without the concealer. So far, it's a good impression and I'm excited to see how it fares throughout the day 😈"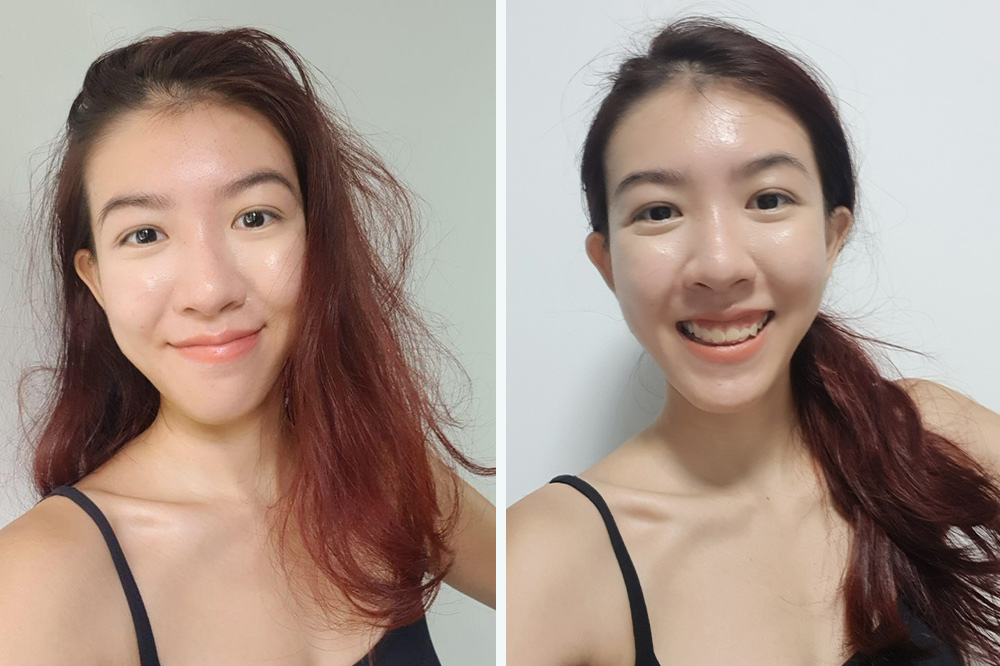 1pm: after lunch (left), 8pm: after dinner (right)
1pm: After lunch
"The area where the concealer applied was still pretty matte, which was pretty strange because the rest of my face had started to become more oily. I would say it held up pretty well."
8pm: After dinner
"Because of the Circuit Breaker, I have incorporated 30 minutes of exercise in my daily routine. This meant I did it with the concealer on as well. After a workout and dinner, the concealer on the corner of my eye was crumbling, and it had worn off slightly around the bottom lashes. Similar to lunch time, the parts where the concealer was were still pretty matte, which really contrasted against the rest of my shiny face."
Final thoughts
"Even though it didn't last a full 12 hours including my workout, I would still want to try it post-circuit breaker to see if it can last 12 hours of regular wear, or maybe set it with some powder!"
7. Leah wears the shade 122 Sand
Previous concealer experience 
"I use concealers if i'm doing a regular face for a shoot or going out to meet my friends in general. But if I'm lazy, it's not a must.
My dark circles are horrible and I have fine lines. In a concealer, I look for coverage and texture. I prefer it to be a bit thicker as I'm trying to cover those areas; more liquid concealers don't work as well for me.
I've always wanted to try this Maybelline concealer because Jenn Im used to rave about it in her YouTube videos but I just never got around to it."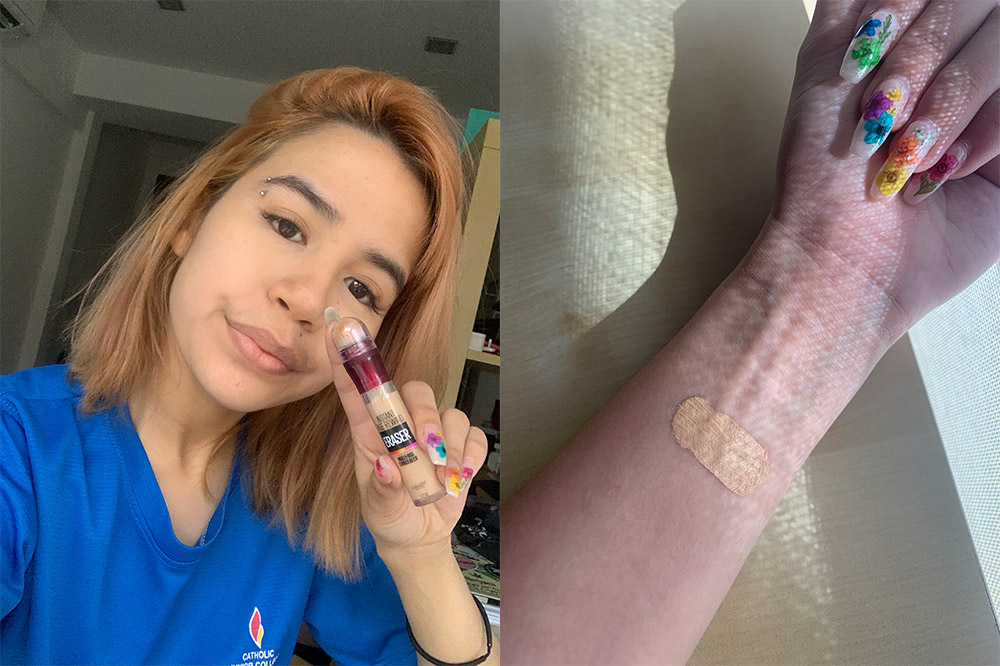 9am: First impressions
"It is very easy to use because of the sponge applicator but i think it might be a bit unhygienic. It seems like it can trap dirt if applied directly to the face because the concealer doesn't go back into the pot.
It's easy to blend but not thick enough for my liking, I had to apply 2 layers. It went on a bit patchy compared to my usual concealer.
While it hid my dark circles, I didn't feel radiant. Luckily, I chose one that matched my skin tone quite well."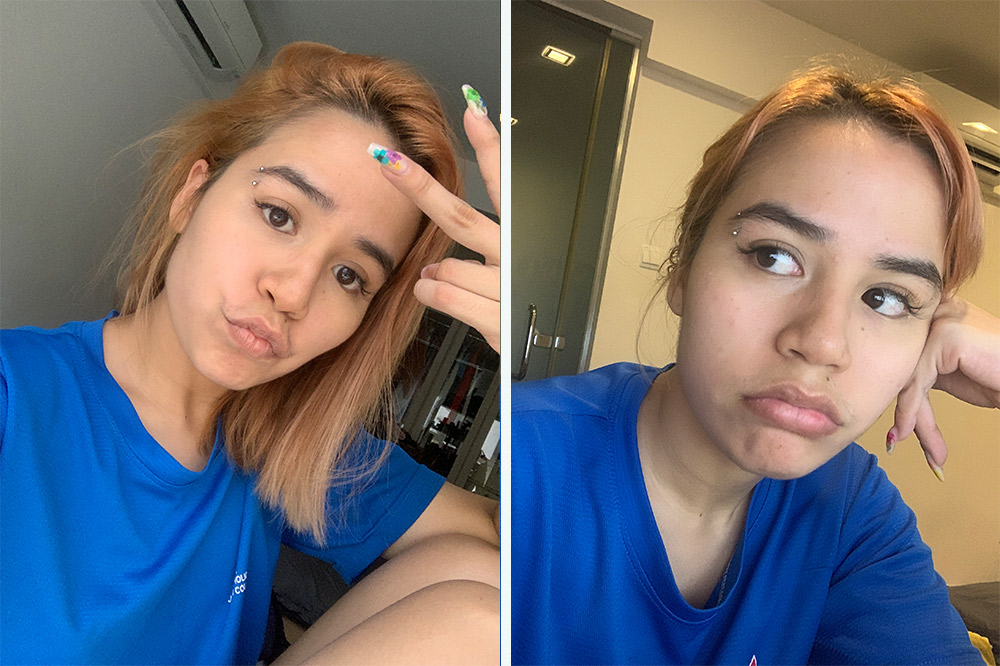 1pm: after lunch (left), 8pm: after dinner (right)
1pm: After lunch
"It didn't hold up great. It was patchy and started caking up, maybe it doesn't suit my skin type. The concealer still couldn't really be seen from far, which was good. But up close, it was really obvious."
8pm: After dinner
"The concealer had worn off by this point. I also have a tendency to rub my eye area, so it didn't really stay on."
Final thoughts
"I was at home all day and wasn't exposed to the sun, but it couldn't last. I'll stick to my usual concealer, Tarte Shape Tape, instead."
8. Joie wears the shade 130 Medium
Previous concealer experience 
"After years of late nights, I'm not proud to say that I've developed quite a bad case of panda eyes, which I've resorted to covering with concealer. My choice of concealer varies depending on the day. If I'm going out or have an important event to attend and want my skin to look photo-ready and blemish free, I opt for a heavier, more full-coverage concealer. Otherwise, I'm usually more into more natural makeup and use a lighter coverage concealer.
This Maybelline Age Rewind concealer is actually familiar to me, as I purchased it a couple years back when all the popular YouTube beauty gurus were raving about it in their 'Get Ready With Me' videos."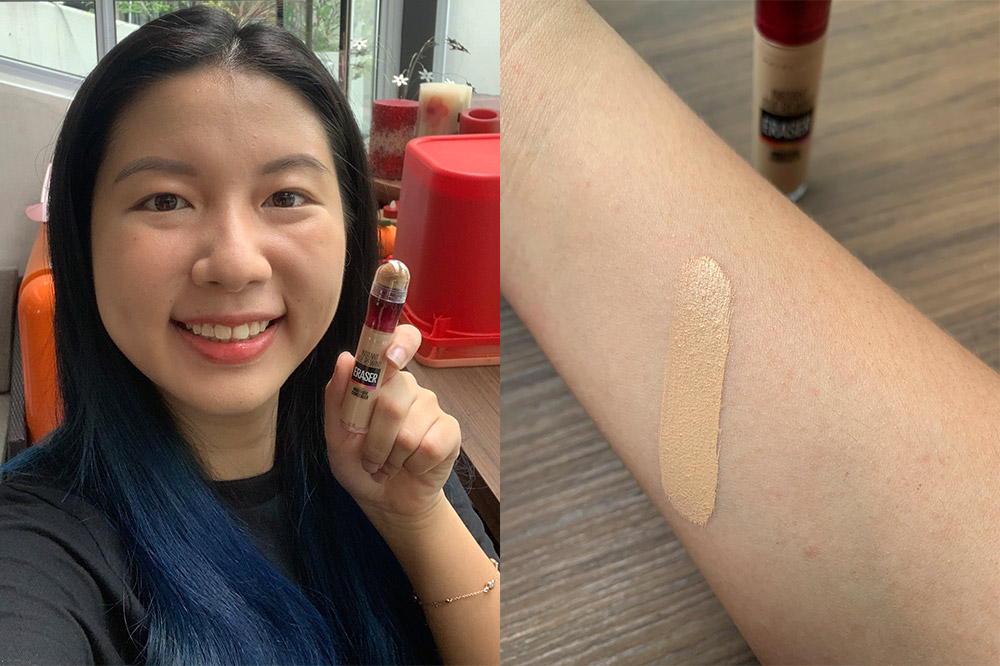 9am: First impressions
"Upon first application, I noticed that the consistency of the concealer was easy to blend, especially with the fluffy applicator that allowed me to spread the concealer on my eye bags pretty smoothly. The coverage of the concealer was light, but I found it buildable towards a more medium coverage that wasn't cakey even after I applied a few layers.
Overall, although it wasn't full coverage, the concealer provided a very natural look that successfully reduced the darkness of my under-eye area and made me look a lot more awake, which I greatly appreciated."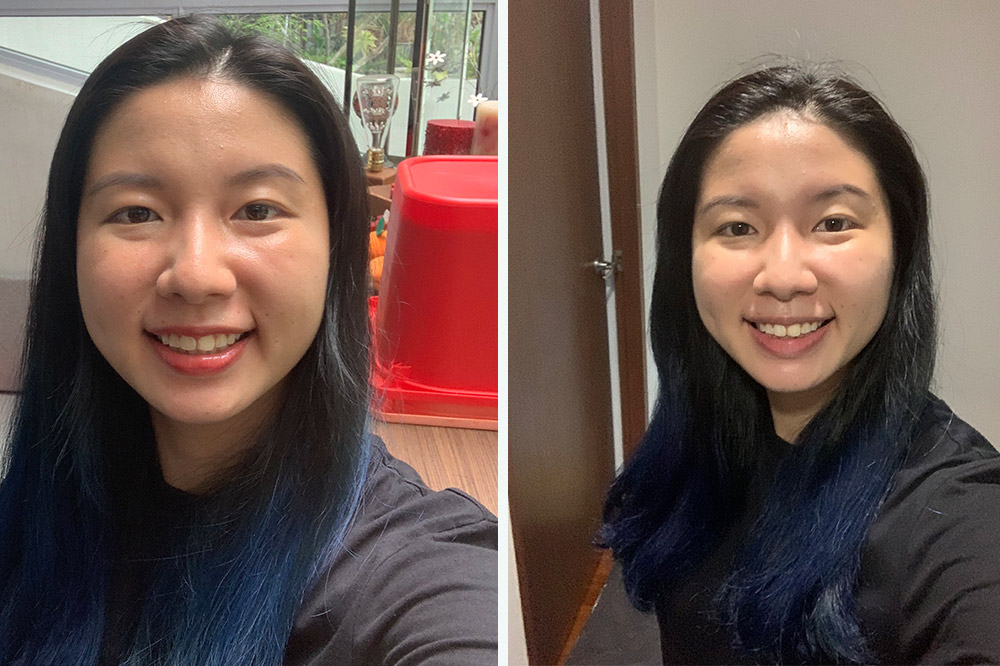 1pm: after lunch (left), 8pm: after dinner (right)
1pm: After lunch
"I work in my living room area, where it can get pretty humid. Coupled with my lunch, which was a plate of greasy prata, I was sweating by the time I finished lunch. I thought the grease on my face would have surely ruined my concealer by then, but when comparing myself to the photos I took in the morning, the concealer actually looked decent.
Upon closer inspection, I did see that my eye bags were more prominent than they were in the morning as some of the concealer had faded, but the fade was quite natural so I didn't see the need for a touch-up."
8pm: After dinner
"After a day of work in this humid weather, my face was oily enough to fry an egg. After dinner, I looked in the mirror and could definitely spot my eyebags clearly… hello again, old friends. The upside was that I didn't notice any visible caking on my face; the concealer had simply faded after 12 hours of wear to reveal more of my tiredness."
Final thoughts
"Although the concealer did not manage to last the entire 12 hours on my face without budging, I would say that it is a very good and affordable option for a lightweight concealer as compared to more high end, full-coverage concealers I own that cake up a lot more easily on my face. The formula is easy to blend and the applicator makes it convenient for quick touch-ups throughout the day, which I would probably do so if I were to wear it out for the entire day. I would definitely consider bringing this oldie but goodie back into my makeup routine for more casual days out."
9. Penny wears the shade 120 Light
Previous concealer experience 
"Concealer isn't a must for me, though I do have dark circles and spots to cover up. As an avid viewer of Jeffree Star's makeup videos, I definitely saw the product a few years back in his full face using only Maybelline products video."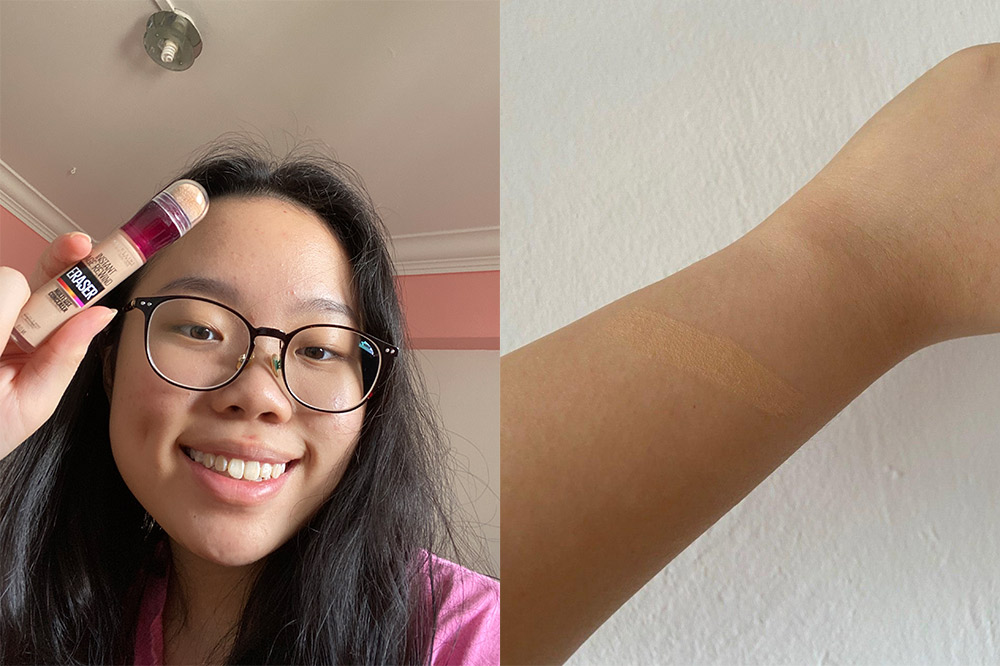 9am: First impressions
"It was easy to apply and the puffy tip was really soft. The concealer was relatively easy to blend and gave a smooth finish, without caking up on my face. I got lucky, so the concealer was a perfect match to my skin tone and did seem to cover up my dark eye circles to rid me of the panda-stuck-in-an-encosure-for-10-years look."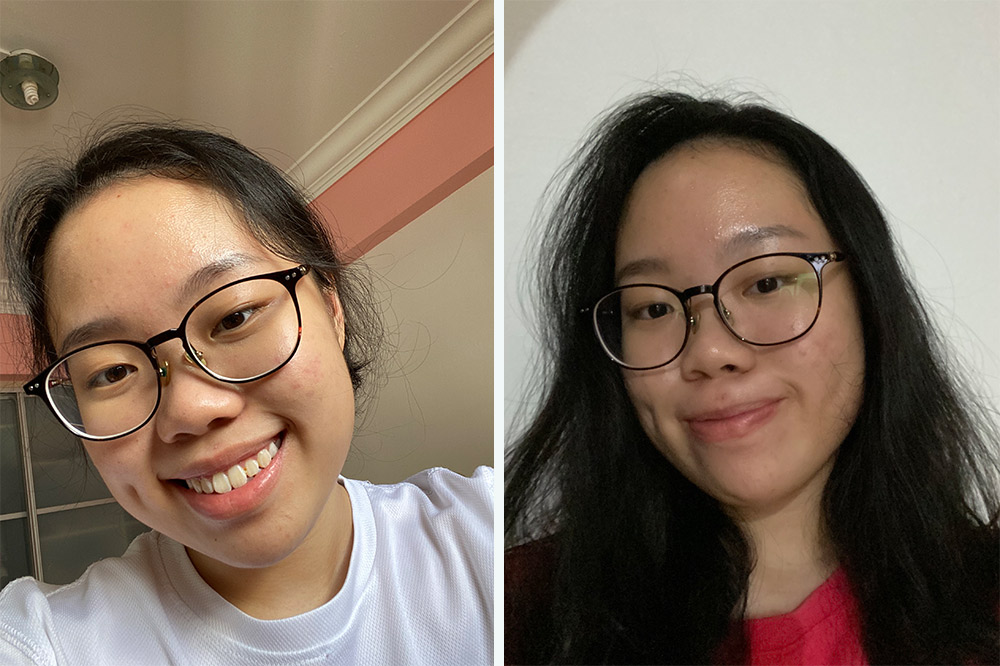 1pm: after lunch (left), 8pm: after dinner (right)
1pm: After lunch
"The concealer did not feel heavy on my skin, and still did its job well."
8pm: After dinner
"I realised after dinner that the concealer did rub off a little, possibly due to the fact that it was a very hot day and I was sweating buckets."
Final thoughts
"Overall, I do think this concealer does its job well and I would have it as part of my daily makeup routine post-Circuit Breaker."
We Put A Maybelline Concealer Through An All-Day Wear Test
Before the test, some of us were familiar with the Maybelline Instant Age Rewind Concealer, while others were trying it for the first time. By the end of it, most of us agreed that it is easy to use and easy on the wallet as well. A clear plus point was also that the variety of shades available meant that a majority of the reviewers could find a perfect match for their skin tones.
You can find the Maybelline Instant Age Rewind Concealer on Lazada, Shopee and Qoo10 for $19.90 each.
Also read:
9 Girls Try Fenty Beauty's Stunna Lip Paint To See If It Will Last Through Meals & A Makeout Session