Greenfluencers On Instagram
The topic of climate change went mainstream in 2019, thanks to the efforts of young advocates around the world. From the first-ever U.N. Youth Climate Summit in New York City to Greta Thunberg being named TIME Magazine's Person of the Year, the youths are getting more vocal in their desire for more sustainable practices.  
Here in Singapore, these 4 'greenfluencers' in their early 20s are spreading the message of sustainability via their Instagram accounts. Through informative and inspiring posts, they are motivating their followers to help save the Earth alongside them.

1. She breaks down sustainable living into simple steps using colourful graphics: Woo Qiyun, 22, @theweirdandwild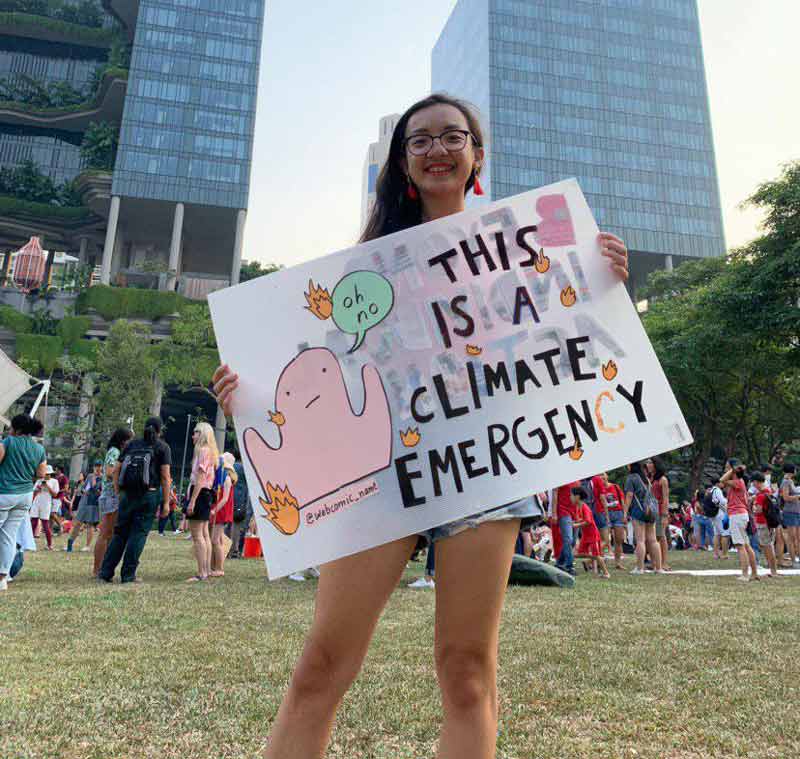 Photo courtesy of Woo Qiyun
Woo Qiyun's journey began when a friend asked her what could or could not be recycled from his school's welfare pack. In response, she created the poster below.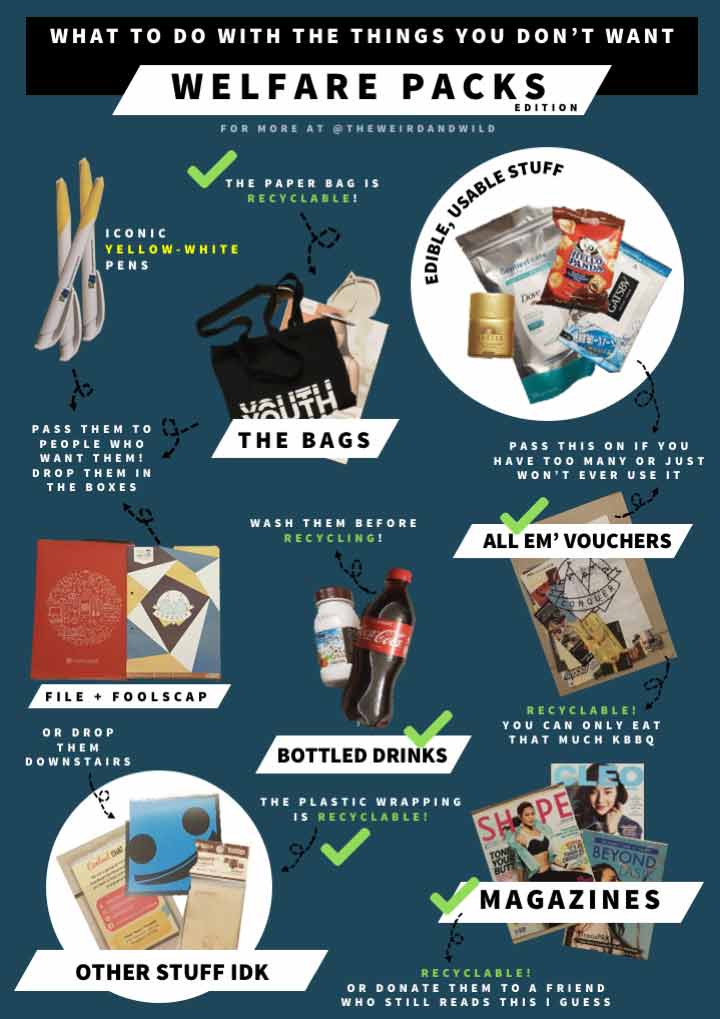 Image courtesy of Woo Qiyun
Other students who received the welfare pack also found it useful. "I spent some free time drawing things about sustainability that I wanted to share about and I was glad that it resonated with people," she explains.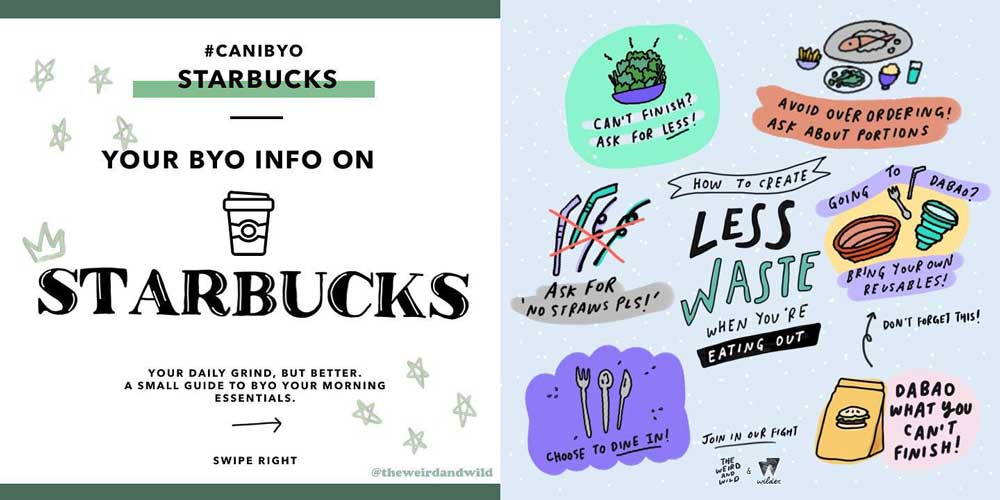 Source
Qiyun uses illustrated infographics that break down sustainability into actionable steps
She continued her creative streak, leading to the artwork that now populates her Instagram.
Through quirky illustrations and bite-sized manuals on topics such as a #canibyo (Can I Bring-Your-Own) series, she has turned her account into the textbook for sustainable living we never knew we needed. 
She hopes that her art will inspire her followers to think more deeply about how their actions might affect the environment. "I don't think it's [necessarily] just about being informed, but also being very conscious about how these issues permeate our lives and the systems that we are in," Qiyun adds.
Eco-friendly tip: "Attend talks, have more conversations, or even go for a guided nature walk. I think being able to experience other people's passion for sustainability and being in nature will spur you to want to do something."
2. Her Instagram page encourages others to bring their own containers and take small steps towards sustainability: Rachel Tan, 21, @nocarrierpls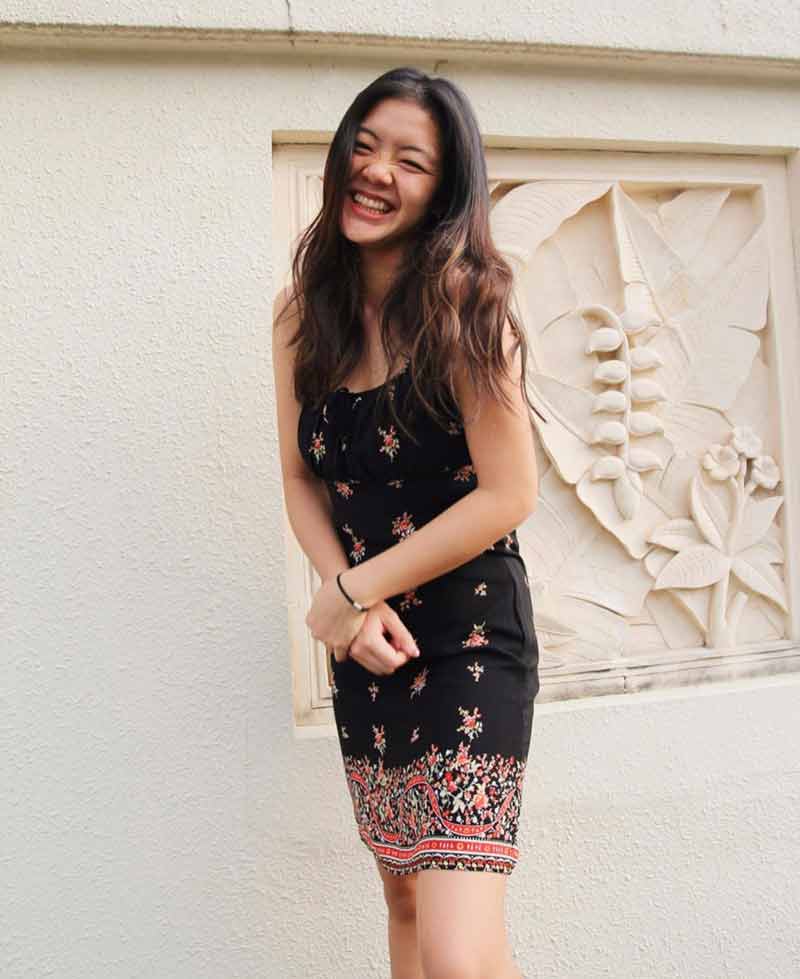 Photo courtesy of Rachel Tan
Rachel Tan recalls a climate change video she saw at the end of the Cloud Forest exhibit at Gardens by the Bay. "It was a pretty scary experience [seeing] a vivid picture of how the world would be like at the rate we produce or consume, and the things or people we destroy in the process."
This wake-up call got her thinking about how she could help alleviate the effects of climate change. So 3 years ago, she started her Instagram account, @nocarrierpls. Its name hits the nail on the head regarding our consumer actions—do we really need that plastic carrier for our bubble tea?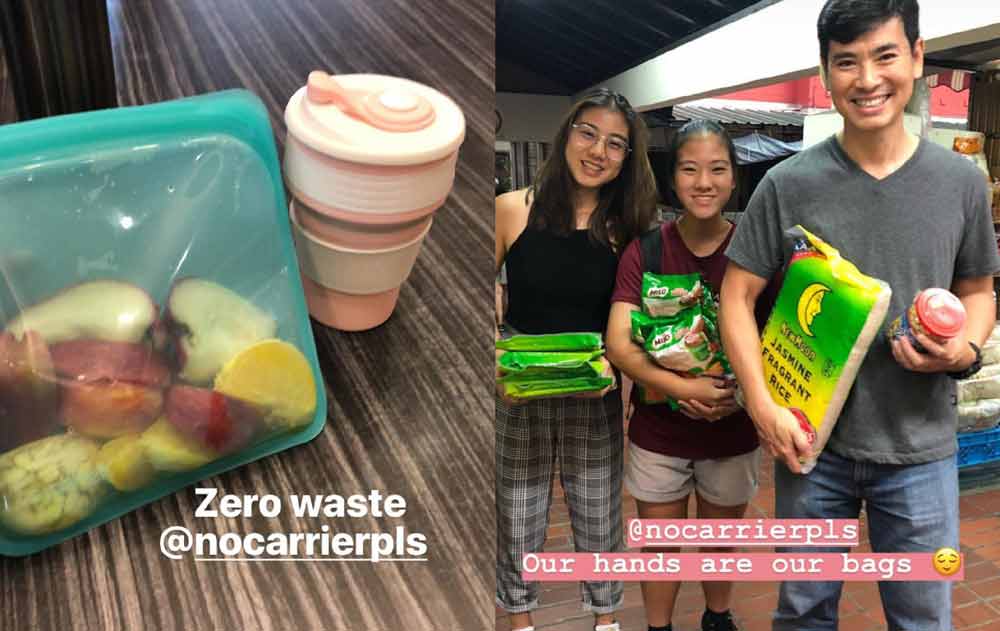 Source
Rachel's account shares memes about living sustainably and occasional photos of how her friends avoid single-use plastics when buying food and drinks to go. 
In response, people started tagging her in their Instagram Stories whenever they use reusable containers for their food and drinks. She then reposts these photos to show her followers that sustainability can be achievable and even fun. 
"I think this account has served to create discussion [and] to air struggles and misconceptions on sustainability," Rachel shares when asked what @nocarrierpls has achieved. "It has definitely also inspired people to do more than what they're told they can do."
While Rachel continues to empower the next generation with knowledge, she has already spurred others into action. She says, "I've seen a lot of other [similar] Instagram accounts spring up after this, and that was really inspiring to know."
Eco-friendly tip: Make a difference by buying from eco-friendly businesses to "…show businesses exactly what we're looking for and call them out for greenwashing if they use 'green' issues to market or sell themselves." 
3. Her feed demonstrates what eco-conscious daily living looks like: Pamela Low, 24, @tingkats.sg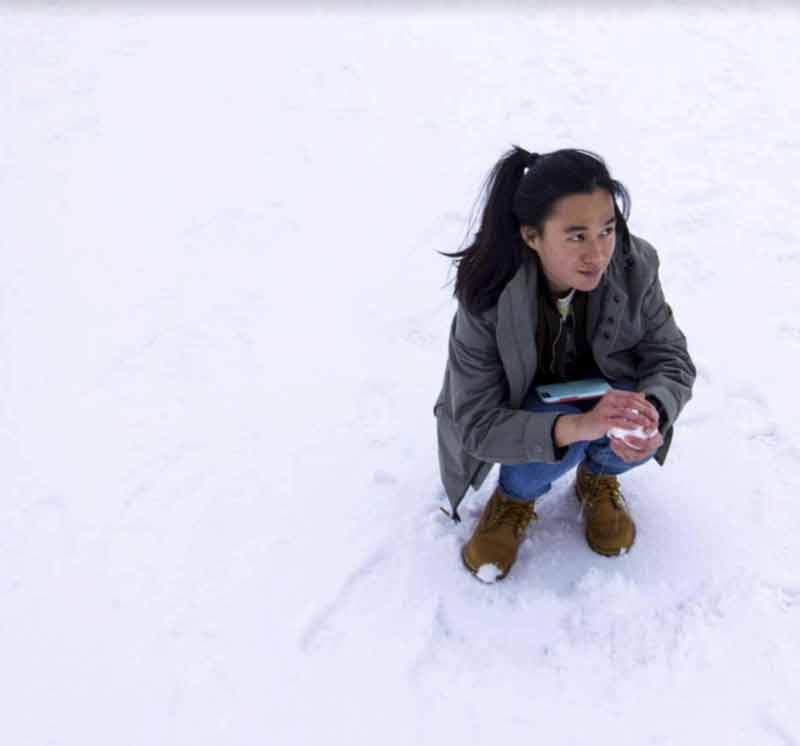 Photo courtesy of Pamela Low
Pamela Low's conviction to save the Earth materialised after returning from her student exchange in Germany, where she took a module on Energy Law in the European Union. Back home, it irked her to "witness the large volume of single-use disposables at the [NUS] canteen". 
"One night, I reflected and decided I could turn my frustration into constructive proposals. I wrote to the NUS President [about] what could be done to reduce disposable [plastic] use at NUS," Pamela shares. 
Her efforts were recognised and she was awarded $9,000 by OCBC for their #OCBCCares Fund of the Environment, to stop the use of single-use disposables at NUS halls. She then created her Instagram account @tingkats.sg in 2018, using the tingkat to "symbolise reusables and the [green] community."
Through her posts, she shares updates of the environment-related events she attends and relevant articles and books she reads. 
"I [don't] preach and tell people what to do—unless I am referring to climate policy!" Pamela says of the 'show, don't tell' approach she adopts for her Instagram account.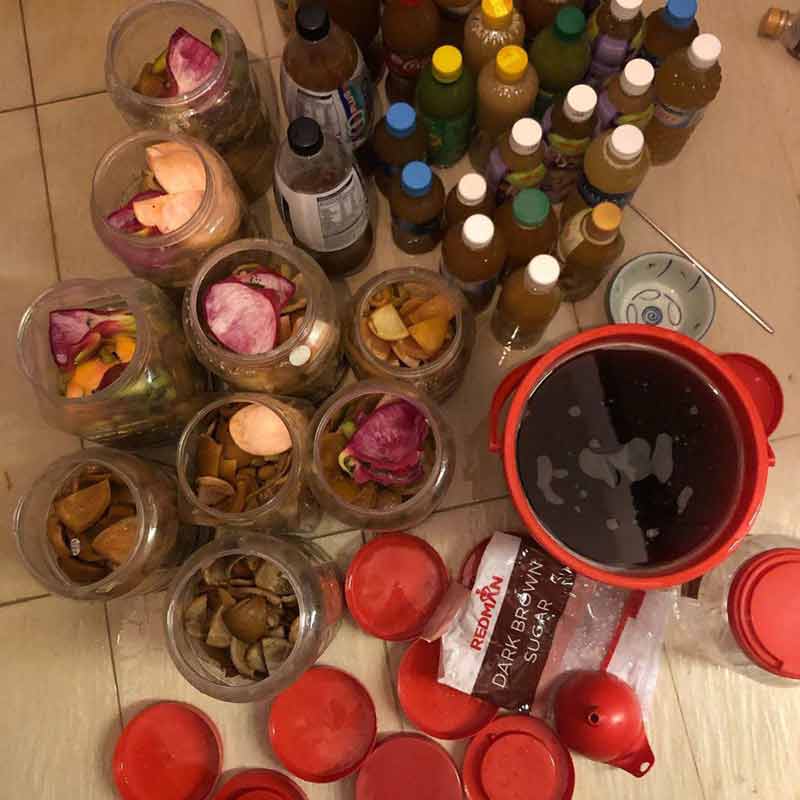 Source
Pamela shows how she harvests eco-enzymes with fruit peels and brown sugar
One example is a recent post where she details how she harvests eco-enzymes, which gives food waste a second life as cleaning agents. Posts like this illustrate very practical and fun ways her followers can cut down on wastage.
Due to her active involvement in all things eco-friendly, her account has become a good TLDR summary of sustainability events and happenings, right here in Singapore. 
Eco-friendly tip: "Have a mental filter when buying things and consuming energy—give an extra thought to determine the 'necessity' of your actions."  
4. She took her advocacy a step further at a community organisation  and shares about complicated environmental topics with her users: Tammy Gan, 21, @lilearthgirl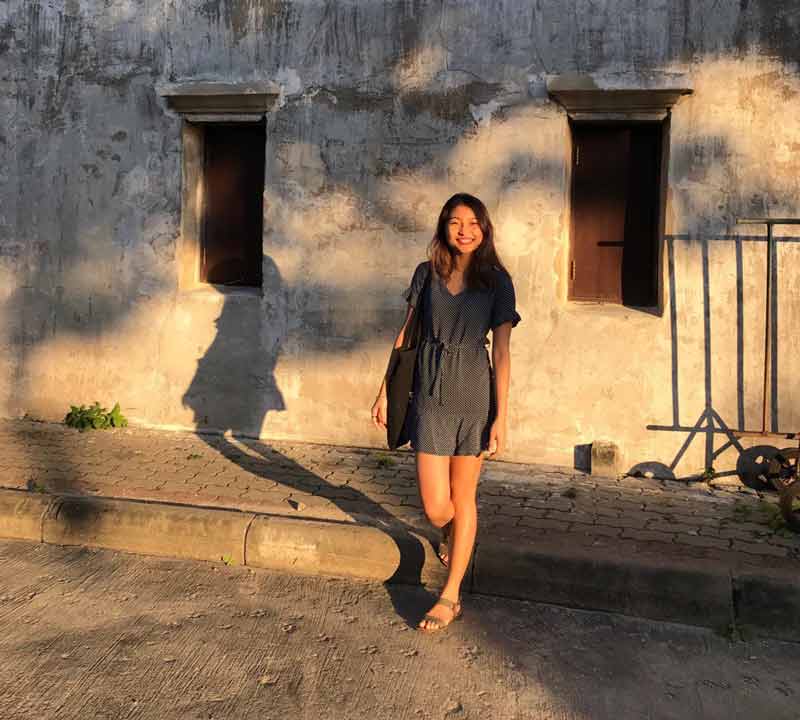 Photo courtesy of Tammy Gan
Tammy Gan began thinking about environmental issues when she witnessed a friend participating in the BYO (Bring Your Own) movement, where consumers bring their own containers to reduce plastic use. It piqued her interest in attending sustainability events such as A Zero Waste Conversation.
Meeting like-minded advocates at such events inspired her to take her eco-activism more seriously. She now works part-time at Green Is The New Black, a sustainable-living media platform. As the Content Lead, she writes articles for its website, and manages its social media pages.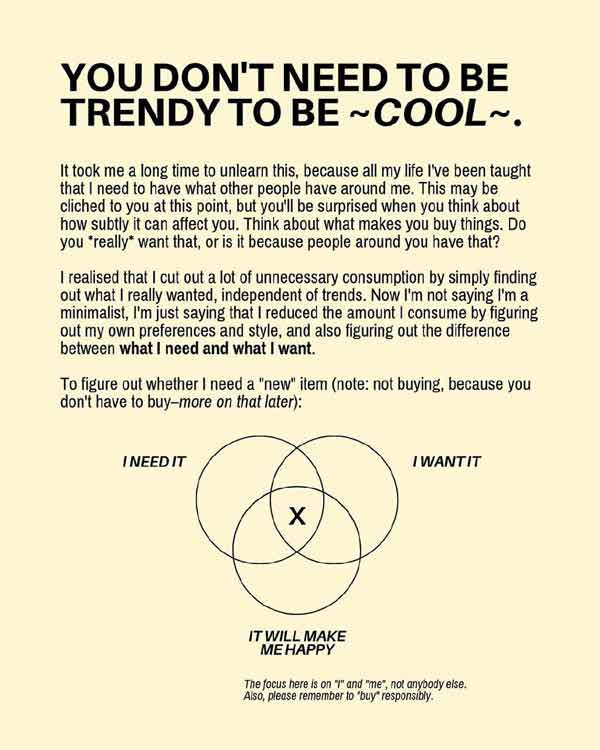 Source
Tammy advocates for consuming less on her Instagram page
Being constantly exposed to the topic of sustainability allows her to create more insightful content for her personal account. Recently, Tammy has been talking about the relationship between wellness and sustainability. "…Sustainability isn't just about taking action, it's about creating a world where humans treat one another—and hence the planet—better too," she expresses. 
Tammy sums up the payoff from her efforts: "I do get messages from people telling me that they've learnt a lot about specific issues, like plant-based diets, [the] fossil fuel industry, etc., through my account."
"For me, it's about raising awareness among Singaporeans, online and offline, [and] thinking bigger when it comes to larger corporations. I think the eco-community can [do] the same!"
Eco-friendly tip: "Watch an impactful documentary, which will definitely inspire you to do more. Eat a more plant-based diet, it's a lot easier than you think. And buy less stuff, which helps to open up a deeper conversation about unnecessary consumption." 
How Greenfluencers Encourage Us To Care For The Environment

These greenfluencers show us that social media can be a very effective tool in advocating for sustainability regardless of how young or old you are. As long as you are willing to use your voice for a positive cause, you can inspire others. And if you ever feel discouraged in fighting for sustainability, simply tag these greenfluencers for some 'Insta-encouragement'.
If you want to get started on your own sustainability journey, you can put these greenfluencers' eco-friendly tips into practice, share your thoughts on the topic with your peers, or get involved by contributing your ideas for a more sustainable future on SparkTheNext.sg.
Find out more about Spark The Next via the link below, and areas where you can contribute your ideas to help shape Singapore's future. You can even bookmark events to meet like-minded friends who share the same passion.
This post is brought to you by Spark The Next by Ministry of Culture, Community and Youth. 
Also read:
8 Baby Steps To Sustainable Living In Singapore That Even Lazy People Can Follow