Modern Cheongsams From Online Stores 
Traditional cheongsams are a CNY staple. But if you don't have the time and money to invest in a custom cheongsam for now, fret not. Here are 13 gorgeous cheongsams with a modern twist that are wearable for everyday occasions.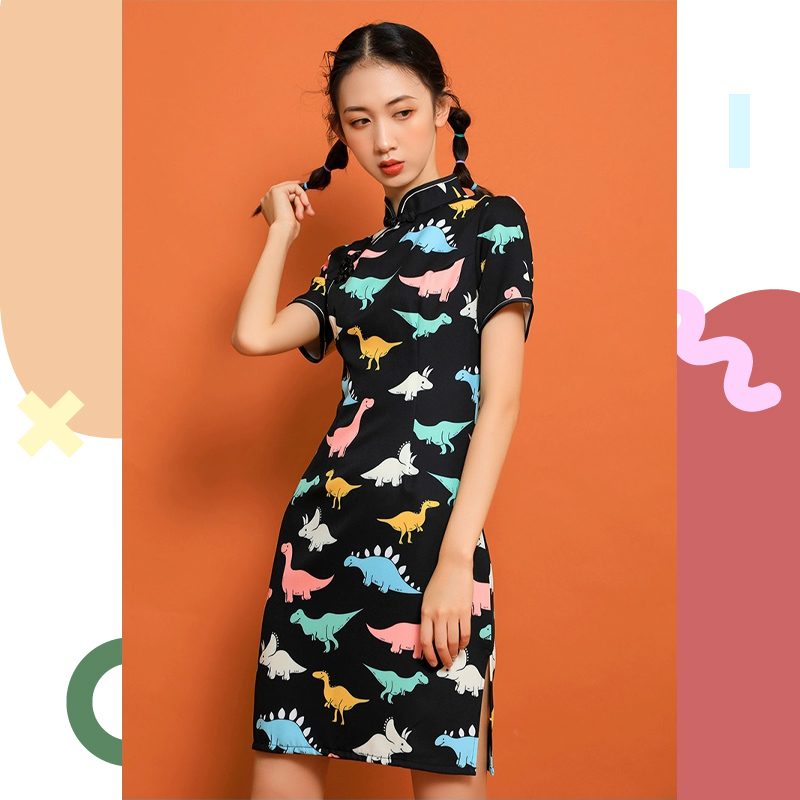 Source
For those who are allergic to florals, consider this black cheongsam plastered with adorable pastel-coloured dinosaurs from Ezbuy. With a concealed zipper at the back, the dress is playful while paying homage to the traditional elements of a cheongsam—like the high slits on the sides.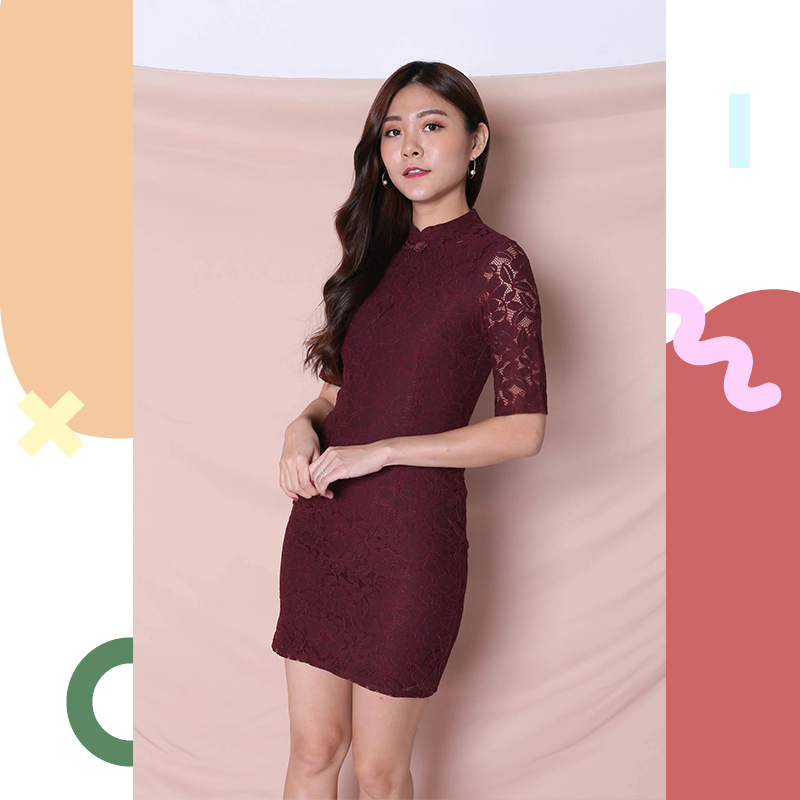 Source
Available in 3 colours—dusty pink, plum and navy—the En Ci Sleeved Cheongsam Dress by Topazette is simple and elegant. The lace overlay extends to the sleeves, making it perfect for those who prefer not to bare their arms.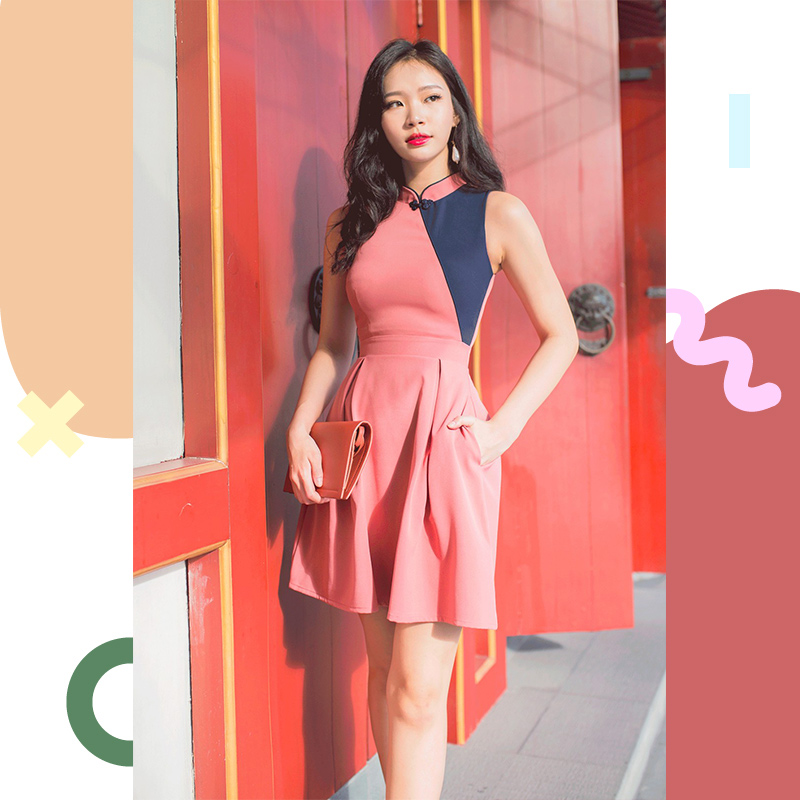 Source
If the minimalist aesthetic of geometric lines and block colours strikes your fancy, consider MGP's Harmony Colourblock Cheongsam In Rose. The fit-and-flare silhouette is feminine and youthful, and the pockets add a utilitarian touch.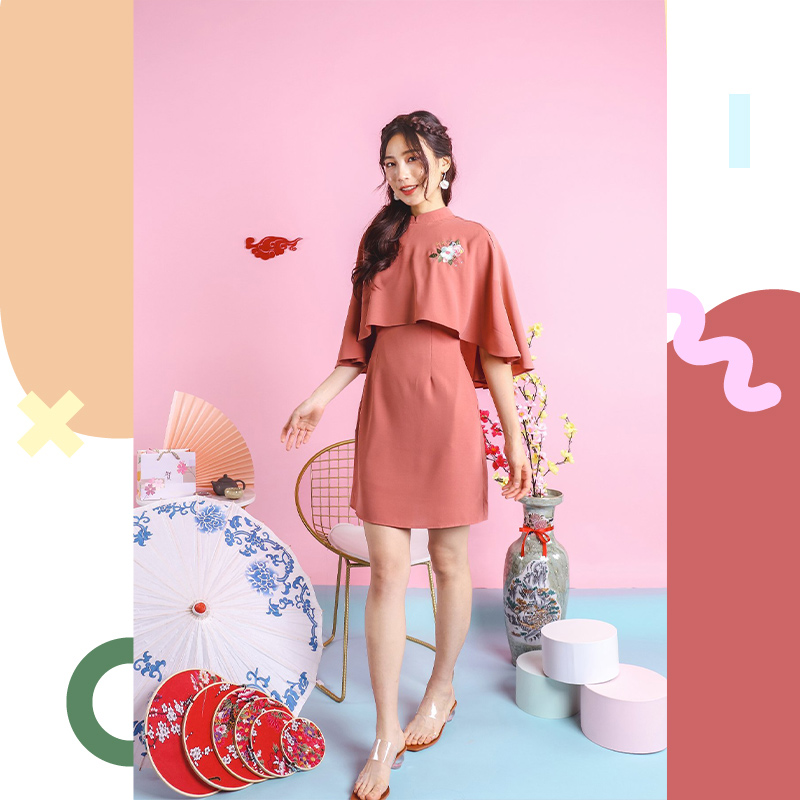 Source
Get a two-in-one outfit with Neonmello's Madebynm Mallory Two-Way Floral Embroidery Cape Dress in Rosewood. Also available in pink and navy blue, the dress comes with a detachable cape that reveals a sleeveless shift below. This is perfect if you have a romantic restaurant date after work, but lack the time to change up your entire look.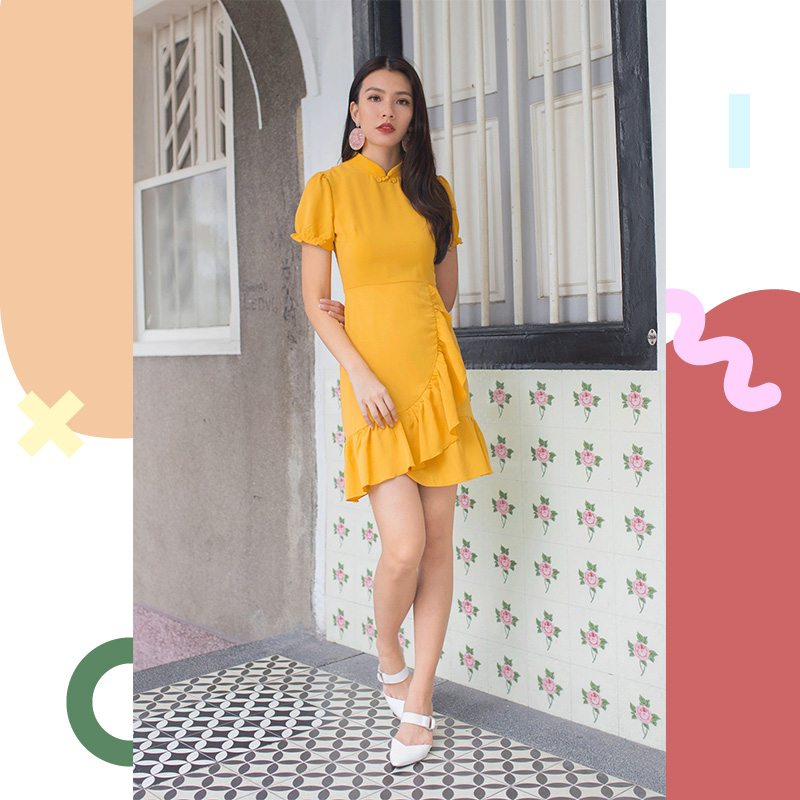 Source
A bold solid colour can pack as much of a punch as a printed ensemble. Trendy elements like the asymmetric hemline, ruffles and puffed sleeves make this a staple garment, even for a weekend out with bae.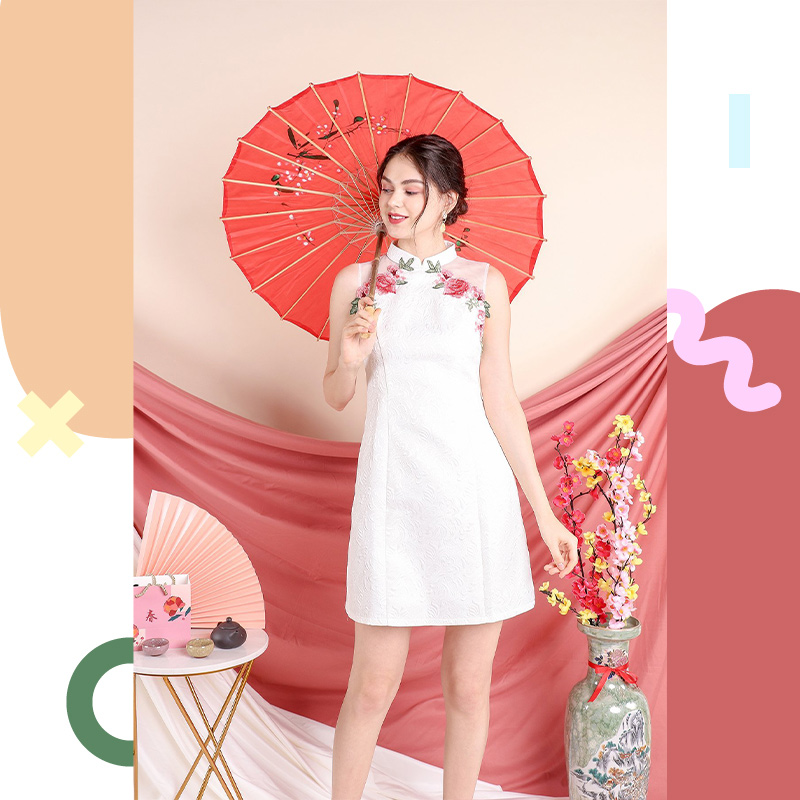 Source
This Neonmello white cheongsam dress offers a play on textures. Mesh fabric at the shoulders and floral embroidery accents give it a fresh and fun vibe.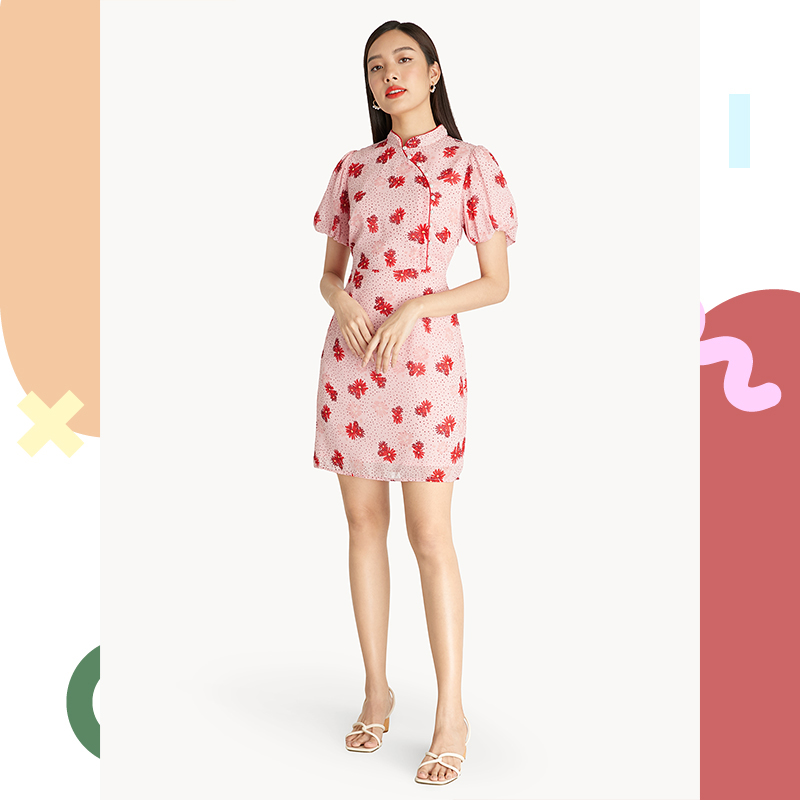 Image courtesy of Pomelo
This pink cheongsam from Pomelo rocks classic details like a mandarin collar and a red floral motif, splashed across the inner lining and the translucent outer layer. Its puffed sleeves give it a subtle edgy twist, making it super wearable for all kinds of events. It is also available in blue.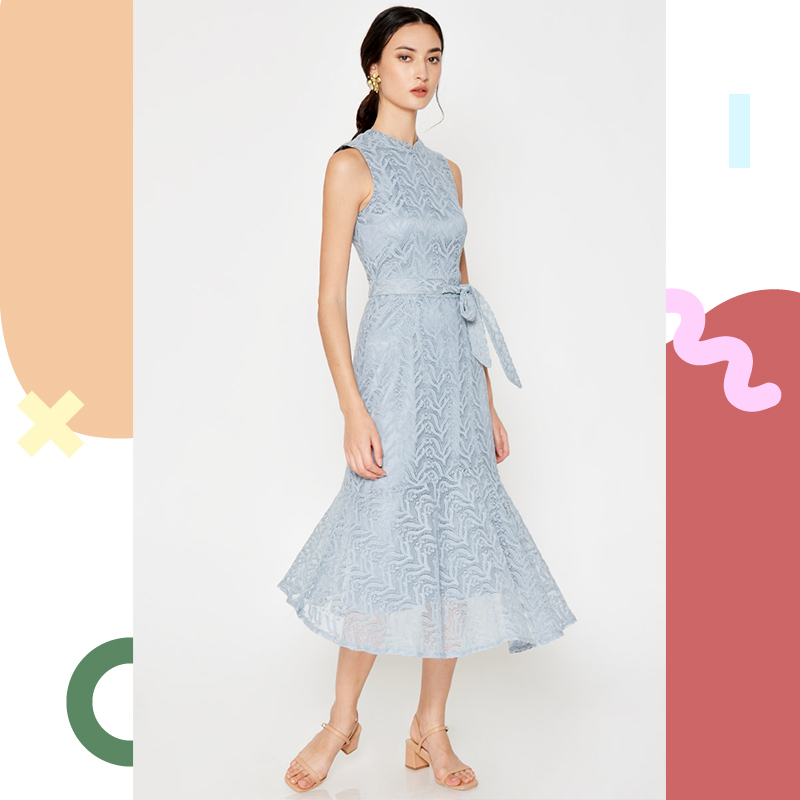 Source
Switch things up with a midi-length cheongsam, like Love & Bravery's Wendie Lace Cheongsam Midi Dress. The flounce hem flares out as you move to create an elegant bell-like silhouette with every swish.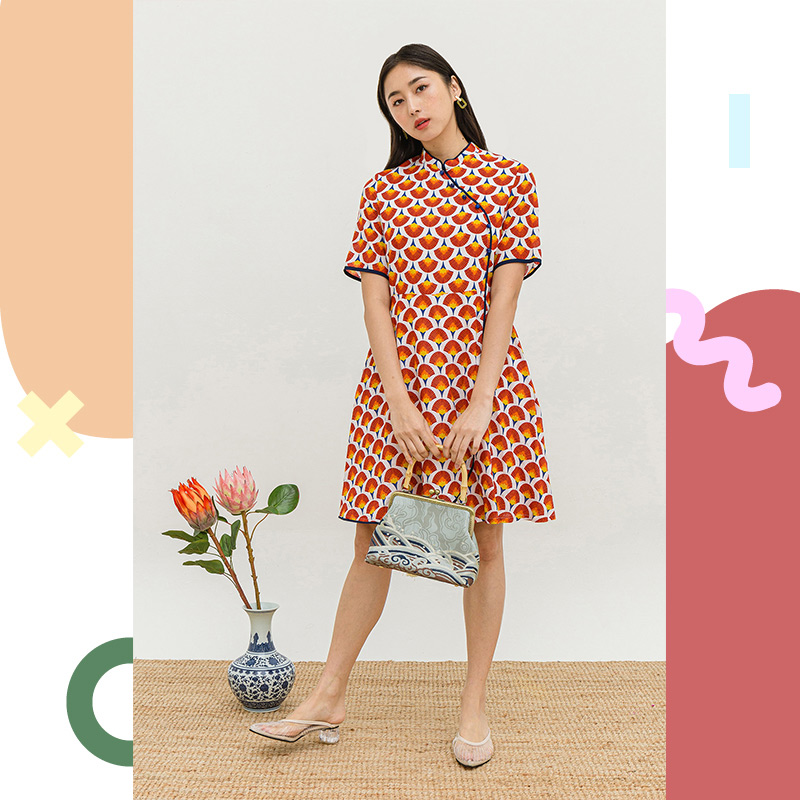 Source
Regale your relatives by asking them what the geometric print on Modparade's Bai Cheongsam – Tsuke reminds them of—some say it is reminiscent of the Japanese fish scale design, others think it resembles Chinese fans. The striking colours and flare silhouette make it appropriate for brunch and high-tea sessions too.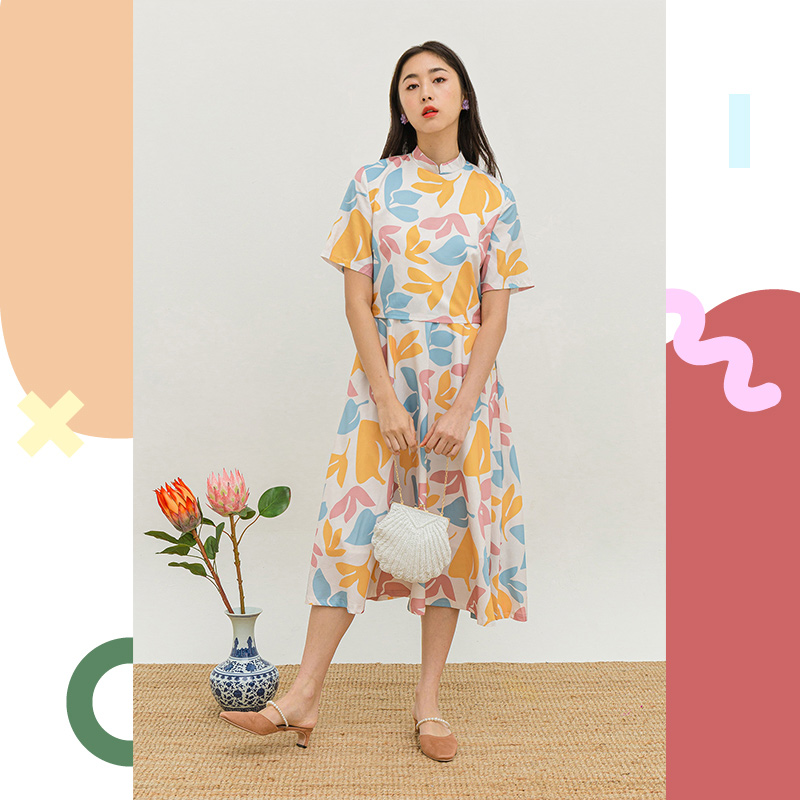 Source
If you tend to avoid 1-piece items such as dresses but still want to rock a cheongsam, Modparade has you sorted with this faux 2-piece ensemble. With pastel leaves scattered all over for a romantic and whimsical effect, switch up your accessories depending on how casual or dressy you're feeling.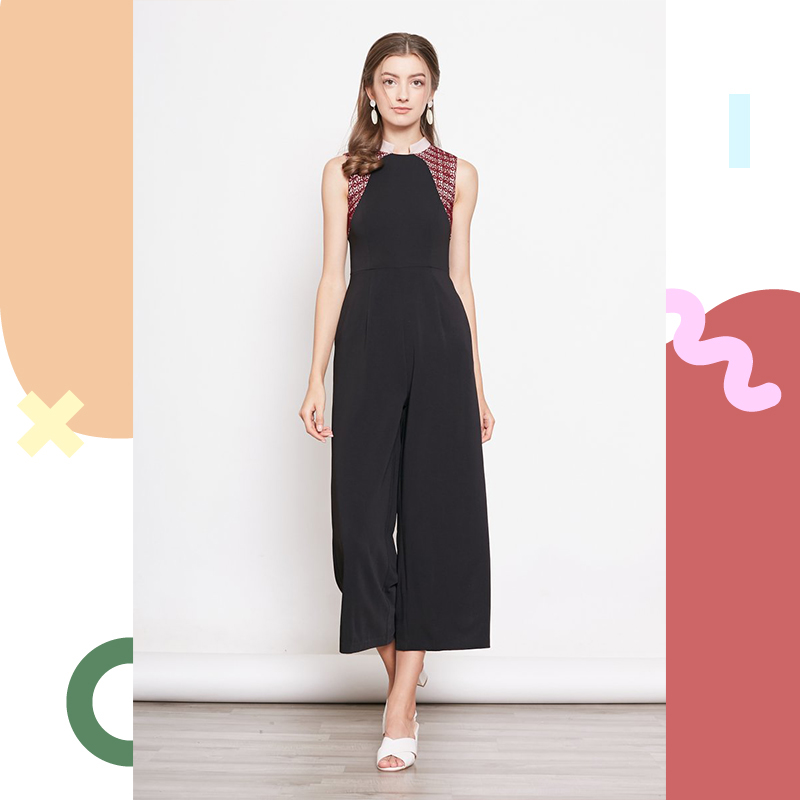 Source
If skirts and dresses aren't your cup of tea, opt for a cheongsam-inspired jumpsuit instead. This jumpsuit is accented by a mandarin collar and a 'Chinese window' motif in red running along the shoulders of the garment.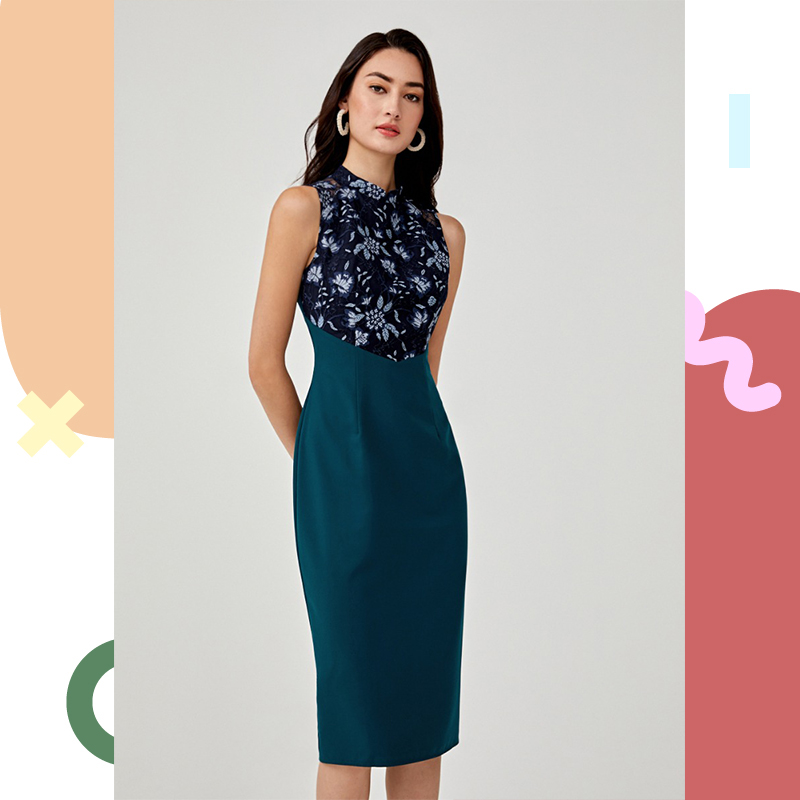 Source
Love, Bonito's midi dress fuses the classic figure-hugging silhouette of a traditional cheongsam with a more subversive darker colour palette. If you live the OL life, this is a versatile piece you can wear to the office too.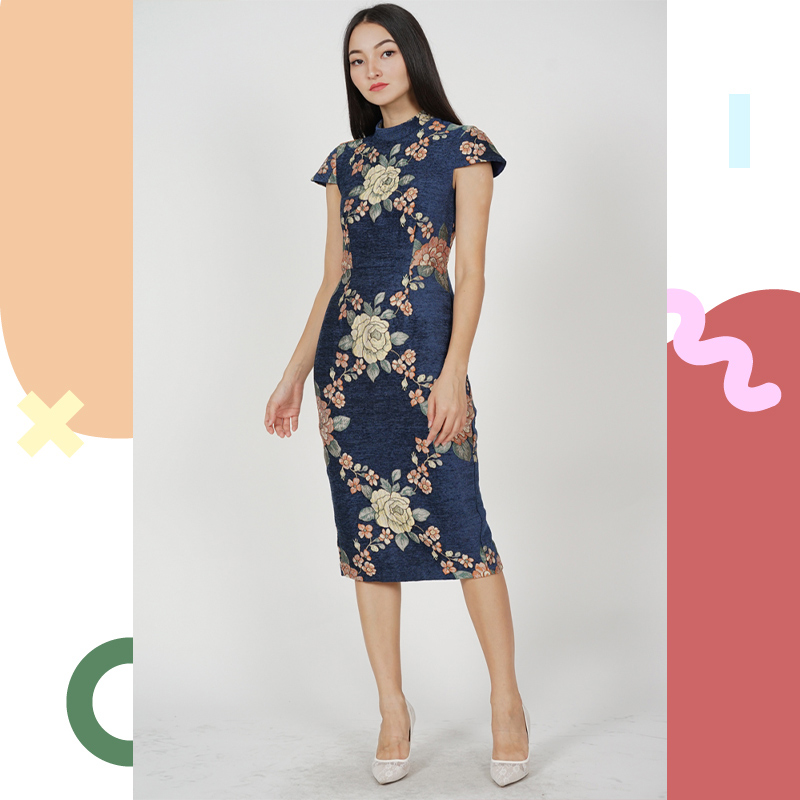 Source
Retaining the cheongsam's signature hourglass silhouette, MDS' Jacquard Cheongsam Dress keeps things fresh with its capped sleeves and zig-zag floral print. The jacquard fabric makes this a stylish option for formal events and dinners too. 
Modern Cheongsams Under $65 That You Can Wear Even When CNY Is Over
You won't have to scramble over your CNY outfits anymore with these 13 modern cheongsams from online shops in Singapore.