Romantic Restaurants In Singapore
With so many variables—food, ambience, location—finding a restaurant to bring bae can be tricky, especially if it is to celebrate special occasions such as an anniversary or even the night to pop the question. Below, we've compiled a list of romantic restaurants in Singapore that sets them apart from a usual date night. 
1. Nouri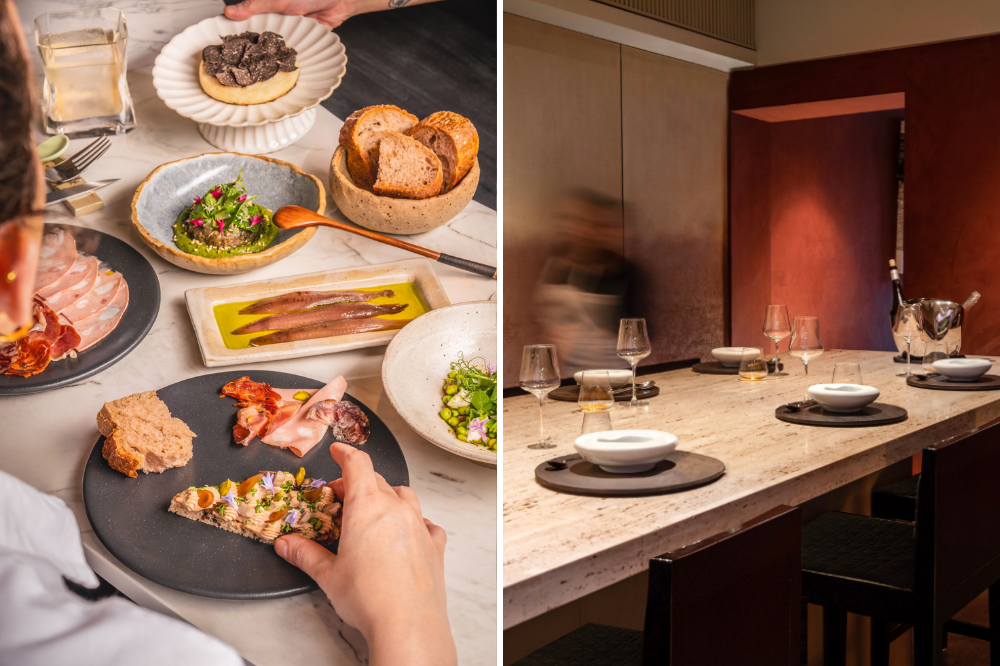 Images courtesy of Nouri
Stroll by Amoy Street and you'll come across Nouri ⎯ a swanky one-Michelin starred fine dining restaurant with appetising boujee dishes which will warm your soul. You can enjoy their new four-course dinner featuring delicious seasonal flavours, worth $168++, at their dining counter.
BTW, this special four-course dinner changes weekly and is only available on Wednesdays to Sundays at 6:30pm and 8:30pm. Make sure that you chope a slot before you head over. 
Extend your night by visiting Appetite, an intimate kitchen and art gallery situated above the restaurant, where you can also satiate your hunger with their new ala carte menu. Their Tuna Crudo dish is sure to be a showstopper for your future date nights. You can make your reservations at this snazzy space via Appetite's website. 
Address: 72 Amoy Street, Singapore 069891
Opening hours: 12pm to 2:30pm, 6pm to 12am (Wednesdays) | 11:30am to 2:30pm, 6pm to 12am (Thursdays to Fridays and Sundays) | 6pm to 12am (Saturdays) | Closed on Mondays and Tuesdays
Booking: Call 9230 2477 or make a reservation via their website
Website | Facebook | Instagram
2. Jypsy
Opened by the people behind PS.Cafe, Jypsy is a mix of a Japanese restaurant meets a chill, modern cafe. Expect a sleek, modern-looking interior with contemporary design elements such as indoor plants, plush sofas and huge lanterns that emit soft, warm lighting.
Food-wise, the unique Japanese fusion dishes are made for sharing. Order the Jypsy Salmon Tacos ($18), fresh salmon stuffed in seaweed taco shells and paired with fresh avocado, tomato salsa and fish roe. Other must-try dishes include the Smokey Unagi Fried Rice ($26) and Yuzu Tofu Cheesecake ($12).
Address: 1 Fullerton Road, #01-02/03, Singapore 049213
Opening hours: Sundays to Thursdays, 11.30am to 4pm, 5.30 to 11pmㅣFridays to Saturdays, 11.30am to 4pm, 5.30 to 12am
Contact: Call 6708 9288
Website | Facebook | Instagram
3. Potato Head Restaurant and Bar
Potato Head is known for its scrumptious food, innovative drinks and, most importantly, quirky decor. I'd recommend going to the rooftop bar situated on top of the restaurant for a cocktail or two for pre-dinner drinks.
With strings of fairy lights overhead, the place gives a chill, tropical vibe that makes it feel like you're no longer in Singapore. As you enjoy the sunset, try their refreshing cocktails such as the Smash The Monkey ($23) with whiskey, passion fruit, lime juice, syrup, and mint leaves.
Address: 36 Keong Saik Road, Singapore 089143
Opening hours: 
Dining Hall: Mondays to Sundays, 12pm to 12am 
The Rooftop bar: Mondays to Sundays, 5pm to 12am
Studio 1939 Bar: Mondays to Sundays, 5pm to 12am
Contact: Call 6327 1939
Website | Facebook | Instagram
4. Sol & Ora 
Inspired by the words "sun" and "shore" in Latin, Sol & Ora is a go-to destination for foodies who enjoy a gastronomic experience near the beach. Serving cuisines from the Mediterranean region, including Italy, France, Greece, and Spain, the restaurant offers unique food menu items like Slow-Cooked Greek-Style Lamb Shoulder with chickpeas and tomatoes ($38) and Fried Padron Peppers with Maldon sea salt ($13). 
Address: Sol & Ora, Level 7 The Outpost Hotel, 10 Artillery Avenue, Sentosa Island, Singapore 099951
Opening hours: Tuesdays to Sundays, 6pm to 10.30pm (Dinner)
Contact: WhatsApp 8879 8765 
WebsiteㅣFacebookㅣInstagram
5. Dusk Restaurant and Bar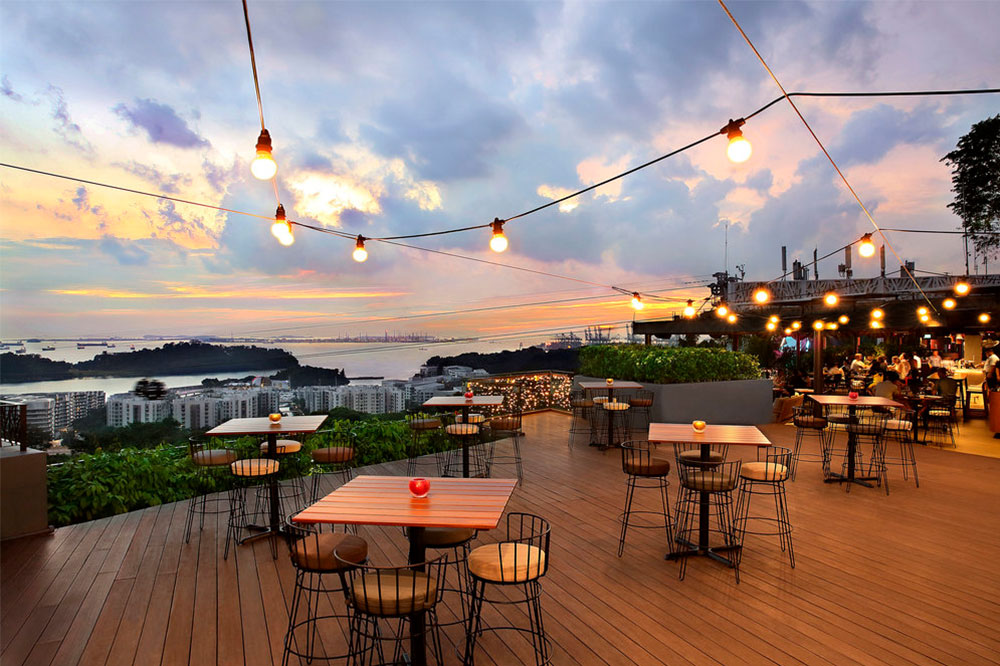 Source
With its panoramic view of the Sentosa skyline and stylish setting, Dusk Restaurant and Bar has been a hotspot for many guys hoping to pop the question to their girlfriends. Not only is the restaurant an amazing place to grab a fancy cocktail for under $20—try the Nitro-Frost Caviar Martini Passion Fruit ($18)—the food is impressive too. The Tiger Prawn Capellini ($28) boasts al dente angel hair pasta and plump prawns mixed with lobster-infused oil.
Address: 109 Mount Faber Road, Level 2, Faber Peak Singapore, Singapore 099203
Opening hours: 4pm to 11pm (Sundays to Thursdays) | 4pm to 2am (Fridays, Saturdays and eves of public holidays)
Contact: Call 6361 0088
WebsiteㅣFacebookㅣInstagram
6. Esquina
The Keong Saik Road area is dotted with some of the most romantic restaurants in Singapore, and Esquina is one of its worthiest contenders. The charming, hole-in-the-wall Spanish restaurant serves up small plates with big flavours.
Start with the Tsarskaya oyster with jalapeño ponzu and salmon roe ($8 each) and the Sea Urchin Toast with Kristal Caviar, Bafun Uni, and Burrata ($22 each). Share the Carabinero Prawn Paella with Saffron Allioli and Lobster Rice ($58).
Address: 16 Jiak Chuan Road, Singapore 089267
Opening hours: 
Lunch: Tuesdays to Saturdays, 12pm to 2.30pm
Dinner: Tuesdays to Thursdays, 6pm to 10.30pm | Fridays to Saturdays, 6pm to 11pm (Closed on Sundays and Mondays)
Contact: Call 6222 1616
Address: 16 Jiak Chuan Road, Singapore 089267
Opening hours: 12pm to 2.30pm, 6pm to 10.30pm (Tuesdays to Saturdays) | Closed on Sundays and Mondays
Website | Facebook | Instagram
7. The Summerhouse
Tucked away in Seletar Aerospace Park, The Summerhouse lets you escape the hustle and bustle of the city for a romantic night out. The main restaurant space is in a conserved colonial bungalow.
But if you are looking to pop the question, dining in the air-conditioned garden dome might just be a worthy investment. Available from Wednesdays to Sundays, the "Dine in the Dome" experience costs $380++ a couple and consists of a 7-course menu. Feast on dishes like pan-seared scallops with cauliflower and horseradish, finished off with a dessert of chocolate sorbet and trablit.
Address: 3 Park Lane, Singapore 798387
Opening hours:
The Summerhouse Garden Domes: Wednesdays to Sundays, 6pm to 8pm, 8.30pm to 10.30pm (Closed on Mondays and Tuesdays)
Contact: WhatsApp 8809 5840
Website | Facebook | Instagram
8. Ocean Restaurant
If you are looking to wow your date, this one-of-a-kind experience will tick all the boxes. You will both get to dine amidst sharks, stingrays and schools of fish in Singapore's S.E.A. Aquarium. Rest assured every dish here is prepared using sustainable seafood sources.
If you're there for dinner, opt for the Create 6 Course ($248), where you can take your pick from 5 starters, followed by a soup, a main course and dessert. The selection of starters includes Cauliflower Cream and Lobster Raviolo with foie gras and roasted shell sauce.
Address: 22 Sentosa Gateway, #B1-455/456, Resorts World Sentosa, S.E.A Aquarium, Marine Life Park, Singapore 098269
Opening hours: Mondays to Sundays, 11.30am to 3pm, 6pm to 10.30pm
Contact: Call 6577 668
Website | Facebook
Also read: 
8 Marriage Proposal Packages In Singapore With Food, Decor & Venue Settled For An Immediate "I Do"
9. FLUTES Restaurant and Bar
For history and culture buffs whose ideal date includes a visit to the museum, a meal at Flutes Restaurant and Bar should also be on the itinerary. We suggest starting your meal with Yellow Fin Tuna Tartare for a refreshing kick. For mains, indulge in the Mushroom and Farro Risotto, or Dorper Lamb Shepherd's Pie, served with a dessert of your choice.
Address: 93 Stamford Road, #01-02, National Museum of Singapore, Singapore 178897
Opening hours: Tuesdays to Saturdays, 11.30am to 2pmㅣWednesdays to Saturdays, 6.30pm to 10.30pm 
Contact: Call 6338 8770
Website | Facebook | Instagram
10. Marcy's
Chances are, you won't regret making a reservation at Marcy's if you're planning to celebrate special occasions like a birthday or anniversary. Nestled in Duxton, the seafood bistro is known for their Latin American-inspired decors, which temporarily transport you to the cultural region. 
Indulge in their signature dishes like Octopus Rigatoni ($35) and Red Prawn Mafaldine ($35), and conclude the date night by sharing a sweet Marcy's Pecan Pie Sundae ($19). 
Address: 39-40 Duxton Road, Singapore 089503
Opening hours: Tuesdays to Thursdays 5.30pm to 10.30pm, Fridays & Saturdays, 5.30pm to 12am (Closed on Mondays)
Contact: WhatsApp 9012 3747
WebsiteㅣFacebookㅣInstagram
11. Canchita 
Peruvian cuisine is hard to come by in Singapore, but if you are craving it, consider heading to Canchita, which is located at a corner of Dempsey Hill for extra privacy. Divided into three sections, the Amazon Room, the Irca Room, and the Outdoor Terrace, each area features a unique theme. For instance, the Amazon Room is adorned with lush greenery that brings to mind the Amazon Forest. 
As a recommendation, go for their selection of ceviches, which are flavourful dishes made with raw shellfish, marinated in citrus juice.   
Address: Dempsey Road, #9A 9B, Singapore 247698
Opening hours:
Lunch: Fridays to Sundays, 11.30am to 3pm 
Dinner: Mondays to Sundays, 5.30pm to 10.30pm
Contact: WhatsApp 8028 1994
WebsiteㅣFacebookㅣInstagram
12. Born Restaurant
Experience fine dining in a conserved building built in 1903 when you make a reservation at Born Restaurant. Set your eyes on their aesthetically-pleasing interior design that is inspired by the circle of life, while you treat yourself to their Chinese and French contemporary cuisine through a 9-course seasonal menu. 
Fun fact: Hong Kong actor Jackie Chan is the owner of this historical building. 
Address: 1 Neil Road, #01-01, Singapore 088804
Opening hours: Tuesdays to Saturdays, 6pm to 11pm (Closed on Sundays and Mondays)
Contact: WhatsApp 9270 8718
WebsiteㅣFacebookㅣInstagram
13. Odette 
If your date is an artsy person who loves soaking in heritage and history, consider Odette, a French restaurant housed inside National Gallery Singapore for you to KIV. The restaurant is the epitome of elegance, thanks to its soft colour palette and choice of decor. 
Furthermore, it offers an extensive selection of wines that dates as far back as 1995 for diners to pair their meals with. 
Address: 1 St Andrew's Road #01-04, Singapore 178957
Opening hours: Tuesdays to Saturdays, 12pm to 1.15pm, 6.30pm to 8.15pm (Closed on Mondays and Sundays)
Contact: Call 6385 0498
WebsiteㅣFacebookㅣInstagram
14. Les Amis

 
Fun fact: Les Amis was established in 1994 as Singapore's first independent fine dining restaurant.
For almost the past three decades, Les Amis has made its name as a 3-Michelin-Star restaurant, providing guests with a taste of France through its delectable menu items such as the blue lobster salad with cocktail sauce, and smoked salmon with eel and baby leeks on the side. 
Address: 1 Scotts Road, #01 – 16 Shaw Centre, Singapore 228208
Opening hours: Mondays to Sundays, 12pm to 2pm, 7pm to 9pm
Contact: Call 6733 2225
WebsiteㅣFacebookㅣInstagram
15. Mr. Stork
In the Marvel Cinematic Universe, there is the Avengers Tower owned by Mr Stark aka Iron Man. And in Singapore, we have Mr. Stork, a breathtaking rooftop bar and restaurant that is located on the 39th floor of Andaz Hotel. Apart from the 360-degree view of Singapore that it offers, the dining place also features teepee huts for you and bae to dine in privacy. 
Savour signature menu items such as Black Angus Beef Sliders ($25), and impress a cocktail connoisseur with drinks inspired by travel destinations such as Tales of Mekhong ($27) and The Knickknack Peddler ($27). 
Address: 5 Fraser Street, Level 39, Andaz Hotel, Singapore 189354
Opening hours: Sundays to Thursdays, 5pm to 12amㅣFridays to Saturdays, 5pm to 1am
Contact: WhatsApp 9008 7707
WebsiteㅣFacebookㅣInstagram
16. Caffe Fernet
Foodies who enjoy Italian cuisine with a modern twist can head over to Caffe Fernet, located at the Customs House, which provides guests with a phenomenal view of Marina Bay. Enjoy the breeze at their alfresco seating while you share a plate of Golden Pomfret ($48) with bae, and cleanse your palate with a refreshing side of Sirloin Tartare ($34). 
No worries if you're vegetarian or have a gluten-free diet ‒ they also serve menu items that cater to both diets. 
Address: 70 Collyer Quay, #01-05 Customs House, Singapore 049323
Opening hours: Mondays to Wednesdays, 5pm to 11pmㅣThursdays to Sundays, 12pm to 11pm
Contact: WhatsApp 9178 1105
WebsiteㅣInstagram
These Romantic Restaurants In Singapore Are Perfect For Special Occasions With Bae
Elevate your date nights with bae when you head over to one of these romantic restaurants in Singapore. Since some of these dining places have limited reservations, make sure to book in advance to avoid disappointment. 
For more romantic places to bring your other half, check out this list of rooftop bars in Singapore. 
This post was first published on 19 August 2019 and last updated on 25 September 2023 by Jou Teng Tan.
Also read: 
16 Unique Wedding Venues in Singapore So You Can Avoid Having A Typical Hotel Banquet