Moschino Baguette Clutch
Italian luxury label Moschino is known for its outlandish and eye-catching designs, such as its French fry cell phone case from a few years ago. For its fall/winter 2020 collection, Moschino has introduced bags that resemble more well-loved carbs: a baguette clutch and croissant bag.
Baguette-shaped purse
Moschino's fall/winter 2020 collection made its debut at Milan Fashion Week back in February. Now that the collection has made its way to the stores, the Baguette Clutch has gone viral, with many people poking fun at the design and price tag.
The bag is made of faux leather and a printed outer lining, which means it sadly does not have the same texture as an actual baguette. It has magnetic clasps and a lined interior to keep your belongings safe. Or if you're feeling curious, you could also try fitting a loaf into the purse to see if it works like how you'd expect it to.
Also read:
Food Pun Bags Inspired By Luxury Brands Are Perfect For Your Next Grocery Hoarding Trip 
Netizens' reactions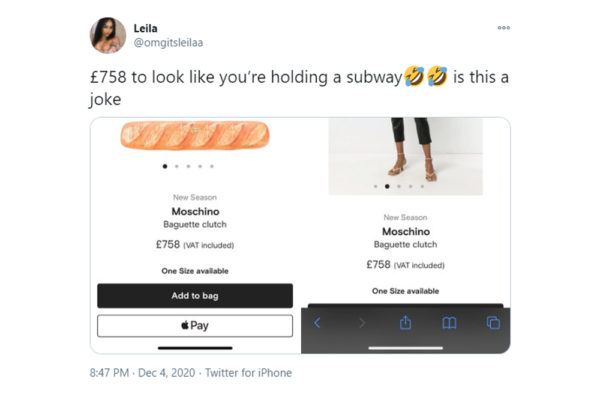 The clutch is on sale on online fashion retailer Farfetch for £758 (~S$1,349.71), which left Twitter user @omgitsleilaa wondering if it was a joke. She even compared the accessory to a Subway sandwich.
Her tweet has since garnered 1.6 thousand likes and almost 500 retweets. One of the retweets read, "So pigeons can attack me, no thanks," and another reply said that the bag "needed some ham and cheese."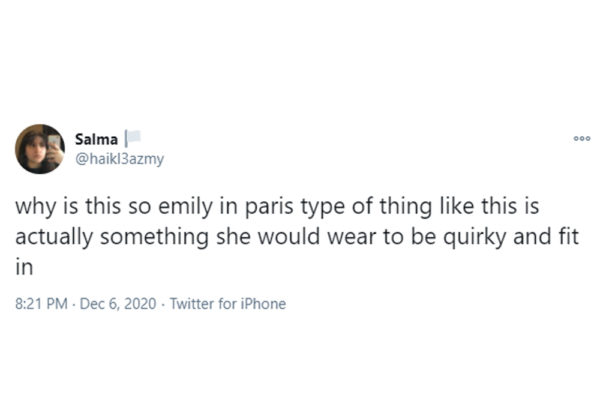 Baguettes hail from France, so it is no surprise that some people were quick to bring up Netflix's Emily in Paris when talking about the purse. 
In the show, the American social media executive dons designer outfits on every episode. Twitter user @haikl3azmy pointed out that the baguette clutch was something she could see Emily wearing as she struts down the streets of Paris.
Croissant crossbody bag
Of course, any discussion about French bread and pastries would not be complete without bringing up croissants. Moschino also has a croissant-shaped crossbody bag, in case you find the baguette clutch too inconvenient to carry.
It has a gold plated chain shoulder strap to keep your hands free when you're picking bread up from your local bakery.
The Baguette Clutch And Croissant Bag Cost Over $1,500 Each
If you loaf the feeling of carrying bread while walking down the street, both bags are available on Moschino's website and multi-label retailers like Farfetch. It may take some time before we're able to fly out to Paris for a holiday, but the bags may take you one step closer to living like Emily Cooper.
Also read:
8 Emily In Paris Cliches Confirmed And Debunked By A Singaporean Who Lived In Paris