SG Girls On Realising Their Mothers Are Getting Old
As the saying goes: Mama knows best. Many of us rely on our mums for just about everything. From material needs like putting food on the table (be it figuratively or literally) or emotional support such as providing life advice, mothers are constantly giving to their children. However, there will come a time in most people's lives when they realise that their mum is growing old. 
With Mother's Day just around the corner, we invited 6 girls to share the moment when they realised their mothers are getting old, and how they came to cherish their mums more as a result. 
1. Feeling her mum's rough hands made her realise she was ageing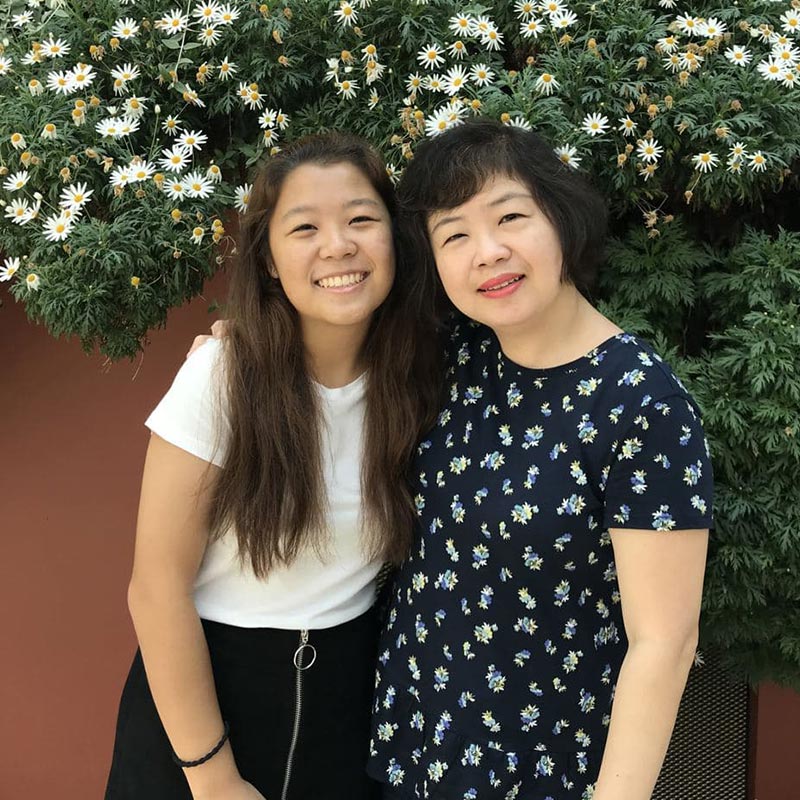 Image courtesy of Nicole Yong 
"My mum has slight eczema on her hands and has had rough hands for as long as I can remember. Over time, from washing dishes and doing other household chores, they've continued to crack and bleed. 
Even though I'm now an adult, since I was a kid, whenever I mention that I have a stomach ache or cramps, my mum always offers to rub medicated oil on my stomach to make me feel better. When she did it recently, I realised that her hands have gotten even worse. 
Feeling her hands so rough and worn out made me realise she's always been doing so much for the family. Thinking about my mum ageing made me very afraid of losing her some day. 
My mum has always been my best friend and I rely on her a lot. So, cherishing her more is about maintaining a close relationship. I've been making an effort to go to my mum's room to talk to her for an hour about anything and everything. 
I hope that we can continue to be this close, as being with her puts me at ease and I always look forward to spending alone time with her."
—Nicole Yong
2. The moment came when her mother started talking about the afterlife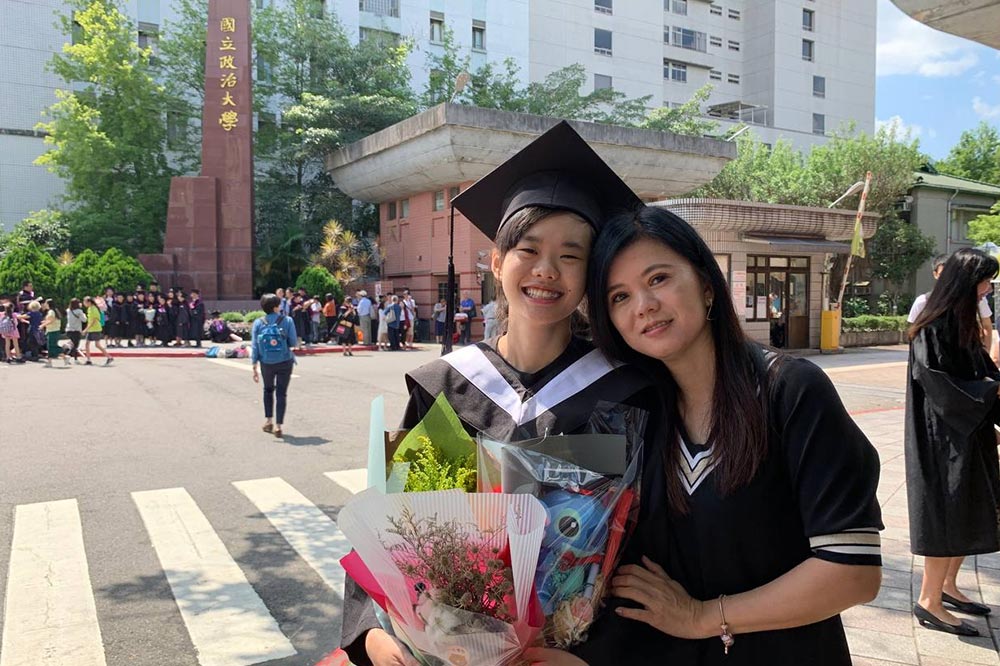 Image courtesy of Yeow Jia Yi 
"About 5 years ago, my mother suddenly started talking about finding a resting place for her and my father. It struck me that my parents are getting to the age where they have to start planning for a time when they can't take care of themselves and even their afterlives.
I'm glad that my mother shared her opinions on this because it sort of prepares my brother and I for the future. But at the same time, it's sad to think that my parents are getting older and knowing that we will lose them.
My mother and I have clashing personalities. Both of us can get hot-headed at times. But as I grow older and realise that my mother is ageing, I try to control my temper more and solve conflicts by talking rather than arguing. 
I used to be very opposed to the idea of sharing my bad days with her because I was afraid that she would be worried. Nowadays, I try to be open about my feelings, so that we can understand each other better."
—Yeow Jia Yi 
3. She was surprised when reminded of her mum's age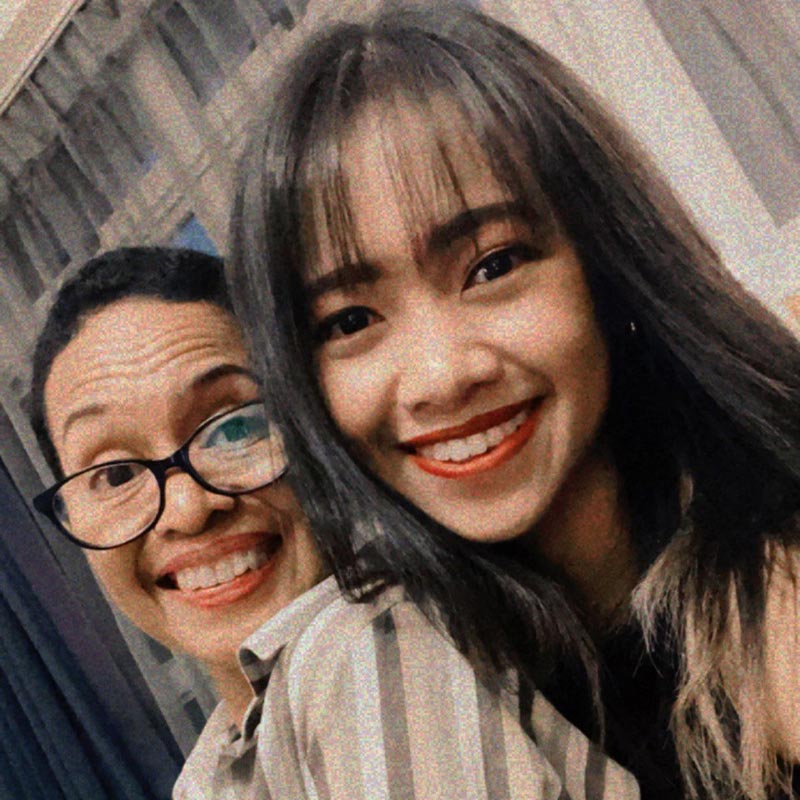 Image courtesy of Pepita Hope Wauran
"I forgot what we were conversing about exactly, but my mum mentioned her age and I was surprised that she's not that young anymore. It's not something I register in my mind when I look at her because she's active, leads a healthy lifestyle and is young at heart.
As someone who's quite avoidant, I didn't allow myself to process it. I don't know how I'd feel thinking about her not being in this world with me.  
My mum and I have always been close. But in recent years, we have gotten to a point where we understand each other on top of that closeness. Appreciating my mother comes a lot more naturally now. I think it comes with maturity; I've started to put my parents before myself, because I know how much they did for me growing up. 
Whenever something happens in my life, my mum is the first person I want to share it with. She is also opening up to me, and sharing more personal matters as well. It's not something everyone gets to experience in life, and I'm very grateful to have a mother who doubles up as my best friend."
—Pepita Hope Wauran
4. Her mum's mild stroke came as a rude awakening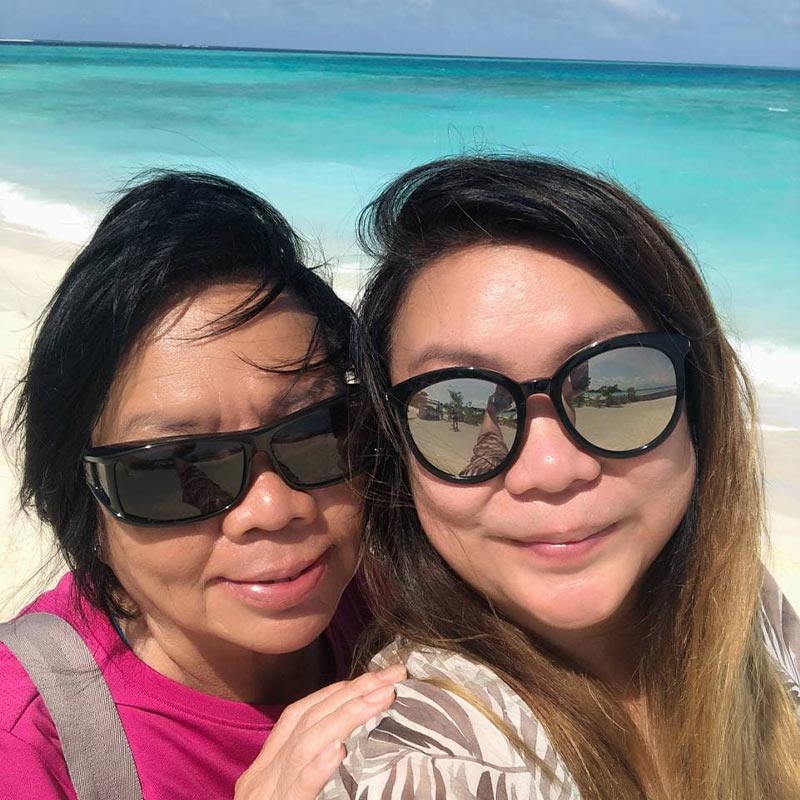 Image courtesy of Pamela Tan 
"My mother suffered a mild stroke in 2015. My siblings and I were taken by surprise because she has always been the pillar of strength for our family. It was the pivotal moment when we realised she is not invincible. 
While the stroke was mild, it did impact some of her motor functions. She had difficulty eating, showering and walking at first. That was when I knew she had really aged, all while taking care of everyone around her.
Her stroke made me realise that our time with her is finite and yet there is still so much that I have yet to experience with her: Places and activities we have yet to explore, or even just stories that I have yet to hear; and it made me want to spend more quality time with her. 
It may sound simple, but I check in with her a lot more now. We text more, and share more of our thoughts and feelings. We go on walks together too, partly to exercise her weaker leg, but also to spend time with each other. Along the way, we've gained a better understanding of each other, our motivations and our stresses."
—Pamela Tan 
5. She knew her mum was getting old after seeing her with white hair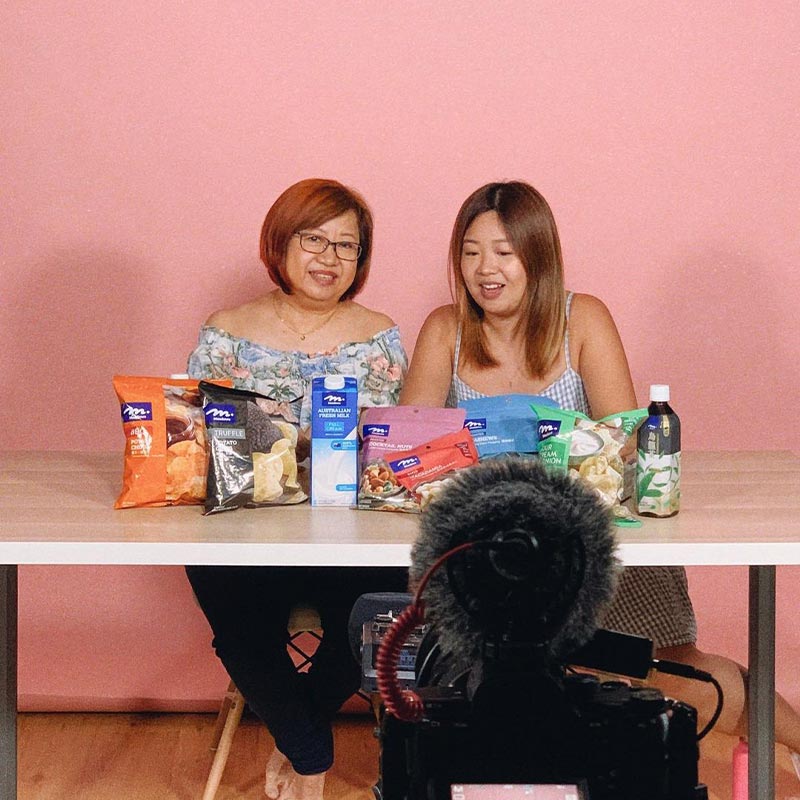 Chiara shooting a video with her mum
Source 
"As a working mum, my mum has always kept up her appearance with trendy clothes and dyed hair. During the Circuit Breaker, there was no need to dye her hair, and there was an inch of her real hair colour at the roots. It was platinum white. 
My teenage years were spent rebelling against my mum. We have very different values, personalities and ways of handling money. But as I grew older, it became clear that she just wanted the best for me; to do well academically for a more cushy life in the future, to save for rainy days.
I've realised that I wasn't the best child to her. Even though she could have delivered her intentions in a better way, I know they are not from a bad place but a place of love. I'm not saying that we are BFFs. But instead of tolerating her, I understand her better. 
As I'm financially independent now, I try to pay on dates with her and throw birthday celebrations for her. As much I can, I try to be some form of emotional support to her. Essentially, to celebrate and include her in my life more."
—Chiara Ang 
6. She found out while planning a family vacation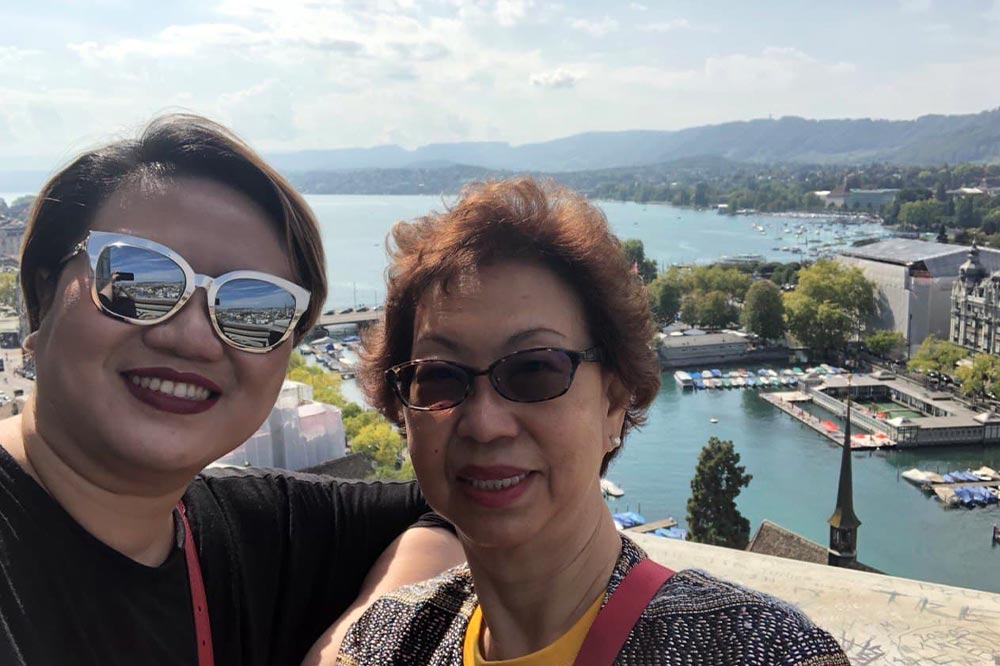 Image courtesy of Joyce Cheo
"Three years ago, my family was planning for a vacation a few months after my mum had undergone an operation. It wasn't a life-threatening condition but it made my brother and I a lot more aware of her age as we were planning our itinerary. We had to factor in constant rest breaks and ensure we did not pack too many destinations into one day so it wouldn't be too taxing on her. It made us realise that we have to do more when it comes to taking care of her. 
It was a bittersweet feeling. On one hand, we were glad that we have the ability to take care of our mother. But on the other hand, the fact that she actually requires our care also means she's getting older.  
Now, I try to remind myself to be more patient with her, although I'm not always successful. I also try to do little things like buy her food I know she enjoys or bring her to restaurants she likes."
—Joyce Cheo 
Lao Xie Zhen Mother's Day Bundles 
Ageing is a natural process. As these 6 girls' stories show us, mothers are no exception, no matter how strong they seem. Make sure to show your love and care for Mum so you can live without regrets. 
Mother's Day is a good time to start if you haven't done so already. Lao Xie Zhen, a household brand in Taiwan, has 2 Mother's Day bundles so you can pamper your mum. The bundles contain the brand's signature products, Premium Boiled Essence of Chicken and Collagen Beauty Essence. 
Premium Boiled Essence of Chicken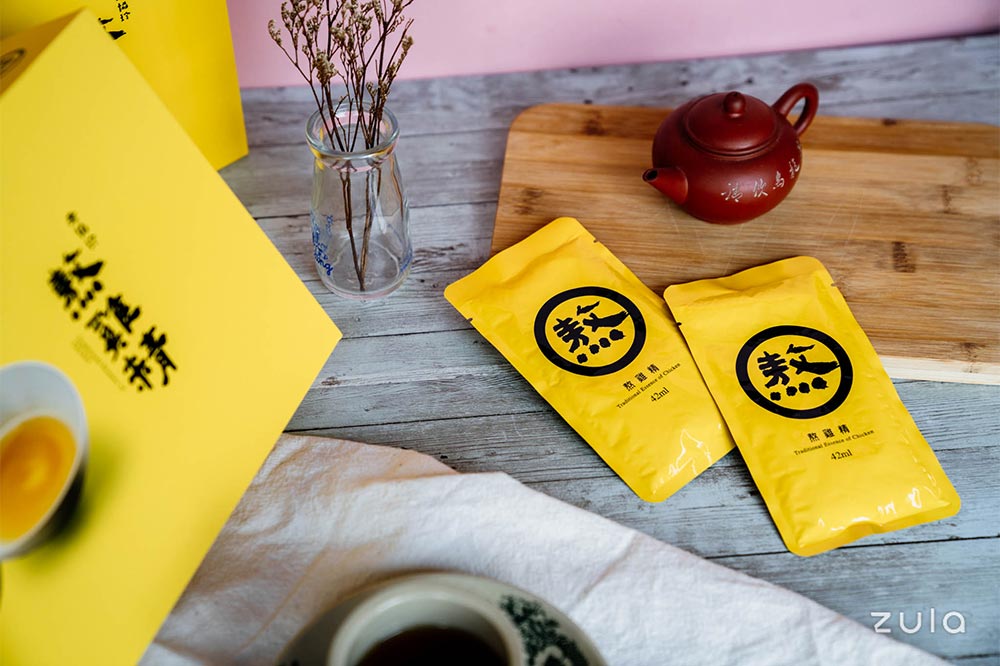 Using high-quality ingredients like 12-months-old free range chickens, Lao Xie Zhen's Premium Boiled Essence of Chicken certainly lives up to its name. The supplement provides a range of benefits, like increasing energy levels, strengthening the immune system and more. 
You can also trust that you will be getting the most out of the ingredients thanks to Lao Xie Zhen's advanced extraction methods. It involves 8 hours of slow-boiling, a labour of love for your hard-working mum. 
Collagen Beauty Essence 
As we age, the body's natural production of collagen, aka the most abundant protein in our bodies, slows down. Lao Xie Zhen's Collagen Beauty Essence helps to counteract this by promoting natural collagen production and helping to prevent further collagen loss. 
Lao Xie Zhen's Collagen Beauty Essence is made with superfoods such as  beetroot, hawthorns, figs and acerola cherries. Plus, it is put together with a formula that includes antioxidants, premium collagen peptides (essentially the building block of the protein) and vitamin C. This boosts collagen production and absorption, ensuring maximum gain from the supplement. 
The result? A bounty of goodness, including improved skin complexion and elasticity, joint repair and increased metabolism. Lao Xie Zhen's Collagen Beauty Essence will be a great way to let your mum stay feeling young at heart. 
Pamper Your Mum With Lao Xie Zhen's Mother's Day Bundles
As mentioned earlier, Lao Xie Zhen is offering 2 unique Mother's Day Bundles this year. Not only are they great for your mum's health, she'll praise you for finding a good deal too.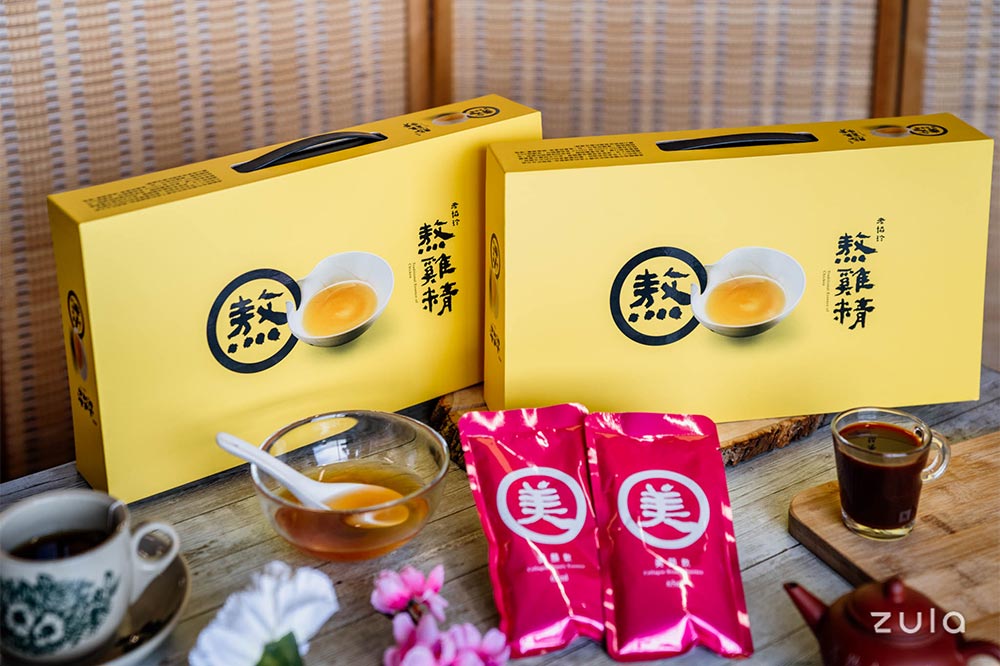 Lao Xie Zhen's Nourishment Bundle includes 2 boxes of the Premium Boiled Essence of Chicken, each containing 14 packets. As a bonus, 2 free packs of Lao Xie Zhen's Collagen Beauty Essence will be included. The bundle is retailing for $180.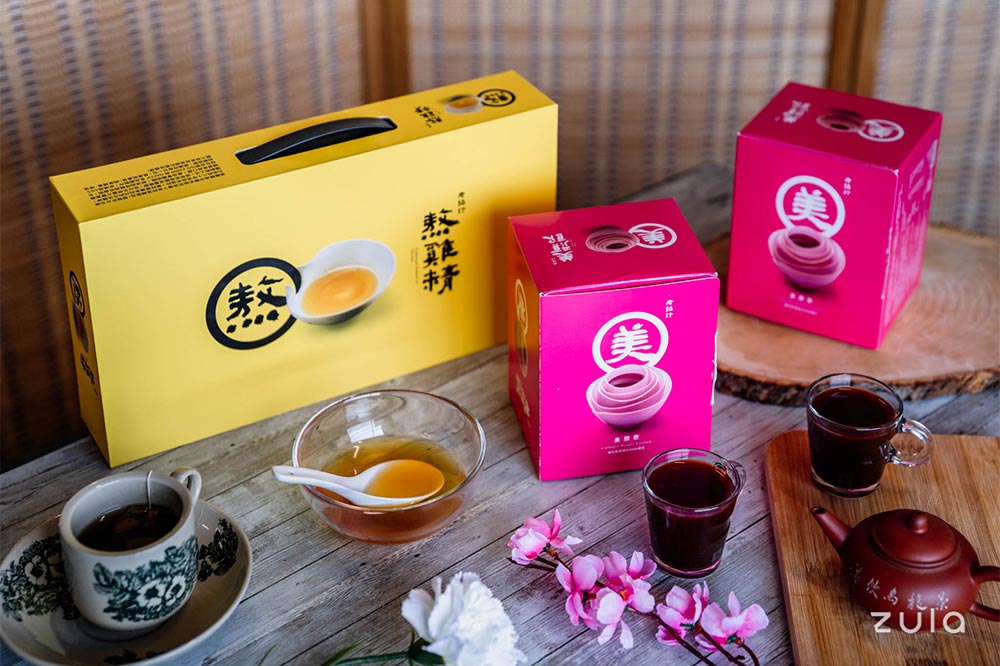 Opt for Lao Xie Zhen's Revitalising Bundle to give your mum the beauty guru treatment. For $155, you will receive 2 boxes (6 packs each) of the brand's Collagen Beauty Essence and 1 box of the Premium Boiled Essence of Chicken. 
To get your hands on the bundles, head over to Hao Yi Kang's online store. You can also visit its Shopee Mall or LazMall stores to check out more.
This post was brought to you by Hao Yi Kang.
Product photography by Pepita Hope Wauran.
Cover: Images courtesy of interviewees
Also read: 
12 Singaporean Mothers Share Their Biggest Regrets And Life Lessons For Daughters