My Melody CNY EZ-Link Charm
As Chinese New Year will take place fairly early next year, in January 2023, it's time to start looking forward to purchasing pretty cheongsams for your OOTDs and receiving angpaos. Here to accompany you on your travels to your relatives' or friends' houses to bai nian is EZ-Link's newly-dropped My Melody CNY charm. 
The design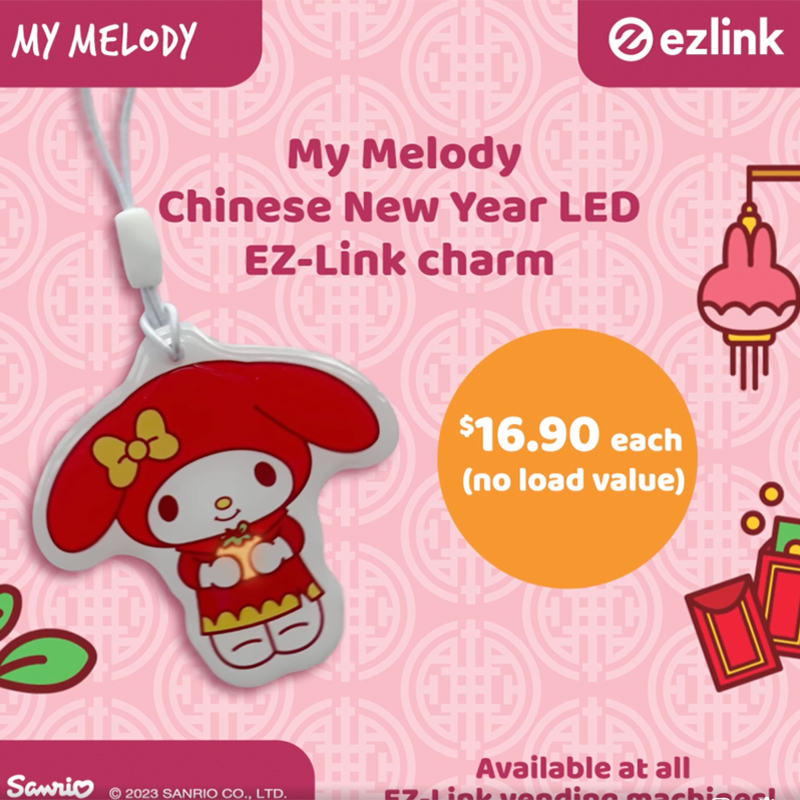 Everyone surely knows My Melody, the adorable floppy-eared rabbit and Hello Kitty's best friend. It couldn't be more apt, with the Year of the Rabbit fast approaching. The charm sees her change up her usual pink hood for a red one – fitting for the festive occasion. 
With her red and yellow outfit, the charm features the white rabbit clutching an orange. Instead of her usual white flower, she's got a yellow ribbon on the right side of the hood, adding a pop of colour to the fit. 
A highlight of this charm is that the orange lights up, adding a pleasant glow to the charm. 
Hang it on your bag or your phone before you head out this CNY — this way, you'll never feel blue when you're travelling, since My Melody will always have a smile for you.
The My Melody Chinese New Year LED EZ-Link Charm retails at $16.90 with no load value. 
The My Melody Charm Will Be An Adorable Companion On Your Commute 
Don't miss out on this chio charm, and plan for it to match your OOTD this Lunar New Year. Fans of My Melody can definitely add this to their collection as well. The charm is now available for purchase at all EZ-Link vending machines. 
All images courtesy of EZ-Link.
Also read: 
EZ-Link Drops A New Doraemon & Mii-Chan Card To Accompany You Throughout Your Commute