Nail Salons In The East
Self-love comes in many forms and one of them includes treating yourself to a day of nail pampering. From one-colour polishes to dazzling nail art, glam up your nails for any occasion by visiting a nail salon.
If you happen to be living in the East, read on to find out where you can get your nails done at an affordable price.  
1. AgnesG Nails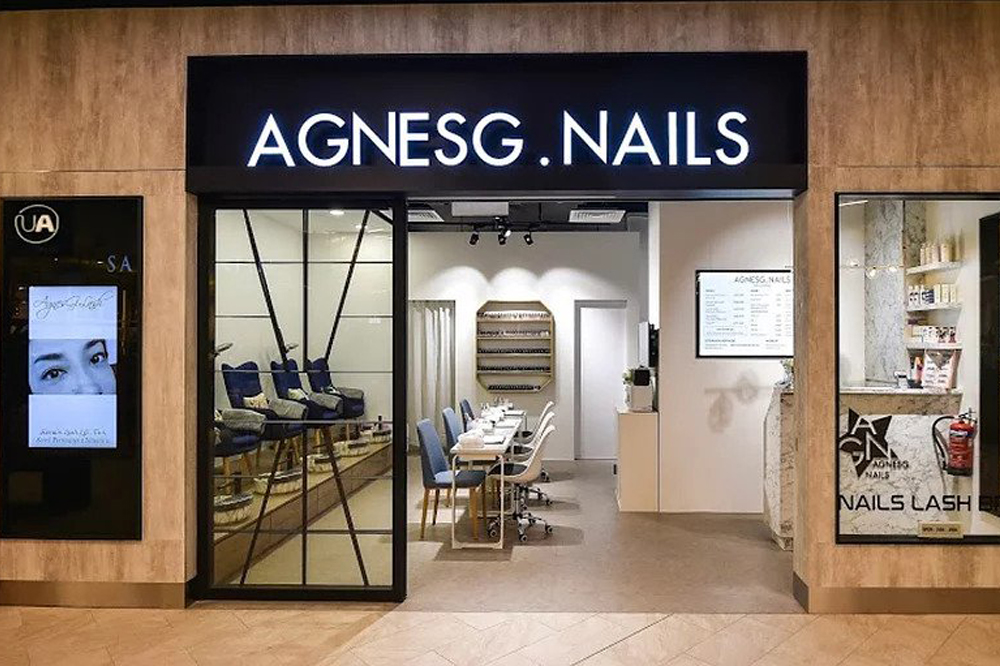 Source 
Located conveniently next to Paya Lebar MRT, AgnesG Nails provides a relaxing experience when you head down to pamper yourself. Besides nail services, they provide 2 different kinds of hand and foot spa services that focus on whitening and anti-ageing starting from $48. 
You can also sign up for their basic manicure and pedicure courses where you will learn how to DIY your nails and get hands-on experience. For information about their class schedules, reach out to them for more details.
Price: $15 for an express manicureㅣ$20 for an express pedicure
Address: 10 Paya Lebar Road, #B1-06, PLQ Mall, Singapore 409057
Booking: Call 6962 6887 or WhatsApp 8333 4352
2. Fifty; Freed Beauty Bar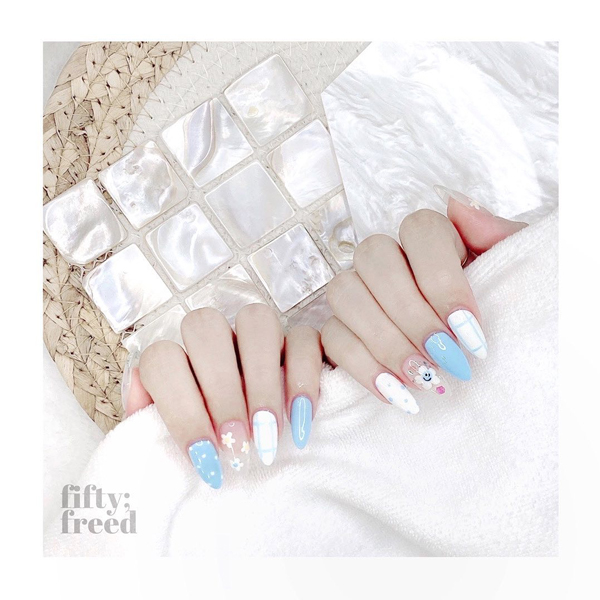 Source
Take a glance at Fifty; Freed's Instagram feed and you will see just how skilled they are in handling everything from one-colour gel polish to intricate gem nail art. They also excel in cute designs such as teddy bears, flowers, and rainbows that will brighten up your day.
As it is one of the popular nail salons in the East, you might consider booking a slot in advance as they tend to always be fully booked. 
Price: $20 for an express gel manicureㅣ$35 for an express gel pedicure
Address: 430 Upper Changi Rd, #01-29, East Village, Singapore 487048
Booking: WhatsApp 8792 1088
3. Princess's Cottage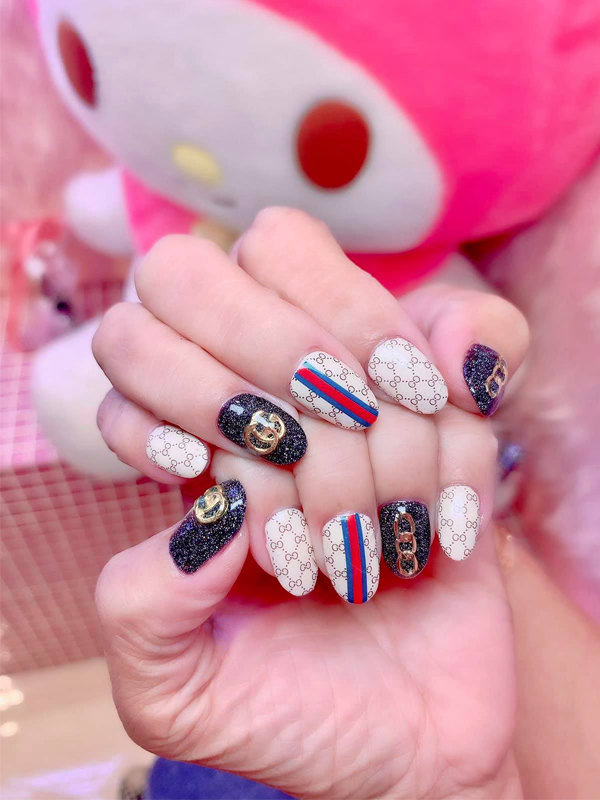 Source
Princess's Cottage's founder, Joanne Lee, took inspiration from the bedrooms of fairytale princesses to create her nail salon. The girly and magical concept is bound to bring out the inner princess in you. 
Princess's Cottage makes use of nail products from Japan such as Shinygel that helps to restore the health of customers' nails. Adding on, their callus removal service includes fixing dry and cracked feet with a herbal detox foot soak that uses Epsom salt, which helps to improve blood circulation and cleanse bacteria off the skin. 
Price: $12 for an express basic manicureㅣ$16 for an express basic pedicure
Address: Tampines Street 32, #01-12, Tampines Mart, Singapore 529284
Booking: Call or WhatsApp 9090 1500 or book through their online form
4. Nailz Treats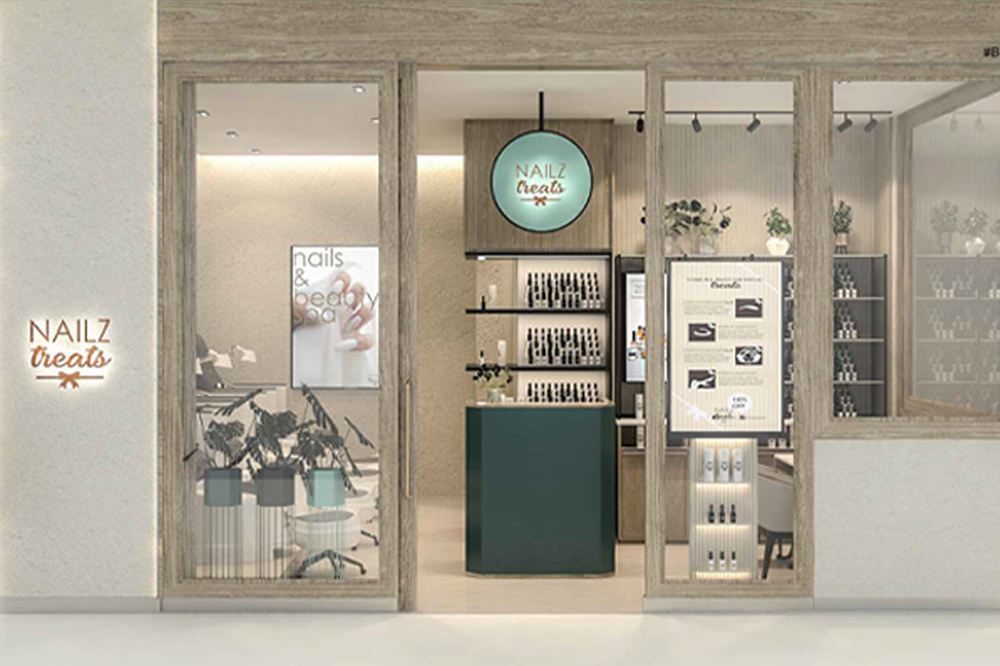 Source
As the saying goes, "the more the merrier", which is why there are 2 outlets of Nailz Treats that you can visit when you drop by Bedok Mall. The earth-tone interior sets a tranquil atmosphere, promising you a momentary escape from your stressful day. 
If you're looking for a more intense relaxation, you can opt for their hour-long signature spa manicure priced at $68. You get to soak your hands in an effervescent nail bath that brightens nails and revitalises your hands. Before finishing up, they will also provide a relaxing hand and shoulder massage. 
Price: $16.50 for an express manicureㅣ$21.40 for an express pedicure
Address: 311 New Upper Changi Road, #B1-03 or #B1-65, Bedok Mall, Singapore 467360
Booking: Call 6844 9558 or WhatsApp 9731 1180 (#B1-03)
Call 6385 6255 or WhatsApp 8533 5776 (#B1-65)
5. The Nail Artistry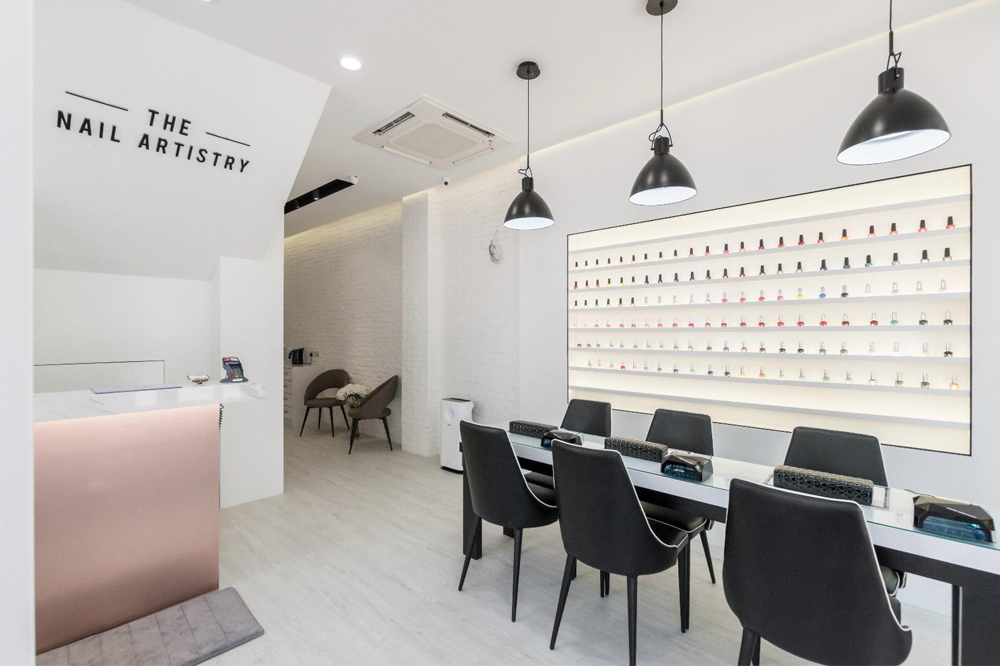 Source
The minimalist design of The Nail Artistry makes it an Instagram-worthy nail salon to visit. Their walls feature neatly arranged nail polishes on the display shelves, while the white-washed walls brighten up the space. 
For those who wish to walk out with a pair of rejuvenated hands, The Nail Artistry offers an organic skin renewal spa for $60. They use rice milk detoxifying scrub for dead skin removal and the session comes with a hydraulic acid mask that locks in moisture for your hands.  
Price: $15 for an express manicureㅣ$15 for an express pedicure
Address: 27 East Coast Road, Singapore 428749
Booking: Call 6386 2722 or email thenailartistry@gmail.com
6. Project Nails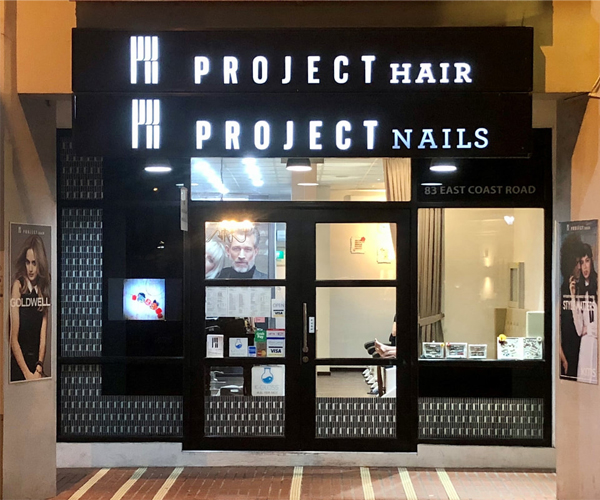 Source
Not all nail salons have a satisfaction policy but at Project Nails, you can go for a retouch if any of your nails flake within 4 days of service. To make your nails stronger, you can opt for their nail strengthening treatment for $15. In addition, they are trained to remove in-grown nails priced from $10 per nail. 
Aside from nail services, they also have a team of professional hairdressers under Project Hair in the same outlet so you can add on a haircut if you're looking for an image overhaul.  
Price: $18 for an express manicureㅣ$22 for an express pedicure
Address: 83 East Coast Road, Singapore 428786
Booking: Call 6344 1636 or WhatsApp 9626 9138
Also read: 
These Kawaii Sailor Moon Nail Oils Let You Step Up Your Nail Game Without Stepping Out Of The House
7. Nails & Good Company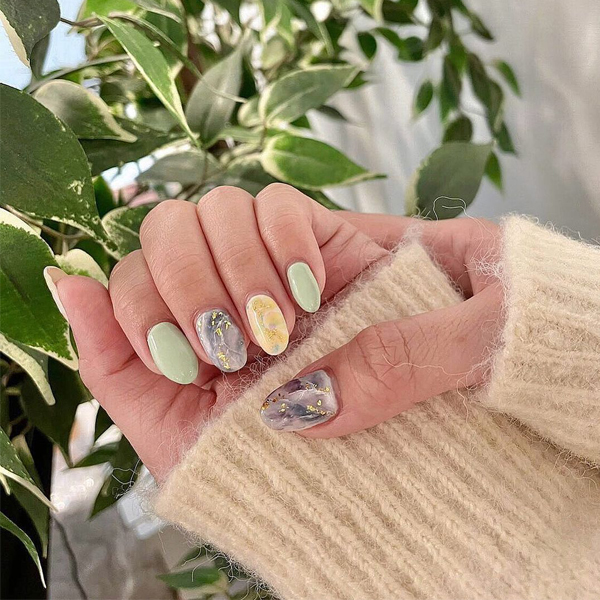 Source
You know you are in good hands at Nails & Good Company since they only use non-toxic nail polishes for their customers. They also offer a variety of vegan and cruelty-free nail care products that cut down on toxins and reduce environmental harm. 
Their high standard in taking care of your wellness and the environment will give you more incentive to have them as your go-to nail salon for future appointments. 
Price: $15 for an express manicureㅣ$18 for an express pedicure
Address: 10 Tampines Central 1, #05–K1, Tampines 1 Shopping Mall, Singapore 529536
Booking: Call 6260 3889 or WhatsApp 8634 8781
8. Nail Palace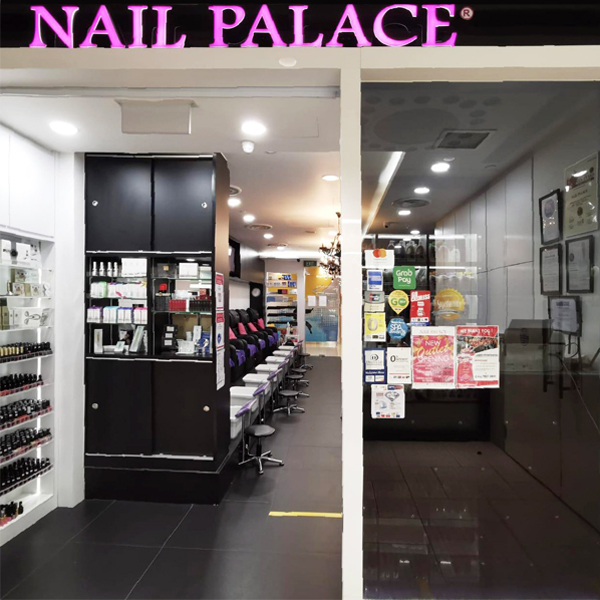 Source
Opened in 2002, Nail Palace started with the aim to advance Singapore's beauty industry. It eventually led them to where they are today ‒ an award-winning nail salon chain with 21 branches across Singapore. 
Besides the basic manicure and fungus treatment for hands and feet, Nail Palace also offers services of lash and hair removal. 
Price: $16.05 for an express manicureㅣ$21.40 for an express pedicure
Address: 3 Simei Street 6, #02-17, East Point Mall, Singapore 528833
Booking: Call 6789 7672 or WhatsApp 8811 2526
9. The Nail Arcadia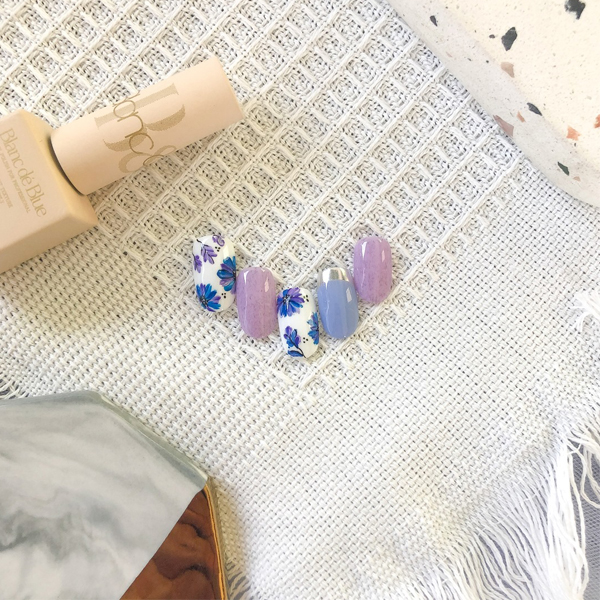 Source
For soon-to-be mummies who can't stay away from the glam, The Nail Arcadia offers cruelty-free and vegan nail polishes from ORLY's "breathable" series that are safe to use. Additionally, it is also suitable for young kids. 
Their top-notch nail polishes include those from Korea such as Blanc dé Blue, which comes in 30 shades for you to choose from.
Price: $15 for an express manicureㅣ$18 for an express pedicure
Address: 1 Tampines Walk, #B1-37, Our Tampines Hub, Singapore 528523
Booking: Call 6988 1771 or WhatsApp 8833 1771
10. Fancy Nails Paradise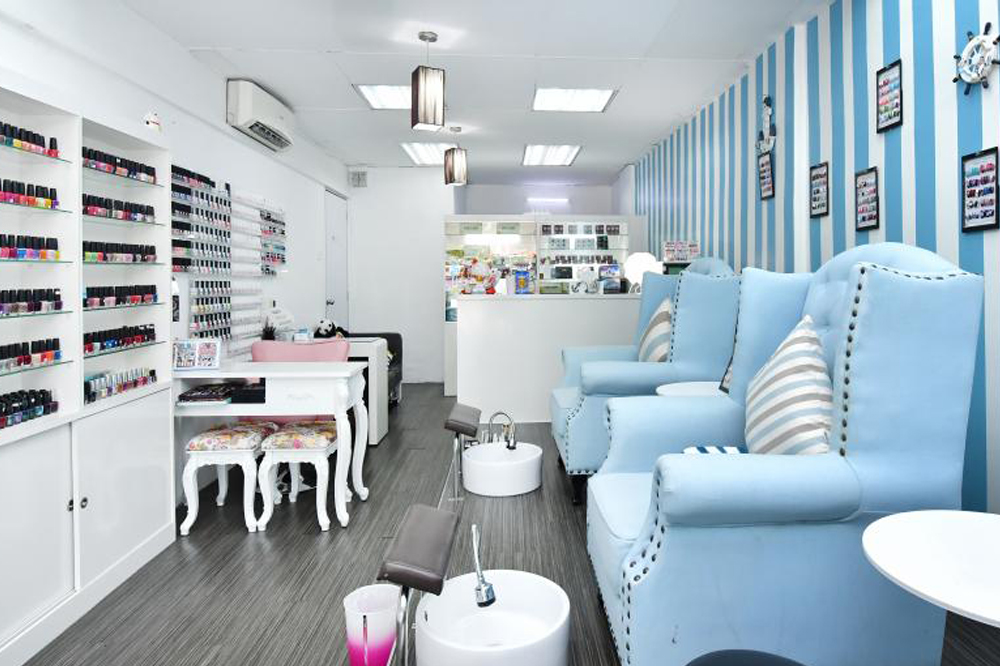 Source
You have to admit that neighbourhood nail salons have a warm, welcoming vibe that makes you feel at home the moment you step inside. At Fancy Nails Paradise, you can expect the same, along with an express manicure for as low as $10. 
Their cushy armchairs will let you kick back and feel pampered during your sessions.
Price: $10 for an express manicureㅣ$15 for an express pedicure
Address: 139 Tampines Street 11, #01-56, Singapore 521139
Booking: Call 9778 5712
11. Emmaline Manicure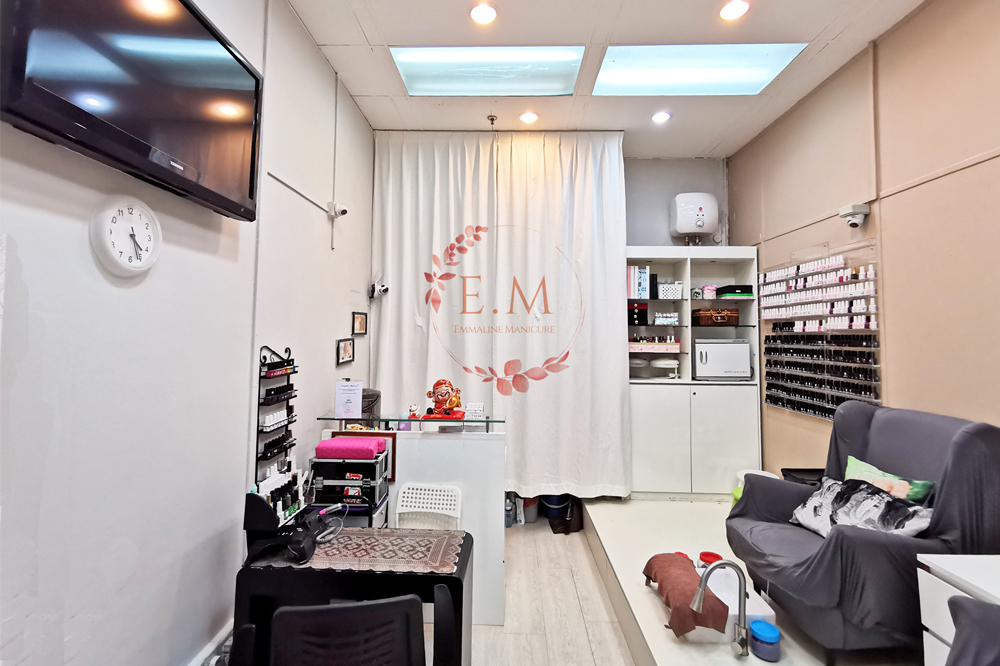 Source
Those living around East Coast and Katong can take advantage of Emmaline Manicure, as they offer nail services at a modest and economical price. At just $10, you can pamper yourself with an express manicure and at $12, an express pedicure. While waiting for their staff to work their magic on your nails, you can turn your attention to the shows playing on the TV.  
Price: $10 for an express manicureㅣ$12 for an express pedicure
Address: Roxy Square 1, 50 East Coast Road, #02-35A, Singapore 428769
Booking: Call or WhatsApp 9793 9027
12. A.T The Nail Bar X Salon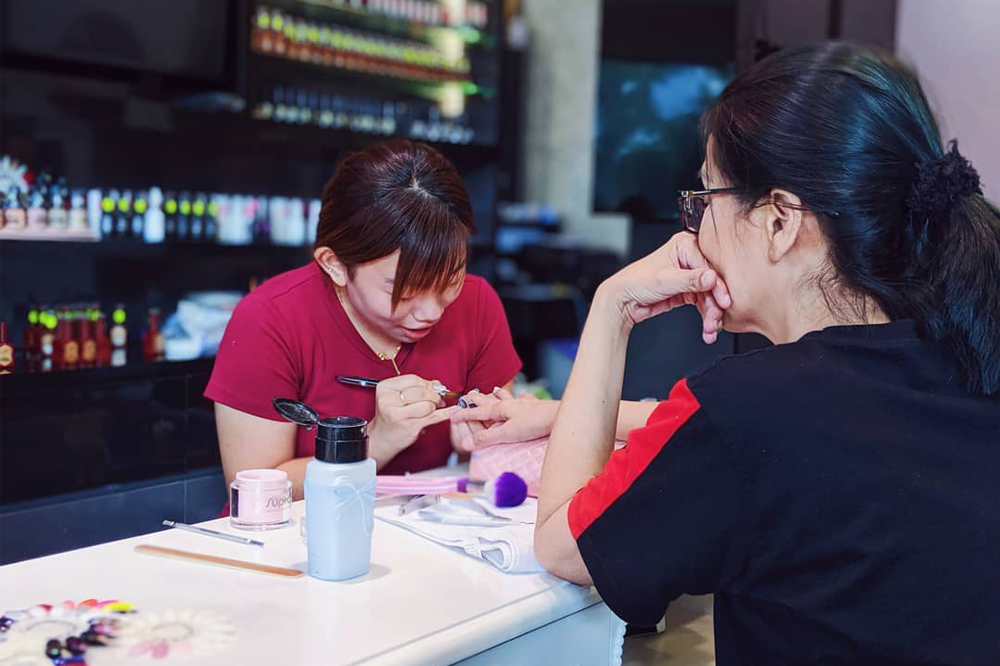 Source
For those who prefer to sign up for a nail package for repeated visits, you might be interested in the one from A.T The Nail Bar X Salon. Their premium membership allows you to choose from 8 different hand services such as gel manicure and hand spa. 
If you are looking to treat your young ones to a manicure, check out their princess manicure and pedicure services catered to those below 12 years old. 
Price: $12 for an express manicureㅏ$17 for an express pedicure
Address: Upper Paya Lebar 2 Jalan Lokam, #01-45, Kensington Square, Singapore 537846
Booking: Call 6702 3208
These Nail Salons In The East Will Level Up Your Nail Art Game Without Burning A Hole In Your Pocket
Whether you are preparing for a special day or just want to maintain perfectly pedicured feet, a trip to the nail salon will do the trick. Many of these nail salons in the East have promotional packages or membership deals, so make sure to look into them before missing out on any lobangs. 
Also read: 
10 Express Manicures Around Singapore's CBD From $12 For A Quick Buff And Polish During Lunch