Residential Area Nail Salons
We know that town is where most of our nail joints are, but let's face it— on some weekends we just can't deal with the crowd. Or ERP charge.
Nonetheless, chilling on weekends in our FBTs doesn't necessarily limit you to dingy parlours. With these 8 neighbourhood nails salons in Singapore, you can give some TLC to yourself at your convenience while surrounded by beautiful decor.
1. Shugar Spa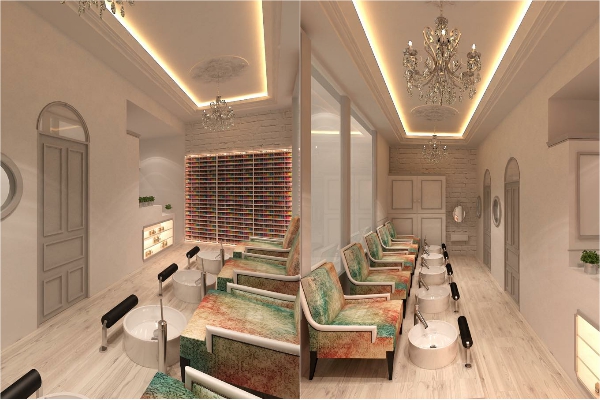 Just before you walk past Waterway Point, you'll spot Shugar Spa. Don't be fooled by its cutesy name as the salon features ambient lighting and classic cream curtains to shut out the bustle of MRT goers. Here, it costs S$22.00 for a classic manicure and just S$10.00 for an express manicure.
Address: 83 Punggol Central #01-36, Waterway Point, Singapore 828761
Telephone: 6385 7644
Operating Hours: Mon-Fri: 11:00 am-9:30 pm, Sat-Sun: 10:00am-9:00 pm
Website: www.shugarspa.com.sg
2. 8Twenty8 Nails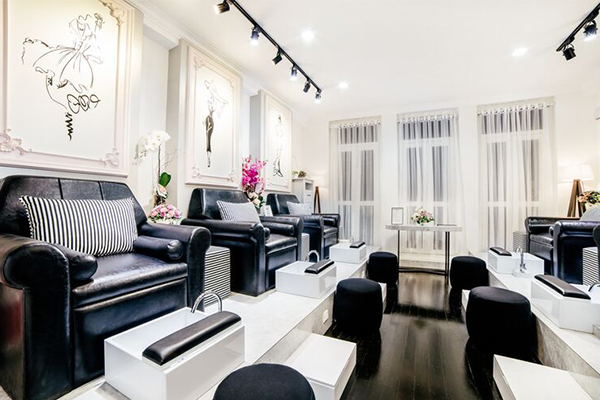 Sandwiched in between HDB blocks and Tanjong Pagar MRT is shophouse-based nail salon 8Twenty8 Nails. Glossy black flooring and sofas contrast the bright white walls and curtains that fill the high-ceilinged salon while the paintings and flower arrangements add a feminine touch to the elegant space.
Express and classic manicures cost S$15.00 and S$25.00 respectively, and just S$37.00 for a classic pedicure.
Address: 50 Tras Street, Level 2 #02-01, Singapore 078989
Telephone: 6225 1828
Operating Hours: Mon-Fri: 11.00 am-8.00 pm, Sat: 10.30am-8.00pm, Sun: 11.00 am-4.30 pm
Website: www.facebook.com/8Twenty8Nails
3. Boo-Ti Parlour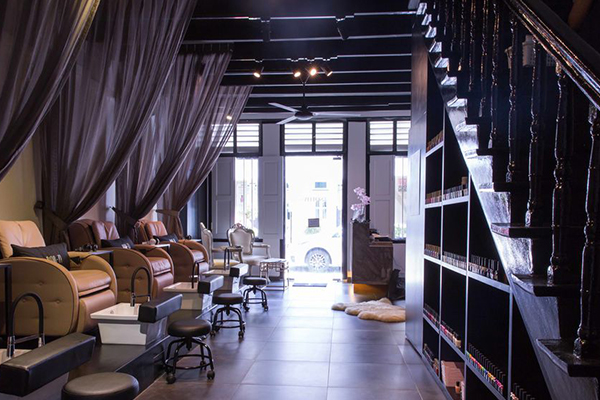 Along the high rise apartments and scenic shophouses of Joo Chiat, you'll find Boo-Ti Parlour. With its royal purple overtones and dark wood interior, you'll be transported to a realm of zen as you're bathed in the salon's dim lighting.
They use the famed Zoya nail polish varnishes and top quality lotions, which is why their classic manicure is priced at S$40.00 dollars. You can also watch Netflix during your pamper session which makes a visit to this salon a treat for all senses.
Address: 84 Joo Chiat Place, Singapore 427801
Telephone: 63444048
Operating Hours: 10.00am-8.00pm daily
Website: www.boo-tiparlour.com
4. Thumbelina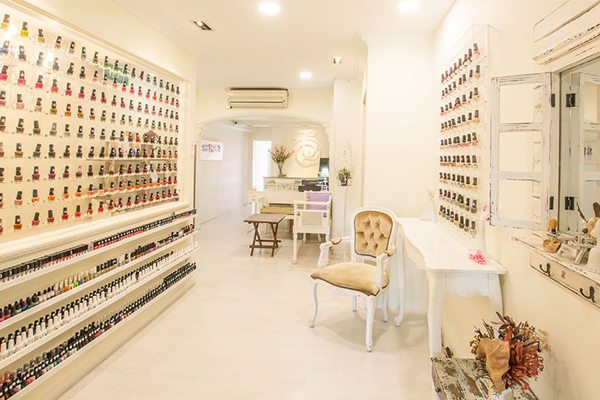 Located amongst the cosy shop spaces surrounding Coronation Plaza lies Thumbelina. Featuring furnishing straight out of a fairytale, this salon is a serene abode in the Bukit Timah enclave.
With premium Chanel and OPI products, a Classic Manicure costs S$45.00 here. The only "stress" you'll be facing is trying to choose a nail colour among their endless choices from Chanel, Butter London, Essie and Zoya.
Address: 619B Bukit Timah Road, Bukit Timah, Singapore 269722
Telephone: 9859 9028
Operating Hours: 10.00am-8.00pm daily
Website: www.facebook.com/ThumbelinaSG
5. Project Nails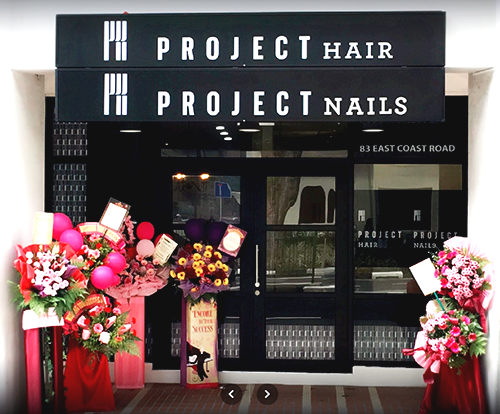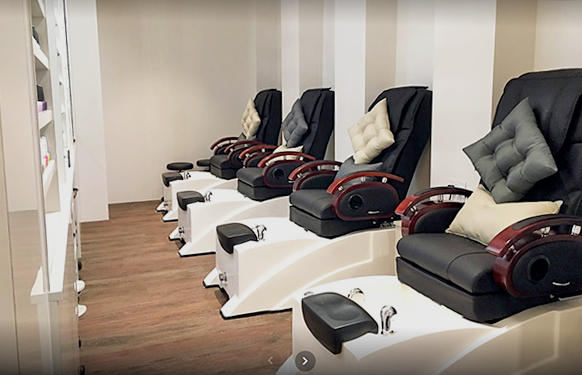 Located in Katong's residential area, you'll find this stylish salon amongst the quaint shophouses. Project Nails keeps things chic, minimal and modern with its sleek monochrome interiors.
Prices for manicures range from S$10.00 for a basic polish to S$70.00 for a classic gel manicure. But with complimentary tea brews from 1972 Clipper Tea and massage chairs to lounge in, no one's complaining.
Address: 83 East Coast Road, Singapore 428786
Telephone: 6344 1636
Operating Hours: 11.00am-8.00pm daily
Website: www.projectnails.sg
6. Nail Artistry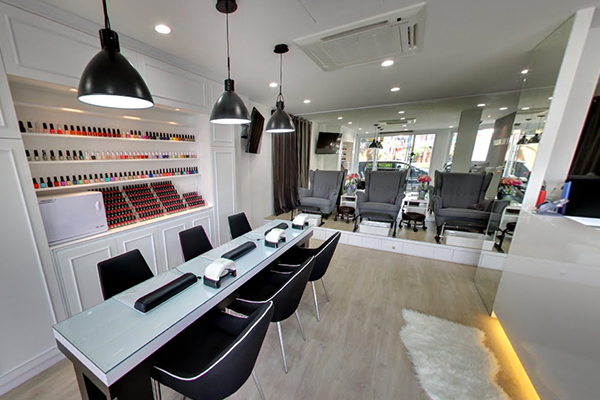 The Nail Artistry's interior is understated and modern, much like their nail designs. The spacious interior will definitely invite you to linger a little longer as you top up your S$35.00 classic pedicure with a S$30.00 callous treatment for smooth and flawless feet.
Their nail artists are also up to date with the latest nail art trends and provide an array of manicure choices that'll leave your friends with some major nail envy.
Address: 2 Maju Avenue, Singapore 556680
Telephone: 6966 1919
Operating Hours: Mon-Fri: 11.00am-9.00pm, Weekends & PH: 10.00am-9.00pm
Website: www.thenailartistry.com
7. The Nailist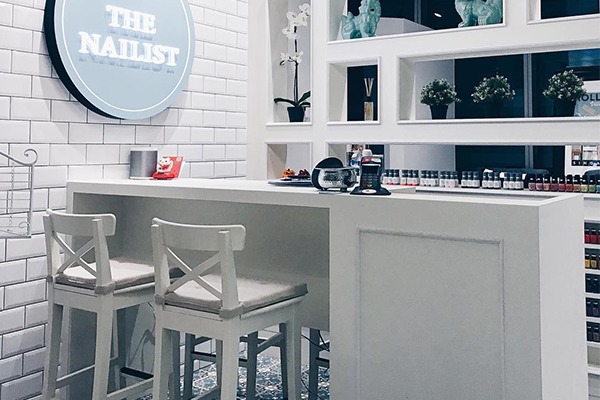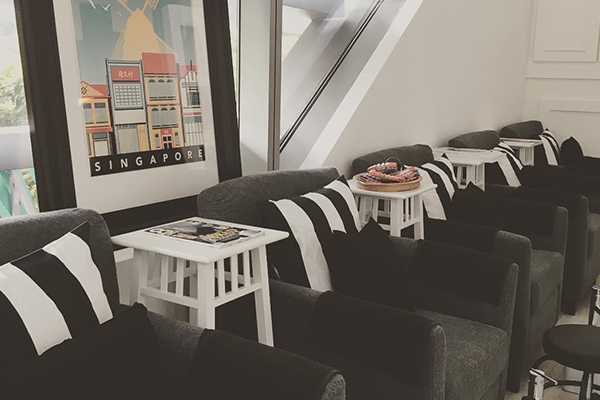 Situated within the new Raffles Medical Centre at Holland Village, you can find a cosy and trendy nail salon with an intimate setting.
While the classic manicures and pedicures are priced at S$25.00 and S$33.00 respectively, you can always go for an express option at S$14.00. Also, take advantage of their brick walls to snap pics of your photo-worthy nails when you're done!
Address: 118 Holland Avenue #03-03
Telephone: 6262 6163
Operating Hours: Mon-Fri: 9.00am-8.00pm, Sat, Sun and PH: 9.00am-7.00pm
Website: www.thenailist.com
8. Cecilia Westberry Beauty Spa
Cecilia Westberry's speciality 14-day chip-free Shellac nails just got a lot more accessible for the Westies of Singapore. The spa was residing in Orchard's uber atas Palais Renaissance before moving to Holland Close.
The crisp white interior is bound to have you feeling refreshed, relaxed, and undeniably posh. The classic manicures and pedicures costing S$32.00 and S$42.00 respectively seem like a reasonable price to pay to unwind in this chic salon.
Address: Blk 6 Holland Close #01-20
Telephone: 6774 0449, 9271 9422
Operating Hours: Mon-Fri: 8:30 am-7:30 pm, Sat: 8:30 am-6:30 pm
Website: www.ceciliawestberry.com
Residential Nail Salons Singapore
Near, far, wherever you are, there's a luxe little nail salon waiting to give you the TLC you desperately need this weekend. So forget about the jams and the crowds. Roll out of bed and visit your friendly neighbourhood manicurist instead.