Narelle Kheng Beauty Routine
Narelle Kheng isn't just a quarter of local pop group The Sam Willows. Her entrepreneurial endeavours took flight in 2017 when she co-founded 21 Moonstone, a co-working space by day and a bar by night. By establishing a place that unifies creatives, it's clear that Narelle is a champion for ingenuity.
Earlier this week, her new single "Outta My Head" dropped. And if you've had a listen, you'll know that she's now marching to the beat of her own drum. As we caught up with her on all things beauty and music, she spoke with fervour of her solo project, something she considers a personal journey.
We snuck a peek into Narelle's skincare routine and pried into her makeup bag to see what the starlet turns to daily. Have a look at her essentials and what she uses to create her everyday makeup look.
SKINCARE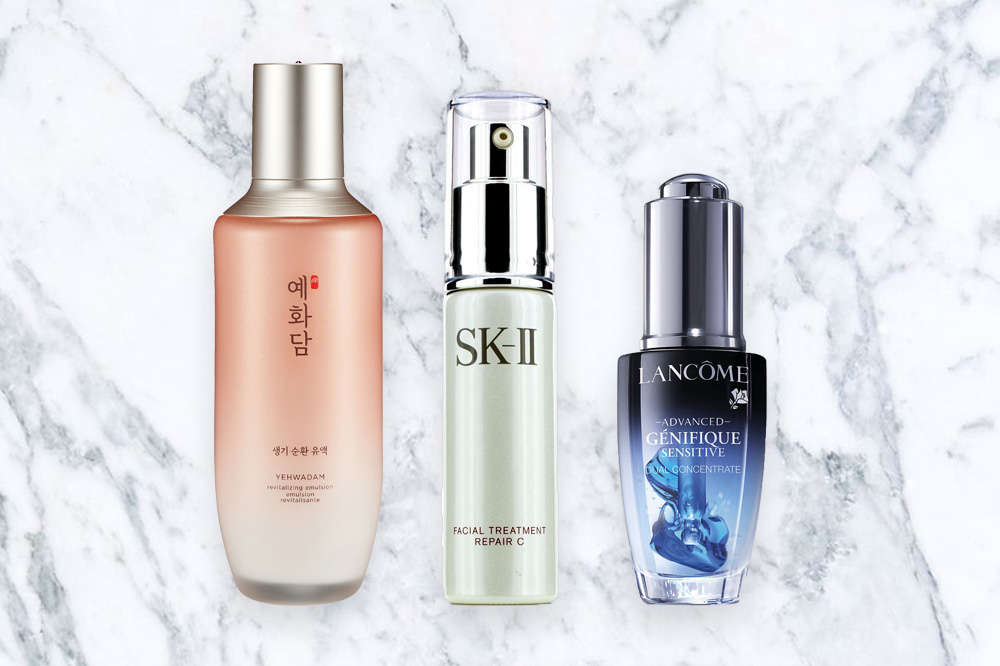 Left to right:
THE FACE SHOP Yehwadam Revitalizing Toner ($53)
SK-II Facial Treatment Repair C ($172)
Lancôme Advanced Génifique Sensitive Dual Concentrate ($120)
If you could only take 3 beauty products with you to a desert island, which would they be and why?
An all-purpose moisturiser for sensitive skin because you're definitely gonna get some weird rash situation, sunblock because you're gonna burn and a good face scrub so you can still feel squeaky clean.
Which acne treatment do you reach for when you get sudden breakouts?
My skin is quite temperamental so I toggle between a few but to be honest, my favourite emergency solution is still an oxyacid-based treatment.
What's your favourite fitness routine that helps you unwind and stay strong?
Right now, I've started doing Brazilian jiu-jitsu and that's a full-body, mental and emotional workout. Otherwise, I just do some static/bodyweight exercises and stretching (which is damn shiok).
What is the most underrated beauty product you've discovered?
Tsubaki's Damage Care Treatment. I don't know why but it was literally the only thing that worked for my coloured hair. And for skin, masking everyday somehow makes a huge difference even if they're cheap masks.
MAKEUP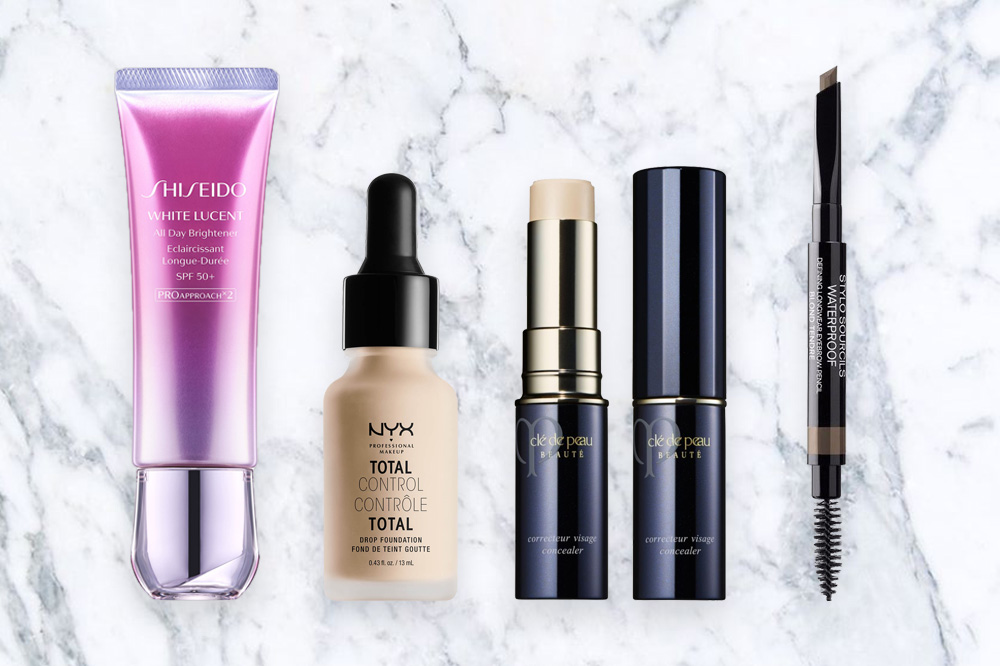 Left to right:
Shiseido White Lucent All Day Brightener SPF 50+ ($85)
NYX Professional Makeup Total Control Drop Foundation ($26)
Clé de Peau Beauté Correcteur Visage Concealer ($105)
Chanel Stylo Sourcils Waterproof Defining Longwear Eyebrow Pencil ($59)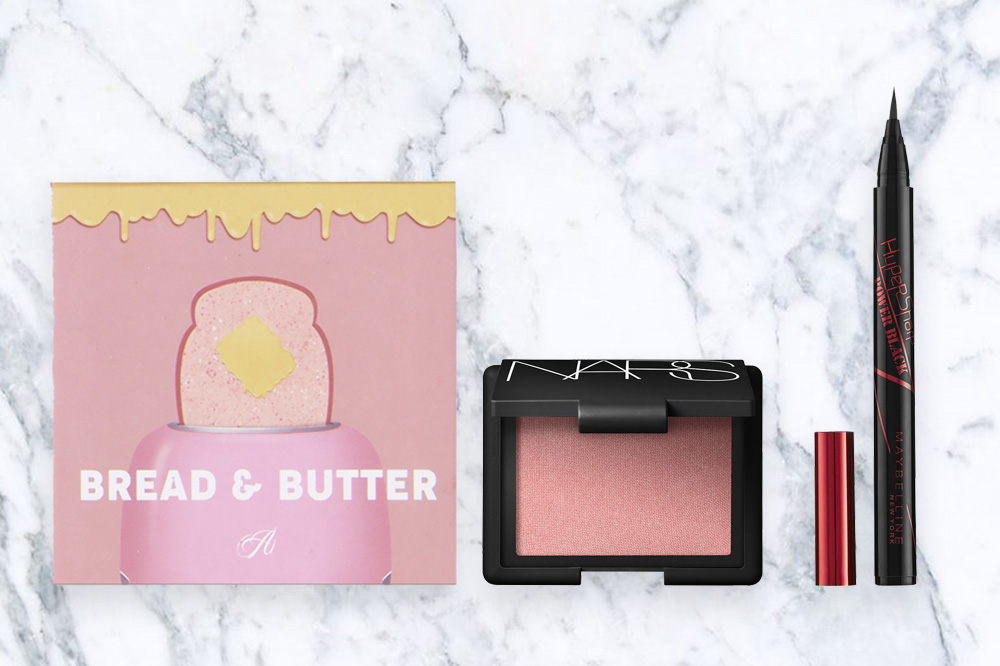 Left to right:
Abduct Cosmetics Bread & Butter Face Palette ($46)
NARS Blush in Orgasm ($52)
Maybelline Hypersharp Power Black Liner ($20.90)
What's the most outrageous beauty treatment you've tried?
Charcoal laser? That shit is so scary, but man, it scares my pores shut.
When did you start getting into beauty?
When I was about 21 and could start properly affording skincare and makeup that doesn't give me styes in my eyes.
Also read:
Mongabong Shares Her K-Beauty Makeup Routine And Tips On How To Get Glowing Skin
Who are the women you look up to in your personal and professional lives?
Women like Tan Kheng Hua and Pam Oei have always been maternal icons to me—the way they conduct themselves, live their lives the way they choose and push boundaries. Rozz Lee is a huge goal with her attitude and especially now with her YOLO travels, and Inch Chua is an artistic goddess and career goal. I also love Halsey and her daringness, she's more my age and just a badass bitch that goes for what she wants.
Do blemishes and scars impact your self-esteem?
I used to feel really bad about having bad skin because it's something I've had for the longest time. But after a certain point, you're like, I don't want to waste time caring about these things when I have makeup. I really just want to eat my McChicken. Just let me be.
I think it's perfectly fine to feel insecure, and that really stems from something deeper than what it really is. What's important to me is not having the best skin, being the skinniest, or having my hair perfect all the time. What's important to me now is being able to spend time with my friends, learn and create stuff.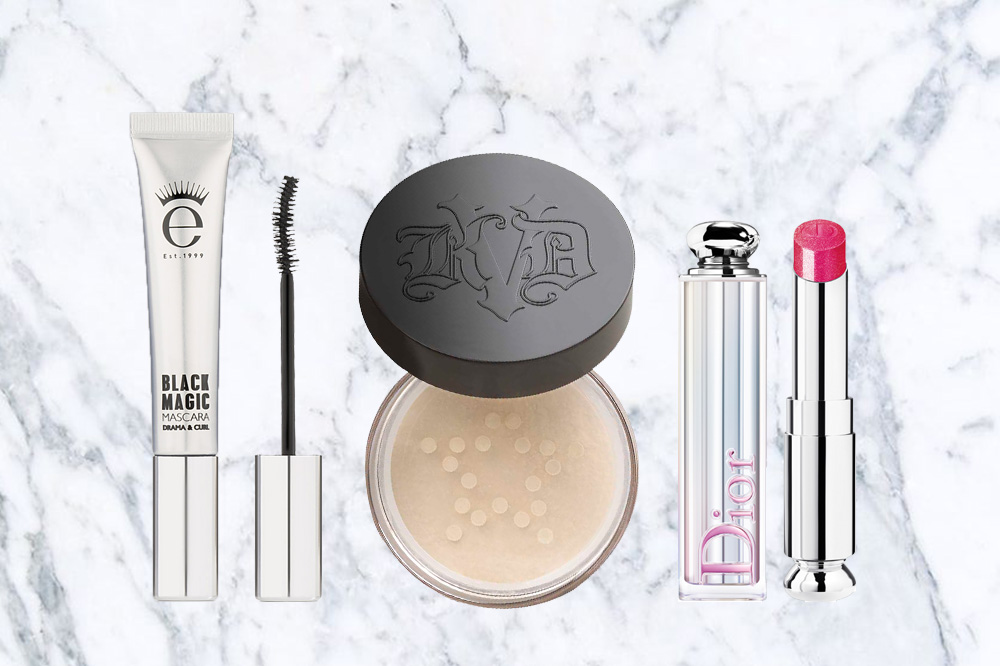 Left to right:
Eyeko Black Magic Mascara ($34)
Kat Von D Beauty Lock-It Setting Powder ($24)
Dior Addict Stellar Shine Lipstick ($59)
You've been with The Sam Willows for years but you're releasing your own music now. Can you tell us more about it?
It's been quite a personal journey for me because it demanded a lot from me in terms of how much I needed to grow as a human being, my insecurities and areas that I was lacking in.
Being vulnerable and putting out work that people can judge is very intimidating, but I'm trying my best to be very positive about it. It's coming at the right time—that's what my horoscope and numerology report say. Trust.
The first song is "Outta My Head" and I was very hesitant about putting it out because I think this is what I hate the most about myself. When you're younger and in a relationship, you just don't know how to manage your emotions and no one is there to teach you that you can't expect too much from someone.
It took me a while to decide if I wanted to go this dark on the first song, but then I realised I couldn't do anything else except put it out, because that was the crux of the turning point in my life when I realised like, "Girl, you dumb."
What projects are you currently working on?
The Narelle-becomes-a-functioning-adult project, which is completely full-time. Also a shit ton of music and visuals. Some fashion projects and fundraising with some friends for Habitat of Humanity.
Narelle Kheng's Skincare And Makeup Favourites
Get to know Narelle Kheng by following her on Instagram, YouTube and Facebook.
Cover image: Source
Also read:
Rachel Wan Shares Her Beauty Routine And The Secret To Her V-Shaped Face